Karnataka means "Pleasant to hear",which may be true but I can certainly vouch that it is definitely pleasant to explore.
So before we begin let me give you the major destinations covered in our road trip of 7 days.
Route: Bengaluru-Mysore-Bandipur Forest-Madikeri-Chikmaglur-Murudeshwar/Gokarna-Hampi-Bengaluru.
So Let's begin:
Intoduction:
My name is Dhruvan Dalwadi and I am from Ahmedabad,Gujarat. This is my first attempt to write a travel blog. I have started to explore travelling since last two years. And my New Year resolution is to travel one state in each quarter, I guess Corona didn't liked my resolution plan.
Anyway talking about the Road trip, It was planned by me and my friend Toshaj Oza. We hired two bike from a Bike Rental Company (Royal Brothers) from Bengaluru. We booked our flights and bike in advance and we decided to book our stay a day before reaching our destination so that if anything goes not as planned we won't suffer any loss.
We had a flight from Ahmedabad to Bengaluru on 8th February 2020 and we reached Bengaluru at around 11:30 pm. We stayed in a hotel in Marathahalli area as it was near the bike rental company from where we had to pick our bikes in morning.
Day-1: 09-02-2020

We took our bikes at around 9 am, filled the gas tank and started our journey. Our first destination was Mysore: A Cultural Capital of Karnataka. We took the National Highway 44 from Bengaluru. The highway was smooth as silk. The traffic was quite moderate but someone can easily cruise at a speed of 100-110 kmph. So we both were on our bikes, i.e Toshaj took KTM Duke-200cc and I rode Hero Xpulse-200cc. It was a first Bike Trip for Toshaj and second for me. We reach Mysore around 3 o'clock in the noon. We checked into the hotel,freshened up a bit and went on to explore the royal aesthetics of Mysore.
So, the first place on our list is Mysore Palace-an Architectural Marvel.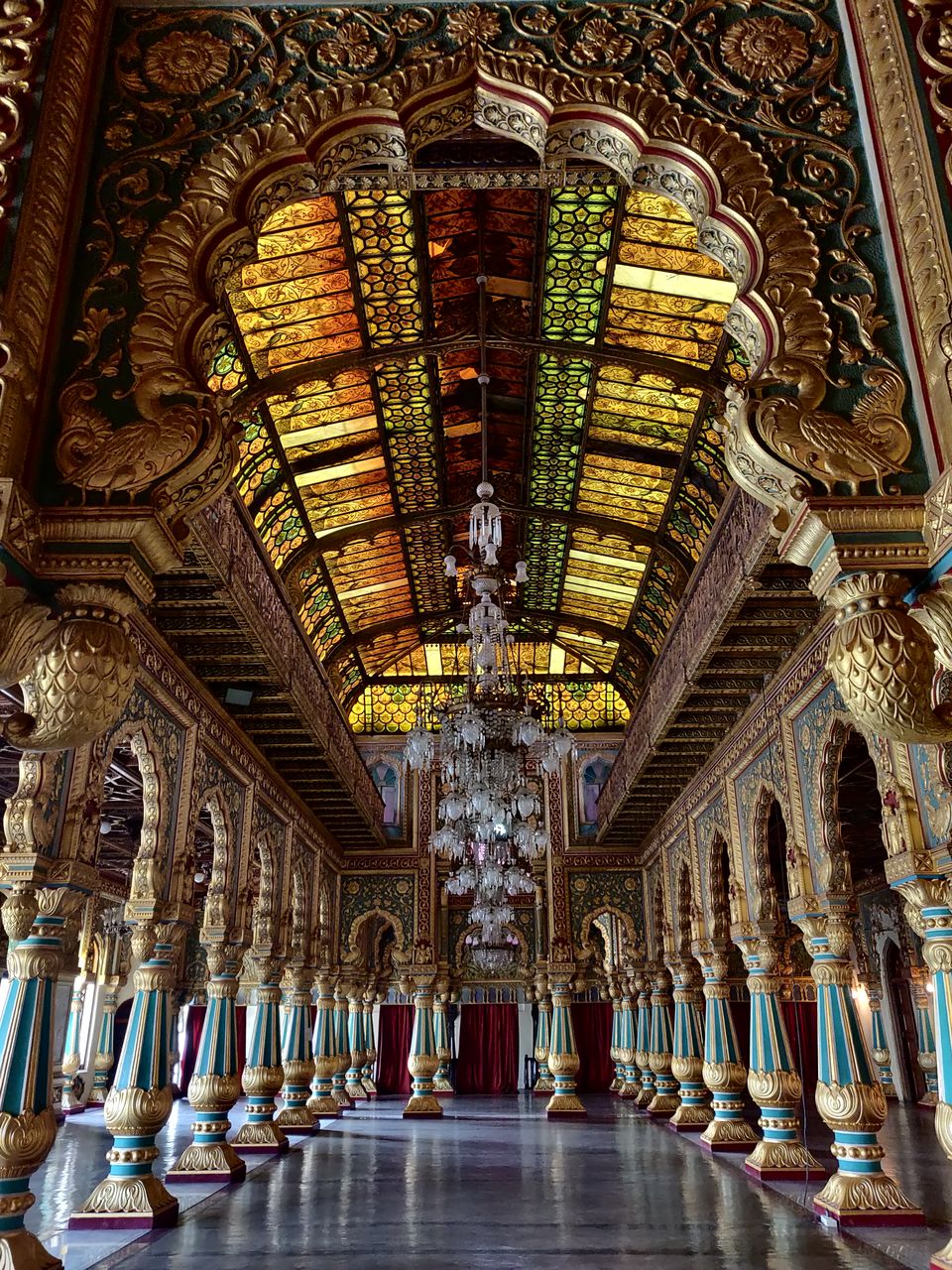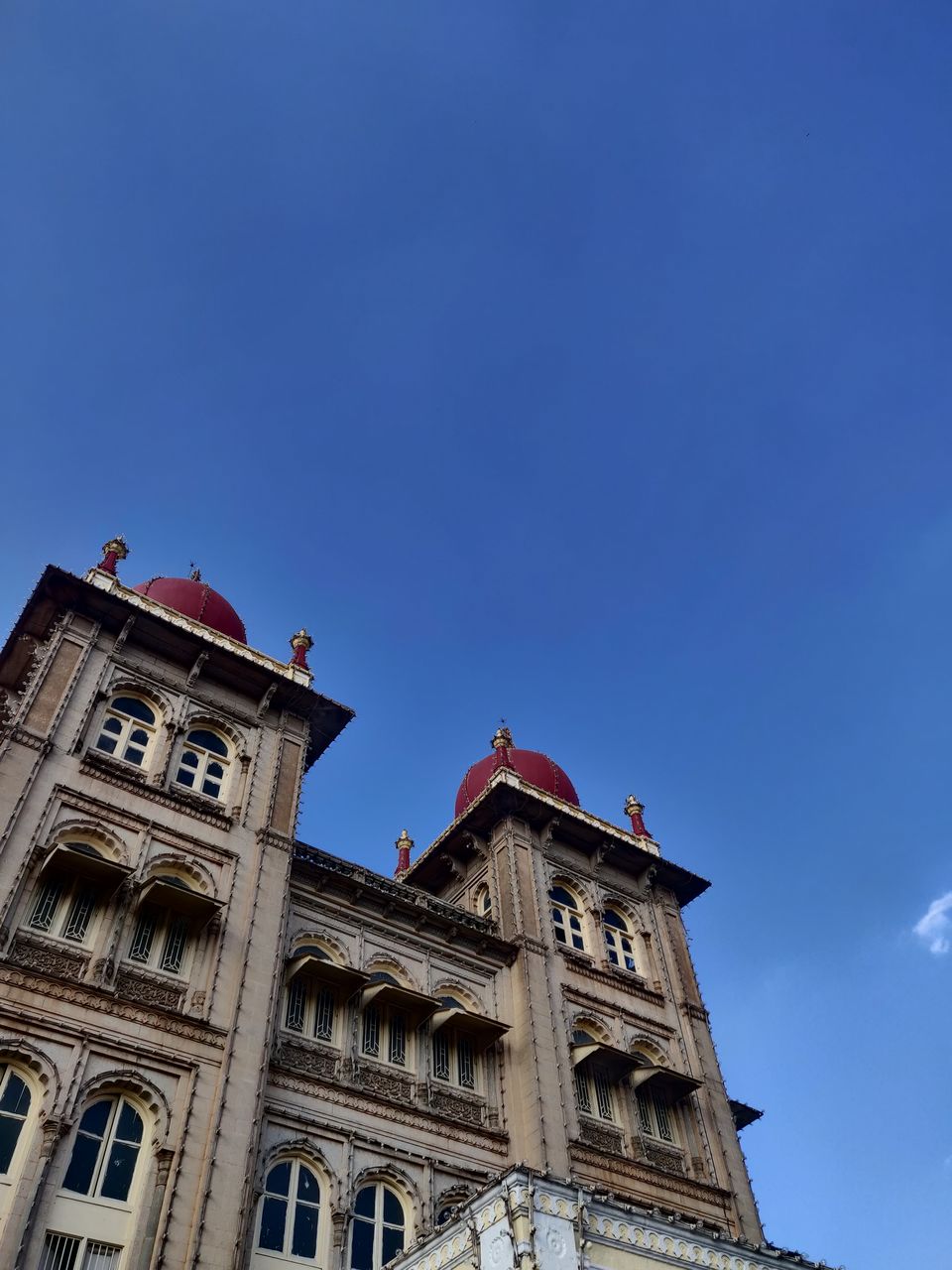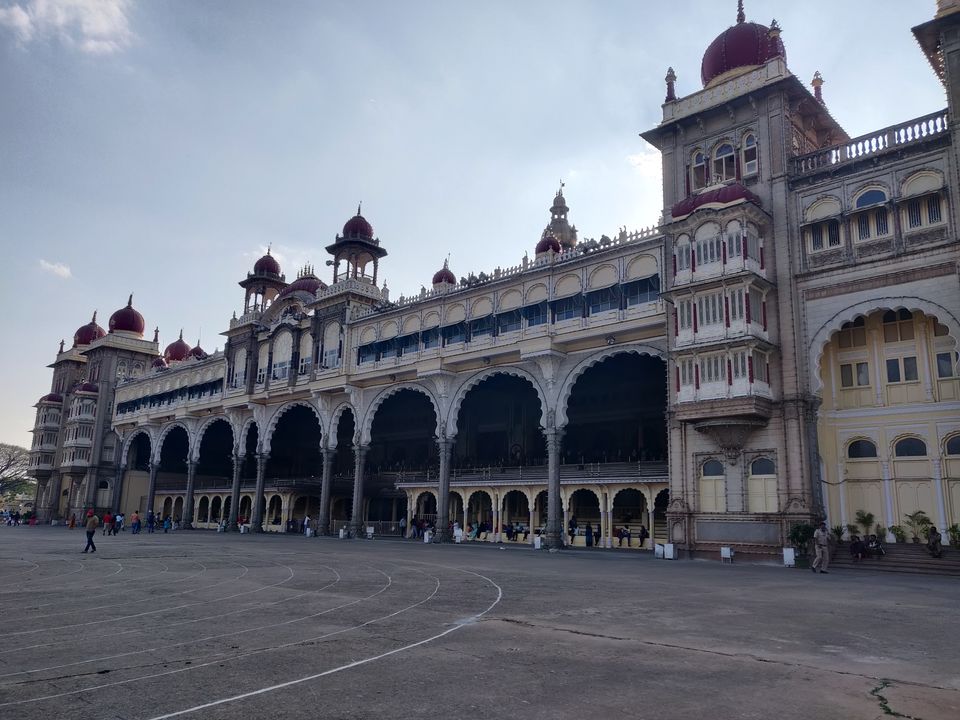 The Royal Palace is known for its rich and marvelous architecture. You can easily fall in love with the beauty of this Palace.
Then we left the palace at around 5:30 pm and decided to go to the second place on our list i.e Chamundeshwari Temple . It is located on Chamundi hills which is approximately 14 kms from the main city. It is surrounded with beautiful trees and curvy roads. We took the blessings of Chamundeshwari Maa, clicked some photographs and left for the hotel as we were completely exhausted. While going downhill we stopped at a sunset view point which is just about 500 m from Chamundeshwari Temple. You can see the entire Mysore city from that point and the colors of sky at the time of sunset were mesmerizing. We finally reached hotel around 7:00 pm after having dinner and call it a day off.
Day-2: 10-02-2020
We started our journey early in the morning around 6 o'clock. And I couldn't resist myself but to stop my Bike and capture the beautiful sunrise.
We entered the forest reserve at around 7:00 am by taking the Karnataka-Kerala Highway. The highway passes through dense forest. The roads were pretty amazing and both its sides had lush green trees. If you are lucky, then you get to see Deer and Elephants. Luckily, we got to see a group of deer at the end of the Forest Reserve. Even though the roads are less crowded and smooth, one should drive with due care to avoid any harm to wildlife. There are no gas station throughout the forest so the gas tank should always be filled beforehand. The best time to visit Bandipur forest is during the monsoon.
After having breakfast at a local restaurant situated near the border of Karnataka State, we left the Bandipur Forest at around 9 am and started our journey towards Coorg. We took the state highway which passes through Begur district. Surprisingly, the roads were covered with trees and infinite farms on both sides which made that journey more blissful. We clicked some photographs of trees and farms, we reached Madikeri i.e Coorg around 4 pm in the evening.
After we reached Coorg, we knew that we could only explore two places due to time constraint, so we decided to visit Abbey falls and Mandalpatti Hills. Abbey falls is one of the most beautiful places in Coorg. It is located between the dense forest which makes it more beautiful. The waterfall sound amidst the forest is like honey to ear. Afterwards, we proceeded towards Mandalpatti Hills but could not explore as we reached at about sunset. So instead of going to the top and missing the complete sunset we halted in between where there was view of valley and the beautiful mountain range.We clicked some photographs, took selfies and then went back to our Hotel.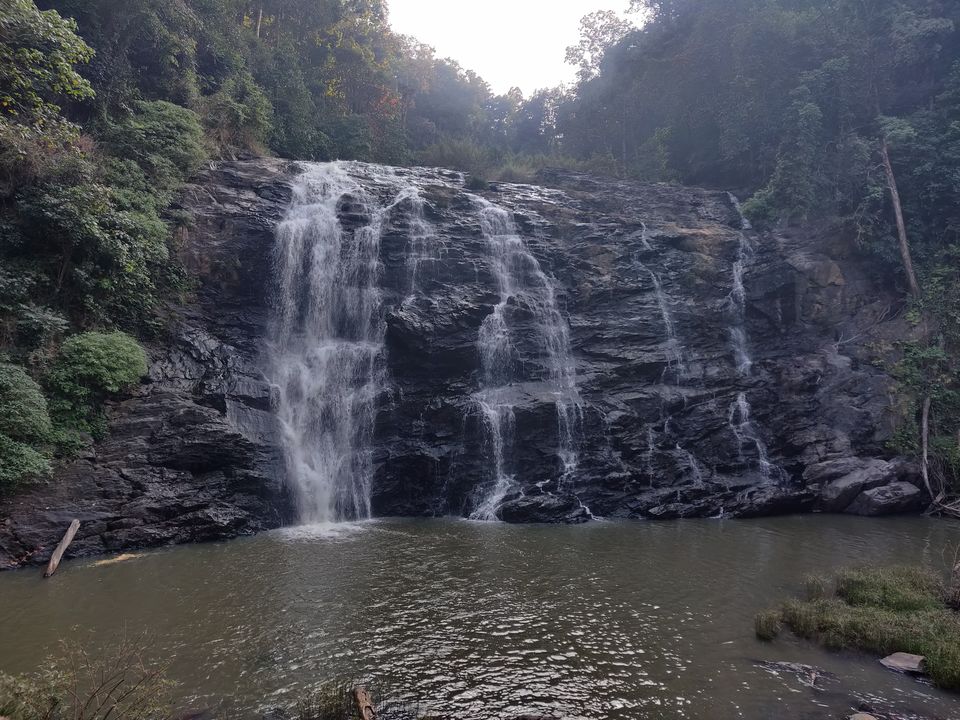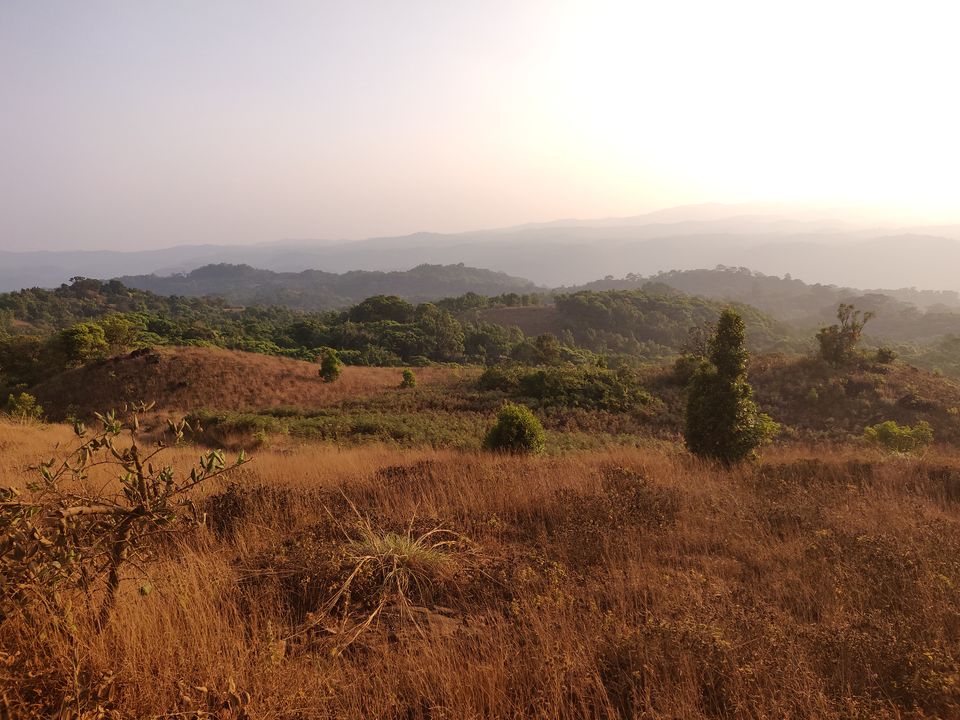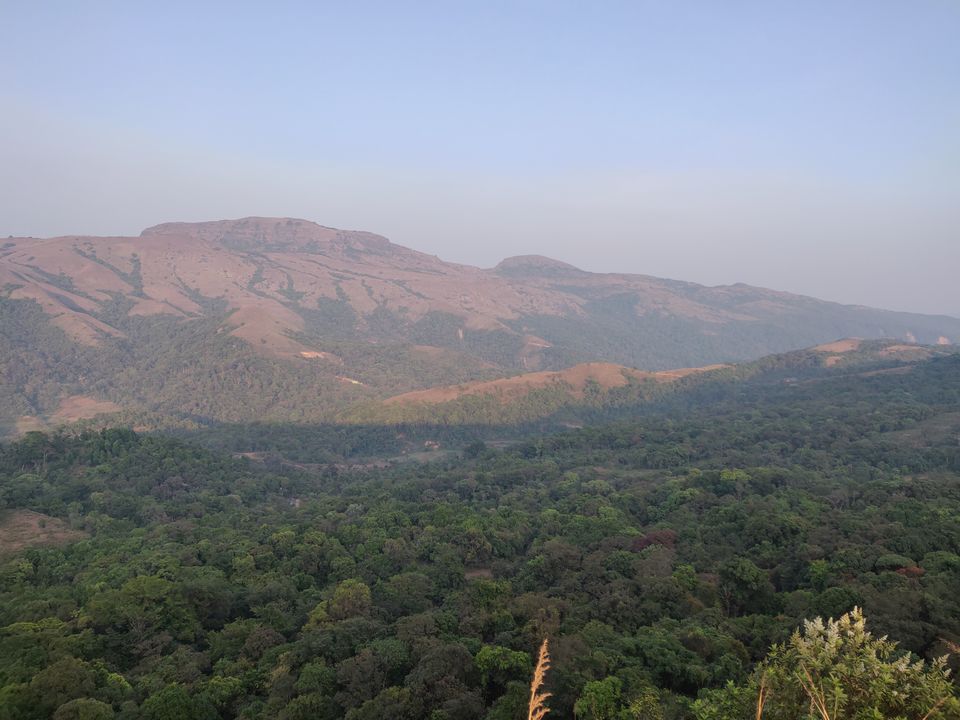 Day-3: 11-02-2020
So our next destination was Chikmanglur-The Coffee Land of Karnataka.
No wait, there are couple of places to explore in-between Coorg and Chikmanglur.
One is Namdrolig Monastry and another one is Belur stone Temple.
So we started our day early in the morning around 6:00 am and we reached Namdrolig monastery around 7.30 am. We were at the monastery for about an hour. The atmosphere over there was so tranquil that you wouldn't want to go anywhere. We just sat there doing nothing for almost 20 minutes and then we realize that we had a long way to go and started moving towards Belur.
It takes about three and a half hour to reach to Belur. It is a small town and is famous for the Chennakeshava Temple. The temple was built in 12th Century. We took a detour for the temple and then left for Chikmanglur.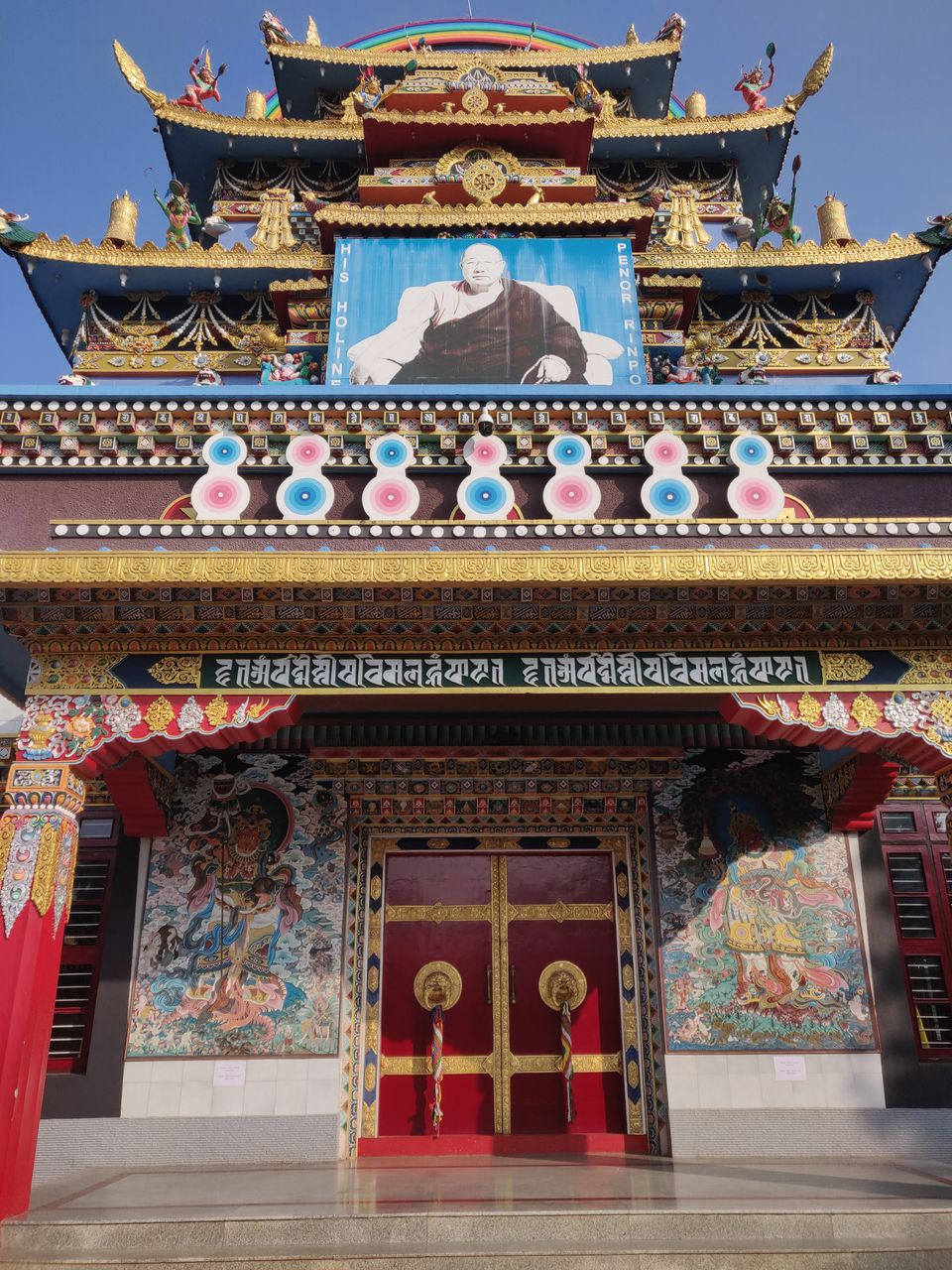 And finally we reached Chikmanglur around 3:30 pm , and took a little rest and went to explore the city. There is not much to explore in the city but one can explore the outskirts of the city.
We used an app called " Visitin"-available on the Google Play Store to know about the famous places to visit nearby.
We decided to visit two places in Chikmanglur, one is Jhari Water falls and other one is Mullyangiri Hill Point. Unfortunately, we couldn't go to the Jhari falls due to some construction work but the ride downhill and uphill was an experience worth mentioning and then we headed towards Mullyangiri hills.
To be honest, it was one of the most beautiful places I have ever visited. You can have the marvelous view of the dense forest from the top of the hill. Also, the roads were amazing, one can easily cruise at 60-80 kmph that too in a hilly area.
Nevertheless, I wouldn't recommend to go at such high speed but one can go if they are confident enough.Also there is temple of "Mulappa swamy" on top of the hill who is believed to have meditated at the caves only a couple of feet below the summit.Here are some of the clicks from the top.
Day-4 12-02-2020
As per our modus operandi, we started our journey towards Gokarna at around 6:30 am. Our route from Chikmanglur was through dense forest. Driving through the curves of the forest covered roads was an overwhelming experience, especially the sound of the wind and birds chirping along the way.
Just when we bid goodbye to the beautiful forest roads, we entered onto the coastal highway to reach Murudeshwar. The coastal highway is pretty amazing though little busy but we could easily cruise at 105-110 kmph.
We reached Murudeshwar at around 2 pm and we had to wait for about an hour for the gates of temple to open . So we took a little walk on Murudeshwar Beach, had soothing coconut water and spent some time sitting nearby the temple. Also, there is a humongous statue of Lord Shiva on the other adjacent temple. This statue is world's second tallest Shiva statue. Once the gates opened we took the blessings of Lord Shiva and left Murudeshwar at around 4pm in the evening and we reached Gokarna at around 6 pm. At first, we decided to take some rest but could not resist exploring Gokarna. We first ventured out to Kudle beach, nearby.
The best thing about Gokarna is that Kudle beach and Om beach are open round the clock so we decided to go to Kudle beach to feel and enjoy the night with moon shining on a peaceful beach. We sat on the beach with our favourite beer and enjoyed the clear sky and soothing sound of waves.
Day-5 13-02-2020
On Day-5 we explored Gokarna's beach(s) and temples. We went to the Kudle Beach early in the morning to see the sunrise and enjoy the serene beach. The beach is clean and free from any kind of pollution. We went for a swim for about an hour. Then we went back to hotel, had traditional breakfast and went on to explore the city temples. We went to the Famous Mahabaleshwar Temple which is situated in the main city.
In the evening we went to Om beach. The beach is called Om beach because the seashore is shaped like the auspicious ॐ Om symbol.
Then we came back to Kudle beach to witness the sunset and clicked some photographs. And I must tell you guys, the sunset was just phenomenal and in that moment we were infinite. There is so much positivity around you that you just forget all your worries and live in the moment.
Day-6-14-02-2020
As we headed towards our last destination Hampi, we were a bit exhausted but more excited. We left Gokarna early in the morning around 6:00 am. As we left the Gokarna, we got to experience one of the most beautiful national highway of India. The highway is covered with infinite farms and windmills along the side of the road and above all the highway is made of RCC. I vividly remember that at one point of time we were going at a speed of 115-120 kmph on our bikes. And because of this we reached Hampi before time at around 3 pm.
Then as usual we went on to explore the city. First we reached the Virupaksha Temple and explored the ruins of Hampi. As there were lot of places to explore, we decided to explore the Vitthala Temple on the next day. At the end of the day we sat on a big rock to witness the sunset from the hills in the ruins of Hampi. We weren't expecting to see such beautiful sunset on back to back days.
Here are glimpses of Hampi:
We both knew that the last day of the trip was going to be a hectic one. We went to the Vitthala Temple early in the morning. We reached there by 6:00 am which is an ideal time to capture some amazing photographs. However, what is more beautiful is that the place is not at all crowded as we went early in the morning and we got to see the famous stone chariot and at that time I said to myself " What a way to end the journey" We explored the site; it not only includes Vitthala Temple, but other monuments of Hampi ruins as well.
Then we went back to our hotel and left Hampi at around 11 am to reach Bengaluru by 6 pm. We returned our rented bikes to their respective places from where we picked up and headed straight to the Airport as we had a flight to catch.
So this is our Story. I know there might be some mistakes or writing maybe poor but I believe in the quote which says," Every Master is once a beginner".
Last but not the least I want to share the last pic of our Bike Road trip. Also there is a summary written in the caption do check it out.
For any question regarding the trip, feel free to reach out to my Instagram or on my e-mail id which is mentioned below.
E-mail: dhruvandalwadi@gmail.com.
Stay Safe!!!
Frequent searches leading to this page:-
karnataka holiday package, karnataka holiday package tours, karnataka tourism holiday packages, best karnataka holiday packages, holiday packages for karnataka