Madikeri is the main city of Kodagu district. This place should usually be chosen as the base for travelling in and around coorg. You can get all types of amenities here including high to low budget resturants serving both veg & non veg cuisines, Homely guest houses, coffee estates/cottages, hotels and homestays for family or private stays in vivid budgets and good transportation facilities to venture around. Madikeri has a state transport bus stand (KSRTC) which avails the facility to travel by normal or Ac luxury state transport buses. It also has outlets where one can hire taxi's on rent. KSRTC AC buses from Mangalore to Madikeri costs Rs. 300/- per head. Time taken for one side journey is roughly 5 hours.
A good place to test your cardio-pulmonary strength, "pun intended", Tala cauvery is a pilgrim place geographically falling on the northern part of the Bramhagiri hill range, which is also believed to be the originating point of the river Cauvery. This place is located on the peak of the range, surrounded by lush green trees, smoky clouds, cold and pure during the pre monsoon or summer end. In order to to view the falls from where the cauvery originates, one has to climb over an approximate 350 steep rock steps, all by bare foot. The climb is tiring but not impossible & trust me, at the top of the summit you will win with the immense beauty mother nature offers.
Recommended for:- Families with young kids, newly weded couples, friends on day trek
Not recommended for: Old people (because of the climb), people with breathing ailments
P.S. - Photography of the inner shrine is not allowed.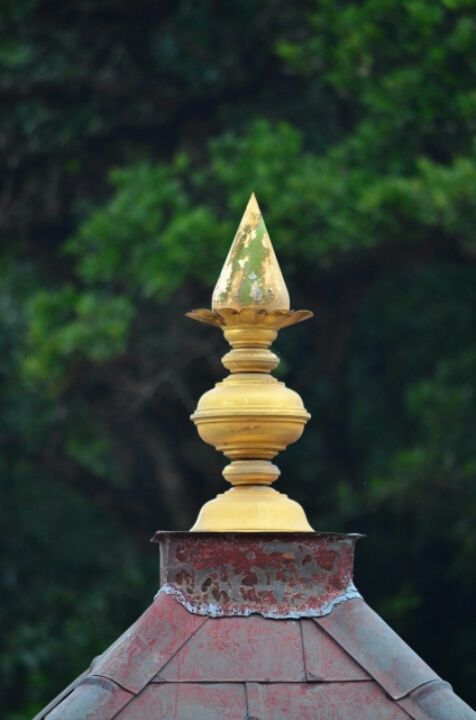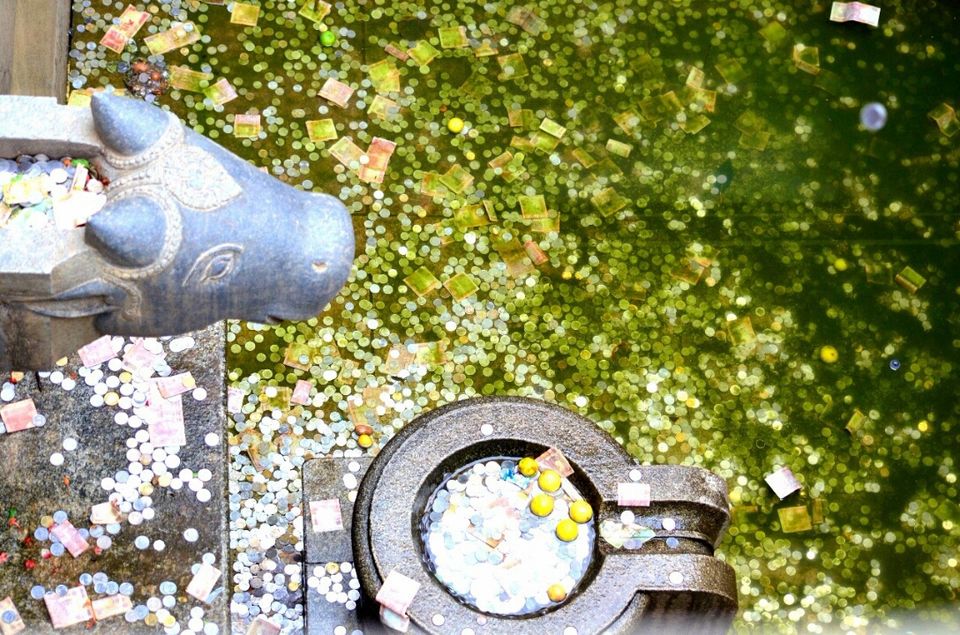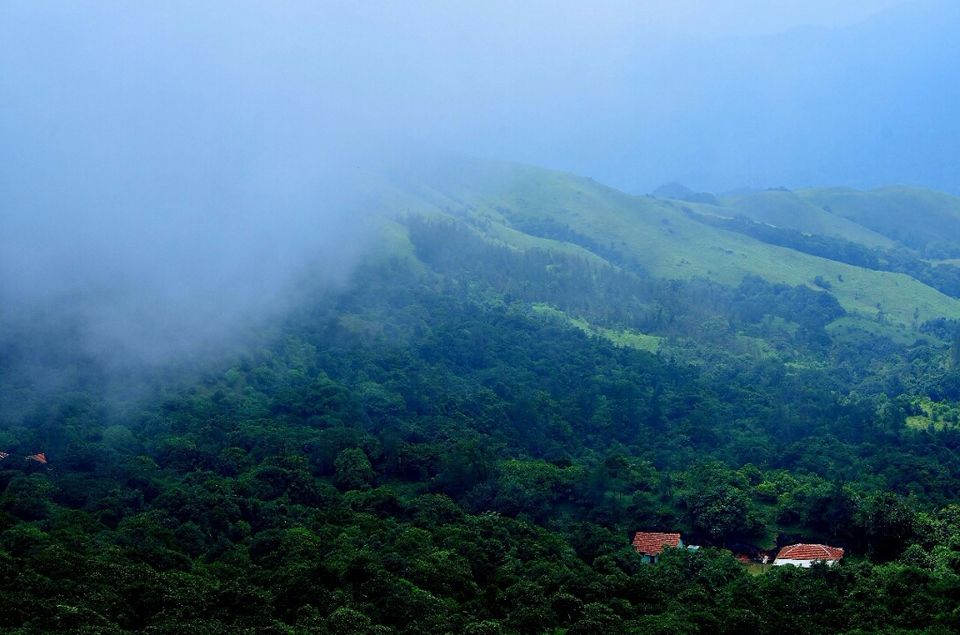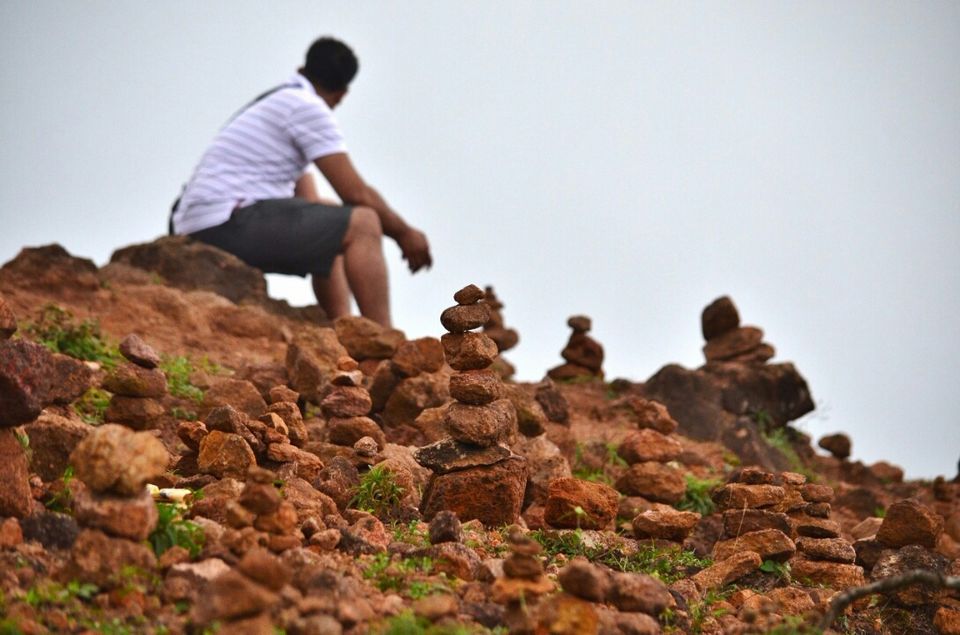 Baghmandala is a pilgrim place situated on the upstream stretches of river Cauvery.This holy place succumbs in the meeting of three rivers namely 'Cauvery - the master stream' and 'Kannike' and mythical 'Sujyoti' rivers respectively which are its tributaries. A km ahead of this Triveni sangam lies the Bhagandeshwar temple where Subramanya, Mahavishnu and Ganapati idols are installed.
Recommended for: Everyone, especially people seeking pilgrimage.
Not recommended for: Picnic goers as the river currents are high and strict environment protection laws are in place.
Kodagu also known as Coorg is a hill station situated in the southern part of Karnataka state surrounded by the beautiful lush green Bramhagiri hills and Cauvery river. Geographically it is boundaried by the Mysore district in the east, Kannur district (Kerala) on the west and Dakshin kannada district on the north.
Coorg has always been a popular choice amongst the newly married and has also been declared as one of the Honeymoon destination of India.
This hill station offers natural beauty along with the essence of its coffee plantations. This place has always been the house of popular indian spices, home made chocolates and filter coffee. Apart from the pilgrims, the adventure seekers or ardent astronomy lovers can go for various trails present in the Bramhagiri hills for a day trek, biking & camping or watching stars resp.
How to reach Coorg
Coorg is well connected by roads through all surrounding major cities of Karnataka and Kerala (NH 48 & NH 209). Tourist buses are quite frequent from Mangalore and Bangalore both. The distance to Madikeri from Coorg is approximately 176 kms while from Bangalore it is 267 kms respectively.
Our journey
We started for Coorg on 3rd may early in the morning around 8 am. Around 9.30 am we stopped for breakfast in a small town which served us some authentic breakfast served in Karnataka. After a comfortable journey through the ghats & valleys, we reached Madikeri about 12pm in the noon. Here we rested for half an hour & went for the first spot of the day i.e. Bhagmandala and carried out the rest of the journey one by one. It takes about 4 hours in a taxi to reach Madikeri from Mangalore. While returning we had our dinner from a resturant located in Madikeri at a pretty decent rate for 5 people and bought some coffee and chocolates from the local shops. We started from Madikeri around 9 pm and reached back to Mangalore around 12 am.
As it was just a day affair, we couldn't cover all the spots however I have tried to cover all the prime ones you may like to visit. The overall expenditure from mangalore including transport in a taxi shared by 5 adults and food was INR Rs.1500 per head.
Its a place for the nature lovers and sole wanderers.
If you like my blog then do drop a comment and follow me here. Also let me know what else you would like to read in a travel blog. Hope you have a great journey ahead! :-)
Namdroling monastery or the Golden temple is the largest monastery in the world which preaches the Nyingma lineage of the tibetian buddhism. Its a place where you'll find solace amidst the silence and prayers offered by the tibetan monks. Best time to visit the monastery is the evening time i.e. before 5 pm as it is the time for the monks to offer their prayers in a sweet chorused hymn echoed under the golden walls.
Recommended for: Meditation, people who want to spend time with their own selves in peace, avid photographers
Not recommended for: Noisy travellers, people who litter
Frequent searches leading to this page:-
coorg tour packages from mysore, coorg packages from mangalore, coorg itinerary for 3 nights, 2 nights 3 days bangalore itinerary, coorg 2 days package from mysore, coorg honeymoon destinations
A pretty cascade of cauvery within the dense western ghat forests. One can walk down down the trail to reach the falls and encounter the everlasting perrenial beauty.