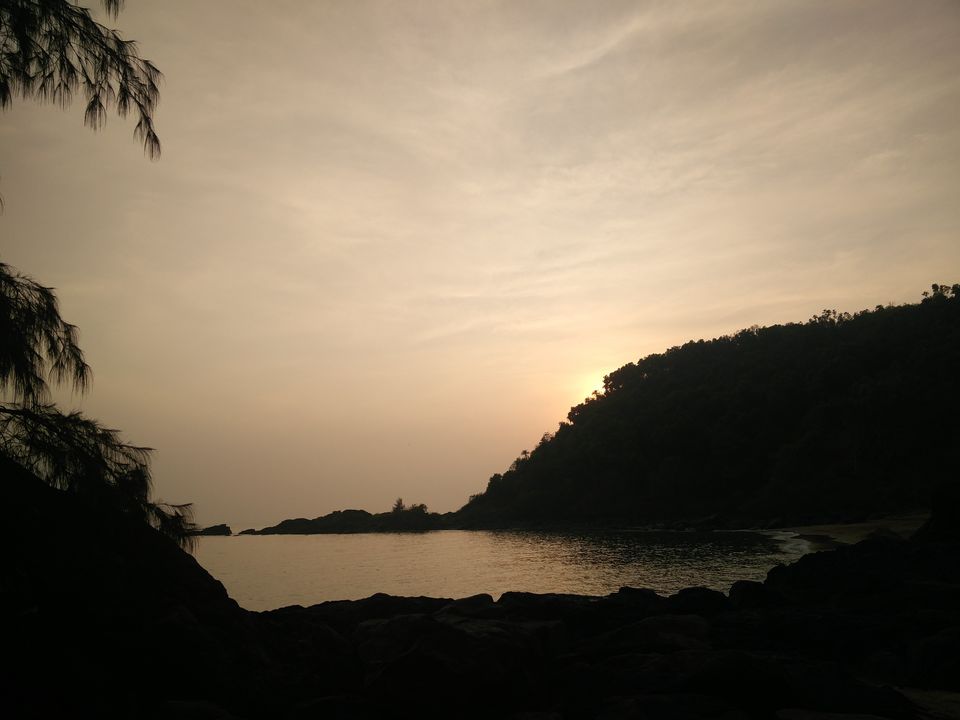 Now this is a different kind of trip from my previous blogs.This time, there was no hiking, no walking into camp tired and no sore feet.This trip was completely and absolutely about taking a break, and relaxing.
Our plans for Auli took a turn towards the dustbin with Prashant fracturing his leg. We had been haggling about the vacation earlier, but this sealed the deal. Gokarna, we chose you.
After meeting up in Mangalore, taking a trip down to the beach there, and gorging on some lovely ice cream sundaes at Pabba's, we caught a train to Gokarna.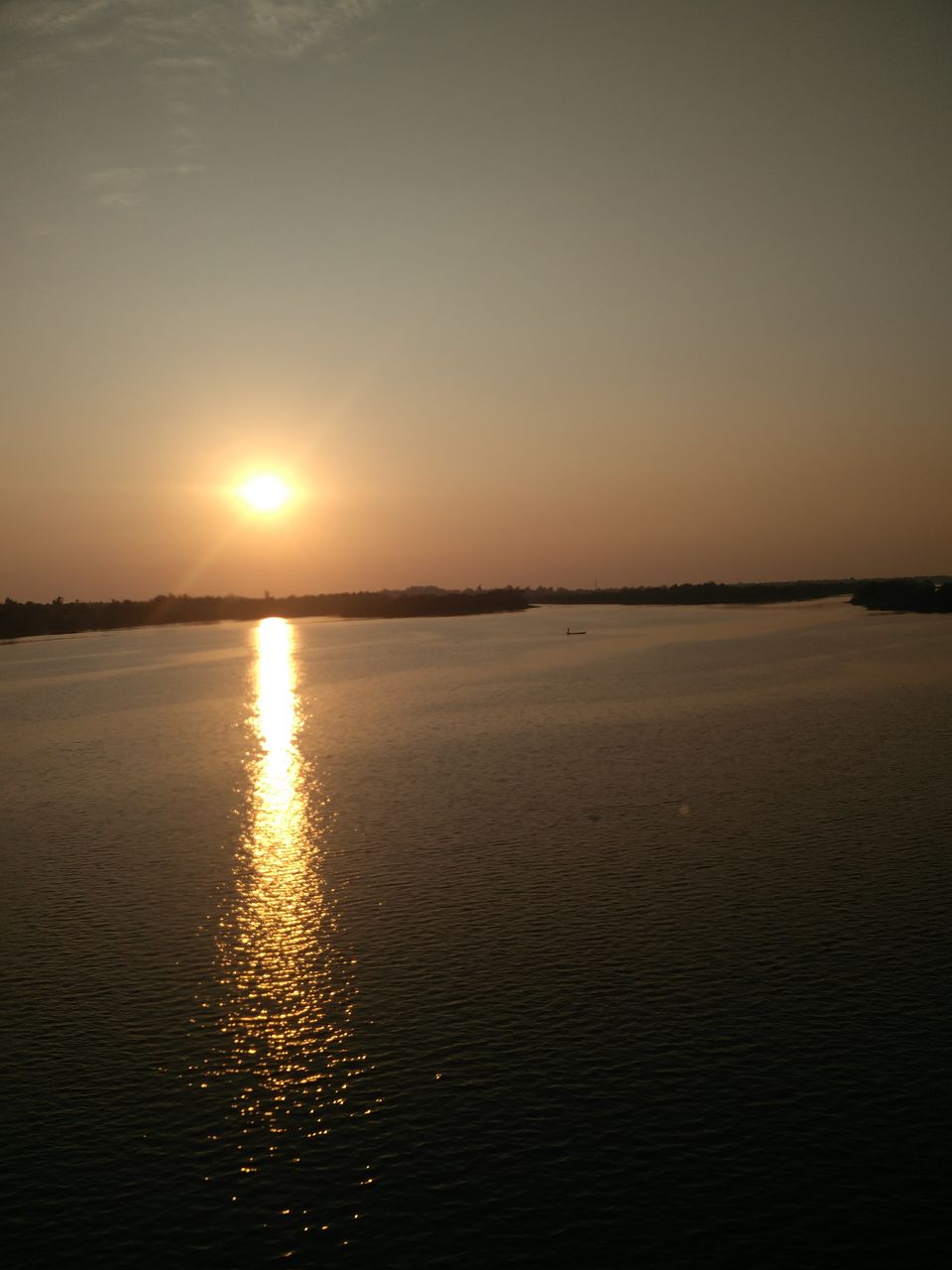 The journey was lovely, with so many bridges, backwaters and ample greenery making up the view from the window.We reached at dusk, and took an auto to Om Beach, where we spent the night at "Namaste Cafe".
The next morning we took a ferry ride to Half Moon beach, our home for the next 5 days. It's a small quiet cove living up to its name. Our next step was finding "Ganesh" with whom we have made our stay arrangements. There are a handful of shacks around, and we found ours almost immediately.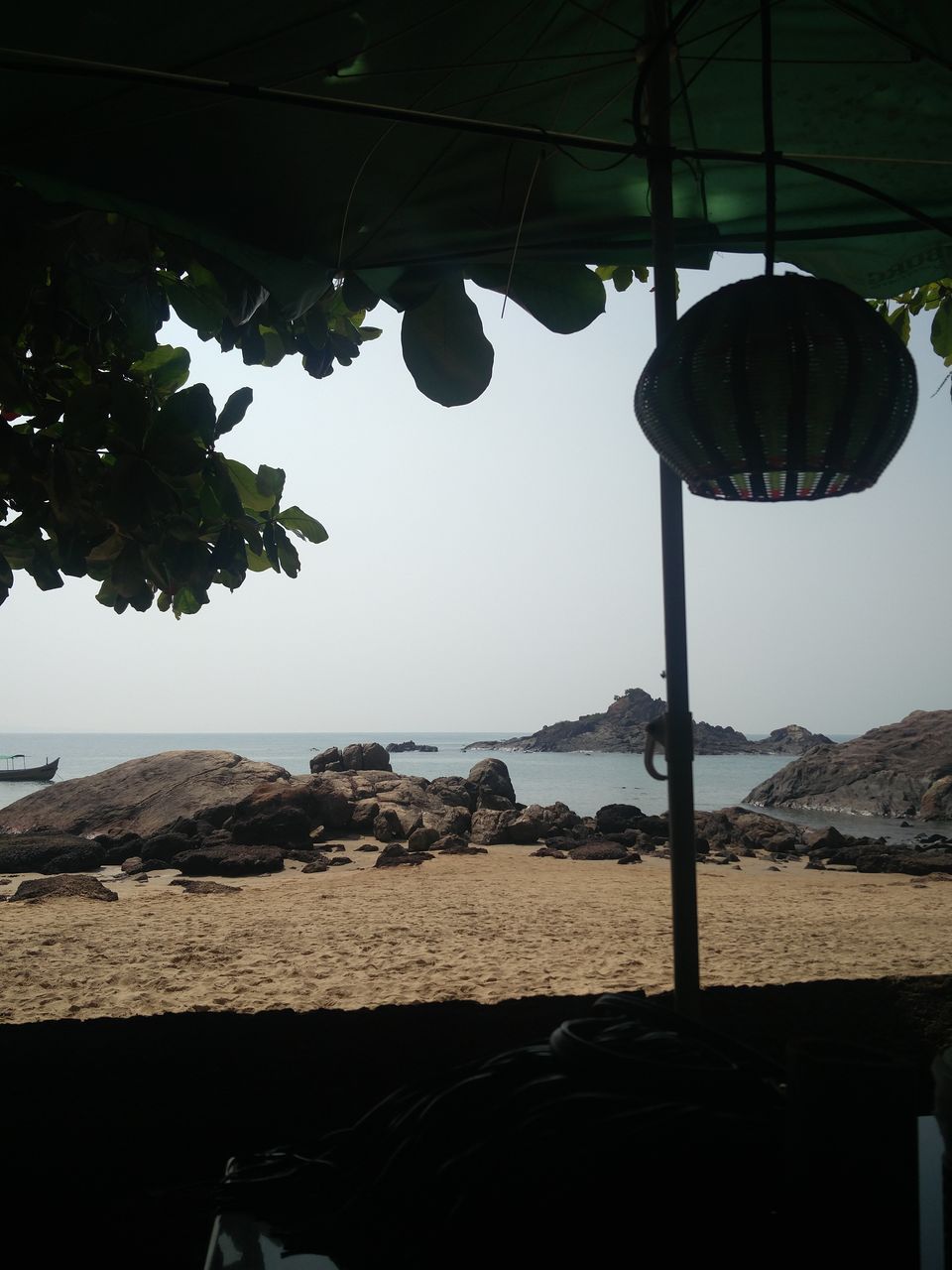 We had decided to stay in a small one bedroom shack , with a common shower area and washroom.It wasn't exactly 5 star, but no one around seemed to mind it , and neither did we.
After unloading our bags, we headed to the nearest restaurant (another shack) to grab some grub. Now all these restaurants have sandy floors to twiddle your toes in, while you look out to the sea.
I went snooping after lunch, and found a perfect sandy spot, under some low lying palm trees (at least, they looked like palm trees to me) right on the beach. With the overhanging branches shading you, people would pass by without even noticing our presence.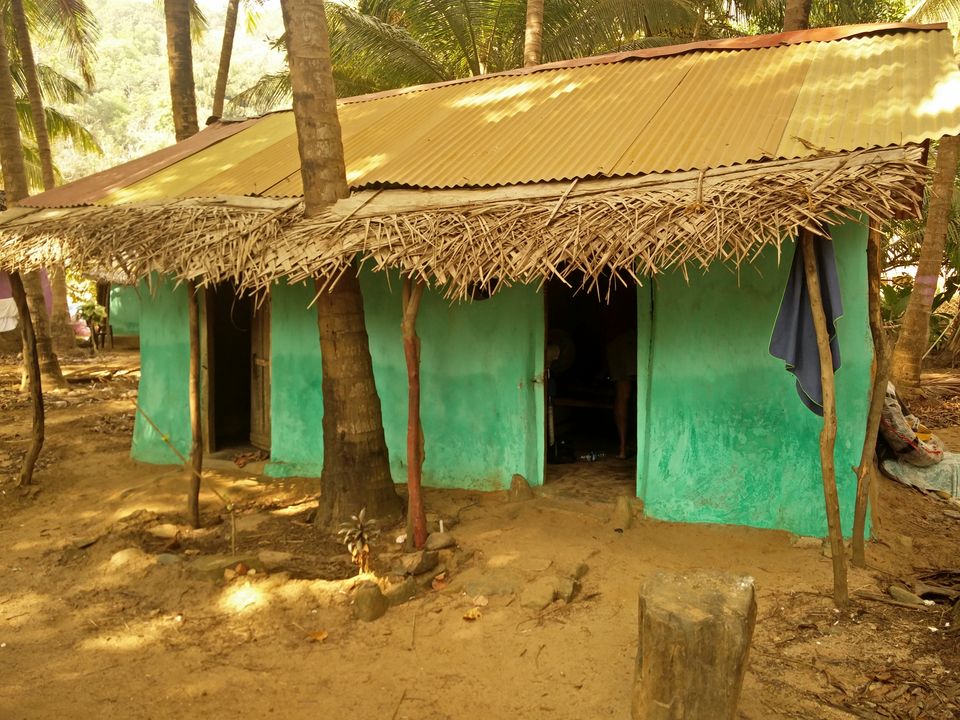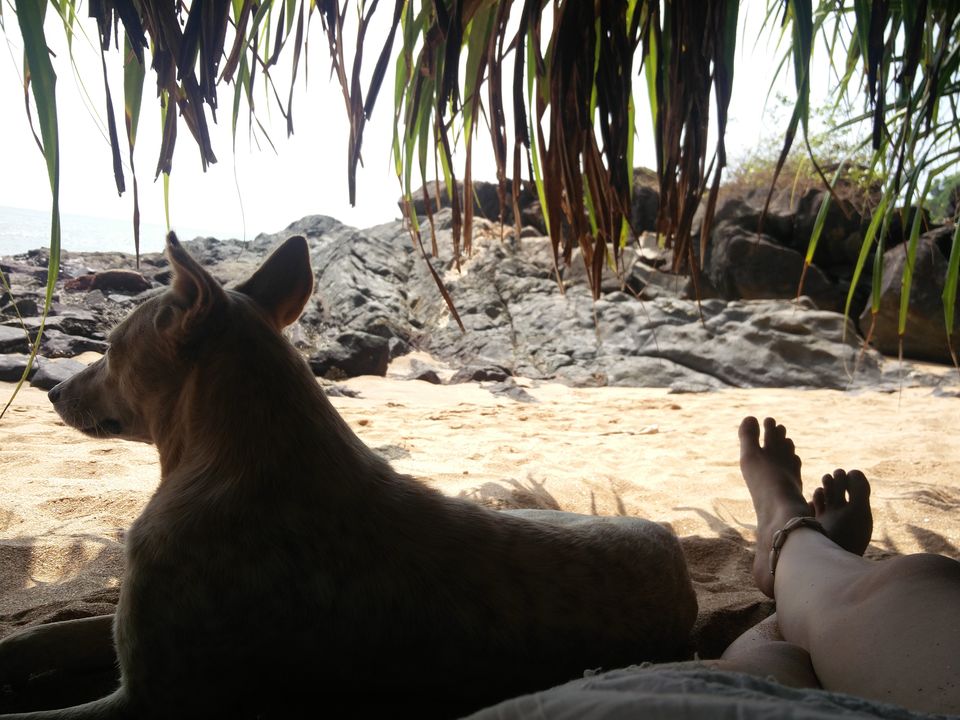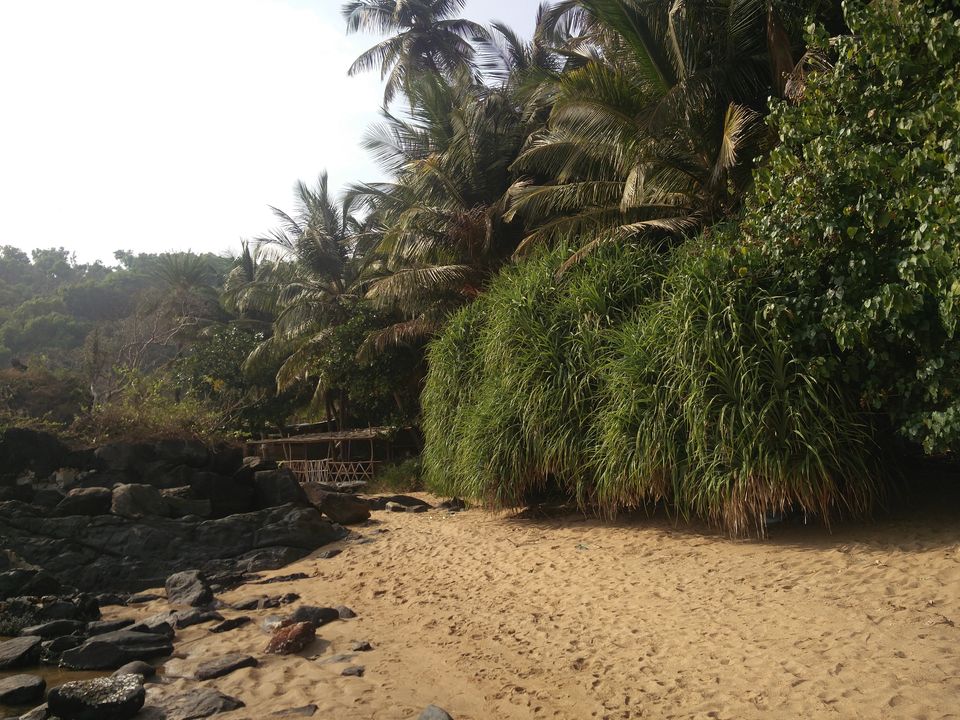 This spot became our favourite, spending most of our time there, just reading , painting and well, snoozing. Prashant did discover hammocks and then he would always be found in one, but this was my special place.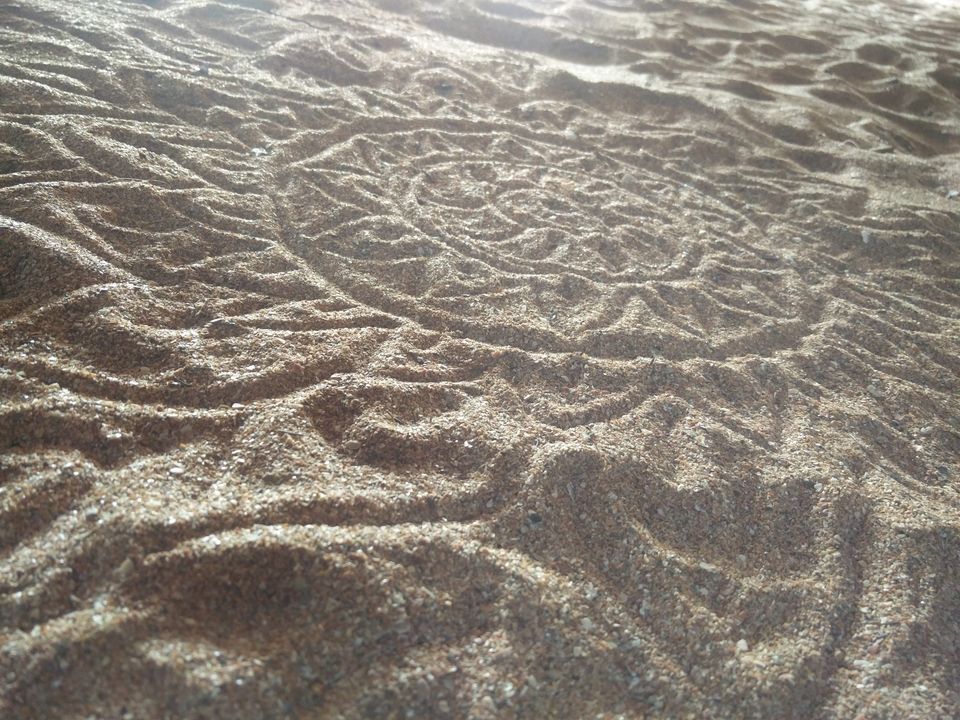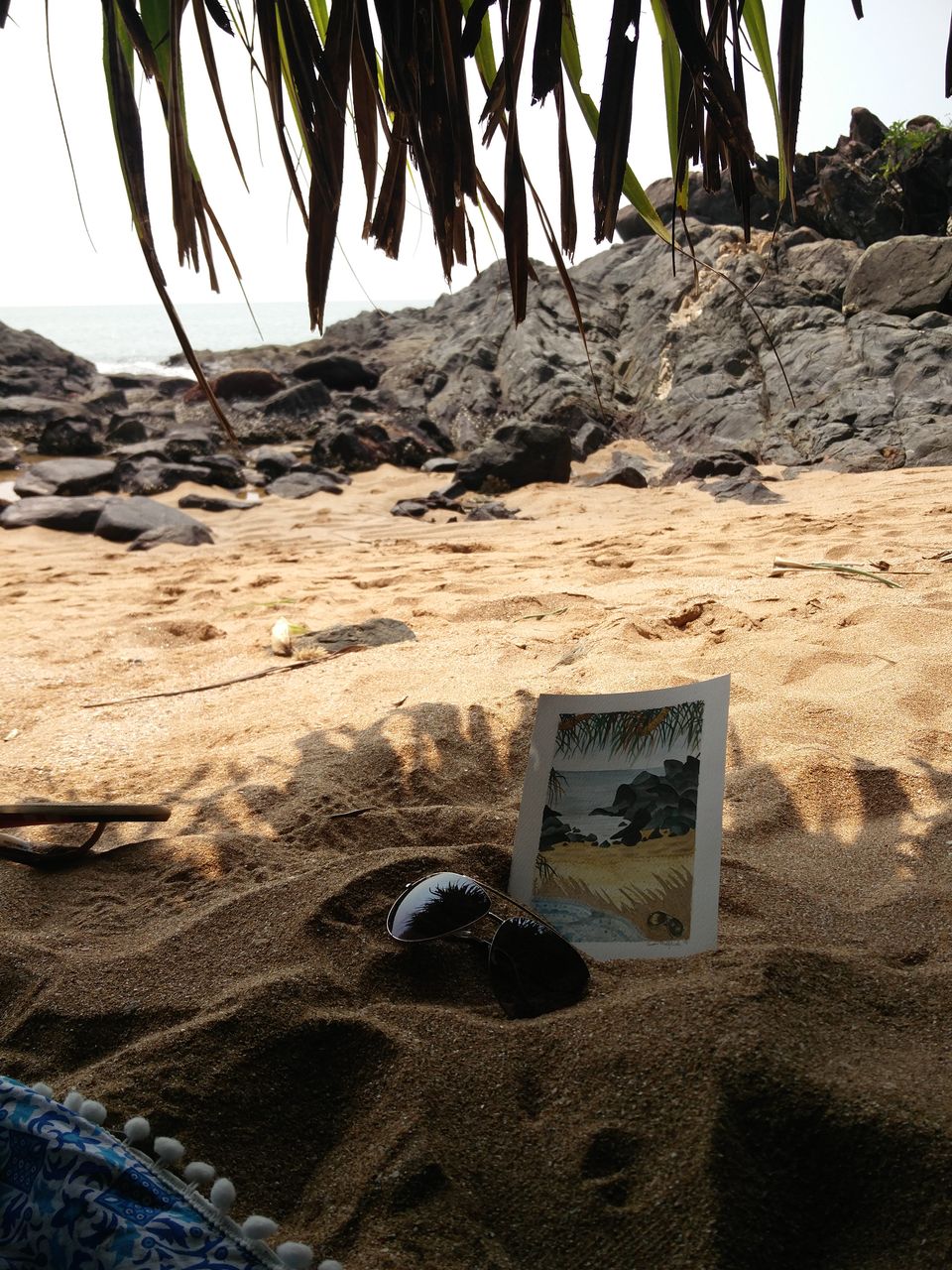 Our days went by eating, reading, swimming a bit , star gazing, and of course, sleeping a lot. The waves here were very gentle, and perfect for me, a person with nearly non existent swimming skills. Prashant did swim out to one of the more distant rocky outcrops, to commune with the dolphins. I got to see them from afar.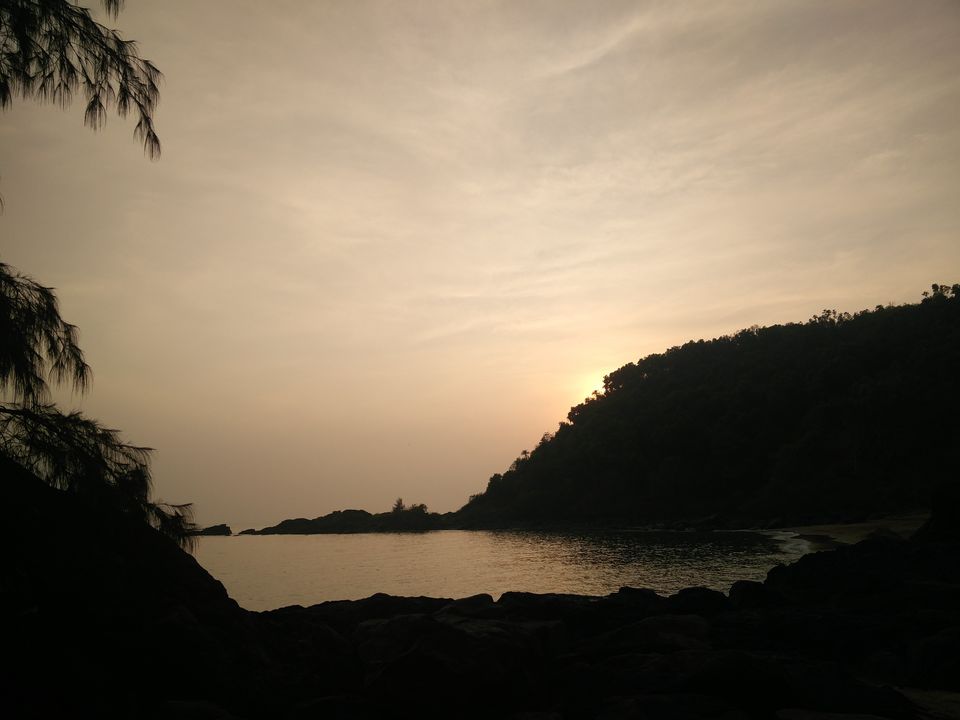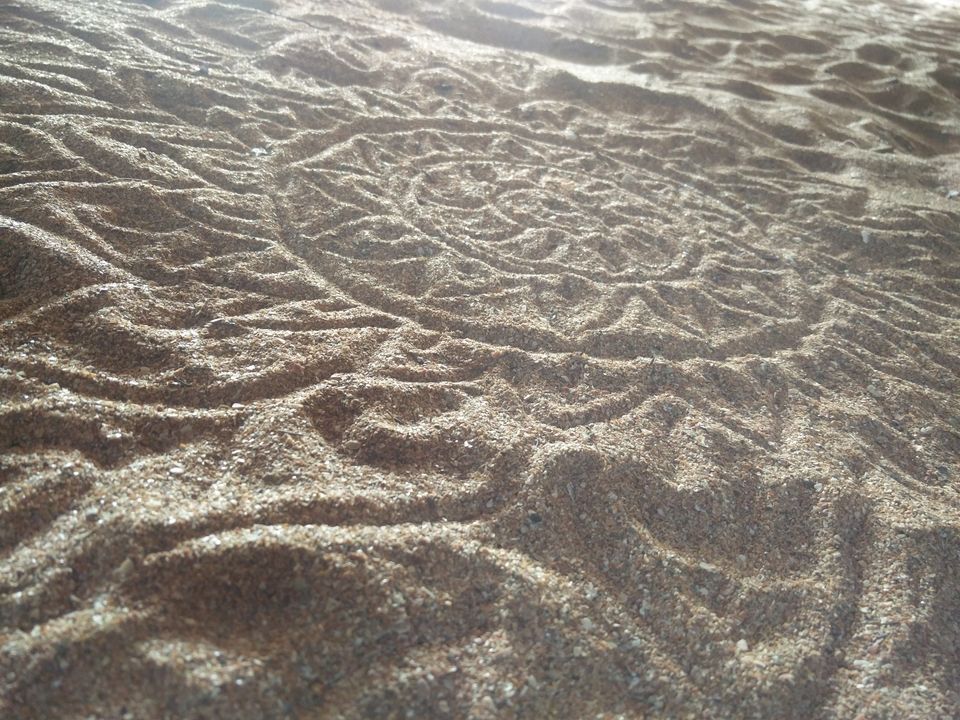 Five days went by, and it was time to move on. Our next stop was to be Murudeshwar, where I was to try my hand at diving at the Netrani island. However, the Navy was conducting some exercise there, and we were told to head to Kaup (Kapu) instead.
After a short hike, we caught an auto to the railway station, and took the train to Udupi, from where we were supposed to make our way forward by bus or auto.The journey, as the last time, was beautiful , but our exit from the station was more than eventful.
Long story short, we ended up pulling the train's emergency brake looking for a wallet we couldn't locate, and found ourselves in the Station Master's cabin.The wallet,as it turned out, was very much in my bag, and had slid to the bottom. We managed to wiggle out from there, mostly because of the Station Master feeling bad for Prashant's leg, which was in a brace. Phew!
After searching around for a while, we found a place to stay. Palm Grove resort, was right by the sea, separated by a narrow road. It was a quaint place to look at, with decent rooms.Post dinner we decided to take a walk on the beach, only to find the gates shut. The caretaker told us that there were "sea creatures" that prowled at night, and so the gates were locked. We requested him to open up for a 10 minute walk. I'm happy to report we were not attacked by any monstrous creatures.
The next morning we left early, and reached the site . West Coast Adventures was conducting the dive. We learnt that we would be going with a group of another 7-8 people, some of whom would be diving for the first time, like me, while others were there to get their open water certification.Prashant couldn't join us in the dive, but came along with the promise of good snorkelling.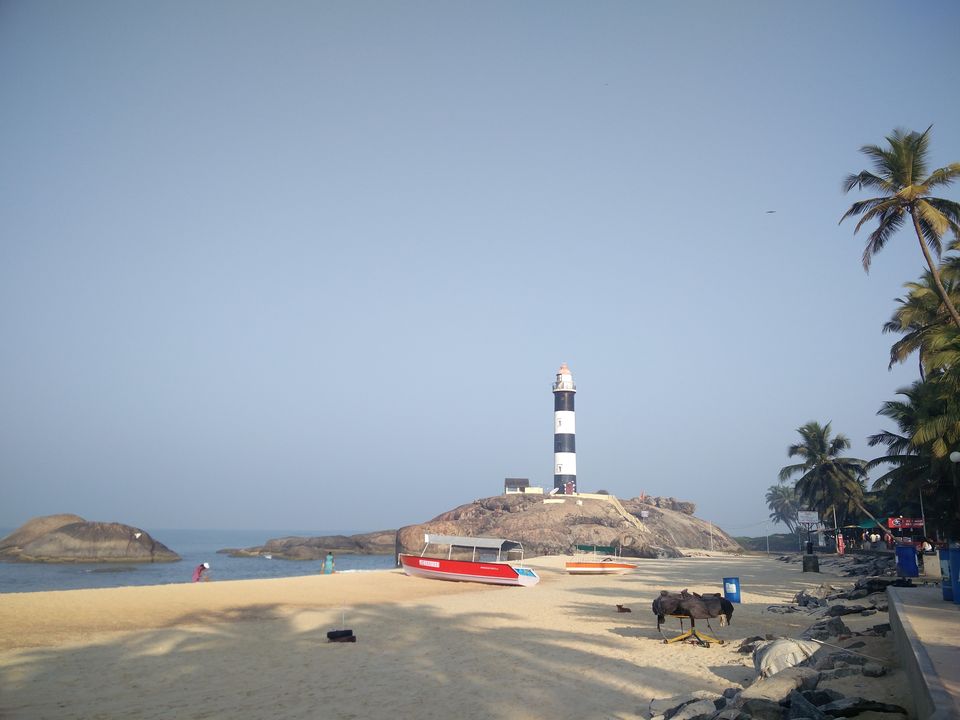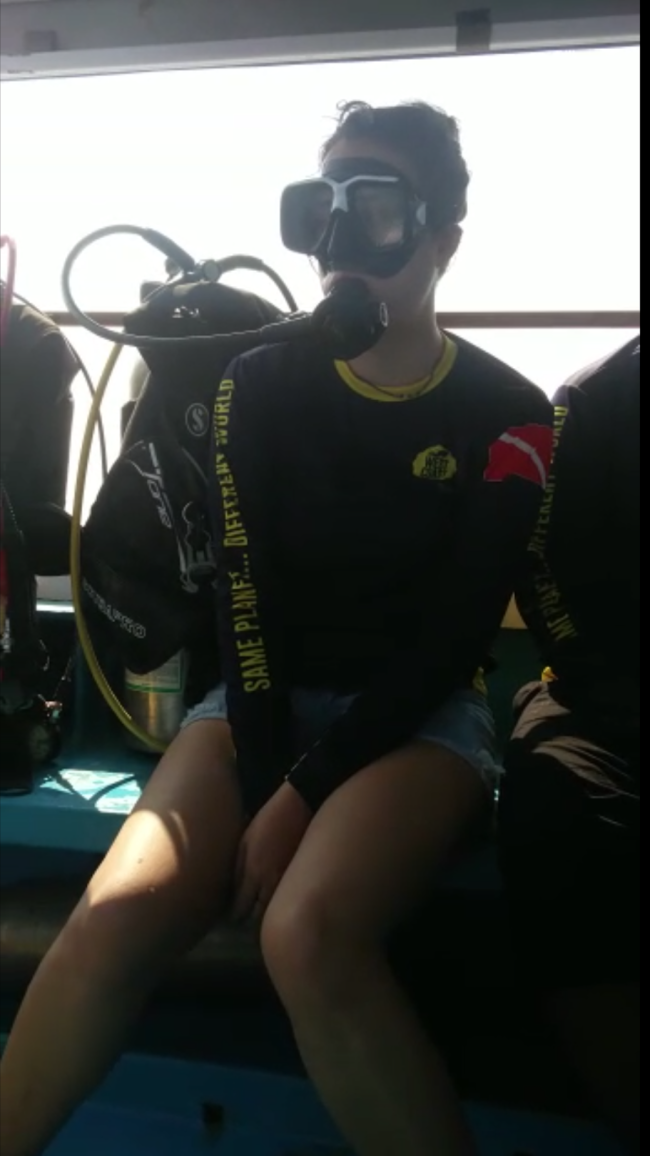 The spot is close to some rocky island about 20 minutes out to sea. Me, and the other 2 first timers, got to go for our dive after the others made their first round of dives. We were taught some basic signals, practicing it in the boat while waiting.
Prashant jumped in for a swim and snorkelling, while we waited on the boat for our turn. To our amusement, he decided to sing his song to the fishes, while came to us as muffled screams.
Finally, it was my turn, and I did the backflip into the water. It was unlike anything I had experienced before. Being a newbie, I was instructed to stay put, and let the pro divers guide me around. It felt like I had tunnel vision, with my peripheral visibility highly reduced.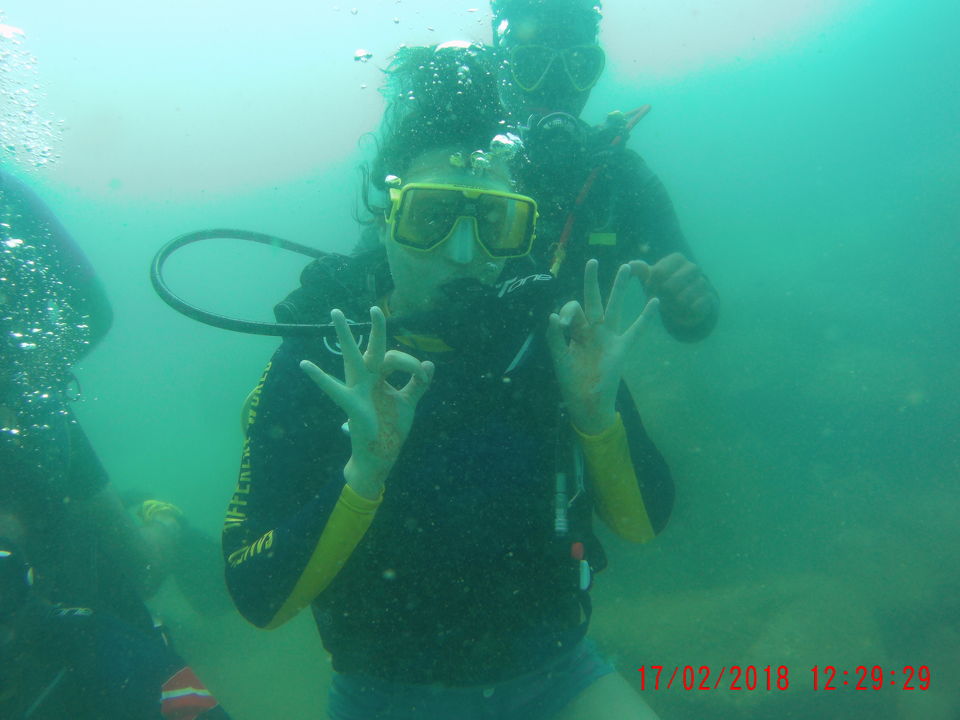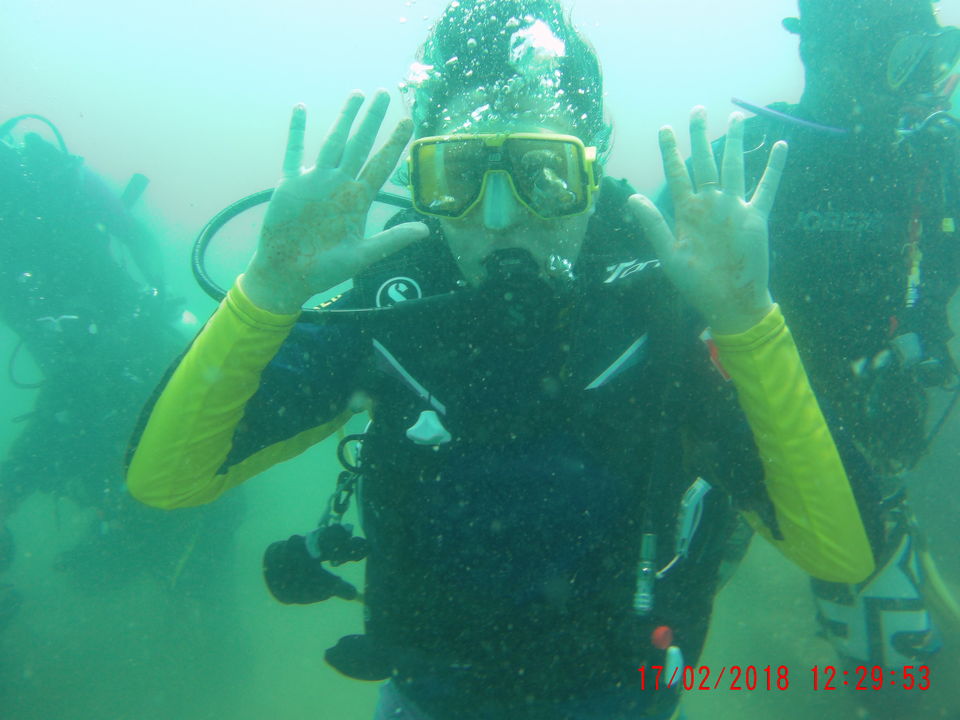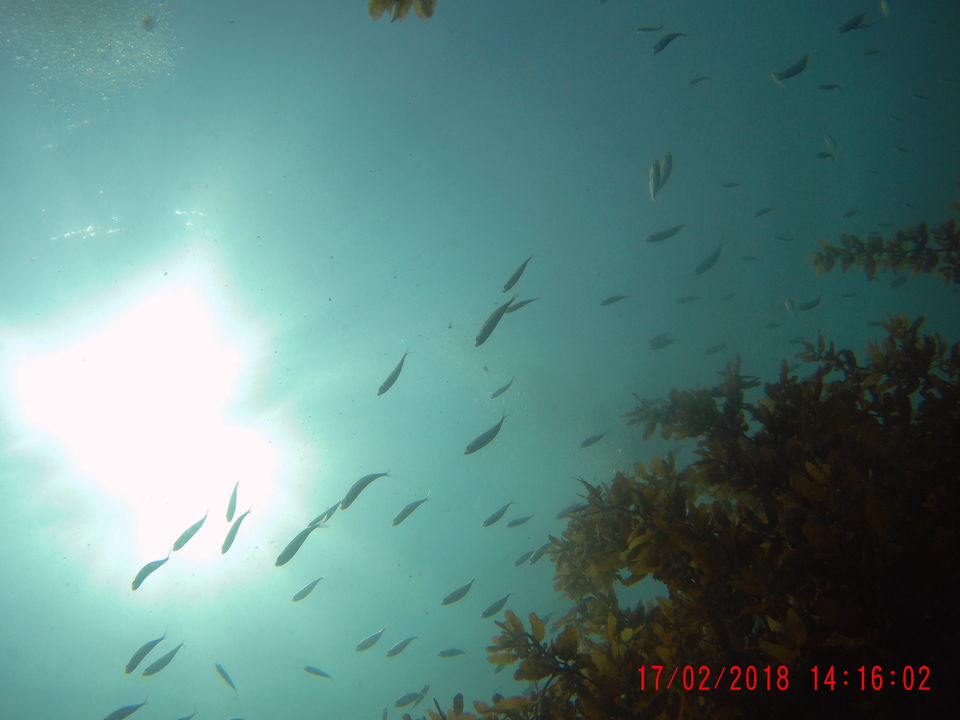 The oddest part was the complete silence, punctuated with a constant,wierd crackling sound in my ears. My lead diver showed me around, pointing out some wonderful fish, sea urchins and even some fluorescent slugs!
Half an hour seemed to go by in a jiffy, the only sign of passing time the pressure building up in my ears.
Soon enough, we came up , and were back on the boat. I did feel quite nauseated back then, and had to sit still for a while for it to pass.Which was good enough, since the other set of divers went in for their second round.
We finally made our way back to land, said our goodbyes, and made our way to Malpe beach for the evening.
It was a scenic auto ride, with the road hugging the shore almost the full journey.
Malpe was a surprise, bustling with local tourists, food stalls and even camel rides!We took the ferry to St.Mary's Island, its claim to fame being its distinctive geological formation of columnar basaltic lava. Ours was supposed to have been the last ferry for the day, and we were to return in half an hour, which was hardly enough to actually explore the island.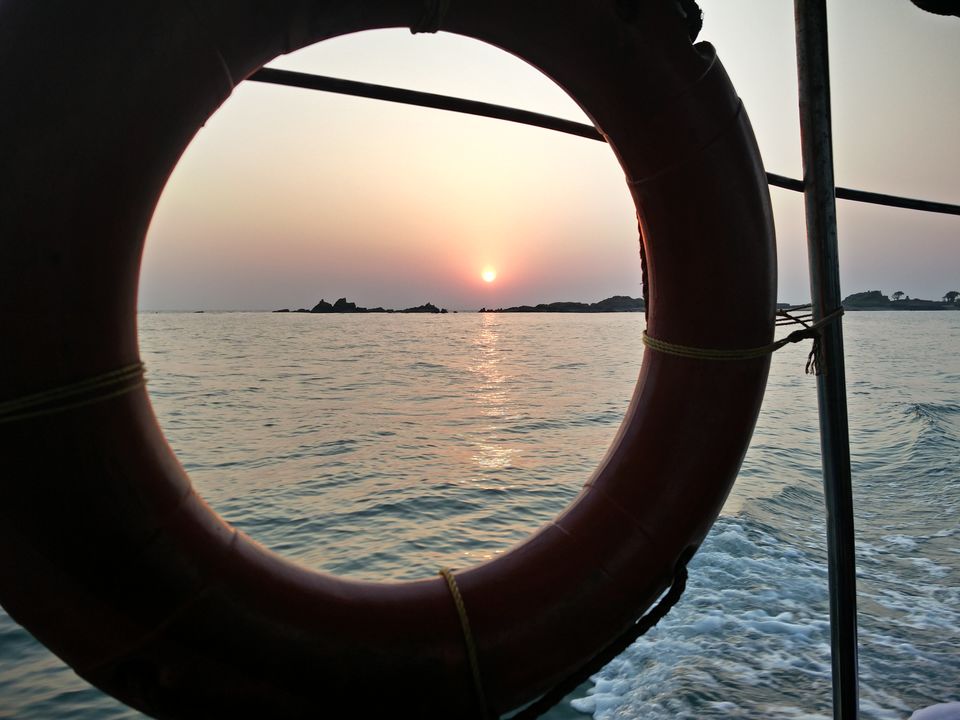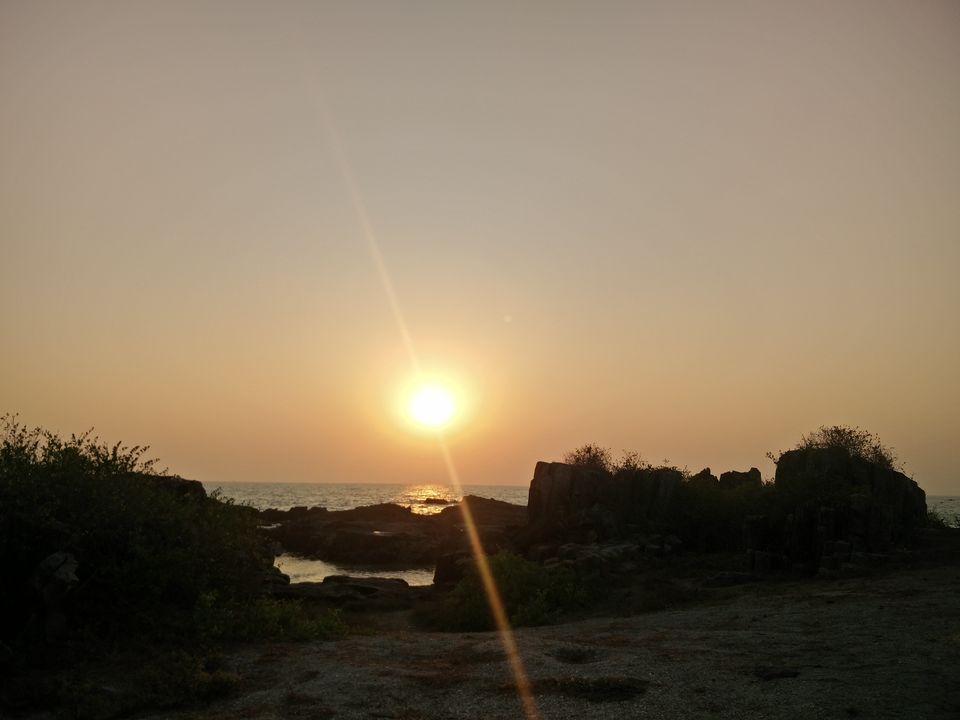 We were treated to a spectacular sunset on our ferry ride back to the mainland, wherein we hogged on some spicy tangy fish right there in one of the beach stalls.
It was getting dark by the time we were done, and we took an auto back to our resort. We did stop midway to witness a local "tamasha" with men in drag dancing to filmy tunes.
The next morning, it was time for us to make our long way home. We decided to take a public bus to Mangalore , from where we were to head our different ways. We did end up digging into some more of Pabba's famous ice cream one last time, though.And the rest, as they say, is history.