After coming back from my European adventure, being stuck in one place was making me go crazy. That's when I decided to pack my bags and leave somewhere. Gokarna, was an easy option since it was well connected to Bangalore and good for a weekend getaway. I tagged along my best friend and we were all set to go.
Taking a bus from Bangalore, we reached Gokarna around 7.30am(Goodluck with the twist and turns the road offers). Since we had no pre planned accommodation, we started our day with an auto ride to the most touristic destination, Om Beach.
Our auto driver told us that we will get a lot of shacks there for a reasonable price. Reaching Om Beach, all we could concentrate was on the serene view of Arabian Sea. The blue water, white sky, and brown rocks with green trees in the distant. While going through the beauty, I heard some noise, and it was the noise of my hungry stomach. I had to feed it. We stopped at the famous "Namaste Cafe". Stepping in, we saw a German couple dressed up in Indian attire, an Indian family posing for pictures, a guy in his 30s drinking beer early in the morning. Settled down for some banana pancakes, masala omlettee, coffee and juice.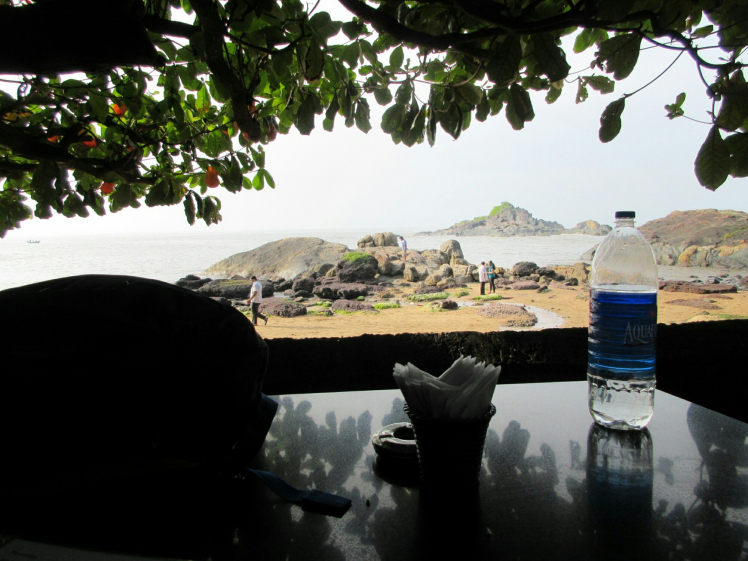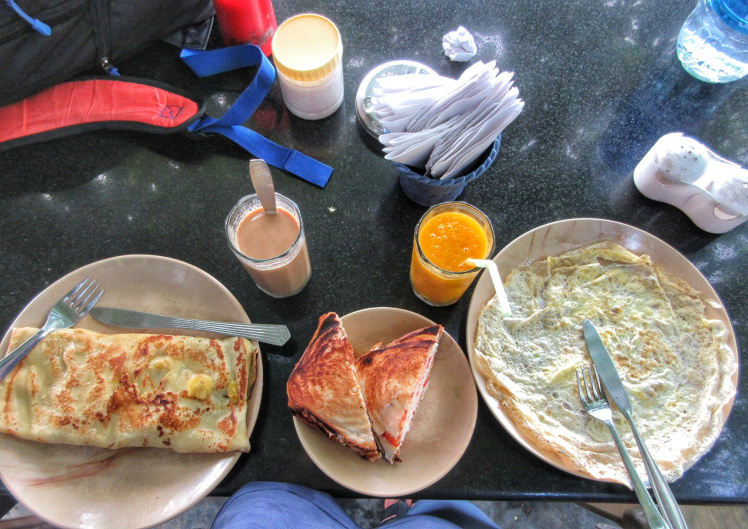 Personally, I think the the cafe is overrated. Having spent 3days in the cafe and trying their food, I would say it's only the location and the view which is good. After filling our stomachs, we needed some place to rest and take out all the tiredness our journey offered.Neither did Namaste Café's room impress us nor did they have early check in. I was in desperate need of sleep. Now, before going there I read many blogs about how there are so many shacks lined up, but to my surprise many of them were taken out by the police. We then decided to cough another 150bucks to reach Kudle beach hill top. We got a cottage for 1500 one night. And the view was serene from there.Shout outs to Arnav Cottages.
Finally taking the required rest, we went on to Kudle beach for some more food and views. Kudle beach somehow had more restaurants compared to Om beach. We settled for the first restaurant we saw and ordered some food with beer to chill.
The food might not be that great, but I promise you, the view will be. Strolled around Kudle Beach for a while and returned back to the hill top before sunset. Adrenaline was rushing through and we thought of climbing the hill and seeing the sunset. That was a small hill but climbing their drunk is one adventure. As we climbed up, we saw the huge sea in out front and greenary all around us. Sitting their and looking at the view kind of reminded me of a scene from Tamasha where Ranbir and Deepika are sitting on top of a rock separately with that beautiful sunset.
Many people start coming once the sunset starts. Make sure to get a good spot to enjoy it by yourself. Coming back down, and going to Kudle Beach again to sit in one of those shacks. Finished the day with some chicken pakoras.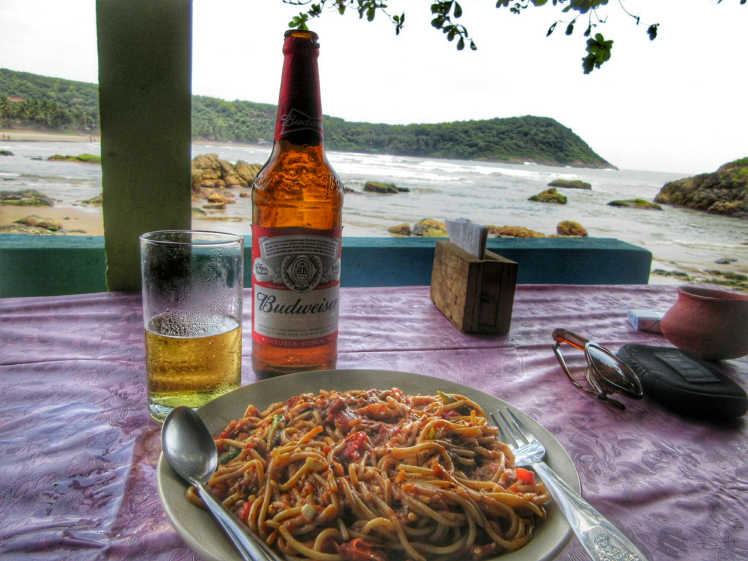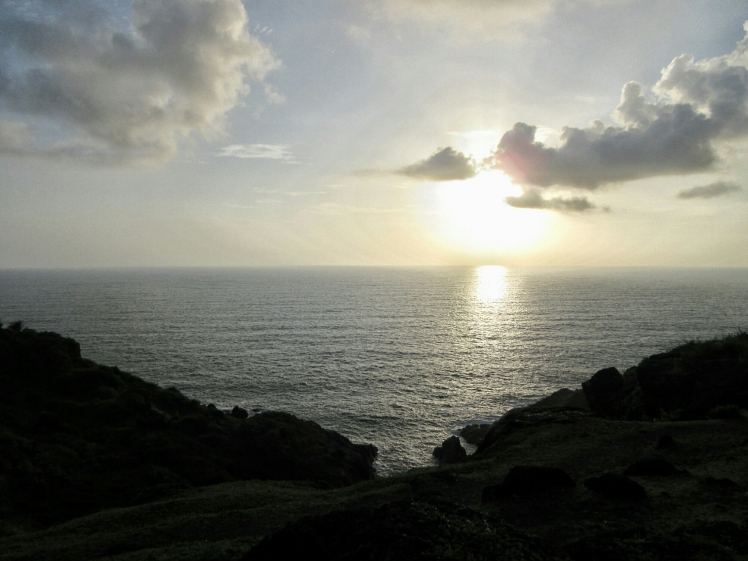 There's hardly anything to do at night in Gokarna, I suppose. Because it just became all quiet after a certain period of time. We had to use our torch light to get back to the hill top. The next day was spent walking in Om beach, drinking buttermilk which was made by a localite(he sold Bhel puri too) , spotting dead fishes in the sand. We also took some time out to go to the main beach, Gokarna Beach. It's a minute away from the Gokarna town and it gave us the opportunity to explore both the beach and town. We stayed the night in a hotel located near the bus stop because our bus for that night got cancelled.(1800 Rs for an AC room, we had to take it or else we would have killed each other because of the rising temperature).
The next day, we started our day with some South Indian meal. Rs.50 for a meal was a blessing when compared to Rs300 in Namaste Café. After the lunch, we did what we enjoyed doing the most. Went up to Namaste Café and ordered some beer, put on our headphones and got lost in our own world.
It was so peaceful watching the boatman trying to lure customers into his Rs300 boat ride, watching that guy with headphones bigger than his ear smoking cigarettes and eating more than anyone while nodding his head to the music, that group of 3 friends who were fighting to decide a perfect place for photo shoot, and that large group of women bullying one man ; I assume that he was with his girlfriend while his girlfriend is with her girlfriends. Not even exaggerating when I say, we spent the entire day in Namaste Café. The main reason for that was, neither of us knew how to ride any vehicle, and if we wanted to go somewhere we would have to spend another 150 bucks, we could have trekked but we were just lazy and decided to drink beer and be in out own thoughts. Well, you always gotta leave something behind so that you come back later, right?
By sunset the Café was almost empty. Only people staying there would go there I guess. Autos stop working after 8. We had to leave. But I really wanted to stay for a bit longer so that I could go more deep into the story of that foreigner couple who were sitting with a bunch of Indian dudes(typical Indian eavesdropping) . They actually seemed like they were having a great time. Our auto ride cost us Rs.200 (night time, you see). To be really honest, we were scared the whole auto journey. It's a hilly place with little to no lights and twist and turns. Unless you have your own vehicle, you'll be scared. On top of which our driver was a rough driver. But everything went smooth and we reached our destination. We took a KSRTC bus back to Bangalore. I was happy that I got a getaway and was going back to snuggle in my bed like a burrito and think about all those days.
Beer-150-170Rs
Room-Arnav cottage 1500Rs
Auto rides-150Rs each way
Room in the town - 1800Rs for AC
Average meal-200-300Rs
Scenic beauty -FREE!!
Be prepared with cash in hand, no atms unless you go to the main town.
Until next time.
Ciao.
This blog was originally published on 'Everything On My List'