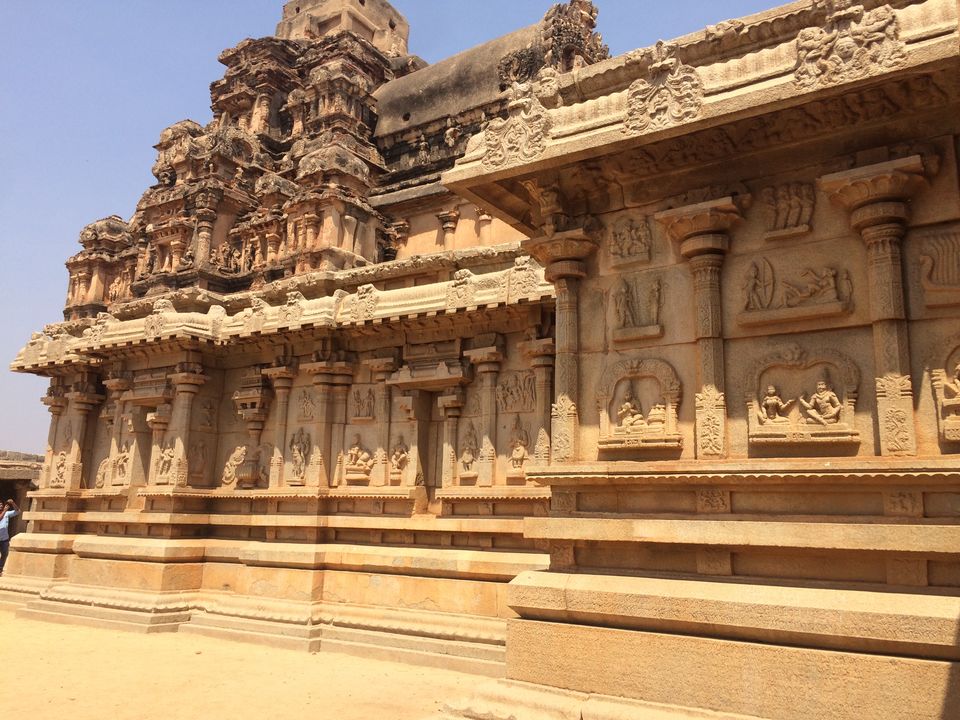 I had a frisson of excitement when I started off my journey to Hampi from Bangalore, a backpack and my earplugs and I was all set for my 1st solo trip to one of UNESCO's World Heritage site in India.
This excursion was all about exploring my inquisitive nature. I had always wondered how people used to live and lead their lives back in around 14-15th century. I needed to do it solo because I wanted to distance myself from people for sometime which actually helped me realize a lot of things in my life when they began getting reflected when I was without anyone else's input in a city unknown to me , but known to my curiosity, my desires, my solace.
Hampi was the capital of the Vijayanagara Empire from 1343 to 1565, when it was beleaguered by the Deccan Sultanate.As per Wikipedia,"Hampi — traditionally known as Pampa-kshetra, Kishkindha-kshetra or Bhaskara-kshetra — is derived from Pampa, the old name of the Tungabhadra River (Pampa was Lord Brahma's daughter, who was later married to Lord Shiva) on whose southern banks the city is built."It is believed that Lord Rama and his brother visited this historical place(supposed to be the Land of Monkeys) to search for Sita.
I started off from Bangalore via Bus,which was an overnight journey.The Bus dropped me at Hospet in the morning from where I took an auto for Hampi,which halted close to the Tungabhadra river-the temple side,from where I took a coracle ride (coracles are small bamboo made tokri boats) for the Hippie Island (the place where you should stay)-on the other side of the river.
As soon as I got off the boat and entered into the alley of the Hippie Island , paddy plantations on my right and several small scale cafes and homestays on my left accompanied me till I found my homestay 'Sri Laxmi Golden Beach Resort' which was on the same road.
Quickly I got ready and was headed out to explore the fantasy world of captivating ruins , boulders and demolished temples that stood the test of time.On the way to the temple side I booked an auto-driver cum guide for the entire day.
So my day somewhat looked like :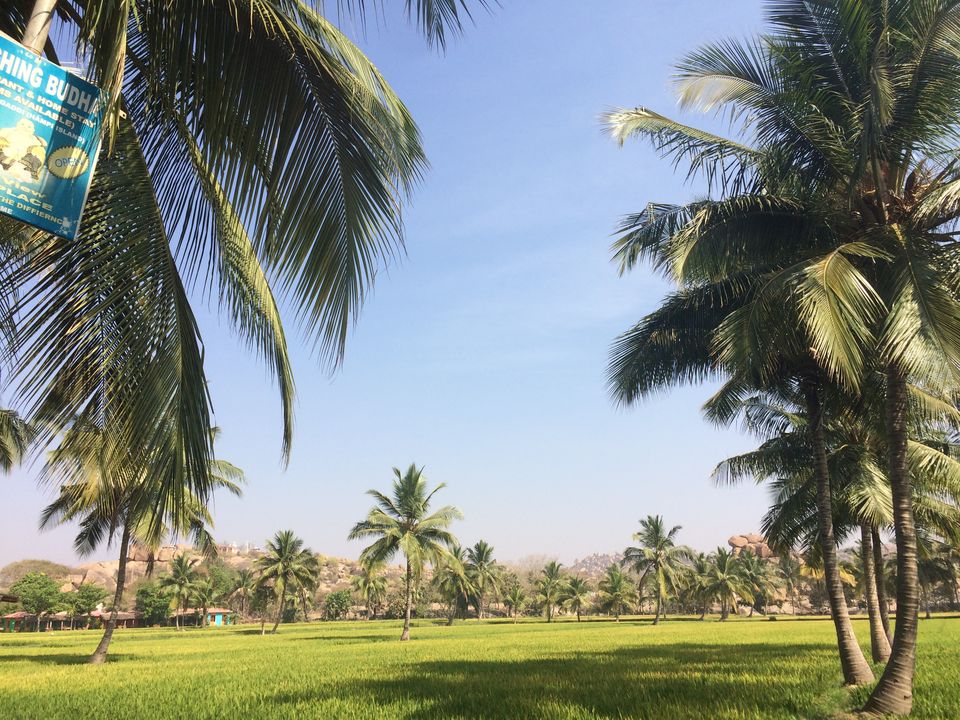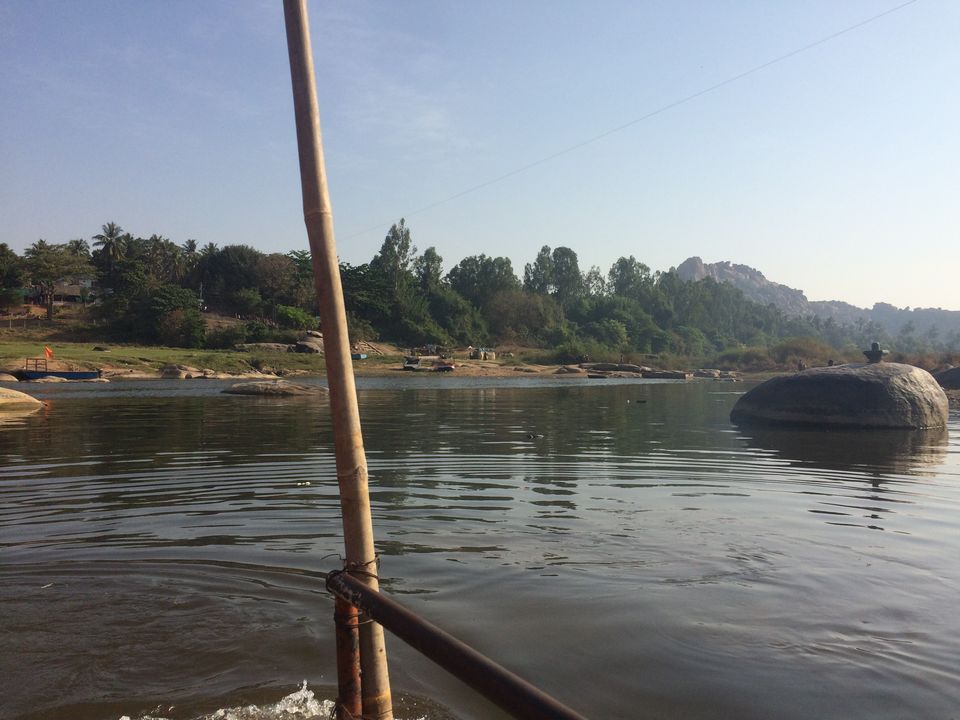 In Hampi you can find cafes with musical night happening and the details regarding the timings would be hung simply outside.
After a nice pleasant evening in 'The laughing Buddha' Cafe , I rested back at my homestay.
Day 2 was not about exploration now , It was my time to backpedal , but before that I went by the Famous Virupaksha Temple (as it was just near the Bus Stand) - The temple which is still standing strong and people go to worship Lord Shiva : known here as Virupaksha.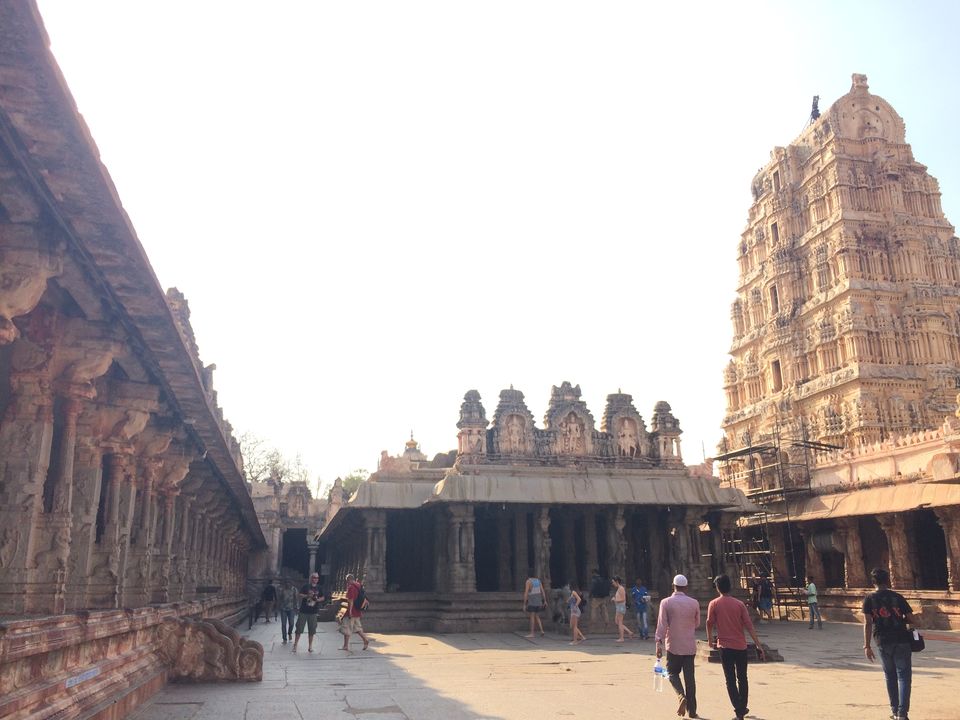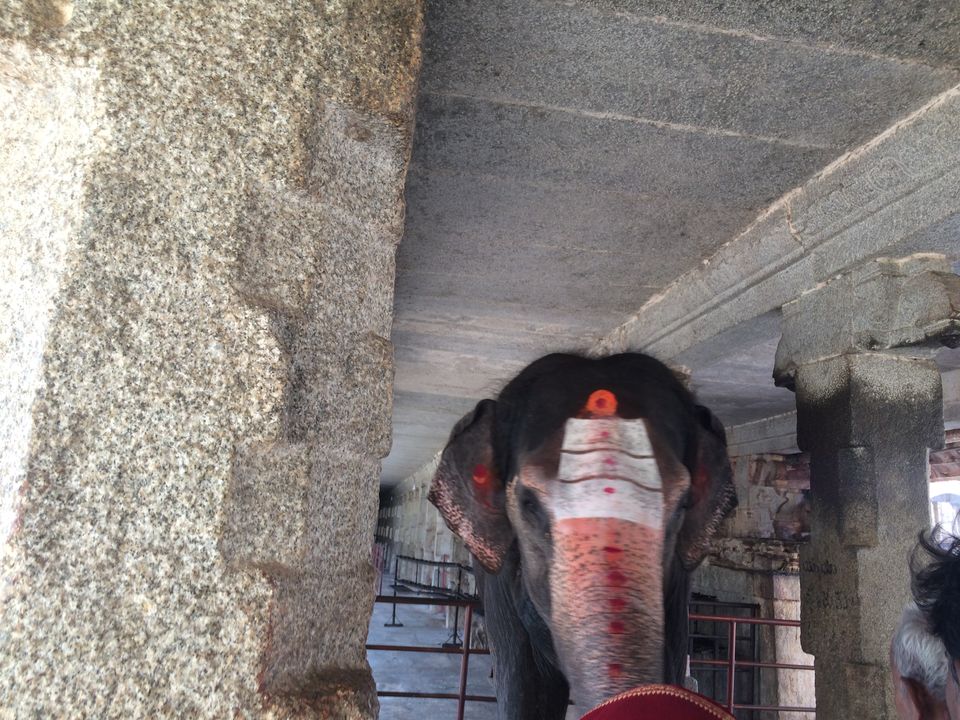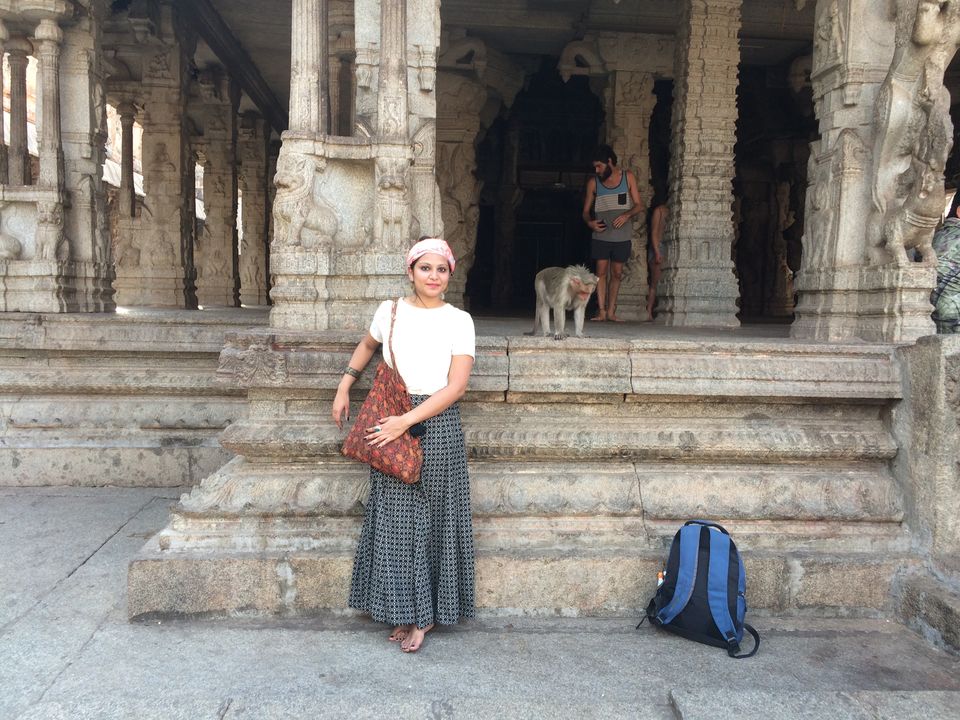 This place has been quite trippy for me.
I learned a lot from my Hampi trip, experiences and beauty apart , I learnt and picked up the certainty of driving my life all by myself.
So all the young ladies out there who are hunting down motivation to live and in particular to depend upon,pack your bags and go for a solo one.
As for me Solo tripping is about unleashing the inner goddess in yourself and Hampi is just the right place ! ^_^
'Don't Worry , Be Hampi'