I know it's customary to start off the year with a blog about resolutions and how I'm going to take my blog more seriously and write regularly but I'll save you the pain. I've realized I try to write for an audience. Either I'm trying really hard of things you'd want to read or dismissing ideas as too far removed from what you'd like to see here. So I'm not going to bother what the blog is really about anymore. I'm returning to basics. To find out more, click here.
I ended the year in style with an impromptu trip to Hampi, with a bestie. It was the first in my life and hopefully not the last. In quite an adventurous fashion for young women in India, Kavya (the bestie) and I reached the nearest railway station to Hampi at 2am. I've braved harsher winters but I seriously thought I'd be missing a few phalanges and a healthy portion of my right ear by the end of the auto ride. Imagine our disappointment when our room was still occupied by the previous guests! I won't lie, I did consider for a few moments the feasibility of lying out in the fresh air on the banks of the Tungabadra. A less than attractive option. Thankfully our wonderful (now) friend and host Mr.Paul found us a quaint room a couple streets away. And by quaint I mean just big enough for two people to sleep in. After a restful night, we awoke rejuvenated.
In the morning, we were treated to the most beautiful view of a bustling bazaar right by the Tungabadra. Like something straight out of a Ruskin Bond story, the vivid colors had me captivated and I felt not very unlike Russell from Up, being distracted at every turn.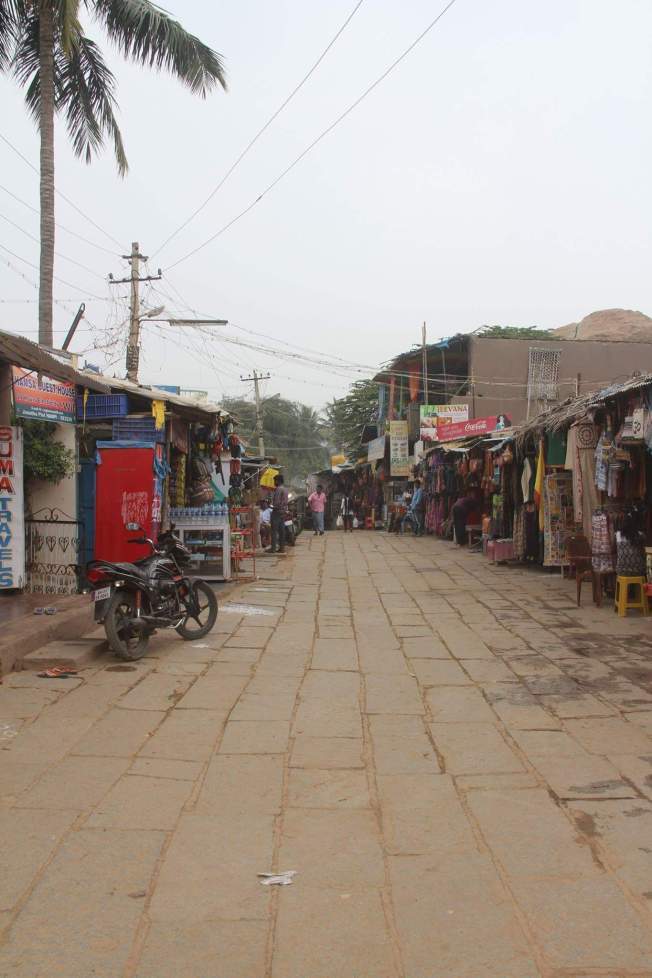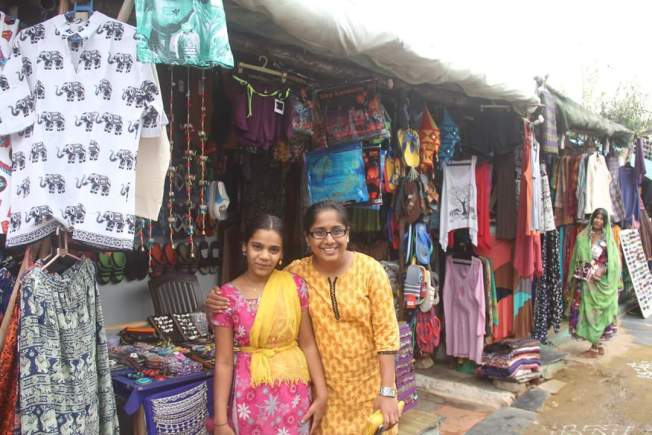 So we walk into a small place for breakfast on Day 1 and I'm instantly taken by the cozy cushions and low tables. There were even upturned umbrellas and pipe lined, low hanging single bulbs over each table providing a certain kind of charm. That was the best part about all the restaurants, their uniqueness in the face of bustling tourism threatening to outgrow the small bazaar. It was almost a quiet rebellion in the face of foreigners that provide the bulk of their business. But that's pretty much where the rebellion stopped because you would NOT BELIEVE the variety on their menu. Every restaurant catered to Italian, Mexican, Middle-Eastern and Indo-Chinese palates.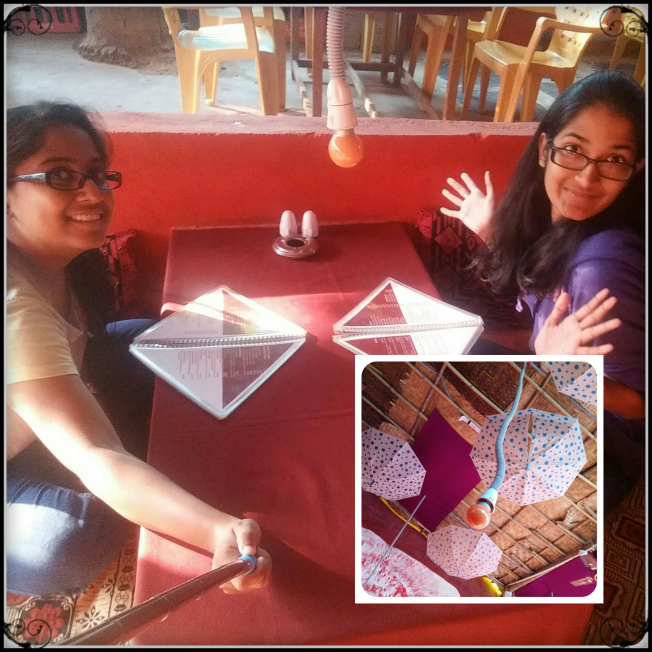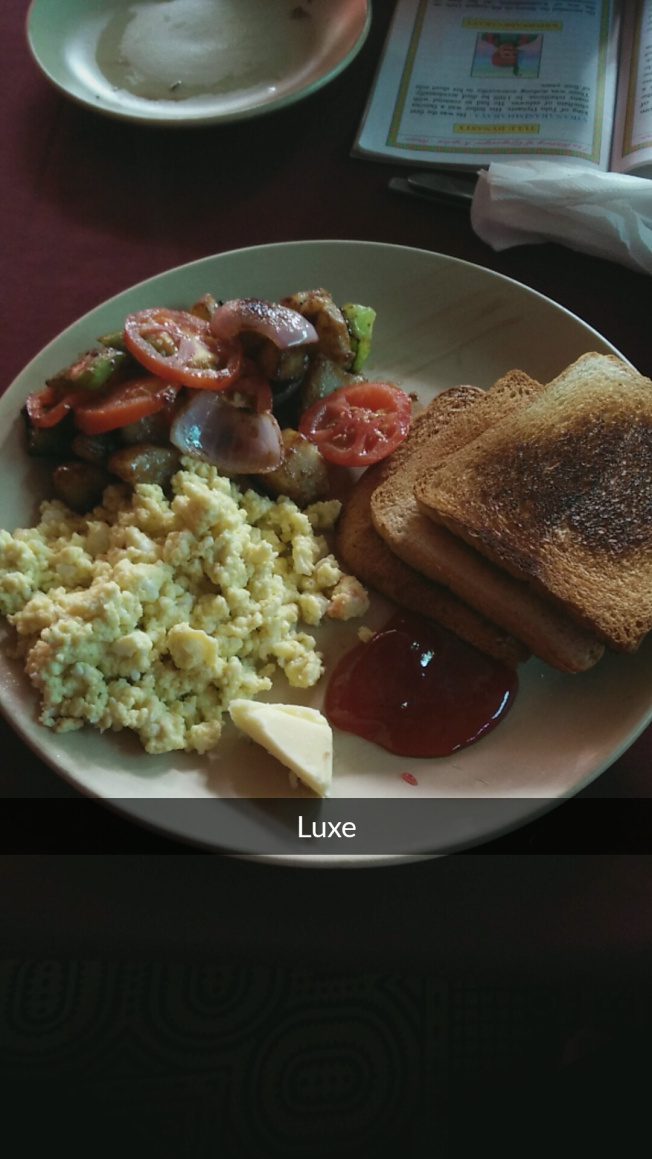 After filling our tummies we moved into our pre-booked room. A bare minimum room as most accommodations are in this small bazaar. After quickly refreshing ourselves, onward we urged our trusty steed (auto) to the nearest hillock with the remnants of a temple. Barely a five minute ride. Sighhh. From Hemakuta Hill we had a spectacular, panoramic view of the region of Hampi. It is one large, boulder strewn line of hills, interjected beautifully with hand carved temples and mandapas.



Following a quick stop at the almost complete Krishna temple, we succumbed to our need for selfies and dramatic poses. And made quick pitstops at the monolithic idol temples of LakshmiNarasimha and Badavilinga.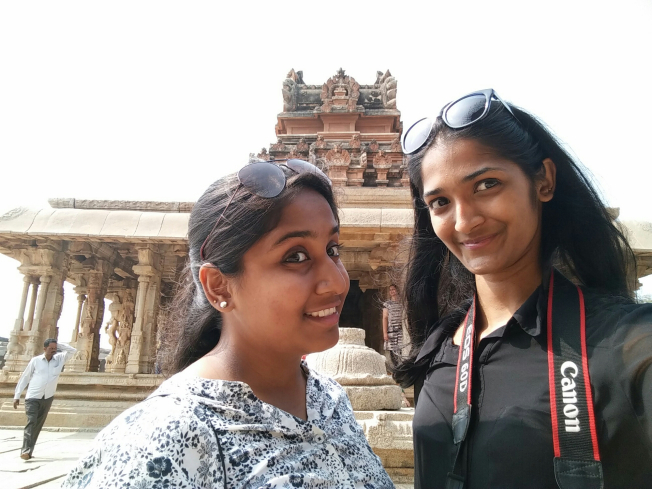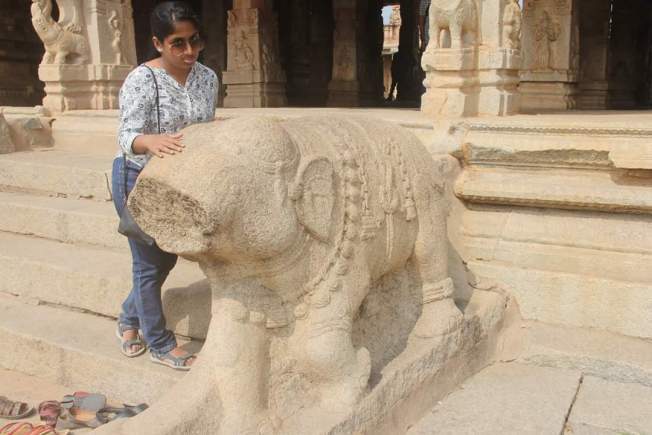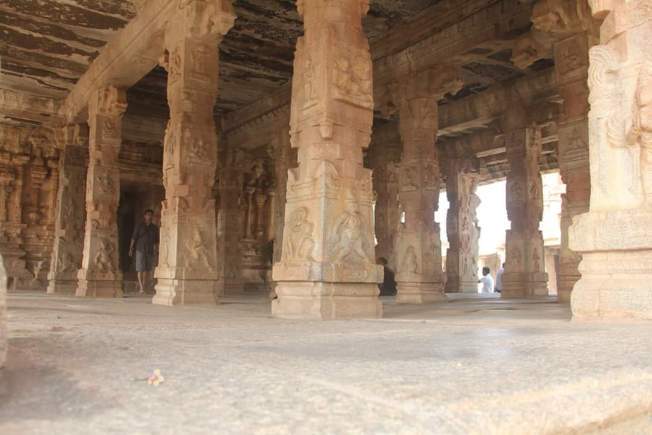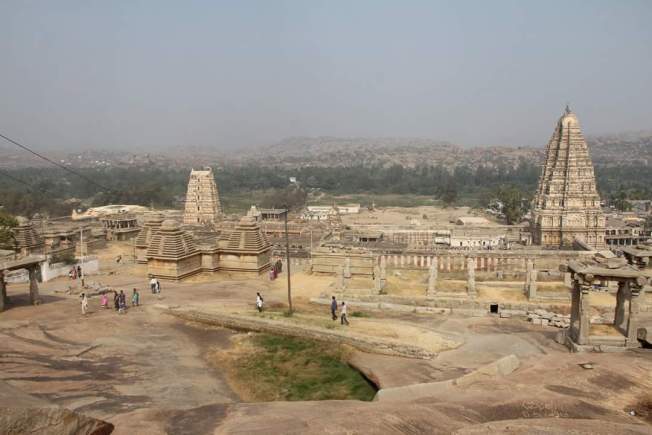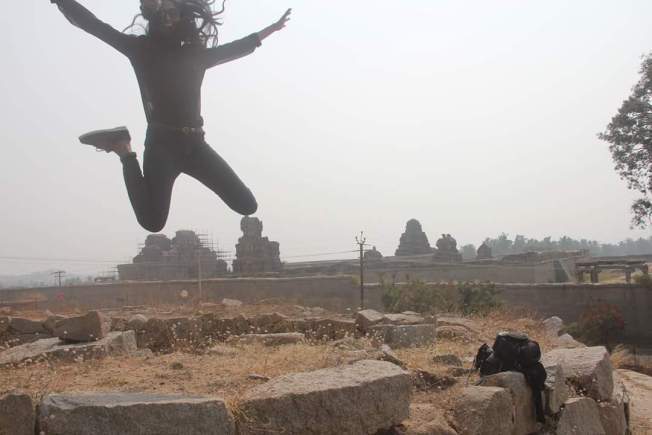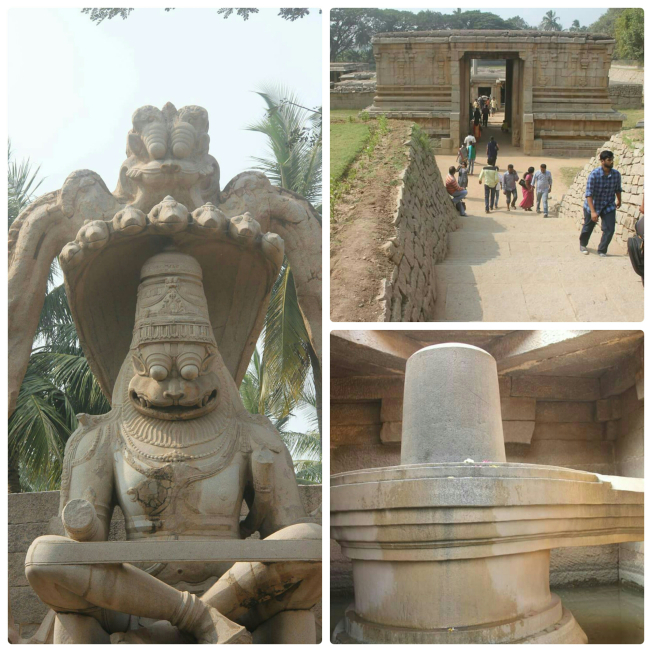 We then arrived at the compound of supposed Muslim settlers of that period. Having come to a mutual understanding of some sort, Muslims had their own little mosque and a beautiful compound adjacent where you can see the remnants of what was once perhaps a grand station for a man of high stature in the community.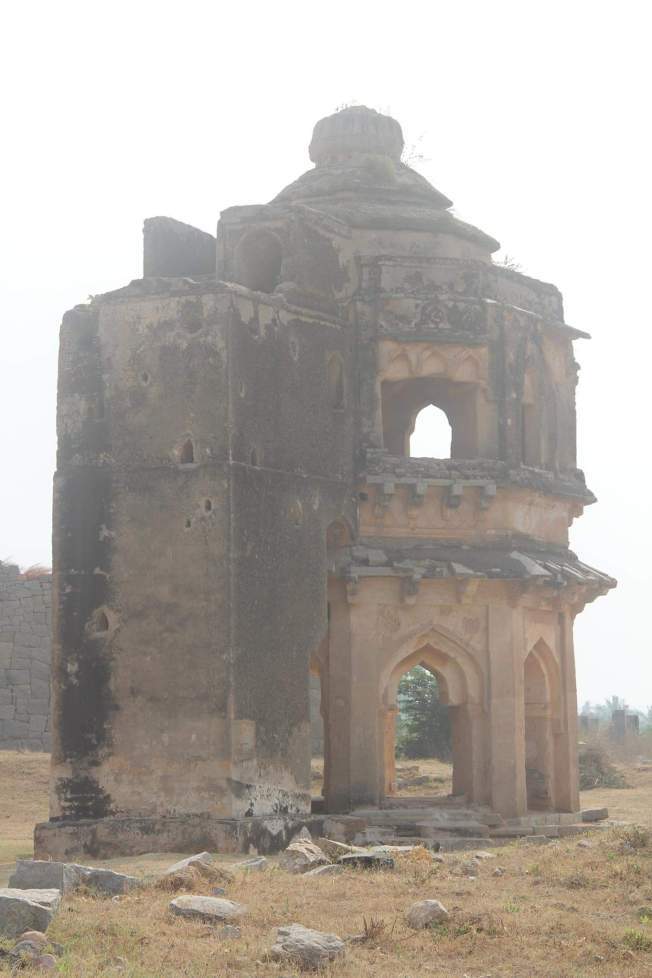 Living life queen size was not bad at all in the 1500s. The Queen's compound was a lavish, sunbathed part of the city with a private bath and entertainment plaza! Took forever to get around the base to the damn staircase! But the highlight was the elephant stables just beyond a wall. It's not hard to imagine the size of the elephants they would have held; majestic beings, swathed in gold come the festivities.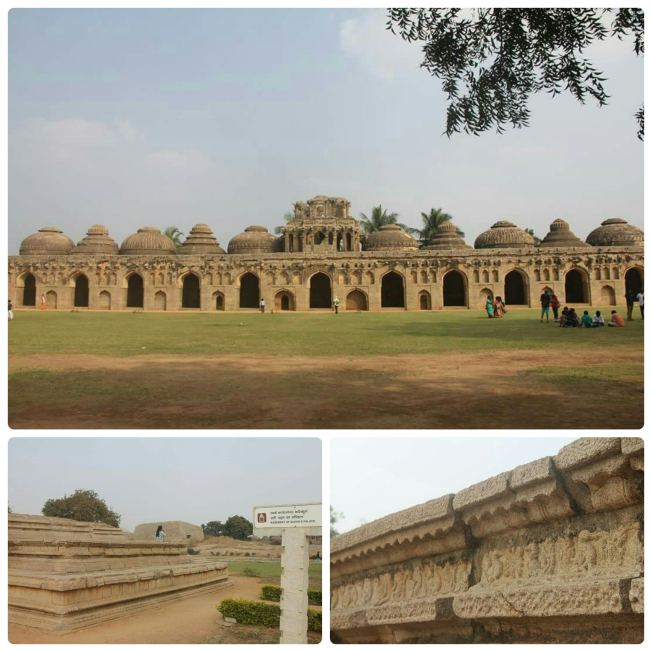 Our last stop for the day was the Vittala Temple. The second largest temple ruin in the area and by far the most interesting. I could picture in my mind's eye the possibly amazing landscape that must have led up to the entrance of the temple. There were trenches on either side of the pathway allowing one to imagine a truly splendid vision of waterways that reflected the gopuram on a full moon night. Overrun with my imagination, I found the place very captivating.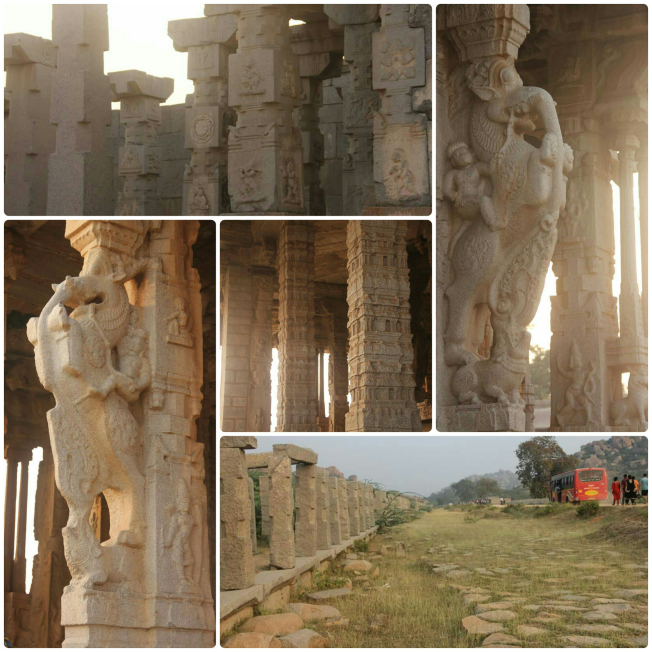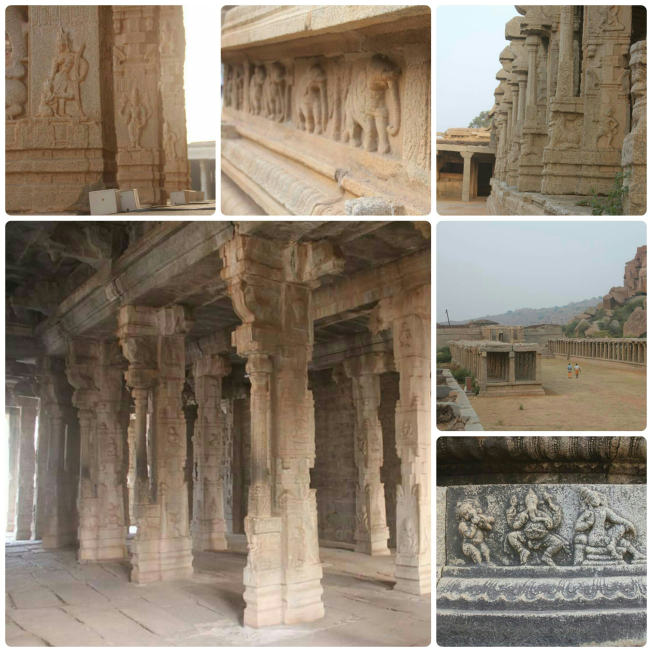 And after a tired, blistering hot day, we trudged back to our room in the quiet night.
Phew! I didn't expect this post to turn out so long and I'm still only done with one day! Yikes. Stay tuned for day 2 ????
TTFN! Ta Ta For Now!
This blog was originally published on 'Chronicles of the Twiggy