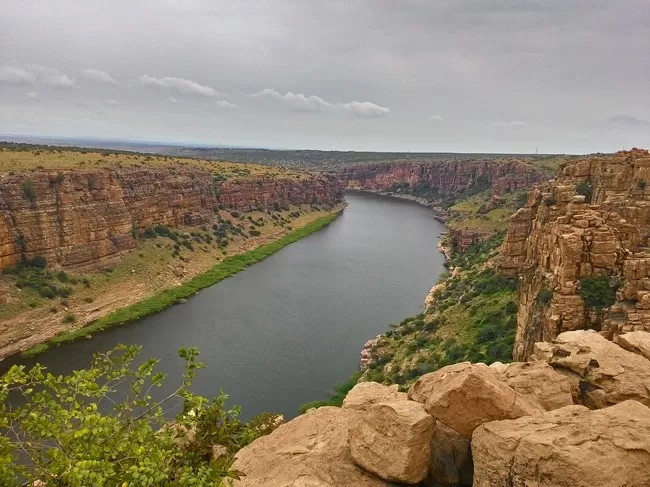 Hampi had been in my bucket list of places to travel for quite sometime, but due to various reasons the plan had never materialized. At last in November last, year when I was thinking about my plans for bringing in the New Year, I decided I will plan Hampi for the New Year.
I informed my travel mates (we call ourselves the Rubber Band) and I got the nod from almost 10 people, who were all excited about the prospect of welcoming the new year whilst traveling! And thus started the planning for the trip. Since it was a long weekend and I didn't want to restrict the trip to just Hampi, but also cover some places enroute, I got about checking the map and lot of websites for places of interest nearby. There are a lot of places around Hampi that are of historical importance. The place that really caught my attention was Gandikota, a ruined fort complex in Kadappah district of Andhra, some 250 KMs away from Hampi.
I made the travel itinerary in the subsequent week, dotting the places that we will be going to. Below is the email with the itinerary that I sent my friends:
Hi Guys,
Below is the itinerary for the New Year's Hampi trip. Let me know if this is good. Drive will be relaxed onward and a little hectic during return. But we can definitely manage it. Dec 31st – 4 PM – start from Chennai
Chennai – Gadikota – 350 KMs – 7- 8 hoursNew Year's celebration on the way. We will try to reach Gadikota as much as possible by Midnight, if we start on time.Jan 1st – Gadikota and Belum CavesVisit Gandikota, as much as possible around Sun rise for the best views. Go around the fort, Have breakfast and proceed to Belum caves. Explore the caves and surrounding areas post lunch.Gadikota – Belum Caves – 60 KMsAround 5 PM we will start and proceed to Hampi.Belum Caves – Hampi – 200 KMs – 6 HoursNight halt – Around 11 PM find a suitable camp site before reaching Hampi and call it a day.Jan 2nd and 3rd – HampiThe next two days we will explore Hampi and adjoining areas completely. We can hire cycles in Hampi and go around the ruined city and take a hike to surrounding hills around sunset.Stay: We will try and get some accommodation for the 2 days.Places of interest:· Virupaksha Temple,· Hampi Bazaar· Monolith Bull· Lakshmi Narasimha temple· Hemakuta Hill temples· Vithala Temple (the famous Stone Chariot is located here),· Hazara Rama Temple· Royal Enclosures, Queen's Bath, Zanana Enclosure (which also houses the Lotus Mahal), Elephant Stables· Achyut Raya temple· the Matanga HillWe will cover as much as possible in a relaxed manner over the two days.Jan 4th – Tungabadra Dam – HospetHampi – Tunga Dam – Chennai – 600 KMs – 11-12 hoursWe will start early on Sunday and visit the Tungabadra Dam and then proceed to Hospet and drive back to Chennai. It's easily 11-12 hours drive with stops in between. We will plan so as to reach Chennai by late night on 4th.
By the 28th of December, we had decided on the final count of people who were joining. We were 10 of us in 2 cars (1 innova and 1 Swift), with 2 tents, (One 8 people tent and One 3 people tent), food, backpacks, and lot of camera equipment (thanks to one super awesome photographer/cinematographer friend).
On the 31st of December we set out from Chennai. We started at around 4 PM and were thinking of reaching somewhere close to Gandikota, late in the night so that we can catch the sunrise there.
The route we had planned for was:
Chennai - Nellore - Badvel - Jamalamadugu - Gandikota - Belum - Hospet - Hampi - Tungabadra - Anantapur - Chitoor - Chennai
We reached Nellore around 8 PM and had some nice, spicy nellore dosas for dinner there. The road from Chennai to Nellore was superb, except at a few places. From there we proceeded further towards Jammalamadugu through the state highway. The roads from Nellore were in a pathetic condition and we struggled to move at more than 60 Kmph. The roads were hardly, if ever, lit and had a lot of potholes.
Around 11 PM we decided we should call it a day and camp somewhere. We were still a long way from Jammalamadugu and didn't want to push any further since most of us were tired and we wanted to camp and celebrate the New Year in some village. So we stopped at the next village, some 10 KMs after Badvel. We found a nice cemented area to camp and pitched our tents.
We pitched the tents, the guys took out some beers and I took to my bovonto (;)) and we started our celebrations. Somewhere close by, a bunch of youngsters from the village had gathered together, bursting crackers and shouting Happy New Year. We welcomed the new year in style, camping in an unknown village somewhere with barely any signal. I called and messaged some important people, and around 2 we all went to sleep.
After a short nap, at 4 we woke up and started our journey to Gandikota. Around 5.30 we reached a small town, where we took some tea and refreshed ourselves. A left from there, led us to Jammalamadugu. There were numerous Cuddapa quarries en-route and we stopped at one huge one to have a look! The quarry looked abandoned with a huge pool of water down below. The size was humongous!
At around 8 we reached Jammalamadugu, had an amazing breakfast (Idly, kara dosas, vada, poha etc) and made our way to Gandikota. The road and the scenery en-route to Gandikota is a treat to the eyes! Winding roads through vast barren land with varying terrain, we didn't want the ride to end!
After a small glitch with one of the cars, which took an hour of our time, we reached Gandikota by 10 AM. We were the first people to reach the place that day. The entry to the fort was like entering a palace! We rode into the fort through the narrow road and parked our car inside (which we realized was a huge mistake) and walked up directly to the canyon.
The views at Gandikota are astoundingly beautiful and gives you goosebumps all along! I would suggest each on of you, who is in India or visits India to go to Gandikota! It's just spectacular, all along!
After some photo and video sessions (GoPro on DJI Phantom) we came back, only to find that the fort was now filled with people, owing to the holiday. And our cars, which we had parked inside were now completely blocked with 10's of other cars and bikes and Autorickshaws. We had to wait, push, move a lot of vehicles to take our cars out, and we ended up wasting another 90 minutes of our time.
We reached Belum caves around 5 PM, right in time before they closed the entry. The Belum caves are huge. The entry point is a staircase going under ground, like into a well. As we start walking in, you start realizing how huge and strange the place is. It is the longest cave structure in India, a whopping 3 KM long, most of which is currently closed to public.
We took a guide along, who took us around, speaking a lot of sense and non sense and rushing us (since it was beyond closing time). We had fun making echos, shooting with the Sony A7s in zero light and making shadows etc.
By the time we got out, it was already dark and we decided to take a room at the APTDC guest house just outside Belum. We went out to have some dinner and then called it a day!
We started for Hampi early the next morning. It was a long, 200 KMs drive through good and bad roads. We reached Hampi around 11 PM. We parked our vehicles and headed straight for lunch. Then we went around the town for quite a bit. It was a beautiful places filled with monuments! Being there is an experience by itself.
The restaurants, the sunset views, the Virupaksha temple, the queen's bath, the endless ruins along the banks of the river, the place makes it's "world heritage site" tag worth every letter!
There are amazing restaurants in Hampi that serve Indian, continental, chinese and all other kind of cuisines.
We camped outside (10 KMs away from Hampi) near a resort where there were a lot of empty plots. We pitched the tent and sang through the night and sleeping with the view of the moon and stars is a surreal experience. The weather was perfect too!
On the whole the trip to Hampi gave us the perfect start for the year ahead! It was a beautiful trip where we covered lot of amazing places! I would definitely go back to Gandikota and Hampi at least 4 to 5 times more.