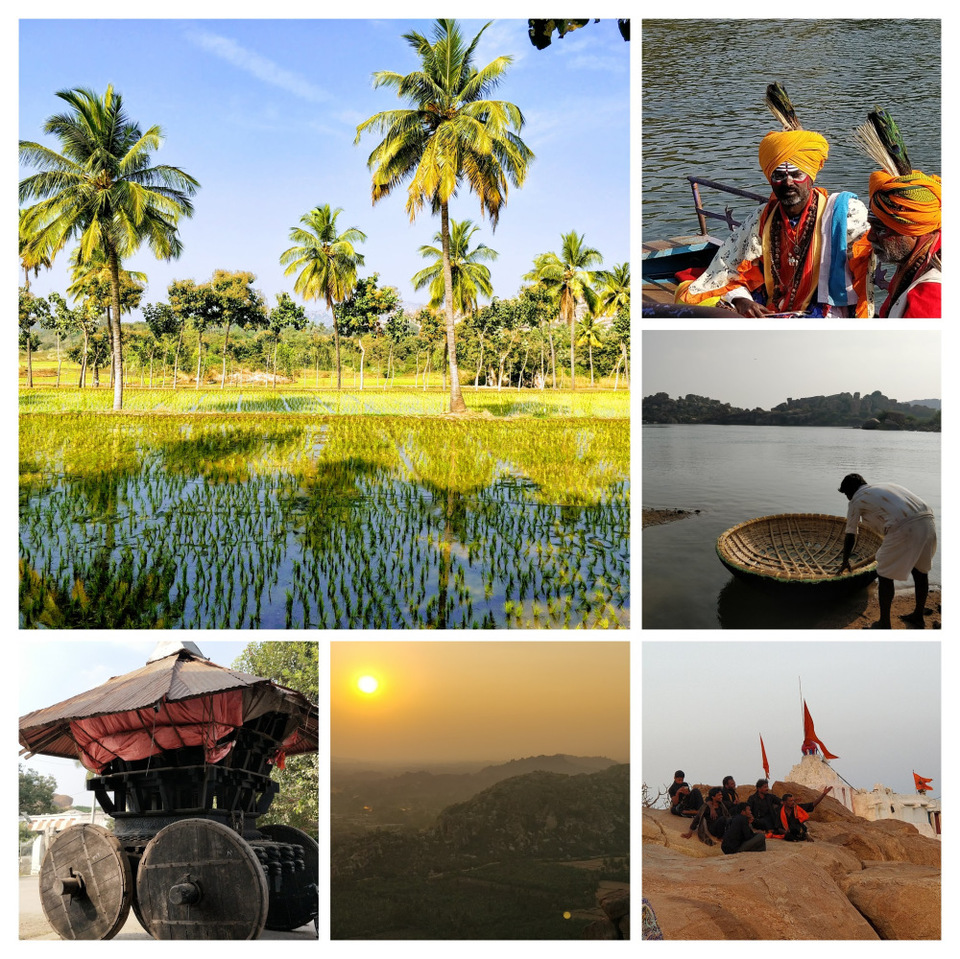 I have always enjoyed stories, especially the ones with a touch of magic and mystery and as a child, I remember bawling my eyes out till I got the books that told these stories. So, when I announced to my parents that I was going to visit Hampi- a tiny and magical boulder strewn landscape frozen in time interspersed with bright emerald paddy fields and shining waters that could give the Flinstones a serious run for their money, and boasting of a rustic grandeur that has endured the sands of time with remarkable elegance- it didn't come as a surprise to them.
Situated on the banks of the Tungabhadra river in the southern state of Karnataka, Hampi, a UNESCO world heritage site, happens to be an ancient village, that was once the rich and bustling capital of Vijayanagar empire, back in 14 th century AD, until it was razed by the Deccan Muslim sultanates in the latter half of 16 th century, leaving ruins that have survived till this day to tell the tale of the town's legends from the days of yore. The mythical grandiose of Hampi, however goes way back as it finds its mention in the Hindu epic, Ramayana, as Kishkinda, the land where Lord Rama met Hanuman for the first time and cemented a bond whose praises will be sung till eternity. Today, Hampi serves as a portal that lets you travel in time through India's extremely rich and diverse history.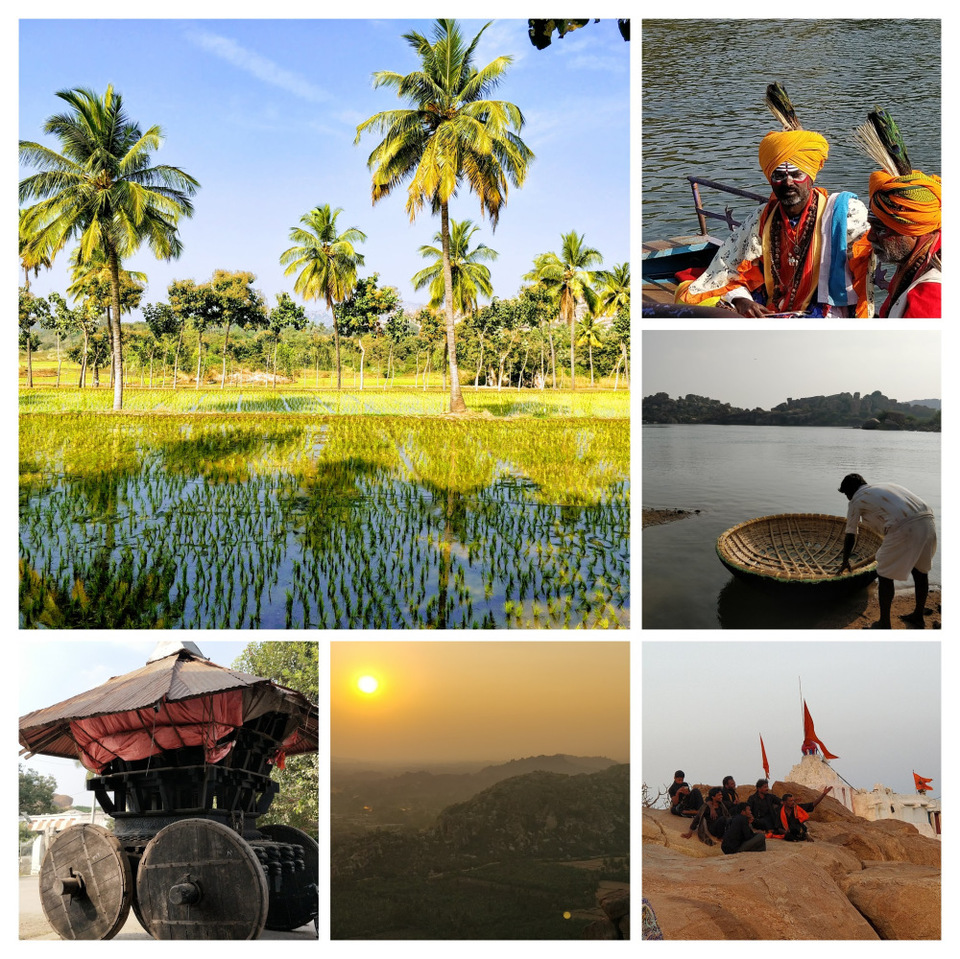 A phone with no network coverage, a series of miscommunications, a seriously scary auto-ride in a mad dash to get on the bus that had already left, and a few other misfortunes that always seem to accompany me later, my trip finally began and despite the day's crazy events, I couldn't be more excited. My friend and I stayed up all night planning it out till we finally saw the rising sun peeking through the hills as we caught the first glimpse of Hampi and trust me, no blog or picture available on the internet can prepare you for the breathtaking vistas that greet your sight- narrow labyrinthine pathways surrounded by gigantic boulders balancing precariously on top of one another and yet seeming to offer a surprisingly unwavering stability, juxtaposed between golden paddy fields, tall palm trees and the glistening waters of Tungbhadra, with ancient temples towering above them all. It's just surreal.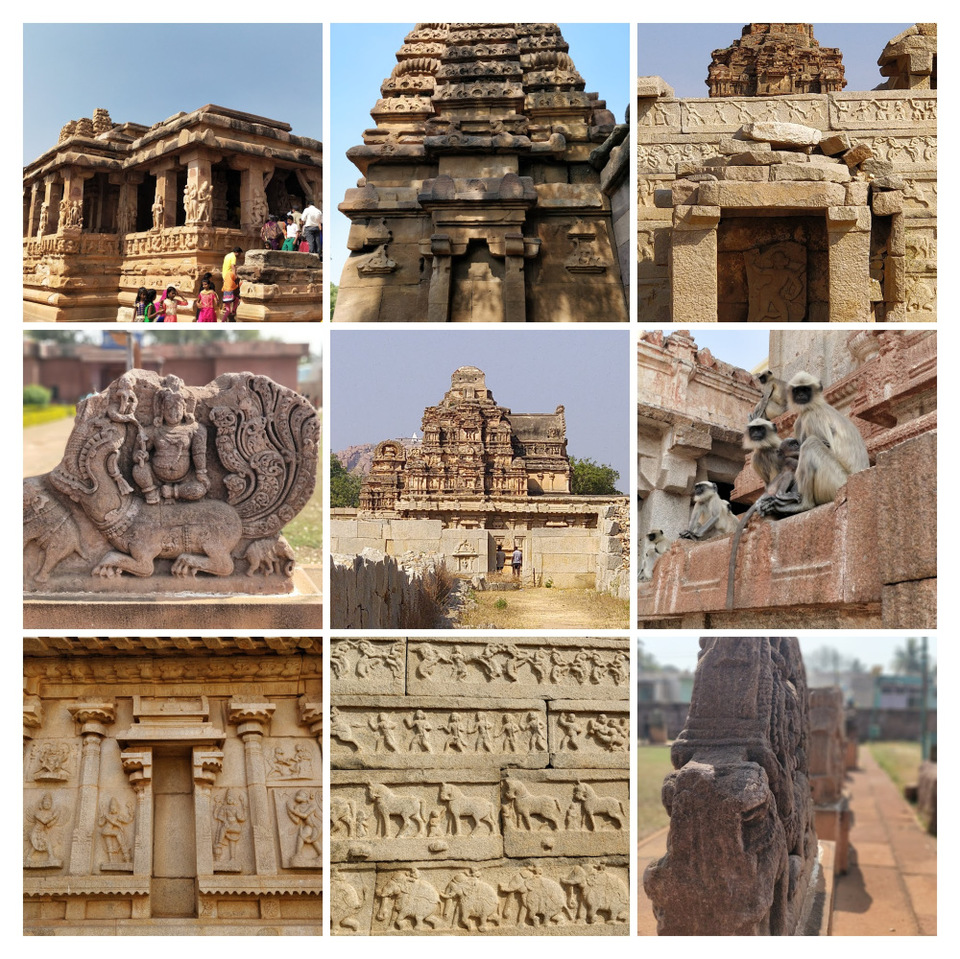 So after a scrumptious breakfast, we freshened up and got ready for our first day. We rented mopeds and decided to cover Anegundi, a village even older than Hampi, believed to be the birthplace of Hanuman. Frequented by a fewer number of travelers, this isolated little village has a rugged charm about it unmarred by any form of commercialization. Boasting of multiple attraction such as rock art from the Neolithic period, temples such as the Pampa Sarovar and Laxmi temple where goddess Parvati did her penance, and Anegundi fort symbolizing the lores of multiple dynasties that ruled this region, the most special gem of Anegundi is Anjanadri hill. After a steep trek of around 600 steps, the top of this hill houses the old Hanuman temple and offers a sunset view that is so stunning that it could only be a part of fairytales. So even if it may take a lot of energy to get there, when you finally climb to the top, you would realize that it's worth every single step of it and much, much more!
On our second day, we booked a car and went on a day trip to Aihole and Badami, once capitals of the great Chalukyan empire and the cradles of Indian temple architecture. Aihole hosts temples signifying Hindu, Buddhist and Jain beliefs and is an epitome of Hindu rock architecture. Some popular attractions include Jyotirlinga complex of Shiva temples; Konti gudi and Ravana phadi, again dedicated to Lord Shiva, the Durga complex, and the Buddha cave and Meguti Jain temple, which is an amalgamation of multiple beliefs and has inscriptions dating back to Mahabharata.
Badami, on the other hand, is a small town nestled on the banks of Agastya lake, and has some of the finest works of rock and cave architecture as old as 6th century. Apart from its highly famed cave temples, don't miss out on the opportunity to walk to the other side of the lake and pay a visit to Bhutanath temple and the Shivalayas located on a hill because besides housing some of the most marvelous specimens of nature's masterpieces in the rocks, it also presents a 360-degree view of the entire town as you see the sun dipping beneath the mountains.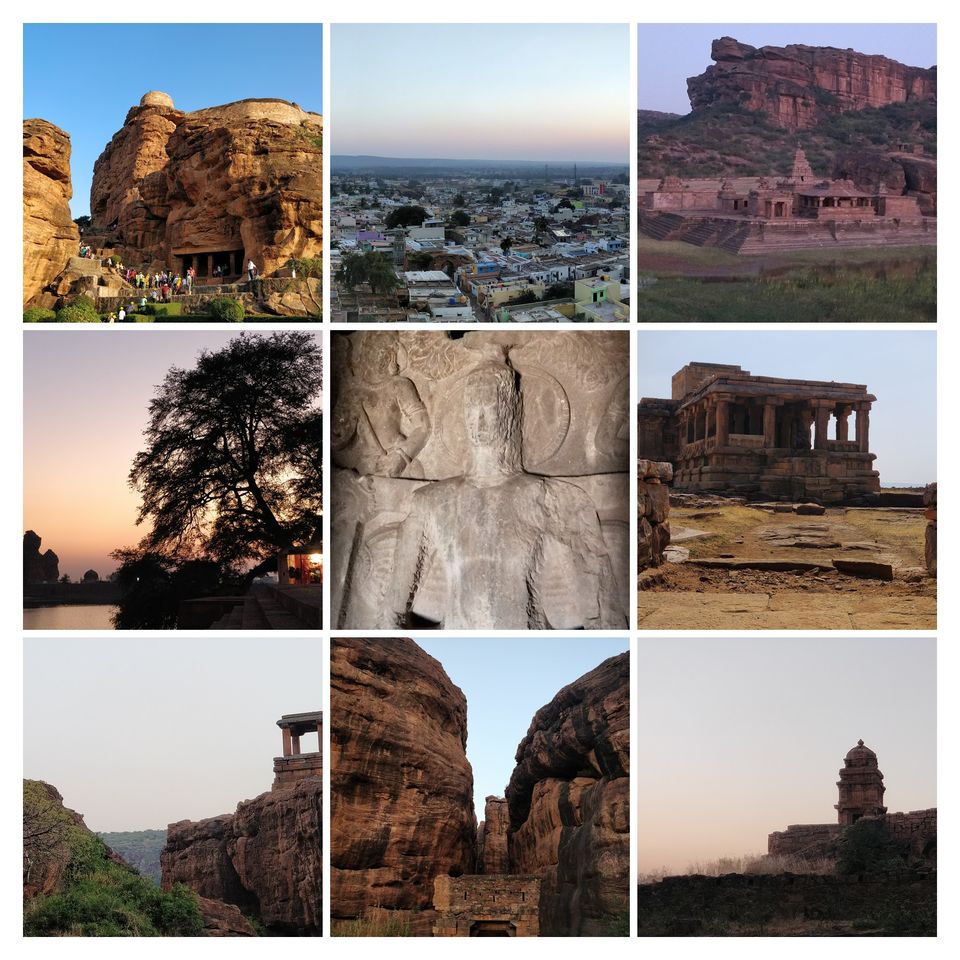 Our third day was the most special one as it was reserved for exploring the majestic temples of central Hampi. You can literally feel the hum of a past gone by throbbing slightly in the air and the weight of so much history humbles you to the core. We started out with the Virupaksha temple and the Hampi bazaar complex, which has one of the oldest shrines dedicated to Shiva and is an active Hindu worship site. You also get to seek the blessings of Laxmi, the royal temple elephant, by handing her an offering. We followed this with Achyutaraya temple and the Vitthala temple, which can easily be called the most artistically sophisticated Hindu temple in all of Hampi. It has the Garuda shrine shaped as a stone chariot, often symbolic of Hampi's depiction. Other monuments followed in the form of Hemakuta hill complex, the underground Shiva temple, elephant stables, lotus temple and the zenana enclosure. It would seriously be impossible to list down the kind of splendor these places boast of so my suggestion to you, dear reader, is just pack your bags on the next long weekend and embark on this enchanted experience known as Hampi.
Don't forget to end your trip by riding in a coracle boat, which is an adventure in itself, and finding a beach on the Sanapur lake where you may sit near the pristine waters surrounded by hills and gazing at the gazillion twinkling starts which are visible in Hampi because of the clear skies, and taking a mental snapshot to carry with you forever as a souvenir from this place.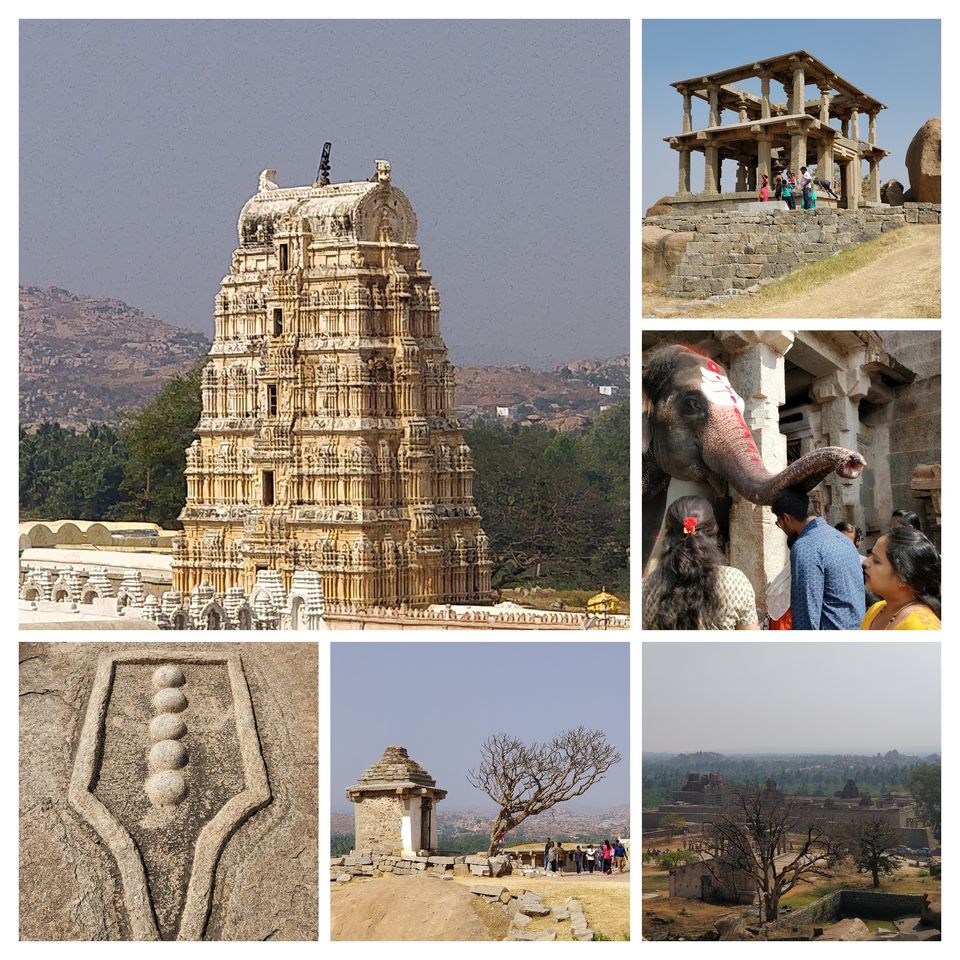 Traveler Tips
How to reach: The nearest town to Hampi is Hosapete where you can reach either by bus or train. From there, it's roughly another 15 kms to Hampi so the best way is to book an auto which would drop you directly on the temple complex side of Hampi. To cross the river, hop on a ferry boat or a coracle which get you across in 5 minutes.
Where to stay: To preserve the sanctity of Hampi, the government of India has banned all forms of commercialization on the temple side of the river. So stay in Virupapur Gaddi, more fondly known as the Hippie island because it truly is a backpacker's paradise in every sense, on the other side of the river which can be crossed by ferries that run from sunrise till sunset. There are a number of guesthouses that offer basic accommodation in super cute huts, great food, and greater views of the river and the paddy fields. We stayed at Mowgli guesthouse which I would most definitely recommend to anyone who plans a visit. You also have the option to stay at Hosapete which offers modern accommodation and amenities.
What to eat: If you want to experience the traditional South Indian fare, you must pay a visit to Mango tree or Tamarind tree restaurants in main Hampi. Hippie island has its own share of some really amazing restaurants and tiny, picturesque cafes specializing in multiple Indian and Western cuisines. Do try their 'hello to the queen' dessert. It's a gourmet explosion in the mouth.
How to commute: The only way to commute in main Hampi is either through cars or autos, both of which charge you exorbitantly because of the latest government ban on all other forms of commercialization. The other side, however, offers you bikes, scooties and cycles on rent at nominal rates, and it really is the most perfect way to experience the lingering magic of Hampi.