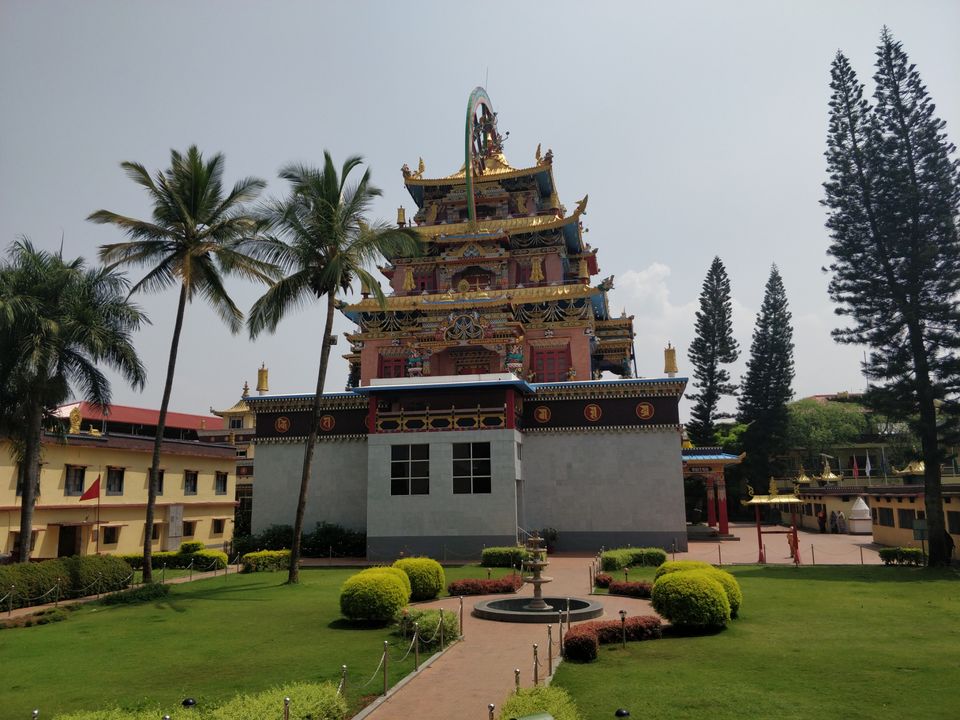 So, guys, this place is located in Karnataka know as Bylakuppa which is 125 km from Mandya and 90 km from Mysore. This place is well connected by road there are buses to take you to this place. I travelled here by car. So morning by 9 we left from Mandya for this place as there were less traffic and the road was in good condition it took us approx 2 hours to reach the outskirts of Bylakuppa, as this place does not easily spot from the main road we have to be dependent on Google Maps or ask locals about it. As we enter the interior of the place tar road was been made to ease the connectivity to the place. While heading to the temple we can see Buddhist monks walking by. We can see the temple wheel from far away as we process we will spot a few small temples as well. The entrance as the arch as we enter we have to pay the parking fees of Rs 50/- and park the vehicle.
After parking the vehicle we proceed towards the temple we headed to the temple with a huge ring as we entered we saw 7 Buddhist statues behind a huge chariot. The walls of the temple were beautifully detailed with Ancient Buddhist art.
After that, we head to temple. The moment we enter the temple the view of 3 huge statues is just a memorable, unforgettable. There is 3 huge golden statue of the Buddhists priest as well as there are 3 chairs placed where there is a photo of Dalai Lama and other two Buddhist priests placed the calmness we get after sitting it temple for a while is just amazing you can say the best way to say it as peace of mind. The temple is covered with beautiful Art of ancient times. Each wall of the temple inside and outside has a detailed ancient art. There is a huge bell outside the temple, the temple signifies the inner and outer peace.
After visiting the temple we headed to check the prototype of the monastery which is built in Nepal. The Prototype is built will all the minute details and gives us an exact picture of how it is.
The place is very well maintained in terms of cleanliness. People are cooperative the priest is joyful they don't hesitate to have any discussion with you.
Outside the temple, there is Tibet Market where we can purchase various stuff like good luck bell, Buddhist prayer flag etc. As this place is close to Madikeri which is famous for Homemade chocolates, coffee beans we can purchase this in the shops located outside the temple.
After a memorable journey of a day, we headed back to Mandya with cheerful memories.
Guys do visit this place if you are visiting Mysore or Madikeri