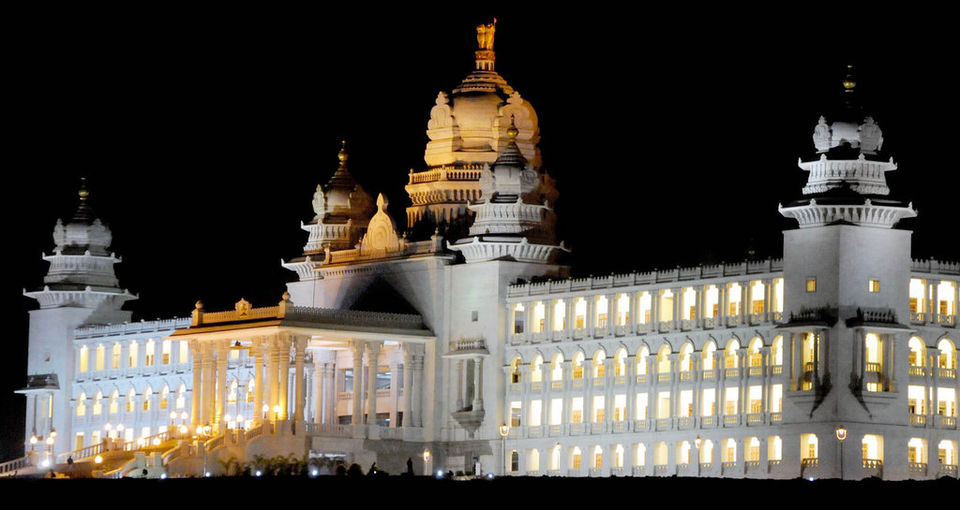 Bengaluru (or Bangalore) - The capital of the southern state Karnataka, having had a hell lot of public parks and nice green cover, has been eminent as the "Garden city of India". However, In recent years the city earned a different nickname, "The Silicon City of India", but on a cost of becoming a concrete jungle.
I was on a trip to the state but had an extra day before I catch my flight back to pune, So I decided to roam around the city. Although the city has a lot to offer, I would agree if people tend to refrain from traveling due to bad traffic conditions, especially on weekdays. But if you do have one day, I would like to help you get the most of Bengaluru with minimum traffic mishaps.
Here is the map of places you can visit in a day (even a weekday), avoiding traffic.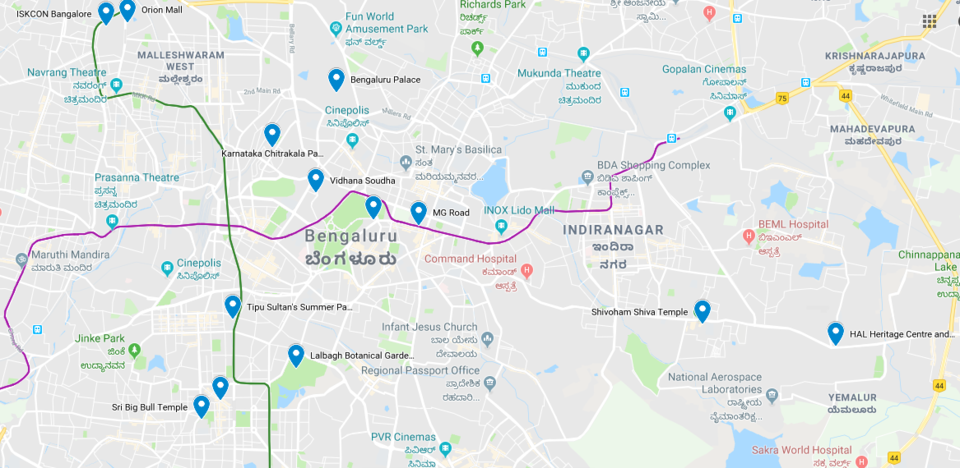 By the end of the trip, you would probably be thankful to BMRCL for the joyful metro rides.
As you can see, most places are in vicinity to metro routes, thus avoids traffic. The maximum distance you'll have to cover by road would be for HAL Museum, i.e. 6 kms from Swami Vivekananda Metro Station.
City Tips :
• Don't be worried about language barrier here as most people can understand Hindi and English very well.
• Since you'll be travelling in Metro for most parts, I'll suggest you buy a smart card instead of token tickets. Apart from the 15% discounted fares, It'll help you save time as you won't have to stand in queue, plus you have the flexibility to exit at any station.
• The smart card comes with a 5 year validity, so can also help you in your future visits to the city. Although the recharged amount is valid for a year only.
• Got Baggage? Well, that's no trouble! If you'll be travelling by train, you can put your baggage at some store inside Orion mall, which is near to Yeshwantpur Junction.
• In case travelling by flight, you have Central mall at MG Road as the alternate. Of-course, you can use other facilities like Railway cloak room, but that'll involve time and money.
1. Lalbagh Botanical Garden
• Timings : 6AM to 6.30 PM
• Nearest Metro Station : Lalbagh Station of Green Line (300 mtrs from west gate)
• Entry fee: Rs 20 Per Person
Located in the heart of city, built around a tower built by Kempegowda, the founder of Bengaluru, Lalbagh is a prime tourist attraction. Spread over around 250 acres, having variety of flora and fauna, trees more than 100 years old, it is a delight for photographers and nature lovers. The most fascinating part being the garden's internal irrigation system. The garden also features an aquarium, a lake, different themed gardens and is home to the famous Glass house, similar to London's crystal palace, which host two annual flower shows. The metro station is situated near the west gate, which opens up to the lake. You can take e-vehicle to explore the main sections of the garden.
2. Breakfast at Vidyarthi Bhavan, KR Market or MTR, Lalbagh Rd
Vidyarthi Bhavan, KR Market
• Opening Hours: 6.30–11.30am, 2.30–8 pm, Friday closed
• Nearest Metro: National College Station or Lalbagh Station of Green Line
Serving since 1943, Vidyarthi Bhavan started as a canteen to carter nearby schools (hence the name). Located amidst Bangalore's oldest and busiest market, the restaurant has become the place of city's food heritage. Their limited menu offers very authentic south Indian breakfast meals, most popular being the very crispy benne dosa, which the waiters very skillfully carry in dozens. Although, it's not about just dosa - their Rave wada, Kesari bath and filter coffee (or rather, kappi) are amongst the best. Their dining hall offers a very vintage experience, nostalgic to the native people and has hosted giants such as chief ministers. Although you'll have to wait in a long queue, share the table and be quick in eating, the experience is worth the visit.
Mavalli Tiffin Rooms - MTR, Lalbagh Road
• Opening Hours: 6:30–11 am 12:30–8:30 pm, Monday Closed
• Nearest Metro: Lalbagh Station of Green Line (1.3 Kms, Near Lalbagh Main Gate)
Formally known as the Brahmin Coffee Club, later named Mavalli Tiffin Rooms after the locality - MTR started in 1924. Having had a long journey of serving for decades, MTR has become the icon of the city's food culture, an important landmark, and a huge brand, having branches not just in India but in Dubai and Singapore as well. The restaurant pays special attention towards hygiene and cleanliness after its owner went Europe to study cleanliness in restaurants there. It is said the famous rava idli was invented here, by the owner's grandfather due to shortage of rice during World war II. Often visited by celebrities (even Yash Chopra once) as well as politicians and their visit has also brought certain honor to the restaurant.
3. Bull Temple – Basavanagudi
• Nearest Metro: National College Station or Lalbagh Station of Green Line
The Bull temple is one of the oldest temple of Bangalore, dedicated to Nandi, known in Hindu mythology as Shiv's vehicle. Although I didn't find the temple impressive, the temple has an exciting legend associated with it. Also has Ganpati temple and Bugle rock garden adjacent to it.
5. Tipu Sultan's Summer Palace
• Opening Hours: 10.00 am –6.00 pm
• Nearest Metro: Lalbagh Station of Green Line (400 mtrs)
Located at KR Market, built around year 1791 the palace was summer residence of Tipu Sultan. Although, there isn't much to see as the palace is very small, you can take a stroll and combine it with Lal Bagh.
6. Vidhana Soudha
• Nearest Metro: BR Ambedkar Vidhana Soudha Station of Purple Line
Constructed in Mysore Neo-Dravidian style in 1956, the State legislature of Karnataka - Vidhana Soudha and adjacent to it - Atta Kacheri, the High Court of Karnataka are both architectural masterpieces. Although entry to these buildings is restricted, their all lighted up exterior offers a mesmerizing view in the night. Being just near to Metro Station (just outside the exit), it is very accessible and worth taking photos.
7. Karnataka Chitrakala Parishath and National Gallery of Modern Art
• Opening Hours: 10.00 am –6.00 pm
• Nearest Metro: Mantri Square Station of Green Line (1.4 kms)
Chitrakala Parishat is a renowned school of art, a place where you can appreciate art and culture. Established in 1960, KCP is a paradise for art-lovers and hosts a number of art exhibition and shows round the year, most popular being the annual Chitra Santhe during January. Chitrakala Parishat combined with National Gallery of Modern Art consists of around 13 galleries, making them a popular tourist spot.
8. Bangalore Palace
• Opening Hours: 10.00 am –5.30 pm
• Nearest Metro: Mahalaxmi Station of Green Line (3.1 kms), Cubbon Park Station of Purple Line (2.8 kms)
• Entry Fee : Rs. 240 Per person for Indians, Rs 460 for Other. Camera and phone charges extra.
Built to resemble Windsor Castle, the palace was built in 1887 in European Tudor Style. The palace is surrounded by a vast garden, known as palace ground. Although very small, the palace looks amazing but one thing that I didn't like was their over-expensive entry fee, that too for such a small palace.
9. ISKCON Bengaluru and Orion Mall
• Opening Hours: Weekdays: 7.15 am –1.00 pm and 1.00 pm–8:30 pm, Weekends: 7.15 am –8.30 pm
• Nearest Metro: Mahalaxmi Station of Green Line (450 mtrs)
Being near Railway Station and easily accessible through metro, the temple has become is probably most visited destination in Bangalore. One of the largest ISKCON temple in the world. The beautiful ambiance of the temple complex also featuring a small pond, along with Hare Rama-Hare Krishna chants make the atmosphere very serene and peaceful. It also offers great view of nearby buildings. The temple is very well planned, efficiently managed to handle the crowd and is a must visit.
10. Government Aquarium, Cubbon Park
• Opening Hours: 10:00 am–5:30 pm, Monday Closed
• Nearest Metro: Cubbon Park Station of Purple Line
Although poorly managed, The aquarium is adjacent to Cubbon park and has a nominal ticket of Rs 10. Said be the second largest museum in India, has a verity of exotic fishes. You can combine it with MG Road.
11. Mahatma Gandhi Road/Brigade Road/Commercial Street
• Nearest Metro: MG Road Station of Purple Line
Home to a number of Branded stores (Jack N Jones, Levis, Baggit, Vero Moda, Louis Phillipe), local shops (selling locally-made items such as handicrafts) as well as many fancy exotic restaurants (many offering international cuisines such as Rim Nam- Thai, Memories of China and Yauatcha- Chinese, Hae kum Gang - Korean), coffee shops (Starbucks, Dunkin Donuts, CCD) and high-end pubs (Hard Rock Cafe, Purple Haze) - MG Road is a bustling treat for shopaholics, a true paradise for foodies and the most happening night life place of the city.
12. Shivoham Shiva Temple, Kempfort Mall
• Opening Hours: 24 Hours open
• Entry Fee: Rs 150 Per Person on weekends, Free on weekdays
• Nearest Metro: Indranagar Station of Purple Line(3.8kms) or Swami Vivekananda Station of Purple Line (4 kms)
A very well maintained temple, known for beautiful giant Shiva statue about 65.5 feet tall, surrounded by artificial snow and 32 feet tall Lord Ganesha statue. Although the place has been overly-commercialized, the experience is mesmerizing, right from a shiv-linga like entrance, the main statue resembling Mount Kailash (even having an artificial lake similar to Man Sarovar), and a cave inside which there are small replicas of important Shiv temples (Jyotirlings) of India, making it a must visit.
13. HAL Museum
• Opening Hours: 10:00 am–4:30 pm
• Entry Fee: Rs 50 for adult, Rs 100 extra for flight simulator
• Nearest Metro: Indranagar Station of Purple Line (6.2kms) or Swami Vivekananda Station of Purple Line (5.9 kms)
Established in 2001, the museum is India's first Aerospace Museum showcasing India's journey in aviation. Very well maintained, one can have nice look at the history of how aviation in India evolved as well as see a range of actual aircraft models.