I didn't really plan in advance for this trek. All of it just happened like i was destined to. One of my friend was struck with work, the trekking group had a vacancy and I was very keen to substitute.
I had nothing, the sleeping bag, leech socks nor the usual trekking gear. I was less than a beginner.  When someone asked me how many treks had I done before, I would simply tell them, "If you do count Tirupati, then it is ONE".
This place was situated in the western ghats, close to Mangalore. It all sounded pretty simple. We go uphill, see the Bandaje falls, camp for the night, come down the next morning after visiting Ballarayana durga fort en route. We started from Chennai in an Innova and reached Uijre (Nearest town to the starting trek point) by 9 in the morning. We were four people  from Chennai joined by two persons from Mangalore. Little did I know that these two guys would be the pushing force, but for whom, I would have not made it to the top.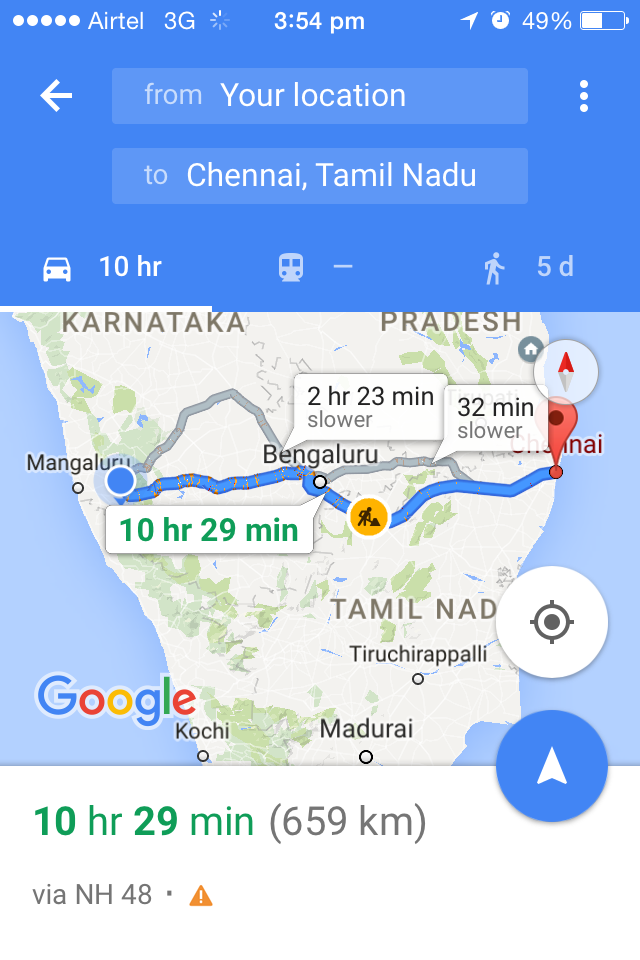 Later met a forest ranger who debriefed us about the trek-" This trek is one of the toughest & steepest. You will need lot of stamina, will power, blah,blah."  I was wondering, you just climb,climb and climb -Whats the big deal? " Few people have even died while climbing!!". What the hell did I just hear!! "We can climb in 2-3 hours (pointing at himself and the guide), but you might take around 4-5 hours. So wear your leech socks, carry good food and never give up". I was pretty satisfied, after this pep talk, that this was very exaggerating. After all, I felt, you climb, climb and climb.
Then we reached the start point, with all the gear ready and started the ascent. It looked pretty normal in the beginning,  but became more and more strenuous as we were climbing the hill. The steepness was punishing. We didn't see it coming to an end. First there were plain lands with little vegetation, but then came the dense forest with daunting uphill. I felt tired for the first time. But that was OK, I said to myself.  Half an hour later we came to a brief "Leech removal halt". I had already sheltered a couple of leeches on my shoes. I had everything in place- the leech socks, normal socks, shoes and tobacco powder (which is said to keep away leeches), In spite of which I had leeches on me. Maybe they loved my blood or were running short of food.
And slowly my heart started pounding. I looked for all chances of stopping for a while. I would sometimes walk fast and go ahead only to rest while pretending to wait for others, stare at my shoes to look for leeches, pretend to be hungry so that we would eat & rest for a while. But nothing was comforting. The fact that we had to climb a lot more was too discouraging. Then we were told that a plain land awaits us at the end of a phase of the trek. The guide and one of our professional companions were cruising at "high altitude" while the rest of us (backed by another professional trekker) were dragging our asses inch by inch. We then reached a plain surface on which we proceeded for a duration of 20 minutes at the end of which we stopped by the stream of gushing water and had lunch. Lunch was perfect- delicious food, scenic backdrop and tasty water.
Again we had to ascend. I felt after having lunch I would have renewed energy and therefore would climb more comfortably. I was unfortunately wrong. It took only half an hour for our next stop where we ate oranges. This was the first time in my life where I literally barged into an orange using my incisors and not even caring to remove the peel. If I was a vampire then orange juice was my blood.
I would, at certain intervals hold my chest and observe my pulse to see how tired I was and at times the story of the person-who-died-climbing would hit me. All these things would scare me, but I had no choice but to climb, climb and climb. But this didn't stop me from pondering over other options. Either stop in the dense forest and get lost, walk slow and reach the destination late, walk back to the starting point OR keep walking.  And through out the trek I had to choose the last option because there was hardly any attractive choice.
I was told by a companion that we would reach pinnacle, high & PLAIN ground with tall grass and then the walk would be pretty simple. But to our utter shock when we reached the grasslands, it became much steeper. The grass was tall ranging from 2-4 feet.  I was trailing behind, struggling for my life but happy that we had completed the big part of dense forest. Our next stop was in the midst of the grassland upon reaching where I collapsed onto the ground and lied on my back for 15-20 minutes. We started the ascent again and this was lot more daunting. To make this worse it started drizzling and we still had lot to cover. 3 of our guys had reached a higher point, spread out the tarpaulin and were taking shelter from the rain. The moment that sight came into vicinity, I was ecstatic. I raced towards the tarpaulin to take rest. And then the most memorable moment of this trip happened. It was raining heavily, I was covered by tarpaulin only from my head to waist, the remaining part of body was drenching in heavy rain and I was SLEEPING!!! Could you imagine the level of tiresomeness that had crept into me. That moment I was happy that it was raining, otherwise we would be trekking. I wanted it to rain for as long as possible-for eternity. Later I was forced to wake up and see the picturesque at my yonder.
Later we resumed the journey when the rain stopped and came to a part where we had to descend, cross the stream and reach the campsite. "This is going to be a piece of cake", I thought to myself. But behold!!  The downward journey was so vertical, that a single wrong step or miscalculation would mean disaster. The expression on our faces changed from tired to fear when we saw the descent path. You could just lay on your back and the reach the other end, but you would end up in the stream and this would mean suicide. I carried a stick and watched each step very carefully and finally reached the stream. This was equally challenging. The water was flowing at a ferocious speed and we had to cross a slippery path without shoes on the legs but with shoes and luggage on the shoulder.  After a couple of slips, one injury and getting wet again till waist level, I managed to reach my destiny- The Bandaje falls.
Later we spread out tarpaulins (as we carried no tents), had sumptuous dinner and prayed god that it should not rain that night. We slept by 8 in the evening. And I was more than happy to get into my sleeping bag uncaring of any leeches, rain, wind, life or death.
Fortunately enough, it hadn't rained in the night and the next morning after attending nature calls in the most natural way and having some variety of food (I wouldn't call it breakfast) which contained fruits, snacks, sweets, biscuits and whatnot we set off for the Bandaje falls which was just adjacent to our campsite. The water was gushing at a fearsome pace and the place itself was difficult to access. We had to cross thick and tall grass to reach a huge expanse which opened into series of brown rocks with couple of outlets for the water to rush down, marked with subtle growth of vegetation here and there. The edge was horrific and boy you need guts to sit or at least approach it. With much reluctance and momentary impulses of courage I was finally able to approach the edge and take a few pics.
Then we had to proceed to the next part- Visiting the Ballalarayana Durga fort. This day, I was more energetic, thanks to almost 10 hours of sleep. We had to ascend once again but only for an hour. This time I was able to constantly be behind the guide who seemed to be racing away on the previous day.  We stopped en route at two destinations and we were nothing short of being awestruck. We were on the top of the clouds and could see the whole Kadremukh range in a panoramic view. This priceless sight took away all my pain and the only sounds you could hear were – "Ow", "Wow" & click-click-click.
Half way through the route, three of our companions lost the route and went offtrack as there was a slight change of plan and the route was little confusing. We had meanwhile reached a viewpoint, but unfortunately the clouds had taken over, not allowing us to clearly gaze over the valley. Then we waited for the others to catch up and our guide did the job of finding and bringing them back to us. Next was the descent, which was almost for 2 km and the route was comparatively a piece of cake. On a whole we had covered a daunting 14 km (7 km ascent-day 1 +5 km ascent-day 2+2 km descent-day 2). And the moment we touched the road, I felt sad for having to leave the mountains. They had punished me, pushed my limits to borders I never knew existed & persuaded me to visit again and again to this kinds of treks which are undisturbed by mankind and hugged by God.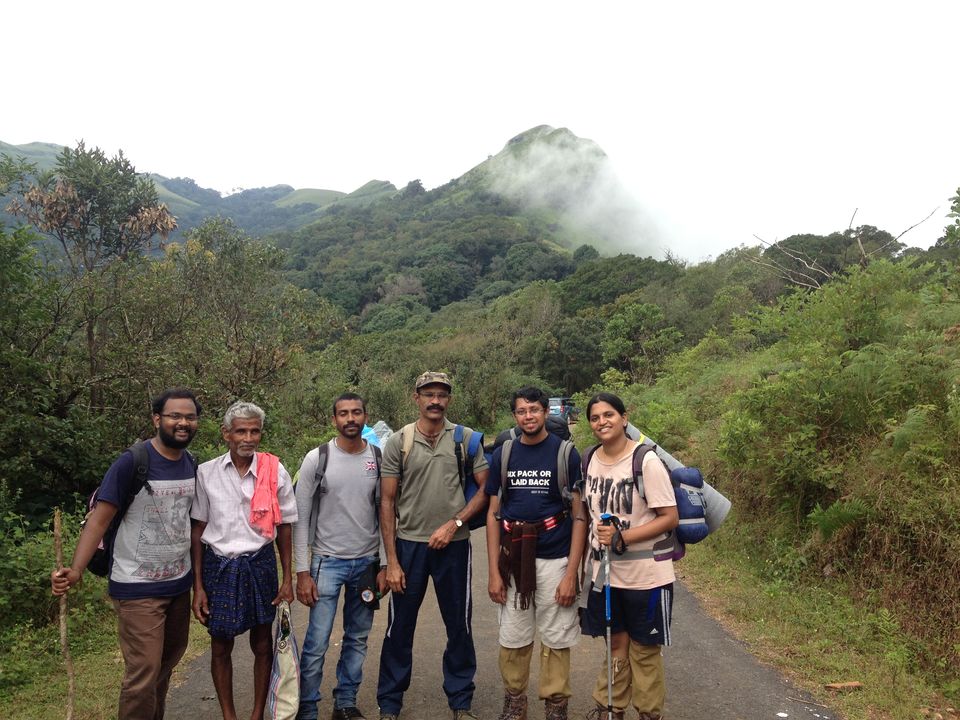 Meanwhile I got into a conversation where I and my friend had concluded that these places are able to retain their magnanimous beauty only because they are very difficult to access. If man was easily able to come here, then this too would have turned into a shabby place.
Later we reached Kelagur tea estate and had a cuppa coffee and stopped at Kottigehara to have Neer dosa (which translated to Water dosa), a famous eatery in these parts of Karnataka, then Ujire -Dharmasthala-Bangalore-and finally Chennai.