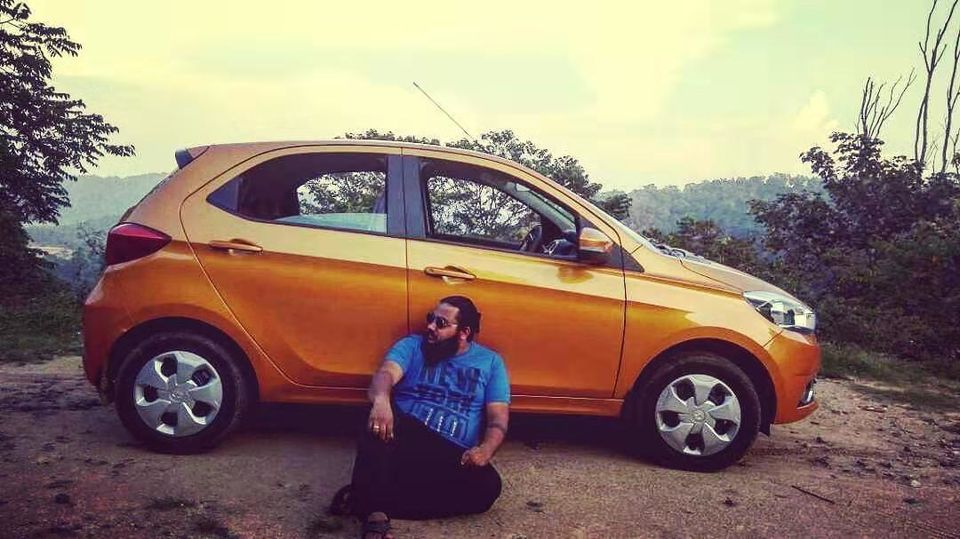 When we shifted to Bangalore from Mumbai, we promised ourselves that we would do stuff which we couldn't do in Mumbai because of lack of time, hectic lifestyle or whatever it was. Weekend outings are one of those many things that we thankfully have been doing regularly for more than a year now! All credit goes to this city and its geographical location. Be it a beach, a forest or a hill to chill, you will find something in about 250 km. You just need to take your pick and get going.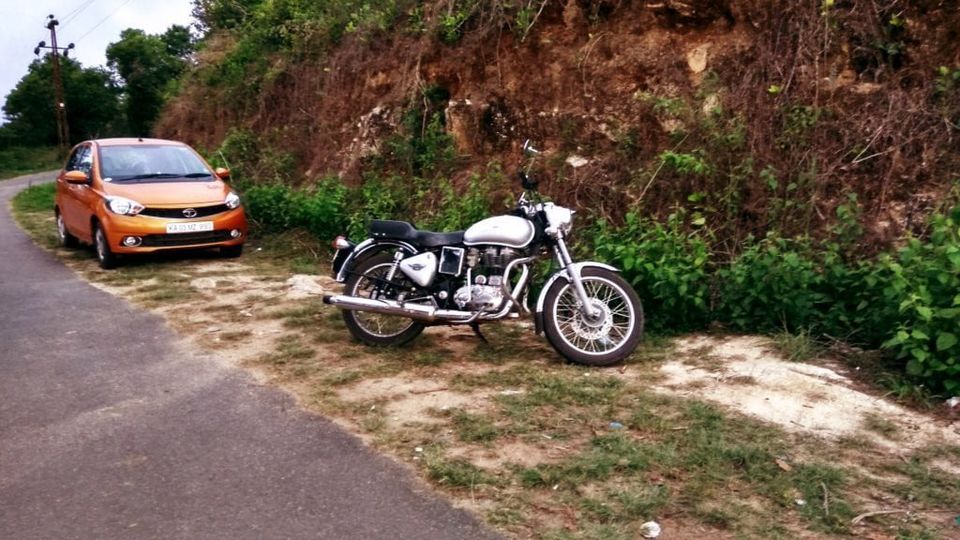 Virajpet, in Kodagu district better known as Coorg, was the shortlisted destination for this particular long weekend. A bike, a car and a bunch of craving travelers! We left in the night at around 1 AM, because who wants to waste the daytime? A couple of tea breaks and a stargazing halt later, we entered the Coorg district. The ride from Kushalnagar to Virajpet was a story of changing landscapes. Our eyes took in all the shades of green the place had to offer along with the complementing clear blue skies. We had arranged for our accommodation at a bungalow, where we stayed for the next 2 days. The humble home sat pretty at the end of a steep slope that looked like a mountain to climb. Getting our vehicles in and out every time we went out felt like a task.
As we climbed up to our allotted room on the first floor, a little puppy took us by surprise. We knew at that very moment that he is going to be a part of our little group. As we freshened up, had lunch and took rest, the entire atmosphere changed and how! Heart-shattering thunderstorms and heavy rains blew our minds! It was definitely one of the best welcomes I have ever received! I was elated and I couldn't stop myself from clicking pictures and shooting videos. But sadly nothing could capture the experience. The weather changed its plans, so did we, our jackets and shawls were out of our bags.
While getting accustomed to the weather with a hot cup of tea and a view to die for, suddenly we saw yellow lights appear around us out of nowhere. It took us a moment to realize that they were fireflies. This first day of our short trip was turning out to be perfect!
Later at night, we decided to hit the highway side restaurant for dinner. The restaurant gave a strong psychedelic vibe with its lighting. Apart from us, there were just 2 other groups at the restaurant. A group of locals and a group of people studying at the nearby dental college. We enjoyed some yummy food and kept ourselves warm at a small fireplace. The night ended with some on the spot music jamming session.
Next day, we lazed a bit and left our place at around 12 PM with plans to explore the place. We drove to the renowned Namdrolling monastery at Bylakuppe. One of the biggest and most beautiful monasteries in India which house more than 3000 Buddhist monks. As it was one of the most popular places around the area, it was filled with visitors.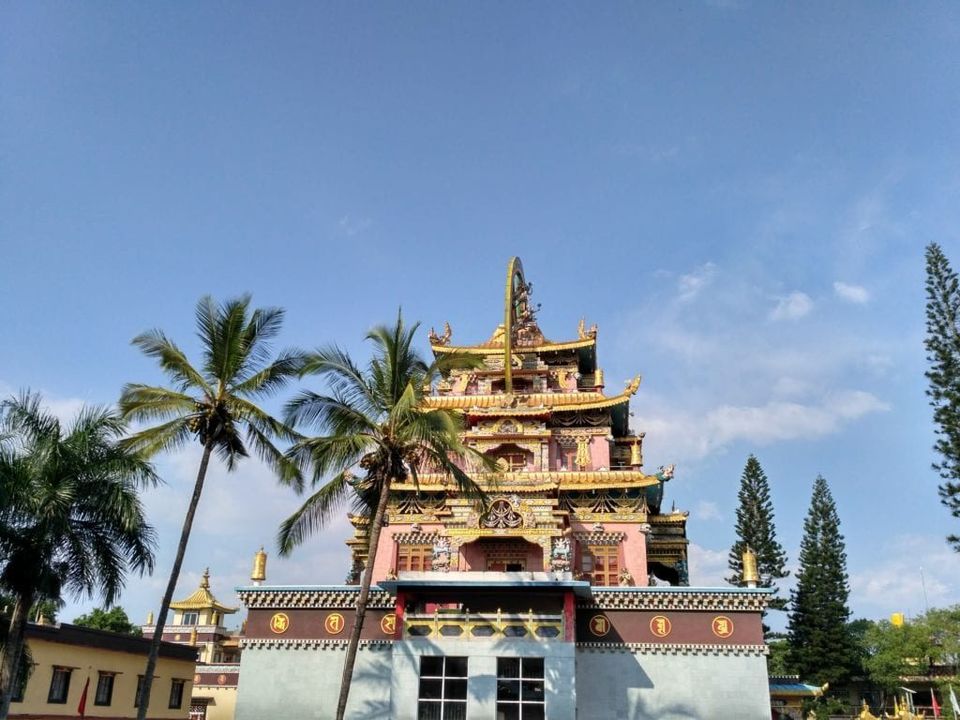 We paid our respects and headed straight to a point on a nearby hill which offered a bird's eye view of Virajpet. We witnessed one of the most magnificent sunsets. With church bells ringing on one side, evening prayers and Aazaan on the other, I couldn't have asked for anything else.
Next morning, we decided to cover multiple places as none of us were in hurry to return to our busy, stressful city lives. We saw the Chelavara waterfalls followed by a visit to the ancient temple of 'Igguthappa', which lies sort of at the border of Karnataka and Kerala. You pass through a thick forest on the hill and you are in Kerala. After a 2 KM walk and climb, we reached the temple. Rains followed us here too. It took just about 7 seconds for the color palette in the skies to change before the downpour.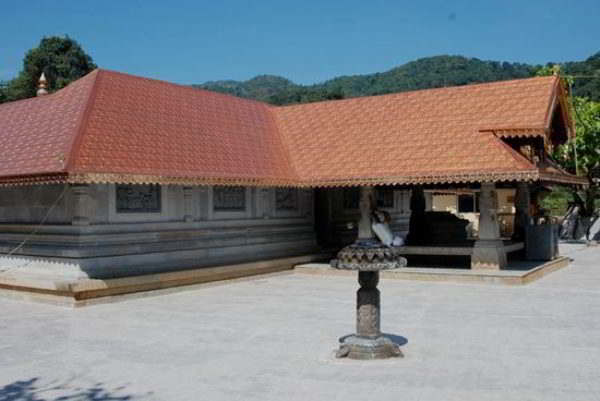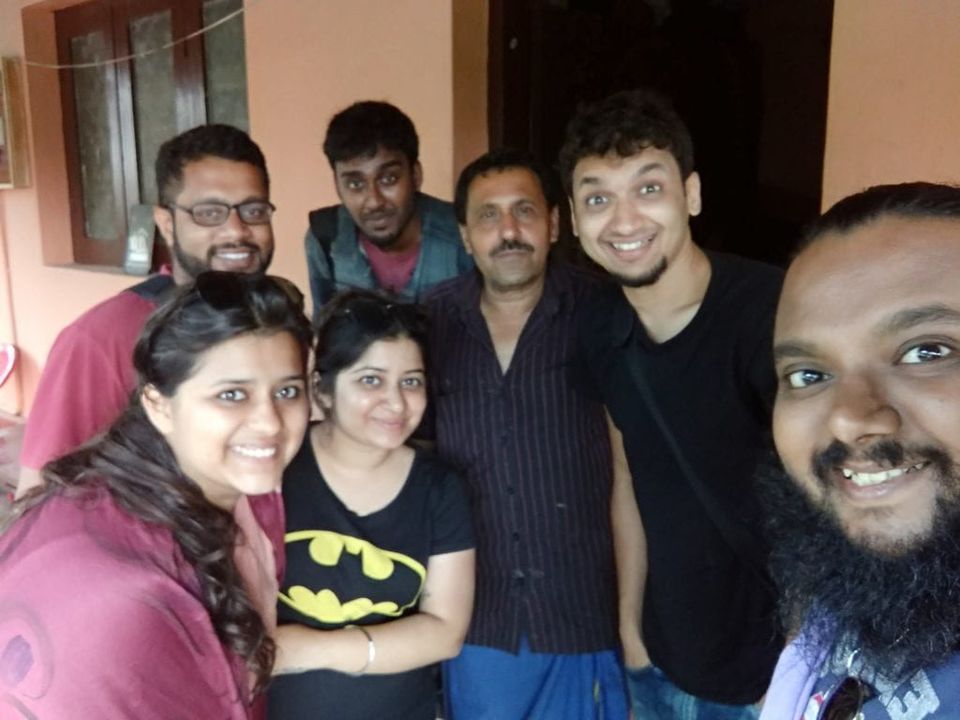 The priest of the temple was kind enough to invite us for "Prasadam" – lunch. The simple food was out of this world. The taste of sambar still lingers on my tongue whenever I think of that day. He was excited to meet us and filled us up with trivia about the temple. 'We were lucky to experience such rains as this is the first rains of the season', he said.
It was time for us to end our weekend. With heavy hearts, we left Virajpet at around 9 PM. We knew, those awesome memories and peace of mind would help us cope up with the city life, at least until next time.
Notes:
Stay at Sunset Valley – Virajpet (Less crowded than Madikeri
Got to: Igguthappa temple, Chelavara waterfalls (Not recommended in summer) and Namdroling Monastery