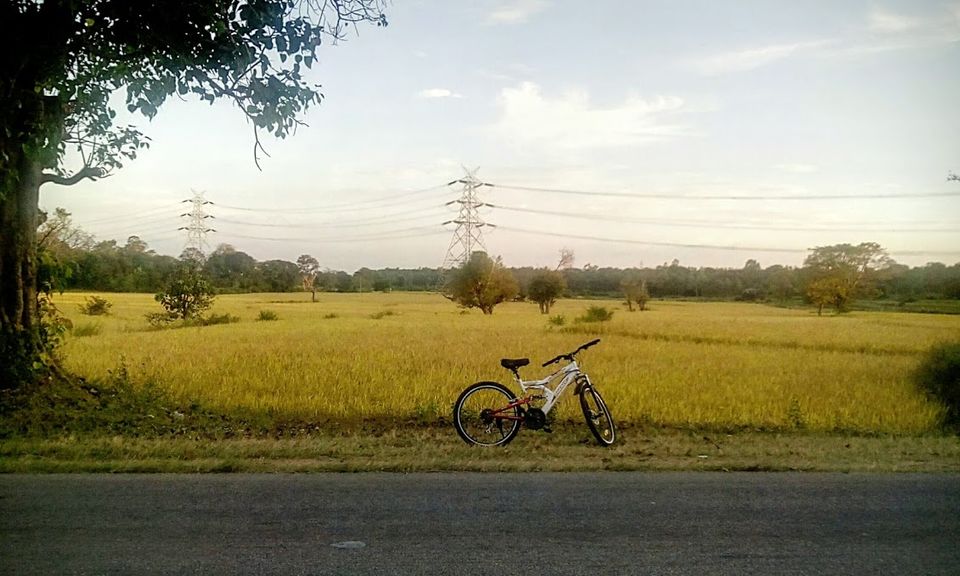 "It is important to remember that it's your thoughts and perspectives that give your pain its power and you are in the pilot seat. At any point you can refuel your engines, re-chart your course, and begin anew. Your mind contains millions of worlds. There is always someplace to escape to."
-Beau Taplin.
I have always wanted to make myself, and the people around me believe that traveling was meant for anyone and everyone. I never had the kind of money to fly  to an exotic holiday destination. Desperate for a getaway, I decided to pedal my way home: from Manipal to Bangalore. To cover 443 km alone with no prior experience, made me think of myself as a child, where you have absolutely no concrete knowledge of how the world functions outside your own comfort zone and your existence becomes a series of interesting guesswork.
My indecisiveness and intrusive thoughts has had me interact with various individuals. The term "Travel" never really seemed to have a concrete definition; it was rather a blend of assorted perceptions. For some, it entailed a break from mediocrity and monotonous mundane; for some it was an ostentatious display of extravagance over social media. Some said it was the enthusiasm to explore numerous cultures, historical landmarks and delicacies, while the other few responded with their love for nature, adventure and adrenaline.  As for me, the sole purpose of this journey was introspection and to add a new perspective to the ongoing events in my life.
So on the 6th of December, 2015, I began a journey to broaden my horizons, re-evaluate, reflect and conquer my thoughts and dreams.
DAY ONE - Manipal to Mangalore : Unprepared start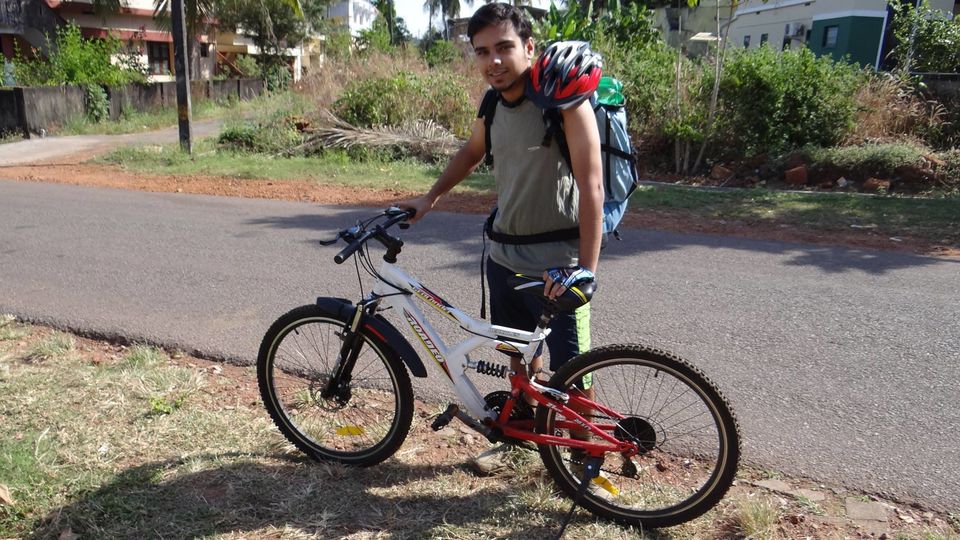 I had no previous knowledge about the needs of a cycling expedition. I prepared my rucksack with a sleeping bag, sunglasses and comfortable clothes whereas some sports gear, saddle covers, sunscreen were forgotten. It took time to sink in that I would really be treading the distance of 450 kilometres, given that the only considerable experience I'd had prior to this was cycling barely 40 km in Ladakh last summer.
The very initial phase of the journey felt like a routine as I travel around on my bicycle every single day and is the only mode of transport I operate. As I cycled my way past the concrete jungle, I came across fellow passer-bys that waved to me with bright smiles. I covered around 60-65kms in order to get to Mangalore.
Mangalore is the second largest city of Karnataka which is one of the fastest developing cities of Southern India. I managed to book a hotel for the night. Dinner was at a local food joint in a mall that stood nearby the hotel. This was the only luxurious stay for the journey and I absolutely had no accommodation plans thereon.
DAY TWO - Mangalore to Uppinangadi.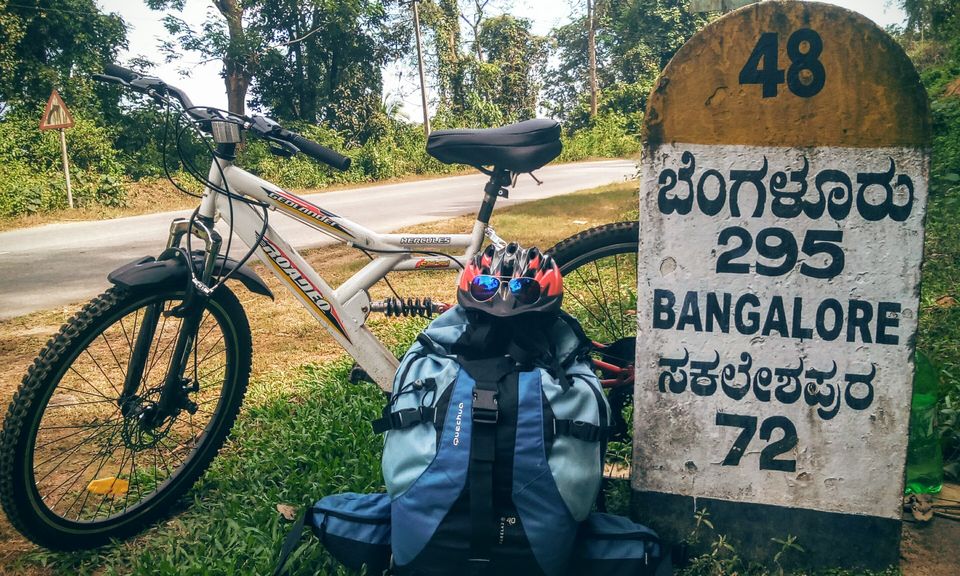 I planned to leave at 6 in the morning to admire the landscapes and traffic free roads while I made my way to Uppinangadi, but the fire in my soul could not outshine the urge to grab a couple of extra hours of sleep. I ended up checking out of the hotel at 10 a.m. wearing suitable, full-sleeved sportswear, precautionary equipment and sunscreen.
Just when I thought I prepped myself well for the day, another predicament showed up.  The saddle of my bicycle wasn't built to endure long-distances, definitely not as long as 400kms and I ended up with a saddle sore. Despite of the nerve wrecking pain and unfavorably warm weather, I cycled my way to B.C Road (Bantwal Cross road) that is 24kms from Mangalore. Fortunately, I came across  tiny carpentry stall outside a mosque. His dexterity caught my attention and I requested him to modify my saddle. He agreed without a thought and my saddle had been modified as per my requirements within minutes! I was charged Rs. 50 while the 'branded' sports saddle would have costed me close to Rs. 2000.
Karnataka has been the most humble state to me, in comparison to all other South Indian states. People are cordial and welcoming. My experiences in other states have been really indifferent. If I were to do something of this sort down south and solo, Karnataka was the place. Hands down.
Even though, not many interactions with people midway were possible due to the obvious language barrier. The astonishment and curiosity and the bare-minimum conversations in sign language and common words was a good boost.
I stopped at a local road-side 'dhaba' that served decent, stomach-filling food only at the cost of Rs. 20! Uppinangadi, made me feel like I had travelled back in time; little technological advancement and the residents living in their own bubble of oblivious happiness.
DAY THREE - Uppinangadi to Sakleshpur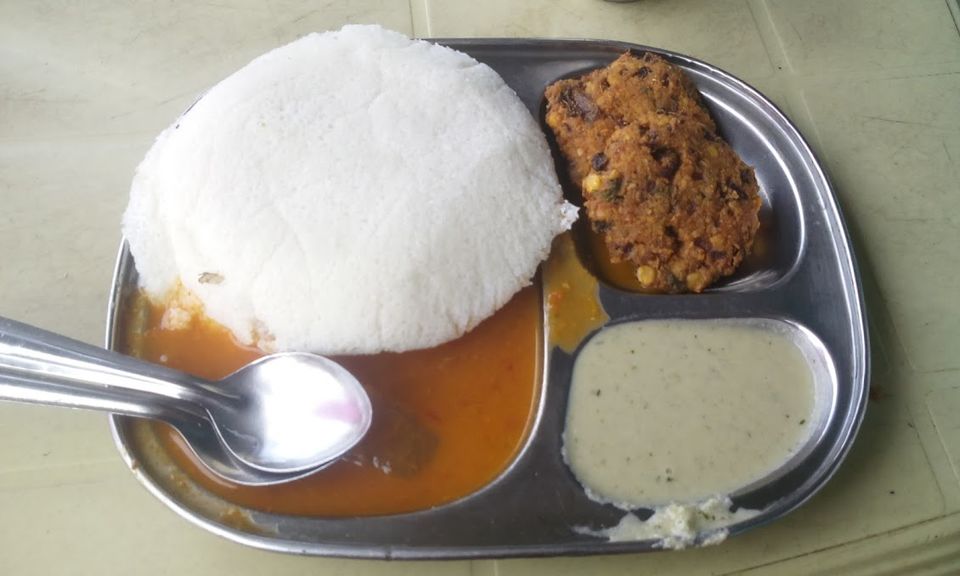 I woke up to the sight of people fidgeting with my bike and its gears. Not an ideal way to be greeted early in the morning in an alien land among strangers. I left the dhabba exasperated and cycled my way into the Western Ghats.
Challenge of the day had to be the elevation that ended up reducing my speed all the way down from 15 to 16 kmph to 6 to 7 kmph on an average. It constantly reminded me how plain roads at the beginning of my journey were nothing less than a blessing. Coconut water became my personal favorite throughout the journey. It not only helped me restore my energy, but prevented dehydration to a great extent.
DAY FOUR - Sakleshpur to Hassan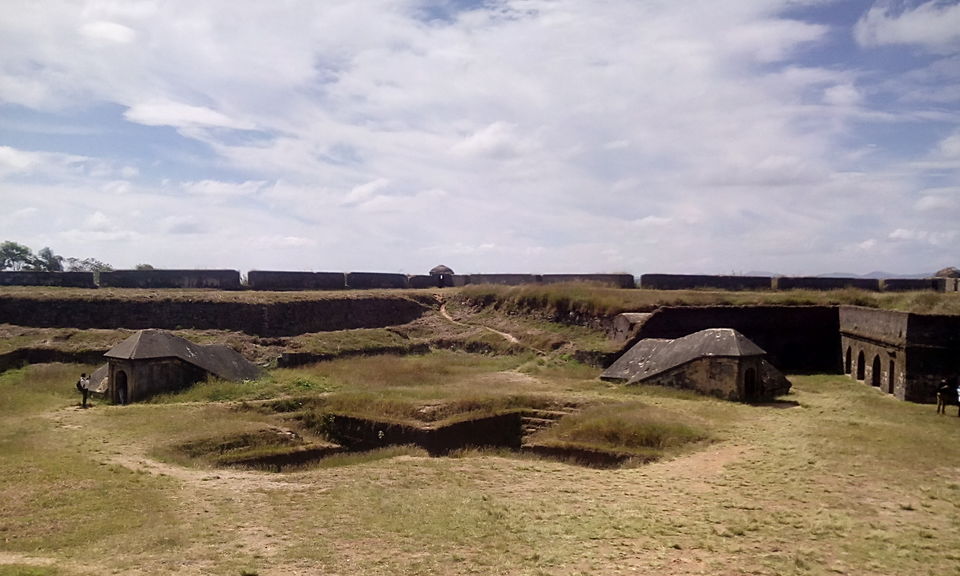 Day four had been really fascinating in terms of exploring tourist spots and landscapes as I touched Sakleshpur. Moreover, I covered a 2300 m elevation which was an accomplishment for me. My body started getting habitual to the exertion and the intensive up-hill cycling. I noticed a major positive difference in my stamina levels that I attained from pushing my boundaries physically as well as mentally.
Sakleshpur is a hill station famous for coffee plantations that attract a lot of tourists. I managed to purchase coffee beans for myself as a souvenir .The temperature dropped down from burning 35 degrees to 19 degrees.
I visited the Manjarabad Fort located on the outskirts of Sakleshpur on NH48. The fort was constructed by Tipu sultan to protect the plateau beyond Sakleshpur. The entire fort has a star shaped architecture which was also used as an armoury during that period.
DAY FIVE – Hassan to Hirisave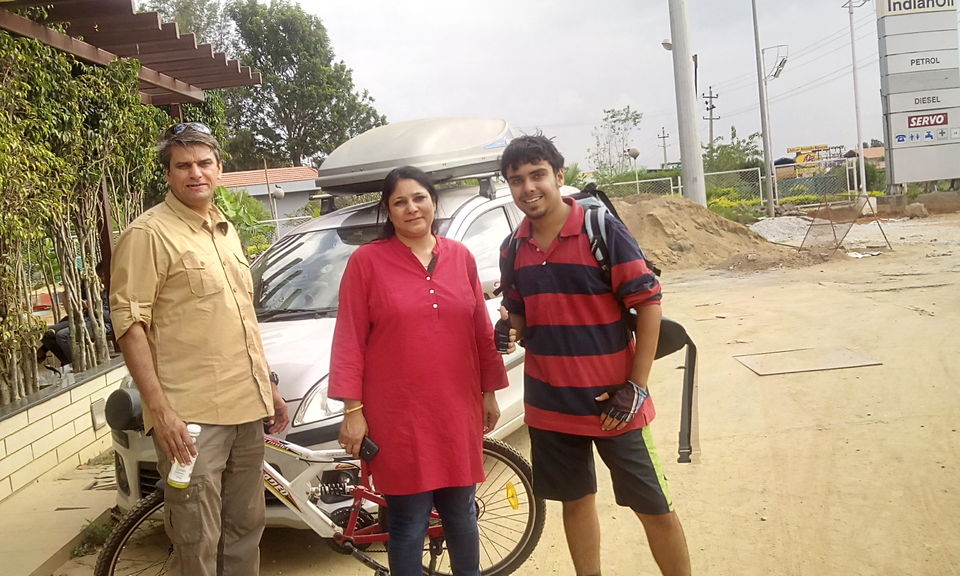 On my way to Hirisave, I was bewildered to find a Café Coffee Day that stood isolated in the middle of nowhere. I entered the cafe, only to be surprised by the number of people there. I interacted with a gentleman who had driven an incredible 8000km in the past one month in his car. His travel destinations included well acclaimed places like Delhi, Rajasthan, Maharashtra, Kerala and was now on his way to Bangalore.  We had the same destination!
On the road to Hirisave which is a village in the Hassan district, my bicycle had its very first breakdown.  The front brakes broke away from the tyres and I was in a fix. Luckily, I managed to find a scooter repair shop on the highway and the mechanic somehow managed my breaks reattached in no time.
 DAY SIX – Hirisave to Bangalore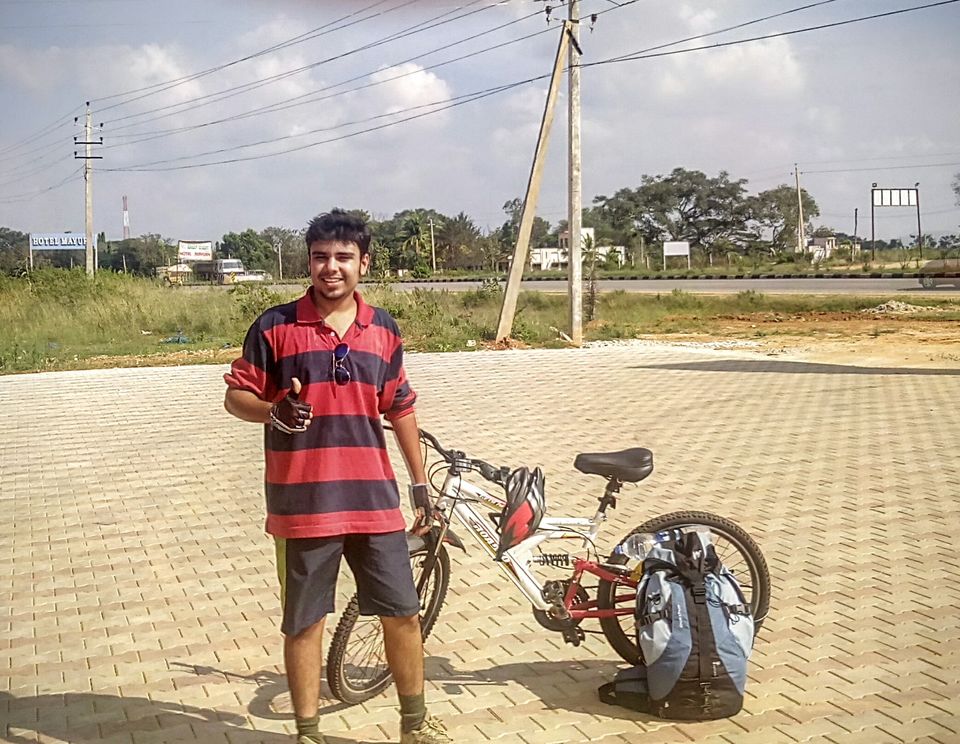 I was 120kms away from my ultimate destination. A distance that seemed so close but was impossible to cover within a day. My parents suggested me add another day to my expedition and stay over for another night. I strongly disagreed; I put my foot down and went against all odds to cover 120kms in a day's time.
I was exhausted and I desperately wanted to go back home in the time I had planned initially. I started cycling at 10 in the morning and decided to stop only when necessary.
It was around 7 in the evening and I still had 30kms to cover. I was nearing Bangalore when I saw an accident. I was stopped for water and basic first aid and I gave away my bottle. Giving away my only bottle with none to spare was a terrible mistake. The hope of getting back home, pushed me to pedal harder and forget of the brutality I was putting my body through. The highway had no stop where I could buy a bottle of water and replenish my thirst.
15kms away from home, I finally managed to find a tiny stall and grabbed a bottle of water. My body started rejecting liquids due to the fact that I had exerted it to the point of dehydration.
However, I pushed through till my body gave up on me in the middle of the highway. I hazily pulled my cell phone out and called my parents up telling them about the horror I had put myself into. I called an Uber cab for the last few kilometers and my expedition came to an undesirable end.

I was taken to the hospital immediately as I got back home. I had severe dehydration, but I managed to recover quickly.
Experiences post the introspective journey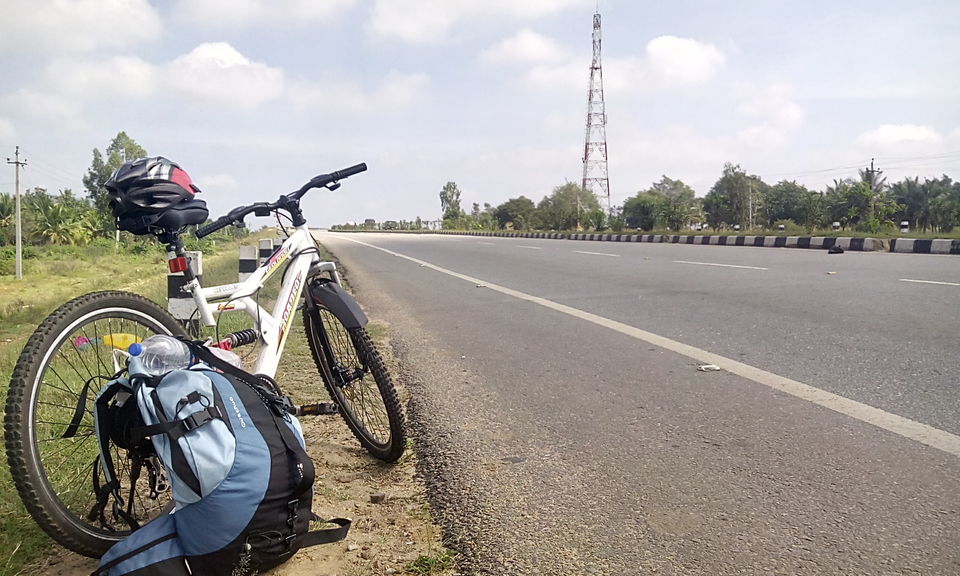 You can never stop the human mind but by meditation. And, that is something I've never really been able to take up well. Hence, Travelling has always been my thing when it comes to the search for my peace of mind. It gives you the much needed alternative perspective towards the issues in the daily life. Coming across various people from such diverse walks of life ought to get one thinking and reevaluate one's approach to life. The major part of the journey involved a lot of introspection and helped me take decisions that I otherwise would not have. Now, three months since this journey, I can very well say that each one of those decisions was right and rewarding.


Traveling through rural areas and being surrounded by nature for the most part brings one closer to oneself. This is a great opportunity to be true to yourself. I had the chance to accept myself, my strengths and weaknesses, my needs and wants. Only when you accept yourself can you move to improve on the areas you'd like to. Living in denial and trying to fit in, is definitely not an answer. Post the trip, I decided to let go off a few toxic people. Killed a few ongoing projects that were turning out to be mentally exhausting. Focussed more on where I felt I belonged. Mustered up the courage to step aside from the mass conformity that happens all around. But, the funny side of this was that if a friend told me of their worries/problems in life, my one point answer became : You should travel (more often). This ofcourse doesn't go down well with many people. But, to each their own! :)
Compiled by Arminder Kaur for Abhinav Arora
Edited by Pallavi Vemuganti