When you hear of beaches in India, surely the first place that comes to mind is Goa. It's only once you rule that out, for whatever reason, that people start thinking of the beach cities of Kerala or like Pondicherry, Vizag, etc. But there's one more place which pretty much joins the list of excellent beaches in India, it's called GOKARNA. *cue angels singing in the background*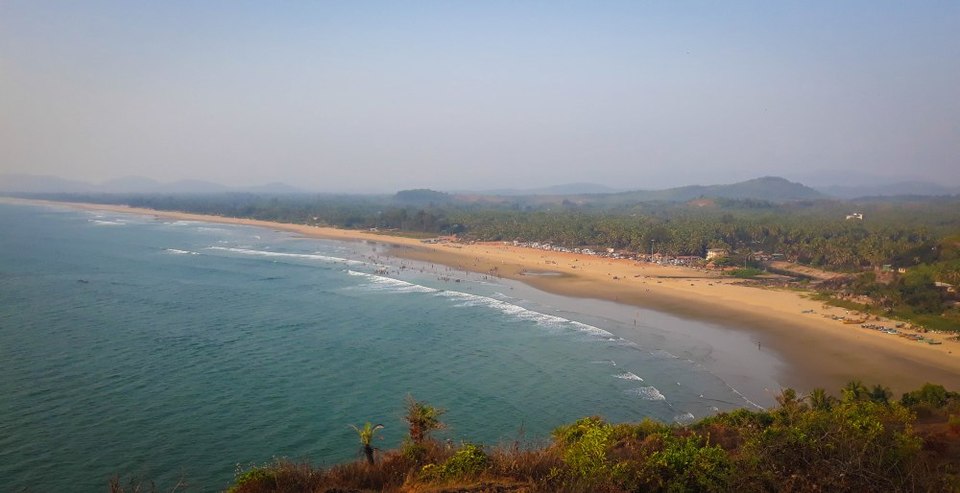 I won't introduce this place as an off-beat destination because living in Bangalore, I have come to realize that every 3 rd person has either been there or has at least heard of it. But it definitely isn't everyone's first choice owing to the elusive 'Goa Hype'.
So with the prologue out of the way, let me begin my actual content...
Gokarna is a coastal town in Uttara Kanada, Karnataka. It is located on the Arabian Sea stretch of South-West India and is a popular pilgrimage destination as well as homes a vast number beaches in an area of 11 km 2. Now that I've introduced the town, let's come down to our trip...
Details of the trip are as follows -
No. of pax - 2
Duration - 3 nights 4 days
Budget - INR 22000 or USD 320
City of Departure - Bangalore, Karnataka
Drop Destination - Kumta, Karnataka
Mode of Transport - Coach service, local bus, auto rickshaw, 2 feet each
Season - Winters, Peak Season, Day - 33 o Night - 18 o, Inflated rates everywhere!
Truth hour - I did not plan this trip very well since there was no time. It was very impromptu; only decided basis the availability of leave from our respective offices, cheap accommodation and transport; being the most expensive time of the year in India.
At the very end moment, I managed to get direct bookings i.e. not online through any portal, at what looked to be a beautiful resort named Nirvana Nature at reasonable rates. Not cheap rates, just reasonable rates. So I consulted with my husband and the moment he gave me the green signal, I booked our 2 way trip by bus.
At the time it made sense to go by bus, because a journey of 490 kms / 10 hours by car just seemed like a waste of time. Moving on...
Day 0.75 -
We commenced our journey by a Non-AC Sleeper Bus / Coach Service after finishing 10 hours at office. We started at around 22:30 hr (10.30pm) from Anand Rao Circle, Majestic in Bangalore by Shree Indira Travels.
Day 1 -
11 hours and a very bumpy ride later we reached the spot where our Resort Manager asked us to get off ie. Kumta. Turns out, our bus wasn't a via Kumta bus and hence they dropped us off in the middle of nowhere on the highway at a place named Mirjan. Luckily 20 minutes later we got a local bus to Kumta and from there another bus to Kagal Village. We got off at the Nirvana Beach bus stop and from there took a rickshaw to the resort. It must have been about 1 km but the rickshaw driver took INR 60 to drop us there. Note - Here they don't follow the concept of 'Meters', in fact they hadn't even installed any.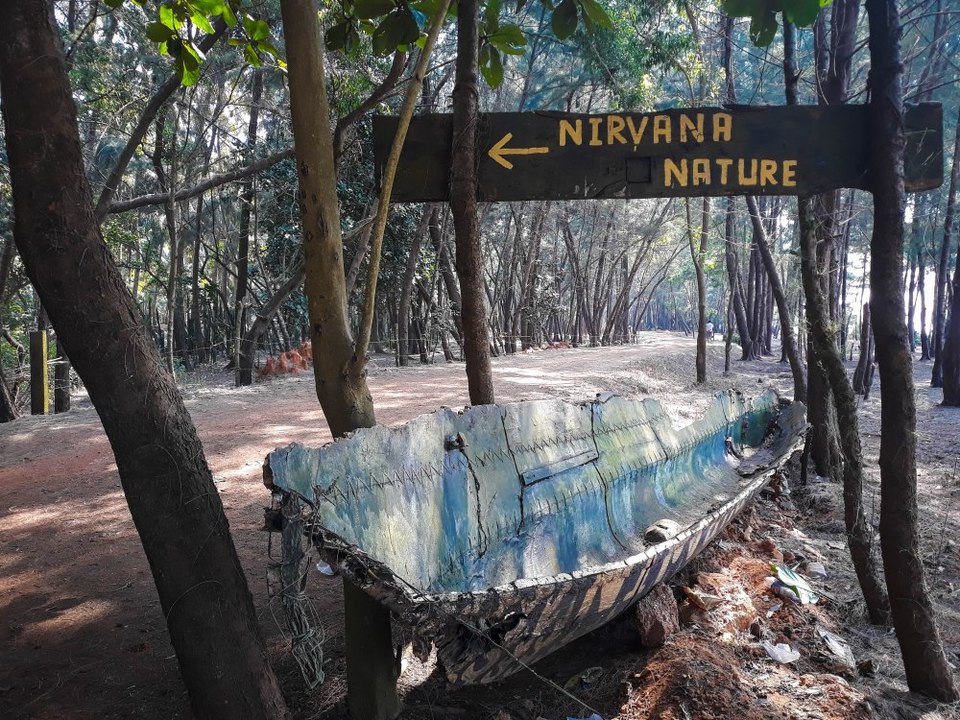 14 hours of travelling later, we caught sight of a beautiful white sand blue water beach to our left and finally reached the property. We were so happy to see that everything was exactly the way we imagined it. We were greeted by Mahendar, the go-to person there. He showed us to our room and that was it. No formalities, no keys, no rules, nothing! Complete safety and total freedom! We loved the rustic environment and the place's closeness to nature. We immediately got ready and decided to have lunch and later explore the property. The resort had a very limited menu but the food was alright. We finished lunch, walked around the resort, absorbed the basic-ness of the place, took a nap and then at around 18:00 hr (6pm) headed out for a walk on Nirvana Beach. It was so relieving to see such few people around. We climbed a small little cliff at the extreme end of the beach to get a view of the beach behind us and the breath-taking sunset before us.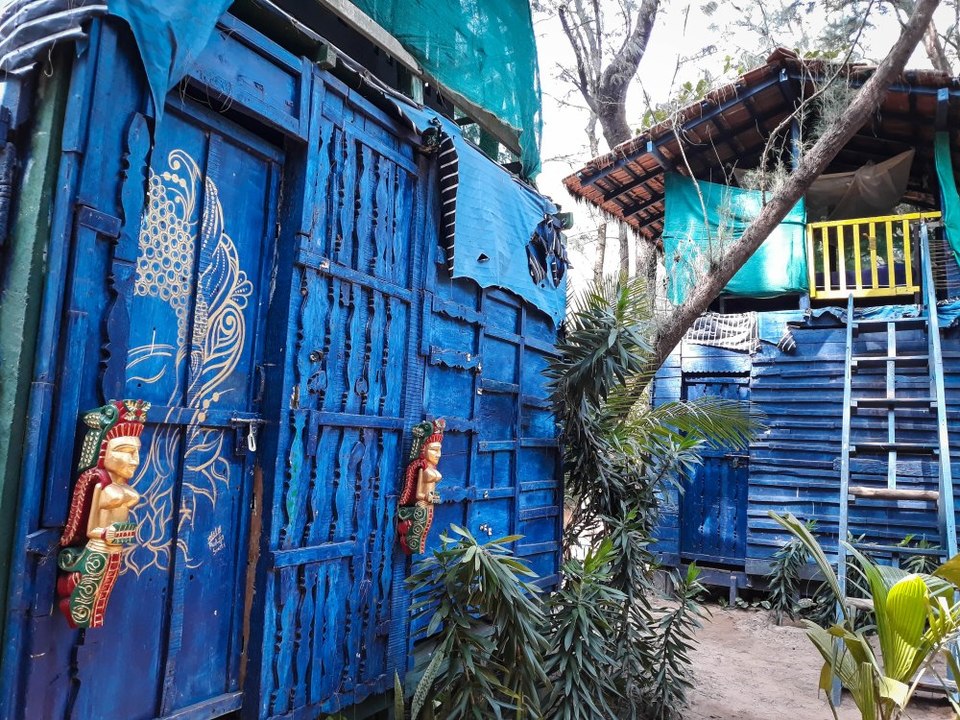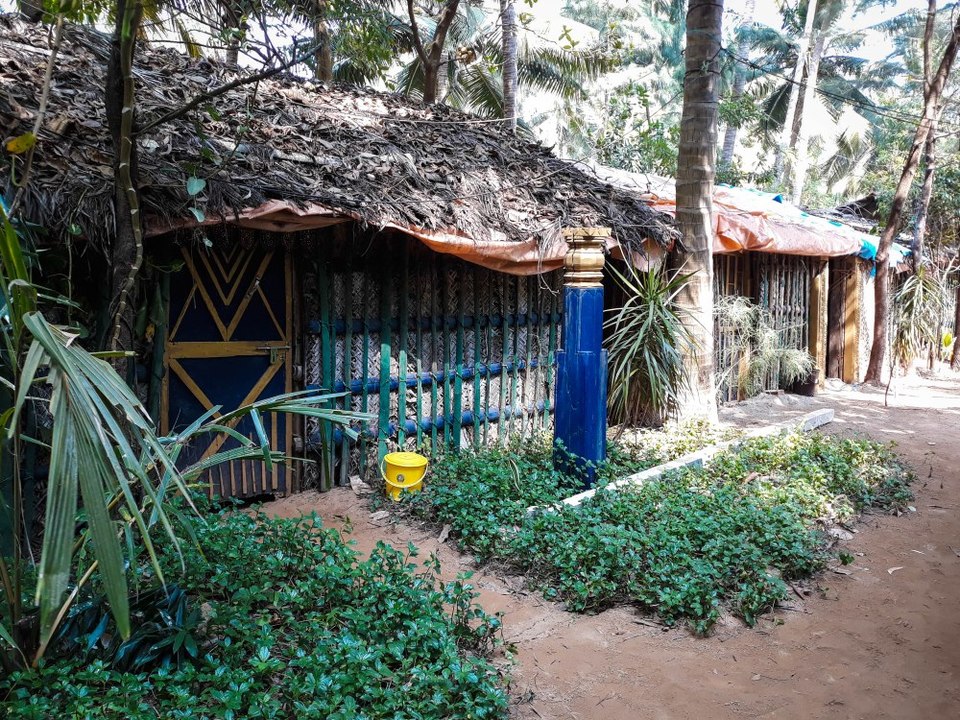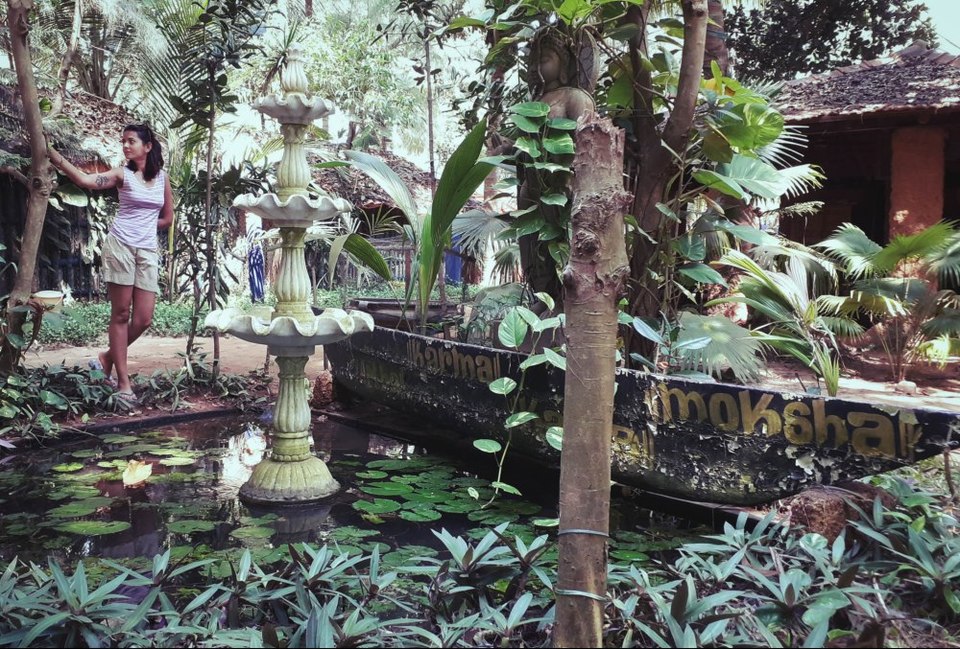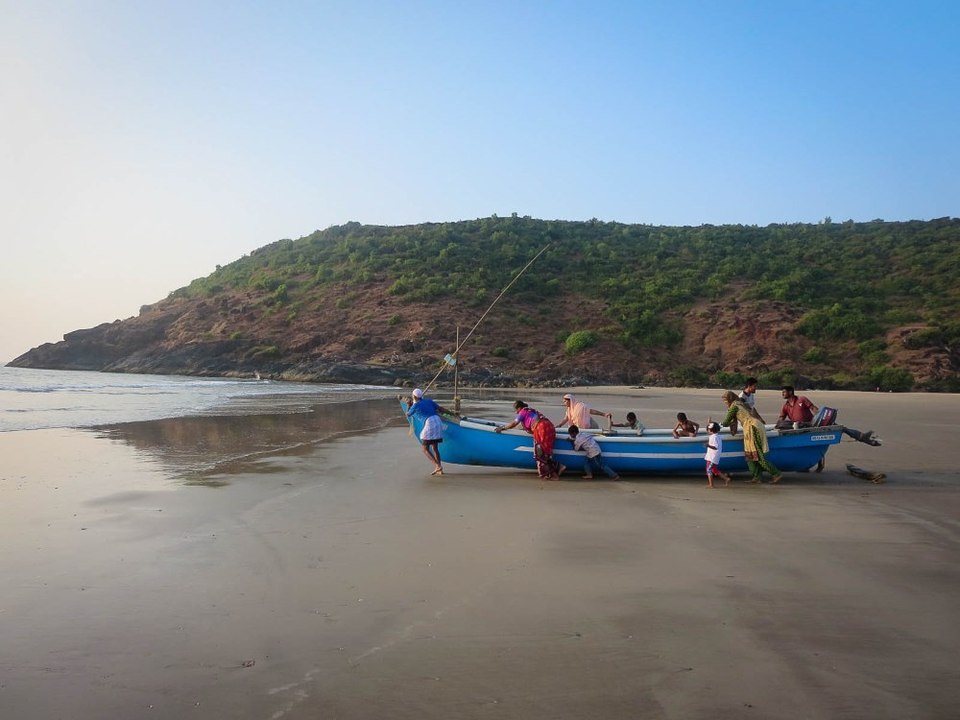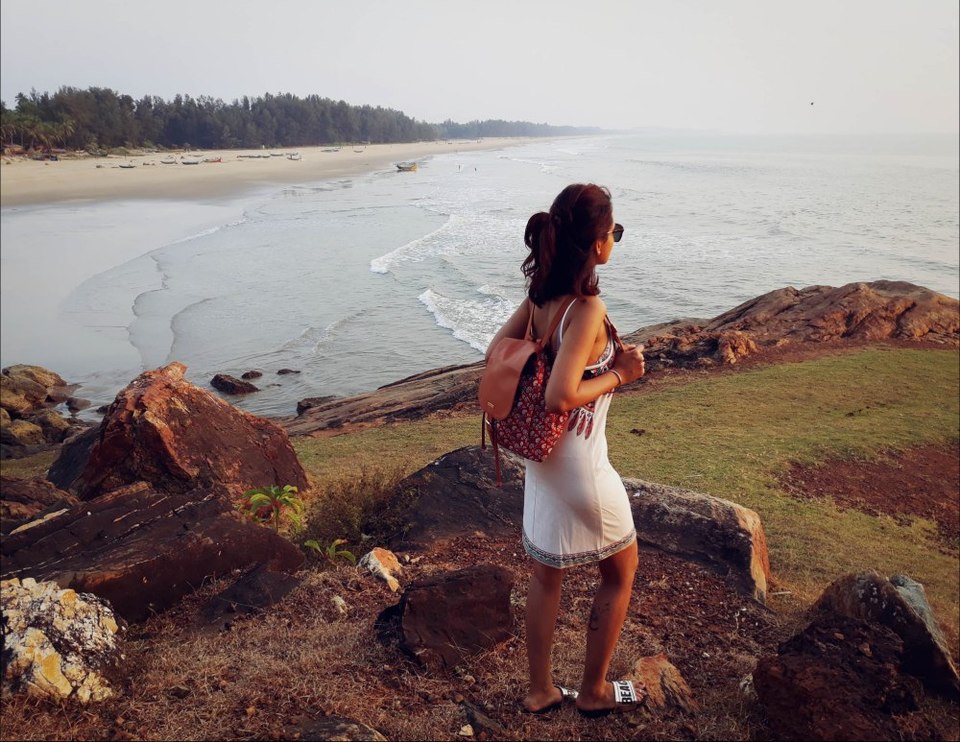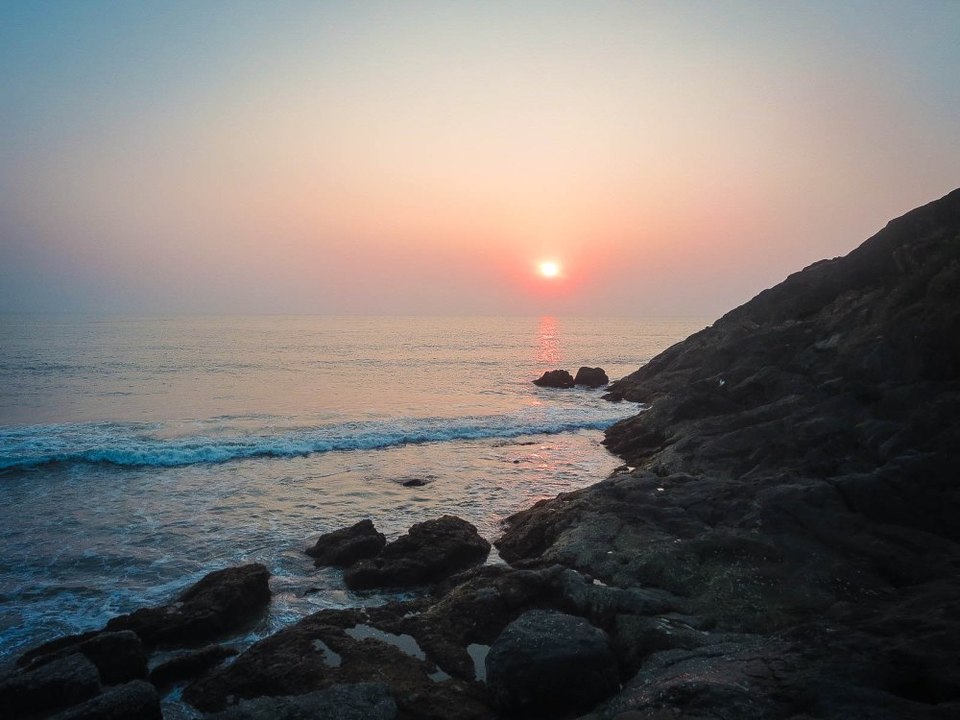 Bright and not too early, we got ready for a day at Gokarna. We had a heavy breakfast at the resort, applied 3 layers of sunscreen, left the peace of our resort and started our walk through the fields towards the main road at about 13:00 hr (1pm). It took us 15 or so minutes to get a bus to Aghnashini ferry stop. We had to run to catch the ferry since it looked like it was about to leave. The ferry trip was only 10 min long and we were on the other side, the main side. We had to walk through the fish market to reach the stop where we took another bus to Gokarna. Upon reaching Gokarna after about 20 mins, I input the beach's location on Google Maps and we started by foot. We walked through the Gokarna Market, exploring, hoping to rent a scooter, but to our dismay, there was no availability due to the heavy demand. Where ever there was something available, they were charging between INR 700-1200! No thank you!
Note - In the market stand 2 very famous temples named Mahabaleshwar Temple and Maha Ganpathi Temple.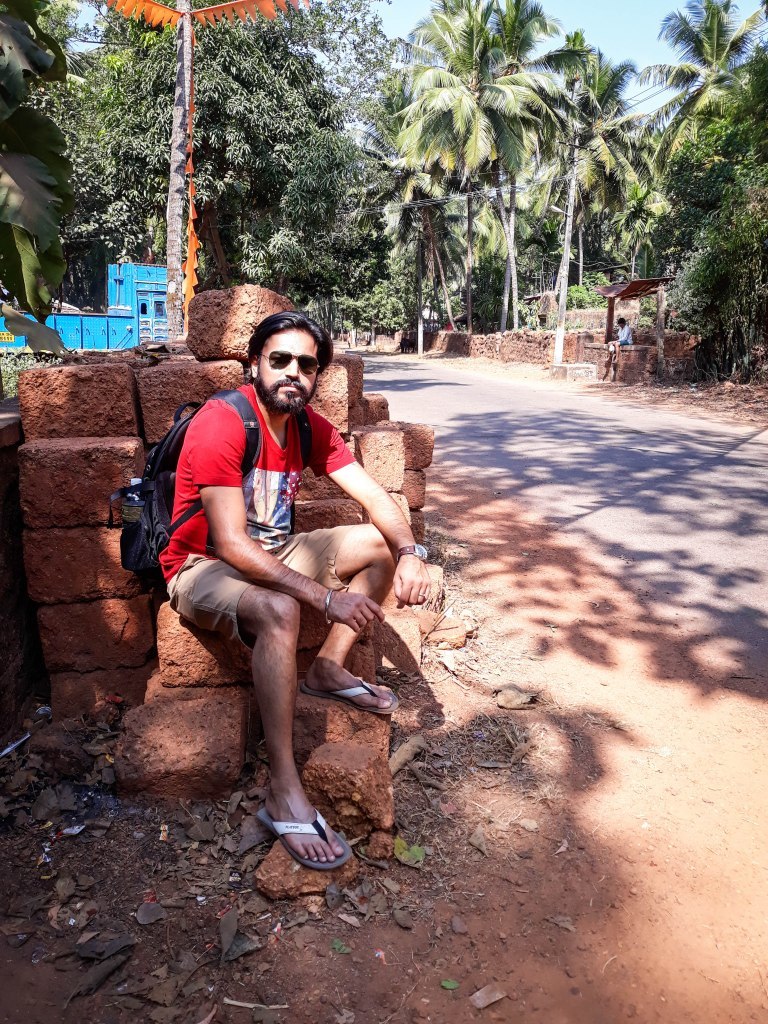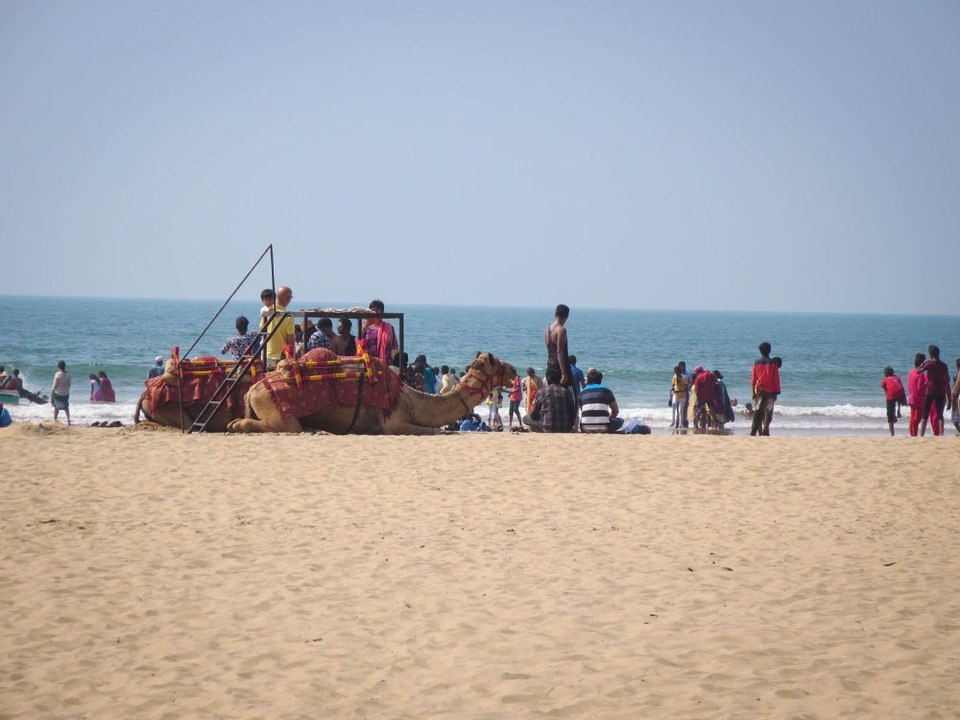 15 minutes away from the bus stand was the infamous Gokarna Beach where there was a huge herd of local tourists or maybe local residents, or probably a mix of both. But that is not where we wanted to be! The sun was blaring, my husband was losing patience, so I immediately picked a café and once again, started by foot. After 20 minutes of walking through tranquil tiny lanes roofed in green, we found ourselves asking the locals how to get to beach again. People here seem to be very kind and sweet to tourists. One kind native not only showed us the way through closed gates, narrow openings and paddy fields, he went so far as to walk us half way there. So we reached the location where all the Café's were located one after another and where the beach was scarcely populated. *Hallelujah!*
As the sun started its decent, we decided to climb the hill to get a bird's-eye view of it all. For that we had to head all the way back to the market and then further towards the hill, from there we had to pass through a temple where there were stairs to take us up to the top of the hill. This is the spot for amazing panoramas. For trekking enthusiasts, this is the way to get to Kudle Beach and further on to Om Beach, which takes about a day in case you happen to spend time on each of the beaches. We couldn't do it because we had to get back to the other side before the last ferry left at 19:00 hr (7pm).
Day 3 -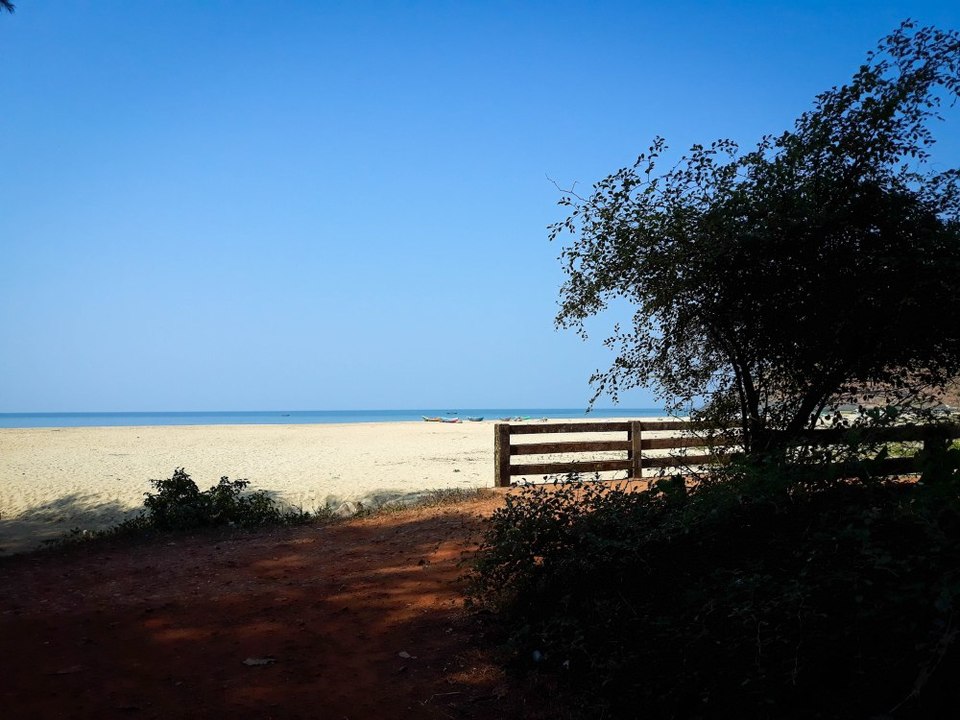 *Swim Time!* Our morning started with a 1 hour fantastic swim in the chilly Arabian Sea! The crashing waves and salty sea water got us so charged up that we sped through our getting ready process, gulped down our super heavy breakfast and booked an Auto Rickshaw for the day's sightseeing.
Deets -
Auto Guy - Sriniwasan
Auto Rent Rate - INR 1300
Distance - 150 kms
Spots - Mirjan Fort, Yana Caves
This was a pretty ready-made day for us. No challenging encounters as such. Sriniwasan and his compadre took us to the Fort first where we spent about half an hour and then headed for the caves. This journey felt infinite and posed a slight challenge for an Auto. It was more of an off-roading experience.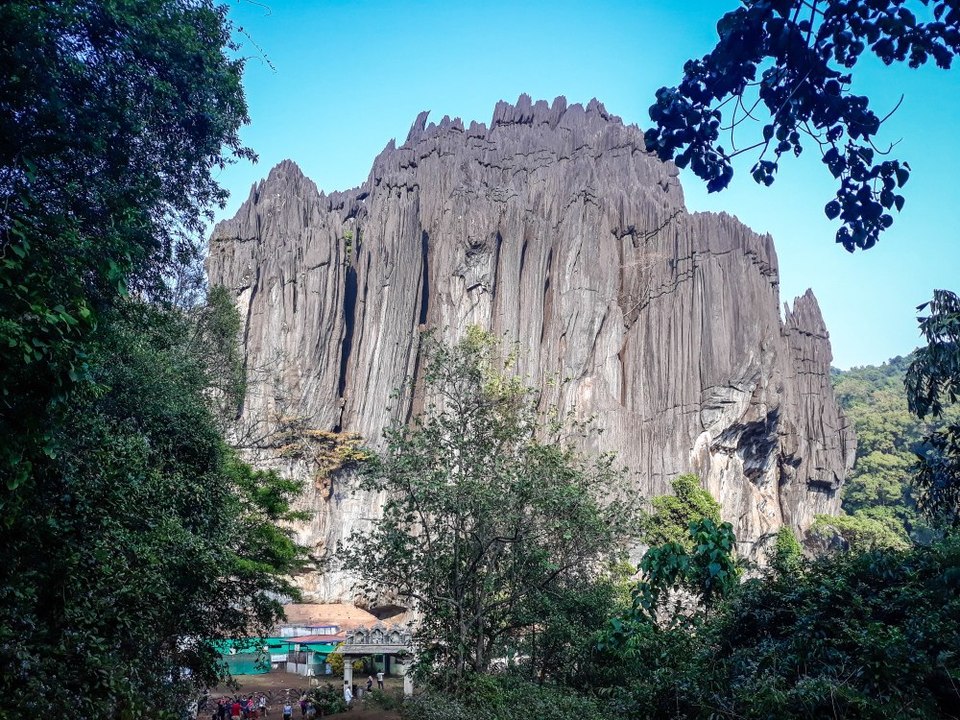 There's a half kilometre walk from the Entrance Gate to the Caves. Apparently, there are other ways to hike there as well - Stairs or something, I guess. This formation is basically a collection of limestone rocks. The caves are formed due to a river running through these rocks for decades. Now it houses a self-made Shiva Ling Temple surrounded by a forest.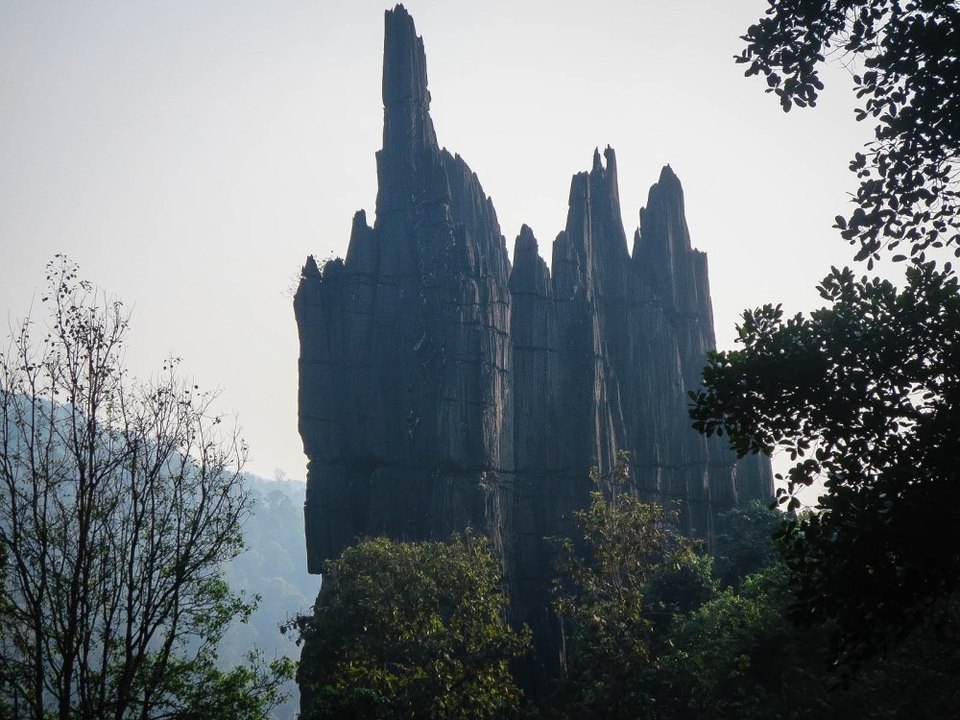 Notes -
- You have to explore the Caves bare footed since you have to pass through the temple
- There are lots of monkeys, so take care of your things- Since you are in the middle of the Forest, there's zero connectivity
- There is literally no other way to get to these places without a 2 / 3 / personal 4 wheeler
- If you are early risers unlike us, you can club these 2 with another spot called Vibhuti Falls. I've read its quite beautiful
Day 4 -
*Final Day, Last Swim* This time we woke up earlier for our swim since Check Out was at 10:00 hr. Packed up all our stuff and handed over the room to the Resort Manager Govind, had our mandatory heavy breakfast and lay on the hammocks for a while. Then as it started getting late, we headed out the same way we did on the 2 nd day only this time we were travelling with this lovely French couple. These guys quit their jobs and just up and left to tour the whole of Asia over a period of 10 months. *What I wouldn't give to do that!*
Unfortunately, we had to split ways after the ferry since they were headed to Gokarna Beach and we were headed to Om Beach this time. We paid INR 300 for an Auto Rickshaw to Om Beach which is about 6 kms from the Ferry Stop. I believe, it costs lesser to reach here if you are staying at Gokarna - an approximate range would be INR 150-200.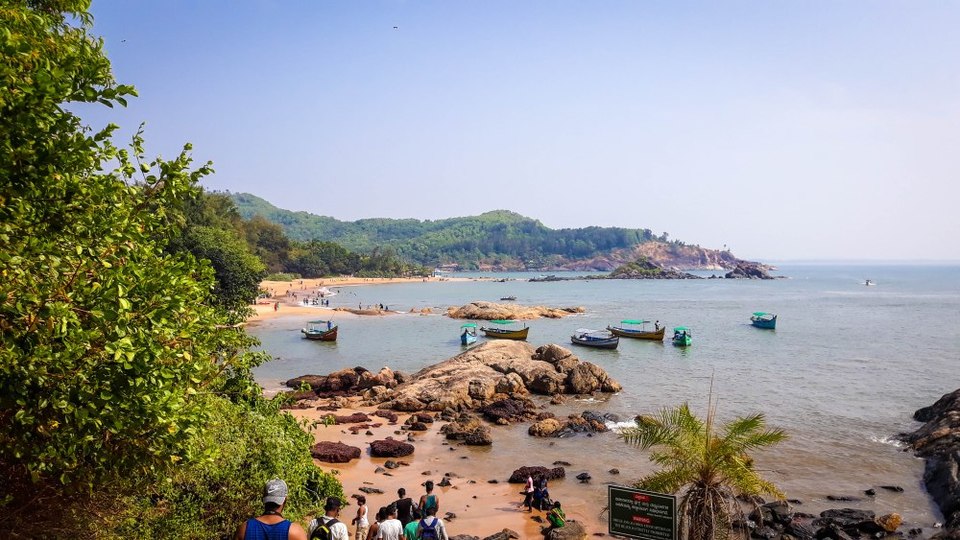 This is a 1 km stretch of beach once you climb down a set of stairs and hit the sand. There are 2 cafés at the entrance of the beach while most of the action is on the other 'U' side of it past the rocks. We picked one shack and decided to spend the rest of our time there. Warning - This is quite a crowded beach, so swimming here didn't look all the enticing. So we literally just sat and chilled at - Nirvana Café. I personally found the waiters here quite discourteous and uninterested, but it could have been just my experience.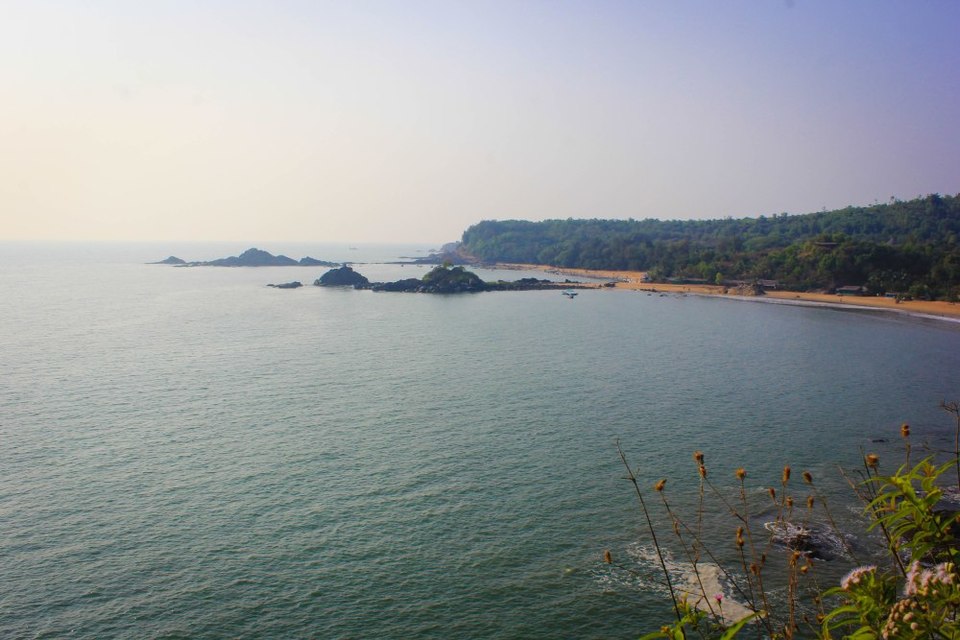 Before our return bus at 19:30 hr (7.30pm) we chose to climb a small hillock for a view of the Om shape of the beach. We didn't have time to go all the way up, but we caught a glimpse of it and even this much looked divine! Once we reached back to the café it was quite a sight to watch people doing these various activities like hula-hoops, volleyball, beach badminton, firesticks, frisbees, even a buffalo and a dog were sunbathing. Where else do you see that?!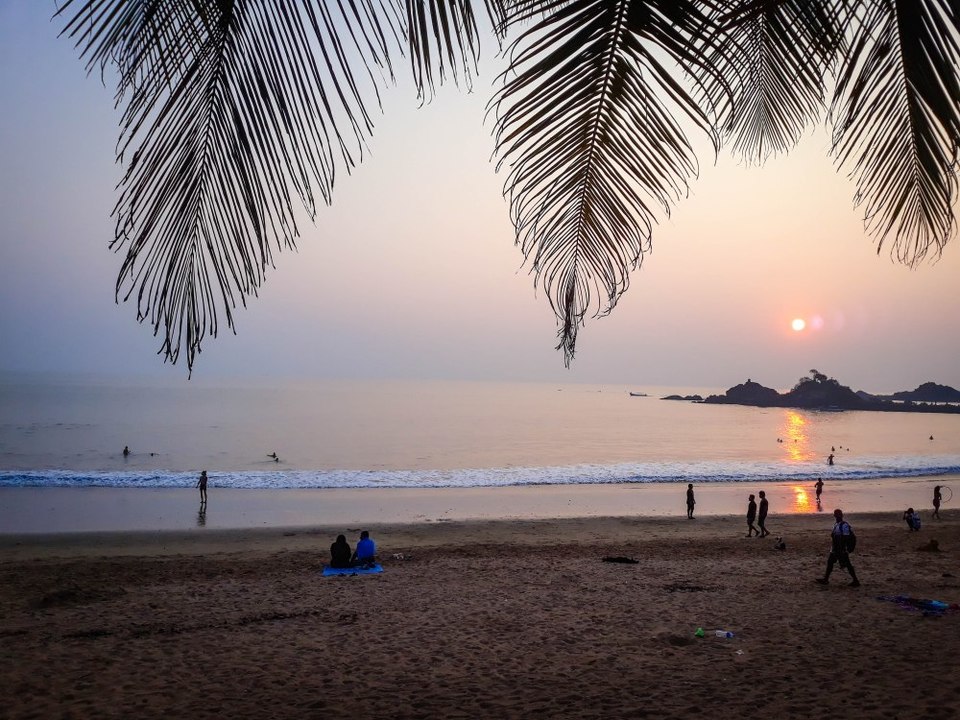 We were lucky enough to catch the sunset behind this majestic beach scape for one last time and then we left for the bus stand. And that was it... In the blink of an eye, our 4 days customary Year-end holiday came to a wonderful end.
One Last Note -
- For those of you want to stay in the commercial areas close to Gokarna, Kudle or Om Beaches, every one of these shacks have rooms where you are bound to get rooms in the range of INR 800 - 1000 per night on the spot if you go Off-season. For the On-season travellers, be sure to pre-book from www.booking.com, www.tripadvisor.com, www.makemytrip.com because all the prices shoot up like rockets later
- Scooters are available only at Gokarna Beach in the main market. The prices vary from INR 400 to 700 based on the season and demand
- Try to rent cycles so you can ride them through the pretty lanes of Gokarna
- The food options here are very restricted even for a non-vegetarian, even the menus are very similar through-out all the shacks
I hope this post sort of helps you guys plan your Gokarna Trip. If you'll have any questions that I haven't covered here, please feel free to leave a comment and I will be happy to help.
Highlight -
The nights we spent on Nirvana Beach gazing at this blanket of stars, listening to the sound of the waves interrupting our deep conversations. I could do that forever!