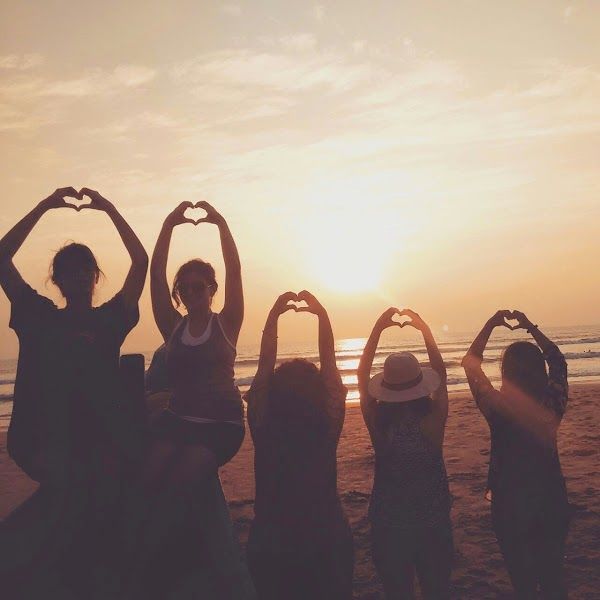 Looking for things to do in Gokarna? I've gone to Gokarna three times in a row. 2013, 2014 and 2015 and I know the must do things list in Gokarna, the three times is most definitely going to increase to uncountable number of times. Gokarna is actually a temple town in Karnataka,India. Devout people come there only to visit the Gokarnanatha Temple in the main town and see (dirty) Gokarna Beach. We chose to go away from the usual track and explore the beaches on the other side of town. The first time around we took a train from Bangalore (Yeshwanthpur Station) and got off at the Gokarna Road railway station. The next time we boarded a bus from Navrang Stop at Rajajinagar and got off at the Gokarna Bus Stop. The third time around we boarded the bus from the same stop as above but got off at Kumta since we decided on having a detour before heading to Gokarn (Goks as we call it).
THINGS TO DO IN GOKARNA
1) Take a detour and head to Nirvana Beach near Kumta - It is a secluded beach amidst a lot of trees. We stayed at the Nirvana Beach Resort since that was the only resort there.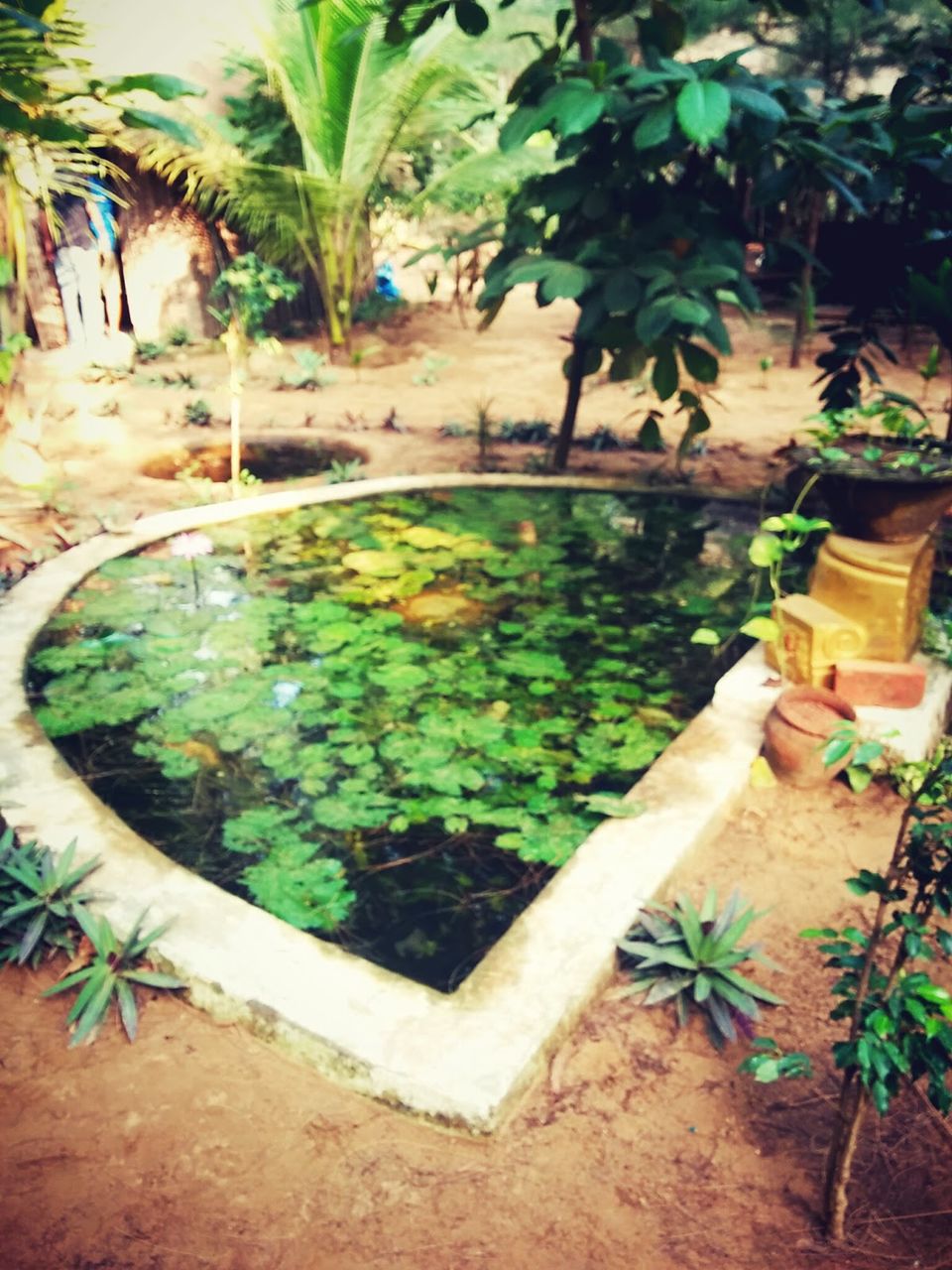 2) Sit atop a tree house -

3) Collect interesting shells from the beach -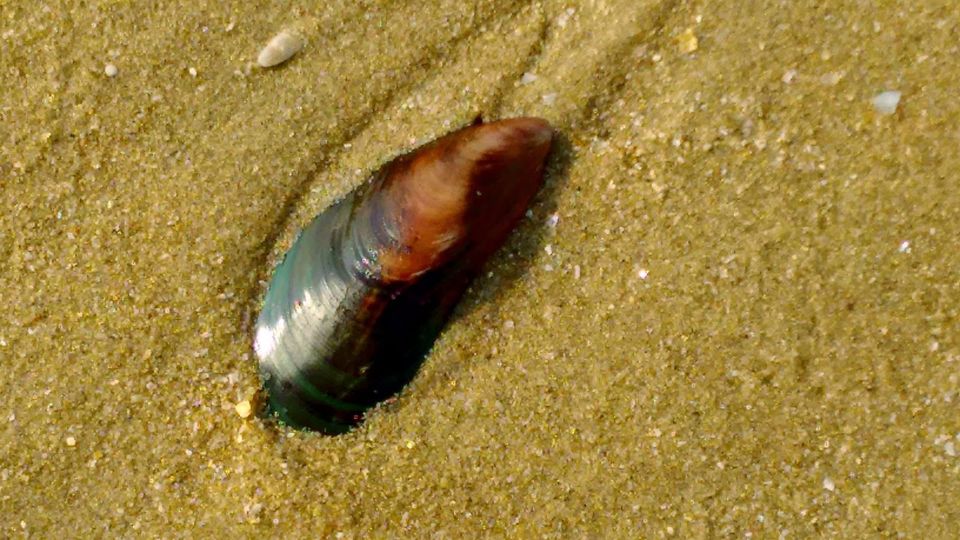 4) Watch a dog chilling by the beach in style -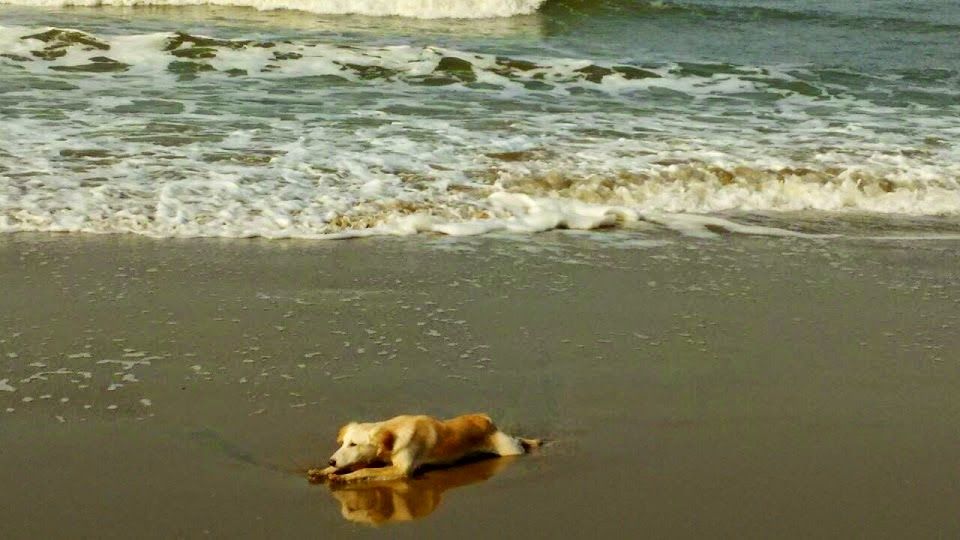 5) Drink the "Oh-So-Delicious" Ginger Honey Lemon Tea -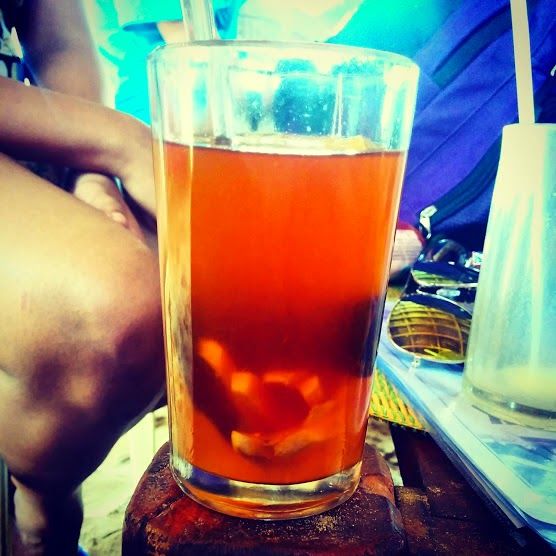 6) Take a boat ride to at least one beach - From Nirvana Beach we were taken to a nearby place (maybe a small dock) from where we boarded a big boat to Kudle Beach, Gokarna.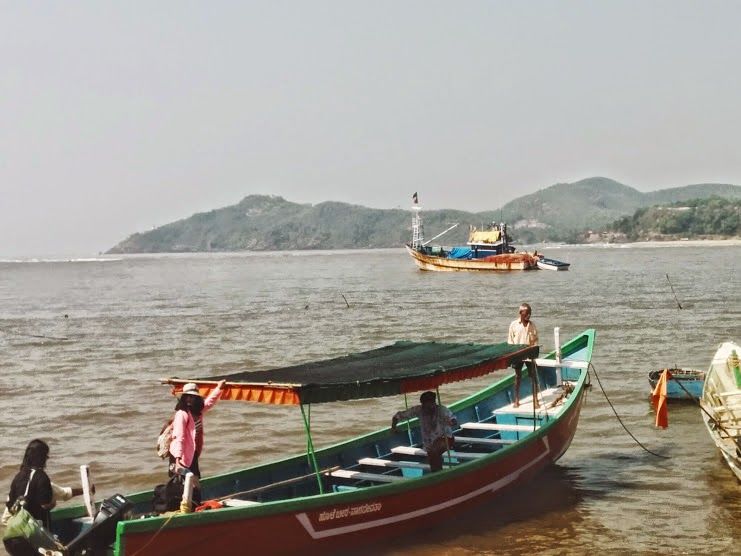 7) Spot Dolphins during your boat ride - I do not have any pictures to show but the feeling of looking at the adorable dolphins enjoying in their natural habitat was a treat. We had a very jovial and patient boatman and he ensured that we got to see the dolphins from all angles. As children we knew what dolphins looked like only after watching FreeWilly but this time in Gokarna we had the opportunity to see them. It was an amazing feeling. We were excited like little children.
8) During our night stay at Nirvana, we ventured out at night towards the beach and what we saw there was a class apart from all our other experiences. We saw glowing Plankton. It was like seeing fireflies in the water. They also reminded us of little led disco lights motivating us to wriggle and dance in the water.
9) Stay at Kudle Beach in Gokarna - Preferably HOTEL SKYLARK. It is our favourite shack in the wholeeeeeee world. Let me tell you the name has HOTEL in it, it is not a HOTEL. It is just a basic beach shack for two with a bed, a light and a fan. It is suitable for people who are on a budget. They have separate Indian and Western toilets. The bathrooms are common. The toilets and bathrooms both are extremely clean. The guys at Skylark are extremely friendly and helpful.
10) Settle down at your shack and just stare away - The sun, sands and the waves have a very soothing effect. When one goes to Gokarna you can just chill by beach and forget all your worries. It is the perfect destination to unwind.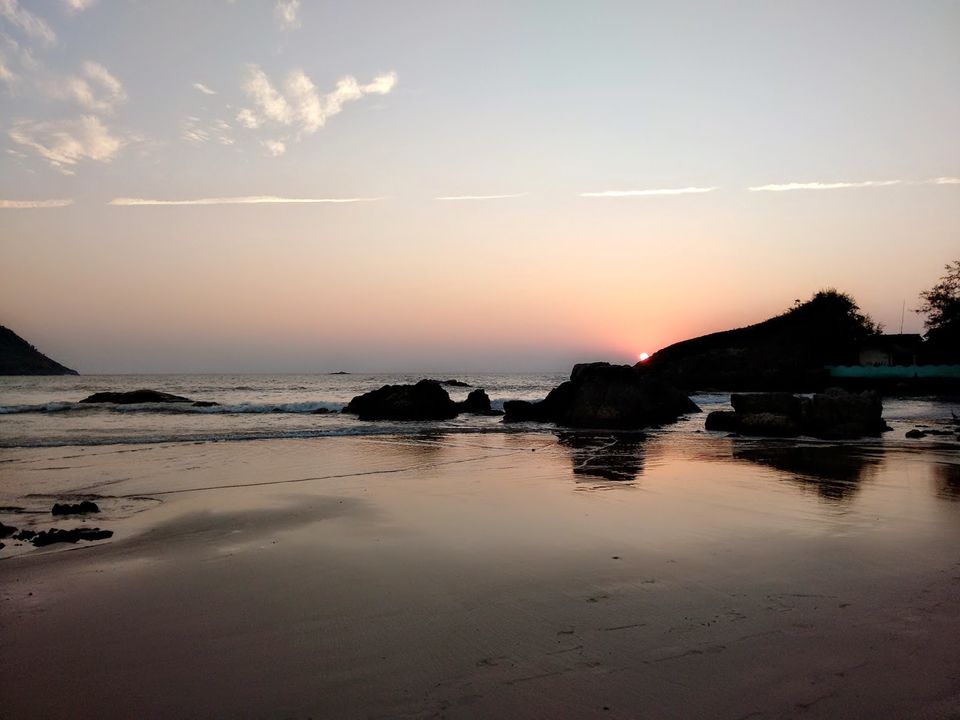 11) Take amazing pictures DURING the sunset -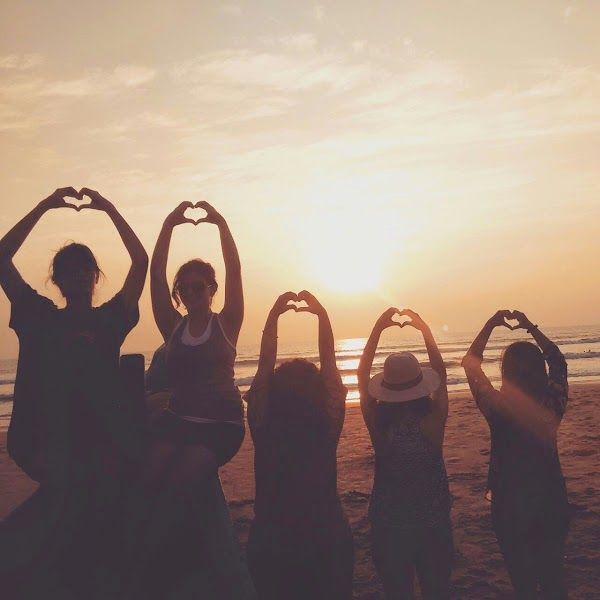 12) Take amazing pictures OF the sunset -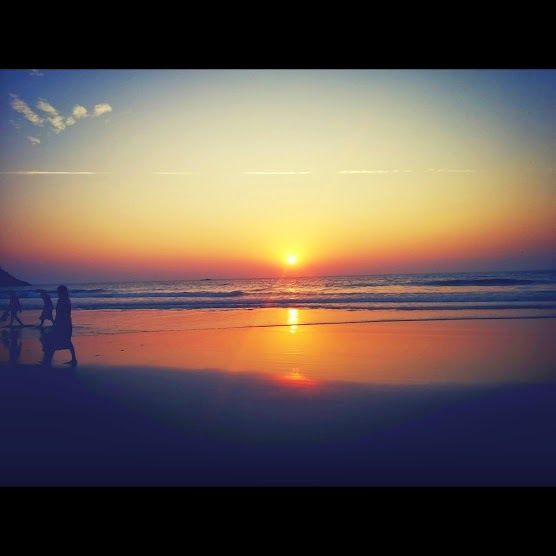 13) Eat all the amazing food you can - Gokarna has a wide variety of continental food. Try as much as your stomach can hold. The shacks cater to nationals from all countries. It is amazing how people from such a small town have adapted so well to the Western people and their culture,especially in delivering the taste and quality of the food.
Please please please do try the SEAFOOD. (Freshly caught fish and prawns)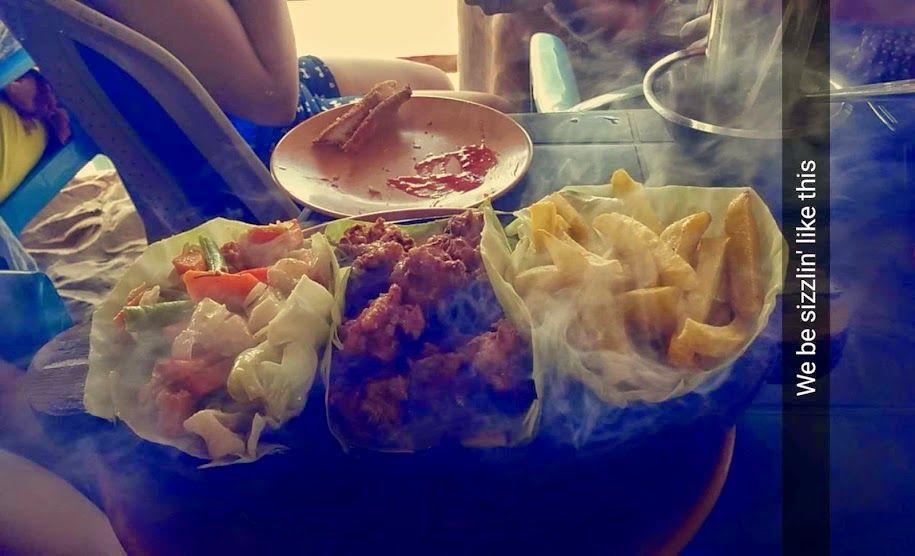 14) Trek to Om Beach, Paradise Beach and Half-Moon Beach -
We usually trek from Kudle Beach to Om Beach and then take a boat. When you trek towards OM Beach you notice that from one of the high view points, the beach is actually shaped like an OM and hence the name. Paradise and Half Moon are comparatively less crowded.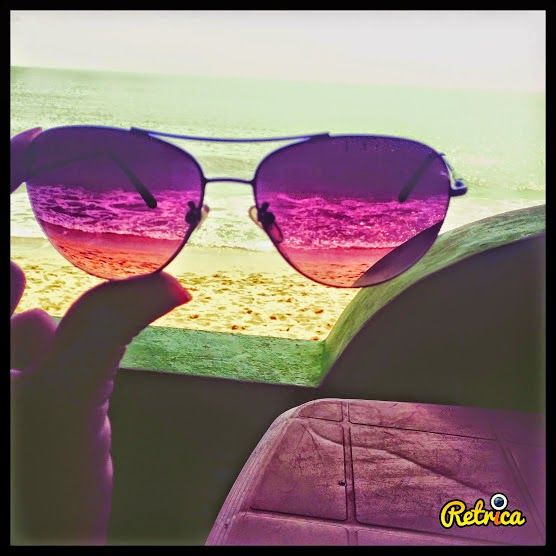 15) Play in the water every single day - The waves in Kudle are the best. They rarely get violent *touch wood*. This gives us the opportunity to swim deep into the ocean and still have the sandbed for grip. As the sun goes down, the water gets colder and the joy of playing/swimming in the water amidst nature is inexplicable.
16)Get an amazing tan - Yes. You go to a beach destination and don't get a tan? Nah. Not happening. Bask in the glory (read heat) of the sun and get yourself that dusky colour! Some of you might get a sun burn too so please carry loads of sun block.
17) Dress Up like a Hippie - Wear random clothes. Kurtas. Beads. Let your hair fly wild in the air and do the "Dum-Maro-Dum"
18)Chill by the beach at night - People set up bonfires on the sand post dinner. The waves engulf half of the beach late at night. There is cool beachy breezy blowing at one's face post sun down. Take a long walk under the night sky. Lie down on the sand and star gaze. Figure out constellations if you are familiar with them.
19) Shop from hawkers that sell trinkets on the beach -They will initially quote a big figure especially if you are "Videshi". But they will bargain and you mostly end up buying things with 100 bucks. The stuff I am wearing in the pictures below were purchased on the beach from different "beach vendors". Most of the time kids come around selling stuff and bargaining with them is quite a task. They do succumb to our demands in the end.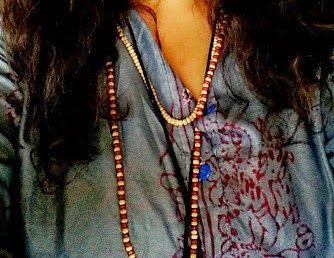 20) Socialize Foreigners are very friendly - When you find time and the right kind of people talk to them and know their story.
21) Please remember, every morning you will be woken up by the most pleasant sound of the waves. You will be forced to wake and take an early morning walk by yourself. The non-polluted fresh air will literally serve as "a whiff of fresh air" for everybody. Take a mat, sit on the beach, do some Yoga or meditate. It will do you some good atleast it did good to me.
22) Sport those sunglasses like a BOSS!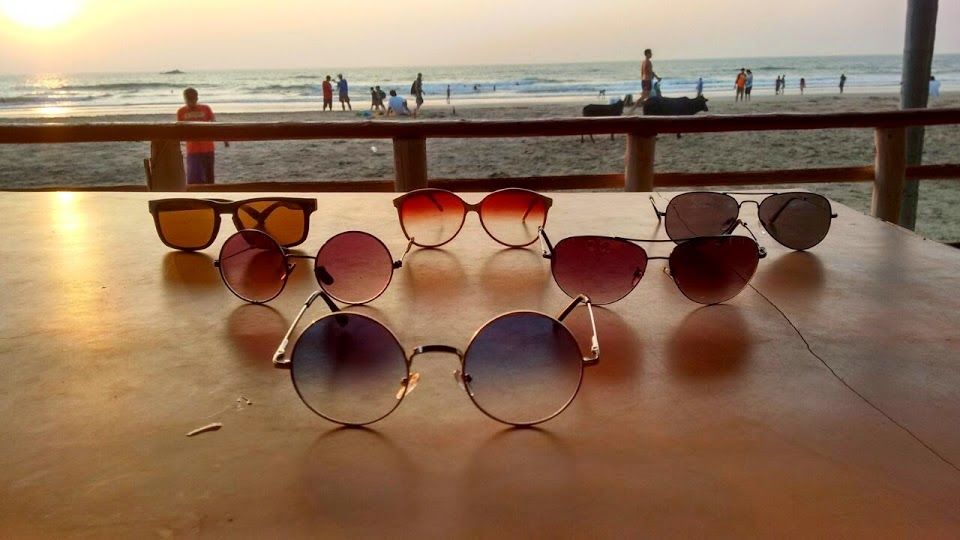 23) Eat Gudbad ice-cream is Gokarna main town.
24) Before leaving do pay your visits to the Lord at the Gokarnanatha temple.
25) Gokarna town is a shopaholics delight - It looks like a little flea market. They have a lot of colourful things. They have shops that sell hats, dresses, beads, bongs, postcards, leather goods etc. Here too , one needs to bargain else the prices will burn a hole in their pocket. Gokarna is my happy place. Our happy place ( for my friends and me). It offers you solace, nature, silence, calm and satisfaction. You don't need to "explore" the place when you are there. You will get a chance to explore yourself. It is the perfect weekend getaway. The essential break we need.
Do not go to Gokarna in summers as it is off-season and most of the shacks will be taken down. The best season to visit Goks would be September-February.
So here is a complete things to do list, choose your own or comment your own exp. in comment box. Until next time, bye bye!
Frequent searches leading to this page:-
things to do in gokarna, nirvana beach gokarna, gokarna things to do, nirvana beach at night, activities in gokarna, gokarna nirvana beach