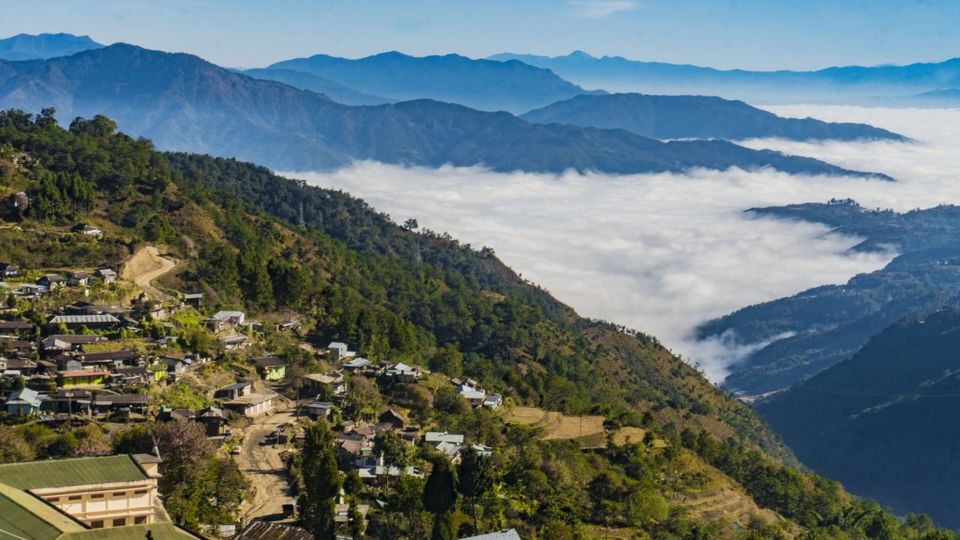 This article was originally published on my blog HERE:
Nagaland is popular for its natural beauty. Abundant in dazzling hills and mesmerizing valleys, it offers vistas unparalleled. For any seasonal tourists wanting to feel a little rejuvenated, the many unsung towns and villages in Nagaland are a perfect abode. And that's not it, any journey through Nagaland provides its visitors with a deeper insight into its colourful life and culture. The traditional Naga people, the native inhabitants of this state, are one of the rare indigenous tribes-people in the world.
During my visit to Nagaland, that started with the most common trail of Kohima and with clicking Hornbill Festival Pictures, I ended up visiting a town that was rather unknown among tourists. Popular among locals as Nagaland's own little Switzerland it turned out be the highest inhabited town in the state, and with that, the coldest too.
Those who haven't heard of it before, the unsung town of Pfutsero in Nagaland, sits at an elevation of nearly 7000 feet above sea level, with temperature falling belong zero during winter. But that means that for the rest of the year, the weather in Pfutsero remains most pleasant to travel, if compared to any other place in the state.
The town moreover has a few trekking trails, with the most popular being the hike to the highest point in Pfutsero, called the Glory Peak. Offering panoramic views of the valley the Glory peak moreover remains my highlight to capture unreal pictures of Naga mountains. If you are carrying your own tent, you can also camp and make a bonfire at the viewpoint for free (with enough camping space for 10 to 15 people). Just buy your groceries from the town, enjoy your holiday on a budget, and be merry. You will also find a small hut and a beautifully designed treetop sitting area too, to further add to the camping experience. Those who don't like walking will be glad to know that there's also a well distinguished motor-able trail that goes all the way to the Glory Peak from the town center.
There are also a few caves located right outside Pfutsero, with two popular being the World War-II Japanese Cave and the Miracle Cave located at a distance of about 3 Kms and 8km respectively, outside of the town. It was in the World War-II Japanese Cave where the Japanese soldiers took refuge during the World War II. Another popular cave.
A Few Practical Tips
Getting There
There is a regular morning bus to Kiphire from Kohima, with Pfutsero falling on the way. But the best, the quickest and a the most hassle-free way to get there is in a shared taxi. From Kohima, a shared taxi takes around 200 Rupees per person per trip. Though only a 65km of a stretch, it may take around 3 hours to travel between Kohima and Pfutsero as roads in Nagaland are always in appalling condition. During monsoon, it may take even longer, with the entire drive being highly risky and prone to regular landslides.
Where To Stay
There are enough places to spend a night in Pfutsero, just walk around the main center and ask a few people to get your best deal. However, one place I can recommend, where I ended up staying, was The Mini Tourist Lodge. Partially working under the tourism department of Nagaland, The Mini Tourist Lodge sits on top of the town, offering great views of the town and the adjoining valleys, covered under a shield of clouds. The guest house charges are 800 Rupees for a double bedroom, with breakfasts and lunch/dinner set for 120 and 150 Rupees.
There are a sliglty cheaper places in the main town, but the cleanliness and the food served in The Mini Tourist Lodge was definitely worth the price.
Where To Eat, And What
If you're planning to eat out, be warned that eating options in Pfutsero are limited to only rice hotels offering nothing much beyond the local pork, fish or chicken, served with some sticky local rice. For vegetarians, however, the only meal option would be dal and rice with some lettuce.
So if you're bitten by fancy eating habits, your best deal would be eating in the hotel, as they can cook something fancier, if pre-ordered. During my three days in the town, I didn't find anything better to eat outside than what my guesthouse The Mini Tourist Lodge served.
What To See & Do Around
Pfutsero is definitely a place for slow-travellers, for those who would want to experience rural Nagaland, explore its traditions and find out how people in small towns, and in the deeper parts of the state, live their life. And that's why an interesting thing to do in Pfutsero, if you're good in making friends, is joining locals in their farm and exploring different exotic Naga vegetation. Some of the main crops in the area are rice, millet, maize and pulses, with other vegetation including reddish, naga chillies, australian cucumbers and guava, among others.
For those interesting in enjoying local drinks, a glass of real rice beer, or ORS (neat local whiskey) can set them in mood early in the evening. Travellers would be delighted to know that a giant 1.1L mug of rice beer costs only 30 Rupees in Pfutsero (and moreover in most smaller towns) whereas a similar drink of only 200ml costs 50 Rupees in the Hornbill Festival. Almost all small towns in Nagaland are just as much a paradise for the eager bibulous as Pfutsero.
Have a few drinks with the locals and learn the process of fermentation in detail.
Avoid visiting Pfutsero between the monsoon months of June and August, as the road connections become highly susceptible to regular landslides, making the commuting risky and an unpleasant experience.
Carry enough woolen clothes if you're travelling during winter, as being the coldest place in Nagaland, temperature here often falls below zero, with periodic snowfall during the night-time.
The ideal time to visit Nagaland would be between October and May.