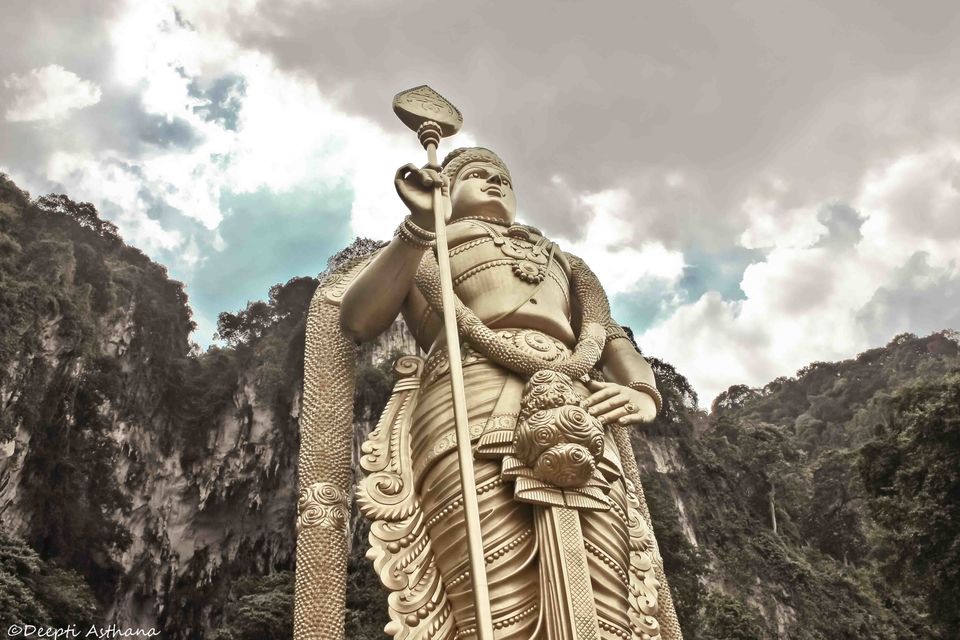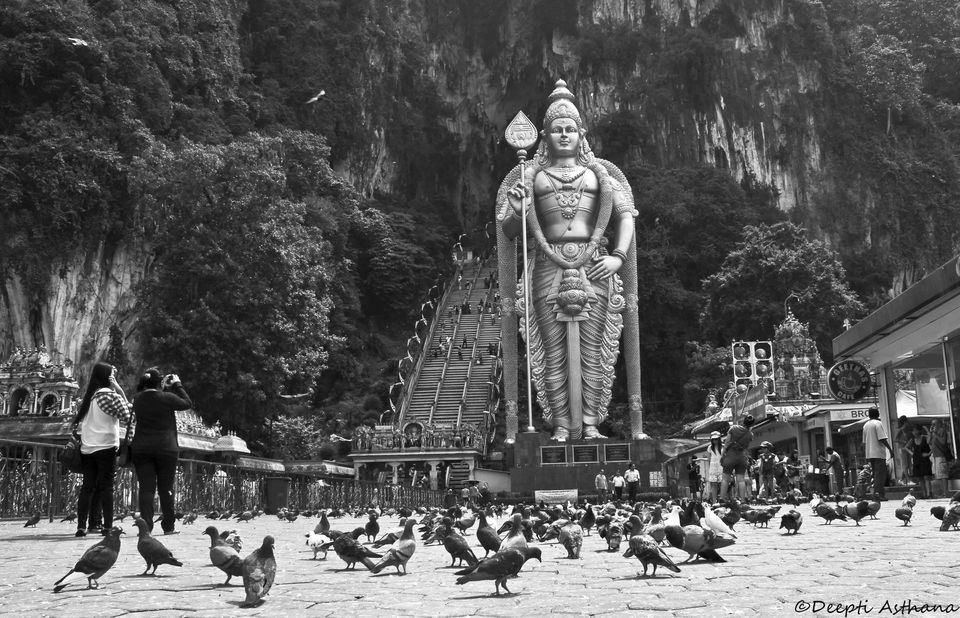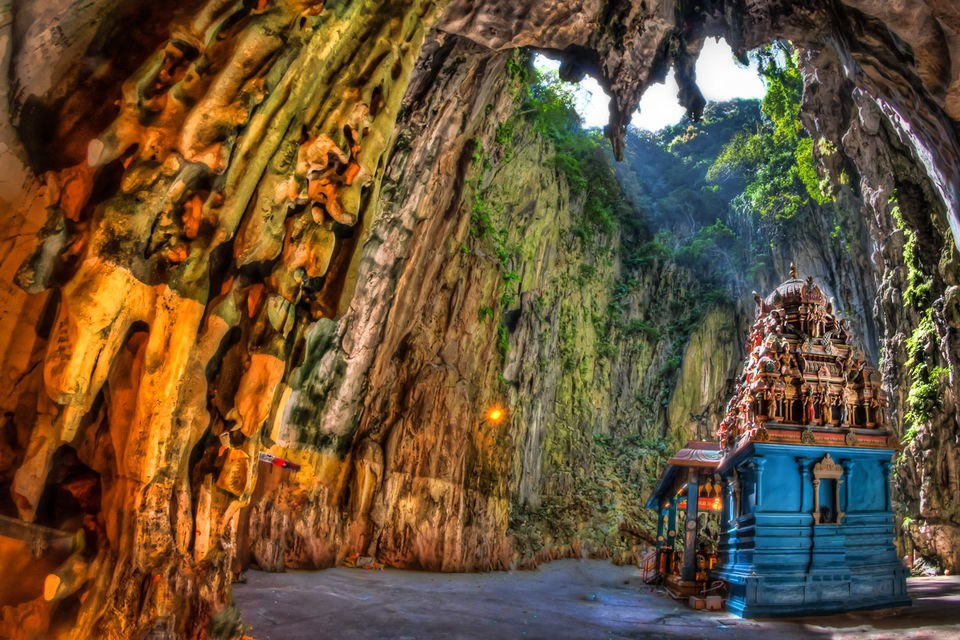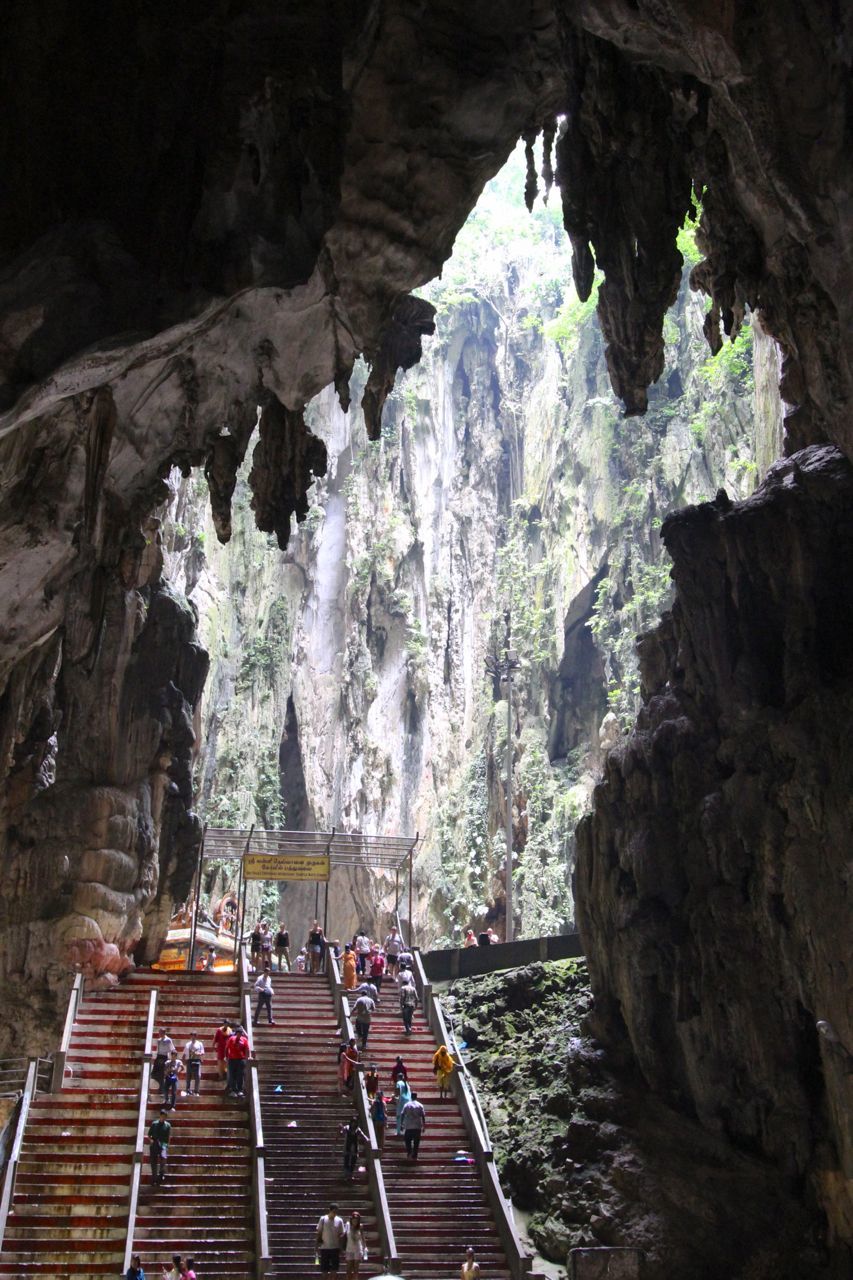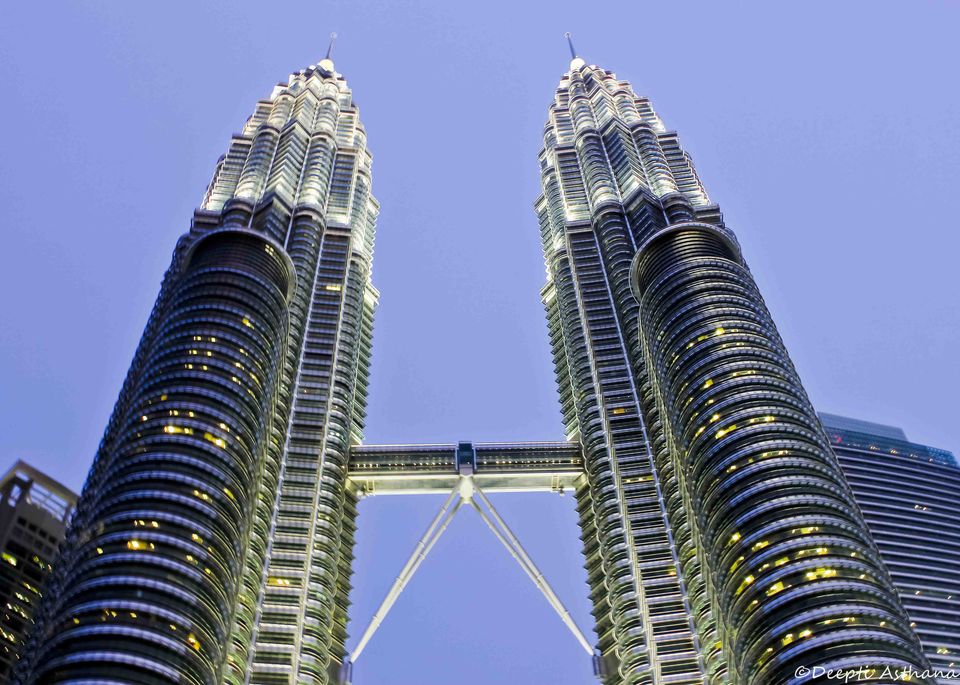 Petronas Towers embellish the city in night, standing tall among the glittering skyscrapers of Kuala Lumpur . It is the symbol of growth, development and modernization of  KL. The city is chaotic, colorful, vibrant and full of aromas from food, markets and spices. And when it all gets too much to handle, escape from this city life to exhibit another admirable tall landmark of KL, know an Batu caves . Batu caves welcome you with the majestic golden statue of 42.7-metre high Lord Murugan. It is said have cost 2.5 million Ringgit and took 3 years in construction. The Batu Caves are one of the most popular Hindu shrines outside India, dedicated to Lord Murugan (a Hindu deity) and at every Thaipusam (which falls in late January/early February), it is crowded with Hindu devotees. This little corner gives the feel of being in a small town of Tamilnadu.
I hired a taxi from city center to Batu caves taking the airport road and took me approximately an hour to reach there. To set the mood for the day, I ordered a South Indian breakfast and filter coffee in a local restaurant of cave arena. I could calculate the energy I would need to climb up 272 stairs by looking at it. The caves have three sections- Temple cave, Dark caves and Cave Villa. Cave Villa is on the ground level, to the left of the stairs, outside compounds are packed with Hindu statues and paintings. After peeping in café Villa, I started slow on stairs carrying the much needed water bottle and camera. The climb was high and the weather was hot. But to keep us all entertained there were monkeys everywhere snatching, dancing and scaring people away specially those who were carrying prasad (offering to God). After climbing to the 200th step, I saw a right cut to climb for Dark caves and decided to check it while returning. The temple cave was quite nice as all the rituals take place to worship the Gods here. The sound of music instruments was echoing and floating in the ambience. There was a stunning city view and I could even locate the Petronas towers in the clear sky.
While returning, I stopped by the Dark caves which are supposed to have zero visibility. There was a counter outside the cave entry, which can provide tickets, cap, torch and other necessary equipment. A trained cave guide took 10-15 people in a row, providing clear instructions to follow. We followed him to the caves as he explained the importance of these caves mentioning it as one of most researched caves in the world. There were many educational tours as well which can take you to deeper corners of caves, and some of the sections are only restricted to the research area. We paused on the way to check the lime stone formations in cave understanding the process. Stalactites jutting from the cave's ceiling and stalagmites rising from the floor form intricate formations such as cave curtains, flow stones, cave pearls and scallops which take thousands of years to form. It was nature's miracle how the dripping water made the beautiful structure. We could hear and spot the insects which can only be found here. They have adapted themselves to the constrained life of a cave and have no connection to outer world. A particular section had lots of bats and I started to imagine the scene from Batman Begins and visualizing myself as Bruce Wayne!
It took me almost 4-5 hours to complete the tour. Being the first experience of visiting the caves, it was quite a memorable trip. And since then, I have been keen to know more and explore more about this beautiful wonder of nature.
Getting to Batu caves-
 There are a lot of Batu caves half-day tours on offer at Kuala Lumpur – there is no need to take those tours as you will be quite restricted in the time you can spend at Batu Caves and most certainly, you won't have time to explore Dark Cave – which in my opinion, is a must-see when you are here at Batu Caves. Batu Caves can be easily reached by KTM Komuter train using the Batu Caves-Port Klang Route, costing RM 2 for a one-way journey from KL Central.  Batu Caves may also be reached by bus 11/11D from Bangkok Bank Terminus. You may also opt for taxi, just ask for Batu Caves and the driver will know where to take you. From the city centre, the trip should not cost more than RM25 under normal traffic conditions.
 Cost
Temple Cave
Free admission
Dark Cave 
Educational tour (45 minutes): RM35 (Adult), RM28 (Child below 10 years)
Cave Villa
RM15 per person
When to go-
Thaipusam is a Hindu festival celebrating the birthday of Lord Murugan. This event usually falls at the end of January or early Feburary. Hindu devotees will offer kavadi to the Lord as a purpose to turn away a misfortune. To be a kavadi bearer, one has to go through prayer and fasting to cleanse them. Every year, this festival alone attracts over a million Hindu devotees and thousands of visitors to Batu Caves for the celebration. It will be way crowded but equally amazing.
You may find more related articles and pictures on datravelography.com