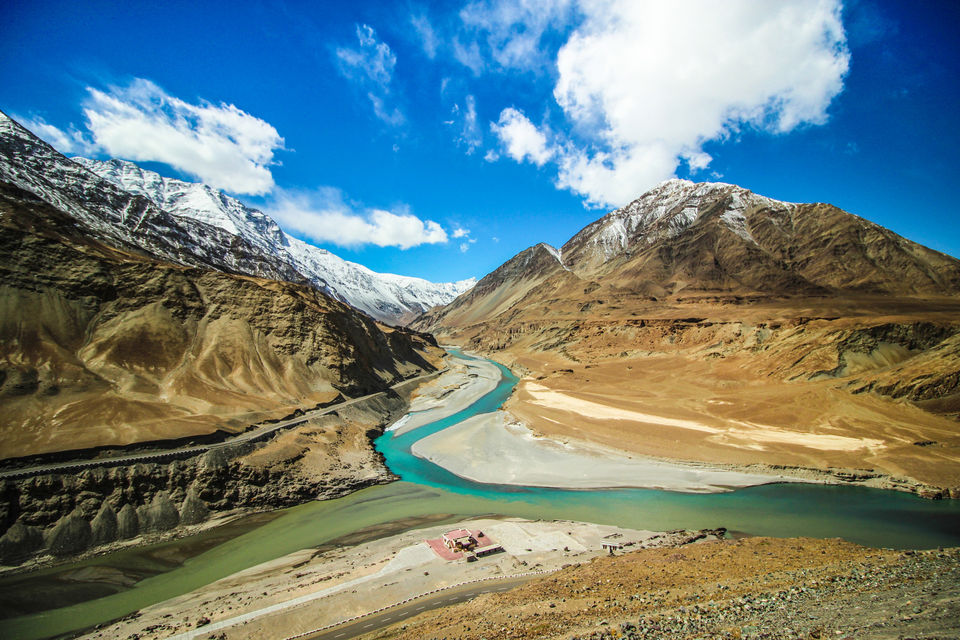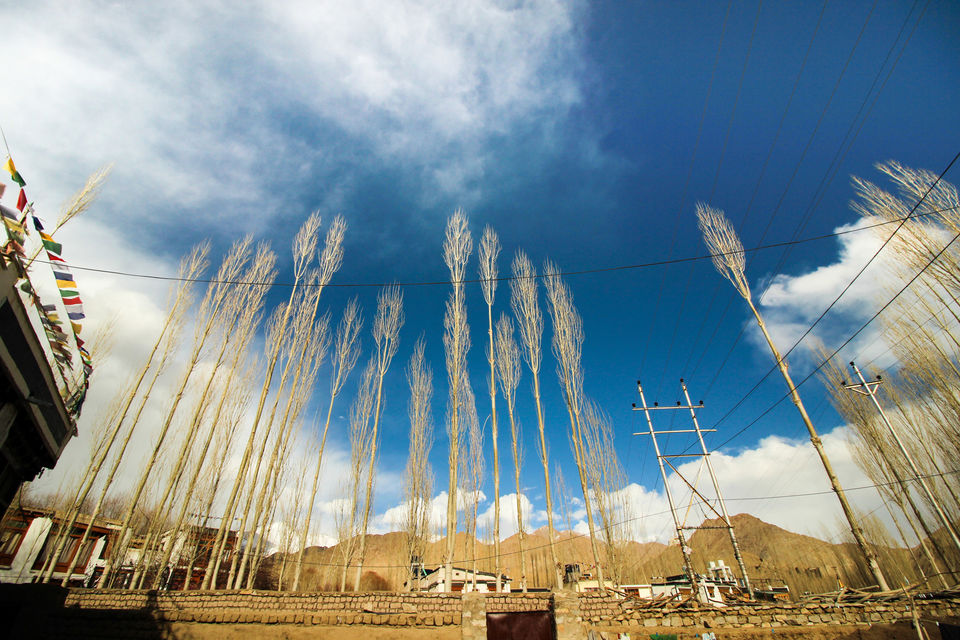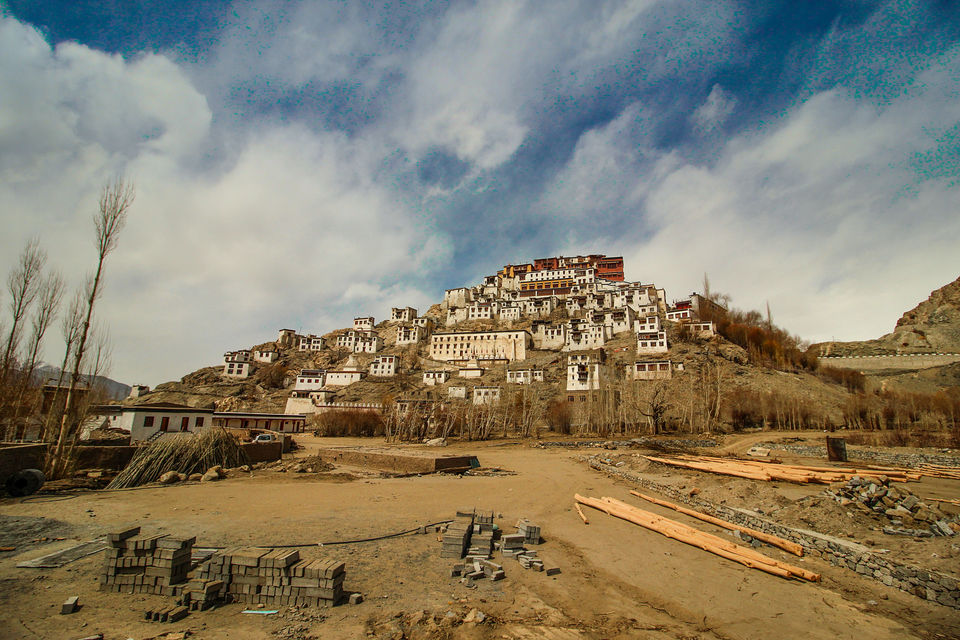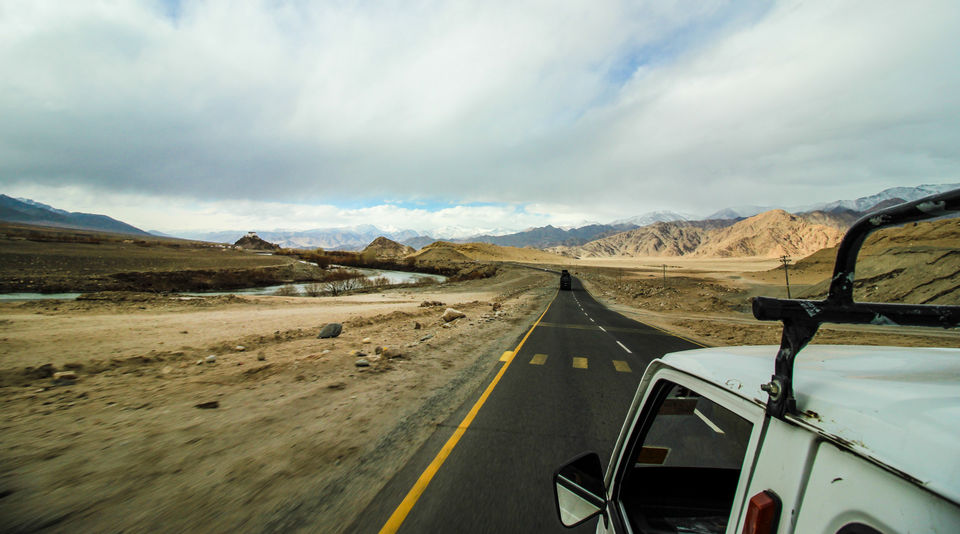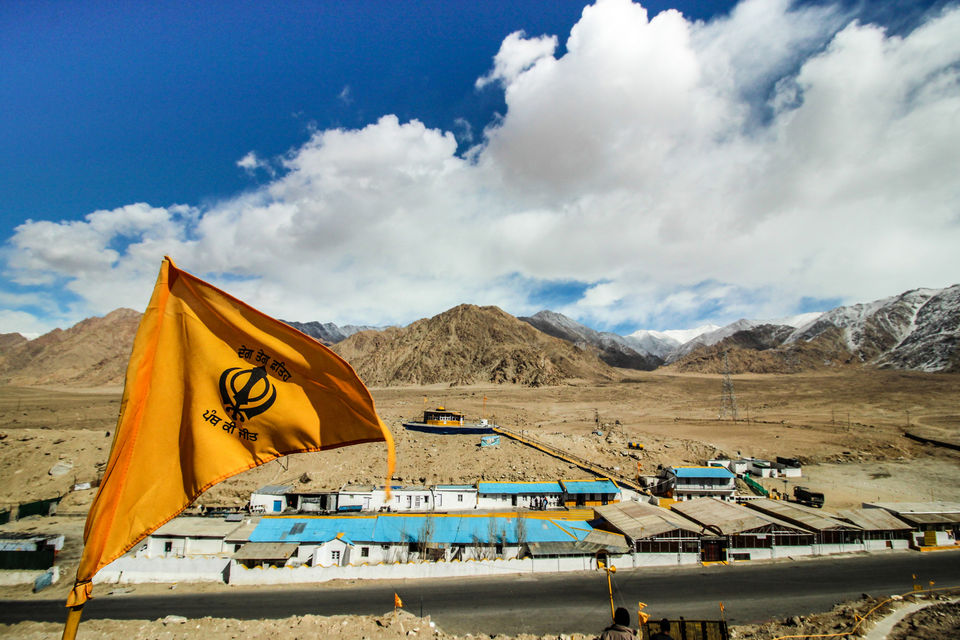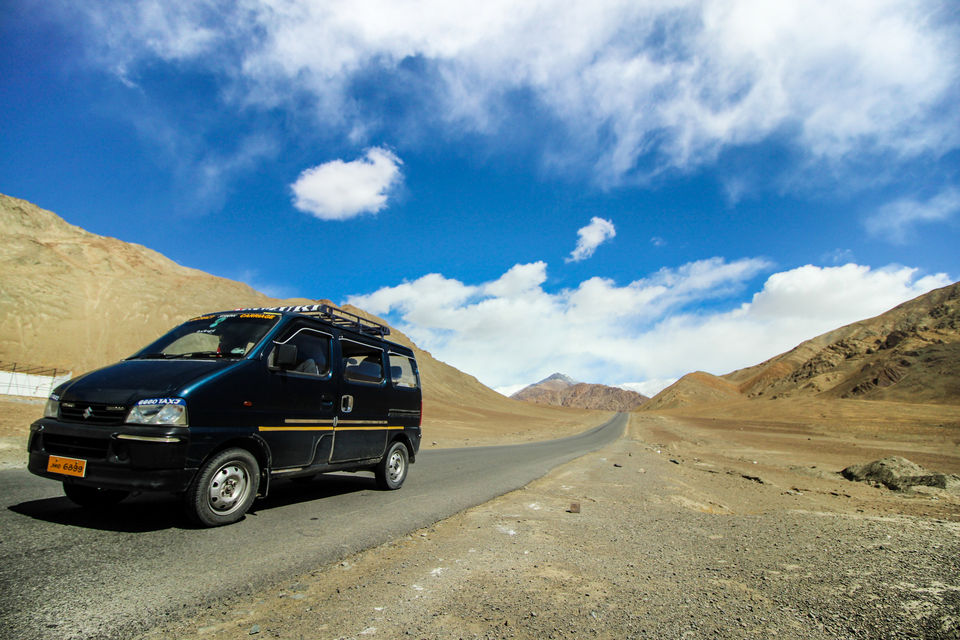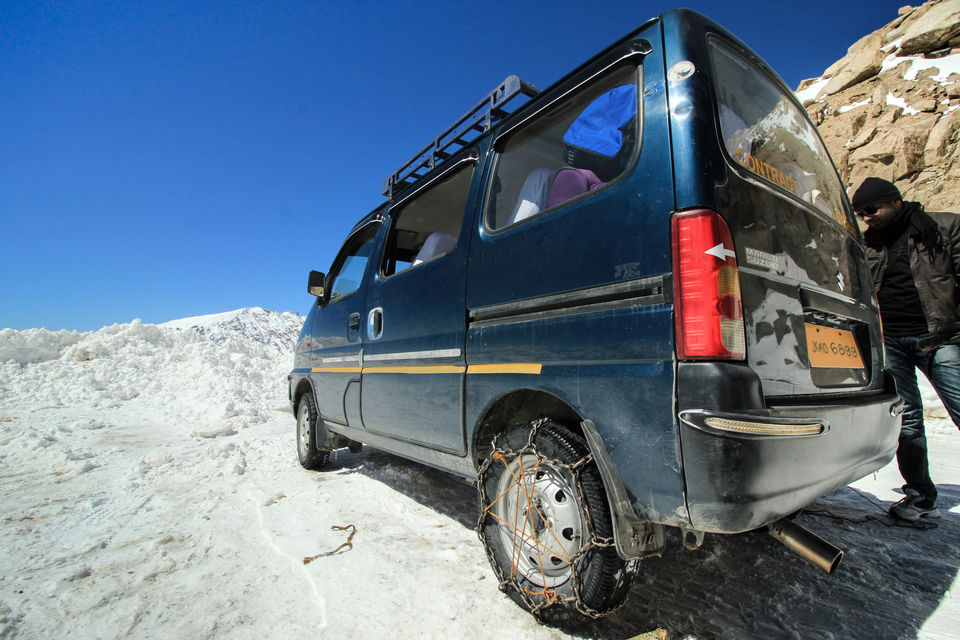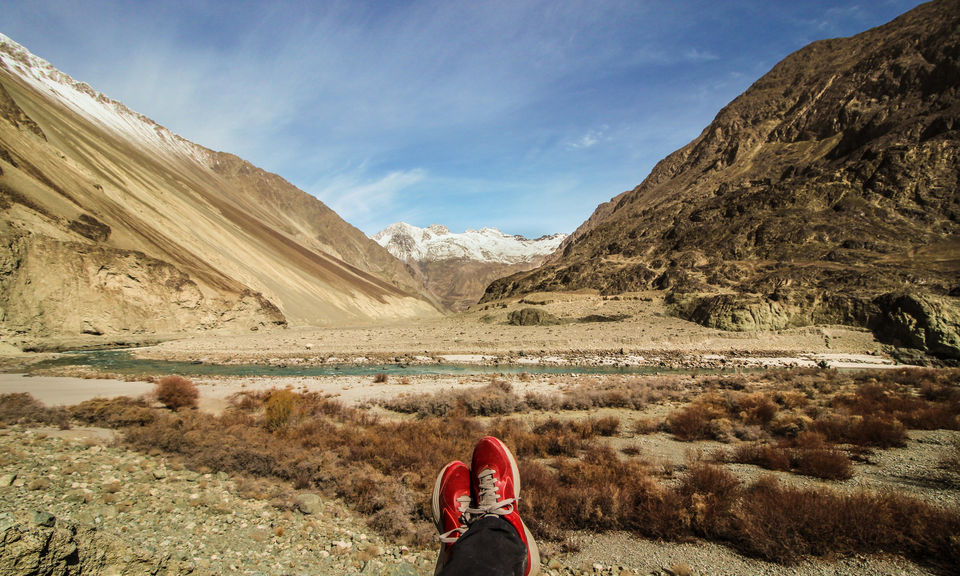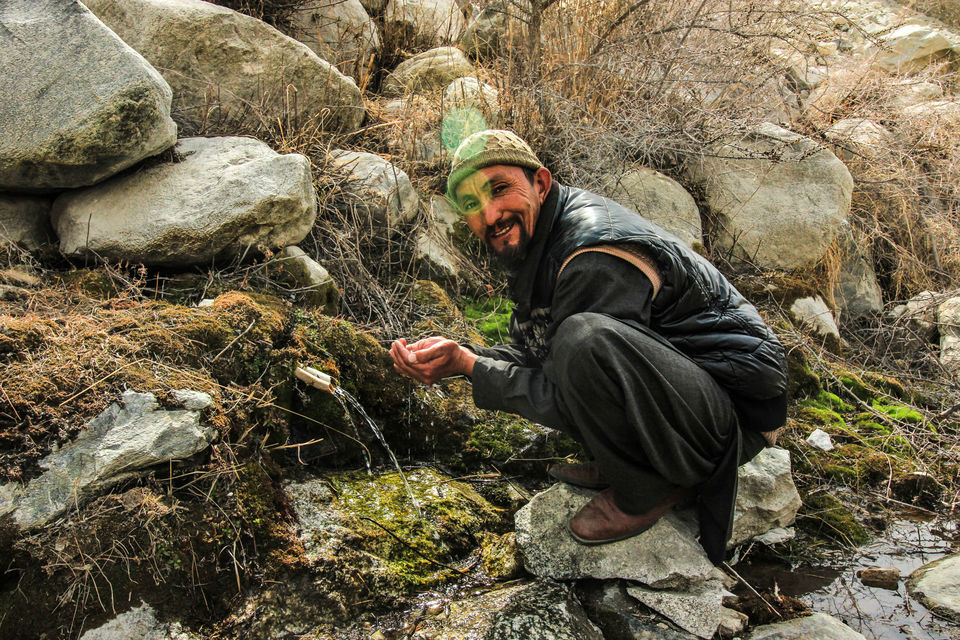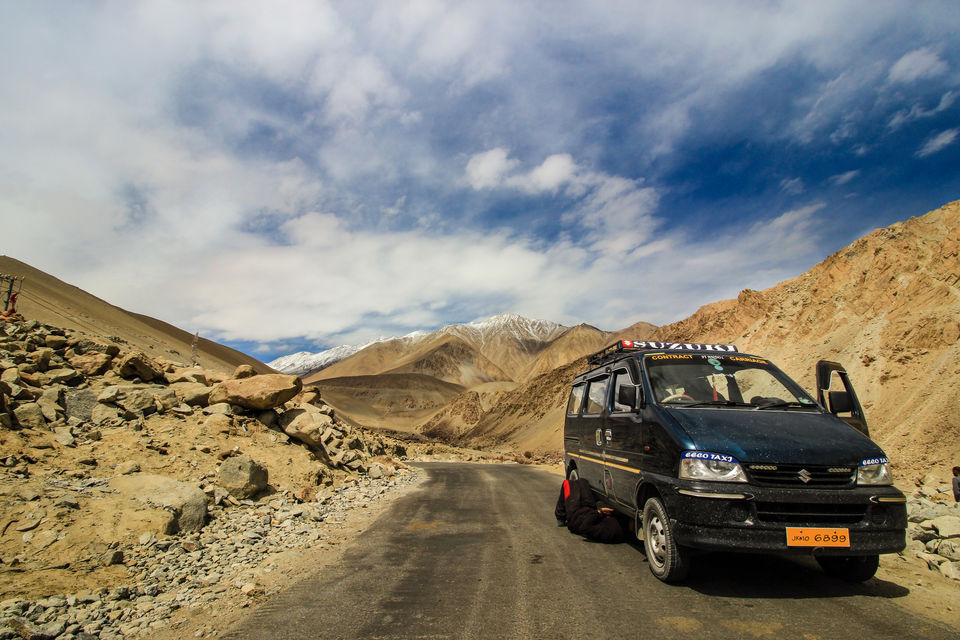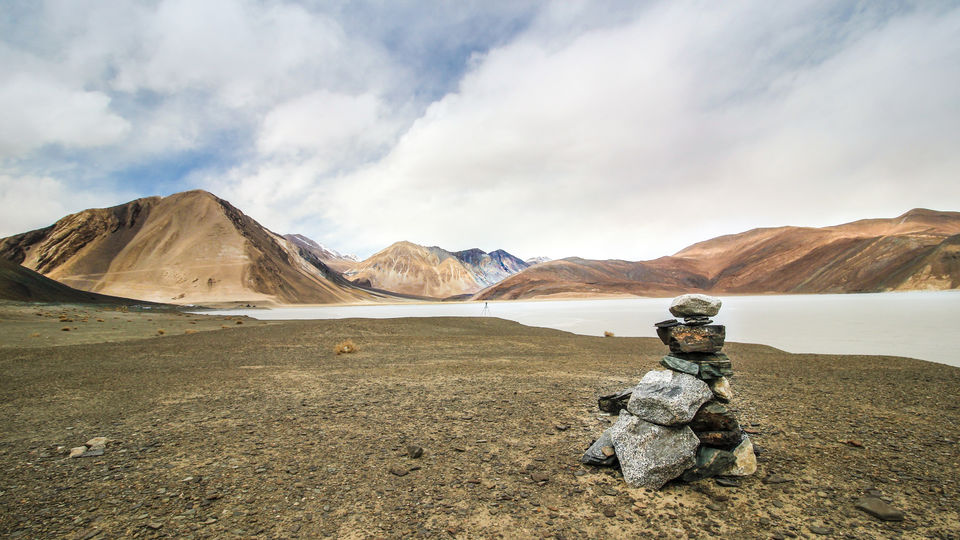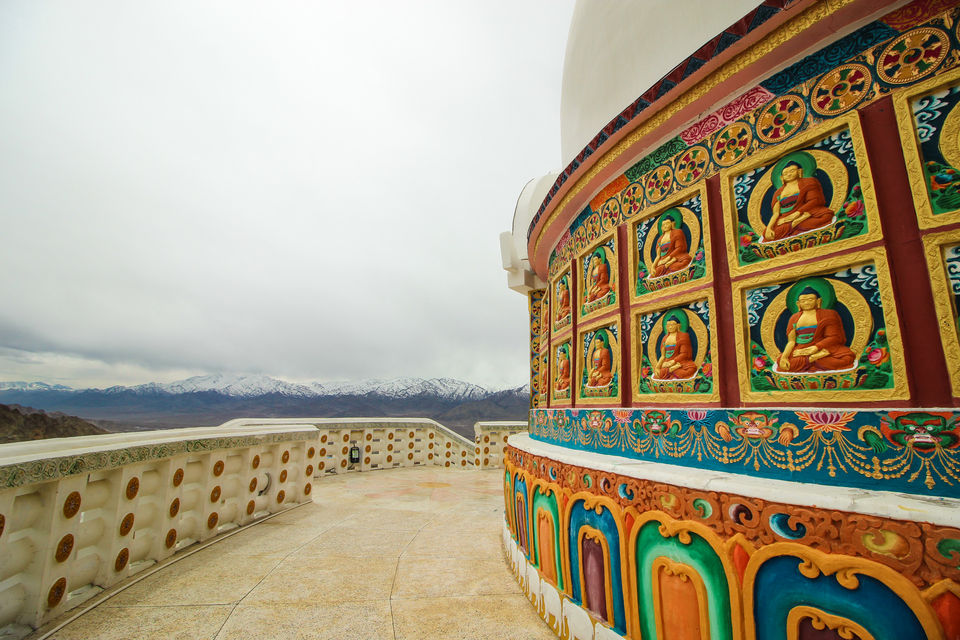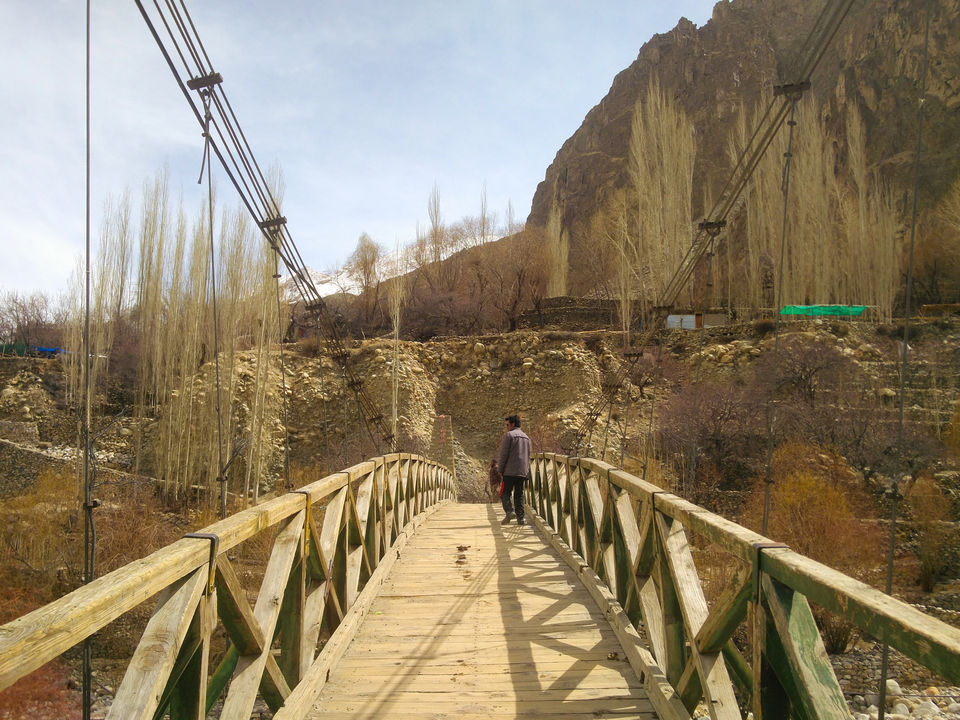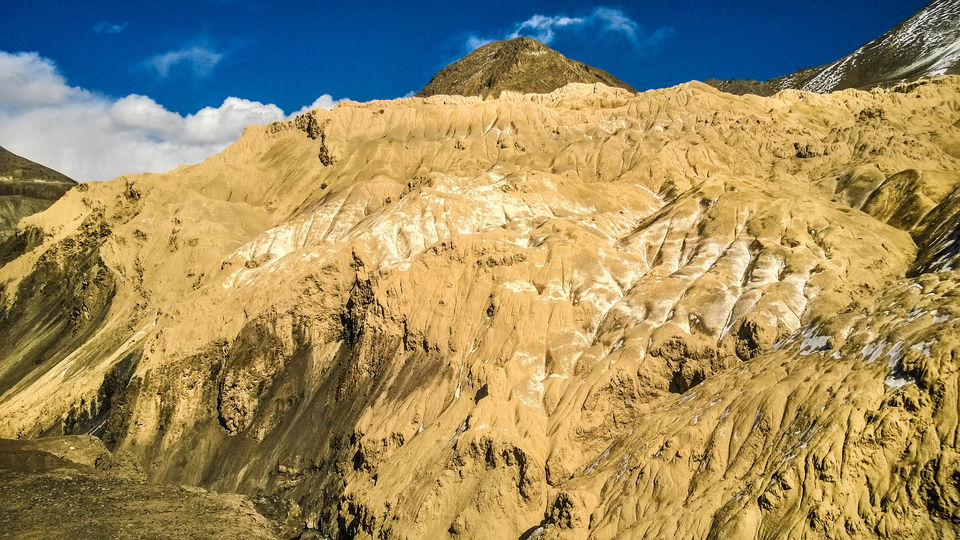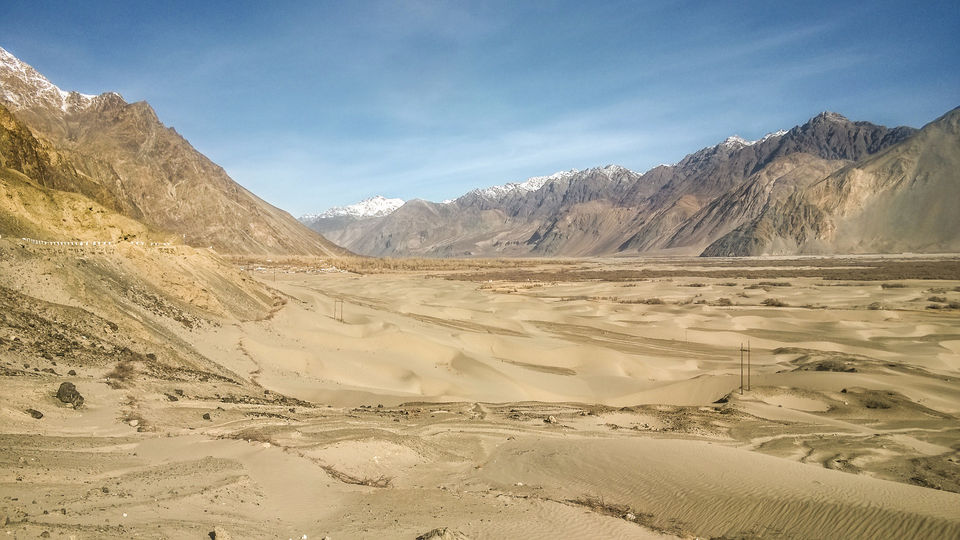 Leh eyes on Ladakh to un-bottle a plethora of emotions you never knew existed.
What IS the big deal about Ladakh?
The only person fit to answer this question would be someone who hasn't been there, for someone who has, will only respond with the widest of smiles. It's not an enigma nor a getaway place. Just keep reading and we'll unravel Ladakh, one photograph at a time.
It's going to be behemoth of a task to weave words around pictures to take you through arguably the most beautiful desert on this planet.
I still remember the first picture I saw of Ladakh during my early school days. A vast desert flanked by mountains on each side with a camel making its way forward effortlessly. For a kid who grew up in a bustling city, it was a faraway world only meant to be felt in photographs.
That wasn't the case anymore. A prompt decision on my part and an equally crazy partner to back the horrendous idea of exploring the mountainous desert during winters, paved way to a splendid story which I want to share with you.
I'll try my best to keep this as short and practical as possible so just relax and don't switch Apps or tabs for that matter.
Remember to watch the 40 second time-lapse at the end of this story in which I've constricted the entirety of Ladakh.
TIP: This is the checklist we prepared which will be of help.
Day 1 - Leh't Yourself Acclimatize
No exceptions. You have to take rest for 24-36 hours after you reach Leh so that your body can adapt to the altitude and low oxygen content. You can safely ignore this advice but remember to book yourself a hospital bed in advance.
TIP: Do not go for overpriced hotels, choose Guest Houses.
We were welcomed by a very friendly face. She immediately escorted us to our rooms which had a beautiful view of the mountains.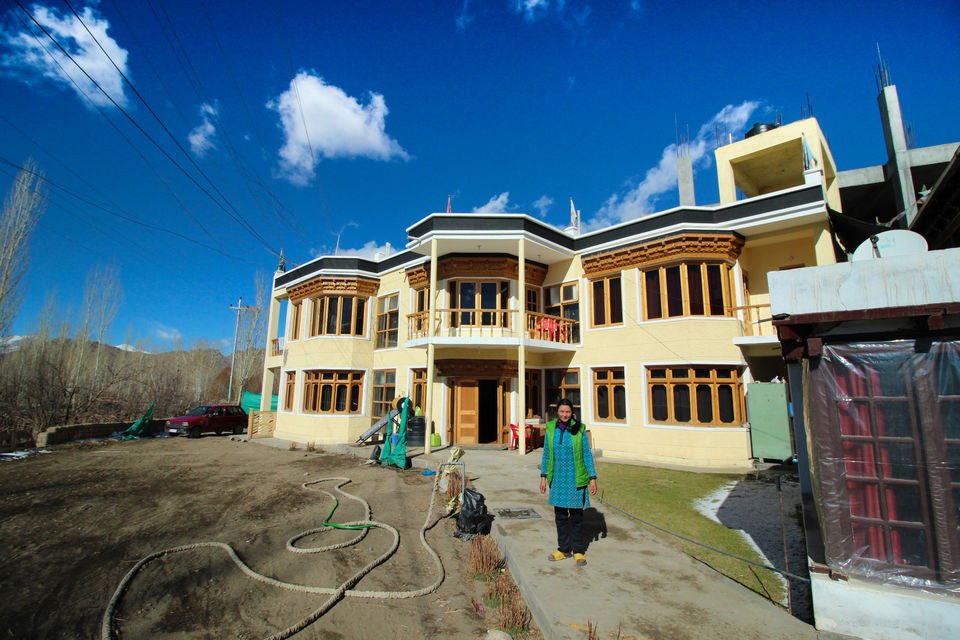 Zaltak Guest House
As our layover at Delhi was long, we slept through the day. The assurance of a warm stay and local hospitality was imminent by the dinner we were served. We ate to our heart's content only to realize sleep was miles away from the agenda.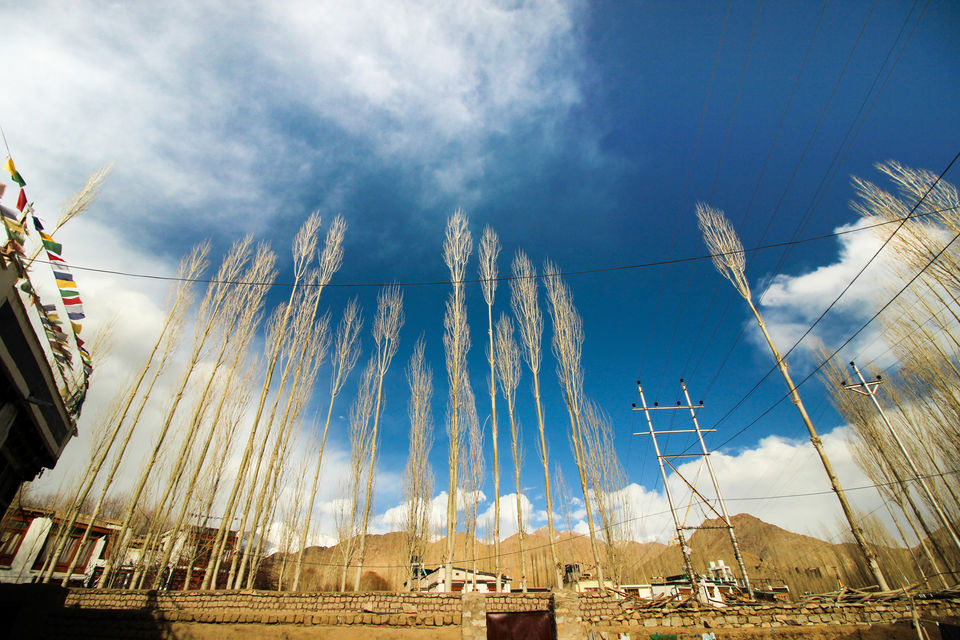 For a better view, I've uploaded all the panorama images here.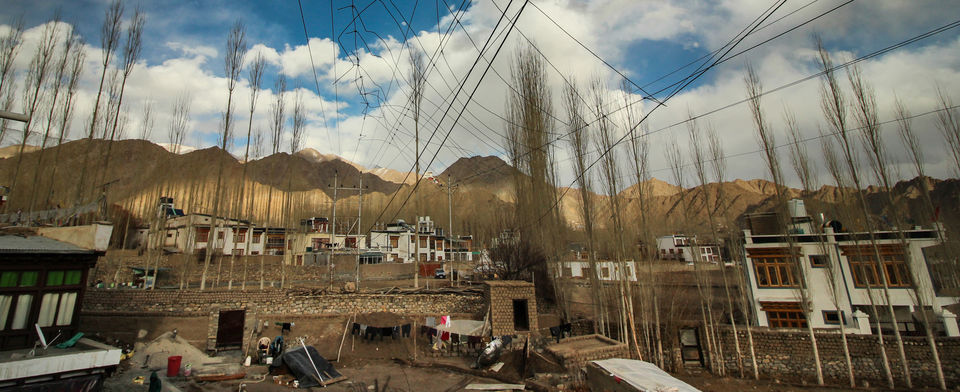 The moon was illuminating the snow capped mountains and the stars were only adding to the beauty of the night sky. As beautiful as it sounds, it was breathtakingly cold. Literally.
As we stood on the balcony of our room, alcohol felt more of a necessity than luxury. As luck would have it, the only booze we had was a 50 ml collectible Jack Daniel's I bought from Harvard Square.
The perfect setup to have tasted JD for the first time.
Day 2 - I'm Friends With The Monastery
Leh - Shey - Thiksey - Karu - Hemis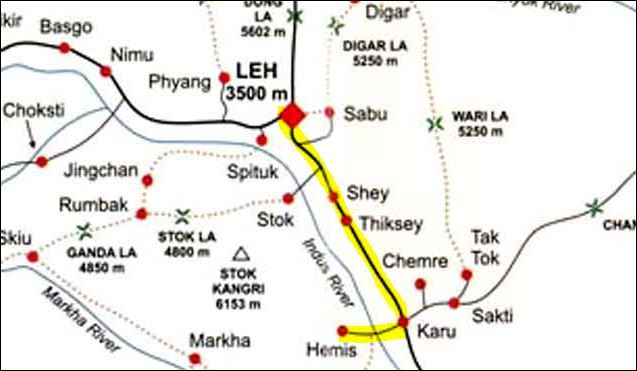 We were extremely lucky to have landed an awesome driver to show us around. Putting aside the fact that he was only 23 years of age, he was very experienced as a driver and we never doubted his capabilities for even a split-second.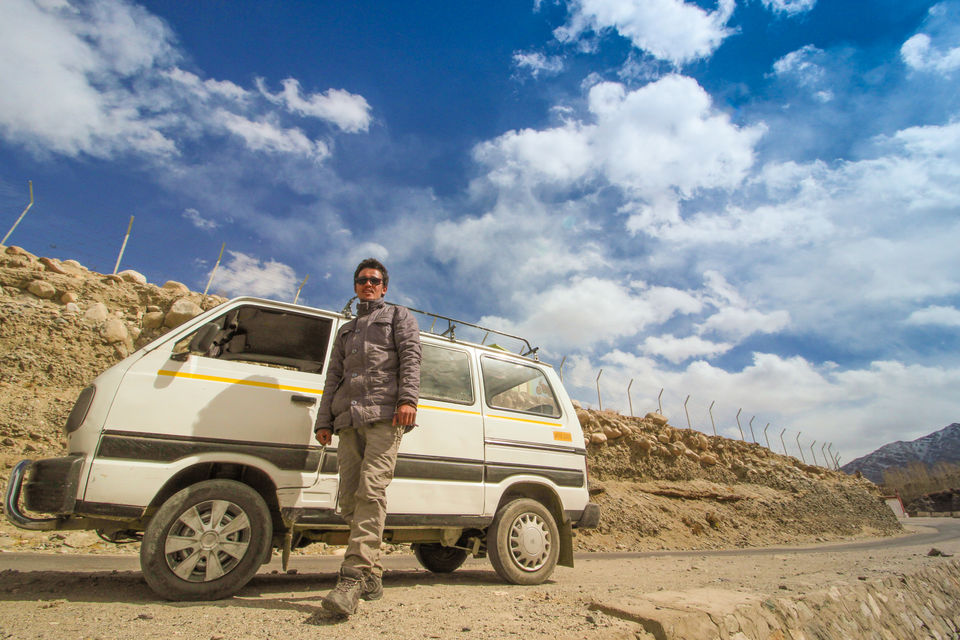 Meet Stanzhin
He had an infectious smile and his unambiguous knowledge about all the routes in and out of town was all that we needed.
When I travel solo the mighty task of planning everything out seems to be a burden but this time I had the luxury of delegating this task to my friend who did an impeccable job.
The road from Leh to Karu We made our way towards Shey Palace.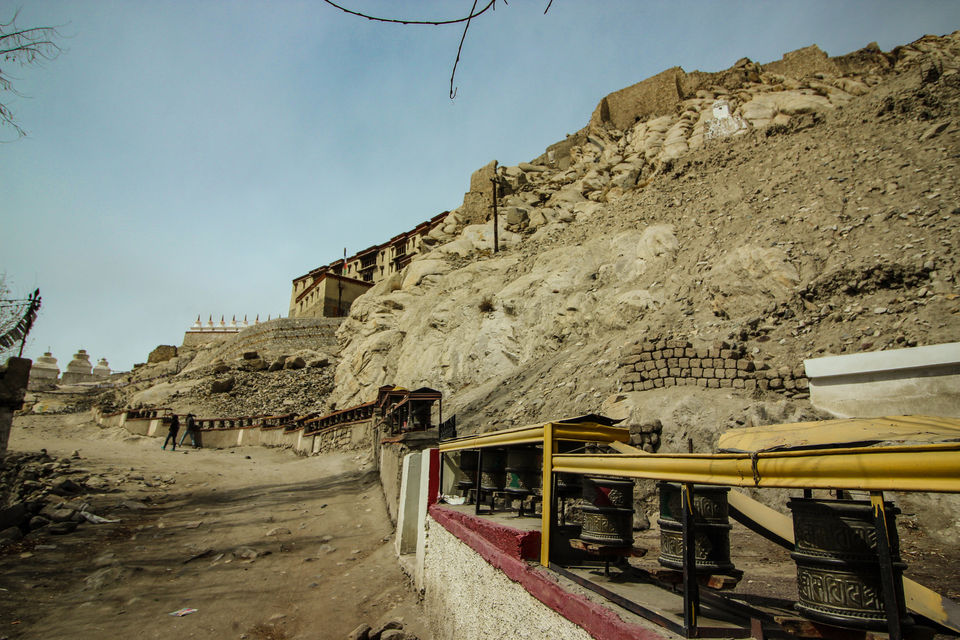 Prayer wheels surrounding the pathway to the monastery.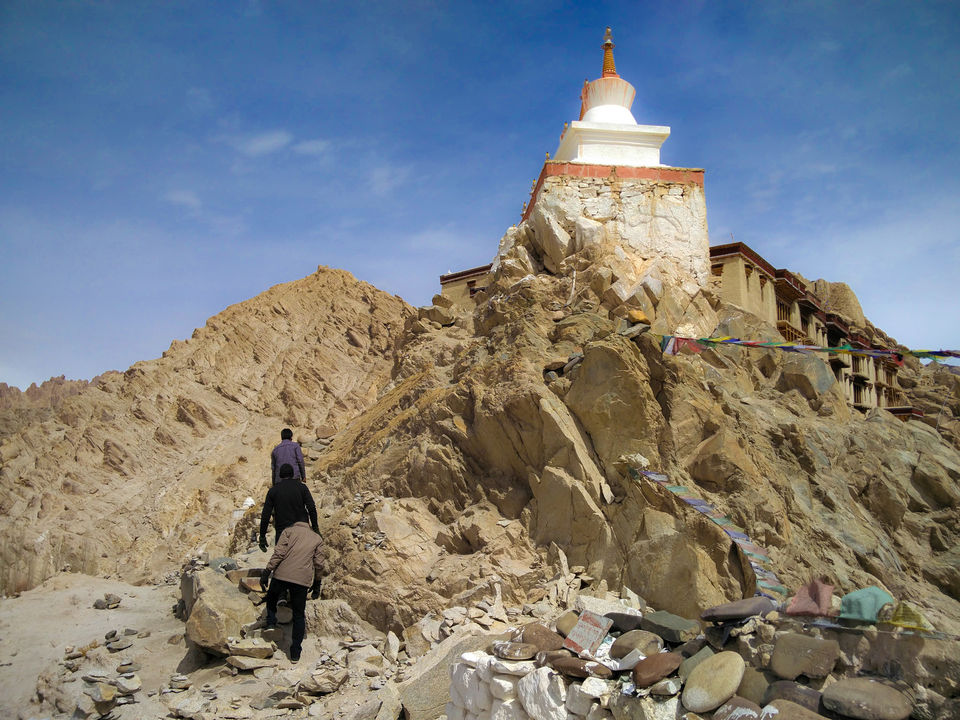 A giant lamp could be seen in the shrine which has enough butter to keep it going for a year straight.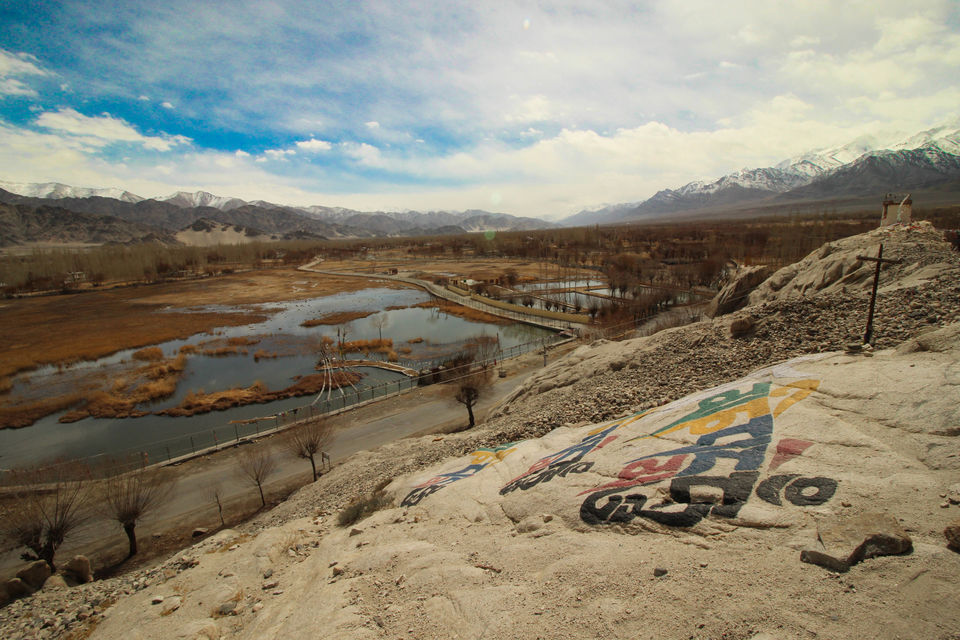 The view of the valley from Shey Palace is astounding .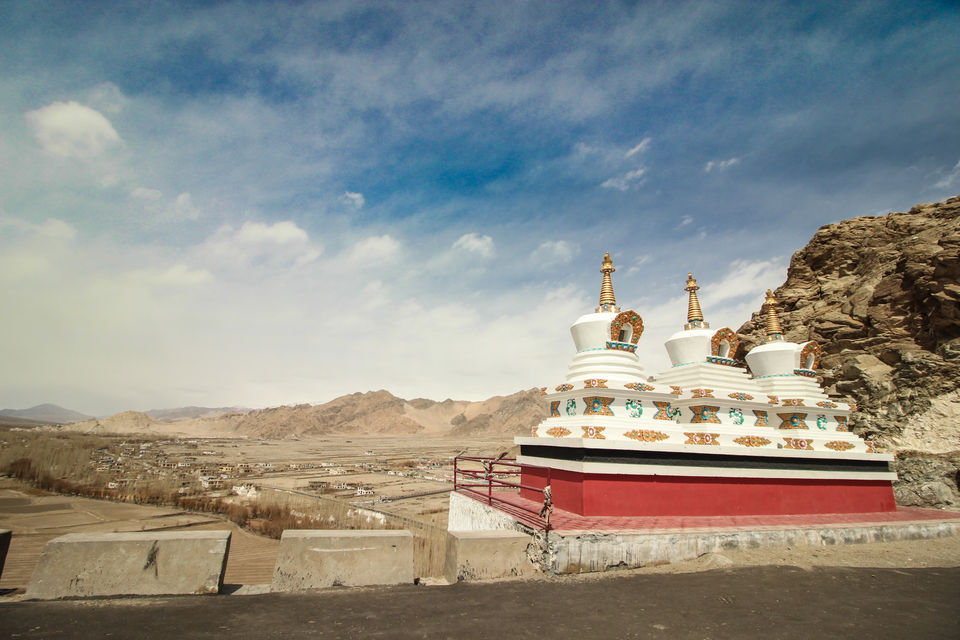 As it was only our second day in Leh,we limited ourselves to local sight-seeing.
For a better view of this panorama, please click here.

Next we reached Thiksey which houses the iconic monastery perched comfortably on a hill-top.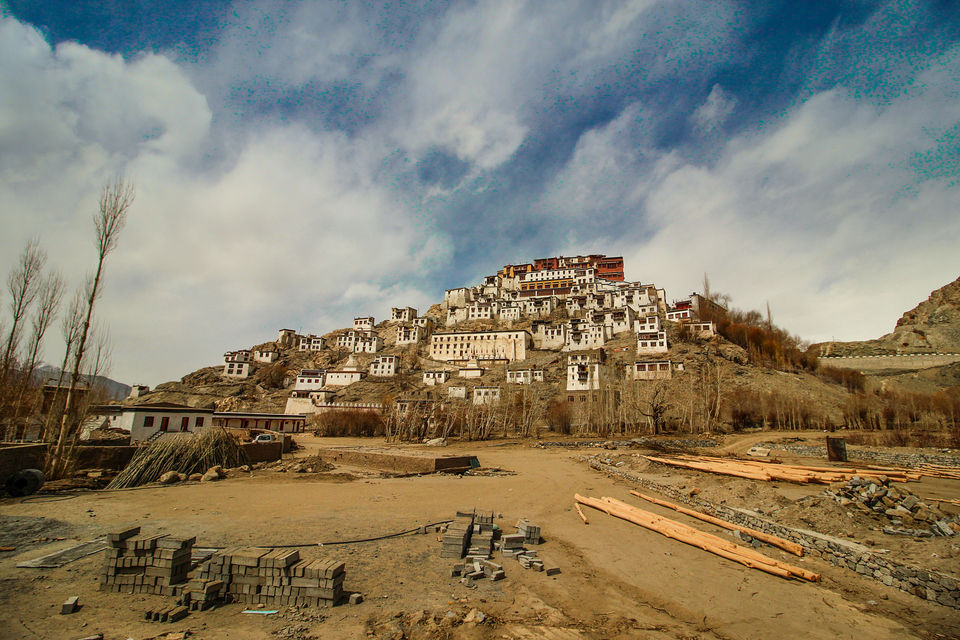 Thiksey Monastery
The twelve storeyed complex houses many stupas, paintings and items of Buddhist significance. The buildings have been arranged on the hill-top in a descending manner of importance.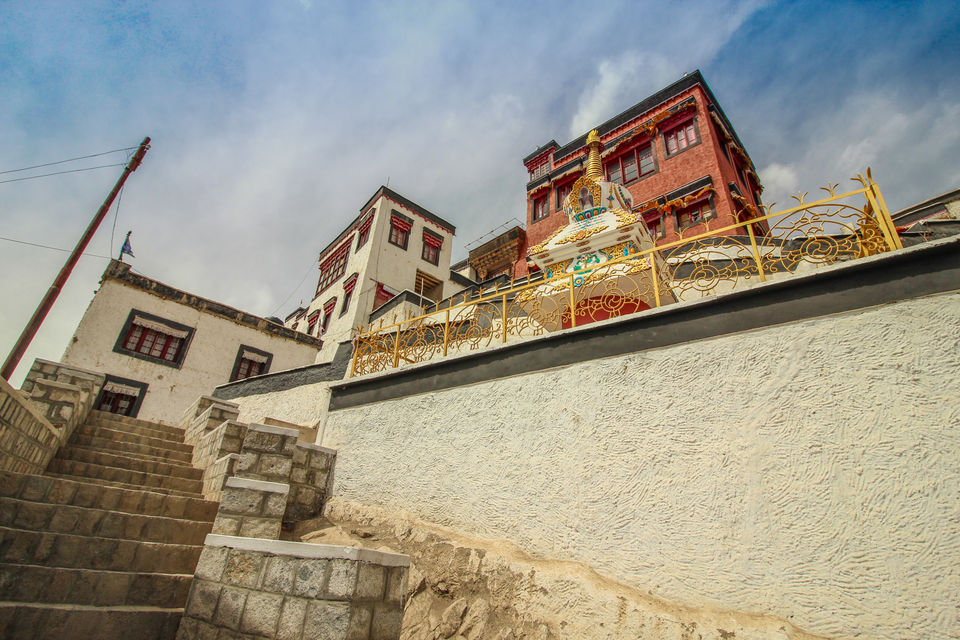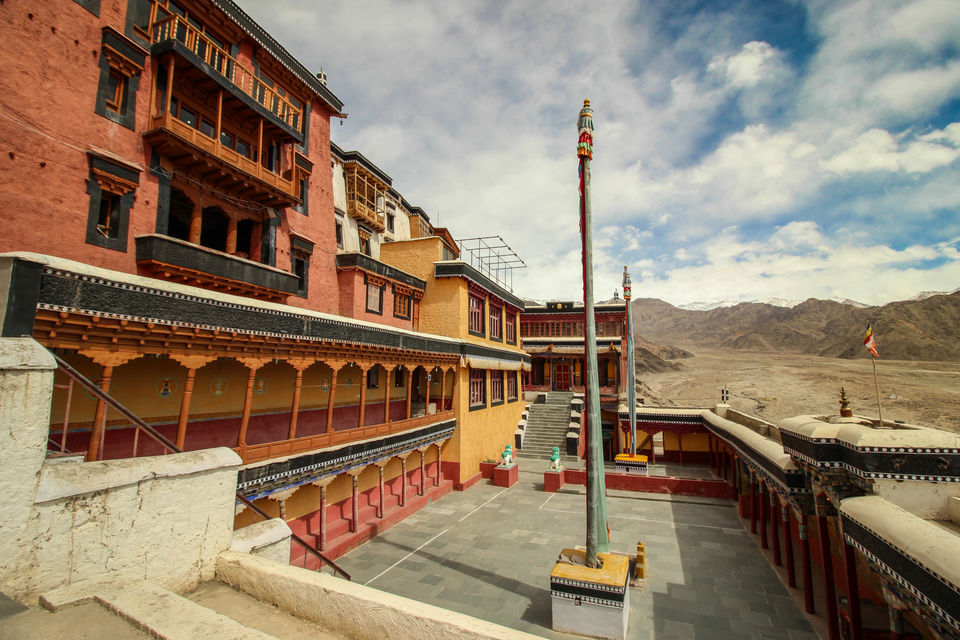 Courtyard of Thiksey Monastery
The prime attraction of this monastery is the 15 meters high statue of Buddha which occupies two storeys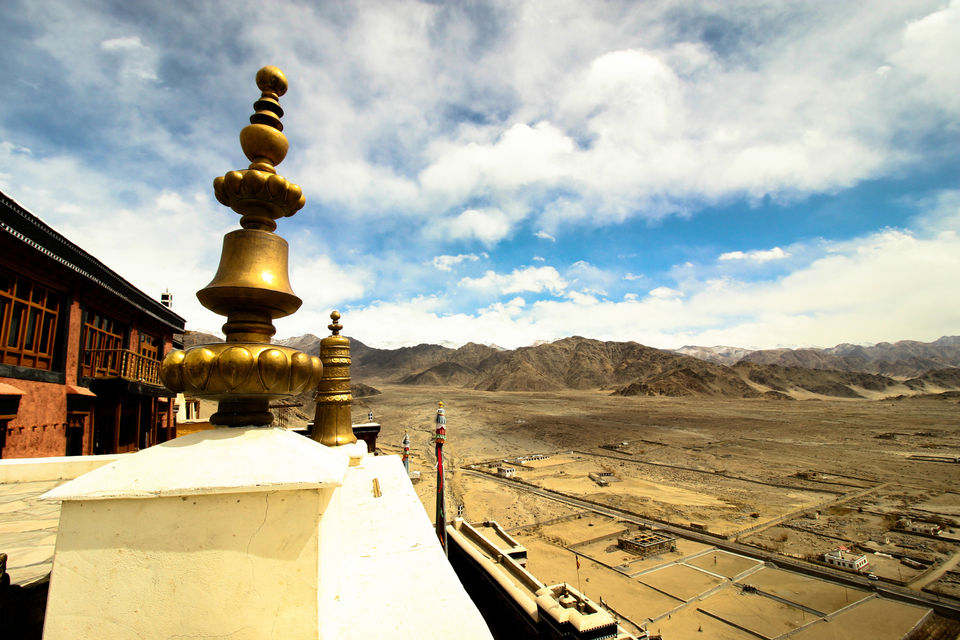 Our last destination for the day was Hemis Monastery.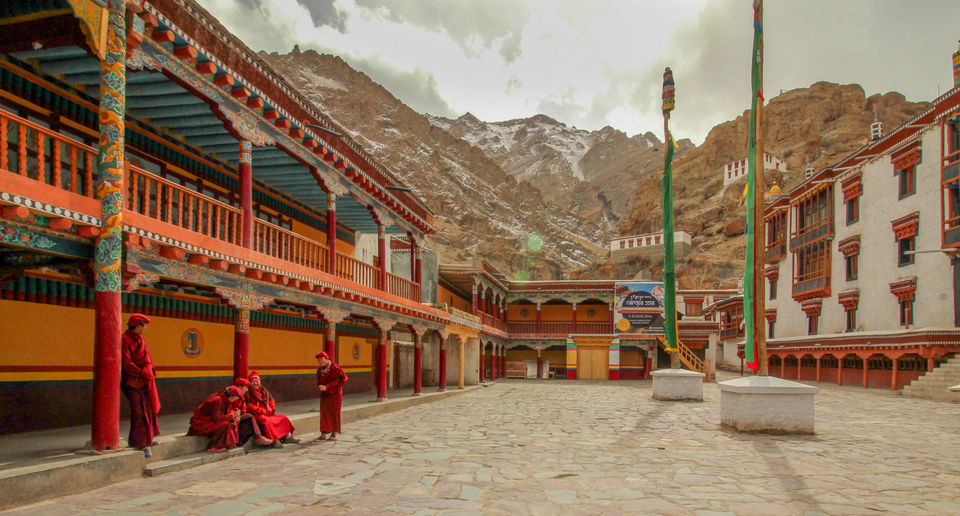 It's the biggest monastery in Ladakh which is well hidden among mountains and gives a spectacular view of the adjacent mountains and valleys. A dance festival which is dedicated to Lord Padmasambhava takes place every year and is better known as the Hemis Festival. It takes place in the courtyard shown above wherein traditional music reverberates around the monastery and mystic mask dances demonstrates their strong faith and colorful culture.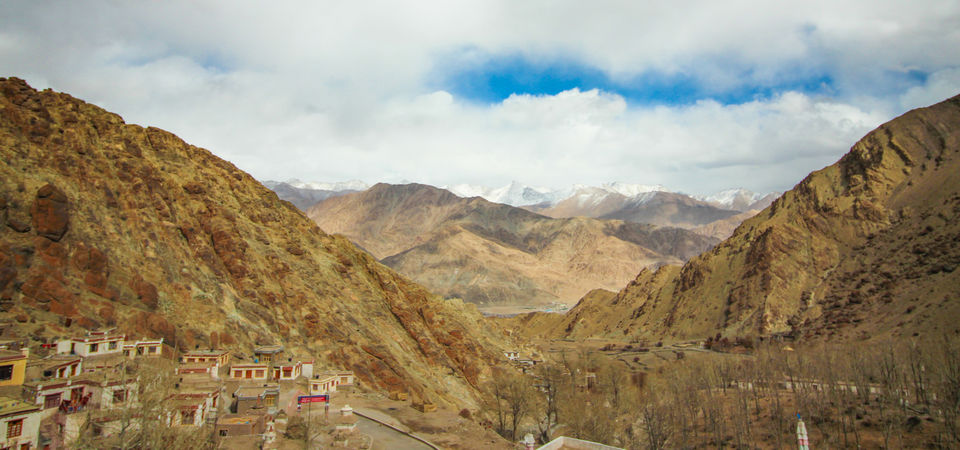 View from Hemis Monastery
The only perfect time to chill with monks is - all the time.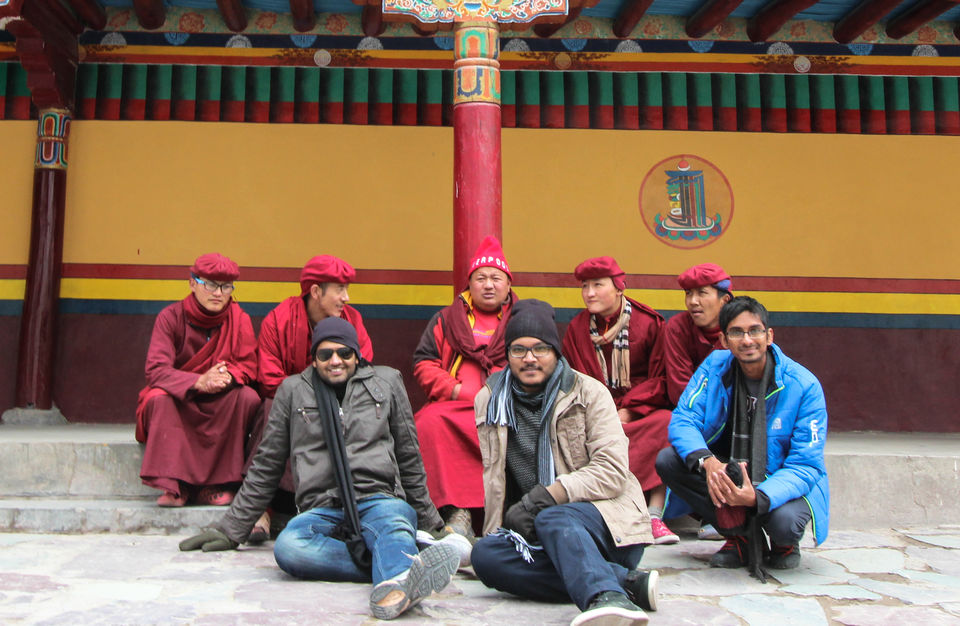 They are very polite, friendly and always ready to share the same photograph with you. These attributes don't change geographically as I have interacted with a lot of monks in Himachal Pradesh as well as Nalanda, Bihar.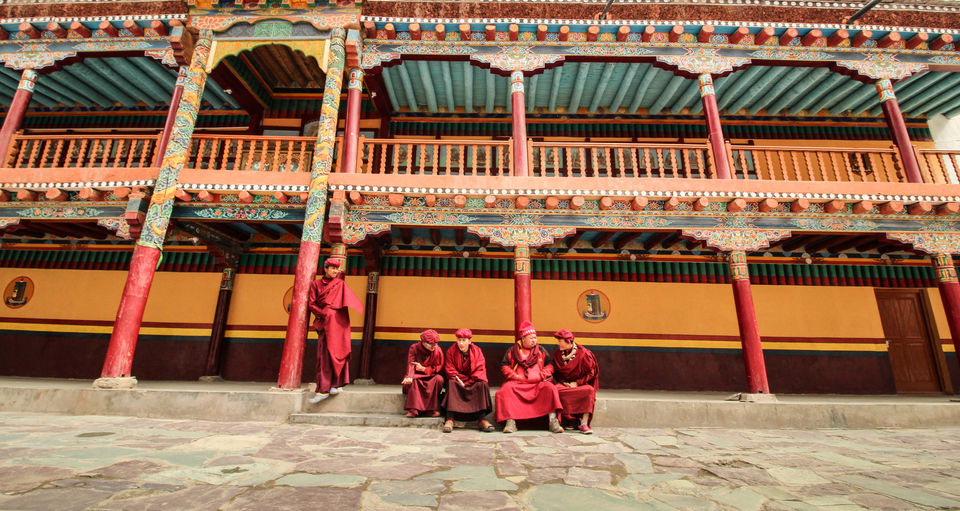 Of all the monasteries I visited, this is the only photograph I clicked of Lord Buddha seated comfortably.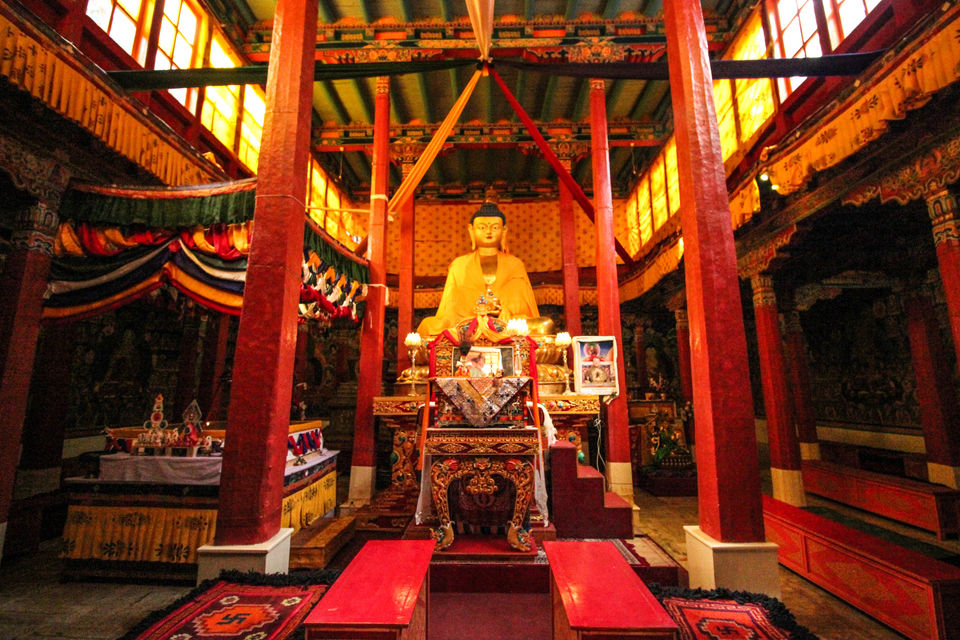 Flash photography is prohibited so remember to keep them off while taking pictures inside the monastery.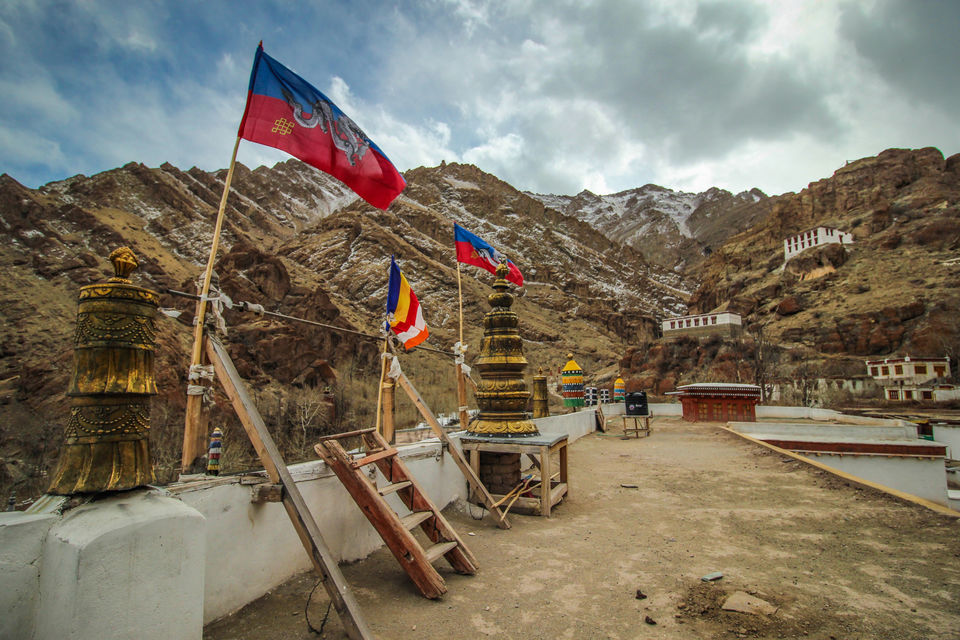 From the terrace of the monastery, you can have a splendid view of the mountains which surround this complex as well as the chambers of monks who live here.
TIP: Respect their privacy and do not tarnish the monasteries in any way.
Before finally going back to town, we stopped for a while to sit by the river.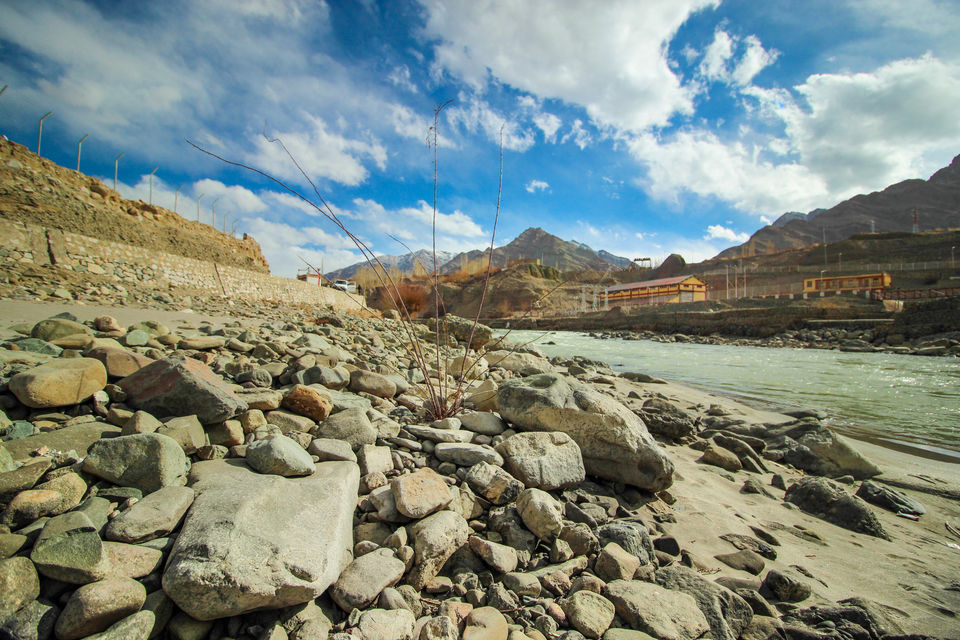 We were only getting accustomed to views like this. Mountains as far as eyes can see, sub-zero winds filling our lungs and simultaneously rippling the surface of the water to produce nature's own music - nothing short of a magical experience and the place was just getting warmed up. Not Literally.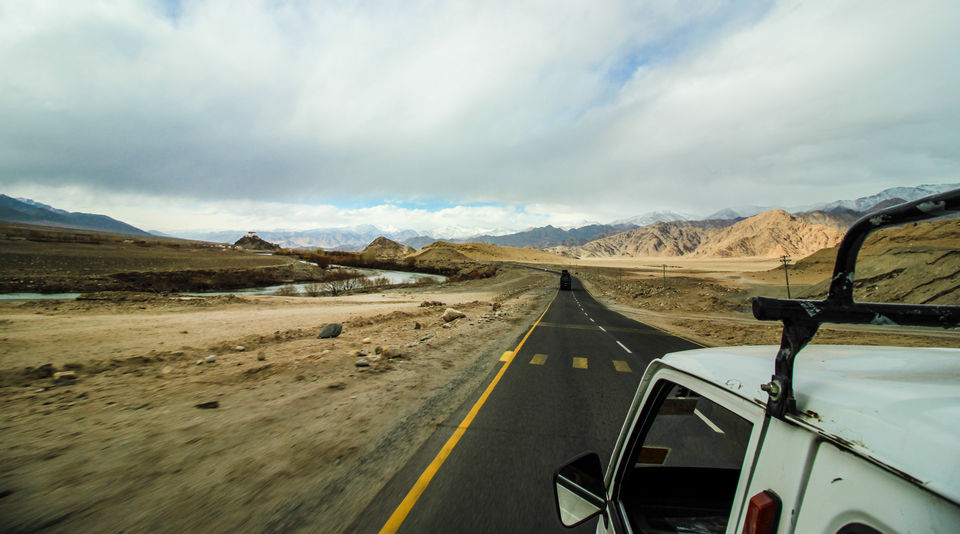 Half outside - half inside.
If you can fit through the window, this is something that I'd highly recommend when the car is in motion. But proceed with caution as it could imbalance the car on slopes and there are less painful ways to die.
As soon as we laid eyes on this vast empty stretch of land, we immediately requested our driver to stop for a while.

I'm sure it's a given that you should click some pictures mid-air. Well we did try but we all came looking as aliens suspended due to some inherent deformity.
Day 3 - Zanskar? Basgo towards Moonland
Leh - Basgo - Khalsi - Lamayuru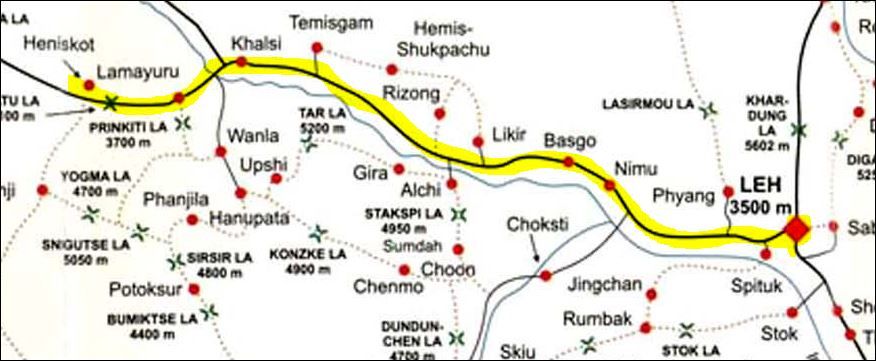 We woke up to something we were petrified of prior to our arrival here.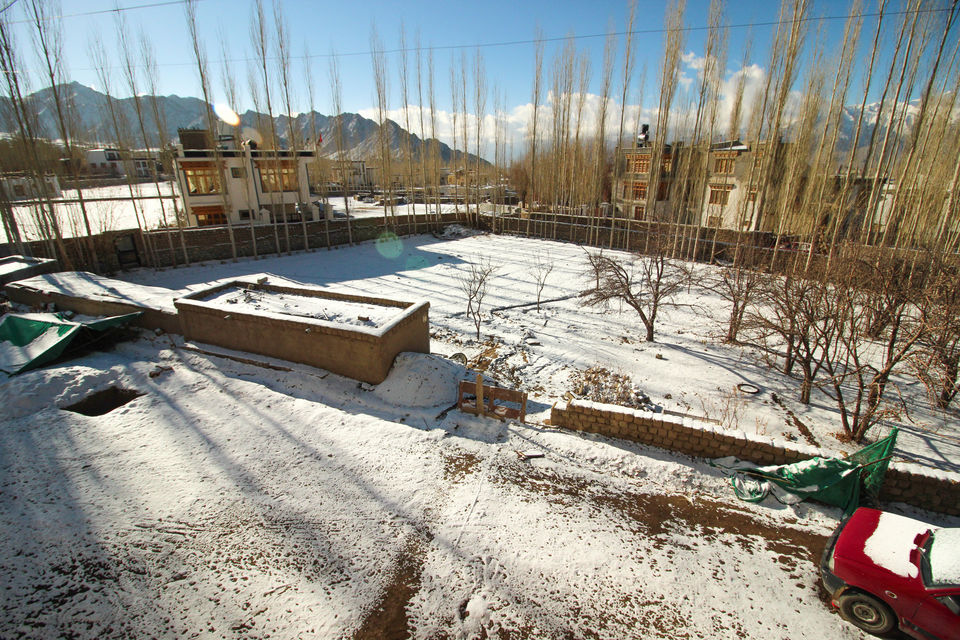 We were supposed to rent bikes today but nature had her own plans and that included our visiting the oldest Monastery in Ladakh.
Our first halt for the day was Gurudwara Pathar Sahib. Situated on the Leh-Kargil road at 12000 ft above sea level, this Gurudwara is dedicated to Guru Nanak. I would have loved to share the background story which led to its construction, but I'm sure you have better things to do. So, I'd advise you to read the same when you visit the holy shrine.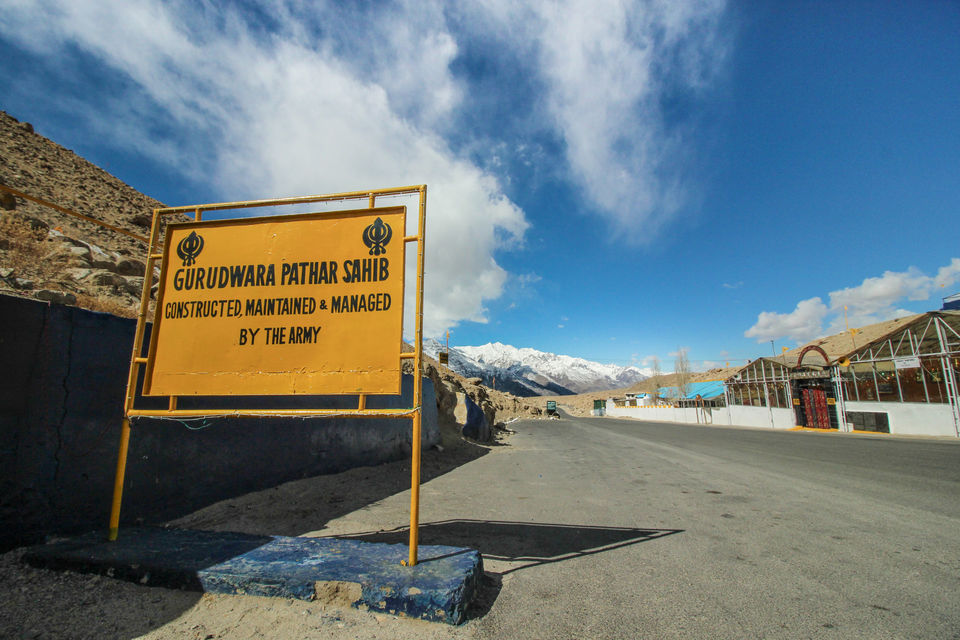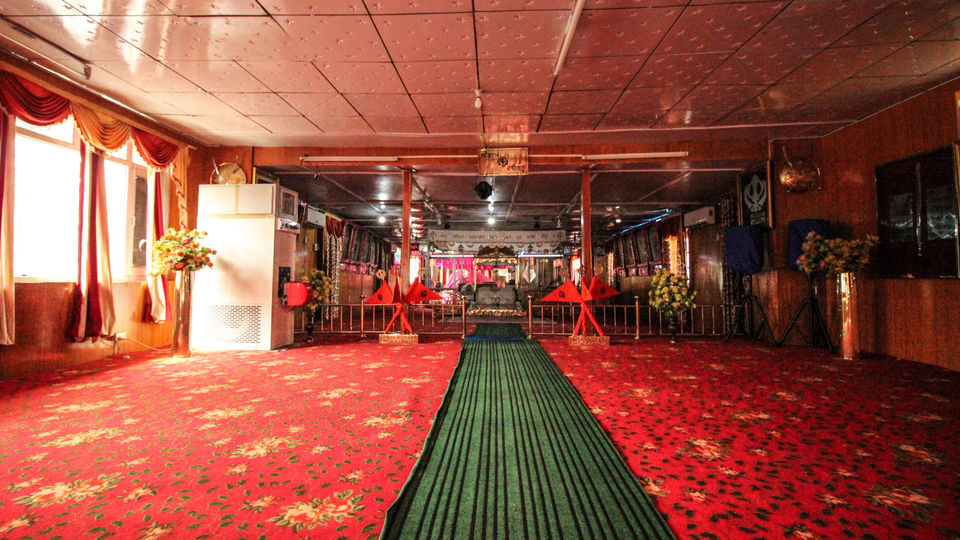 As you walk down the carpet towards the prayer area, you can see the holy pathar wrapped in prayer flags and sacred clothes.
If we had enough time, langer would have found a place in our stomachs. But we had to make do with a cup of warm tea.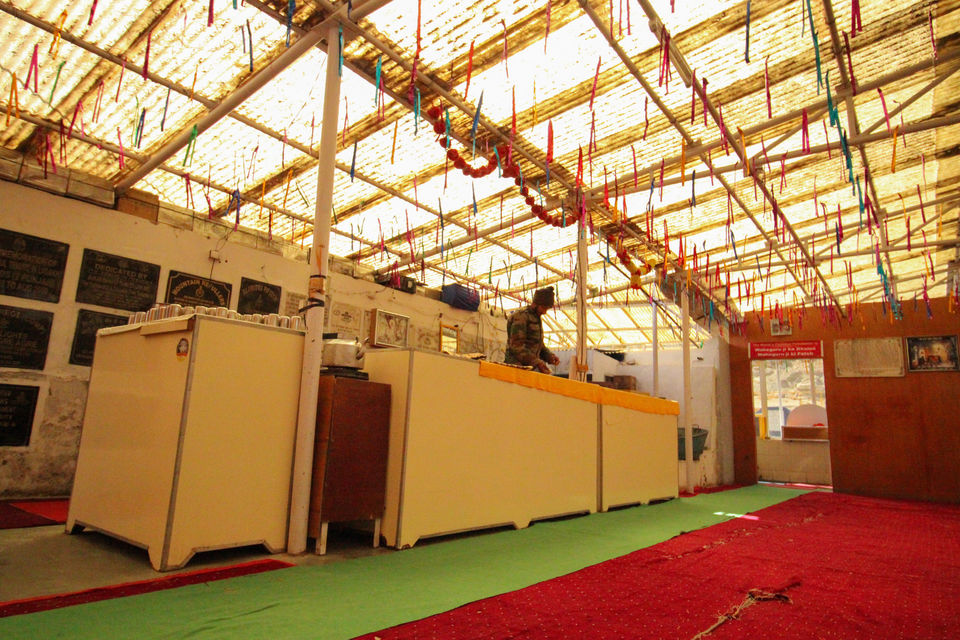 Like any homeless person, I was more than happy to have had warm water and refreshments in the middle of nowhere. With oozing (over)confidence we started marching up the hill on the opposite side of Gurudwara.
Hell Yeah!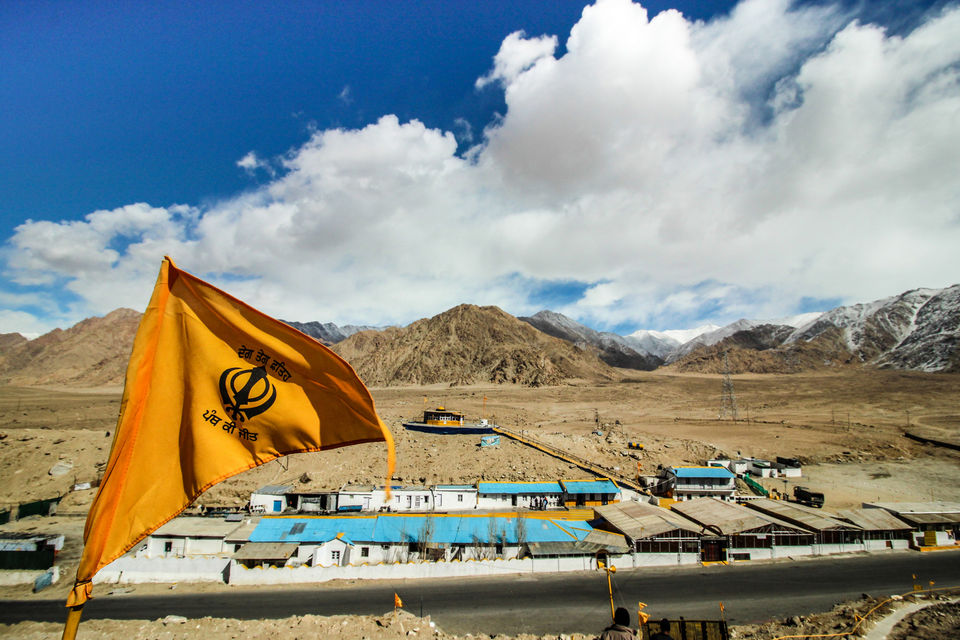 But after 50 steps or so, our lungs started crying for mercy and heart spurt curses at a phenomenal rate. One more step and we'll have to roll down like a burrito. As the oxygen content is relatively low, slightest of excursion takes a heavy toll on your body.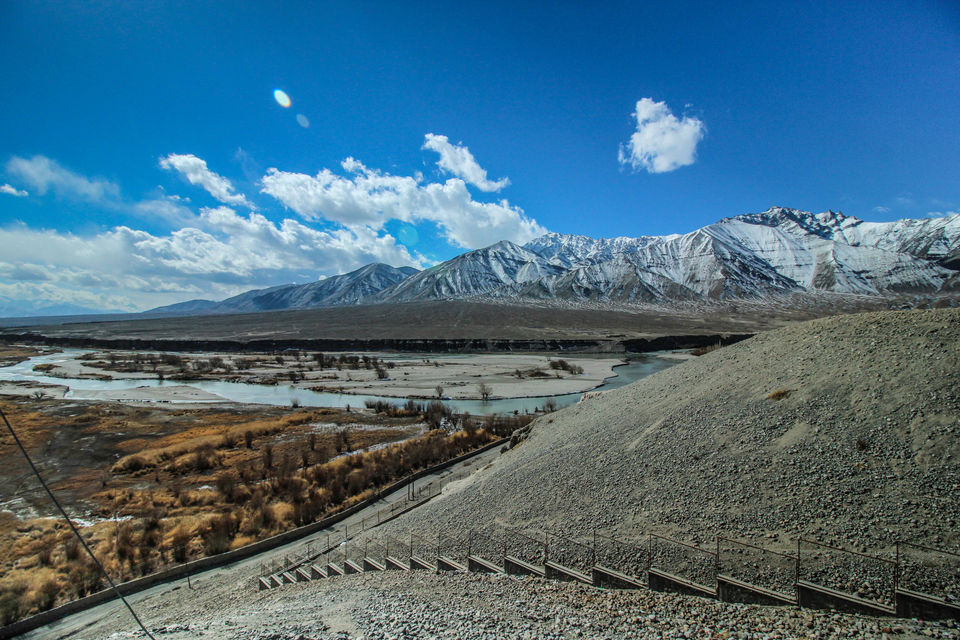 For a better view of panoramas, please click here.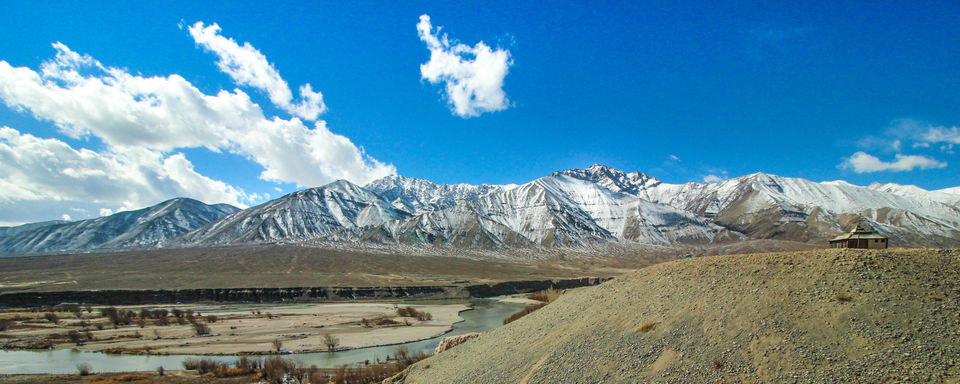 After a short drive, we reached the mysterious spot called the Magnetic Hill. Contrary to popular belief, the road which seems to be uphill is in fact going downhill. It's a clever optiocal illusion laid out by mother nature in form of the mountains which border the horizon. Hence, the phenomenon of cars being pulled uphill is nothing but rolling downwards due to gravity.
thou art a heartless bitch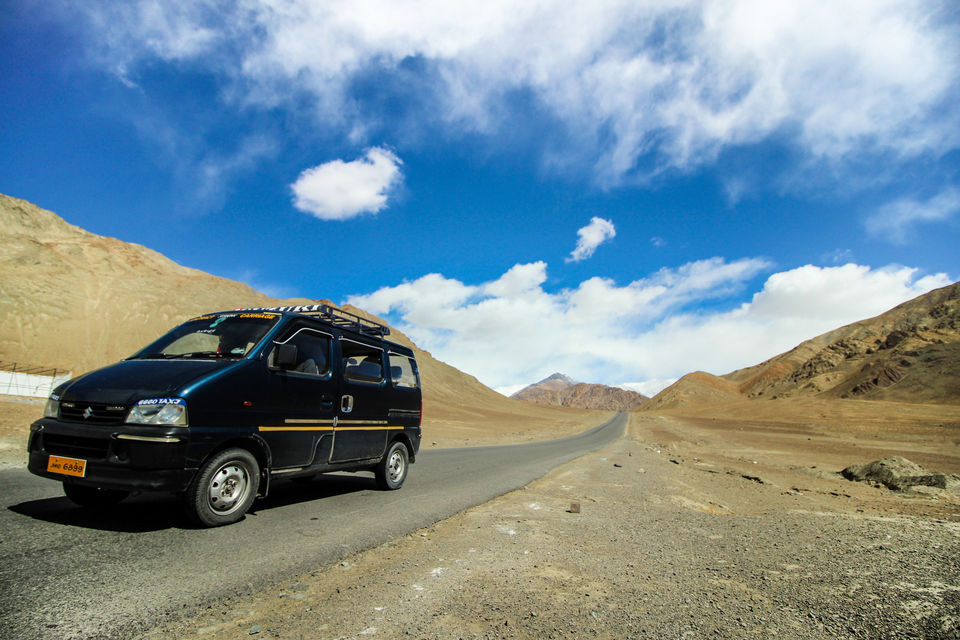 There used to be a signboard here but our driver said that it was removed.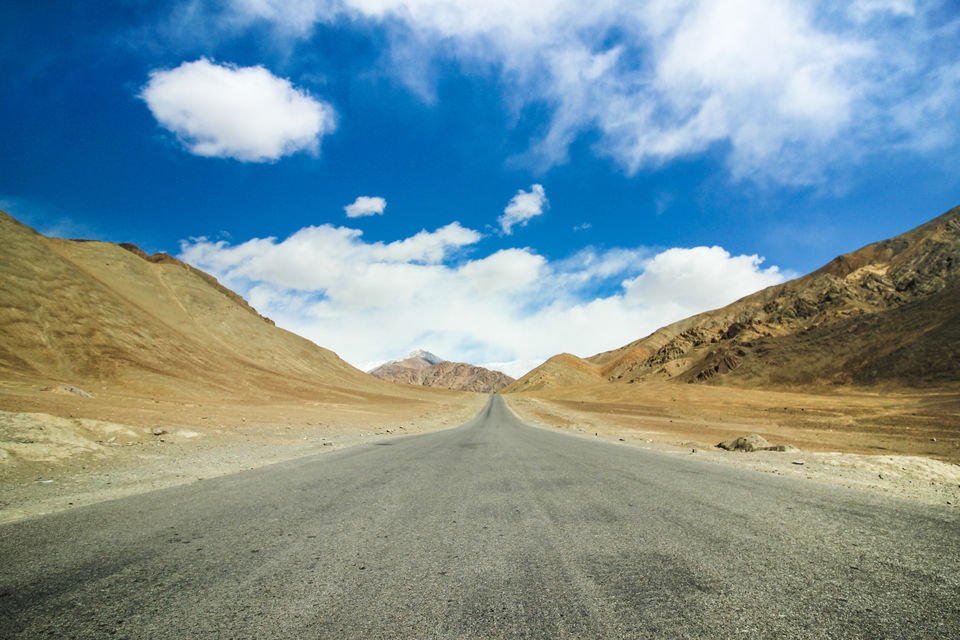 Be very careful of the incoming vehicles passing through while you click photographs.
The highlight of our day was Sangam.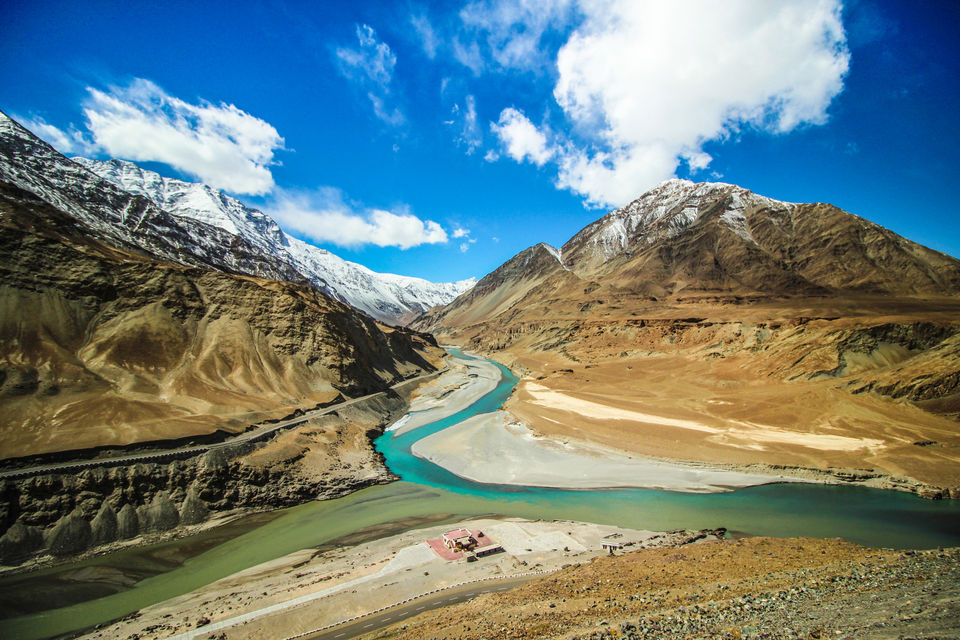 The majestic confluence of Indus(muddy) and Zanskar(turquoise) is something you should not miss when you are in Ladakh. During winters, Zanskar is frozen and people walk along the ice of sheet, a trek better known as Chadar Trek.
TIP: This spot has prayer flags which server as a traffic barrier. Show some respect by going beneath them for a better view.
For a better view of the panorama, click here.

We stopped after an hour or so to spend some time on the banks of the river where I shot a small timelapse and my partners climbed a huge rock only to exert their lungs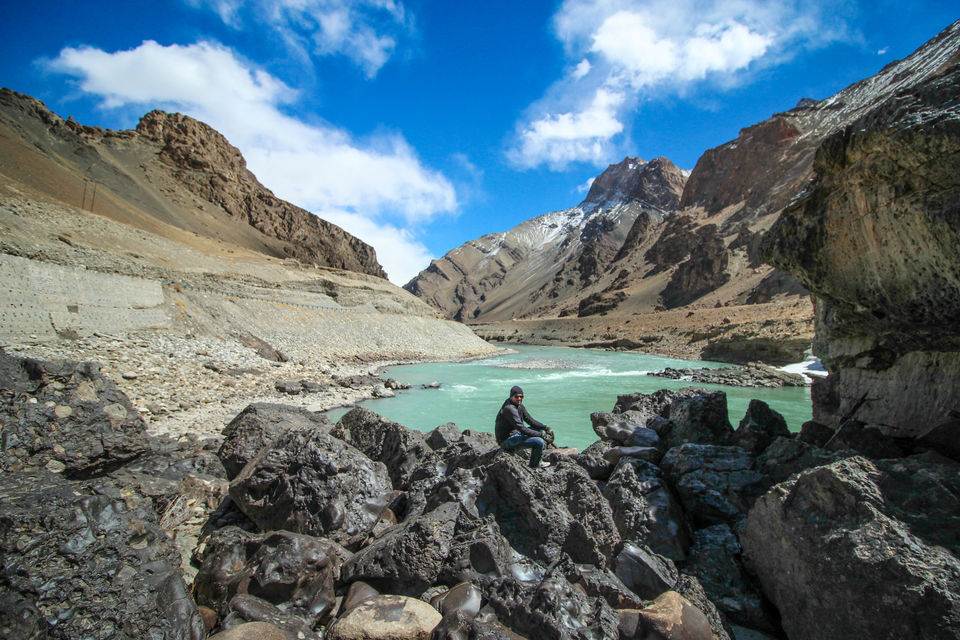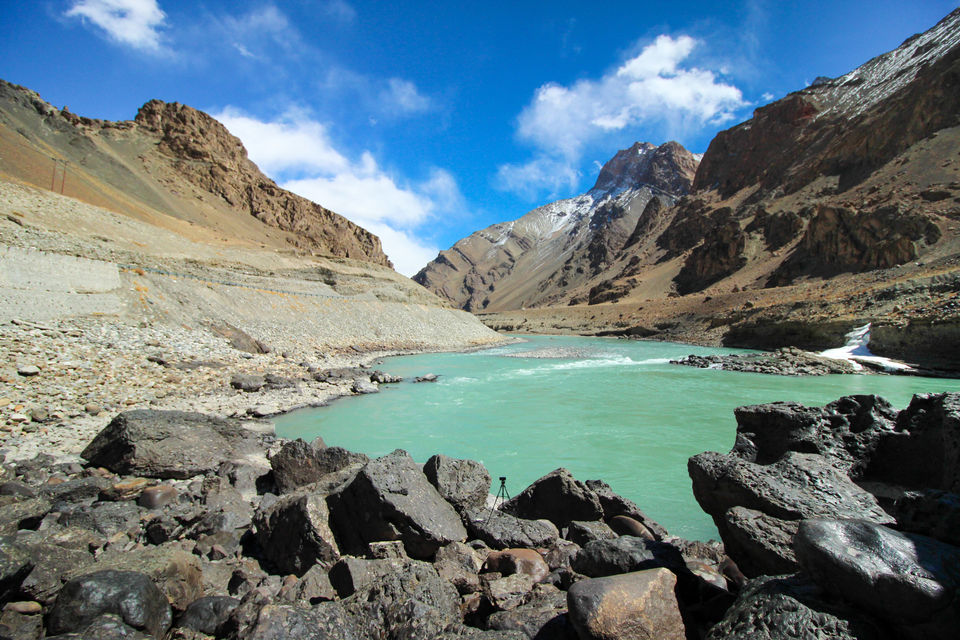 We stopped at Khaltse for lunch in a Punjabi Dhaba. We did not come across any trouble finding edible food during our entire stay which was during off-season. So relax, irrespective of whichever parts you come from you won't die of hunger.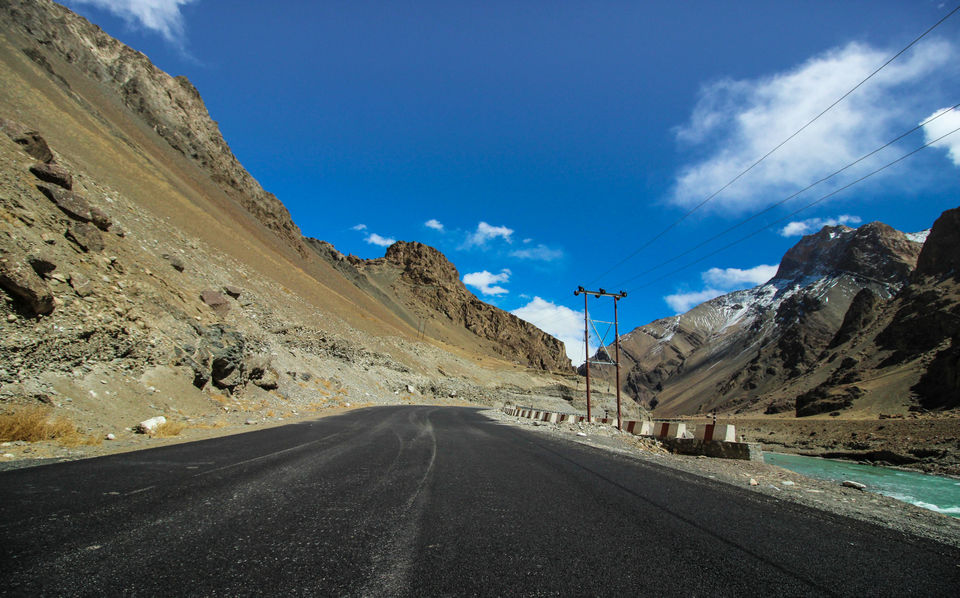 There are a very few places I've been to where the sky was textbook blue. Ladakh trumps all of those places. Our heads were just getting accustomed to the breathtaking vistas and scenic valleys of this wonderful place. Combine all of that with BRO's well-maintained roads, Ladakh is all aces in my notebook.
Before we reached Moonland, our driver made a short stop at this peculiar ice formations where we clicked dozens of photographs. Mostly of our driver while he hailed a massive block of ice and yelled, "Sir, a photograph please!"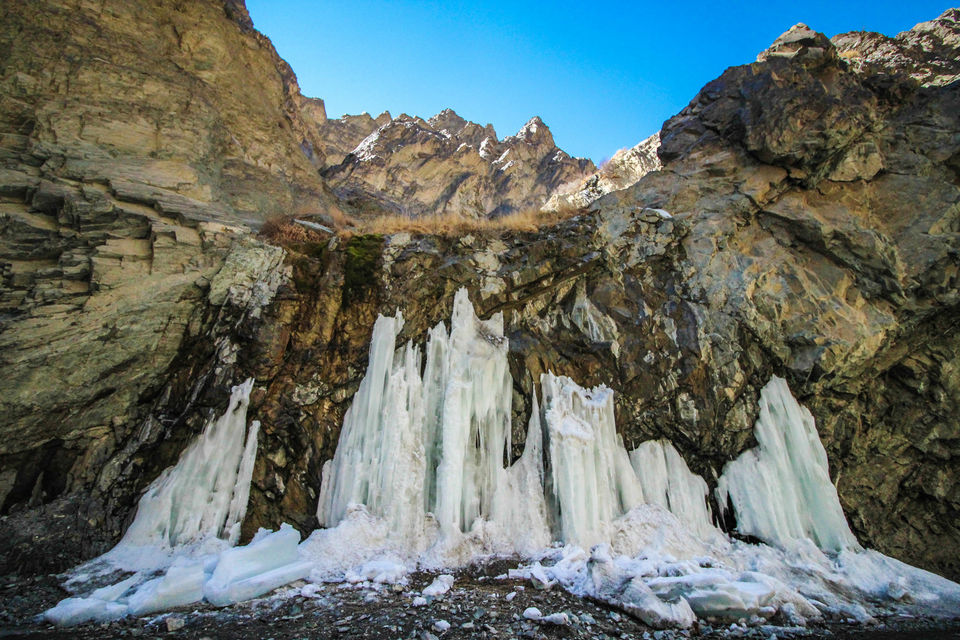 As we crossed Fotu La pass, we stopped to adore the gorgeous landscape which goes by the name of Moonland.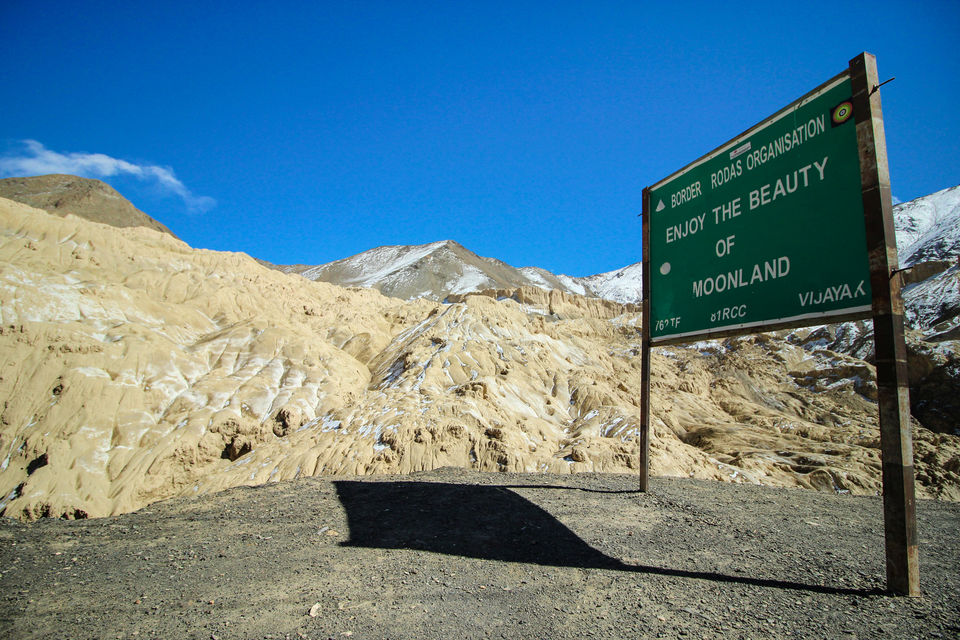 It has been given the name Moonland because of its peculiar structure of rugged rocks with pristine blue skies adding to the beauty of this lunar surface.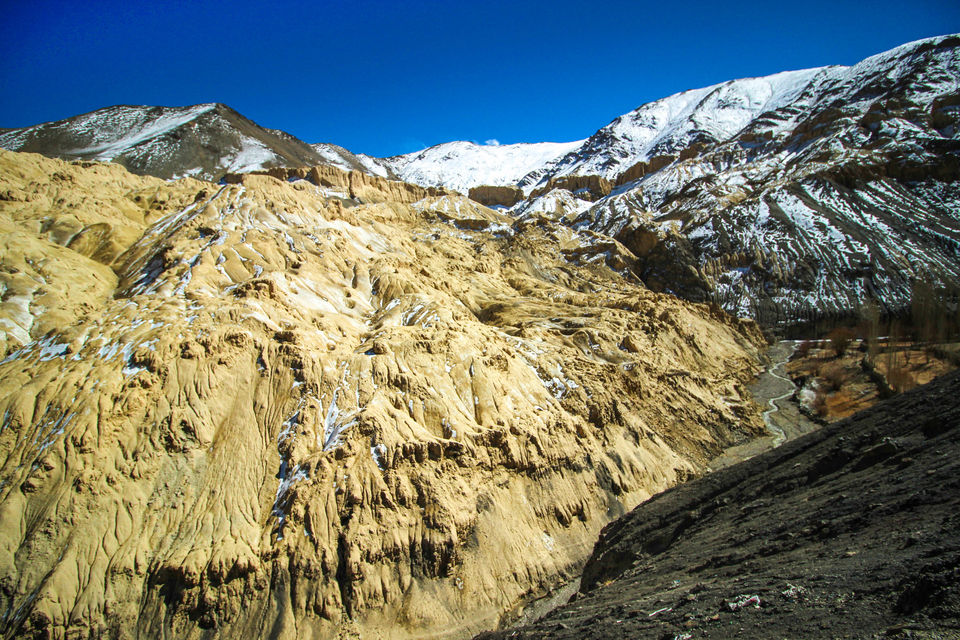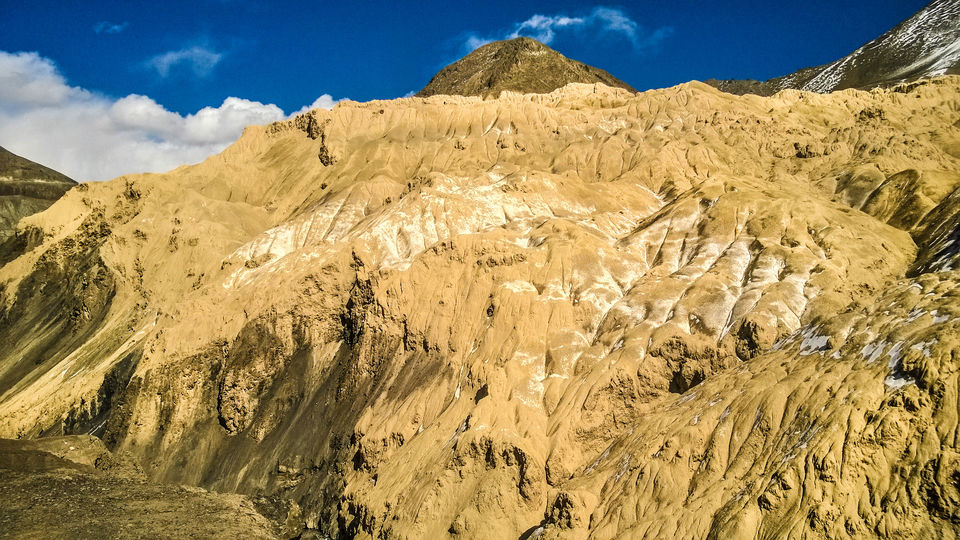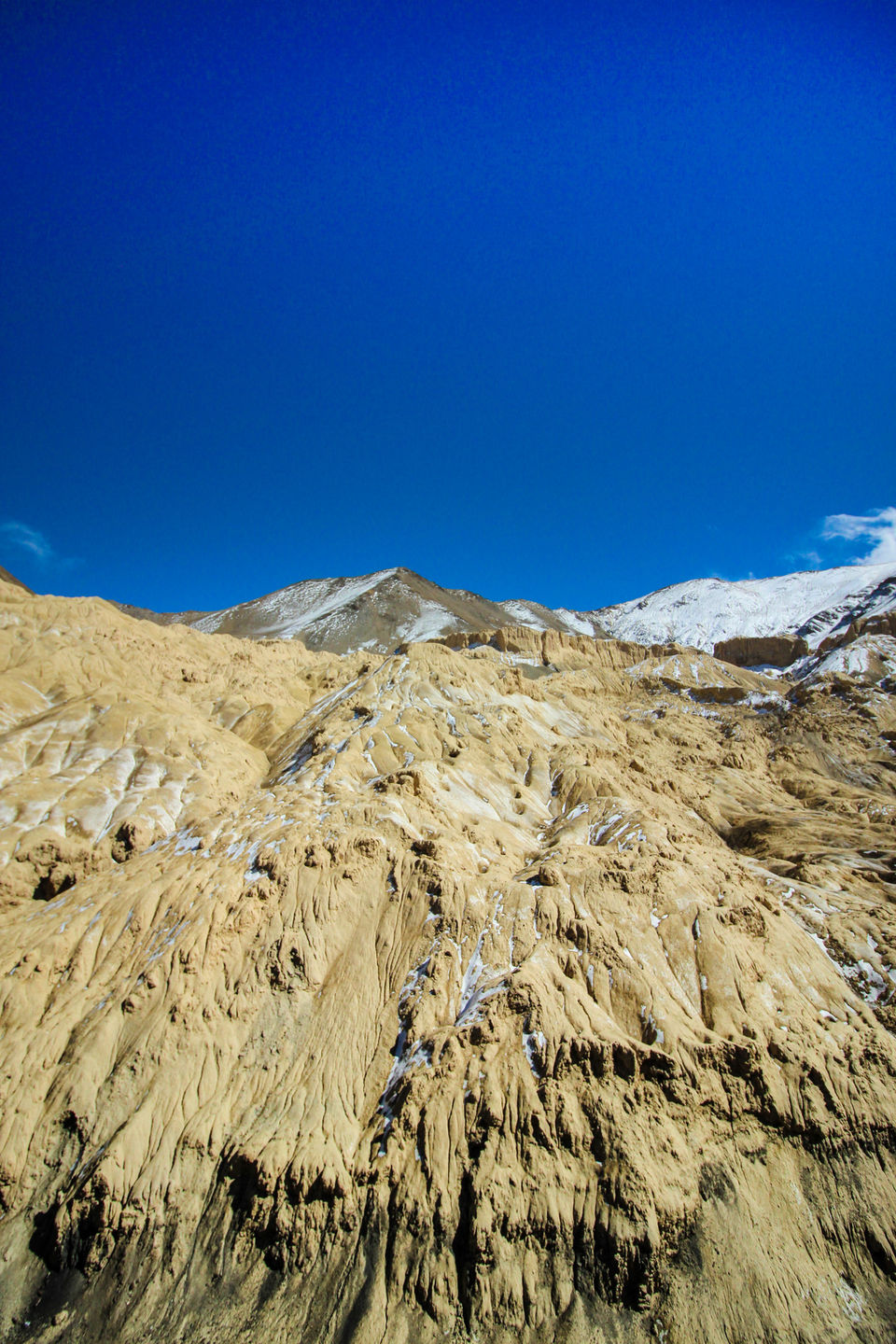 Moonland is the prized posession of Lamayuru which is a small village and houses the oldest monastery in Ladakh. The best vantage point to breath in the landscape of Moonland is the meditation hill.
We finally reached our final destination for the day - Lamayuru Monastery.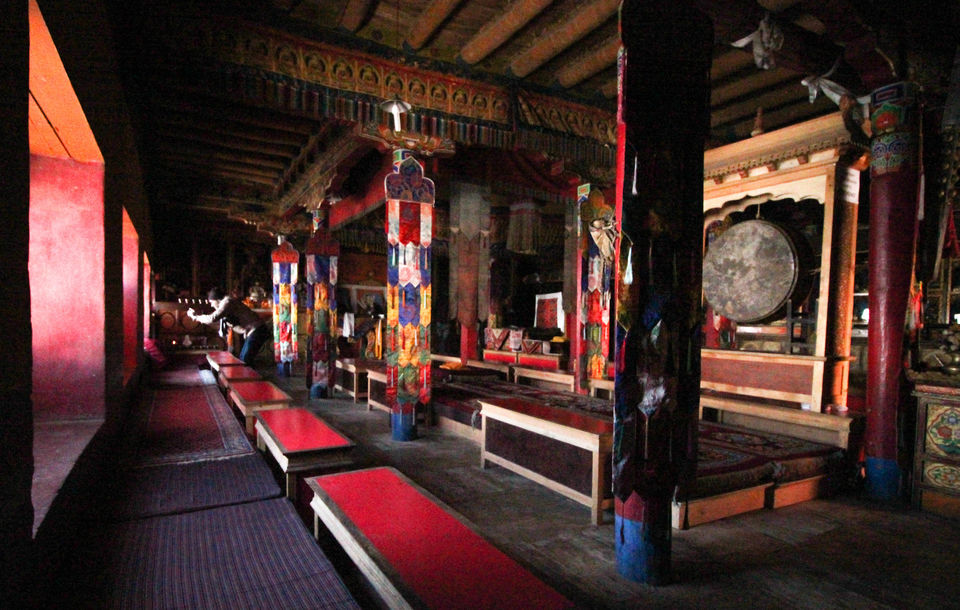 Lamayuru Monastery is the ideal stoppage on the Leh-Kargil route not just for the scenic landscape it has to offer, but also to chit-chat with any of the 150 monks which live here.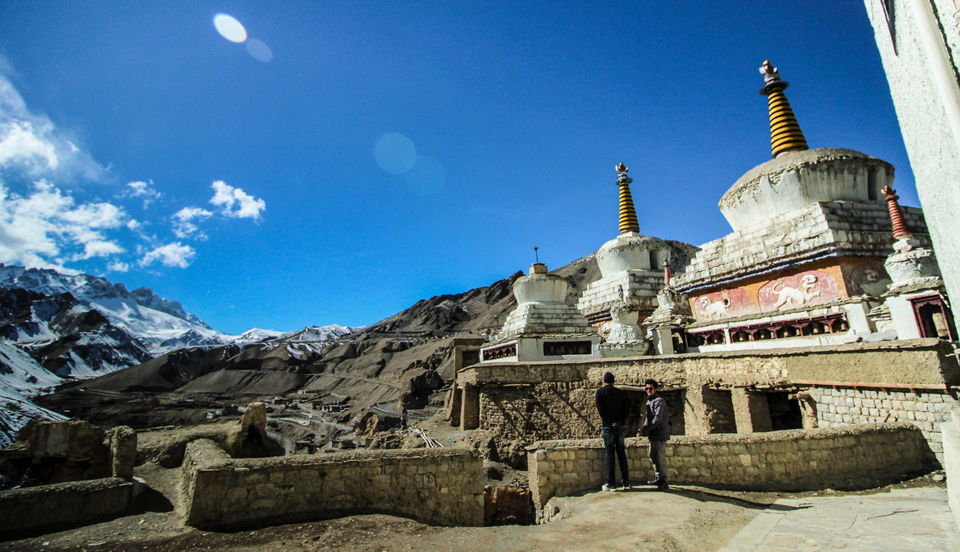 TIP: Make sure you canvas each and every point of this monastery to witness all the spectacular views it offers.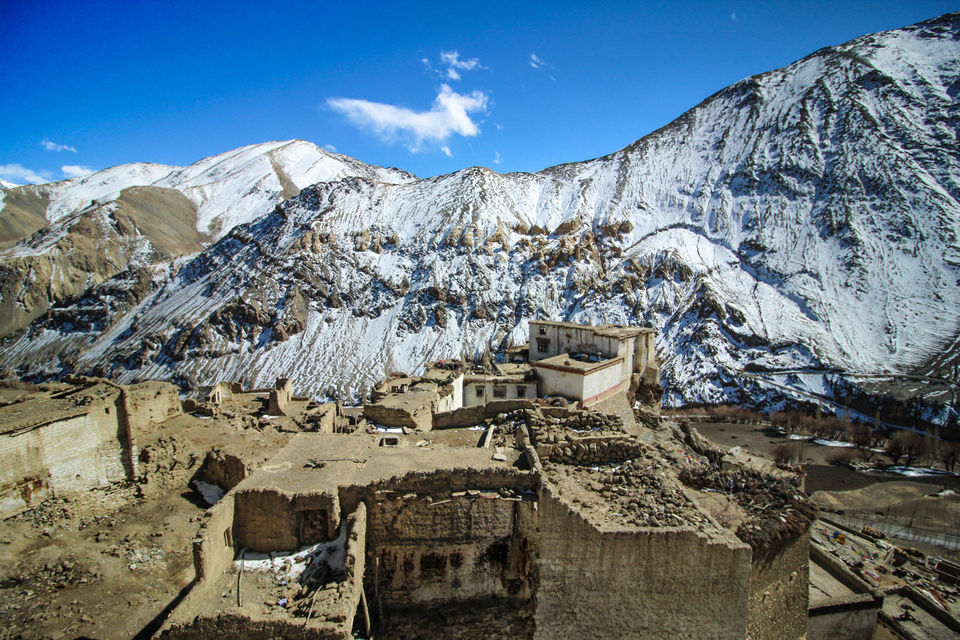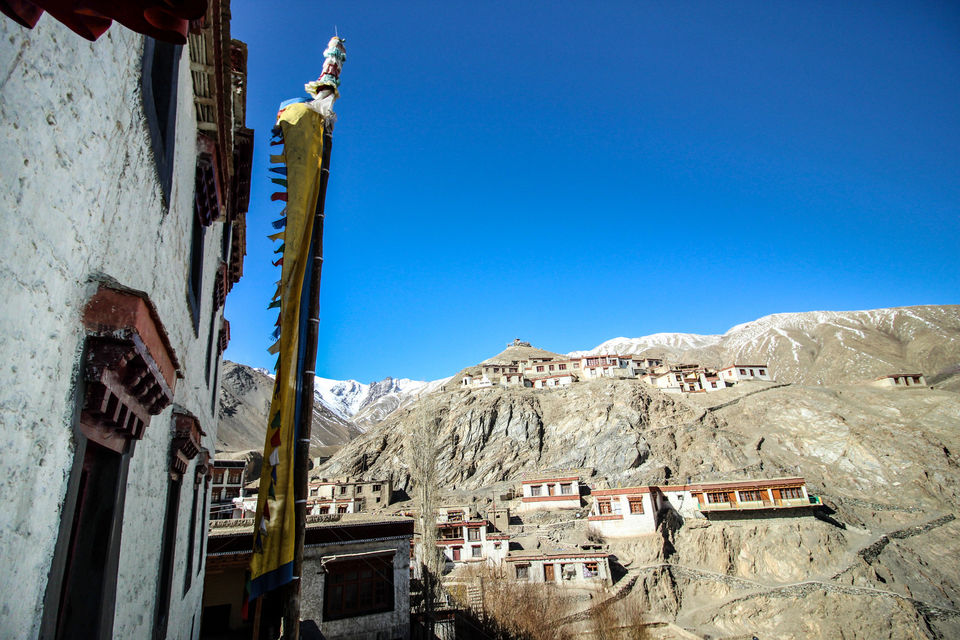 We were mystified by the precarious architecture of houses perched comfortably on the sides of hills and often wondered how they managed to remain that way. I know for a fact that I couldn't afford a night's sleep in one of them.
For a better view of the panorama, click here.

We stopped again at Khaltse on our way back for some delicious momos.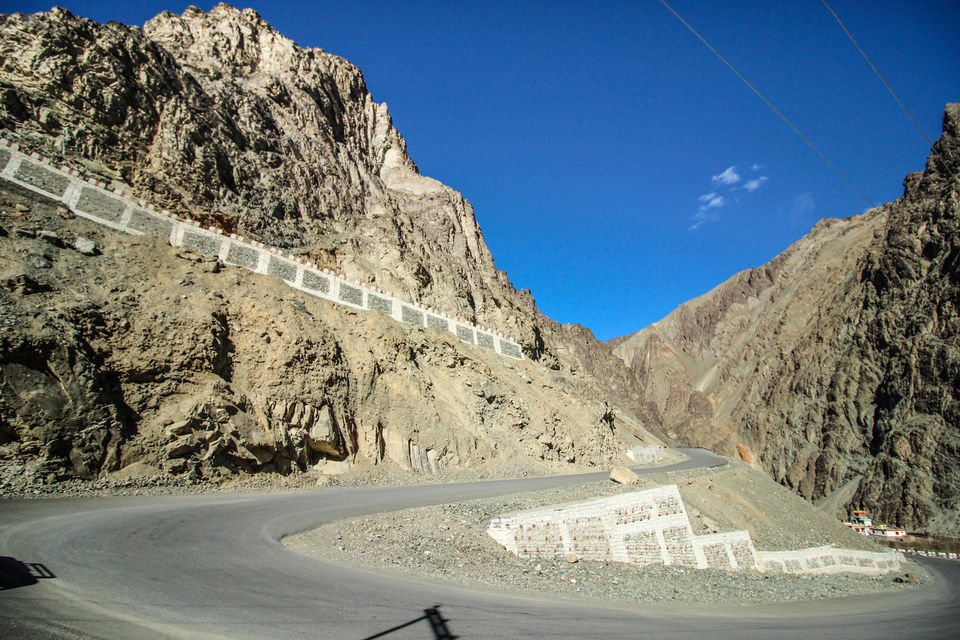 Need for Speed - Ladakh
We went back to the hotel gearing ourselves for the toughest day of our lives. Yet.
Day 4 - Nubra, A Shoyking Retreat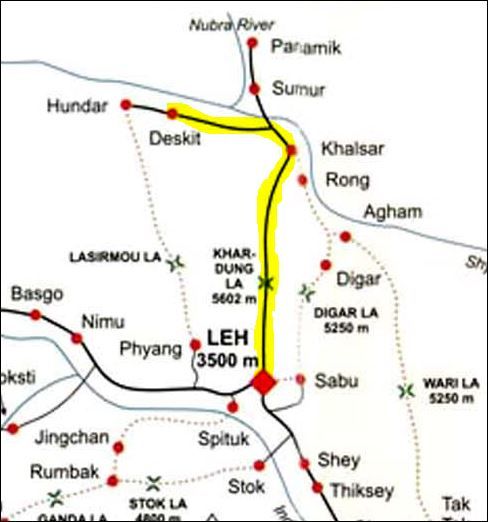 The temperature was -5 degrees celsius and we made our way towards Nubra Valley via Khardung La.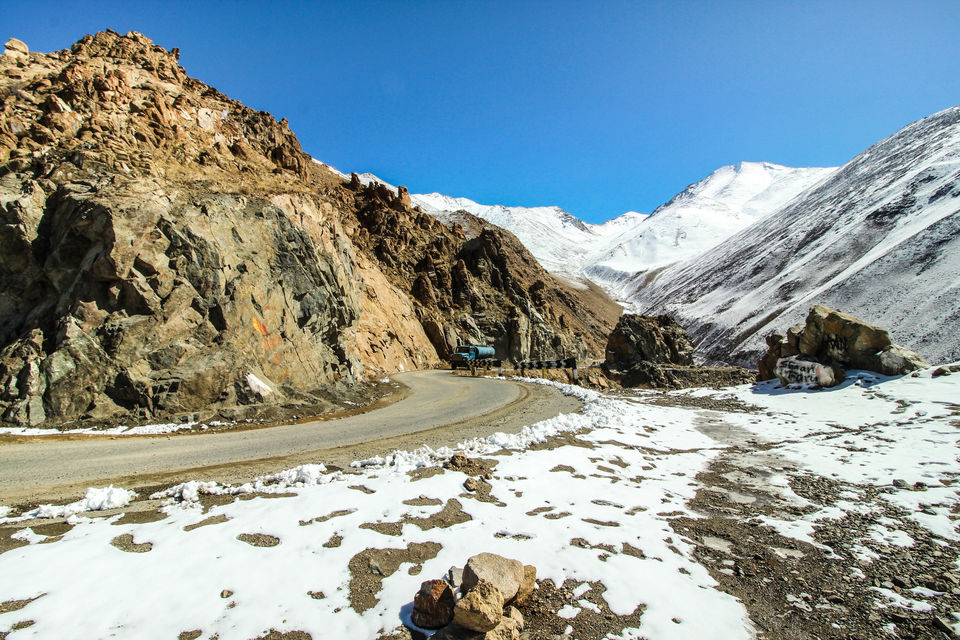 After covering 10-15 km, we started seeing an abundant amount of snow and slowly the road disappeared altogether.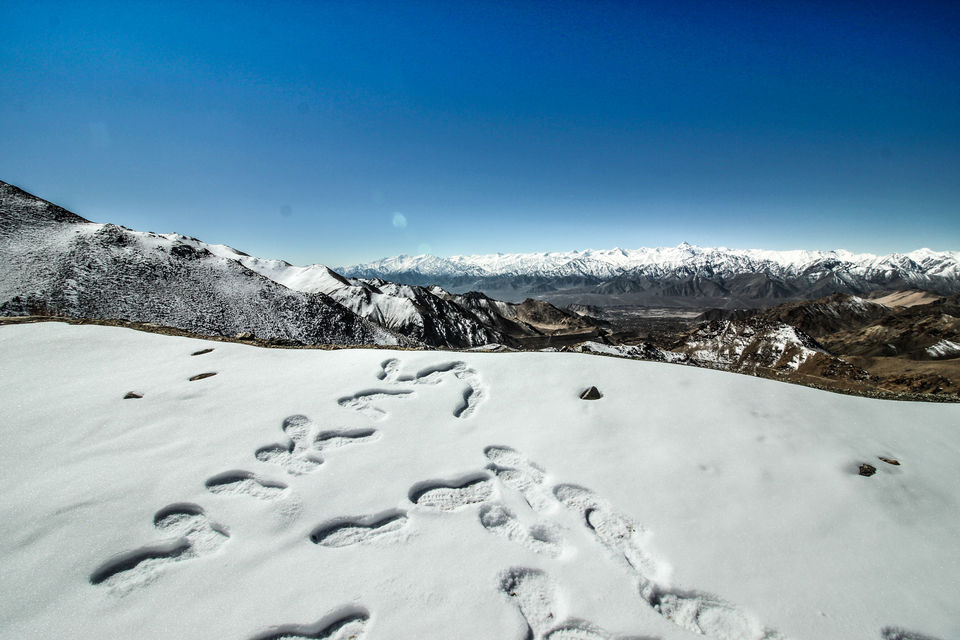 For the most parts, we did not dare to step out of the car but for this astonishing landscape, we just had to make a halt.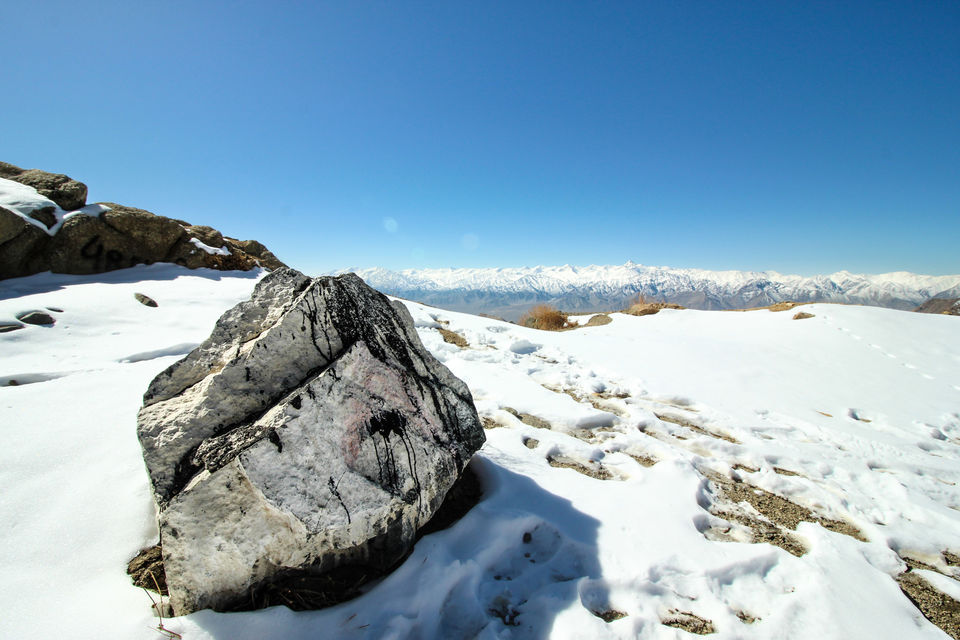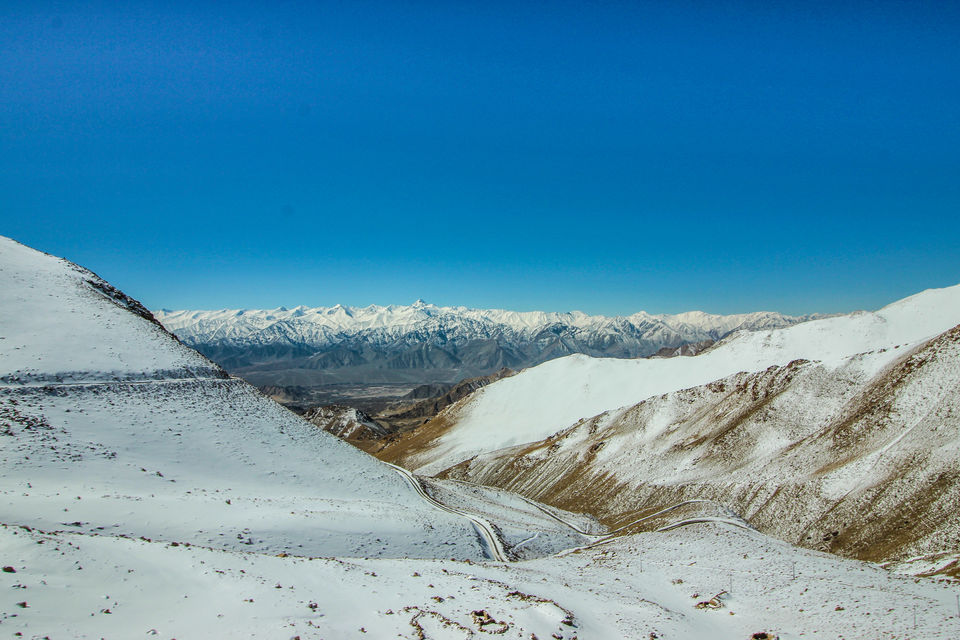 Just take a break and follow the treacherous yet dependable roads which helped you get here and thank your stars.
For a better view of panoramas, please click here

Our driver made us fill the forms and made a quick pit-stop at the South Pullu Check Post. Now we just grabbed every opportunity to get out of the car to take pictures and curse how cold it was.
TIP: If you're nervous about the formalities revolving around visiting the remote areas, don't fret. Just carry one ID with you with a couple xerox copies. Your driver will take care of them for you.
For a better view of panoramas, please click here

Call it a misfortune but for us it was an altogether an exhilarating experience when our cute little Maruti Eeco simply refused to move uphill in the snow. According to our driver we shouldn't have needed chains on the tires but apparently that is what we ended up doing.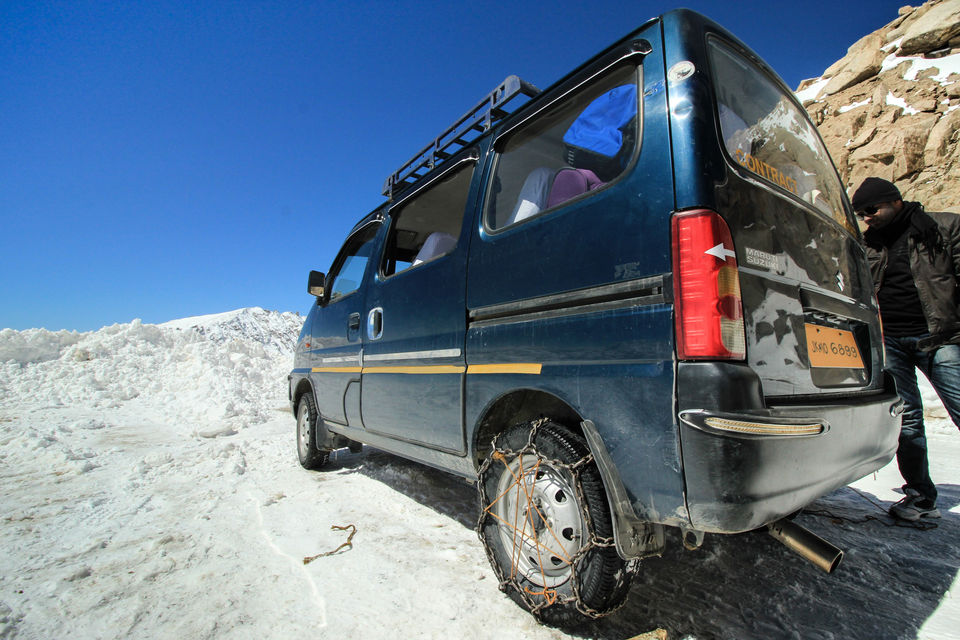 As the roads are already narrow and adding to the fact that there was massive snow all over the place, we ran into a couple of traffic jams as well.
But did that kill our dashing driver's buzz?
You tell me!
He was crazy about clicking photographs and readily strapped my tripod atop his car. We locked our phones and got some nice videos which I'll share with you as well later in this story.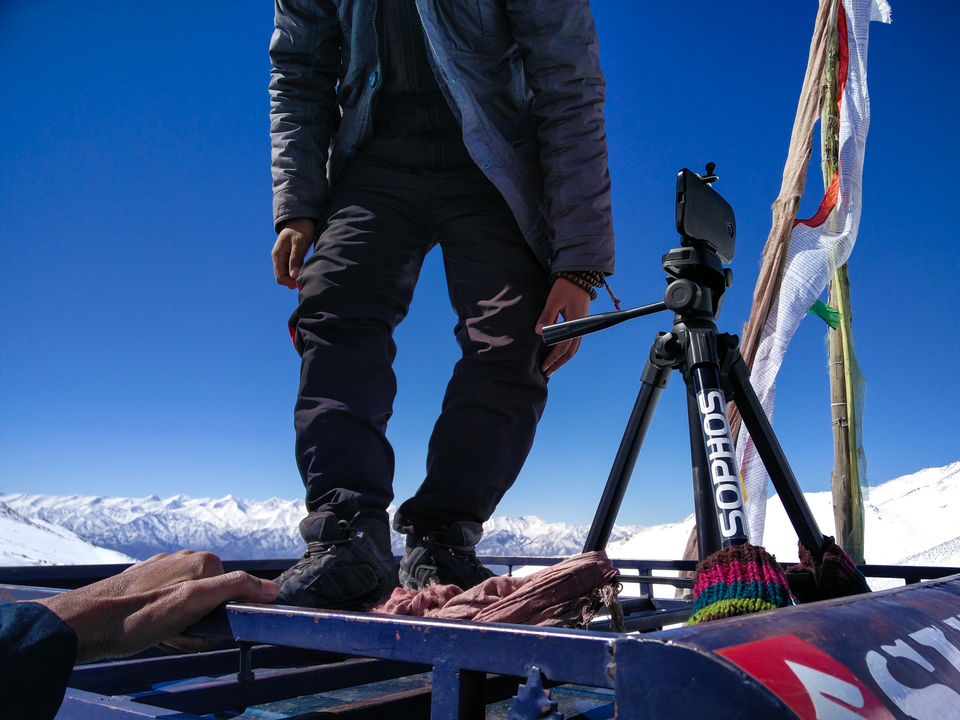 Finally, the most awaited moment was finally here -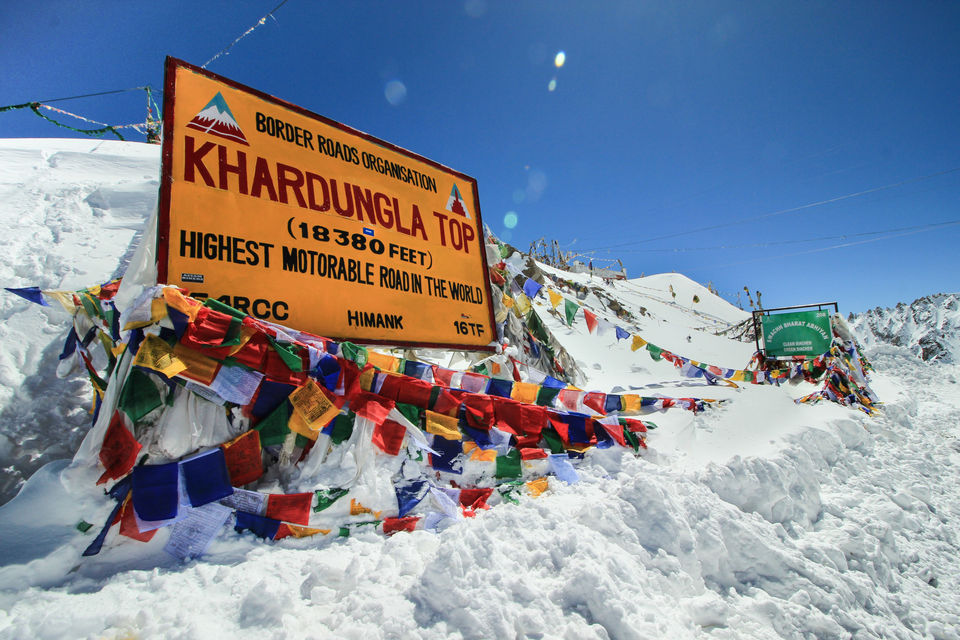 Our lungs were working at full capacity and our eyes were battling what to focus upon. There is an army station up here and you can chat up our brave soldiers to ask how their day has been so far.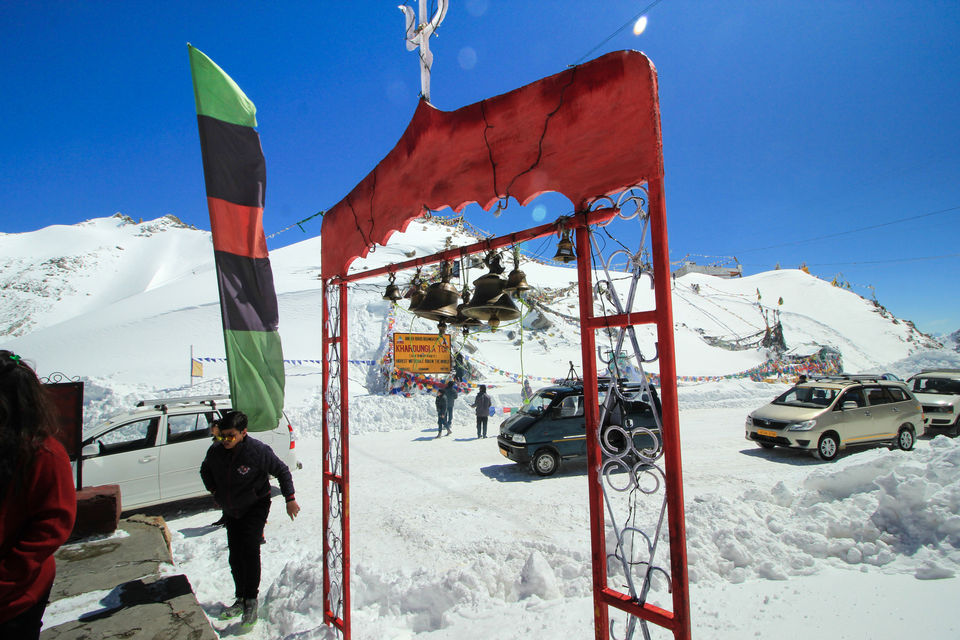 Oh, and we do have a colorful temple here as well! That's the thing about us. Give us a mountain top and we will build a temple up there.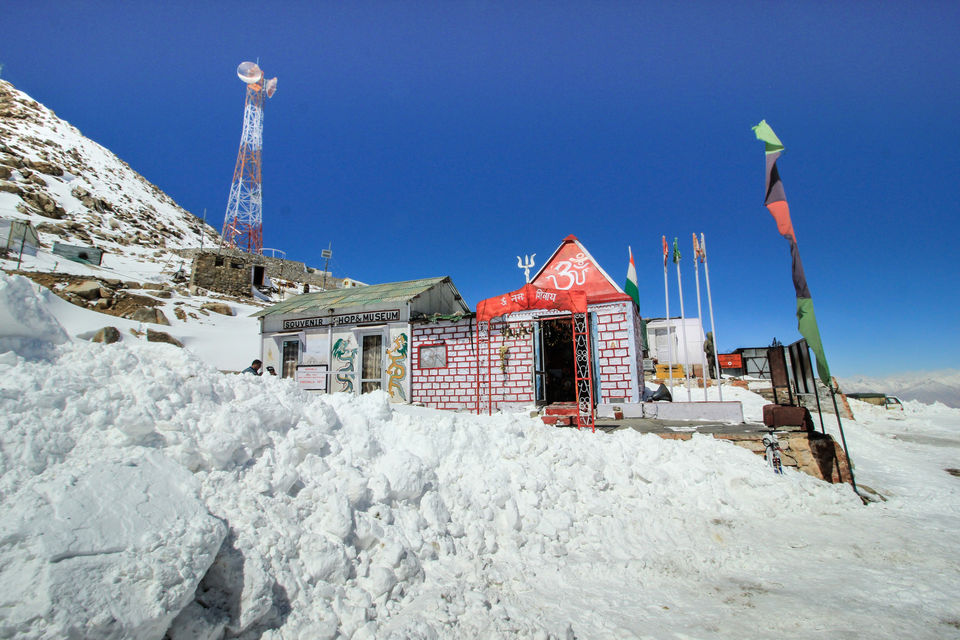 I saw a couple of Army generators and they had ice sticking out of them. Regardless, they were busy hooting! Make sure your picures are limited to the landscape in general and not include any of our Army Outposts. I'm sure you are not that dumb but I had to put in a disclaimer anyway. I know I have been one.
I rushed towards the souvenir shop to buy something but it was closed.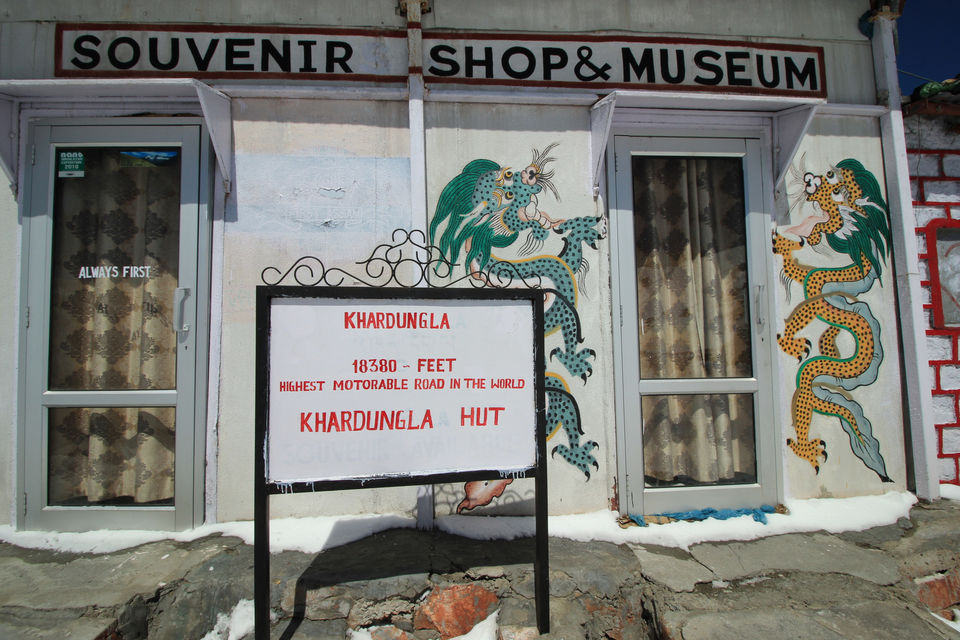 TIP: Staying for more than 10-15 minutes here could be dangerous for your health. Descend immediately after a couple of pictures.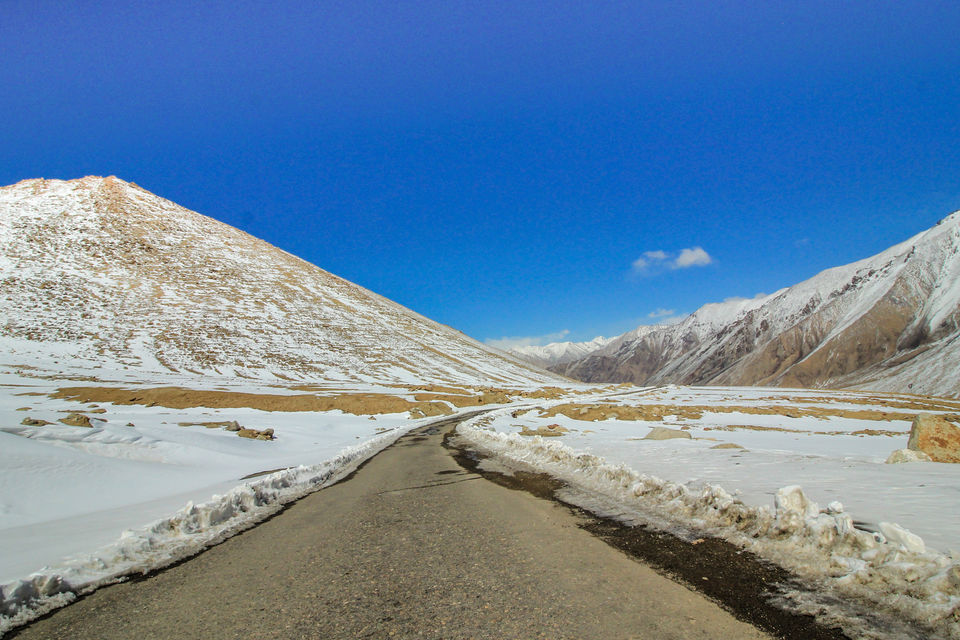 After crossing Kardungla Top, we stopped briefly to unchain the tires as the roads were now visible.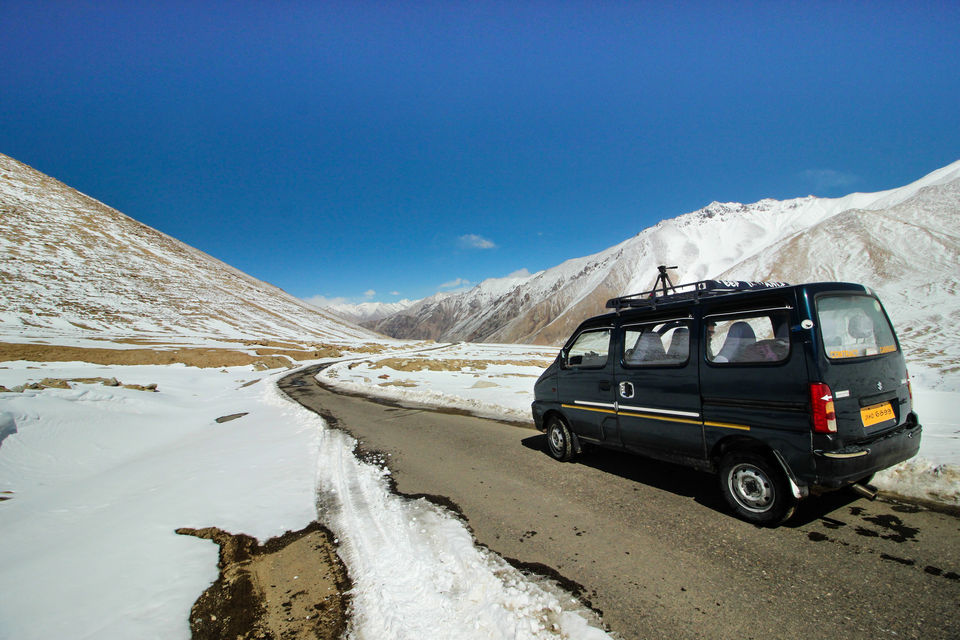 The cold had gotten to our nerves. And eyes. And head. And every other place imaginable. This meant just one thing and one thing only.
TEA
We stopped at North Pullu where there is a small Army Canteen for Civilians. They server out of this world signatory Kahwa Tea which comes highly recommended. You'll also get a chance to interact with our soldiers as well who stop by on a frequent basis.
We sat down at one of the small shops wherein we were served with delicious maggi, tea, chowmein and dimsums.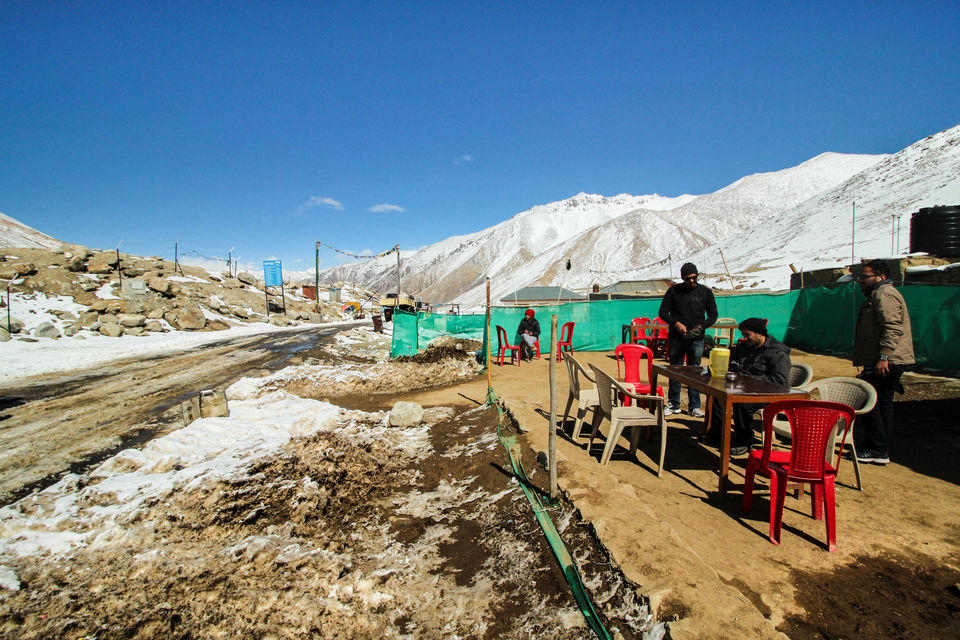 Mountains and Maggi are inseparable terms and you have to respect this analogy.
The meal did wonders to our tummy and we drove towards Diskit. The first glimpse of the alluring Nubra Valley was all we needed to soothe our headache. The acute oxygen had done its work fairly well.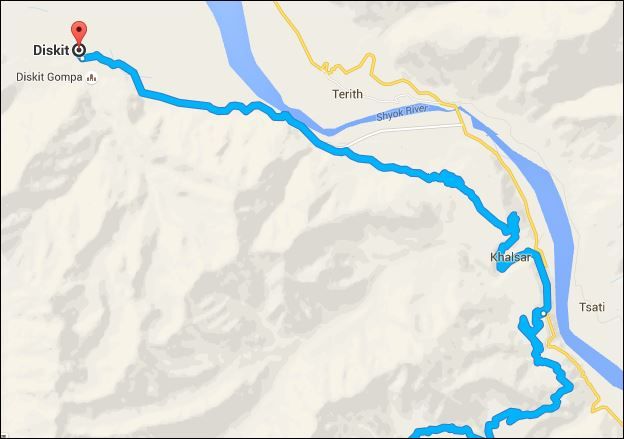 As you can see that we mostly drove along the Shyok river, the views were indeed stunning and we couldn't be more impressed.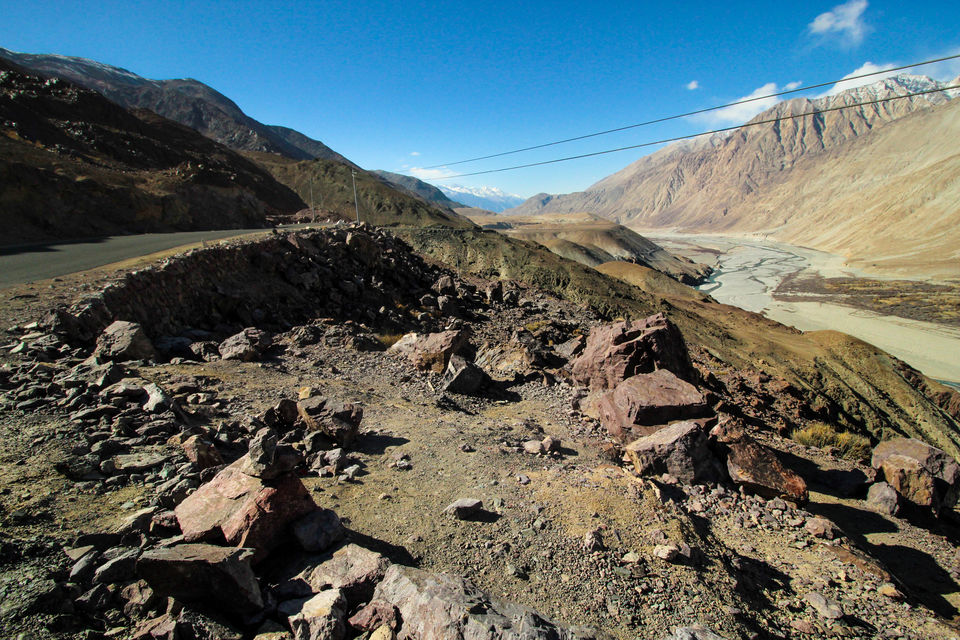 It was unbelievably cold out there but we still managed to keep our senses together for an incredible couple days which were to follow.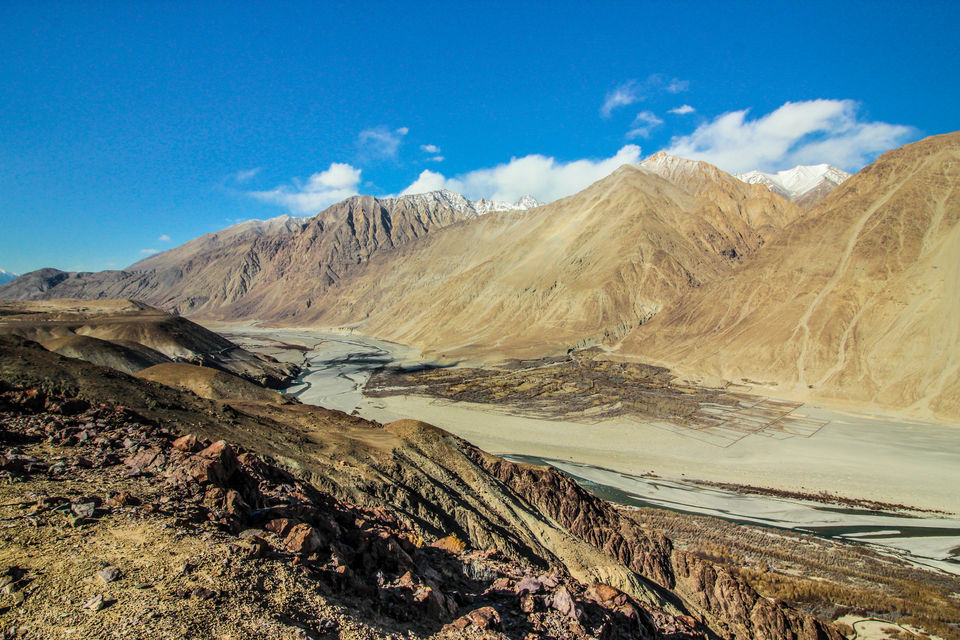 We finally reached Diskit wherein we stopped to visit Diskit Gompa.
The moment our driver showed us the pathway to the monastery, we cried in unison - Nah. We ain't climbing.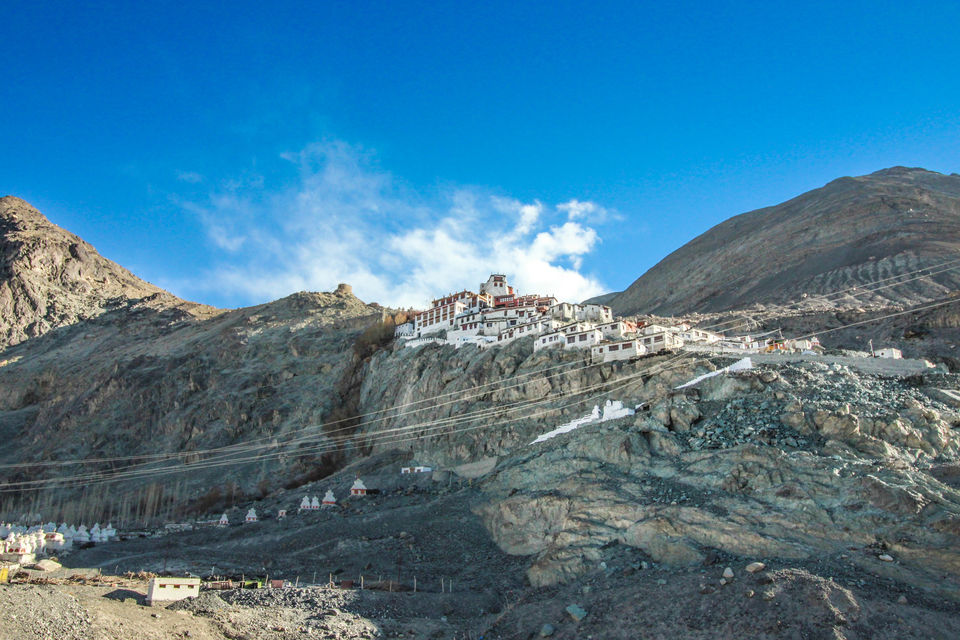 You guessed it right. The car will take you only so far, from there you have to walk all the way up to the top where the monastery lies.
Man, what's with holy places and heights. Don't you want them to be easily accessible so that we can stop being lazy bums and pay our respect.
So he took us to New Diskit Gompa to witness the sunset and we were speechless.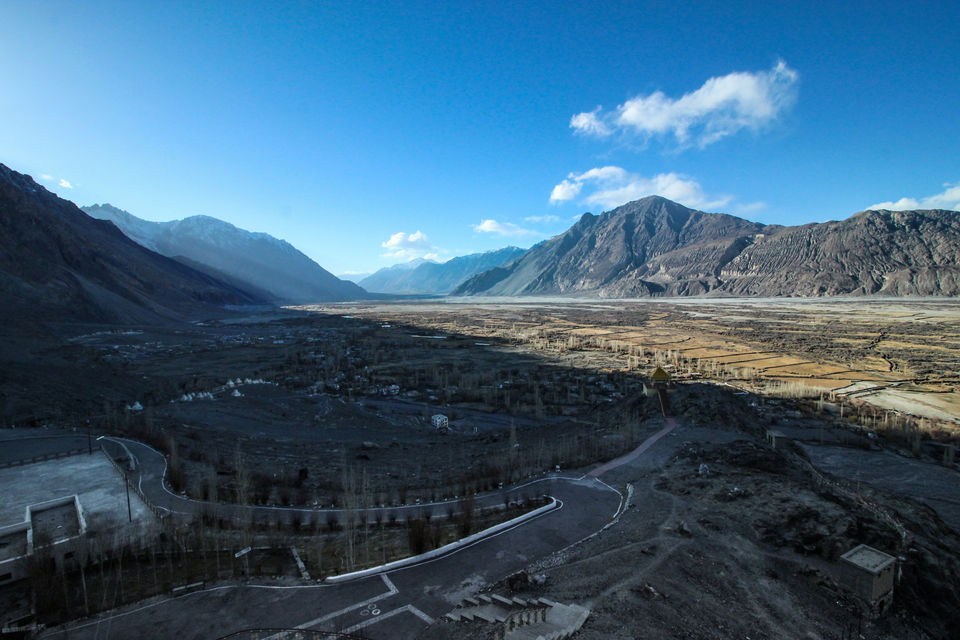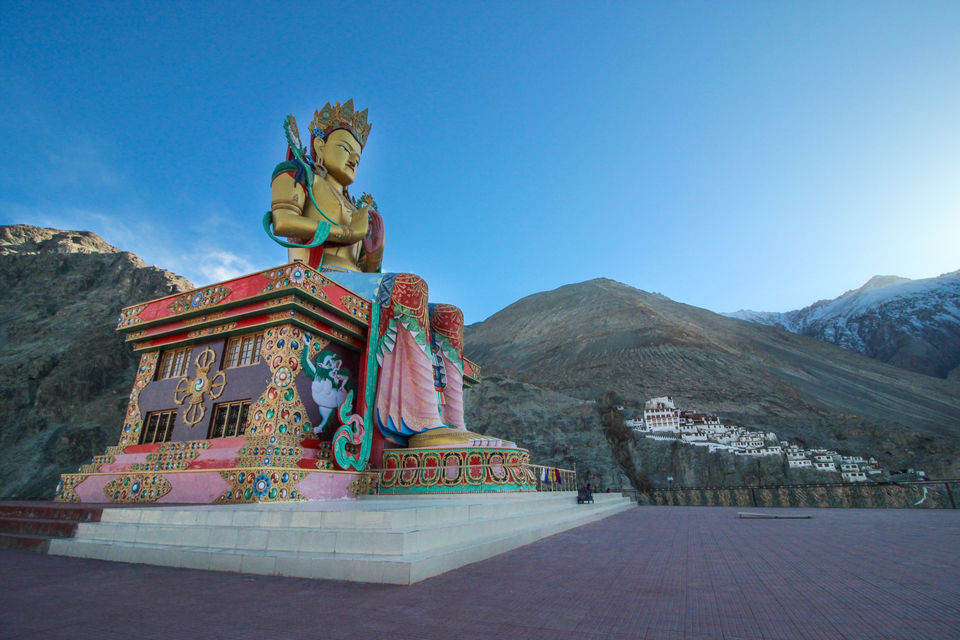 The big Maitreya Buddha statue stands tall at 106 feet overlooking the picturesque Shyok River Valley surrounded by snow capped mountains is a treat to all your senses.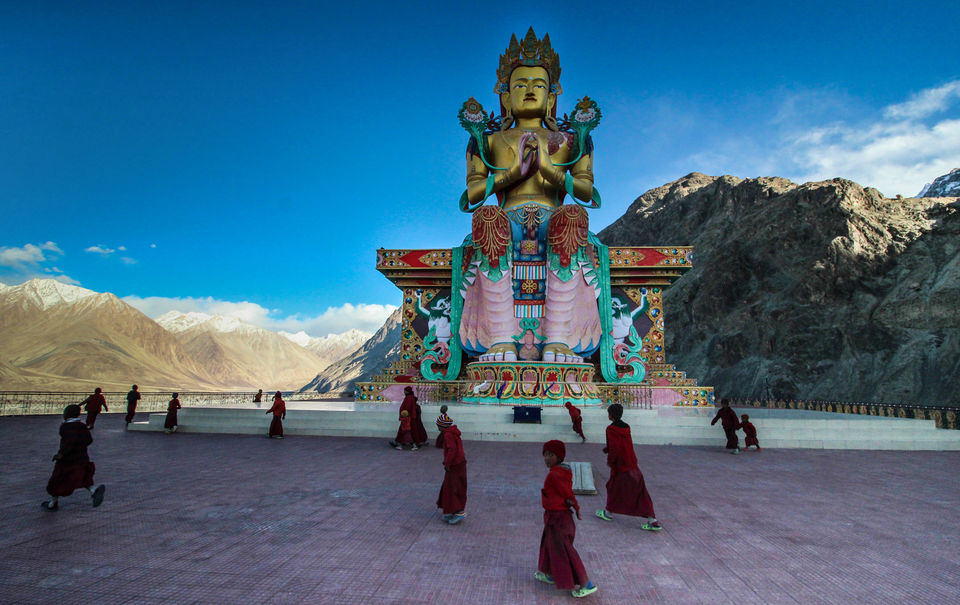 Everywhere you'll read that the best time to visit Ladakh is during June-September but I strongly disagree. Ladakh being a charming chameleon has a million different shades - each being unique than the other.
Diskit has numerous hotels and guest houses but I advise you to stay in any of the guest houses you find comfortable. Our driver took us to Zambala Guest House which was quite spacious and the hospitality was admirable.
Diskit is the capital of Nubra Valley. Being a high altitude desert, the temperature at night drops sharply so you need to be well equipped if you visit off-season. The town itself is very small and it would hardly take you half hour to walk across from one end to another. They don't have enough restaurants or shops so be mindful of all the things you might need during your stay in Nubra Valley.
Rest assured, you are in paradise. The vast night sky would be a delight to gaze upon for hours interrupted only by the moon-lit mountains. It was so cold out there that even the crickets were like -
Meh, I ain't chirping in this weather, dude.
Needless to say, we requested for a bonfire to be lit and they were happy to oblige. As we sat across the bonfire, we finally felt at peace. The previous couple of days were mostly visiting tourist places and returning to the hotel tired. That evening was different. It was calm, peaceful and devoid of any urban interference.
After a well cooked home-cooked dinner, we slept peacefully hugging the hot water bottles we were given.
Day 5 - Hundar'na Ki?
Diskit - Turtuk - Changmar - Hundar - Diskit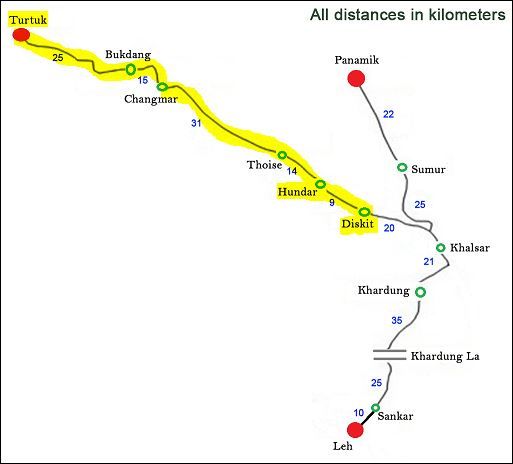 Before I even begin I'd like to tell you that Turtuk stole the show hands down. You won't find the mention of Turtuk in most places, not even on tourist maps because this small and scenic village was not open for tourists until 2010.
But before we proceed, let me wake up properly with a steaming hot cup of tea with home-made bread. I do not have a picture but when you're staying with locals, do ask if they have some Ladakhi bread.
The guest house did not have a proper terrace so I had to set up my tripod beside a solar water heater to shoot a quick timelapse.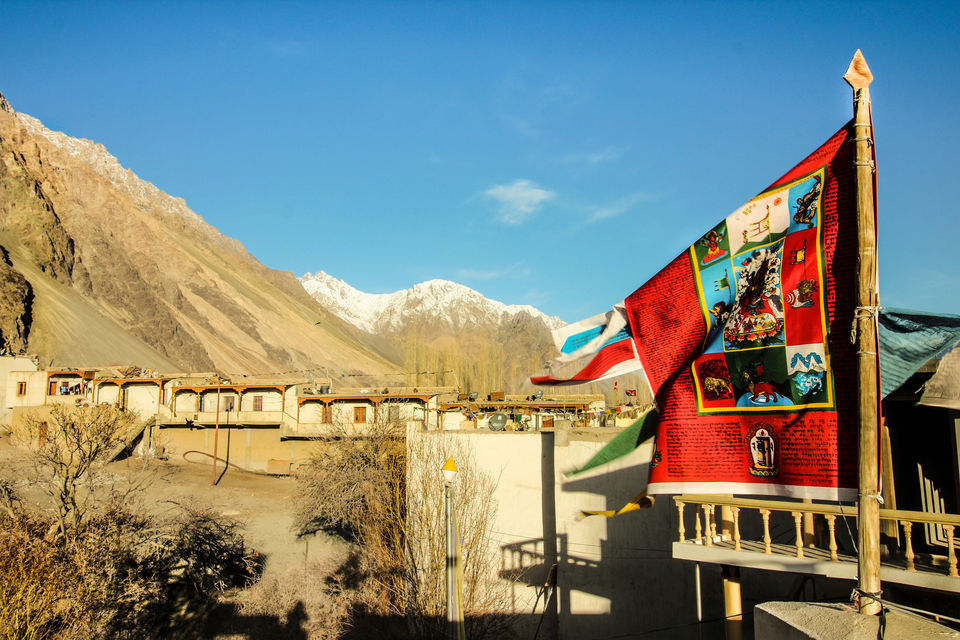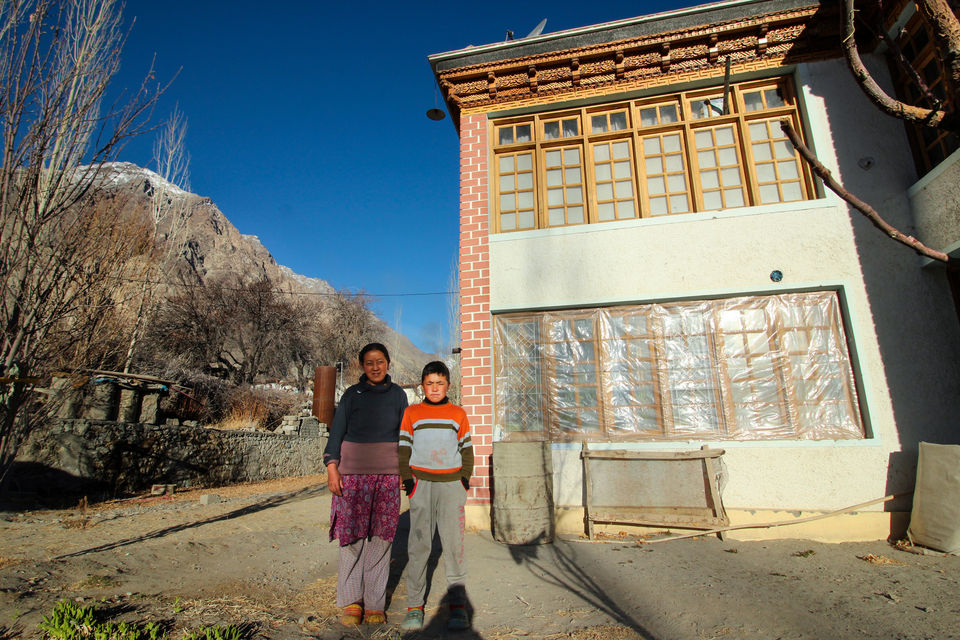 She was a phenomenal cook and a polite host. The kid was very friendly and was mostly seen with Raj Comics. A bar of twix later, he was happy to pose for a picture with me.
Go for Zambala Guest House. We ended up paying more than we were supposed to because they deserved the extra money given the hardships they face daily and non-availability of basic amenities. For eg - the two days that we stayed there, we got electricity from 6 PM till 11 PM only.
We stuffed our car with all the basic necessities and started our journey towards Turtuk.
We made a short stop on the road to take a few pictures of the famous sand dunes of Hunder.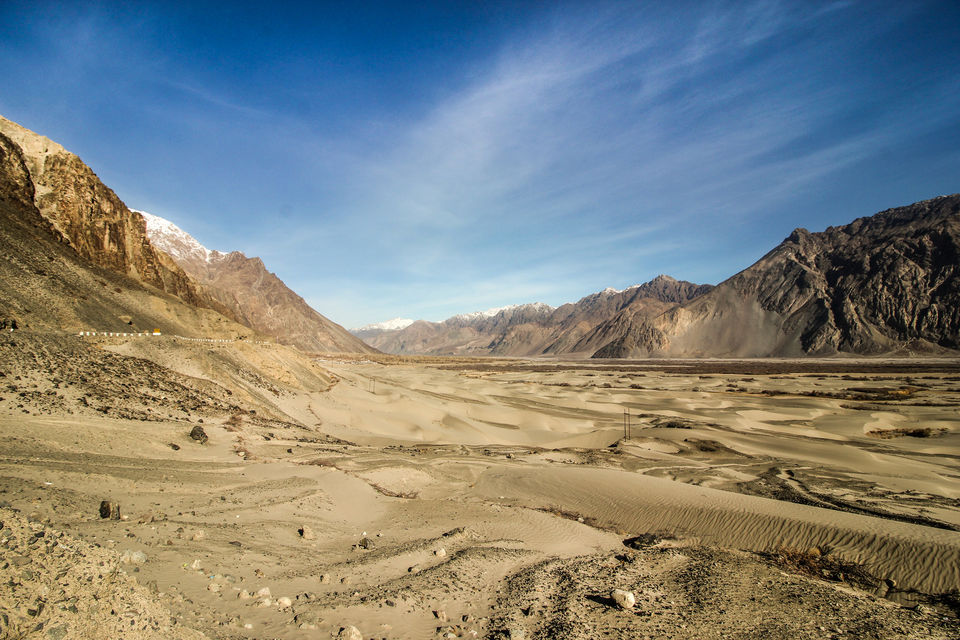 Our driver said that we'd stop by at the dunes on our way back but it was dusk by the time we returned. We should have spent some time here in broad daylight because as you can see, the winds have carved a sculpture out of loose sand and the shadows were adding a dramatic effect to this vista.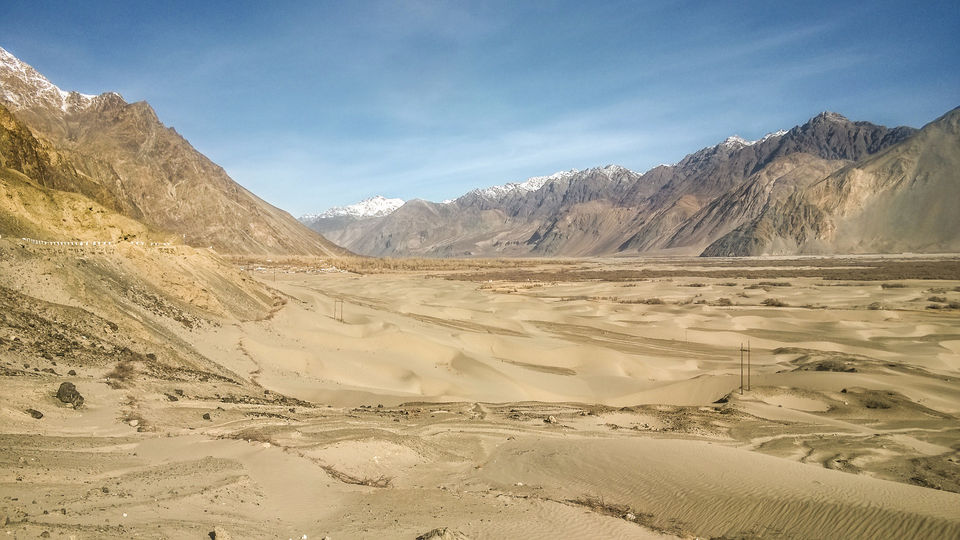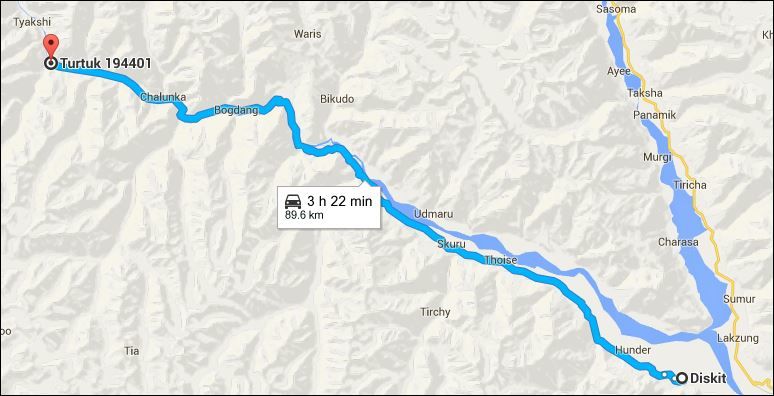 As we crossed Largiap Bridge and clicked a couple of pictures, we decided to stop by the river as after seeing it for so long, it was long overdue.
I think it's time to go shoe shopping.
Definitely. A landscape like this deserves a more beautiful subject.
As all our forms were in order, we quickly passed through a check-post.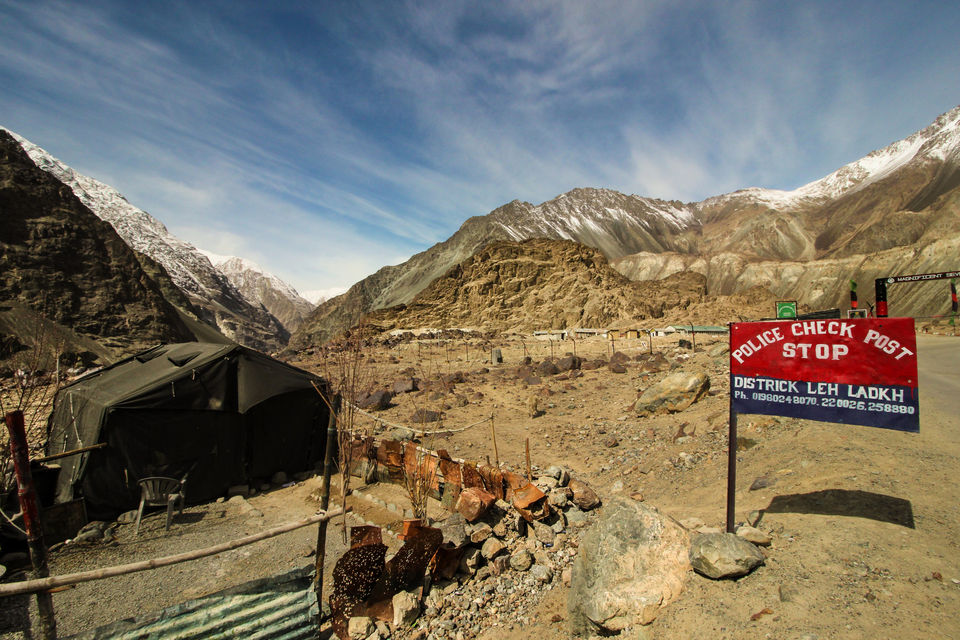 From the moment our eyes opened till we closed them at night, mountains were all we ever saw. Of different shapes, sizes, contours and color but mountains nevertheless.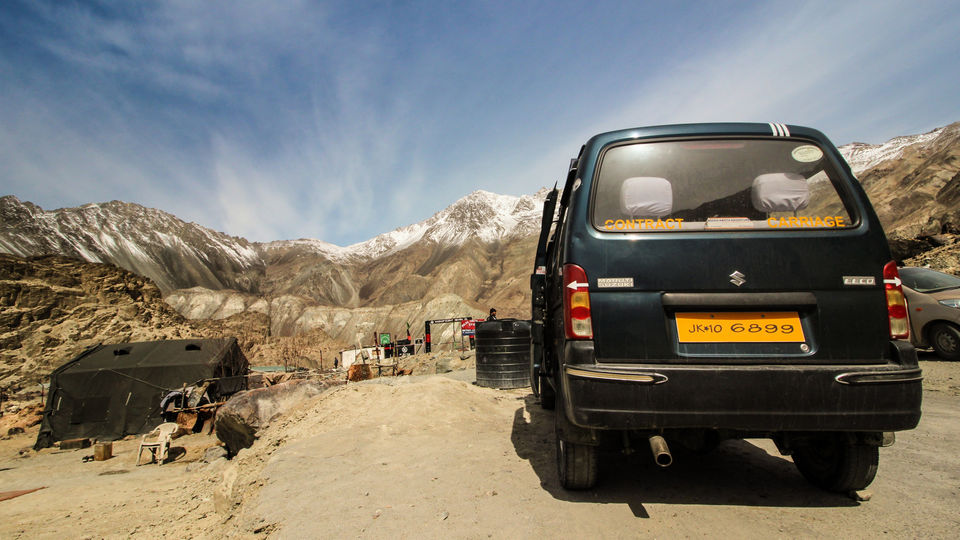 We had covered a several hundred meters until two locals signaled us for a lift to which we gladly obliged. We dropped them at Bogdang and proceeded towards Turtuk.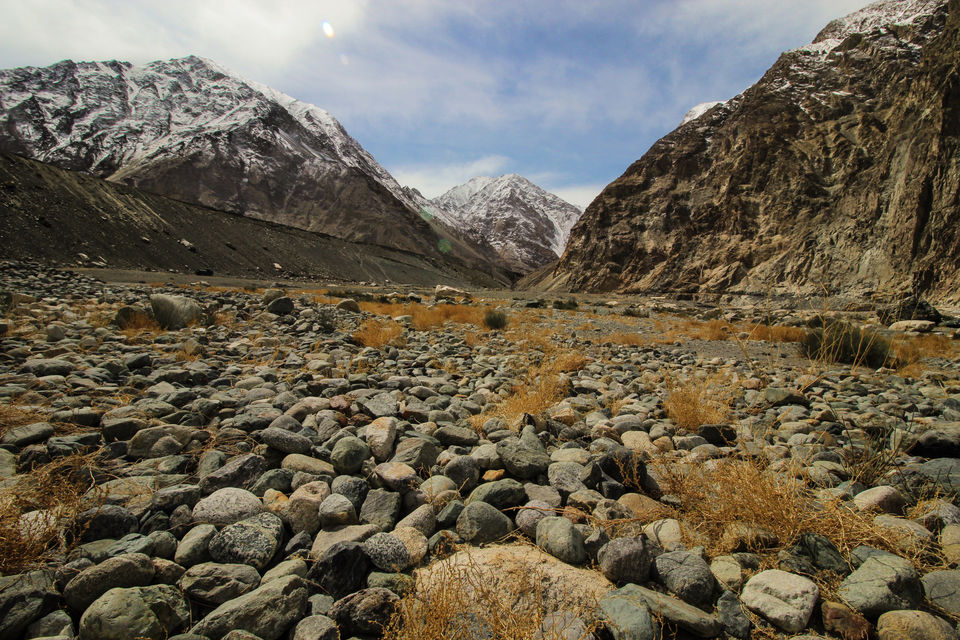 This was one of the places where our driver stopped for some reason we are not sure of, and we immediately got out to stretch our arms and breath in the mountain air. And to take pictures of course.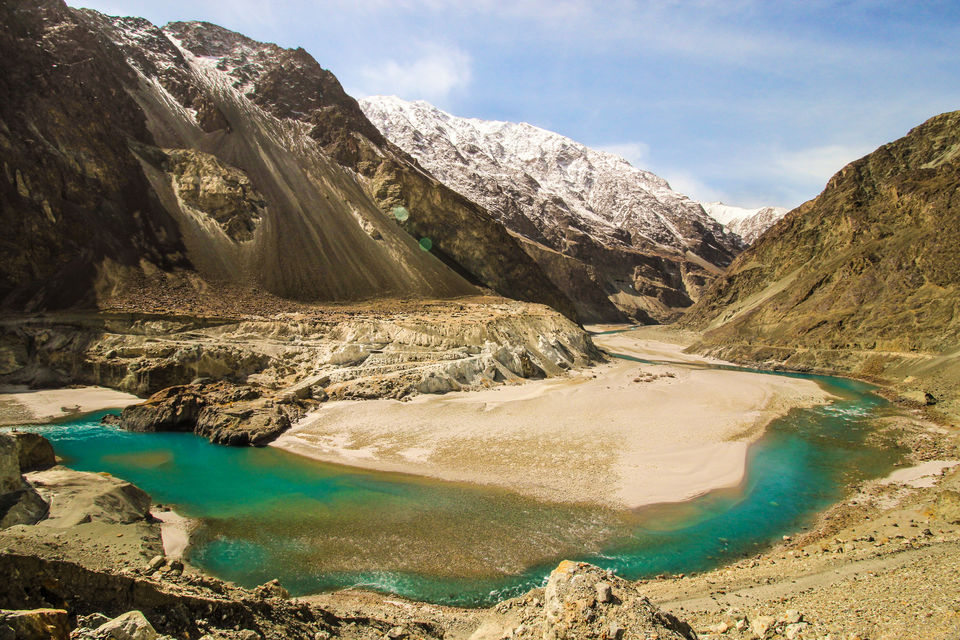 I clicked this picture from the moving car as we were following the river towards Turtuk.
After going on for half hour or so, it was finally time to play with the naturally refrigerated waters of Shyok.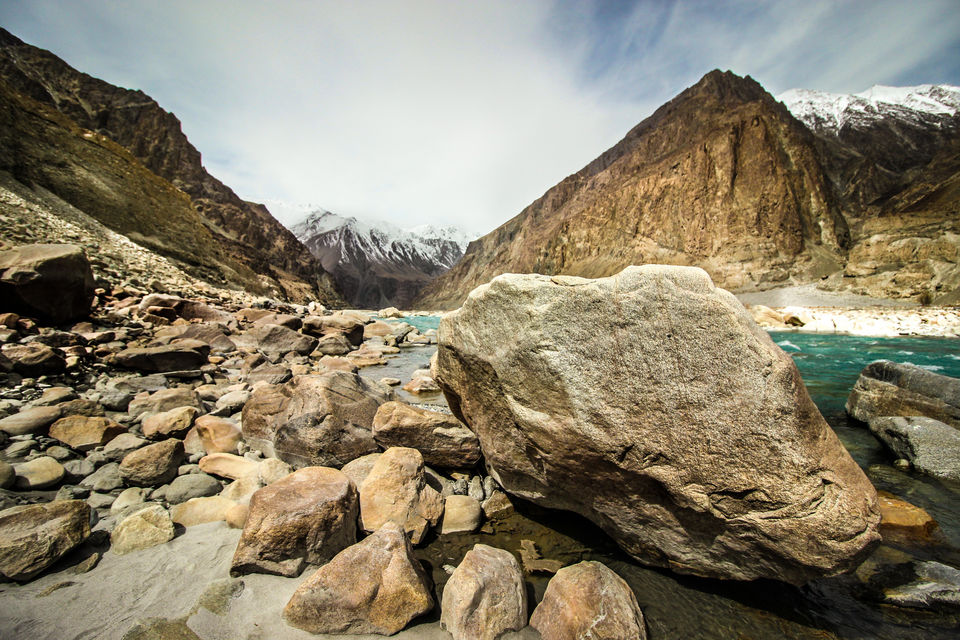 I wanted to dip my toes into the chilled turquoise blue waters but I love them too much to have left Ladakh without them. So I dipped my hands and screamed at the top of my lungs.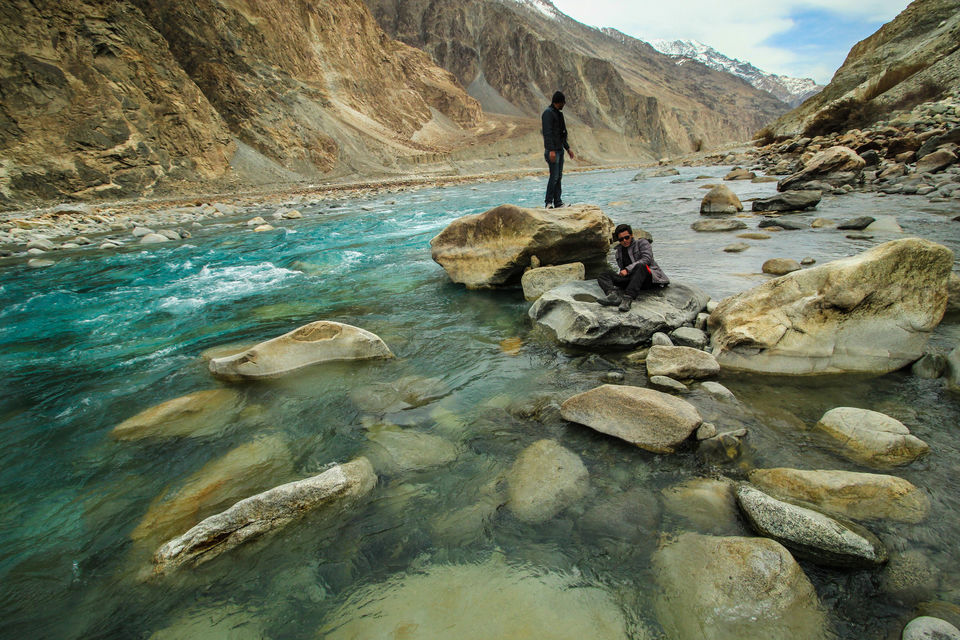 The gurgling sound of water cutting across the mountains making its way towards Pakistan calms your nerves and rejuvenation is an understatement to say the least. Merely spending some time on the banks chit-chatting with your companions will be a diving feeling and I strongly urge you to reserve a couple hours for this.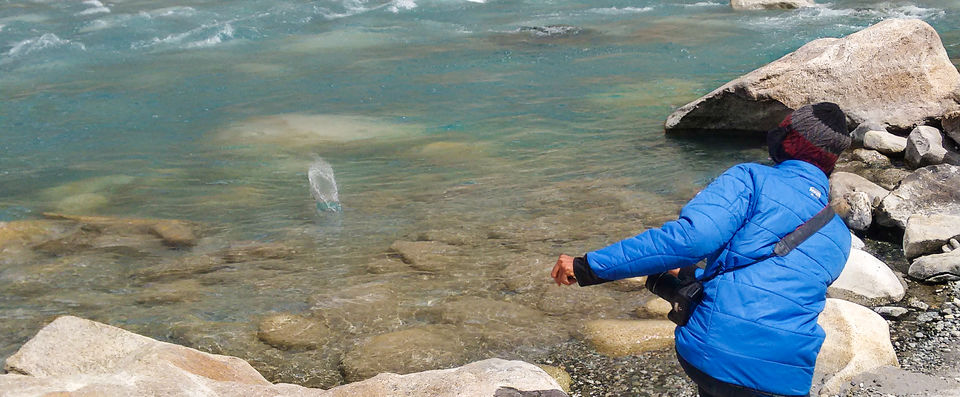 Parth, one of my friends managed to take this beautiful shot while I was busy skipping stones in the river. Picture Perfect!
We finally reached Turtuk which is almost the last village before the Indo-Pak Border. It's a small Muslim village which was under the reign of Pakistan before 1971. We had lunch at one of the restaurants which server great aloo-paranthas.
As my other two friends were busy chatting with some of the locals, my driver took me deeper into the village to a local's house. He had a guest-house on a small hilltop with a small farm adjacent to it.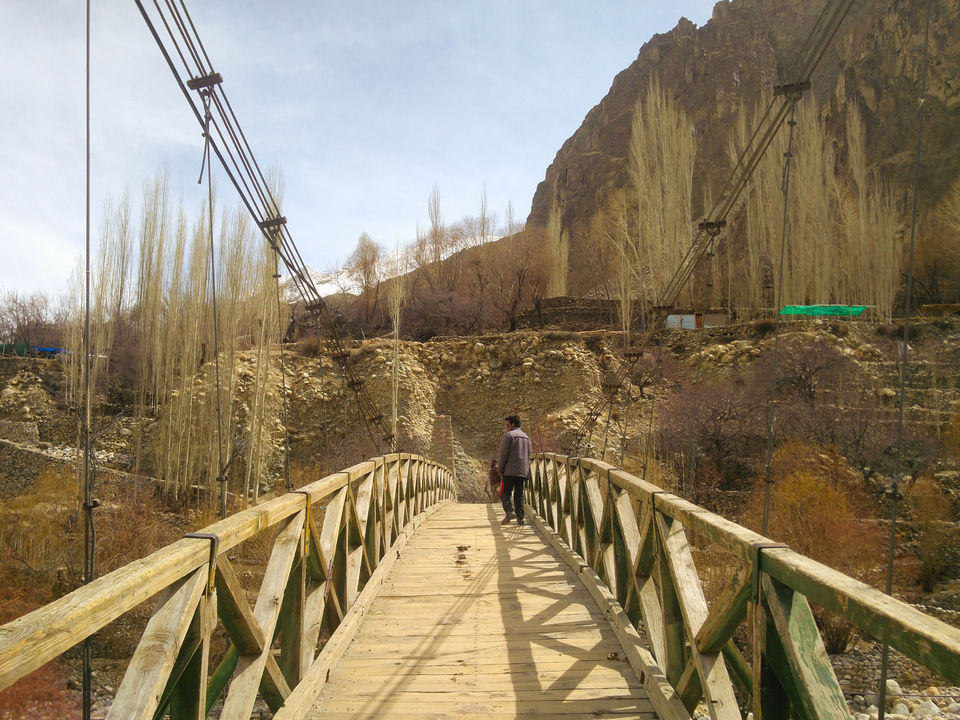 This small wooden bridge used to shake while walking so I requested my driver to do a dance while I recorded the bridge swaying on its sides.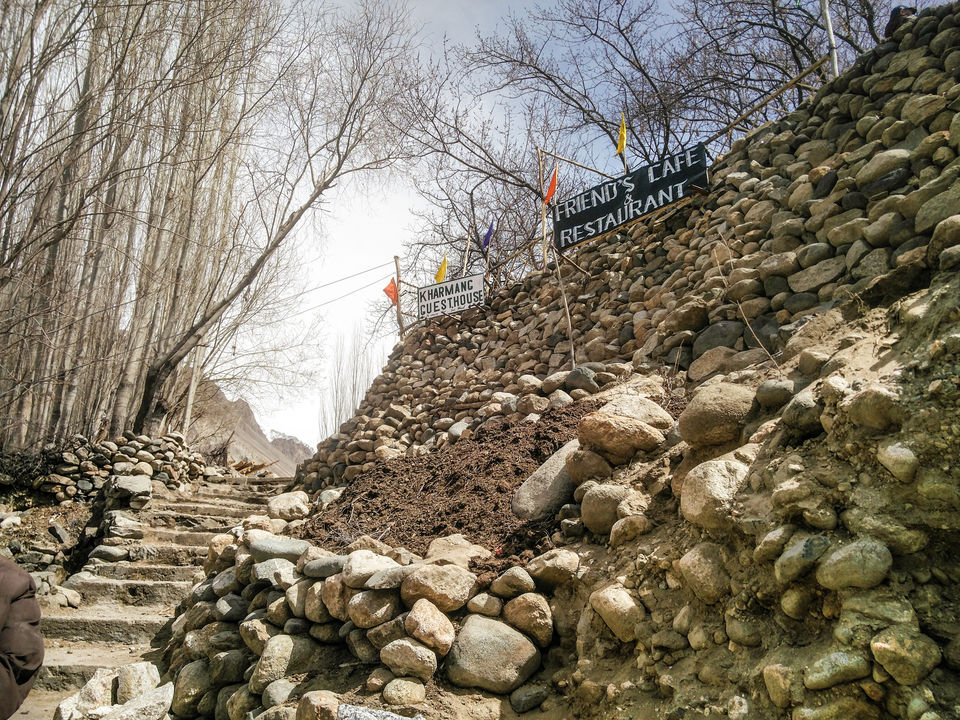 Upon asking what he used to grow, he answered that the land was very fertile for crops to grow seamlessly. This scenic village is full of apricot trees and I ended up buying a kilo of apricots and walnuts each.
The local informed me that he was Pakistani by descent and all the stories passed on to him by his fathers and grandfathers were still afresh in his mind.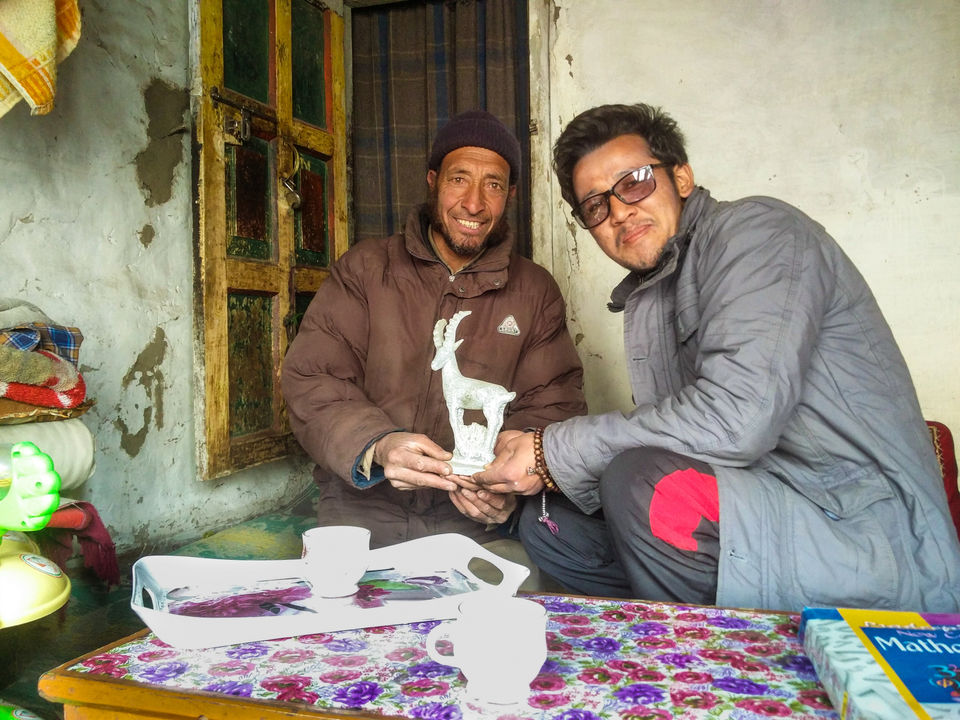 My driver receiving a stone carved deer by the friendly local who served us delicious gur-gur chai and home-made bread. If you're in town, make sure to buy one of those sculptures as they are intricately sculpted with an immaculate finishing that would look great in your living room. And as a weapon to hit your spouse on the head if they irritate you.
I was officially in Pakistan without a Passport or VISA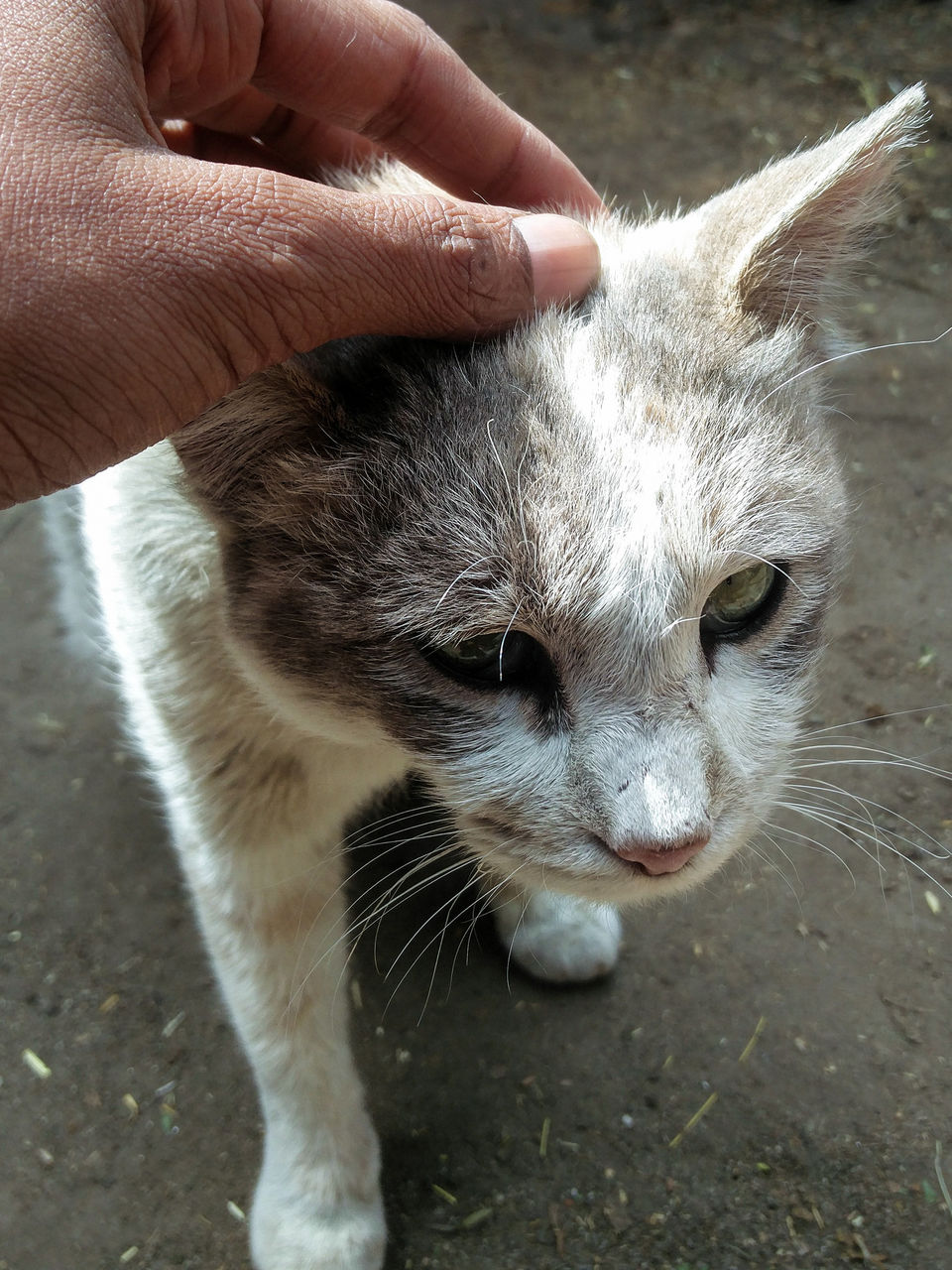 The local had an ass and a calf in his home who started screeching the moment I entered. A rare phenomenon occurred when this cat started meowing and came to my rescue from nowhere. She was perched up high on a tree(again, in his home!) and glided down to rub herself against me, trying hard to trip me over. She purred for a little while and after a couple pictures, I bid her farewell.
After spending a fair amount of time, we started our journey back to Diskit with a local who wanted a lift till Bogdang. Just outside a couple miles of Turtuk, the localite told us about a gentle stream of water which originated from a glacier on the other side of the mountain. According to him the water was potable and we readily gulped down the sterling water which was ice-cold.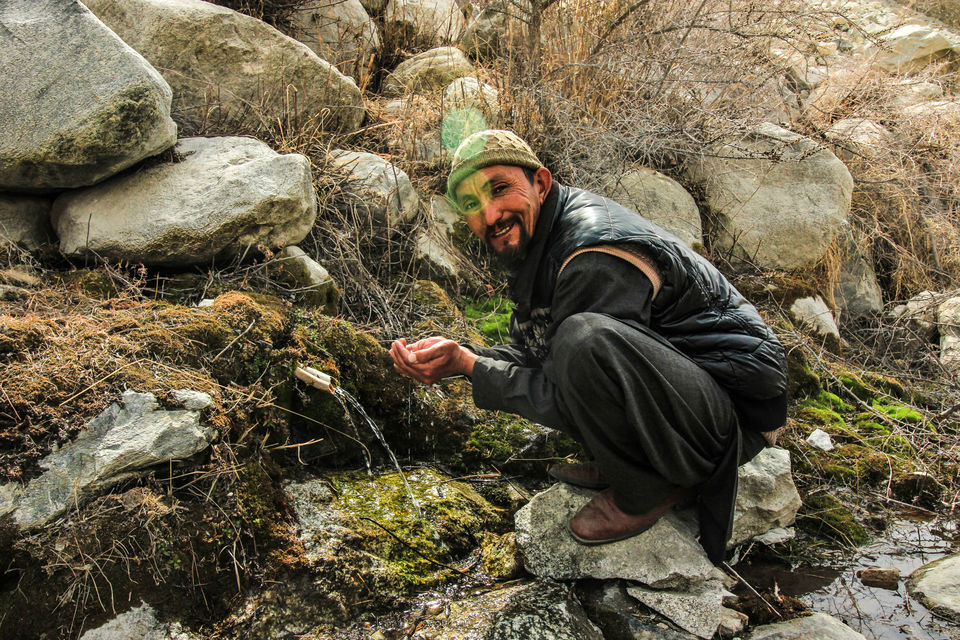 The driver conversed with him in their cryptic language for quite a while before we stopped at the banks of Shyok once again where there was an abundance of grey sand.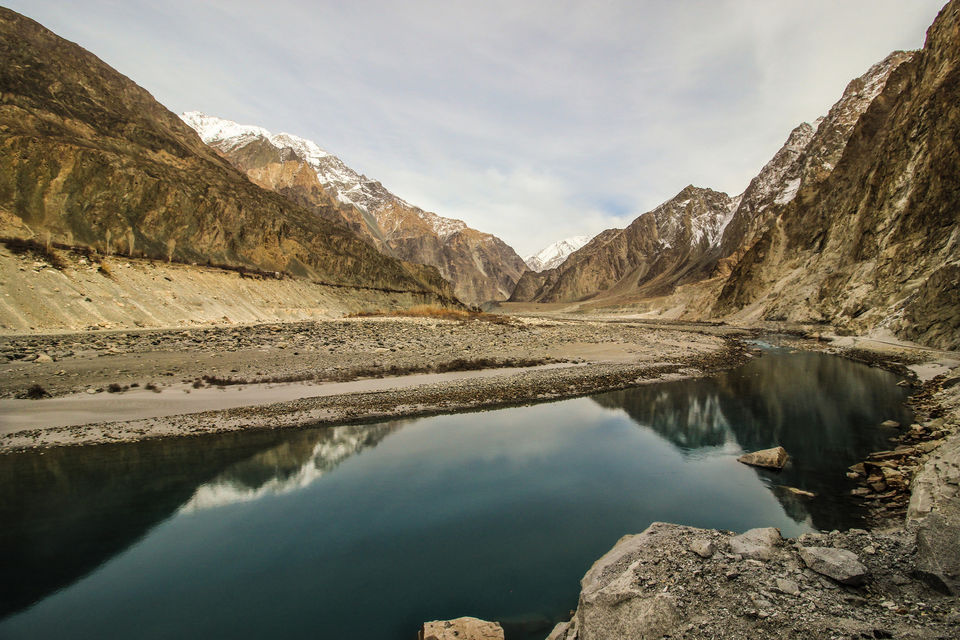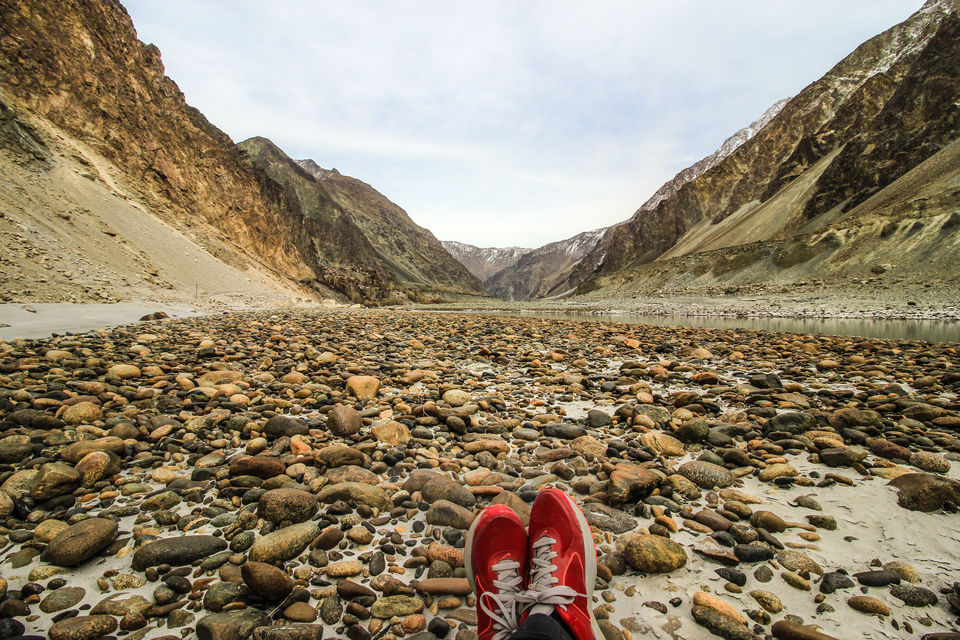 When you don't have internet, a view like this makes you feel connected to the nature. We never got signals on our phone during our entire stay. Also, the entire town of Leh didn't have internet anywhere due to some line problem. So, all we had was a simple phone with to let our homes know about our whereabouts.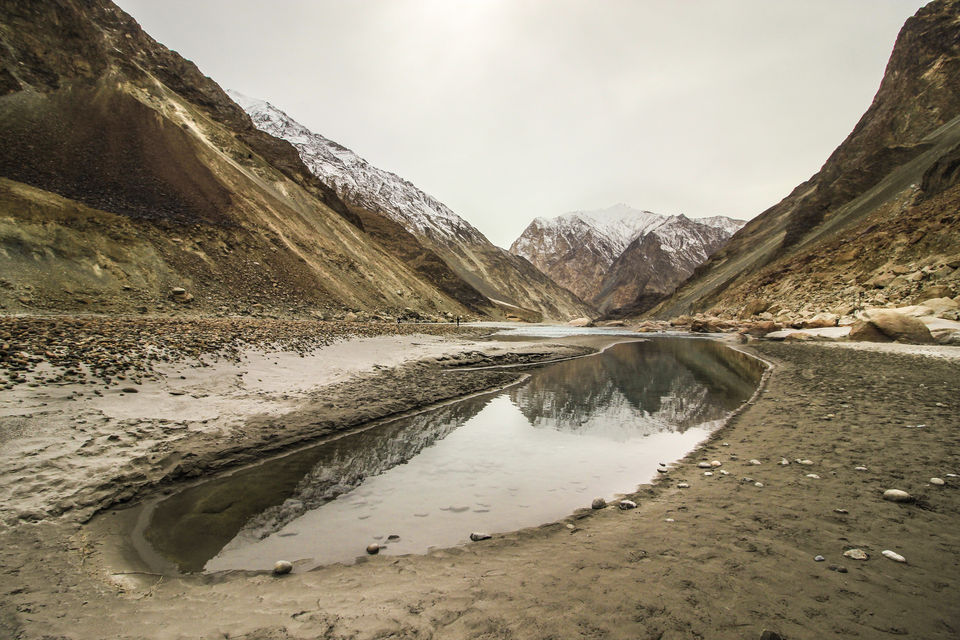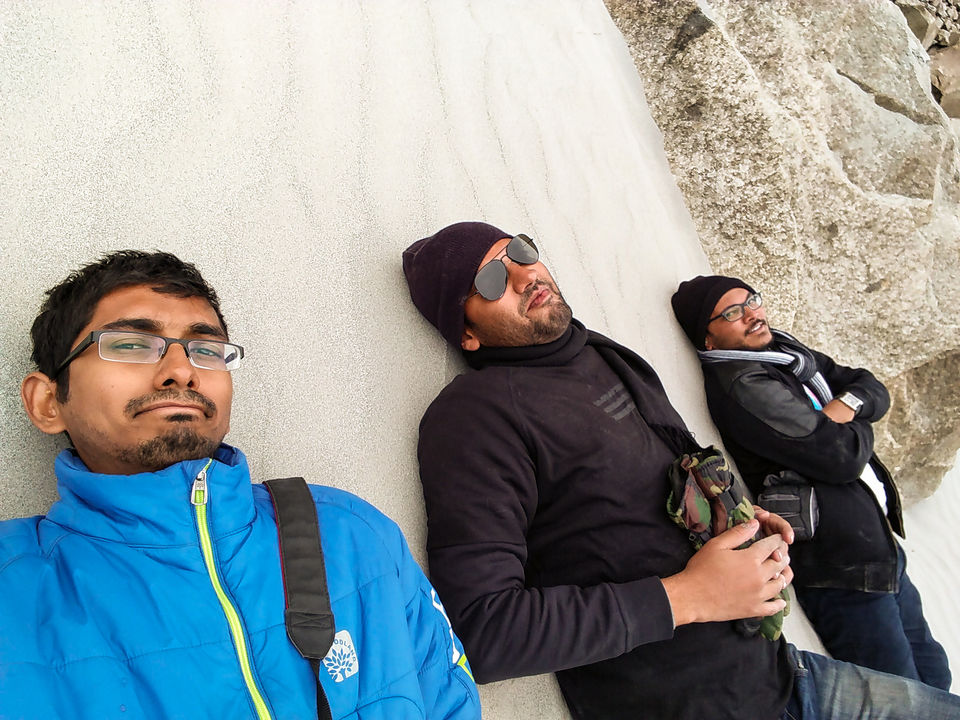 jus chillin' with baes
The sand was so pure and slushy that without a second thought we thought it was best to just lay down and stay that way for an hour or so. Later did I realize I had sand in places I'd better not elaborate.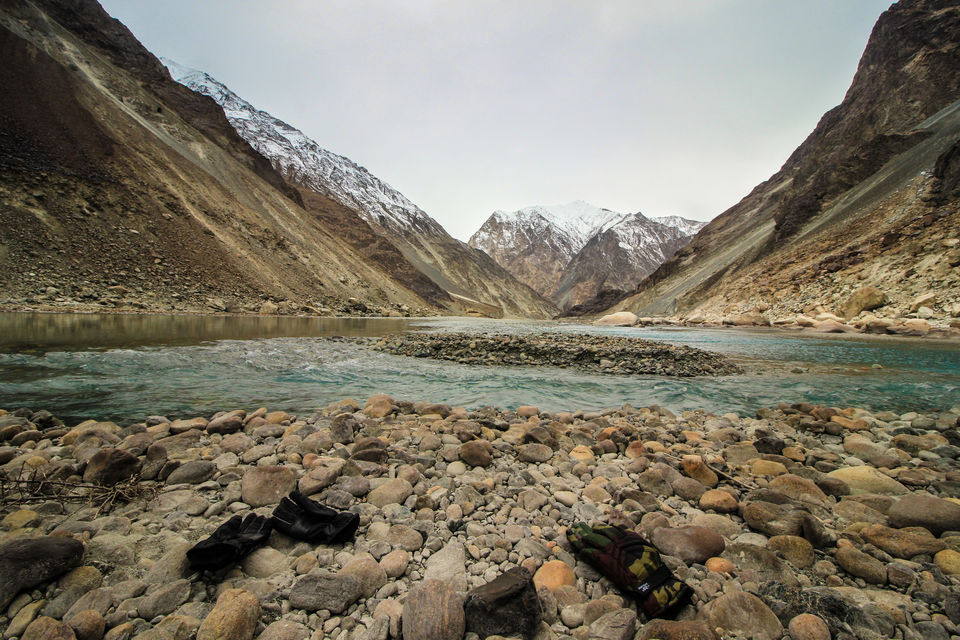 I recorded a small video of the water splashing its way giving way to a nano rapid. Our driver informed us that when the water rises during summers, you can experience the bliss of river rafting here.
The day was nearing to an end and we rushed towards the sand dunes of Hunder. The day had already set so I had to tune-up the pictures a little bit.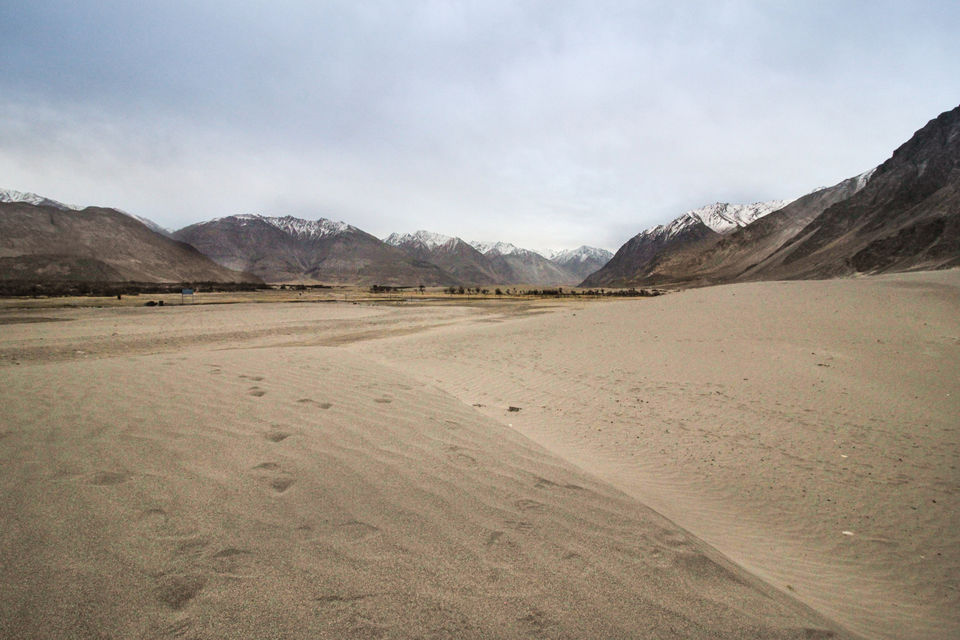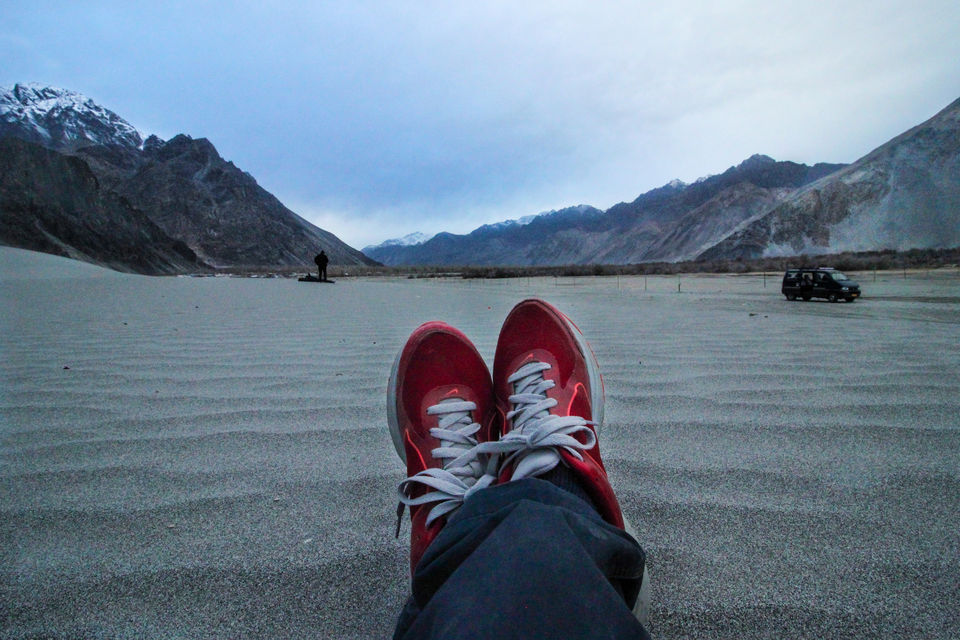 If the presence of a sun kissed desert in the midst of mountains blessed with a stunning turquoise blue river isn't majestic, I don't know what is!
The day ended on a perfect note with a bonfire again surrounded with conversations. By conversations I mean our driver was doing the majority of talking and we, listening intently. The following day was supposed to be the longest ever as we had to complete an ardous journey till Pangong Tso via Shyok.
Our driver requested us to be ready at 7 AM sharp in the morning but he knew it in his heart by now that how specific we were with timings.
Dude, chill. It's a vacation. You make it feel like a regular day at our boring jobs.
Day 6 - Pangong was Tso Beautiful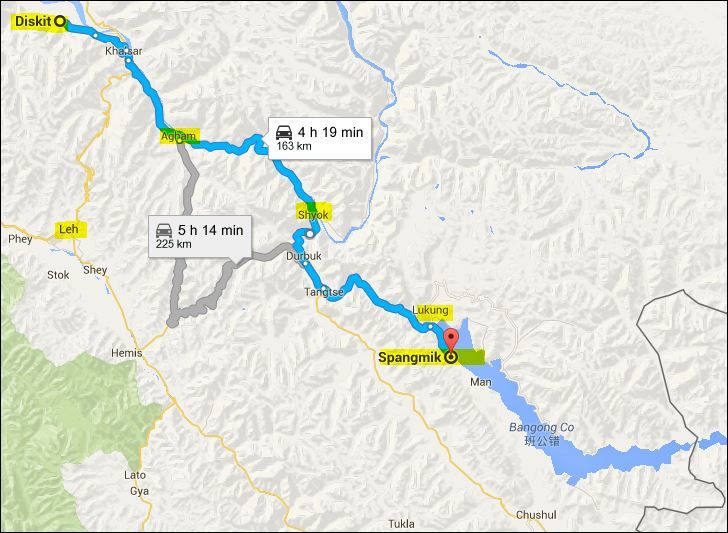 The route in grey is the route which everybody prefers. Not even seasoned drivers try to tread on the Shyok route which we chose for the day. But as you must have judged by now, our driver Stanzhin was never short on adrenaline and off we went towards Pangong Tso at 8 AM sharp the next day.
We had breakfast at Khalsar where we were greeted(read ambushed) by an army of fluff.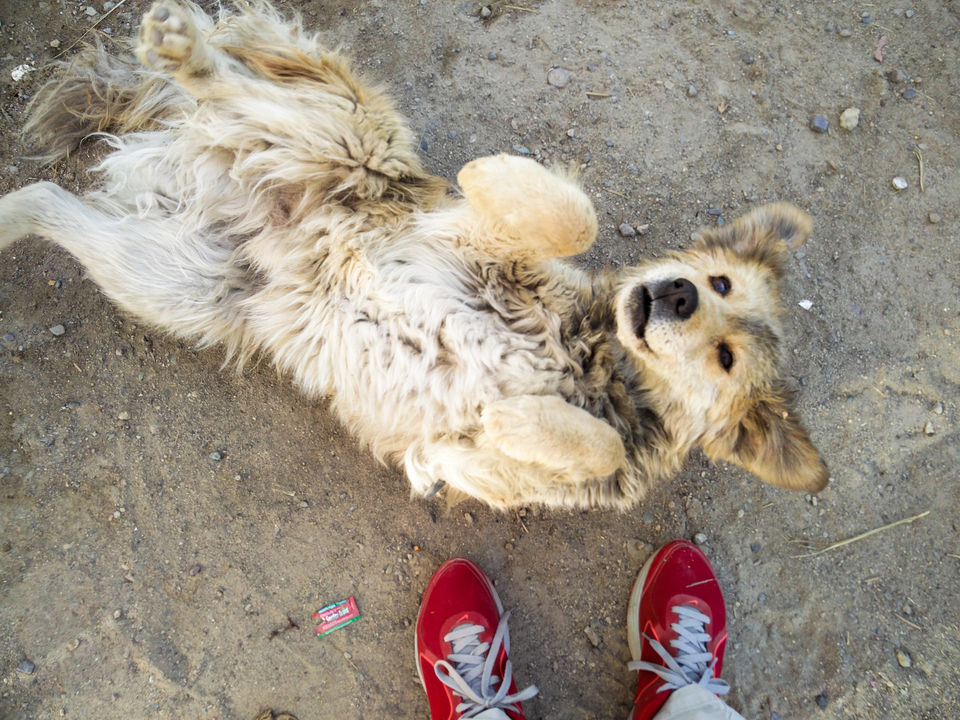 Ladakhi dogs have been thoroughly adapted to the extreme cold and that is apparent by their thick fur.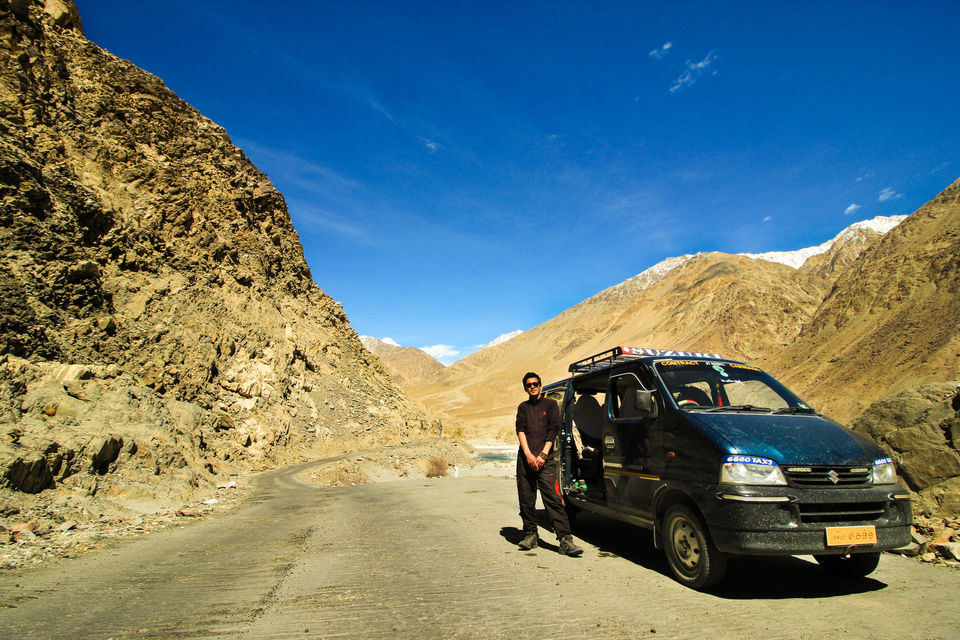 We had to make a refueling stop before proceeding towards Pangong. As we spilled some petrol on our hands, we rushed down to the river to wash it off. Not that I wanted to.
The road was so rocky we were moving at a snail's pace. It had no road-signs hence we had no idea if we were even on the right path. This is when our driver made an abrupt stop and started messing with our minds that we might have to turn back. As we were already half-way into the day, we were almost sure that the day was wasted.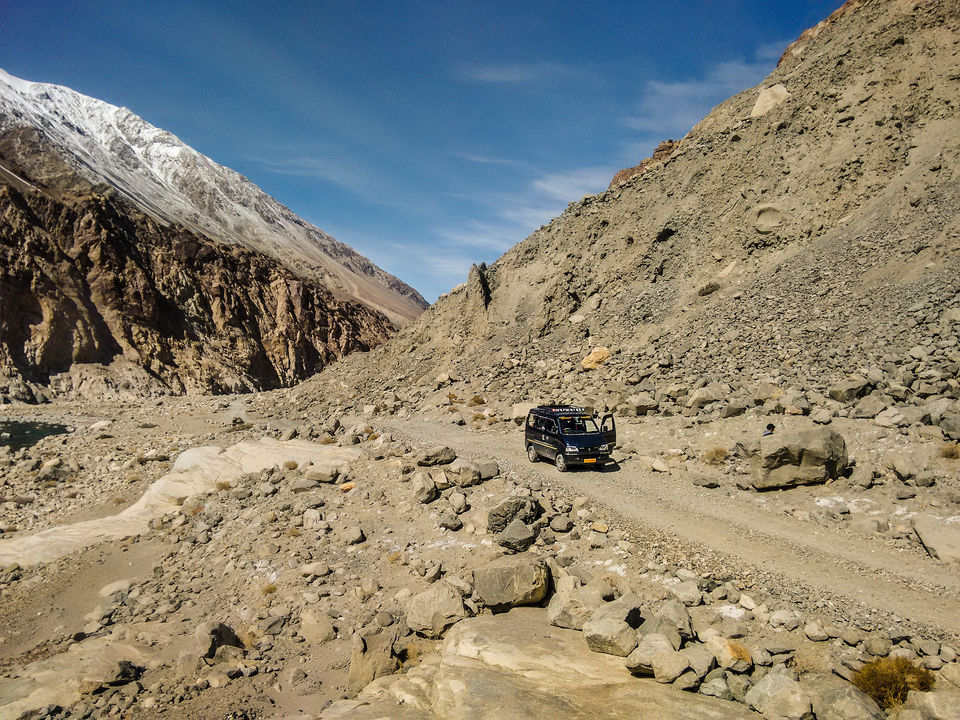 Till Durbuk we only saw two cars passing by. Let's put aside the tranquility of this place for a moment and imagine the eerie situation we were into.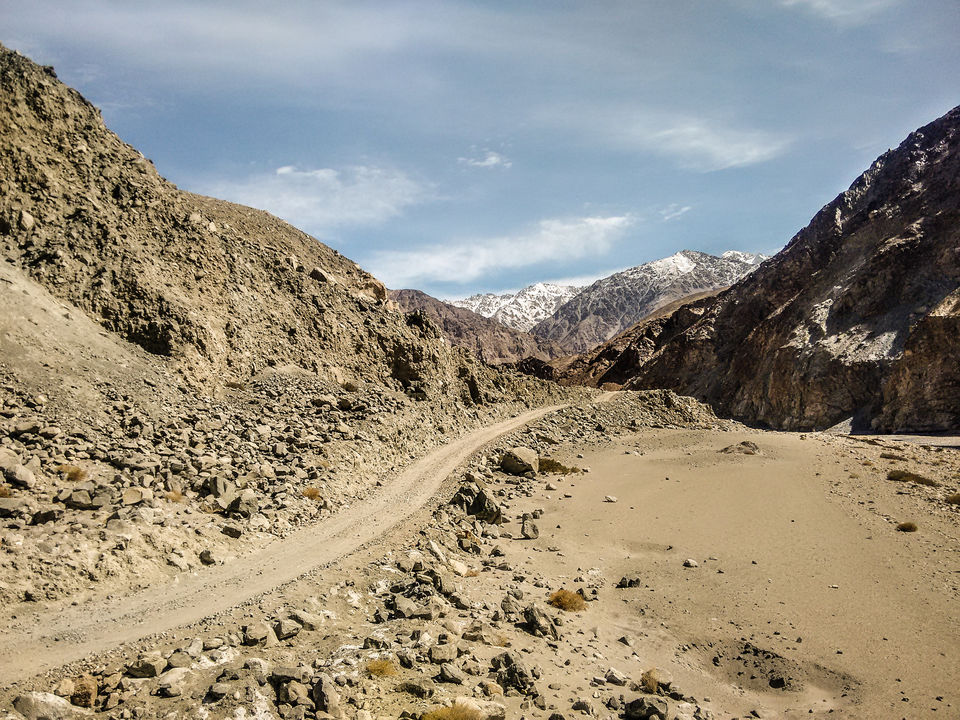 Turns out, we didn't have to take a U-Turn. Stanzhin was only giving us a taste of our own medicine.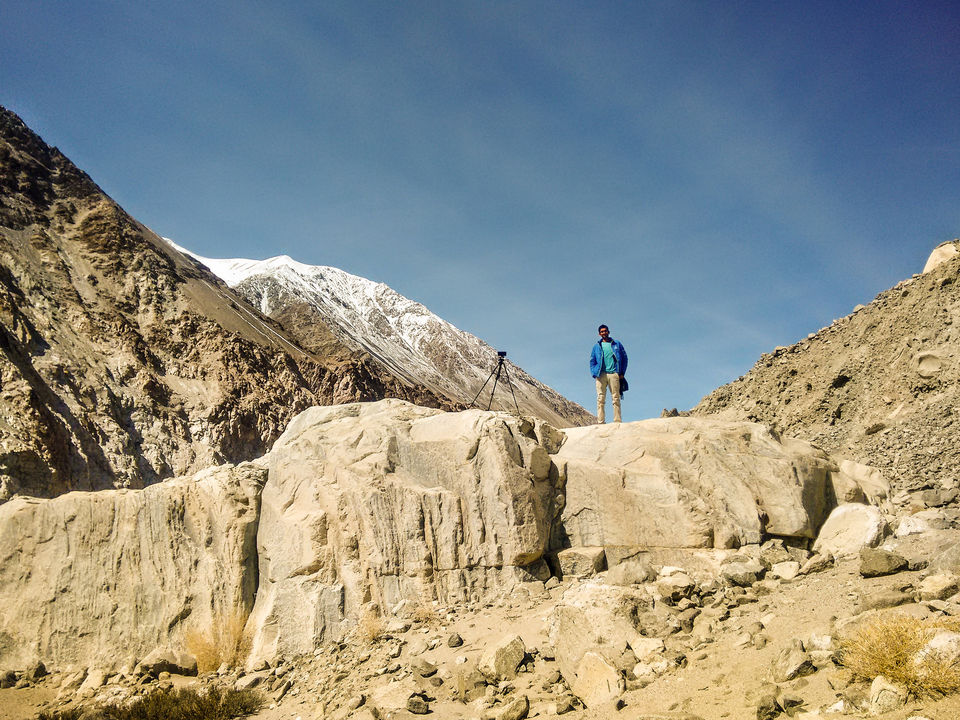 For the love of blue, color of the sky and sea.
When we reached Durbuk, a small village along the route, we stopped briefly to take some photographs.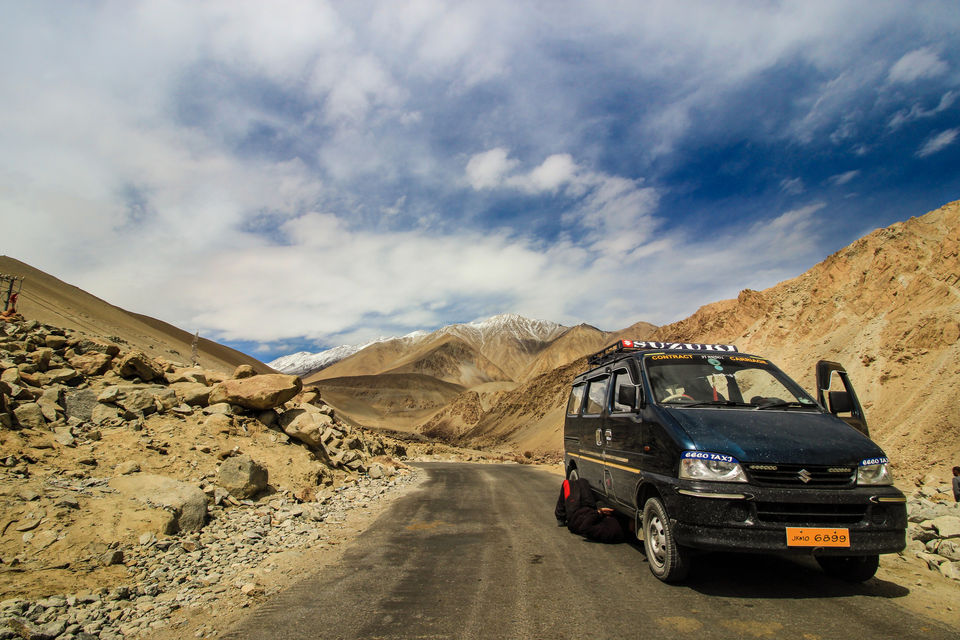 Sit by the road on a sunny day and try to trace the mountains. Ask for lift till the village and have a jolly time. If I'm in Ladakh next time, I'll stay in the remotest of villages possible for downright solitude.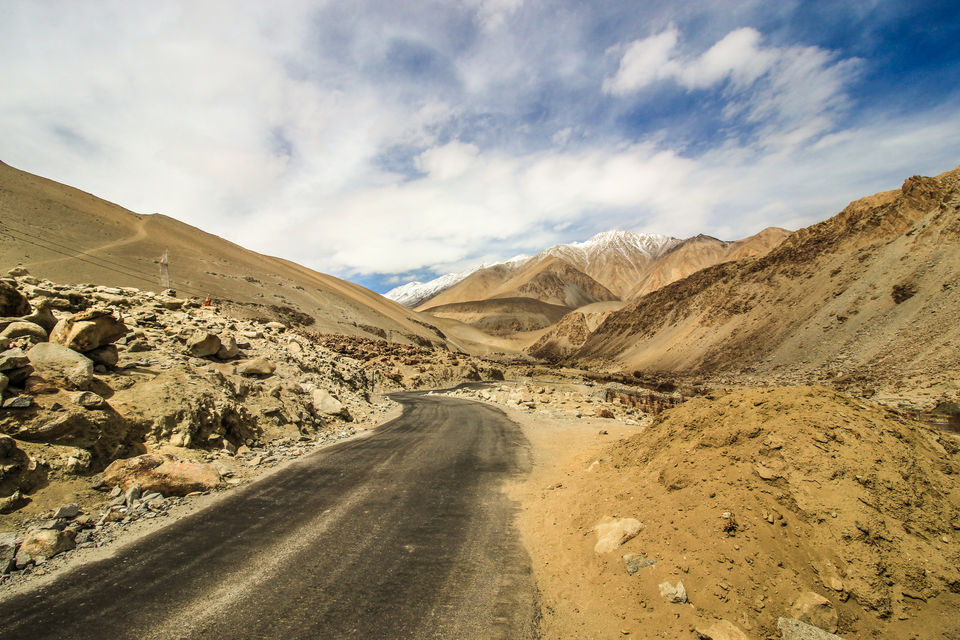 After submitting one final form at Tangtse, we were blessed with well laid-out roads till Lukung.
At one particular turn we saw a flock of sheep grazing away and it instantly took me to Triund.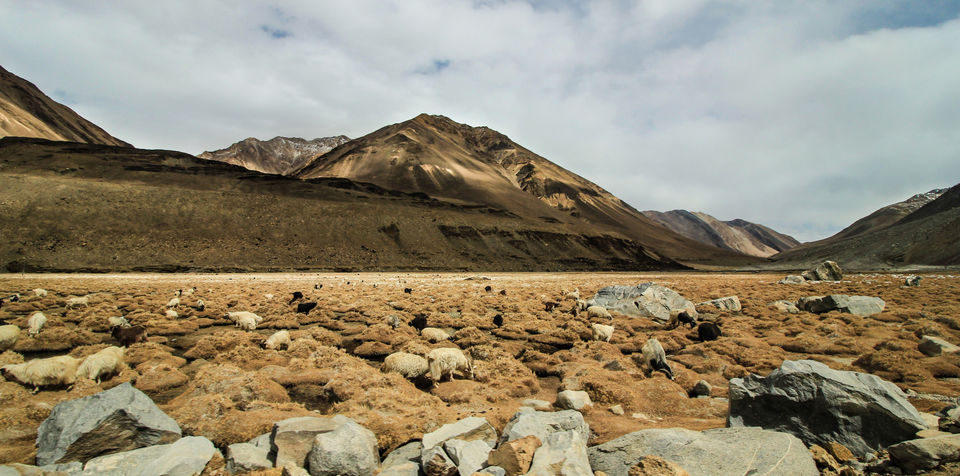 At this point, every KM seemed to feel like a parsec to us but after a short ride in the car, there it finally was. The Pangong Tso in double its glory -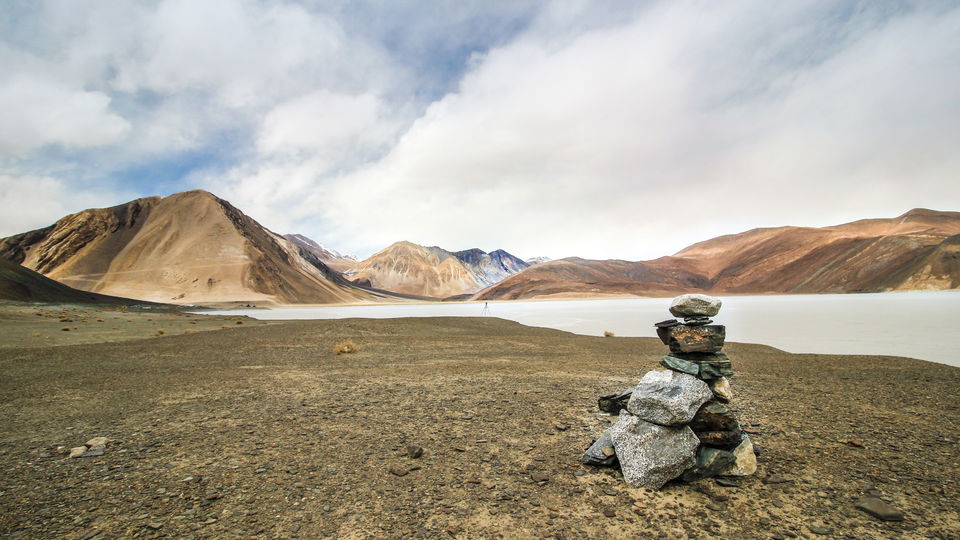 THE LAKE WAS FROZEN!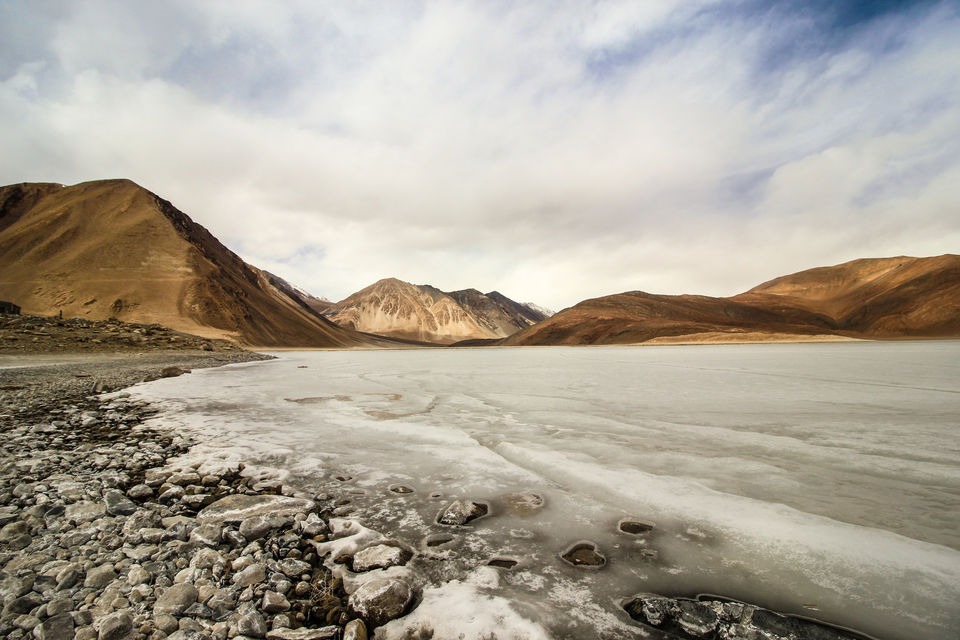 LIKE FROZEN FROZEN!
On the banks of the lake, we could spot the thin ice wielding outwards. To get a glimpse of the water inside the sheet of ice, I broke a small part of ice carefully.
I shot a couple timelapses with the tiny hills as silhouette.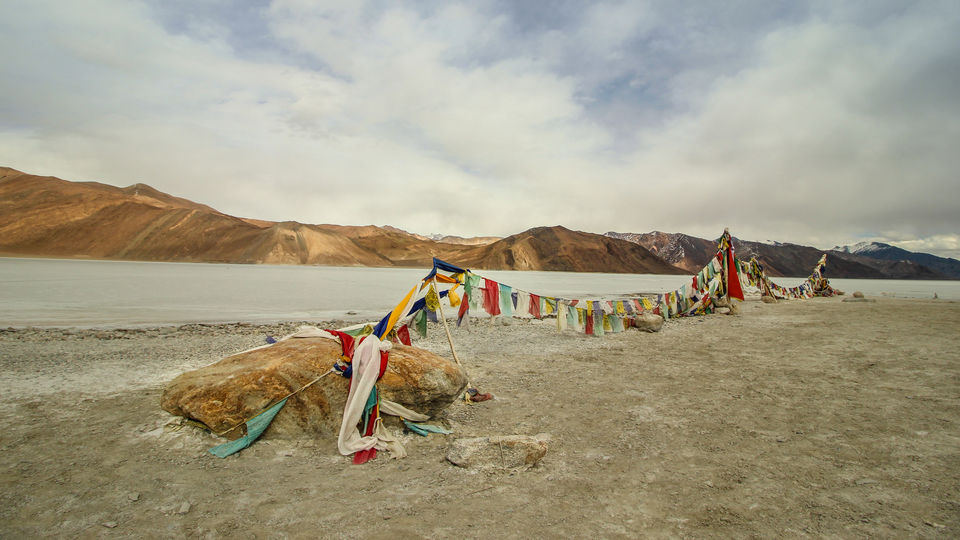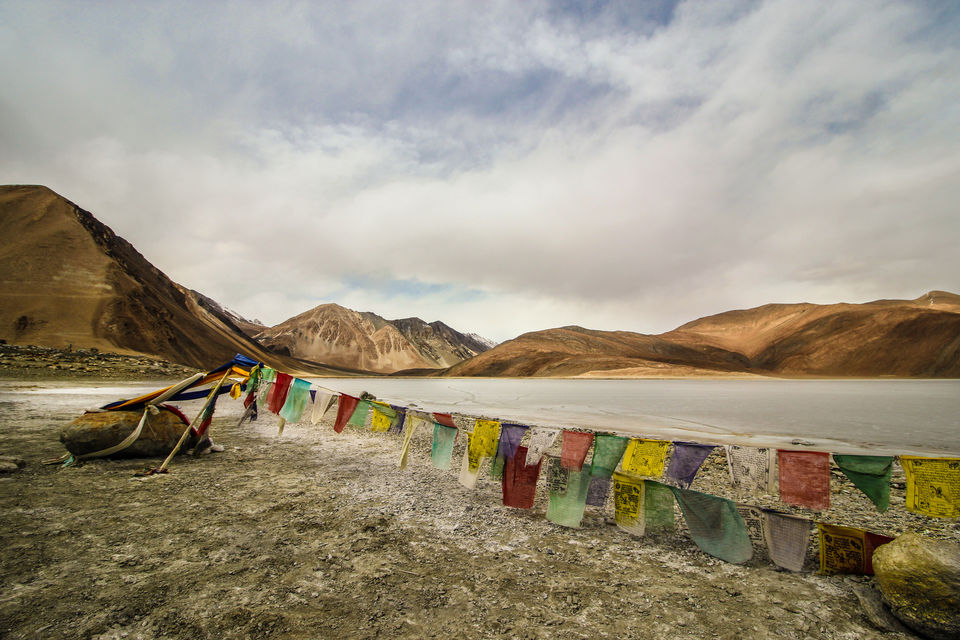 Again, do not step over the flags.

For a better view of the panoramas, click here.

That's me.
Off season perks - we were the only guys here besides the cafe owners. We tread carefully on the ice for a quick photograph and came back on the shore immediately.
It was becoming darker by the second and if you're thinking the adventure ended here, it hadn't even started. And by adventure, I mean frightened to death.
The route back to Leh was something like this -

A few kilometers from Tangtse, our Eeco gave up. Due to a problem in its spark-plug which happened the day before, its pickup was gravely affected. As a result, it refused to move uphill. As we were already late and with no cars in sight, all we did was to push the car at steep corners and sit back in panting like a dog with our lungs out.
The distant mountains which we were able to see clearly were being shrouded in a big ball of white fog and it seemed to come directly towards us.
Yes, if you watch enough movies you know where this is headed, right?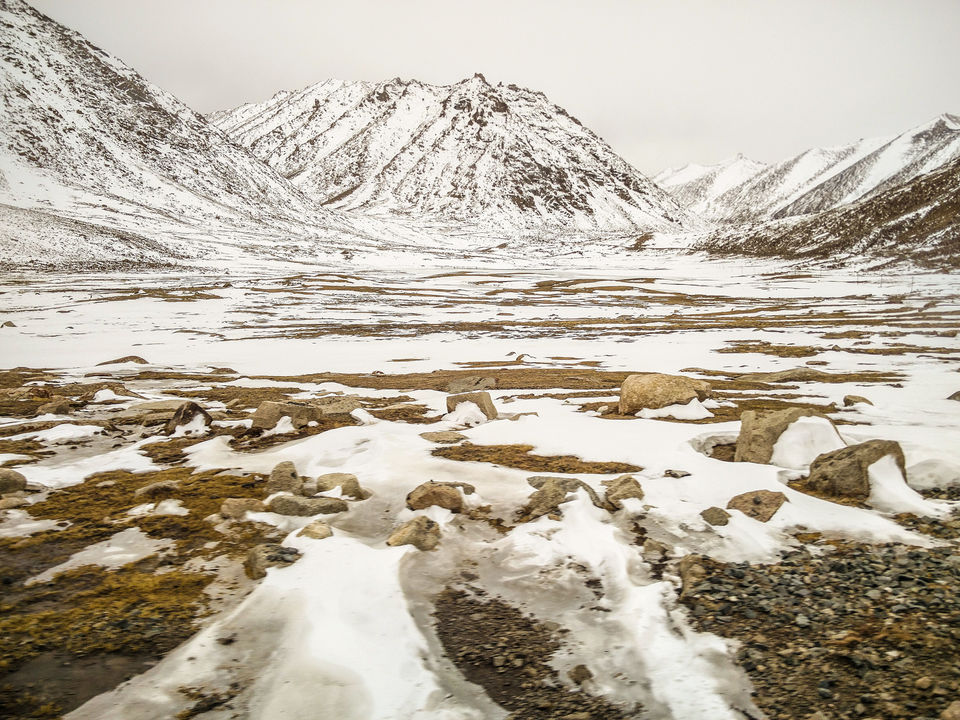 Undoubtedly there were views like this out the window but we wanted to live to see this another day.
Just when we had almost given up, enter saviors. An Innova stopped by and offered the two of us some space so that the baby Eeco could climb uphill without any hassle.
The entire time we were in the backseat of the Innova, our eyes were constantly fixated on our car which was moving in front praying we get pass the climb safely.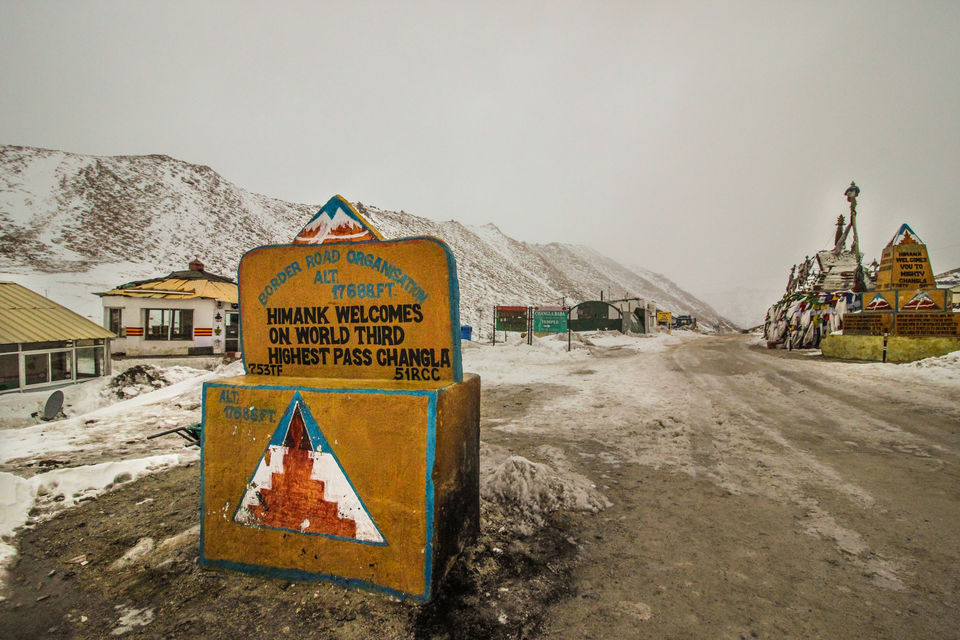 Thankfully, we did.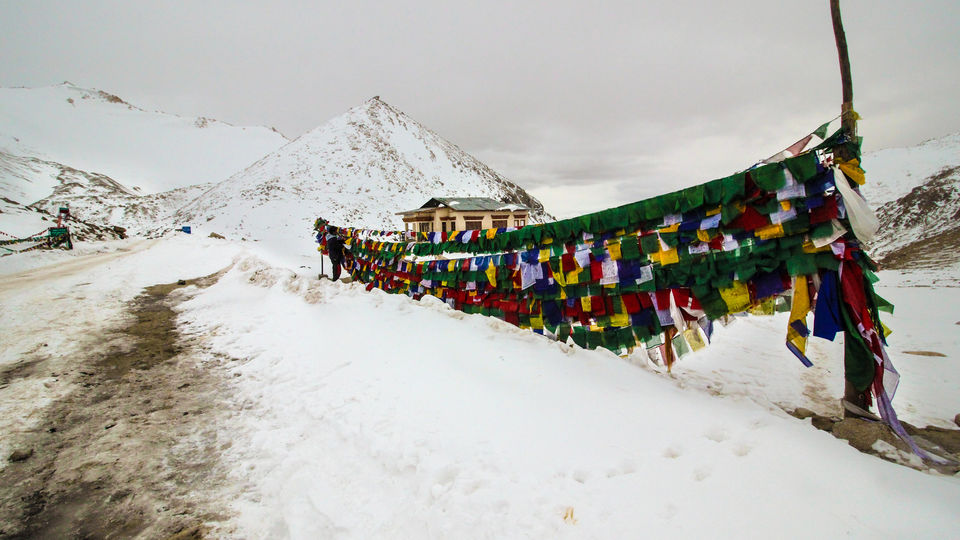 TIP: Help out anyone in need. Especially in a region like Ladakh because it's bound to return to you some day.
They dropped us at Chang La because the roads were now down-hill and the driver assured us that we should be alright now. We thanked them for their kind gesture and proceeded towards Leh back to our hotel.
I have been scared before but never petrified. It doesn't matter how much you plan, something is bound to go wrong and from there it's all about nerves.
We slept peacefully that night. Atleast I did.
Day 7 - Stupa'fied by Donkeys
The last day was kept as a buffer by us in case something goes wrong. But fortunately we were still breathing just fine. I called up my driver to show me a couple of things around the town.
Our first stop was Leh Palace from where you get a bird's eye view of the entire Leh town.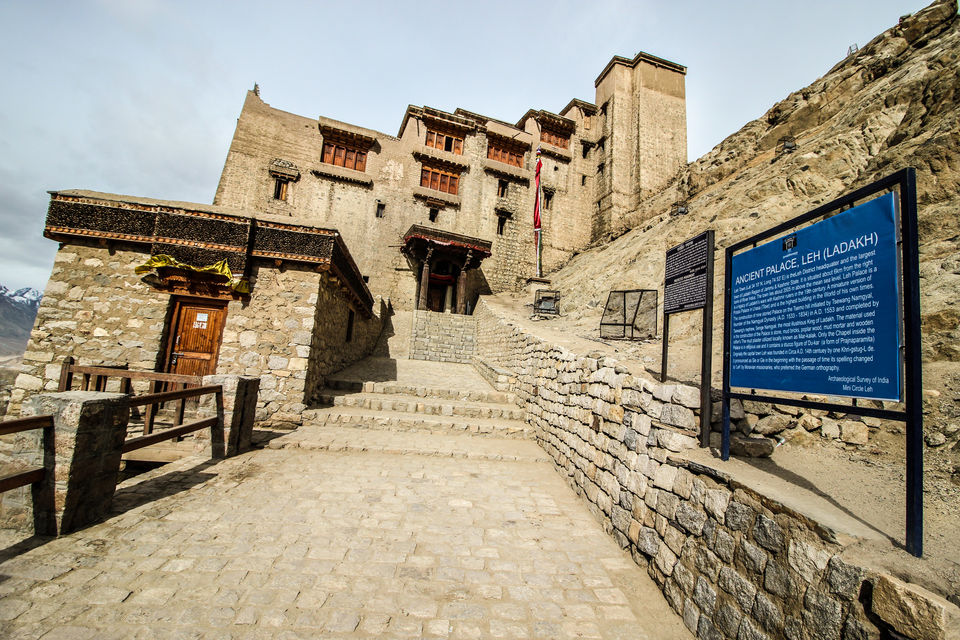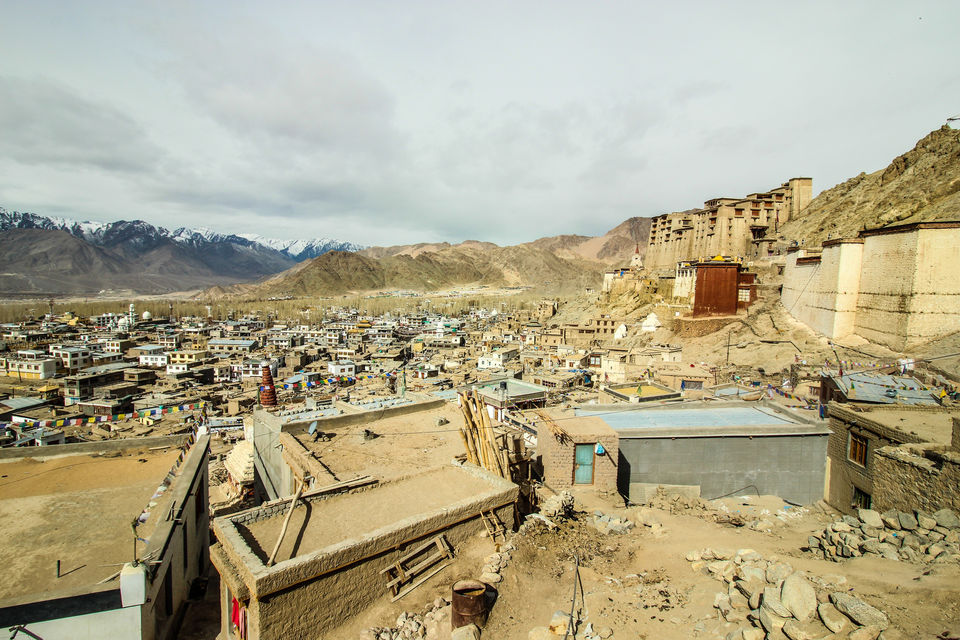 I shot a timelapse here and then we reached Donkey Sanctuary which I wanted to visit the first thing since we landed here.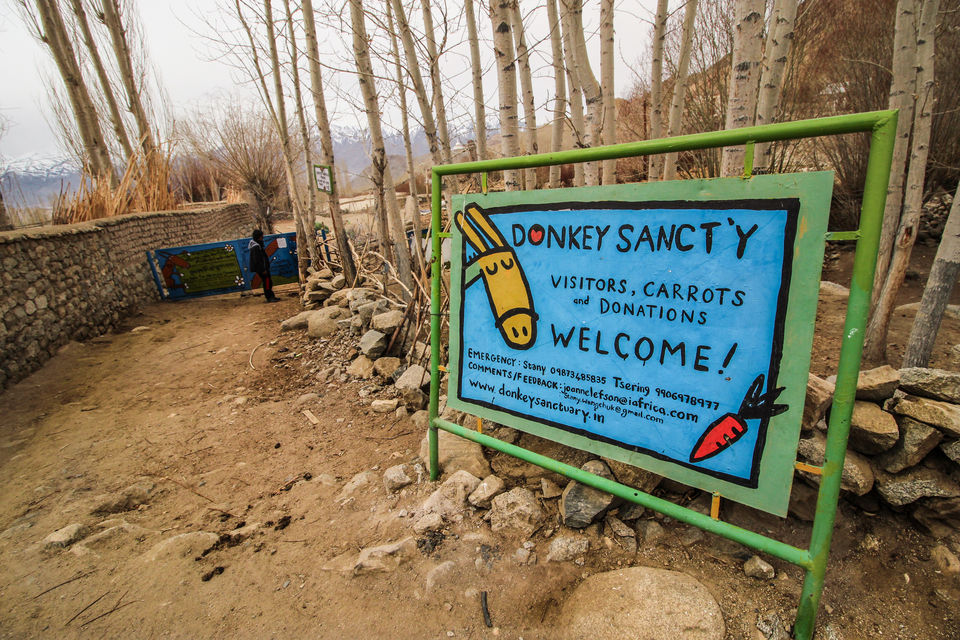 The sanctuary was closed but I requested my driver to call the number given on the gate. The owner rushed in a couple of minutes to greet us and opened the doors for us.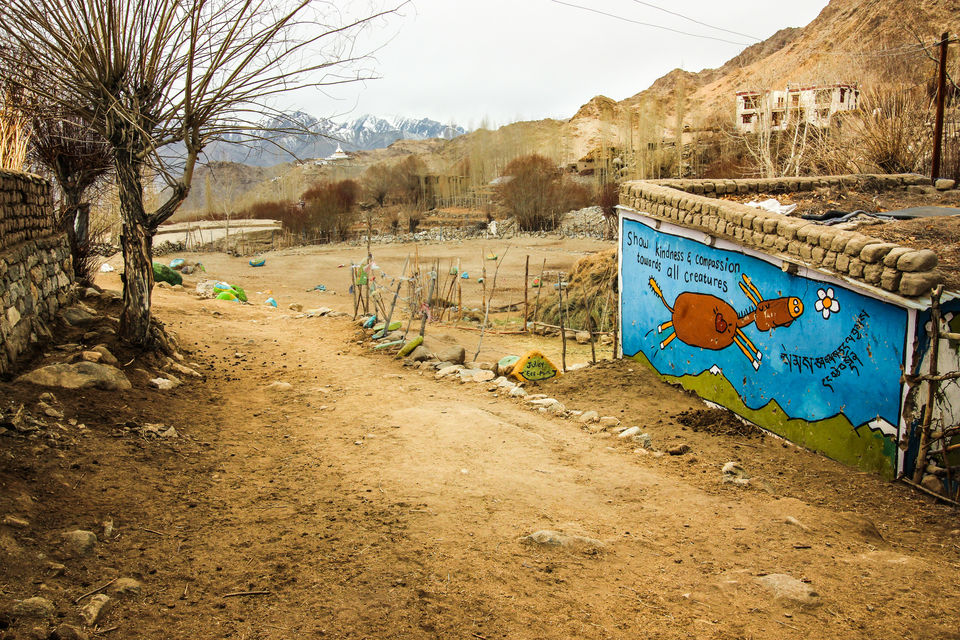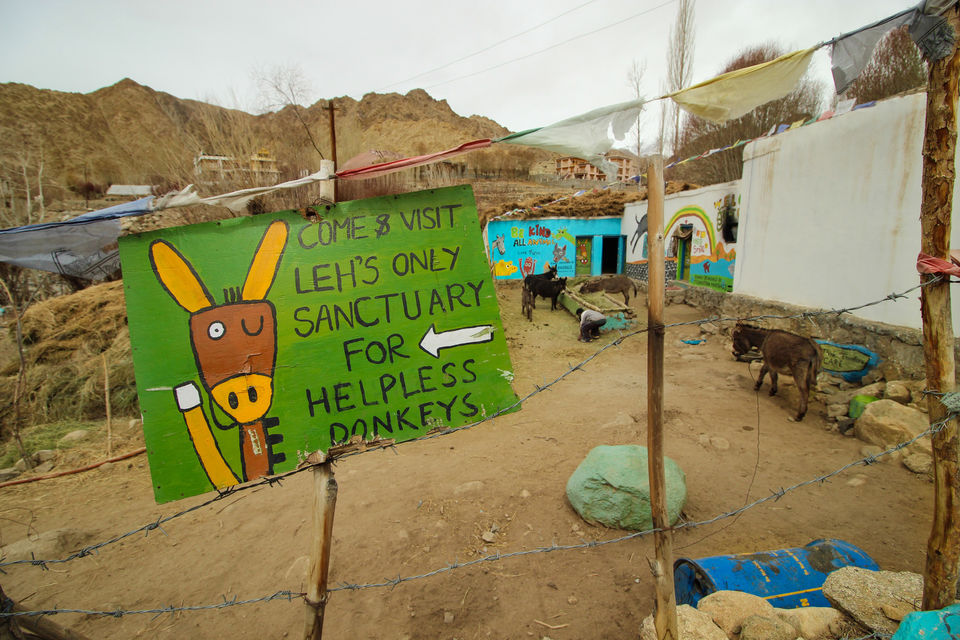 The donkeys immediately accepted me as one of their own.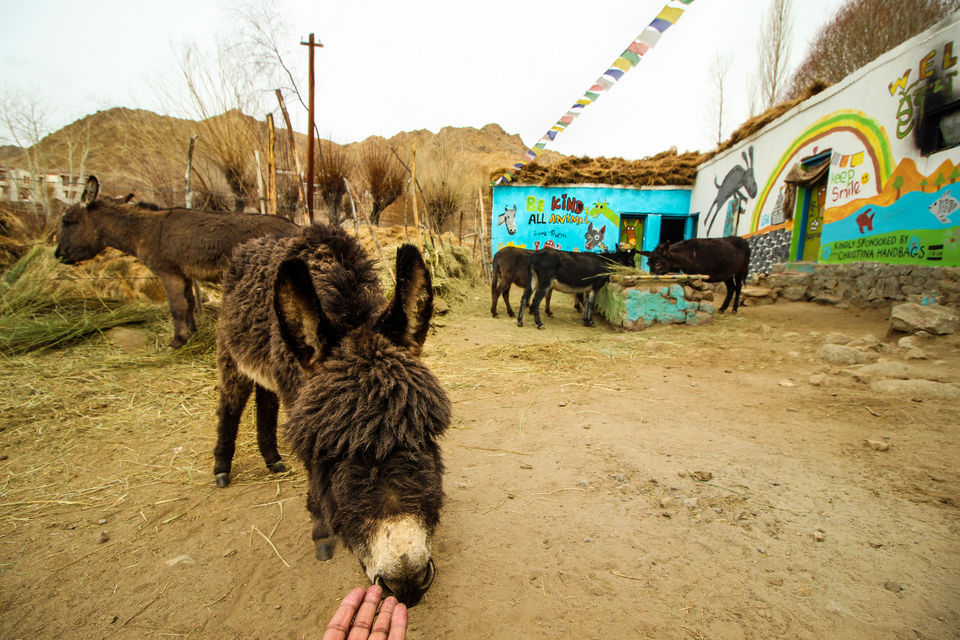 hashtag thuglife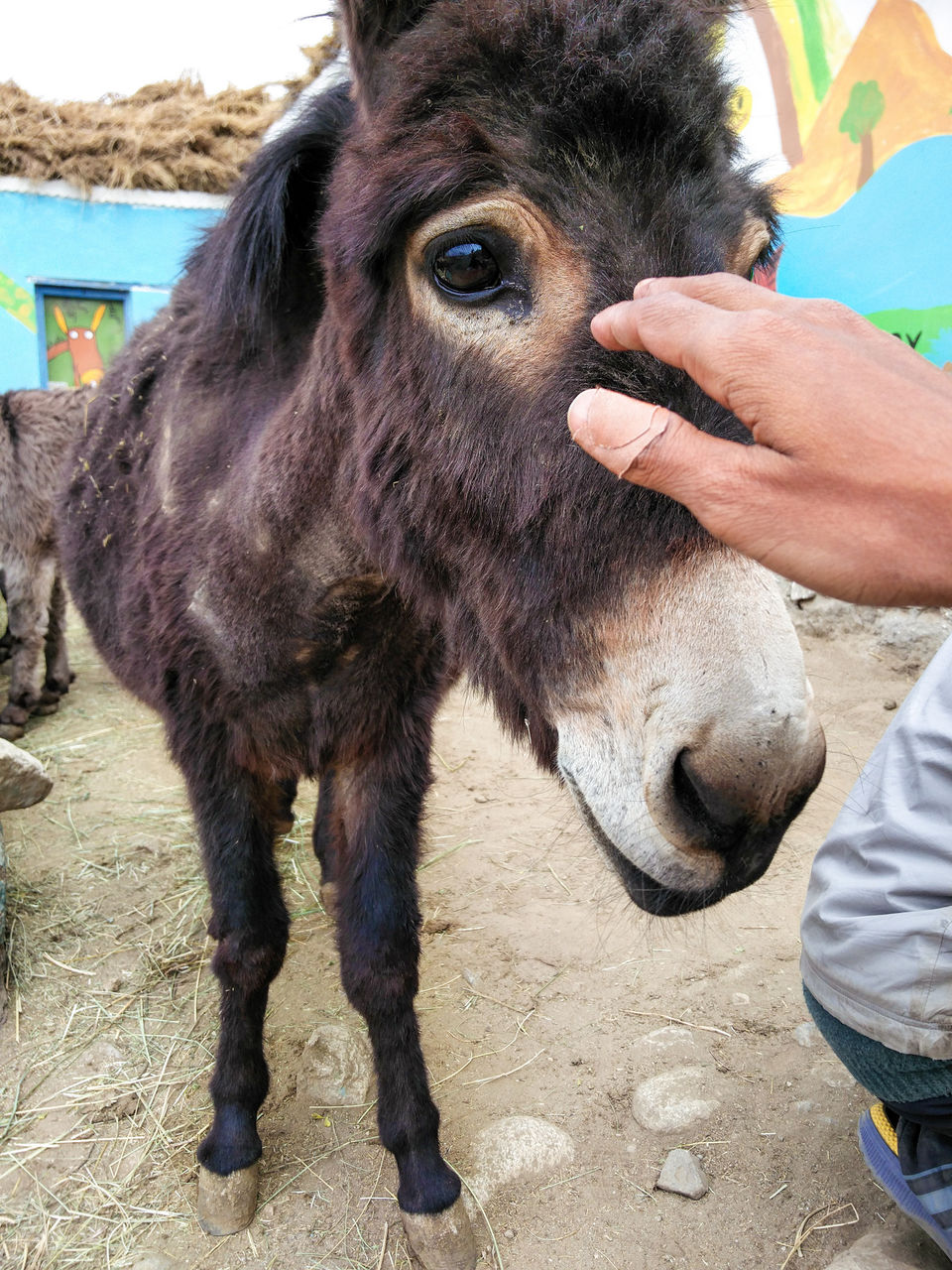 The owner introduced me to a 13 day old baby donkey which I immediately carried around the small sanctuary.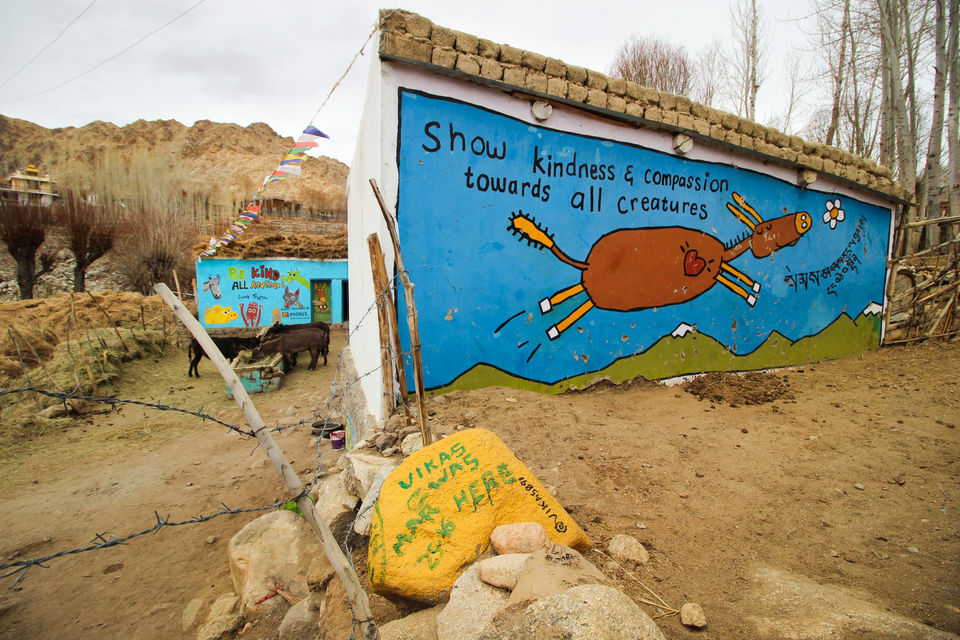 I left a small mark here. If any of you guys visit this place, please send me a picture!
As this place is supported using donations, I shelled out Rs 300 to the owner and left with a promise that I'll return one day.
After a short drive, we reached Shanti Stupa.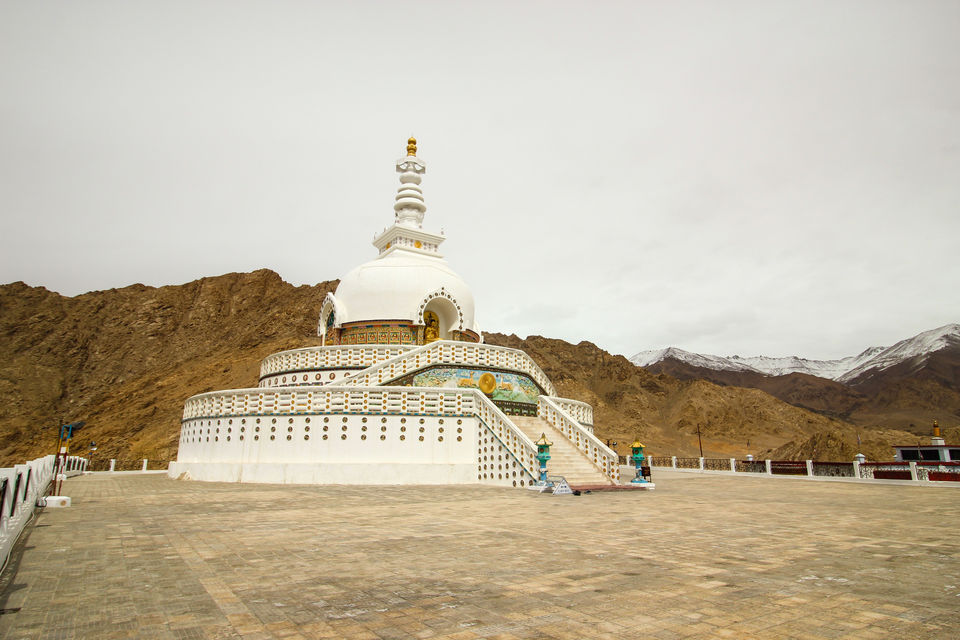 The Stupa gives a splendid panoramic view of the entire town, adjacent villages and the mountain ranges in the distance.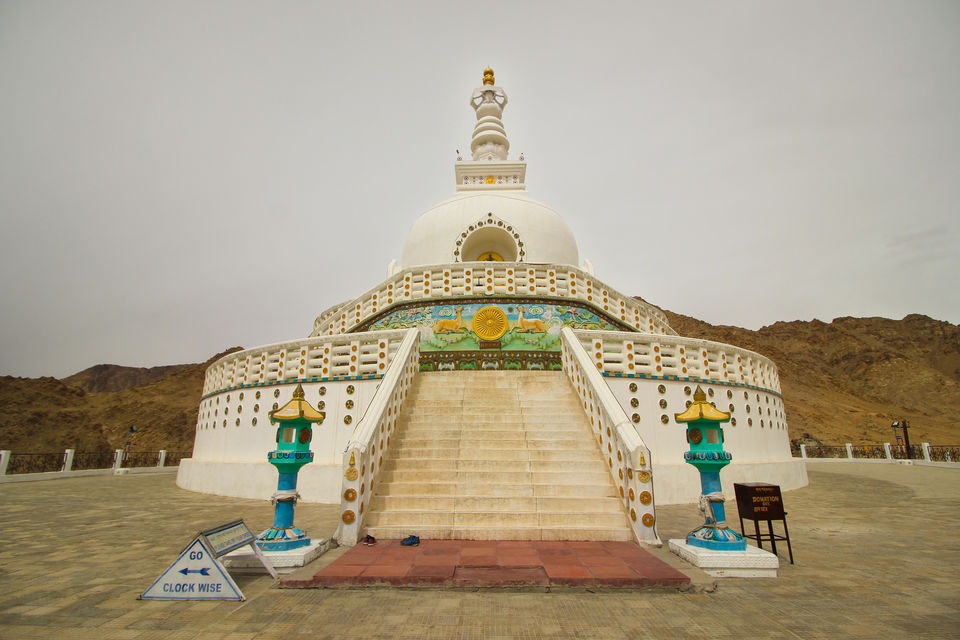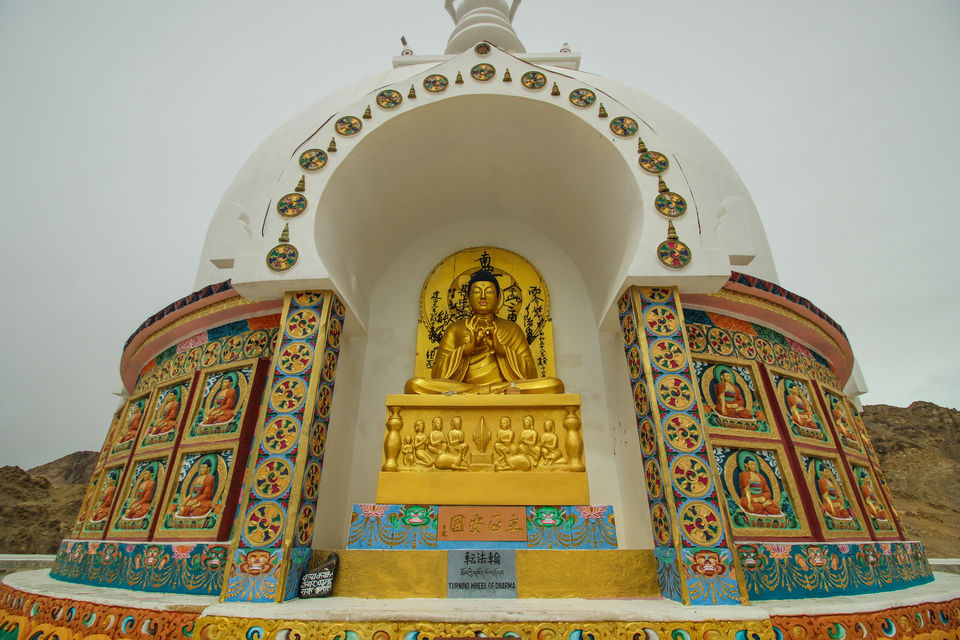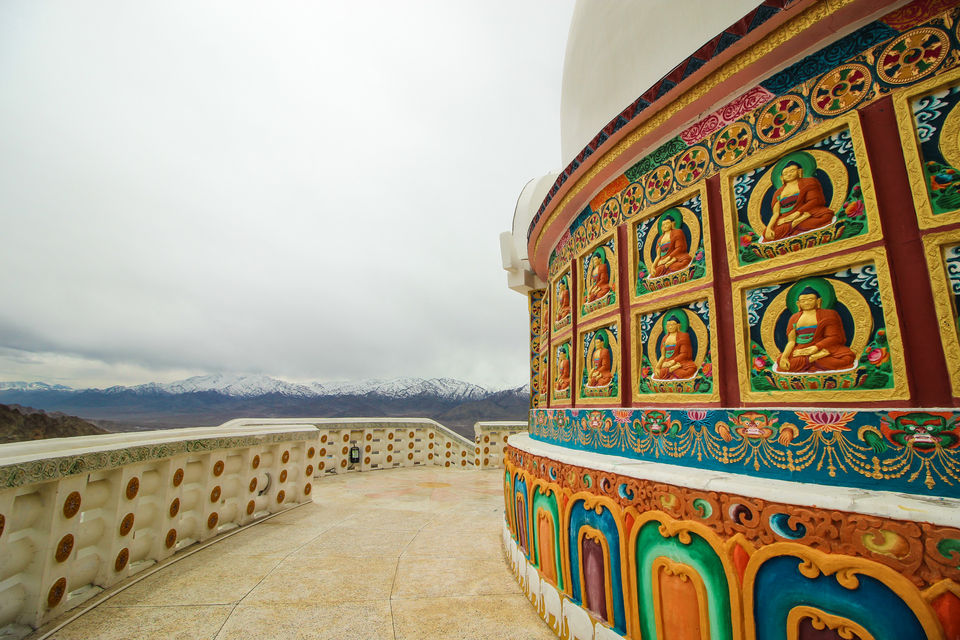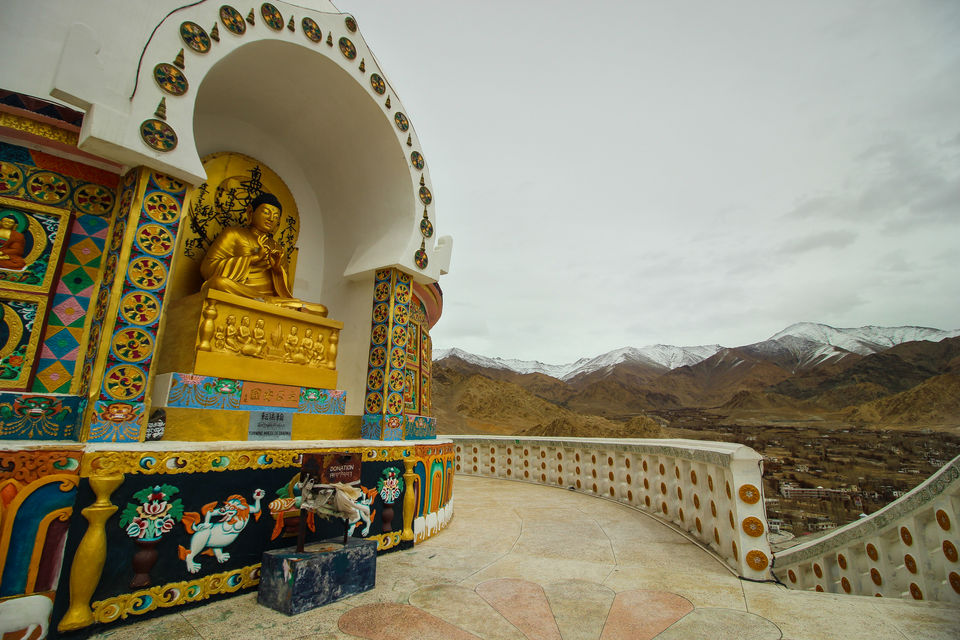 The last destination of the day was the Main Market. Can you imagine, a week in Leh and we still hadn't strolled through the streets of Leh.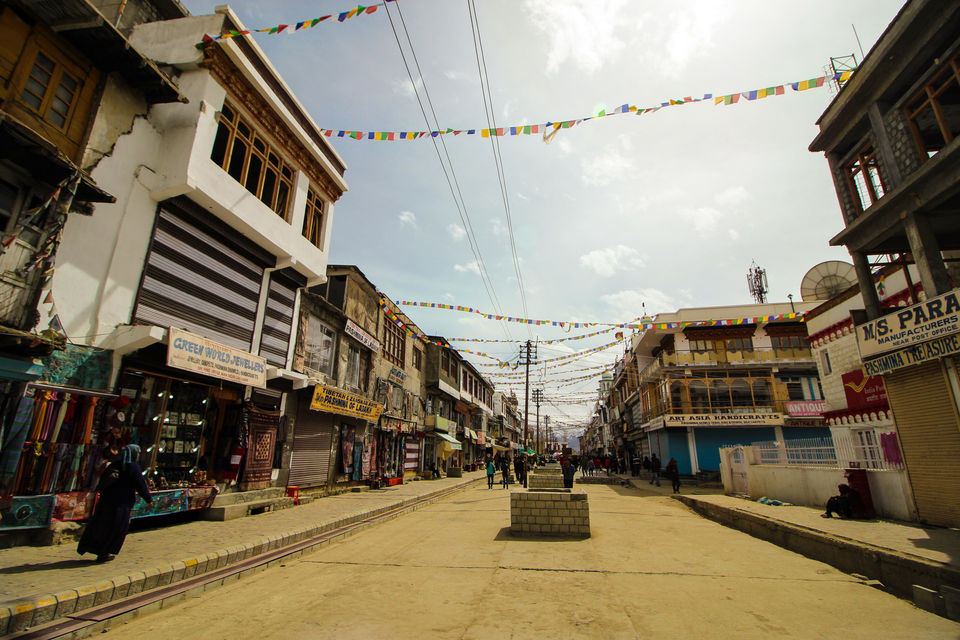 Most of the shops were closed due to winters but we did not have any trouble finding a nice restaurant to eat. I bought a couple prayer flags and some postcards from a bookstore.
That marks the end of my story of the times I laughed, awed, chattered my teeth, breathed in an air so pure in the majestic valleys of Ladakh.
A brief time-lapse of a wonder that is Ladakh
A short video of some of the places we felt needed to be captured in motion.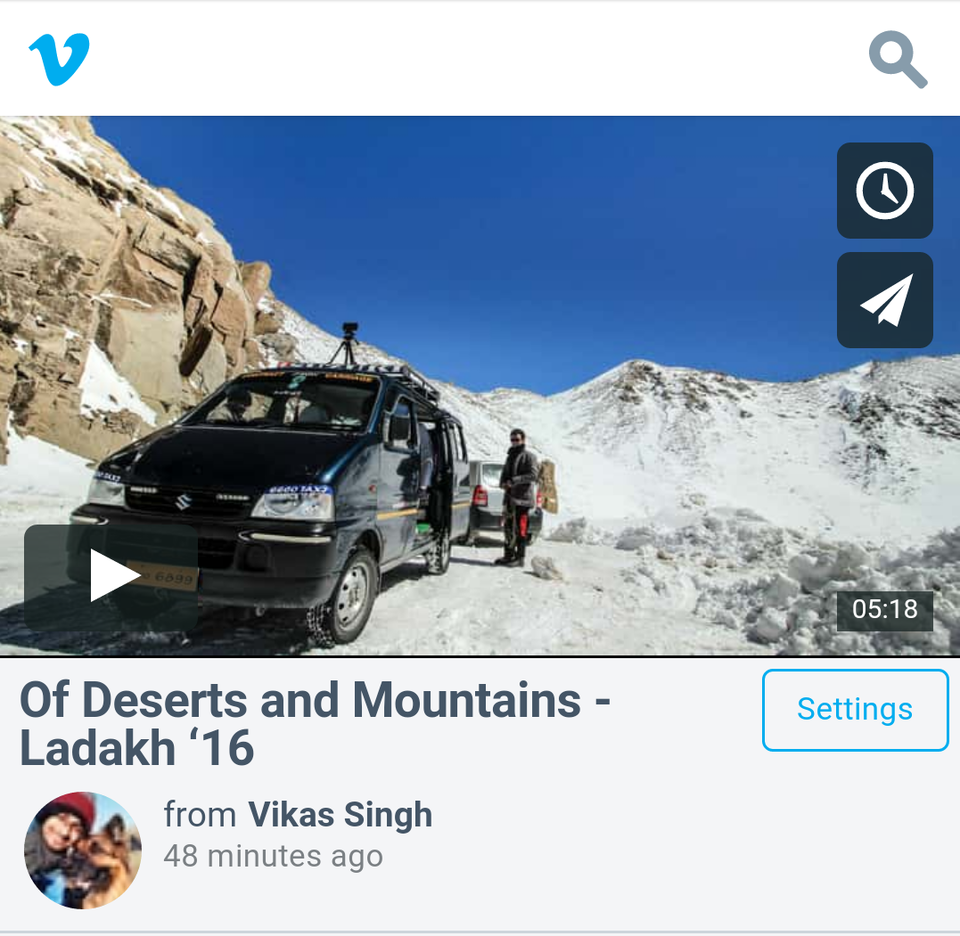 Click here for the video
So how'd you like it? I'd love some feedback. Questions, even more!
On a closing note-
When a traveler gets Leh'd, an imposing story is born.
So what are you waiting for?
Book your tickets to Leh and share your story with us, right here on Tripoto!