One of the most exciting parts of our trip to Los Angeles was spending a day at Universal Studios Hollywood. As a movie-lover, an amusement park enthusiast, and a Potterhead, I was incredibly excited about visiting Universal Studios and doubly excited about seeing The Wizarding World of Harry Potter. We did the VIP Experience and instead of telling you what all I did and saw in Universal Studios, I thought I'd show you, for a picture is worth a thousand words (and well, a lot easier than writing a thousand words).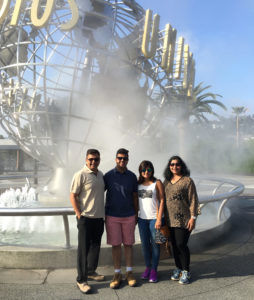 VIP Lounge
Our VIP Experience began in the VIP Lounge, where we were given complimentary breakfast and bottled water. We were also given a VIP Survival Kit containing sunscreen, mints, hand sanitizer and other stuff we might need during the rest of our day. (Free stuff makes me happy.)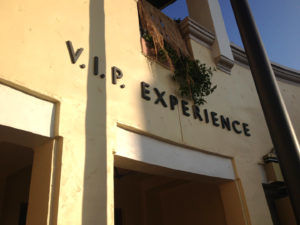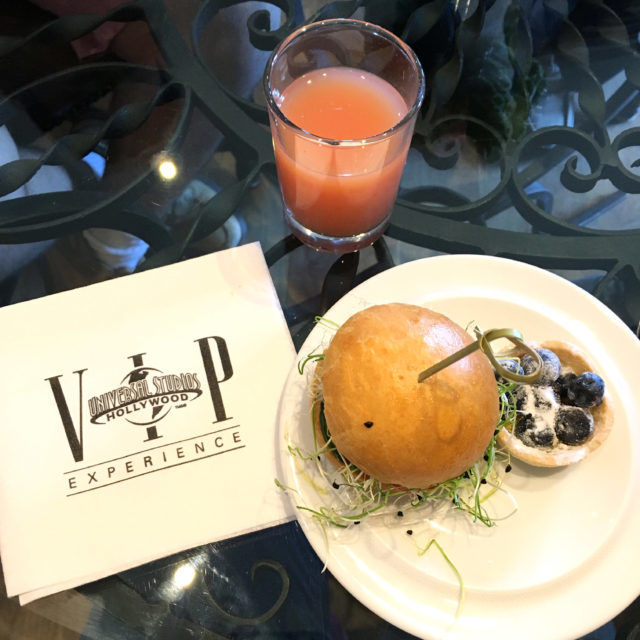 Upon meeting our tour guide Geo, we set off on an exclusive tour of the Universal Backlot in our own private trolley.
Backlot Tour
The tour of the Universal Backlot is one of the coolest parts of the VIP Experience. This tour basically takes you behind-the-scenes to the movie sets, sound stages and the massive prop warehouse.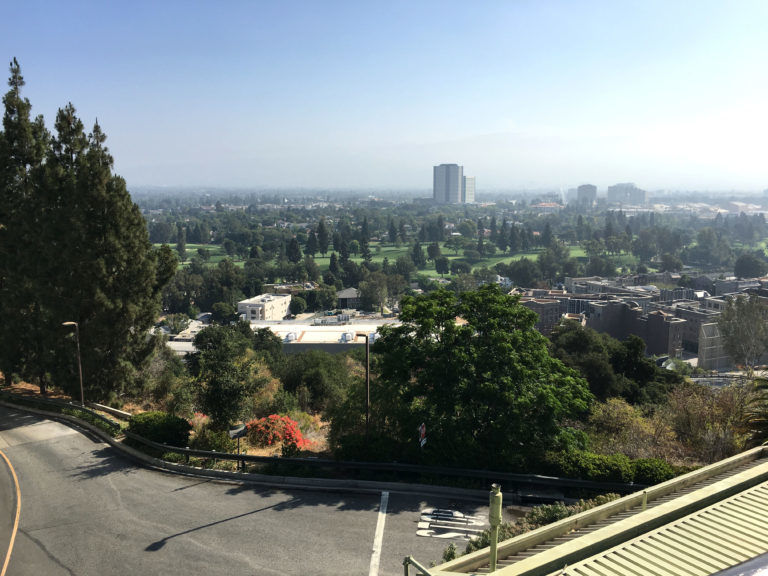 It's safe to say that we not only saw but walked along some of the coolest sets during the tour of the backlot.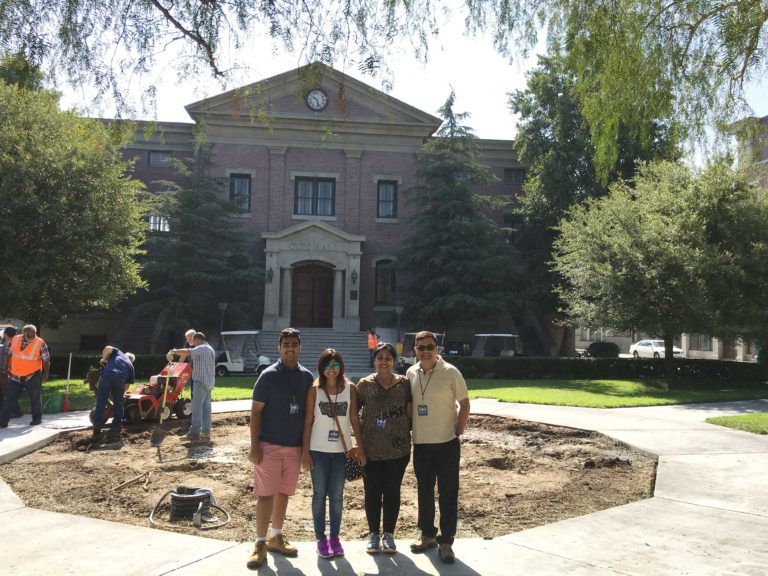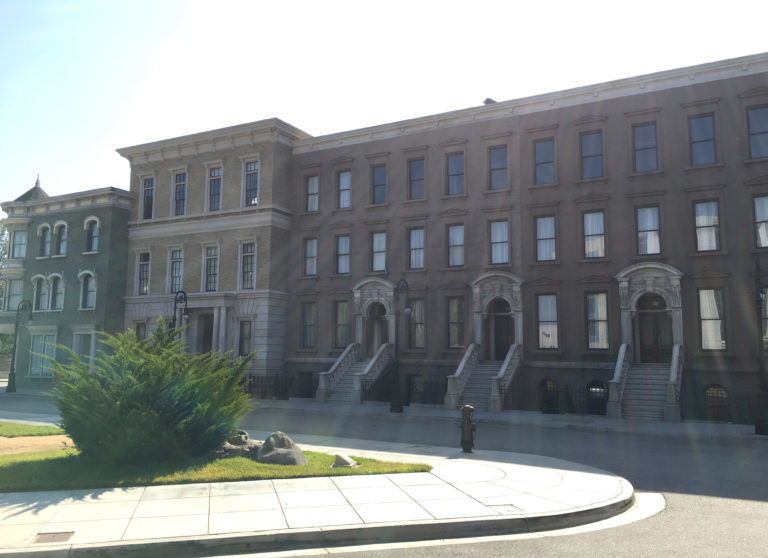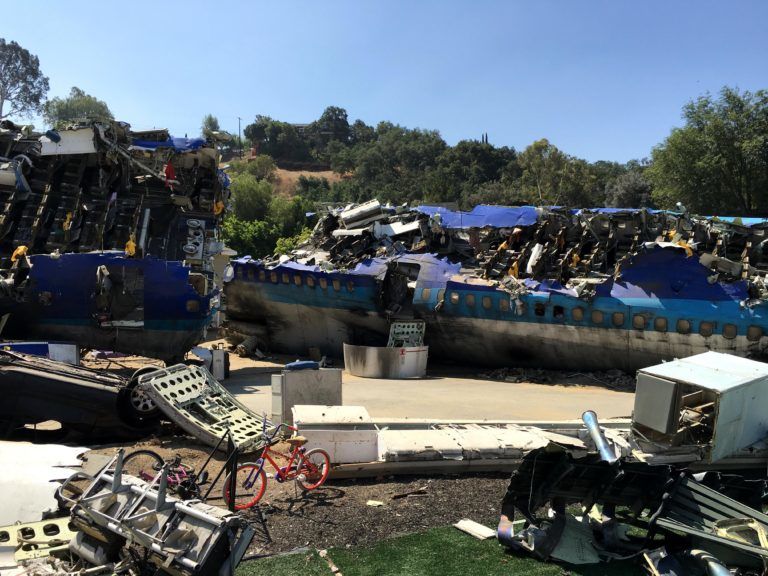 There's a long list of movies that have been shot in the 'Scary Alley', such as Gone Girl and Captain America. I obviously had to get a picture taken here.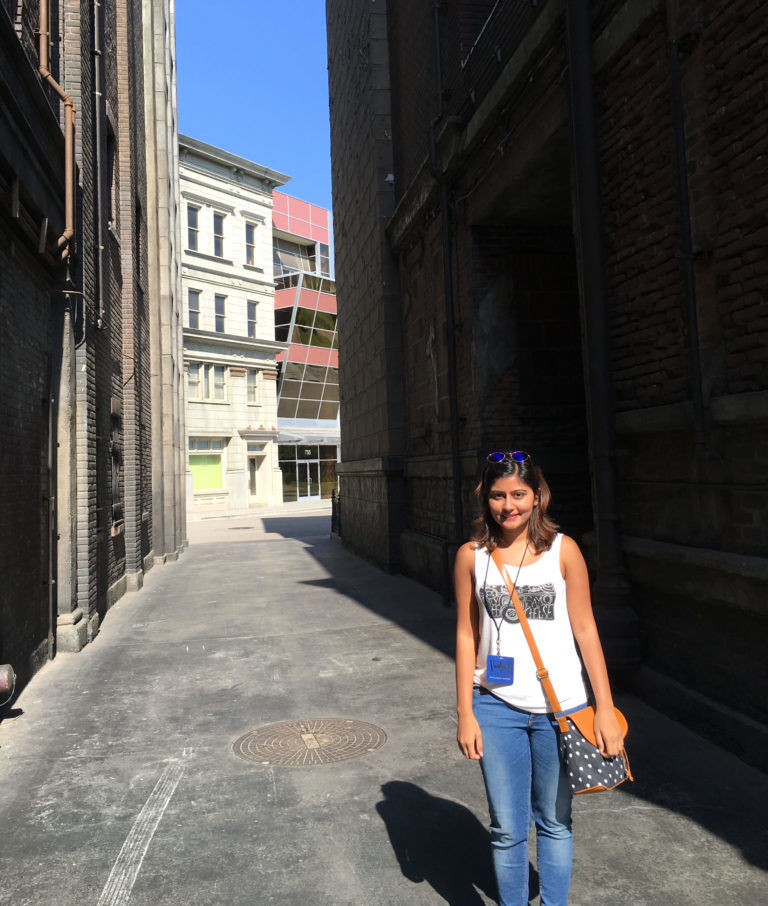 Seriously, how amazing do these sets look? Knowing all the countless movies that were shot here only adds to the excitement. The Dark Knight and The Amazing Spiderman were shot in these sets!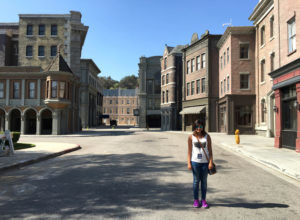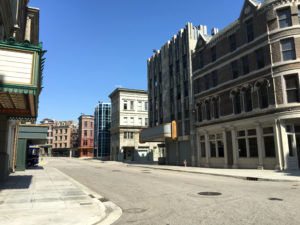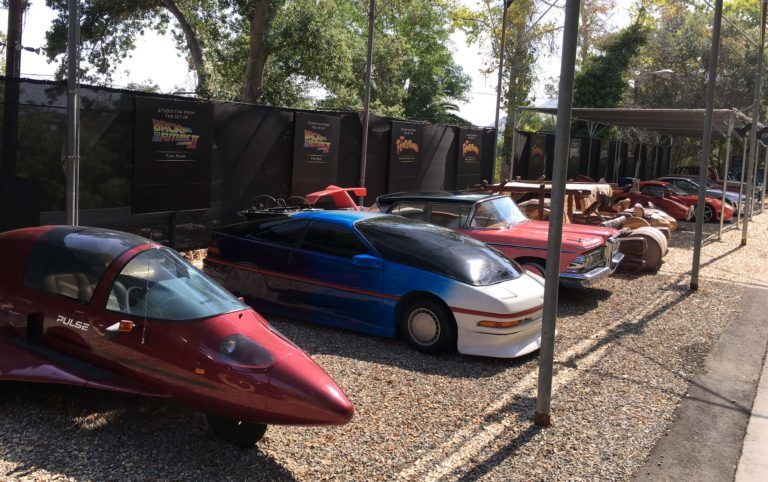 Another exciting thing we got to do was to visit the set of an upcoming TV show called The Good Place (starring Kristen Bell). The Good Place, is a town where those who have been good throughout their life go to once they have passed away.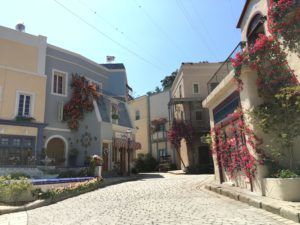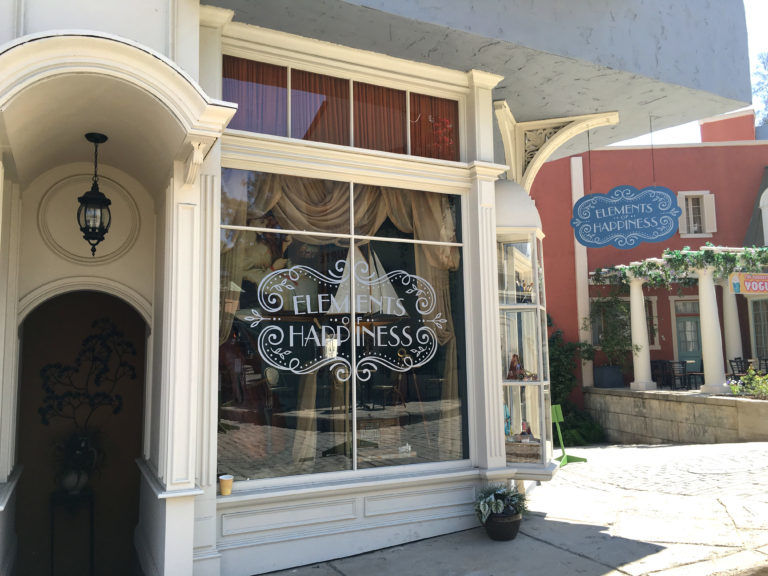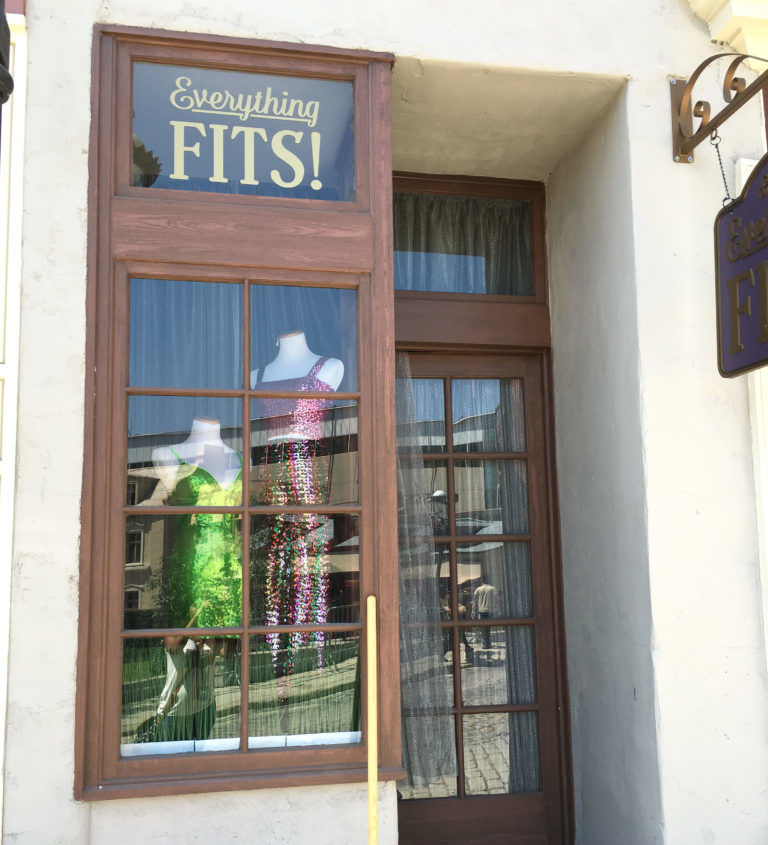 During the backlot tour, we also experienced two really fun rides: King Kong 360 3D and Fast & Furious - Supercharged. Another fun attraction was witnessing the flash flood live.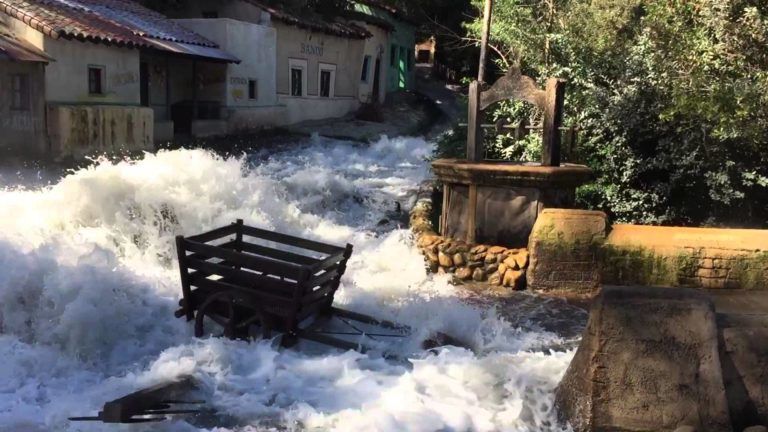 We loved seeing the sets so much that we did the Nighttime Studio Tour. It was awesome being there at night, and although it wasn't as good as the VIP backlot tour we did during the day, it was still a fun experience.
The Prop Warehouse
Have you ever wondered where all the props used in movies come from? Well, I surely did and it blew my mind to find out there's a massive prop warehouse in the Universal backlot that has every possible prop you could imagine! A visit to the prop warehouse is only possible if you get the VIP Experience (or maybe if you're friends with Steven Spielberg. In which case, hello, let's be friends?).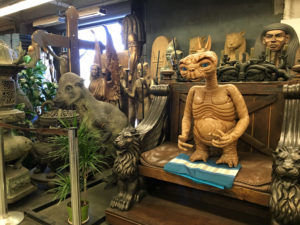 They had row after row of different props, each separated and arranged by era and type.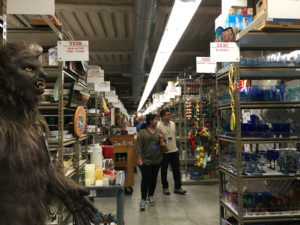 Our tour guide explained the whole process that set designers go through to find and book the props for different movies and TV shows. It kind of functions like a library where you can rent out props for a particular duration. The set designers place labels on the props they want and if anyone is caught removing those labels, they're banned from the prop warehouse for life.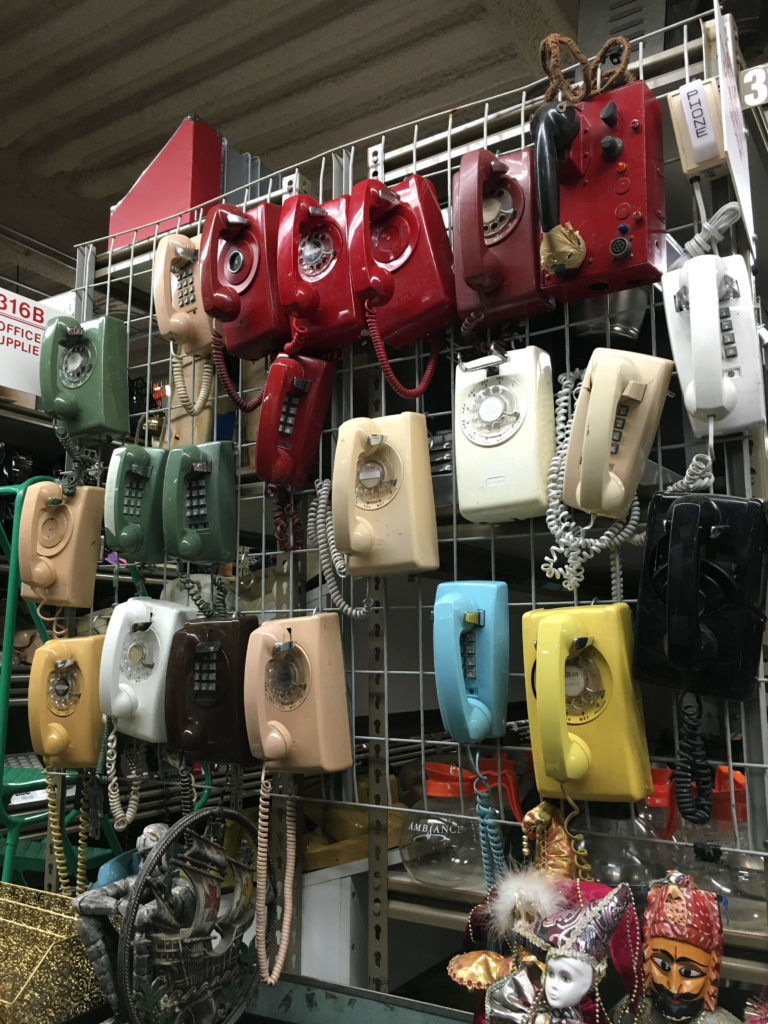 The Gourmet Lunch
After a wonderful tour of the Universal backlot, we headed to Jardin de Paris for a gourmet lunch buffet. This restaurant is only accessible to people who've opted for the VIP Experience.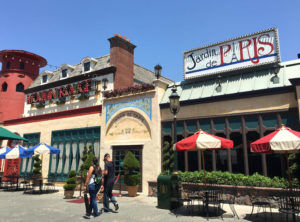 Look at all that food! We definitely overate (I think we deserved it after all the walking we did).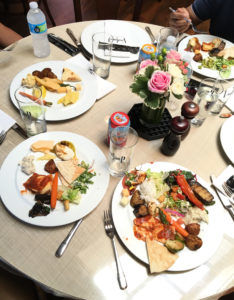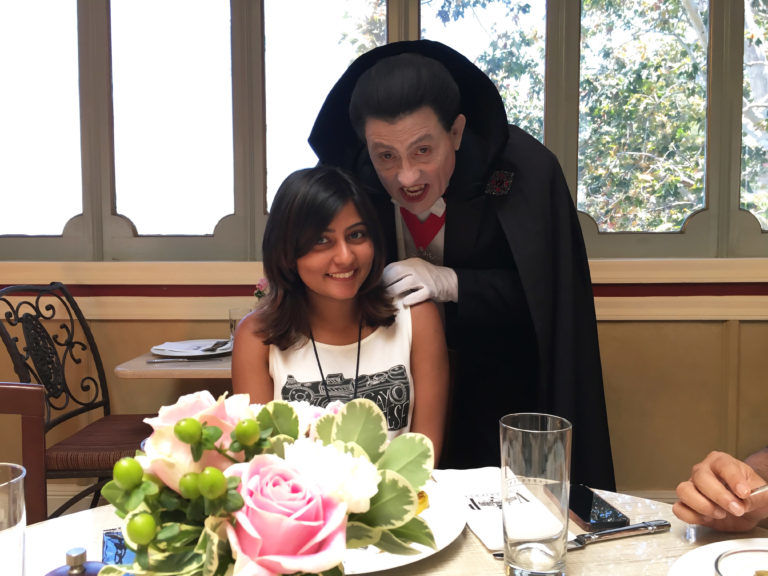 Wizarding World of Harry Potter
Ahh! This was undoubtedly the most exciting part of Universal Studios! At the Wizarding World, you can do so much more than just visit Hogsmeade and Hogwarts and I'm sure being here is every Potterhead's dream come true.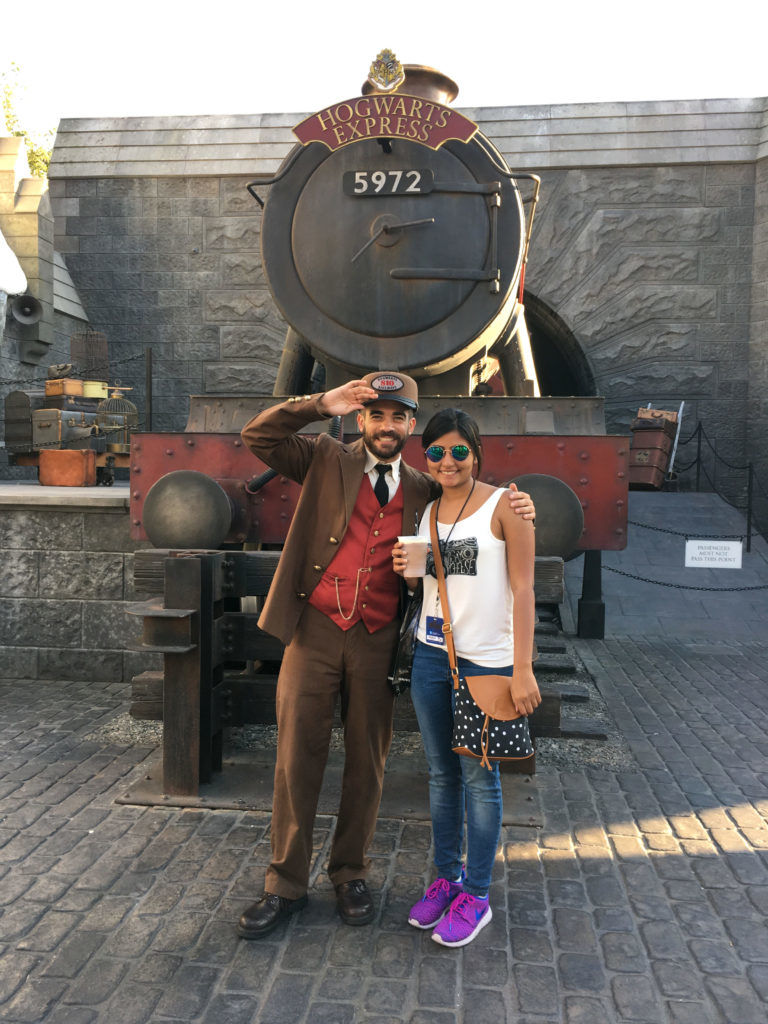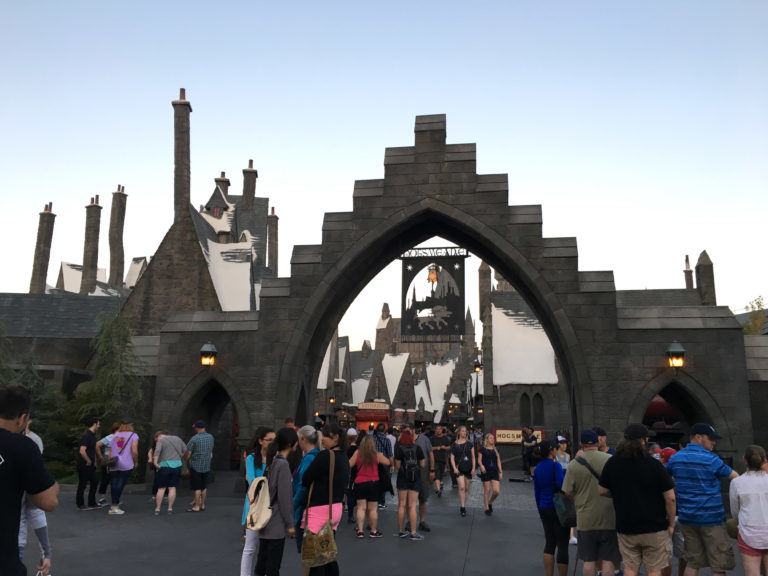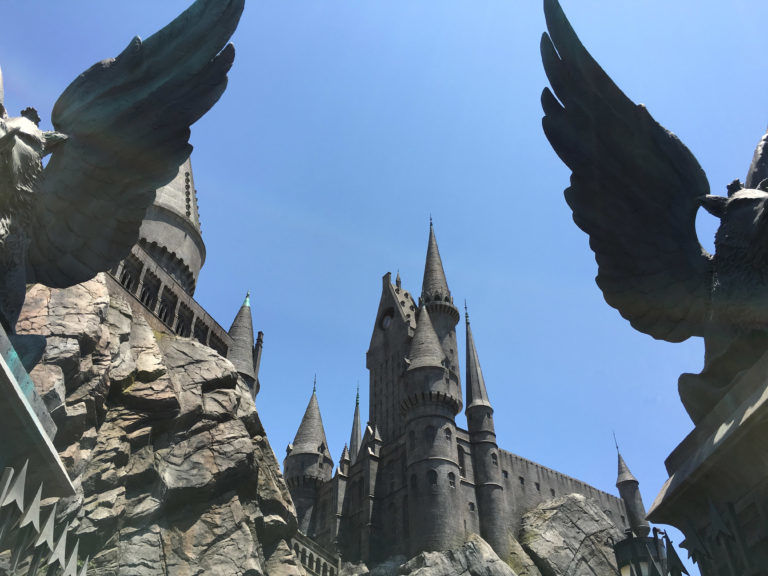 Hogsmeade is lined by lots of stores like Honeydukes, Ollivanders, Zonko's Joke Shop, Owl Post and Madam Puddifoot's Tea Room. Each shop has it's own authentic architecture and details and the attention to detail is admirable. We spent a lot of time at Honeydukes and ended up buying Bertie Bott's Every-Flavour Beans, some Chocolate Frogs and Butterbeer cake among other things.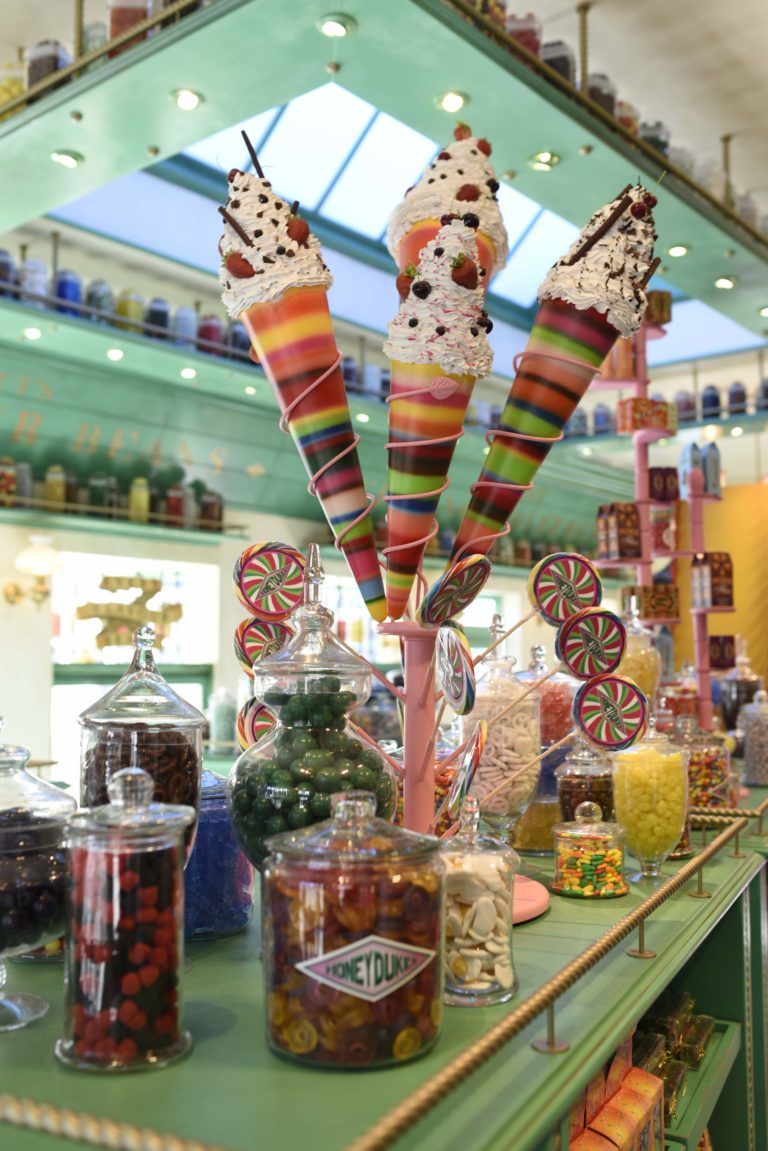 And of course, we stood in a long line to buy some Butterbeer, and needless to say, it tasted better than anything I'd imagined. Between chilled and frozen, I preferred the frozen Butterbeer. I loved it so much, I had it thrice (although now I wish I'd had more).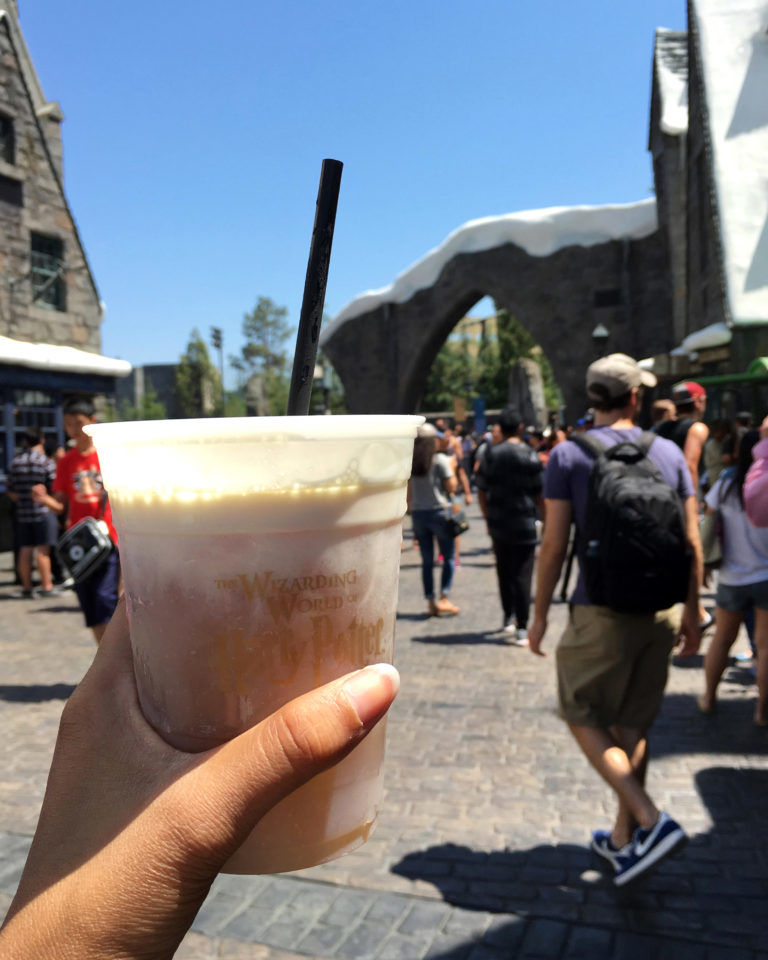 The Wizarding World of Harry Potter also has one of my favorite rides in Universal Studios: Harry Potter and the Forbidden Journey. The ride, buried deep inside Hogwarts castle, is a 3D ride that makes you feel like you're flying with Harry, Ron and Hermione. This ride had an insanely long line and I was so glad we could skip it. I went on this ride twice and if I had the time, I'd have definitely been on it two more times at least.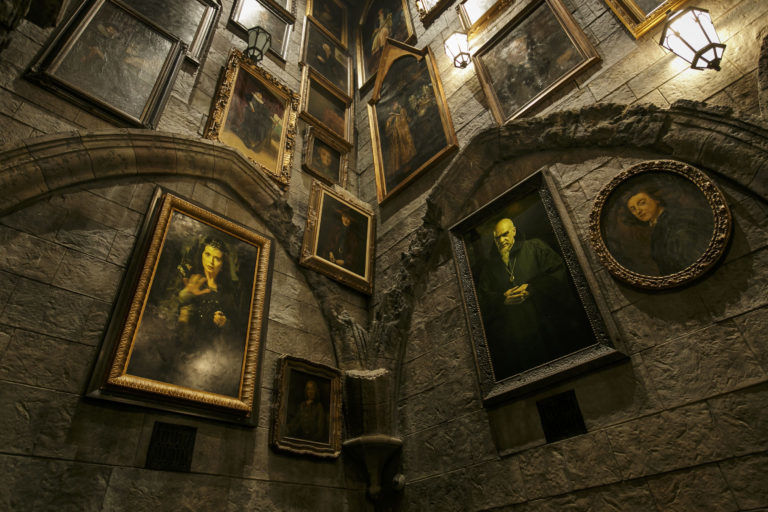 The other ride was the Flight of the Hippogriff. It's a simple rollercoaster that is only 30 seconds long and not scary at all but definitely worth going on once just for the magical feel it has to it.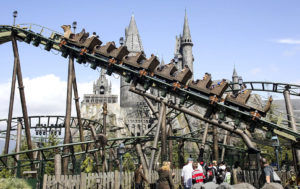 We also watched the Frog Choir and visited Ollivanders. I could easily spend an entire day at the Wizarding World of Harry Potter. There are way too many cool things to see there and I couldn't possibly fit all of it in this blog post.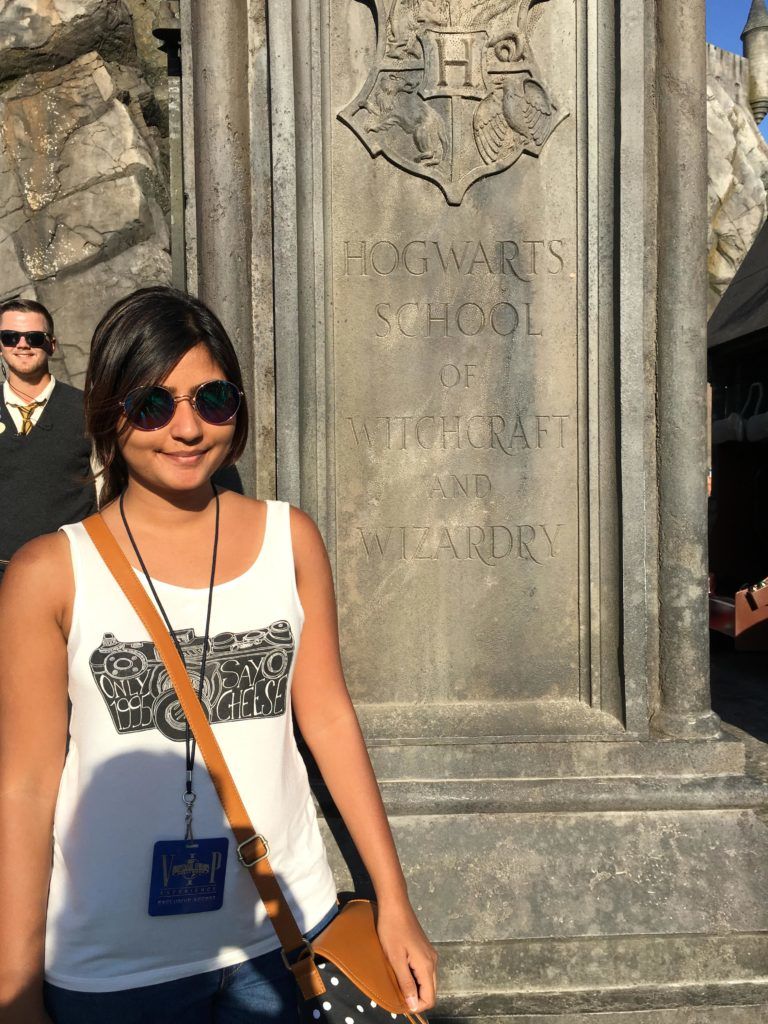 Rides and Attractions
I'm so proud to admit that I went on each and every ride at Universal Studios and must say that I enjoyed each ride and show so much! Unlike Disney World, Universal Studios has a lot of high intensity and thrilling rides and has a completely different feel than Disney (They were both amazing and unique experiences though).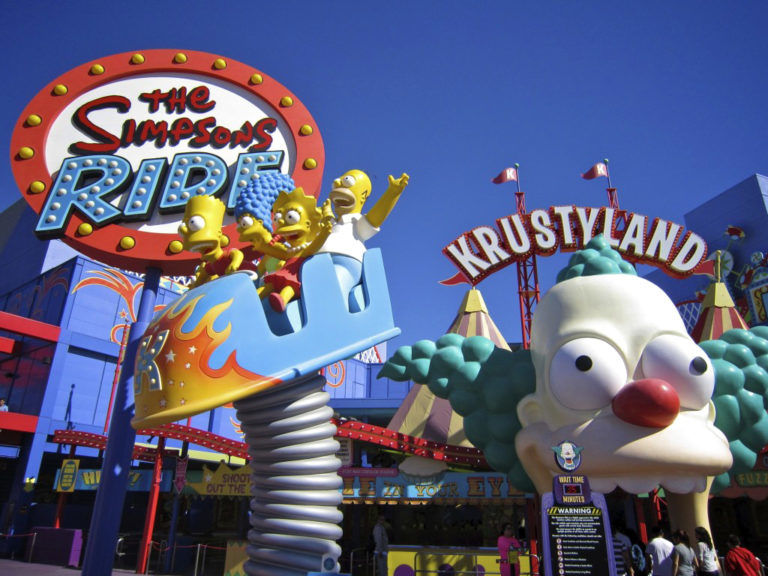 Even though it's really hard to do, I'm going to try and list five rides/shows that I enjoyed slightly more than the others.
1. Revenge of the Mummy
2. The Simpsons Ride
3. Jurassic Park: The Ride
4. King Kong 360 3D
5. Waterworld
I haven't included Harry Potter and the Forbidden Journey in this list. It goes without saying that it was my absolute favorite ride.
Before I say goodbye, I'm going to take a minute here to tell you why I think you should treat yourself to the VIP Experience at Universal Studios:
1. You get access to the VIP Lounge, where you're served some delectable snacks, get a VIP survival pack that's filled with sunscreen, hand sanitizer and mints, get free water bottles and have access to fancy looking bathrooms.
2. You get an expert tour guide who is with you for a good 6-7 hours. Our tour guide, Geo, made us all feel really comfortable and did a great job of showing us around the Universal Backlot and keeping us entertained throughout.
3. You get exclusive access to the . Unlike the Studio Tour where you hop in a tram with a hundred other people, the VIP Experience comes with a private trolley and you can actually get off it at different locations and walk along the sets that are off-limits to general ticket holders. You're also taken to an actual movie/TV set and get a tour of the enormous prop warehouse.
4. You get to cut the lines! Unlike the Front of Line pass which only gives you a one time priority access to all rides, the VIP Experience lets you skip the line unlimited number of times throughout the day. Not only that, you get first access to the seats and the tour guides just know where to sit on each ride to get the best experience.
5. The VIP Experience includes an amazing gourmet lunch buffet at a private restaurant called Jardin de Paris, which is only open to VIPs. The food there is to die for, there is a great variety and you also get to dine with characters like Dracula.
6. There's free valet parking. We didn't really need to make use of this but valet parking is otherwise for $30.
All in all, the VIP Experience is spectacular and definitely the most exclusive way to go behind the scenes and experience Universal Studios feeling like a super star.
If you enjoyed reading this post, you could check out more of my travel posts.
Trip first published on BLOG OF THE THINGS