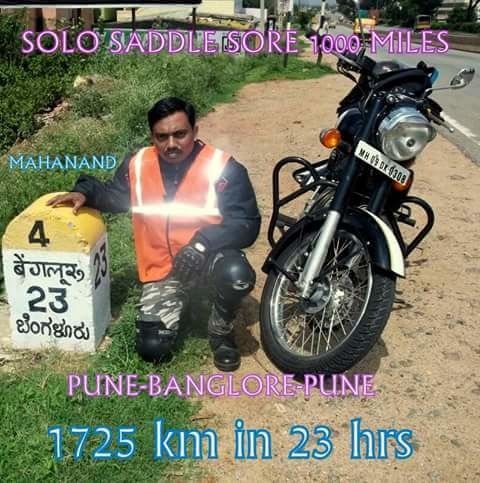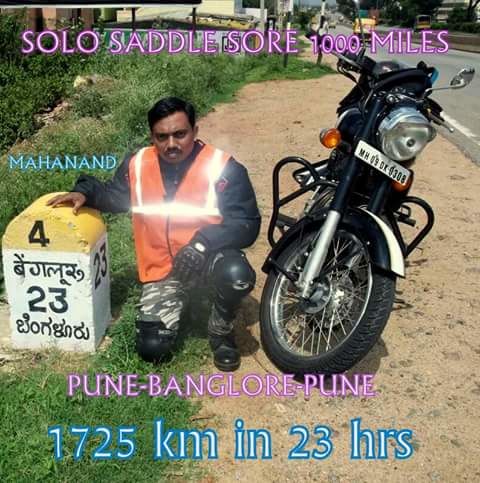 ONE LIFE TO RIDE.....ACCEPTING THE CHALLENGE!! 
The Saddle Sore 1600 kms. Ride is recognized by Iron Butt ociation which is dedicated to safe, long-distance motorcycle riding. Based in the USA, it has more than 50,000 enthusiastic members across the globe. Like all other adventures, Saddle Sore was extremely challenging for the bikers, but nonetheless enjoyable. Here, I share more about my thrilling undertaking:
At the time of my start on 5th June at 2.45 AM, there was an eyewitness Mr. Rohan Pangatti to register the start time, and my room partners Rahul and Shubham.I have to make card payments all the way for the proof as a bank statement. I started from Pune (Ambegaon Petrol Pump), But unluckily rain started after 5 kms (My companion) and it was with me up to kolhapur and suddenly a thought came in my mind to go back to Panhala, my home town near to Kolhapur but when I looked at time it was 5.45 AM that is on time within 3 hours in Kolhapur and my Passion forced me to continue for "ONE LIFE TO RIDE".  Reaching to Bangalore at1.30 PM I took a U turn. In the evening from Dawangiri again rain accompanied with Headlight problem, though I continued ride up to karad at 11pm. My head was totally blocked due to whole day wearing of helmet which was unusual so I took a cup of tea where all people at stall got surprised after hearing my all the way come back from Bangalore on bike. Then again I started with my companion (Rain) towards end point, Pune, where my colleagues Mr.Dhiraj Kadam and Mr.Onkar Shirsikar were present with their families for my Welcome. .And finally completed Saddle Sore at 2.00 AM on 6th June i.e. in 23 hours individually. I took only 4 cup of tea and electral ready to use 4 packets in ride. It's not a speed competition, its safe drive challenge, and it's not only about strength but it's a mind game (will power).
Besides the mental pressure, I had to negotiate bad roads in Maharashtra. This was especially tough at night when you have to be very alert for speed breakers and ditches. Keeping the vehicle at a constant speed was also a big task at times.
To be frank, initially I was hesitant and apprehensive about the challenge. Your temperament plays a very crucial role in such long-distance rides where despite staying awake for 24 hours, one needs to feel fresh while riding. Keeping this in mind, one should have that "Go for it" mindset.