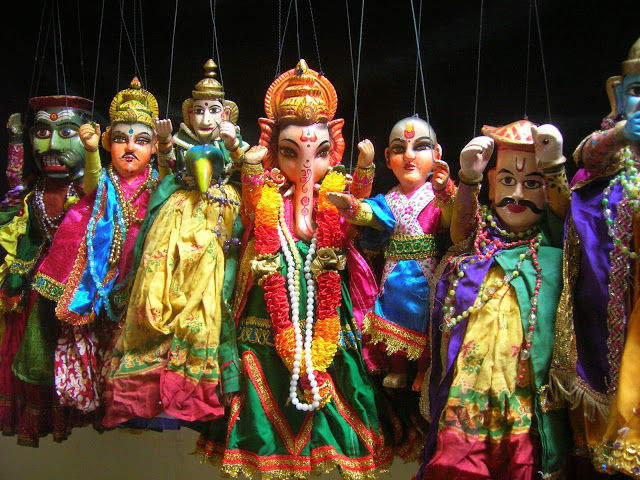 Pinguli's puppetry that preserves the dying art of the Thakkar community. Pinguli is situated at Kudal in the Sindhudhurg district.
When you are at Sindhudurg, Pinguli near Kudal Take a Break at grocery shop off the highway to meet Ganpat Sakharam Masge . Shri. Ganpat Masge, is an amazing artist. Being the Police Patil of the area working out life and death matters but he quite likes to be disturbed by the visitors who request to see his art. Even at the short notice, he can call his troupe to organize a performance for the same evening.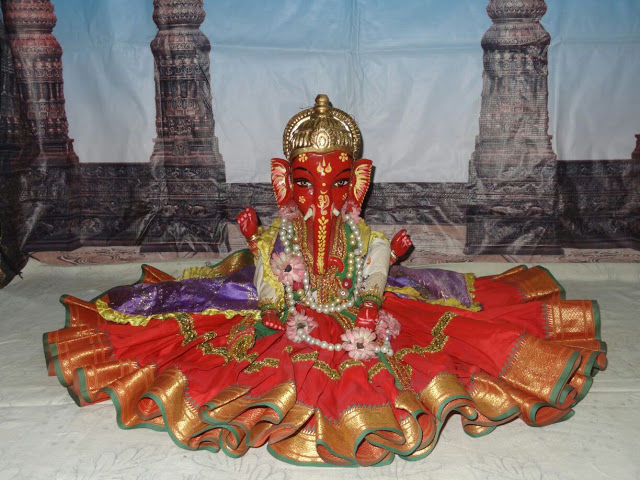 Shri. Masge is one of the surviving puppeteers of Pinguli , Sindhudurg. Nowadays their numbers are sadly dwindling and they have been forced to take up agriculture or fishing. Yet during festivals, Pinguli puppets bring out their treasure.
Shri Ganpat Sakharam Masge has received the Sangeet Natak Akademi Award for his contribution to the puppetry of Maharashtra.
About him – Shri Ganpat Sakharam Masge was born in 1958 in Pinguli village of Sindhudurg district in Maharashtra into a family of traditional puppeteers. He was initiated into the art of the Kalasutri Bahulya, which employs string puppets, by his father Bhikaji Sakharam Masge. He also learned Chitrakathi, a story-telling with pictures and Chamdayacha Bahulya, the play with leather puppets, in his days as an apprentice to his father. Shri Masge has excelled in his practice of puppetry and has taken the art of Kalasutri Bahulya beyond Maharashtra, contributing to its wider recognition in the country. He has established a troupe of his own in Pinguli. Like many other traditional puppeteers, he is the creator of his own puppets and the designer of his costumes. Shri Masge has participated in seminars on puppetry organized in various towns and cities in the country. He has also taken part in workshops, training school teachers as well as craftsmen. His work has received well-deserved praise in several papers and magazines. Shri Ganpat Sakharam Masge has received the Sangeet Natak Akademi Award for his contribution to the puppetry of Maharashtra.
Kalasutri or pinguli puppetry is another popular craft of the community. There are two main types of puppetry practiced by the Thakkers, string puppetry, and shadow puppetry. The string puppets are made of wood and dressed up in costume to depict gods, demons, kings, and mythological figures, similar to what one might see in other parts of southern India, the styles and colors are quite different. The shadow puppets are made of leather which is beaten into a thin firm sheet and cut into designs of various characters. The pictures are drawn on hand-made paper and the backside of one picture is stuck to another in such a way that two seem to be front and back. The performance begins with Ganesh Vandana (Prayer of Ganesh ) by the singer and his accompanying musicians who sit in front of the stage.
Puppet shows were a favored medium to tell stories and tales could have the favored mythological and religious themes or even touch on socio-political issues. Kalasutri Bahulya, literally the doll moved by the thread, presents stories from Ramayana, from the birth of Rama to the killing of Ravana. The performers are also good chitrakathi tellers and narrate tales from the epics. Imagine the drama of a shadow puppet show, as the colorful puppets, backlit by large oil lamps and manipulated expertly behind white sheets come alive with songs and music! The musical instruments used are the tabla, tuntue ( a stringed instrument ), cymbals & conch.
India possesses a huge tradition of diversified art forms. Cave paintings, Ajintha painting, Pal-jain, Miniature, Kalighat, Madhubani, Tanjawar painting styles similarly among Tribal Art forms Saora, Gaud, Paura, Pradhan, Warali, and Chtrakathi are some to mention. Some art forms are famous but some in spite of their superior styles have not reached out to people. Chitrakathi is one of those arts!
What is Chitrakathi? In spite of being tribal art form; is developed in skills and in thought process to a great extent. Chitrakathi Paintings (Maharashtra) are around 300 years old which states Chitra(picture)-Kathi (story) in which stories of the Ganesh Puran, Ramayana, the Mahabharata, and all God's Puran are portrayed. Chitrakathi is an extinct art that is practiced by the Thakkar tribal community of Maharashtra.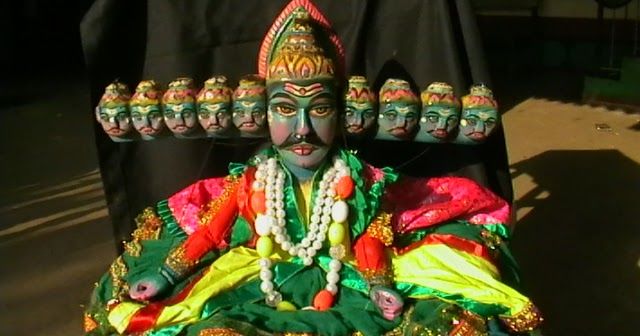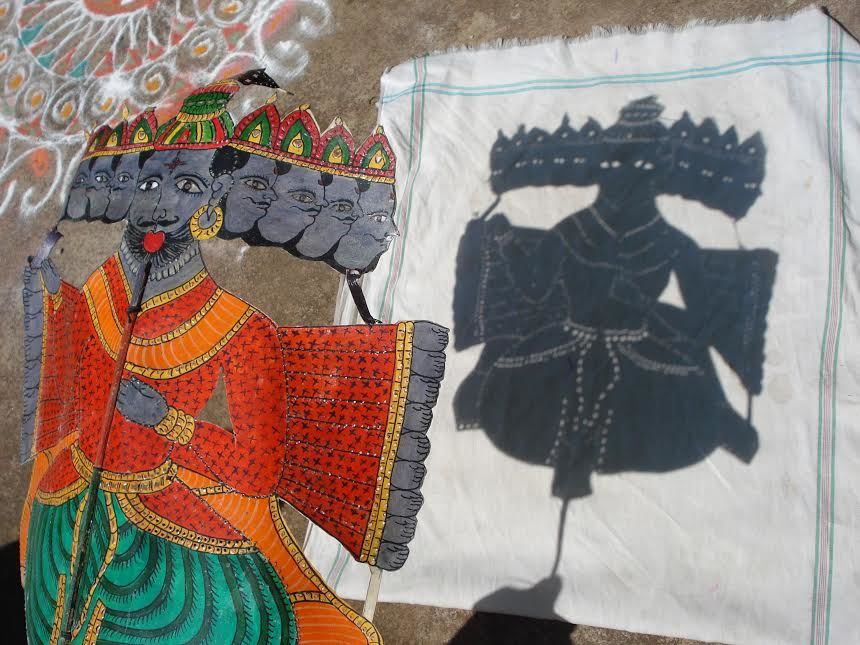 History – Pinguli was an area designated by the rulers of Sawantwadi for the Thakkar tribe who were nomads by the origin and believed that they were the "secret service agents" to the ruler of Sawantwadi almost 300 years ago as well to Chatrapati Shivaji Maharaj. As per legends Shivaji Maharaj and his Mavlas went on a hunting trip in the jungle, they heard some people singing. On further inquiry, it came to be known that a nomadic tribe was reciting stories of the Ramayana. On his return, Shivaji Maharaj ordered the chief of that tribe to be brought into court to inquire about these people. The leader of this tribe informed the court that they were Thakkars, a nomadic tribe, and painted pictures on leaves with lime and soot from oil lamps that tell tales of the Ramayana and Mahabharata. This was a way to familiarize the tribe with the epic and also provide a source of entertainment, after a hectic day of travel. The pictures were accompanied by songs and music, from rustic instruments to keep a captive audience and impart stories with morals. Shivaji Maharaj issued a public notice stating that during the festival time, the Thakkars will perform on the stages. The Thakkars held center stage all night. They showed pictures that they painted and recited relevant stories, often breaking into song. Thus the format of combining "Chitra" — the picture and "Katha" — the story was born. Since the Thakkars were also songsters, they visited the nooks and corners of the villages. They were also officially appointed as official Informers of Shivaji Maharaj.
You can visit this place below are the details:
All pictures credit to Pinguli puppetry
Fb connect – Thakarwadi Pinguli Adivasi Kalagram
Email-krishnamasge@gmail.com / Phone +91 98929 26590 (Son of Shri Ganpat Masge)
Address –
Mumbai Goa highway, Kudal, Pinguli, Gudhipur, Sangirde,
Lets promote our own culture and tradition
Cheers, Escaping soul