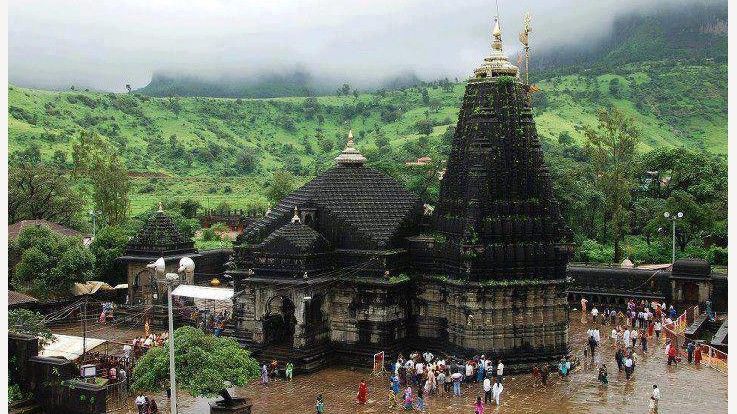 'Rain gods played spoilsport' is a cliche used to complain about disruptions by rain in an engrossing cricket match or a well planned pilgrimage to a heavenly spot. But what if Rain gods actually help you in your pilgrimage. Doesn't it sound odd but sometimes it is true!!!
It was a hot afternoon in Shirdi. Ambling along the main road after a heavy lunch, my mind was weighing on the pros and cons of a short trip to Tryambakeshwar, one of the Jyotirlingas which is around 130 kms away. It being May end, the skies were eagerly waiting for a metamorphosis from azure to grey. Shikanjavi (lemon water) and butter milk stalls on the roads were the most sought after places. Sipping a glass of cool refreshing butter milk, I enquired the butter milk walah, " Is it possible to undertake a trip to Nasik and Tryambakeshwar and complete it within today?" He thought for a while and said, "Depends on the rush bhau, this is the end of vacation time and as you can see there are lot of devotees thronging these temples." He paused, thought for a while and said"Arre, why do you worry, bhola baba wants to give you darshan it will happen, just go ahead." His argument was very convincing and I started exploring for a vehicle for this unexpected trip.
It was just past twelve, I was standing outside the temple complex on the main road which is known as the Nagar-Manmad Road. A tempo trax was ready to leave. There will be many of these vehicles which will be making that last ditch effort to get that one last passenger. A lone pilgrim was an easy prey. Around three taxi drivers literally pounced on me. I took the first tempo trax which already had around 13 pilgrims, I was supposed to be the 14th one excluding the driver. I was squeezed next to the driver. Seeing a question mark on my face the driver said with a twinkle in his eye, "Sir! this vehicle is like pushpak vimana, how many ever you put, there will be one place left." Our so called pushpak vimana lumbered out of Shirdi for a divine trip to Trayambakeshwar.
Half an hour into the journey, I was able to decipher that the language spoken in the vehicle was a mixture of Kannada and Tamil. It was an assortment of two families comprising three generations who had come from Bengaluru. A grandpa with grey hair, trimmed beard and a flowing white kurta was passionately describing Nashik in a dialect which I can call Kannadized Tamil peppered with lot of English, catering to the whole group of inquisitive audience. I was able to pick up bits and pieces of the gyan, being Telugu myself. The poor driver had no inkling what wisdom was being imparted in his vehicle. Grandpa said with passion dripping from his eyes, "Nashik is a place sanctified by Lord Rama, mother Sita. You can feel their presence in every inch of it. Panchavati, Kalaram Temple, temple of mother Godavari and of course dip in holy Godavari are a must." He continued, "Do you know how the name Nashik came?" He quickly replied gauging that none in the group were wise enough, "Surpanakha's nose was cut here, hence the name Nashik meaning nose." I had to do a 180 degree turn with my neck to enjoy his expressions.
The heat was taking its toll on all the inmates of the trax. One hour into the journey, the driver said, "Let's stop for a refreshing sugarcane juice." He stopped at a small roadside outlet made with a temporary tarpaulin roofing and we beheld a peculiar sight. An ox was our host, diligently churning sweet juice out of sugarcane.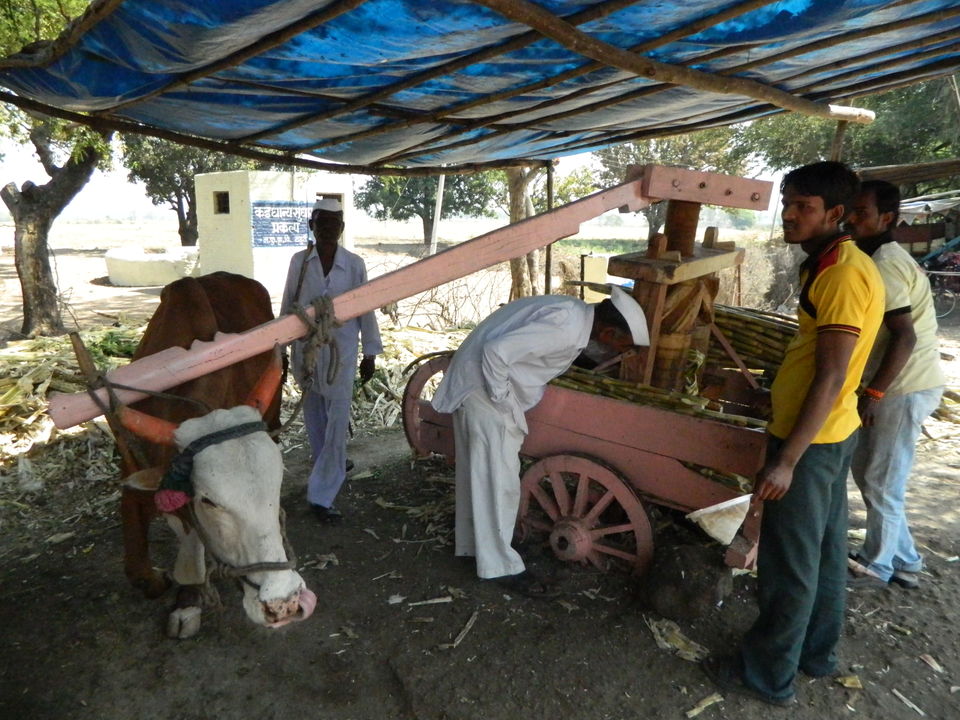 After having a fill of this invigorating drink, the driver said, "We will directly head to Trayambakeshwar and see Nasik later. These days there are lot of crowds flocking to Tryambak. Sometimes some pilgrims have come back without darshan too." My heart missed one beat- Going all the way to tryambak and not having his darshan is heartbreaking, Isn't it?
We reached at around 3pm to Trayambakeshwar temple. This was quite some time back and there was not much commercialization around the temple. There was only one math of Akkalkot Swami Samarth at the entrance of the temple town. We alighted from the tempo trax and beheld a sea of humans. My heart sank seeing that never ending serpent like that achieved by an advanced player in snake xenzia (I hope you remember the game from our Nokia feature phone days!!!). The line measured the inner perimeter of the temple twice and had spilled over and filled the front yard of the temple with its crisscross pattern made by wooden barricades.
Driver in a feeling of disbelief said, "Oh! minimum 7 hours and there won't be any special darshans. You want to give it a try or should we head to Nashik?" I protested, "C'mon!!! let us try, coming all the way, how can we go without having darshan." There were some rumblings in the group and I sensed that they don't endorse my view especially after that charged description of Nashik by the grandpa.
Driver said, "Ok, try your luck till 5.00 pm, after that we have to leave at any cost if you want to see Nashik and want to head back to Shirdi before midnight." He added a caveat, "I can't reach Shirdi beyond 11 pm, I am answerable to my malik." In right earnest, I went and added to the length of this serpent and strangely, seeing my enthusiasm the other 13 led by the grandpa joined the line. This grandpa looking at that majestic black edifice of faith and joining both his hands said, "At least, let us have the satisfaction of standing for your darshan for a couple of hours, darshan or no darshan is in Your hands."
Tryambakeshwar temple is an enchanting edifice made of black stone. This temple uses the Hemadapanthi Style of architecture where lime is not used. This style makes use of the local available raw materials, main constituent of it being the black stone, which is found in abundance in this part of the country. This style was conceived by Hemadri Pandit who was the Prime minister to the Yadav Dynasty kings.
In the ensuing confusion, we forgot to note an unexpected development which is very usual in Tryambak. Menacing black clouds were fast approaching the temple from the western horizon and the silhouette of the verdant brahmagiri against the canvas of the dark sky was a sight to behold. One local pilgrim in white clothes and the traditional gandhi topi, in front of me said in anxiety, "Oh, the rain is approaching, don't know whether we will withstand its fury and have darshan?" Out of curiosity, I enquired, "Why do you say that bhai?" He said with an all knowing smile, "Just wait and watch!"
In the Tryambak temple sky is the roof till you enter the sanctum- sanctorum. If the rain gods decide to pound you there is no way to escape. In the next ten minutes strong winds banged us, depositing dust and dirt in our eyes and sending everyone helter-skelter. The Brahmagiri was obscured from our vision. This sweet and pleasing smell of rain heralded its arrival. Rains gods were relentless and battered us with full fury. As the rain was unexpected, none had an umbrella, leave aside a rain coat. After some half an hour into the incessant rains, patience of many pilgrims broke. People left the line in hordes- young, old, men, women, children alike. I turned back and saw our grandpa had kept his herd intact with his steely resolve and his encouraging words, "Don't worry, this is a blessing in disguise, He will give us darshan, this is just a test of our determination. Don't give up." I got a fresh dose of energy seeing his tenacity.
So true, might be Lord Shiva heard our prayers and wanted to give us darshan but you know- test is His taste. Perhaps, he wants us to go through some 'sadhana' to give a reward. In the next half an hour, we were just a dozen in the line just before entering the temple complex. The villager with the gandhi topi was still in front of me. He turned back and said, "Face hardships, accepting it as His will and see He carries you through." He added with a dose of excitement, "Can you imagine, we are at His doorstep in just half an hour! Where is seven hours and where is half an hour!" Then he shouted- Jai Bolo Bhola Baba Ki. Few of the remaining ones responded with an exhausted Jai.
Drenched in the copious grace of Tryambak Shiva, we were in the garbha by 4:30 pm. There was no line as there were no one to make the line. We spent nearly half an hour in the temple, something one can't imagine at such a peak season. Had the darshan from the mirror on the top, not once but continuously. Tryambak as the name suggests is three faced lingam comprising the trinity Brahma, Vishnu and Shiva. The shiva lingam is in a kunda and one can behold the lord only through a mirror kept on top of the kunda.
Big clock on the temple wall showed 5'o clock and we came out satisfied after an exhilarating darshan. The incessant rain became a gentle drizzle and wading through few inches of water, we came back to our tempo trax. Our driver said with a twinkle in his eyes, "I never thought, you will actually have darshan in the time frame suggested by me, where is seven hours and where is two hours."
Seeing our wet clothes, he said with a chuckle, "You all have got drenched in a torrent of His blessings today."
Things to see in Trayambakeshwar: Trek to Brahmagiri can be undertaken which takes around 2-3 hours to reach the spot where river Godavari is born. The path is dotted with many small temples and some breathtaking view of the Tryambakeshwar town.
Places to see in Nashik
Temple of mother Godavari