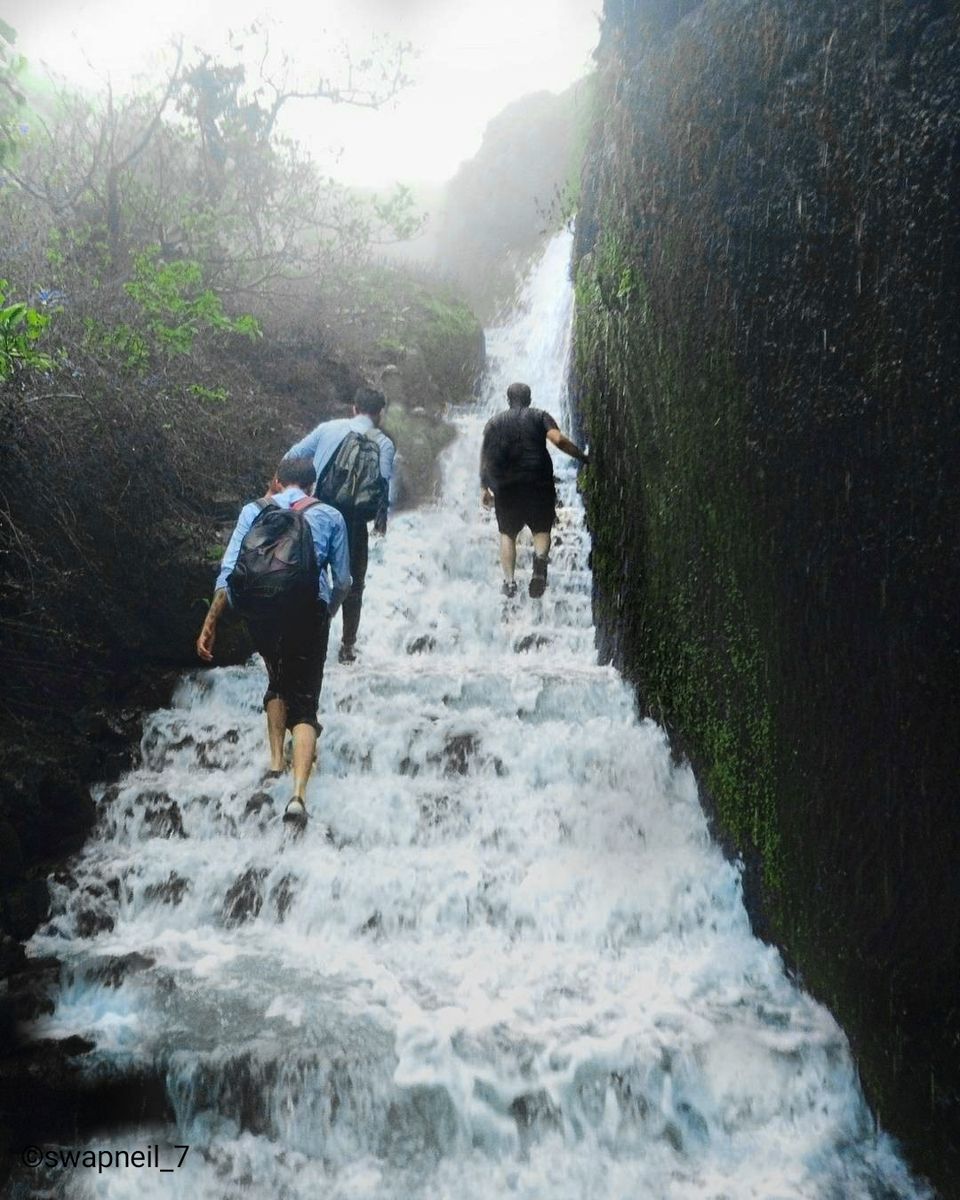 Story Of My First Viral Picture 🙆🏻‍♂️
As Dr. APJ Abdul Kalam Sir says, "Sometimes, it's better to bunk a class and enjoy with friends, because now, when I look back, marks never make me laugh, but memories do."
Aaur bass hum logone isse seriously le liya and bunk karna shuru kar diya tha 🙆🏻‍♂️
So I still remember it was my 2nd bunked lecture from 3rd sem of engineering. We decided to complete visapur fort.
When we reached Malavali, One of my friend suggested that there is one back road which is unexplored, Let's try to find it.
Vaise bhi bunk kiye the barish ka samay tha, to socha kuch naya hi kar lete..
And we decided to go via Patan route.
As it was not much known route at that time, it took us around 2 and half hrs to find the right trail and to reach the top.
The things which excited me the most during this trek were these stairs 😍❤️
Mann... This was like a waterfall flowing through the stairs and their flow was like 🔥
So we clicked some pictures and we returned home. Obviously ghar pe bataya nahi thaa so gile kapde kaise ho gaye ka ans to obviously raincoat bhul gaya clg me se accha koi ho nahi sakta..
And I was a noob back then... Kuch chotuse edit karke..kuch normal #tags use karke.. post kar diya...
And bhaii saab 🙆🏻‍♂️
It was my first picture on instagram which got 5000 + likes and tabhii followers kuch 600-700 thee...
It gave a me a boost ki like what the hell happened. And then my actual journey on Instagram began. I started researched about how instagram works, learned some things and the journey continues till the date.
And yeah it was also got featured from
@nature
@beautifuldestinations
And 150+ other pages..
Yeah more than 150 features to this post.. 😅
So,
Bunk Karna Itna Bhi Buraa Nahi Hota
So, Just take a break.. O sorry extra break rather than weekend 🙈❤️
And Be You, Which Matters The Most 🌈🤞