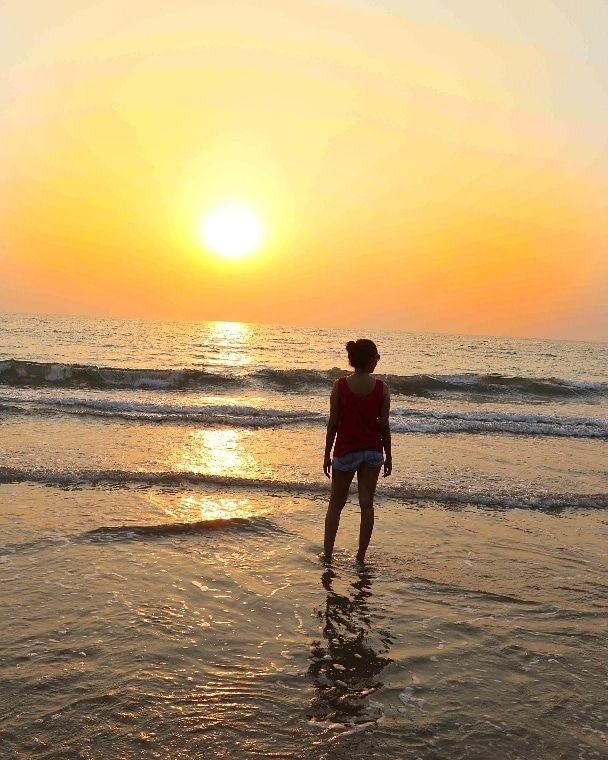 The Girl Gang Strikes! (Day 1)
And how! So, my friend and i decided to do a trip together.. we figured that after having known each other for 19 years and with one marriage and a child between us, we should at least take some time off to travel some place nice. That literally was our idea of a trip - Some place nice ;-)
We decided on Ganpatipule, a quaint little place in Ratnagiri district of Maharashtra. We set out a date as January 26th 2018..It was a long weekend and the weather would be ideal then. So, the dates were fixed a month in advance, tickets booked, reservations made...we were all set..or so we thought!
Major Twist In the Story!
Tickets and reservations being made, i sat back counting days for our trip...15 days prior to our journey, we realized that the train tickets (booked online) was actually a non confirmed reservation with a waiting list of over 100 people before us! How could i not have seen this before? I felt dejected sad, blamed the universe for conspiring against my "fun time" ,threw a tantrum and then promptly got back to plan B..Plan B was to reschedule our trip to next month. This time i got the tickets booked through someone who was well versed with the Indian Railway website ...😌😌 Talked to our resort guys who generously postponed our dates and with the new dates in place i felt a little more hopeful, a little more thankful (silent apologies made to the universe) and more excited about the impending journey! We were finally going! Yippee!
Off we go....
We boarded the early morning Jan Shatabdi from Dadar..leaves at 5:30 am (if you are not a morning person....AVOID) reaches Ratnagiri station by 11:00 am. We had booked the executive chair car and it was worth the money. Slightly expensive but the coach had a glass door at the back and because we were the last coach, or the first, however you want to see it .. we had an uninterrupted view of the surroundings. Which means selfie lovers and photographers can go click click click...
View from the last cabin
You can just stand by the window admiring the konkan route and take in all the lush green scenery . In the serene morning, it is quite a view to have.Don't forget to catch the sunrise while you are at it! I caught some on my google pixel 2 and it was oh so beautiful...You get a glimpse of rural Maharashtra and get a glimpse of its unembellished form in all its glory.
Sunrise ! Hello there!
At around 11 am we reached Ratnagiri station..Thankfully, there is a escalator to take us from the platform to the main entrance of the station. Thank god for small mercies..I packed light for the journey but lugging around a bag nevertheless is a pain in the a**...Our driver was on time to pick us from the station and it is a one hour drive to our resort...time for a mini siesta.
zzzzzzzzzzz
An excited bunch of girls!!!
The plan was to snooze a bit before our big adventure but anybody with a good sense of nature and beauty will not be able to rest. The view en route to the resort is simply breathtaking. Ganpatipule is a concealed gem enclosed within the confines of the hard city life..so while Ratnagiri is a city buzzing with activity, Ganpatipule is completely the opposite. Serene, calm, virgin beaches, untouched by the hustle bustle of life is what makes this an ideal get away place. I had not seen white sand and blue clear sea water in Maharashtra until we crossed the pristine Arey Ware beach. And to think of it this is just the first beach we have come across...Ganpatipule is laden with beaches, each better than the last. It also reminds me of Goa..the narrow curvy bends of the road, the little mud houses, the smell of cow dung and mango plantations everywhere! Love!! 😍.. We were just savoring it in and didn't realize when we reached the resort!
Arey Ware Beach
Destination arrived!
After the mandatory check in procedures, we decided to explore the property a bit and grab some lunch . We fortunately chose a working day for our trip which is a blessing if you hate crowded places. I like some peace and quiet and the resort was fortunately not at all crowded which gave us the luxury of lazing around on their deck, which has an amazing view of the sea. Food was scrumptious as well. We reached the resort at around 12:15 pm ,so it was hot! If you are planning a trip during Feb-March or later during summer, don't forget to carry your sun tan lotion.
View from our room!
View from the deck of the resort
Watermelon juice & the fruit are both a common sight in Ganpatipule
The beach awaits...
We rested a while till the weather cooled down a bit and headed to the beach by evening. Excited !!! Its a 2 minute walk down to the beach. The beach was beautiful and isolated. Most importantly, it was clean. Such sights are rare for a Mumbaikar like me. No offense to anyone but our beaches are strewn with all the possible filth and plastic. Contrary to that, the beach here was heaven...We rushed into the water, jumping and frolicking around like little girls. After the initial excitement had settled down, we just sat there waiting for sunset. At that moment,just before the sun went down, we were one with nature and beauty. That feeling of absolute bliss when you see something beautiful unfolding in front of us is nothing words can describe. We feel the magnanimity of the universe and nature in that moment. We feel humbled and thankful for the many shades in the sky, for that blazing sun dipped in the sea, the orange and pink hues touch you like a lover caressing your cheek, the only sound we heard in that moment was the roaring sea and boy was it wild.
Sunset Scenes
We headed back to our resort with a smile on our face and sand in our hair..what a wonderful welcome it has been.... (to be continued....Day 2 awaits!)...
The Girl Gang Strikes! (Day 2)
Hey guys! Thank you for all the love and comments on the previous post..this is a continuation post from my last one so, do read my 1st post on Ganpatipule, before reading this one (i promise this is not a marketing strategy..it will just make more sense to you if you do read the previous post ☺)
A New Day Awaits!
A lot of plans were made the previous night...we witnessed the most magical sunset at Ganpatipule yesterday and were so charged by the view that we girls rushed back to our hotel to make more plans for the next. Yes, way way too many plans...One thing i've learnt and re learnt in the past (and i still keep doing it over and over again ...sigh! some people never learn) is never make plans when you are drunk!! Like NEVER! and never make plans when you are not drunk but super excited !! :-p because they never pan out. Anyway, we planned to go catch the sunrise the next day..early morning 6:00 am at the beach...never happened..we slept through sunrise and we slept like a log! No regrets though, was the best sleep ever! It is ok to break schedules on a vacation sometimes, it is ok to sleep in, it is ok to laze around a bit, you are on a vacation after all. So, all you selfie crazy, photo obsessed people (hey! im not judging) just chill people and sleep in once a while, you can catch that sunrise tomorrow ☺.
Early morning cukkadoo coo
Some Divine Blessings!
So after all our lazy morning rituals, we decided to explore the local area a bit. When i googled ganpatipule, i didnt go beyond the beach, i mean, i just saw the beautifu beach pictures online and its like my brain froze on it . So, after a brief chat with our resort front desk, we mapped our day. First, we decided to head to the famous Ganpati temple which was about 5 minutes away from our resort. You can either hire a private vehicle or catch a rickshaw to the temple. A little history about the temple, considered to be a svayambhu (self originated), this temple is a popular destination and frequented by both tourists and pilgrims alike. This 400 year old idol is supposed to have come up on its own from the soil and faces west. The belief is that the deity guards the western ghats unlike idols in other temples that usually face the east. We were lucky in a sense because the temple was not crowded when we visited and had a wonderful leisurely darshan.
Around the temple
Ganpatipule temple
Inside the temple premises
The Beach Again!
After a pious start to our day, we were wondering what to do next when we noticed that the temple was right at the beach shore. It was a hot hot morning but who can resist the beach right? I would suggest that unless you want to try out the water sport activities on the beach, and this one had plenty of choices, you should avoid the beach during mid day. It is hot and unless you wish to have a tan or a sun stroke, it won't be a wise choice. For all the adventure junkies, there is jet ski, para gliding, banana ride, scuba diving etc all starting from Rs.600/-. For the tag alongs, like me, you can either have a coconut water drink and cool yourself in their shacks or invite all the vitamin D and pray that you don't faint in that heat. I had to have as many as 5 coconut water, just so that the guy would let me use his shack 🙄 And when he started rolling his eyes after my 5th, i decided to call in the troupe who were still playing in the water, and head out!
Water sports at the beach
Grinning and baring the heat!
Time for Some Authentic Malvan food!!
Being in konkan side of Mahrashtra and not trying out the yummy Malvan delicacies is a sin. We wanted to try something local and authentic, so we headed out to a dhaba recommended to us by a local guide. The best part about eating in a dhabba is a) the rural feel b) the delicious flavors c) the home made authenticity of the cusine ... We tried out their veg thali and a fish curry with roti which was scrumptious and oh ! do not miss out on the sol kadi! With all that heat, damn i had two!
Sol Kadhi
Another temple! This is Getting all spiritual, i say...
After that amazing finger licking lunch, we were ready to explore again...However our next stop was the famous lighthouse and Jaigad Fort and we wanted to explore both these places at around sunset ...so we took a break till 3 pm and by 3:30, we hopped on to a rickshaw towards the lighthouse. The lighthouse and the fort, are quite a distance away from the temple town, so if you want to catch the sunset at the fort, make sure you plan your travel accordingly. We had to drive around for an hour atleast before we reached the lighthouse. The drive is beautiful and gives you a glimpse of all the beaches of ganpatipule. You will be tempted to stop at each one for a picture because it is that scenic. We finally reached the lighthouse after a beautiful drive but unfortunately it was closed for maintenance, so we couldnt get in 😔...Our heart sank when we saw the closed gates . Our rickshaw guide sensed the prevailing mood and suggested a temple that he said was worth the visit. We had lot of time to kill so we thought, why the heck not! And boy were we surprised! :-) This shiv temple is perched on the edge of the hill. It had a desolate ancient look, im guessing its not frequented by many. However, it was rustic and very beautiful in a yesteryear kind of a way. The temple premises is covered by trees and if you climb down a few stairs, you are welcomed by this amazing view of the blue sea . Its quiet and peaceful, just how a temple should be.
Jaigad Fort
Jaigad Fort is a beautiful ancient stuctural beauty. Built in the 16th century,it is not maintained and looks a bit run down and desolate but that is the beauty and charm of this fort,i guess. It has a wonderful view of the sea on one side and a smoke pumping factory on the other. Such a stark contrast where you see the natures abundant beauty on one end and pollution emanating machine on the other. The only thing that stands in between the two is this beautiful fort. As i read up on its history, this fort has seen some wars fought and ironically today even if it lies unkempt and isolated, it still fights a different war in a sense. A war between nature and modernization. ...
The fort
We wanted to stay back for the sunset but frankly, we were a bit worried about our safety. Not that we had any reason to fear,but because the fort is cut off from civilization and we were the only ones in that massive structure, we decided to head back to the beach instead and catch our last sunset before we leave ganpatipule tomorrow. On our ride back to the beach, we soaked in the sights,as much as we could, i think it was the realization of a beautiful journey ending that made us a bit unsettled, melancholic. Saying goodbye is always hard..We started our trip with the beach and that's where we wanted it to end...that beautiful sunset,that beautiful sea and that view ... oh! what a perfect end to this story .
Its Goodbye but not forever...
At the beach
We reached just on time, and thank god for that! We rushed to the beach for that last dip in the water, the last pictures, the last selfies, and then we just dumped our cameras in a place and ran to the water. As the sun set, we were still playing and giggling and bathing in the orange hues of the sunset. We were saying goodbye but this is not goodbye forever....