Hi Everyone
How are you? Today my post is about the Panchagani and Mahabaleshwar trip which we took recently. What's special about this trip???Ya will tell you, I have been to Mahabaleshwar twice before but this was our first planned bike trip to Panchagani and Mahabaleshwar. We recently purchased Royal Enfield 350 and we had to cover this distance by bike. Off course, I did not ride it as I don't know to ride geared bike; it was me and husband and our anniversary. I love road trip specially the bike ones. From the posts which I have written, you will come to know that we plan lots of bike trips, sometimes only two of us or its with our friends. For this trip we chose to be only us.
About Mahabaleshwar and Panchagani
Mahabaleshwar is a weekend favorite destination from Pune. Mahabaleshwar is usually covered along with Panchagani.
Best time to visit: Nov to March
Mode of Transport: We went by Royal Enfield. There are regular buses from Swargate.
Things to carry:
One pair of cloths
socks
scarf
water bottle
kokum sarbat/ glucose
cap
sunscreen
helmet
make up essentials ( kajal/lip gloss)
light sweater
swimming suit
earphones
mobile phone
charger
power bank
camera
sunglasses
My experience:
This was again an unplanned trip. It was planned at night that we should go on some road trip. We both sent mails to our respective managers about the leaves and once approved we started with the journey. First thing we did, was to search for the hotels, and since it was Sunday the next day, all the hotels were booked. We were looking for 3 star resort at least. After some Google research, we got a resort at Hotel Millenium Park at Panchagani. We booked the same.If you want me to review the same, let me know in comments below.
We started the journey at 10 AM, quite late actually. Since the trip was planned at night, we hadn't even packed anything a day before. As per the google maps, it would take around 3 hours. We wrapped ourselves with stoles and helmets and full sleeve tees and socks and started the journey with loads of sunscreen.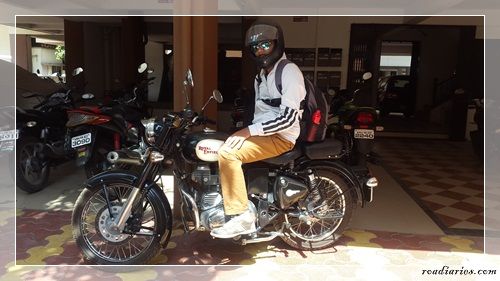 Fully Packed for bike trip
Remember it was May 1st, and quite hot. We did the tank full and the journey began. Though it was 10 AM, the weather was pleasant. We took the route via Wakad and joined the highway. The trees were crossing us slowly. We maintained the steady speed at 50 to 60 KM/hr. It was smooth journey. The roads were in good condition. After around 2 hours, we stopped at a sugarcane juice stall for some refreshing juice. It quenched our thirst. Oh yes, I had also taken 2 bottles of one litres of water each and one 500 ml of kokum sarbat. I did not want us to be dehydrated. We kept sipping the water throughout. This helped us to maintain the water fluid in the body. Sugarcane juice also freshened us up a lot. We reached the hotel by 1: 30 PM. We did not take much pics on the way as it was quite sunny, and we did not stop either. We ordered lunch at the hotel and after an hour left for sightseeing. Since I had not seen much points in Panchgani, we started with Sydney point and Parsi point, which was near to our hotel. It was a beautiful view. We could see the Pavna lake from this spot. We clicked few pics and moved to our next destination to Mahabaleshwar.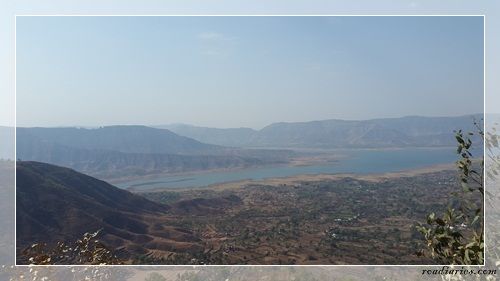 Parsi Point at Panchagani
It was around 20 kms and took us around 30 minutes. Now the weather was also very pleasant, and we were quite fresh too. We covered the points one by one. We first went to Malcolm's point. We parked the bike here. From here, we could see Arthurs Seat, Pratapgarh Fort, Torana Garh Fort and Savitri Valley and for each point we had to walk a little distance. We also saw Shivaji Maharaj statue on Pratap Garh via telescope and they charged us INR 10 per headfor the same. And ya, while walking from one point to another there are lots of stalls and as well monkeys who snatch eatables from the tourists. So be careful.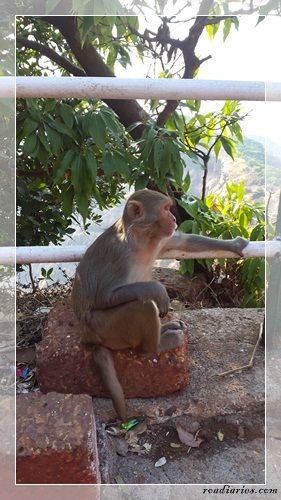 Monkey at Mahabaleshwar
Some of the points we covered are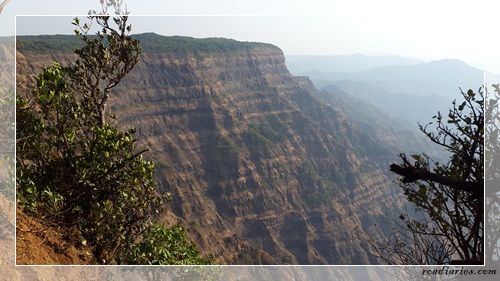 Savitri Valley at Mahabaleshwar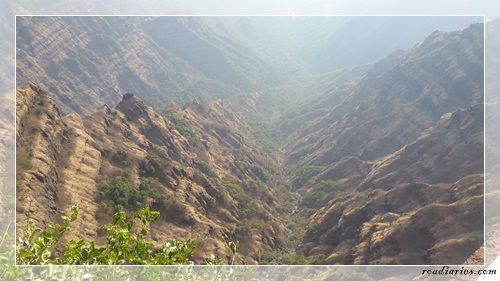 Valley at Mahabaleshwar
We had bhutta/ sweet corn masala and jeera soda here. We were having our own bike, so restriction for timing at each of the location was not a concern. We took sufficient time at each of these spots.
We were done with these spots, since we had some more time, we went to Sunset point. It was another 15 min ride. There were lots of horses with unique names. We clicked sunset pics and left from the place
Sunset point at Mahabaleshwar
We were supposed to return to the hotel and I saw a board directing to the local market. This was not in our itinerary. But going to local market is something I really love. We went to the market for stroll. We found lots of things which Mahabaleshwar is specially known for at a reasonable place. It's not a place of only strawberries and other berries. But there are lots of wooden articles and leather sandals on a reasonable sale. I got leather slippers for just INR 150 rs, and yes i used for like 6 months, that's the maximum shelf life of my slippers otherwise. We also got foot massagers for like 350 Rs which was also a real good deal. And not to forget the fruits. We got strawberries, blueberries and raspberries here, fresh from the farms and at a reasonable rates. We usually don't get raspberries and blueberries in Pune easily. There are lots of local syrup selling shops in Mahabaleshwar special Mapro, but we thought of covering the Mapro Garden from Panchgani the next day as it was dinner time by then. We had dinner in one of the local joints and returned to hotel by 10 PM. We were very tired, so we slept early, again next day we had a long day to travel back to Pune.
Day 2:
We woke up early morning by 8 PM and headed straight to the pool. Swimming pool was empty when we entered, but as we got into water, lots of couples also joined in. We enjoyed our we time for an hour, got fresh and had breakfast at the hotel. we checked out by 11PM and headed straight to Table Land point. I was very hot when we reached, and there were lots of horses here as well. We dint stay for long and we proceeded to Mapro garden of Panchgani.
It was my first visit to Mapro garden. Apart from the retail counter for selling various items at the store, there is also cafe, where you can get anything from pizzas to sandwiches. Also, there is a small supermarke, where you can choose and buy all the Mapro food items. There is also a factory of chocolate processing which you can visit. We purchased kala khatta syrup, strawberry crush, and lot of newly introduced paan chocolates.
There is also a small garden when you can find small fountain and lot of props for clicking pics. You can see some of my pics below.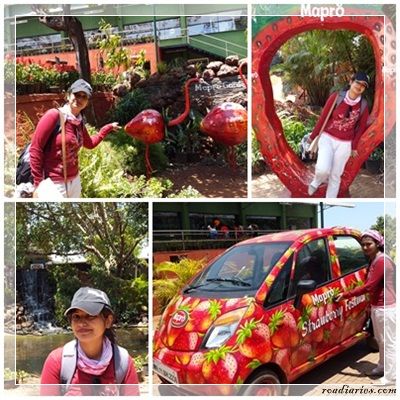 Mapro Garden at Panchagani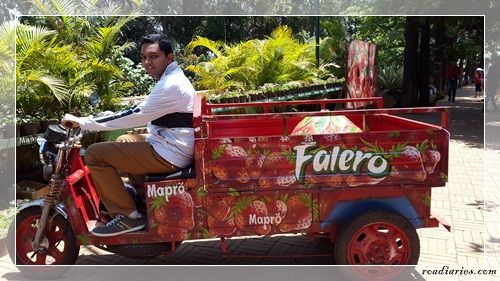 Mapro Garden at Panchagani
And yes, there is also a small store, where candles are sold which are prepared by the blind people. We purchased few candles too. The candles were sold by the blind as well. The candles were starting from INR20.Mahabaleshwar is famous for candles as well.
While on our return journey, we saw Cheese Factory outlet, where freshly prepared cheese is sold. There are 4 varieties of cheese sold. We got the basic version. We had lunch in some restaurant and left the place by 1 PM. It was basically very hot and humid that day. We again packed ourselves well and started the return journey by Enfield.
We stopped at Wai for a break. We visited the famous Mahaganapati Wai temple. We had sugarcane juice again here.
Wai is also famous for masala. Lots of locals sit at the sides of road selling turmeric powder, garam masala and red chilli powder and that too at a reasonable rates. Also, they sell some locally grown organic fruits. We had to stop and buy some masalas, we got turmeric powder (40 Rs fro 250 gms) and a papaya for 30 Rs. and continued our journey back.
While coming it was very hot and did take a toll on our health. We actually had little luggage while coming and it was extremely sunny. We could feel the loo and experienced continuous mirage on the road. We took frequent breaks while coming. When we reached home, we could feel our body exhausted, and tired. We reached home at around 4:30PM.
Overall, it was good experience. but we learnt a lesson not to travel at peak hours, it some how dehydrates the body wholly. Our return timing was little wrong. We should have left the place around 4 PM so that we don't experience scorching heat. But even then, it was bike ride to cherish forever. It was special because it was our first road trip on Royal Enfield and also our wedding anniversary.
This post was originally published on Road Diaries.