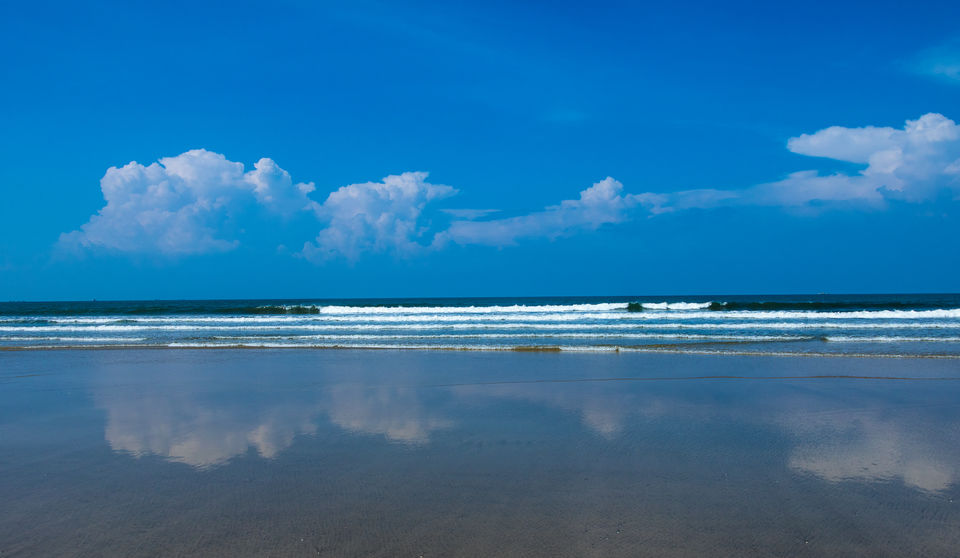 The NH66 runs from Bombay to Kanyakumari, never once drifting too far from the Arabian Sea. During my road trip from Bombay to Gokarna, we followed NH66 southwards which brought us to the Malvan district of Maharashtra. Our stopover for the night was the relatively unknown beach of Tarkarli, some 420 kilometres from Tamhini Ghat. But we ended up spending another night at Tarkarli because my editor was already beginning to lose it with me and it had only been a month. - unconnected and irrelevant
My luck seemed to have a stick stuck up its rear-end during the duration of this trip. I wanted to stay at a place with Wi-Fi connectivity because work comes first. Sadly, internet connectivity is one luxury that Tarkarli cannot afford. (There wasn't any 3G/4G reception either.) I was told by our resort's owner (who for some reason had deployed a non-working MTNL Wi-Fi router at his office) that there are plenty of cyber-cafés in the main town. He forgot to mention that only one of them stays open on most days.
I got the work done the next day which pissed my brothers off; - What work? This is incoherent at best. You were talking about your editor being mad at you, now you've upset your brothers. How is this relevant? And why is this so garbled and non linear? I usually don't have such bright starts to days which was a good surprise. I am not particularly fond of beaches, but Tarkarli turned out to be an exception. People of Malvan are real sweet. (This inference has no relation to the fact that a person who has spent almost his entire life in Delhi would define the company of SS as gracious.) Plus, the white sand of Tarkarli's beaches has a lot to offer than the Arabian winds and waves and the palm trees. It is becoming a hub for water sports as we soon found out. My brothers and I only indulged in scuba diving (and forgot to collect our photographs later on) because we didn't want to burn our money. ??
The evening brought a great sunset with it. And we had the entire beach to ourselves. The setting was asking for some celebrations, so we obliged. Tarkarli had shown us a great time, and one that we did not expect. The season hadn't begun yet so the place seemed emptier and more peaceful. I went for a walk along the beach, with the eternal waves struggling to catch up with my feet. Life at the beach can be hard if you forget to pack your sunglasses. - Random, choppy sentences that lack a flow.
Getting to
By road: Tarkarli is 534 kilometres away from Bombay. Mention the route and how long it'd take
By train: The nearest railway station is in Kudal, which is 35 kilometres away from Tarkarli. Name of railway station? How does one get to Kudal? Use Bombay as point of reference
By air: The nearest airport is in Goa, which is 130 kilometres away from Tarkarli.
Accommodation
There are plenty of resorts for you to choose from. We stayed at the Visava - Is this on Booking.com? Include the UTM code resort, which is right next to the beach. Here are a few for you to choose from:
Incorrect link. Tag these hotels with the affiliate Booking.com code. 
When to go
Winter season is the best time to visit Tarkarli as the place receives the least amount of rainfall during the months of October till March.
What template have you followed?
This article needs a lot more content. I doubt people would want to visit Tarkarli after reading this. You must sell this better. 
Have you been to Tarkarli? Share your experience with Tripoto's community of travellers.