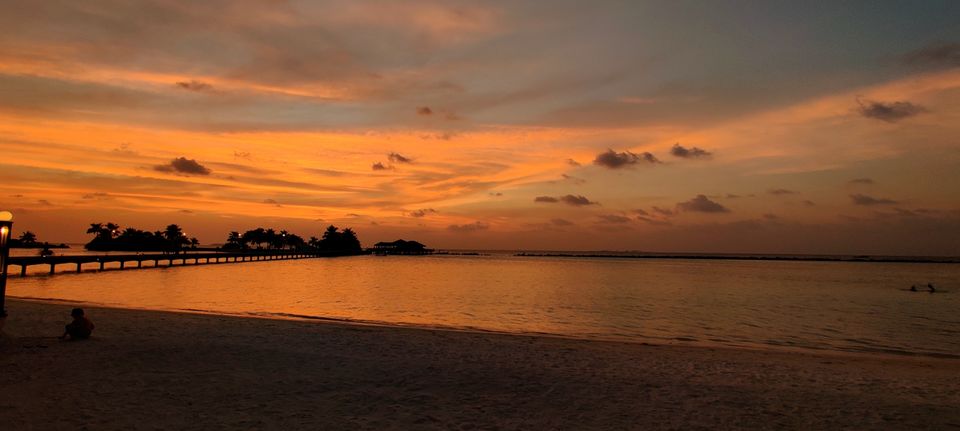 Just as we were preparing to land at Velana International Airport, Male the scene outside took my breath away. It was as though we are landing amidst waters. At that very moment, I whispered to self - "boy, this is going to be one hell of a trip."
It was a early morning landing and we were immediately transfered to our resort via speed boat. It was a short 20 mins ride to Paradise Island Resorts, Lankanfinolhu, North Atoll. We all were instantly in awe of the place - Spectacularly clean waters, fishes right upto the shores, peaceful and friendly environment, and breathtaking views all around!
Immediately after checking in to our villa, wasting no further time, we went for snorkelling! Life underwater is so soothing and peaceful. (well, it wasn't soothing initially, because I being a non swimmer had to be properly equiped with my gears and I took a while to normalize under the water). But, once things get normal, all I wanted to do was explore all the zones of the Island, ofcourse by way of snorkelling.
The resort in which we stayed had an Indian restaurant 😁. This becomes more important when you're a vegetarian 😂. It provided decent food options. Apart from the indian restaurant, there was also a separate restaurant for Italian and then a separate one for Seafood and Sushi. There was a cafe as well as a bar. On the first day we went twice for snorkelling. And by the evening, we grabbed a table at the bar place which was right on the beach. So, seeing the sunset while sipping a pinacolada and some soft music in the background and wet hair and sands on the feet and chitchatting with the friends seemed like a perfectly happy place.
This was a sort of undecided routine that we followed for the balance days.
- A great breakfast (as we had a whole day's tiring work).
- Snorkelling followed by Korumba Punch (in simple terms Nariyal Pani) and discussing the fishes we saw.
- Luncheon (oh we accomplished a great deal in the morning snorkelling session)
- Afternoons relaxing and chilling with friends, oh because the scorching heat.
- Snorkelling session two followed by pinacolada / Malibu and watching the sun set.
- Dinner and discussing our plans and wayforward for the upcoming day. 😂
To the above schedule, we added a bit of tennis games in one afternoon and badminton in other and billiards in one other. We also did a yoga session and a belly dance session on one of the mornings. On one of the evening we fed the Sting Rays, on one we saw the Shark Feeding, on one we went for other sport activities. On one of the nights we attended a beach party (yaayyyyyy!)
While being constantly tied up with all of this, there was this one feeling which never really escaped the mind and heart. Which was - feeling grateful and blessed to be able to visit the beautiful place. Continually being amazed about the clear waters. Being spellbound by the dramatic change in the landscapes during the sunset times. And last but not the least, being dumbstruck about the tranquility experienced under water.
Being on a small island obviously leaves you with limited options. Nonetheless, they're good enough to help you spend a good 4-5 days with a perfect balance of your "me time" and "adventure time".
This first vacation of 2020 was more satisfying than I could have asked for.
PS: some learnings and facts from this trip-
1 - Environmentalists in 2015 said that under the present conditions, Maldives is likely to be entirely submerged by 2050.
2 - In 2016 a heatwave crossed Maldives, raising it's underwater temperatures upto 33°C, killing most of it's corals.
3 - Almost all resorts have their kiosks at the Airport, where you can intimate them about your arrival and transfer to your resort is arranged.
4 - If bookings are done well in time, it is quite possible to have a good luxurious trip at affordable prices. Good research and efforts always payoff.
5 - Some resorts have their Water-villas very close to each other, thereby compromising on privacy. It's always wise to check with them beforehand and go through the pictures and reviews prior to booking.