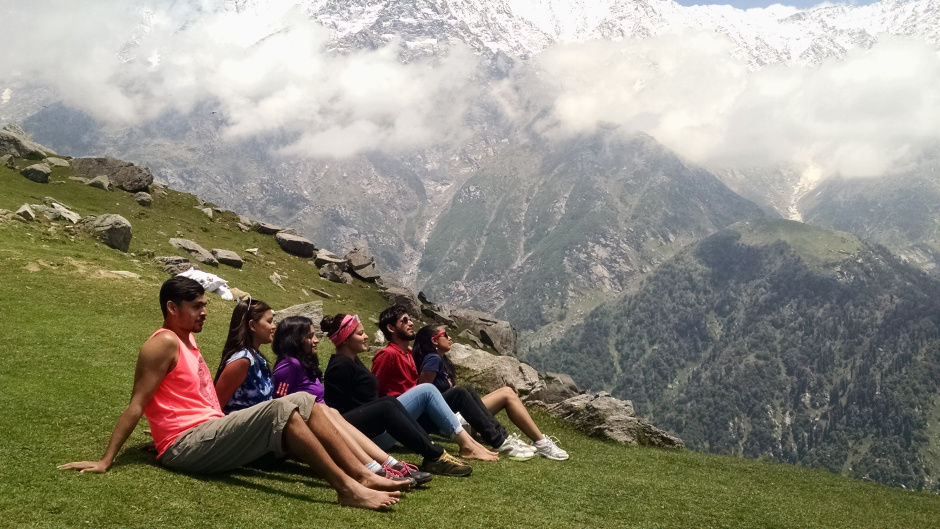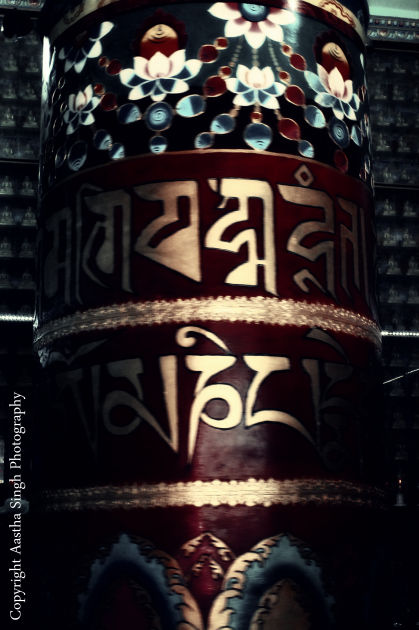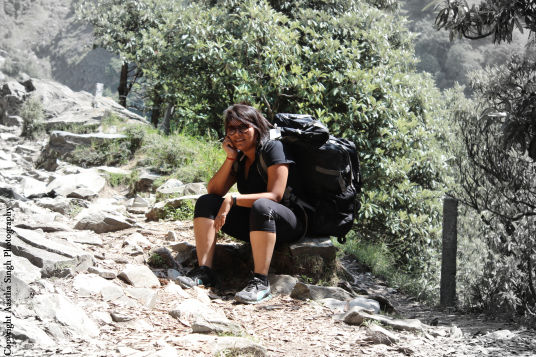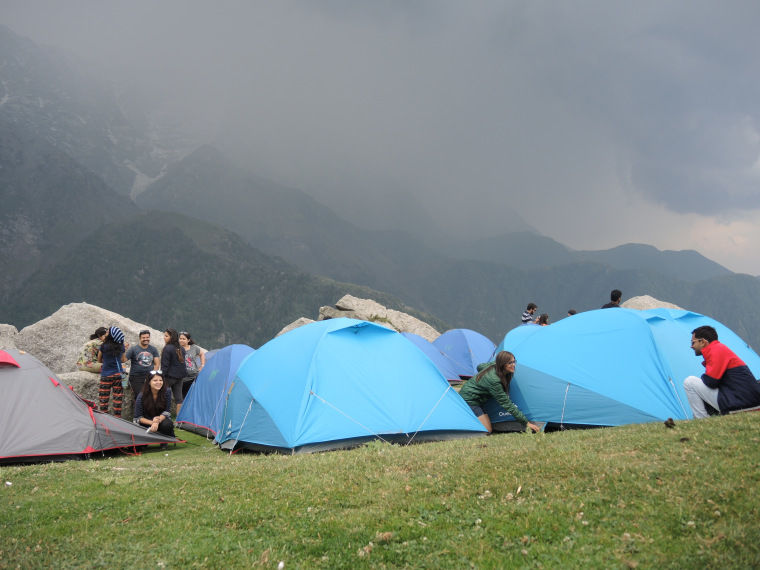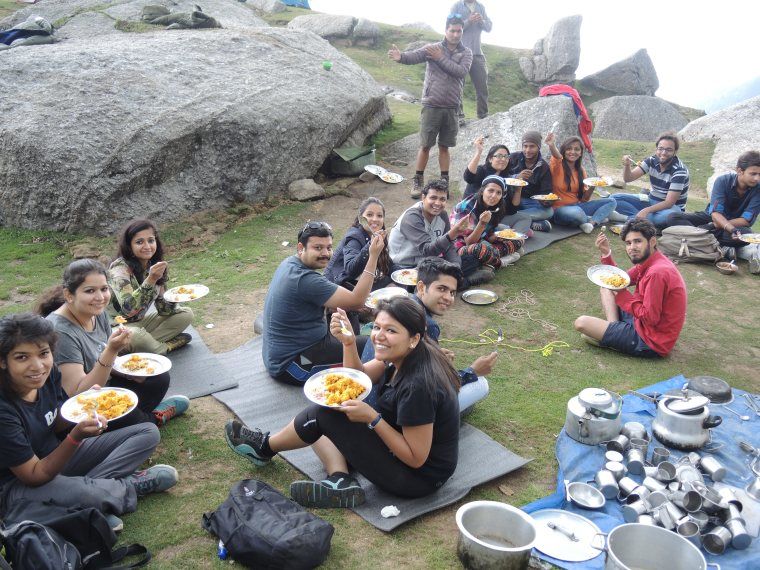 Early morning in the Buddhist land, the peaceful chants of the monks and the tinkling bells welcomed sunny Saturday morning! With many of butterflies flickering around me, quite of them had already started playing hide-and-seek inside my tummy. Filled with excitement, I was ready with my ruck-sack to my first ever guided trekking expedition to the stunning Dhauladhar ranges.
The first step and Akanksha shouted, "Guys!! Come here, we need a picture together. Aage jaake mujhe apni shakal mat dikhana, but let's pose for now!" The entire group of 20 amateur trekkers posed for the photo-op. They said "CHEESE" and CLICK! A memory was captured forever.
A rucksack on my back, sunglasses on, donning my sportswear and a distant view to Mcleodganj amidst the woods, welcome to the rocky terrain-way to mystic Triund. The 7 kms trek was qouted to be one of the easiest (I wonder HOW!!) and one of the most beautiful treks of Himachal Pradesh (undoubtedly!!). I started,a-step at a time. I kept it steady, slow and simple. It was new for me, and would get tougher.. I was aware. While life had made me strong with many challenges all through these 26 years of my life; today, it was my turn! Every step on these rocks reminded me of the difficult times and my will power to overcome the same. I kept trekking for nothing less than 2 hours, taking halts for 30 seconds to a minute each. Yes, I was walking slow and steady and became the tortoise to win the race with myself. On my way up, I got to meet a group of Gujaratis who were on a day-hiking trip to the same destination who initiated talking about how much they love travelling together. Surely, they were "a BIG Family having a trek-Trip together".
"Tenu vekh ke je dil mera dhak dhak kare..tu hi dass o soneya main ki karaan . Not the mountains, but a young gentleman, must be around 30 years of age, with his sling bag and white headphones, breathing heavily paced up in front of me and smiled. We met again till I reached the first rock-challenge. Next what I saw was a huge grey rock beheading a 2 feet broad pavement to reach the other mountain. I wasn't sure, but I crawled up there. "Hello ji" he passed a smile."hello !" I replied. " Aapse ek baat pucchu aap buraa naa maane to? (Can I ask you something if you don't mind?)" I asked. Too happy to communicate with a complete stranger he nodded his head in agreement. "Yahaan humari chalne me saans atak rahi hai, aap gaa kese paa rhe ho? (It's difficult to breath while walking, how are you managing to sing like this?)" He again smiled to respond, "Madam tuannu entertain karn waaste e karde haan!(Madam, I am doing this to keep you entertained)" We both giggled. Unknowingly, I was establishing a connect with everyone, few known and many unknown fellow trekkers. Got to meet a young trekker from Rome, a couple from U.S. , again a Punjabi couple and many others. It was elating to communicate with them, for those few minutes and have a glimpse of their life's stories.
Chit-chatting with wanderers I could see, we weren't far from our destination. Another 20 minutes may be and we shall be there I assured myself and convinced my younger sister. But, I could see those dark clouds hovering on our heads and it could rain anytime soon.We had to gear up a bit. Crawling, climbing we could eventually made it to the top. The view was stunning!! Fresh green grass beneath the feet, chilling breeze caressed my hair and the mystic view to the snow capped mountains. Ah! Nature, I LOVE YOU!!
"Hey girls! Over here!!" waved our group. Drenched in sweat and dying of hunger, we almost snatched our plates of pulao and gulped it down.As soon as we were half way down our plateful of hot rice, it started drizzling. We rushed to our camps.We were five people in a tent for two. Then, the conversation started. Merely 10 minutes had passed when a hailstorm hit our site. OLE-OLE-OLE…OLE-OLE-OLE. Pitter-patter on the head, shivering we held on to the only blanket we had to save ourselves. It continued for half an hour and gave us a breather. I peeped out of the tent curiously, just to see a white hail sheet all around our tents. The grass was greener, our toilet-tent had just flown away to another land, 2 tents had gone-with-the-wind and we were the happiest to get clicked on such a stormy evening. 15 minutes of posing, selfies and pouts..and the storm hit back.This time we were 8 of us in a tent for four. The sky went darker and Bollywood kept us going till rain-god realized it to be too much to handle for a young group of nature lovers. While we were served our food, it was freezing outside.
As I stepped out of my tent, it was a clear sky and an endless sheet of twinkling stars. I was almost able to touch those tiny shining little things up above the world-so-high, like diamonds in the sky. I sat on that large rock outside simply gazing at the stars and breathing every moment of it. All of a sudden saw a pale yellow rock rising from behind those hauntingly beautiful ranges. Honestly, I did get a bit scared for a few seconds just to realize it to be our very own Chanda–mama who had come up to romance-with-the stars! Pale moon-lit haseen-waadiyaan , freezing wind caressing my hair and shivering I made myself comfortable on that rock.
That night was stunning, beautiful and mesmerizing! I yearn for more of it. Thank You The Weeknders Group to unveil the wanderer in me!!
This post was originally published on 'Our world my way'.