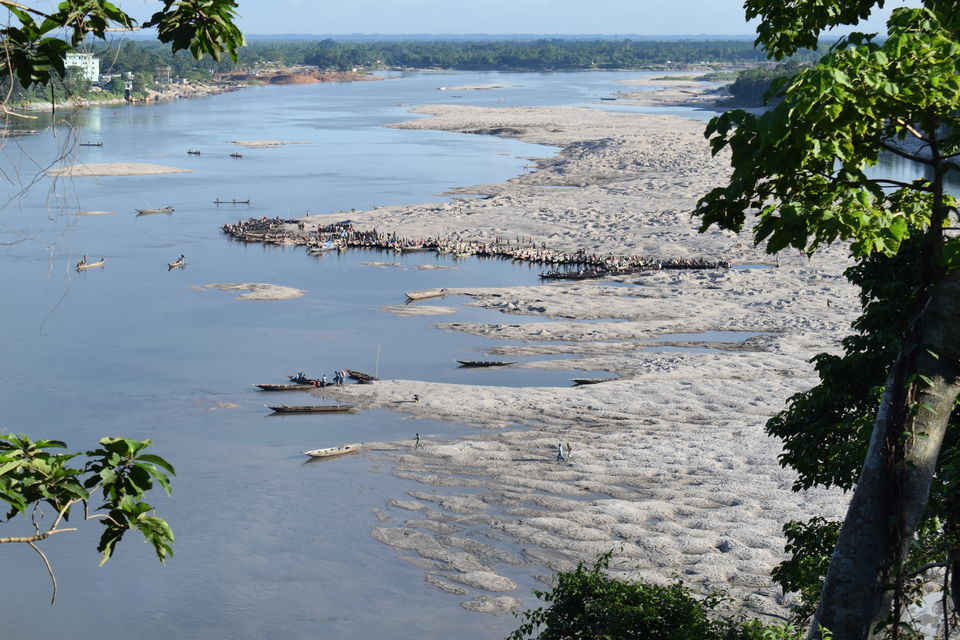 It was June 2017, four friends (Dipayan, Tania, Sohini & Sanjoy) planned a trip to Shillong. This story is not only about what they explored on the way to Shillong, but its also about how two besties Dipayan & Tania felt in love on the way.
Day 1:

The journey started from Netaji Subhas Chandra Bose International Airport,Kolkata and it was Tania's life first air journey. She was too much nervous and excited but that didn't stopped her from taking a selfie and here what got captured.
It was an hour journey to Guwahati.They stayed in a hotel that night and booked a car for the next four days road trip.
Day 2:
They started their journey to Shillong at around 8am in the morning. It was a chilled morning, with fog throughout, indeed a blissful start to the trip. They reached Shillong by 12 noon with many breaks on the way.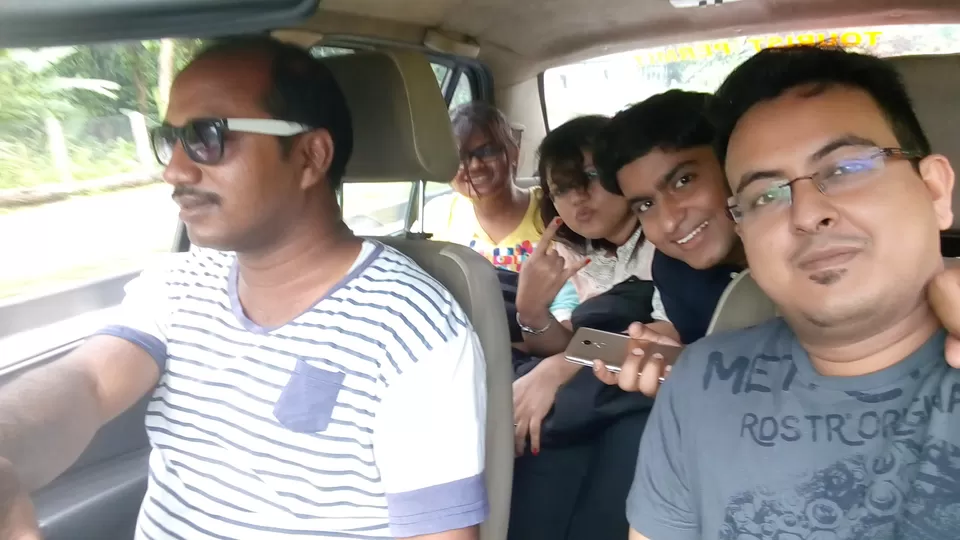 Starting from waterfalls, gardens, lakes to hills and forests,Shillong also known as the 'Scotland of the East', beckons you to witness the beauty of Northeast.
Here are some glimpses :
From selfies to group photos, Dipayan and Tania were too much together...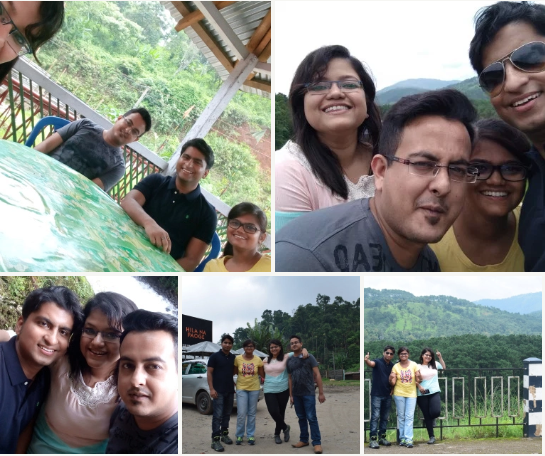 They decided not to checkin to their hotel once they reached , rather all agreed to explore half the day throughout Shillong. Elephant falls, Ward's Lake, Shillong View Point, were some of the places they covered. Almost in every place, Dipayan and Tania enjoyed each others company. There was smiles throughout and lot of blushes.
After the day long ride, they reached near the market area popularly known as The Police Bazar. They had their hotel booked and it was almost 8pm, by then. All of them, freshened up and everyone had the urge to try some Khasi(ethinic tribe of Meghalaya) dish. Dipayan ordered Jadoh and some tangy chicken. Tania nodded that she would go for the same. There was again a cute smile on both of their faces. They wrapped their dinner and went back to the hotel and went off to sleep to their respective rooms.
Day 3: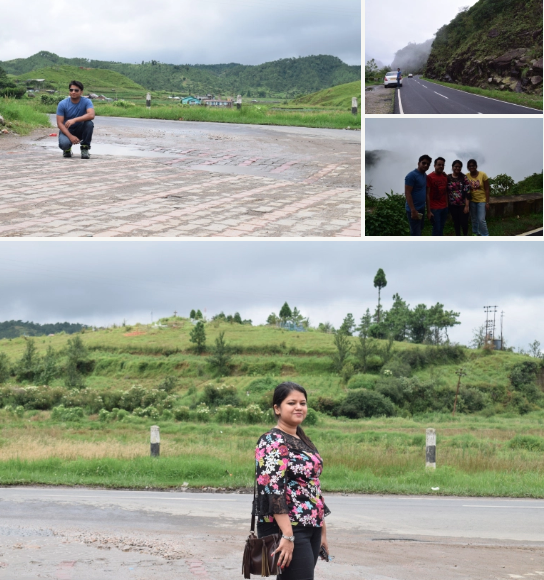 The third day started fresh, with a chilled morning and a warm breakfast. Plan for the day was Living Root Bridge, Mawlynnong and Dawki.
They stopped on the way. It was a viewpoint and the view was just breathtaking with green spread of hills and fog floating over it. The other two of the group- Sohini and Sanjoy were busy taking clicks on their Dslr's. But Dipayan and Tania had a quality time. There was chills, fog, hills, chit chats, smiles and an appealing atmosphere which summed up a complete romantic scene.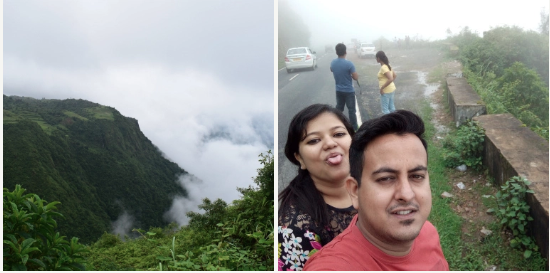 They reached living root bridge by 10 in the morning. It was a nature's magic. Roots from trees tangled and a firm path created by nature. From living root bridge they headed towards the cleanest village of Asia- Mawlynnong. To their surprise, there was not even a single pebble on the road. It was clean as crystal. They explored the village less because they were more eager to trek to Bangladesh view point. It was a long trek for them where sweat shedded, muscles pained, body gave up but heart pounded more than ever. Love bloomed and all the tiredness zeroed down to pleasure of being together. Thats the reason wise man say, Go for long walks and find many treasures. They found theirs.
Later from Mawlynnong, they arrived at Dawki, spend few hours there and returned back to Shillong. That was their last night in Shillong and they do not want to spend it in mourning. There was booze and four friends and lots of topics. That night was special for all.
Day 4:
The last day of this beautiful trip. But there was more to evolve. Cherrapunji peak,Seven Sister Falls and Mawsmai Cave was on the cards, before they returned back to Guwahati.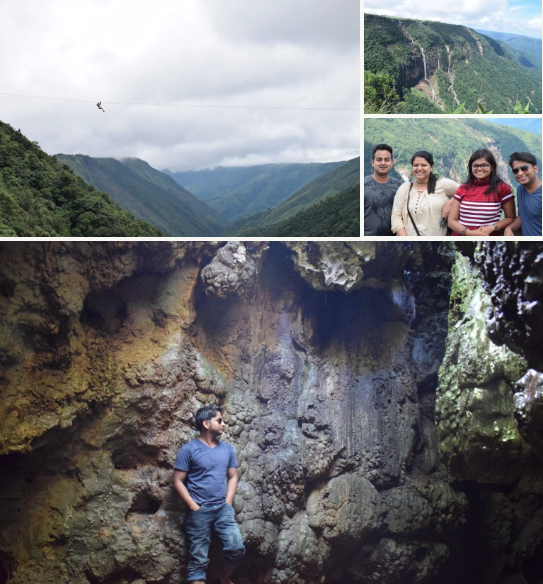 Something special happened in Mawsmai Cave. Dipayan and Tania were going through the caves. It was steep, narrow and slippery. Somehow, Tania couldn't get the grip and slipped. Dipayan turned back and held her hands firm enough to make her stand again. There was less pain in Tania's mind and more love. Dipayan held Tania's hand for the first time with that intensity. Indeed a beautiful moment inside the cave.
Shillong chapter came to an end and they headed to Guwahati to board the train for Kolkata.
"The trip came to an end but another trip began. A trip that tied the knot...."