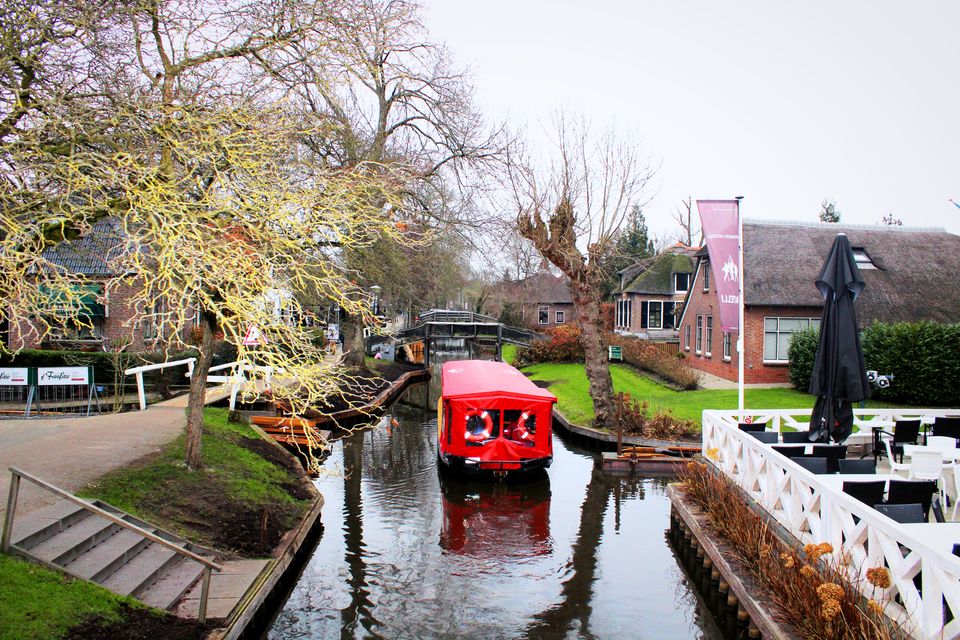 Have you ever experienced how it feels to live a dream? A dream that glimmers on our laptop screen. A dream that peeps through the floating pictures on internet. A dream that is ripped straight from our childhood storybook page. I lived such criminally innocent, dreamy moments in Giethoorn, a quaint little village in Northern Holland. Giethoorn is one of the many beautiful corners on this earth that feeds our fairytale imaginations. This place hovered in my dreams from many past years. There were days I desperately wished to visit this place. I weaved my thousand imaginations of 'I'm strolling through the tiny alleys, rowing my little wooden boat through calm, narrow canals of Giethoorn'. Last winter this tiny fairytale dream of mine shaped itself into reality.
Giethoorn isn't a secret gem of Holland any more. Specially in summer this village attracts boisterous touristic crowd that often threatens its tranquil charm. But still no-one can deny it's a too beautiful place to be missed out. This Giethoorn guide can help you to make most of this dreamy trip inspite of crowd.
Things to do in Giethoorn
I would be lying if I claim there are plenty of activities to enjoy in this petite village. Head to this place to take a lazy, slow walk across the village, cross the wooden bridges over the canal, smell the flowers, sit back and relax by canal side. You would realise how magical this real world can be only if you slow down.
Credit: Saheli Bera
How to reach Giethoorn from Amsterdam Central

From Amsterdam one needs to take the train upto Steenwijk and then bus 70 to straight into town. Alternatively one can take the train to Zwolle and then fetch the 70 Bus from there. The unbelievably scenic bus route to Giethoorn would not cease to amaze you.
Get wrapped up into Dream and float over the canal
The entire village of Giethoorn is crisscrossed by shallow, calm streams of canals. Undoubtedly, the Canal is the most starry features of this place. Exploring the village by a boat, cutting the narrow canals is one of the top things to do in Giethoorn. Once I entered the village, I could spot many shops lined up along the canal with boat renting facility. The little wooden shops sell souvenir. The iron shelves outside the shops were stacked with laminated post cards of Giethoorn, fridge magnets, key rings woollen cap, gloves, socks and ear muffs. Once I paid for a two hours boat rent, they initially gave me a short verbal tutorial how to control the steering, engine and speed of the boat. They also provided a navigation map and marked the spots to be covered.
Traditional Whisper Boat: The whispers boat are most common option to conquer the canals around Giethroorn. The name comes because it is equipped with silent motor, without any stench or noise of petrol engine. The canals are very shallow and are about 1 meter deep. So boating on your own is absolutely safe even with family and children. However it was the very first time I had a hands-on experience on driving a boat and it didn't went very smooth. I struggled a lot to ace the technique to row, to change direction, to take the hairpin bends. I massacred every now and then, hit other boats mercilessly, reversed the direction of rowing backward. There were moments I got stuck in the narrow channels for long period of time until a pedestrian or other boats arrived to rescue me by pushing my boat in right direction.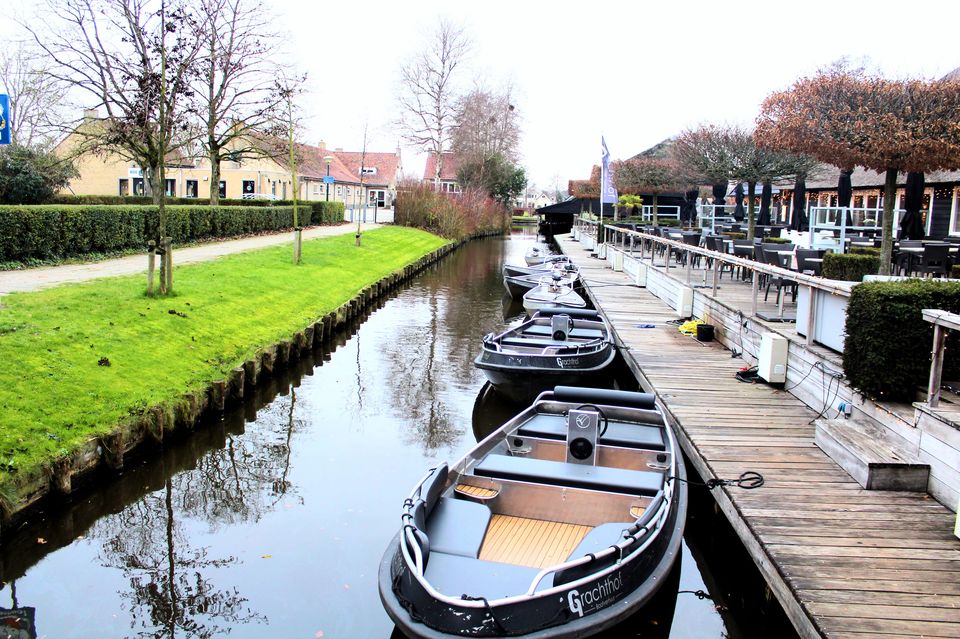 Credit: Saheli Bera

Sightseeing Canal Cruise: From my personal experience rowing a boat with unskilled hand may turn up like a torturous and energy draining process. It ate up pretty much time of my trip unnecessarily. So if you fancy to just sit back and not to worry about operating your own boat then sightseeing canal boats would be best option for you. It costs way cheaper than renting your private boat and whisk you through the main highlights of Giethoorn village.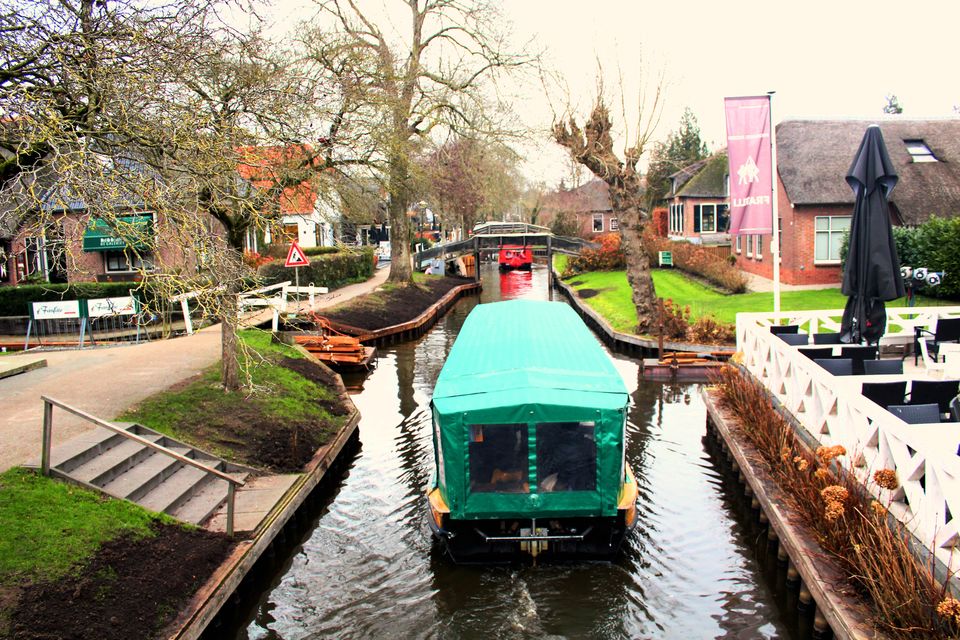 Credit: Saheli Bera
Canoe: If you're in a perfect mood to revive your old school charm then rent a canoe and cut through the canals gracefully at unhurried pace.
Stroll through the canvas painted village
I visited Giethoorn in the month of December which is considered as the least preferred time to be there. The temperature fluctuated in between one degree and two degree. I took almost fifteen to twenty (I'm not sure) round trips to arrive at the very some corners over and over again. I was in awe of the unbelievable beauty, charm and innocence of this place. The winter wind picked up so strongly some times that it forced me to stop every now and then. Trees stood like spears.The fallen leaves blanketed the alley and only a few tattered yellow and copper coloured leaves from previous season clung to almost bare branches. Due to unpleasantly cold weather of late December there were only handful of tourists (mostly asians).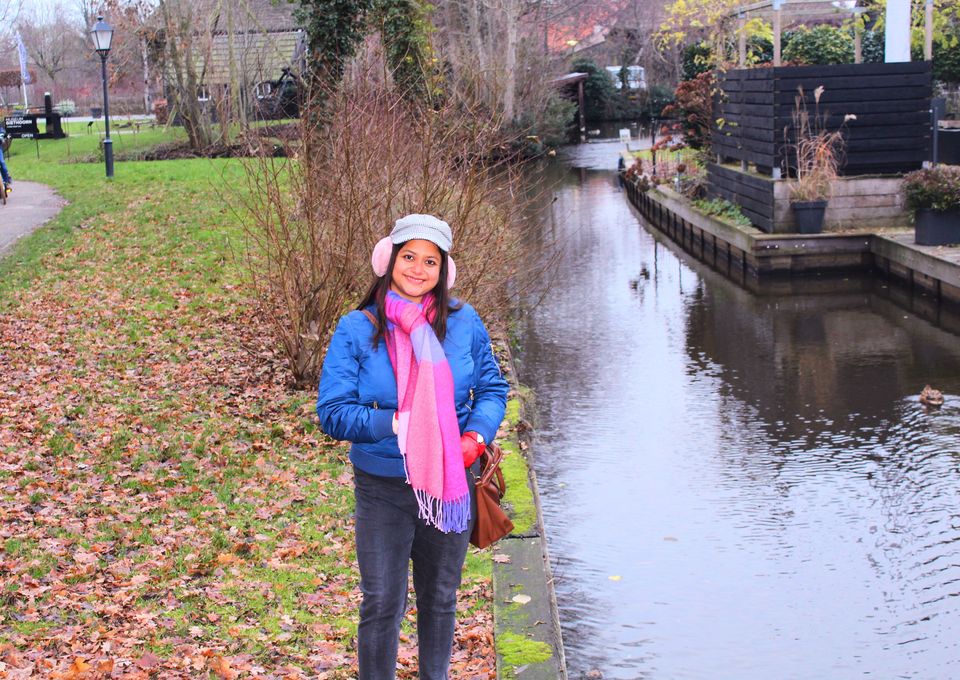 Credit: Saheli Bera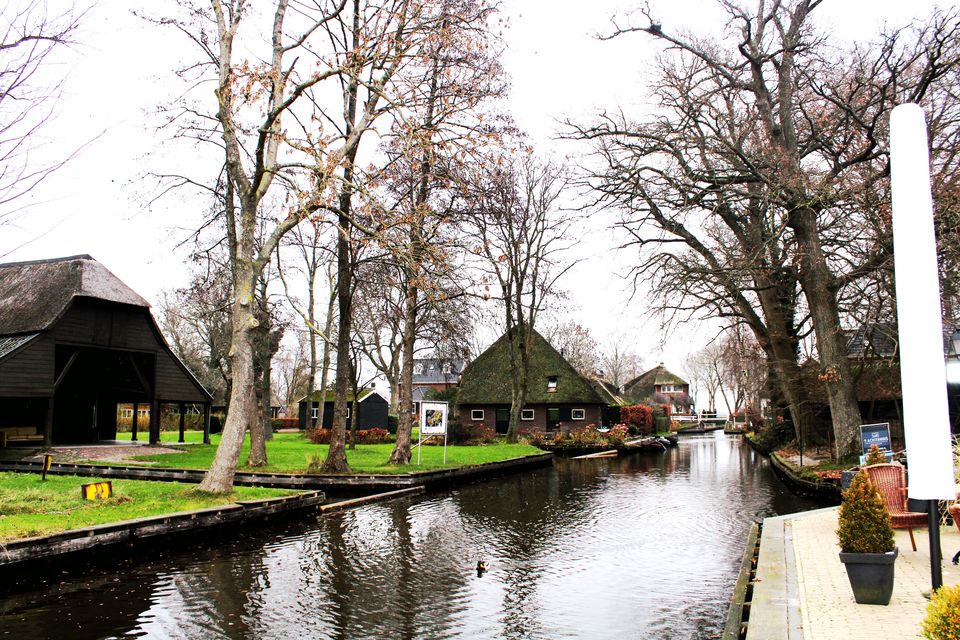 This sleepy village was blissfully enveloped with silence which occasionally got interrupted by birds' tweet. The quacking team of ducklings swam on the lake with the mother duck. Herds of sheeps and white horses grazed on grassland in distance, absolutely unaffected by razor sharp winter breeze. The winter sky was concealed with grey masses of clouds and getting smallest share of warmth from sun seemed like an unaffordable luxury.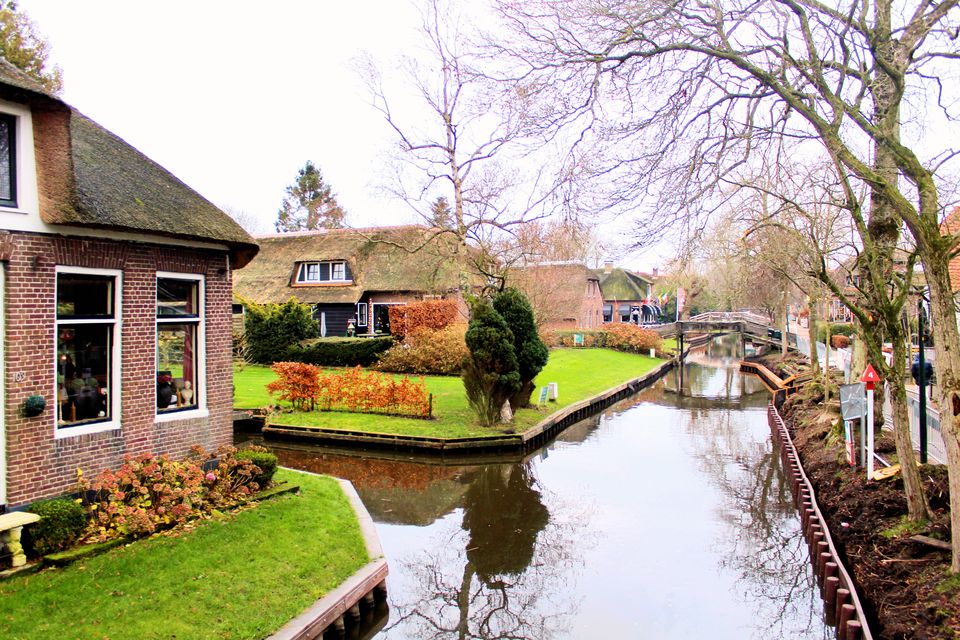 Credit: Saheli Bera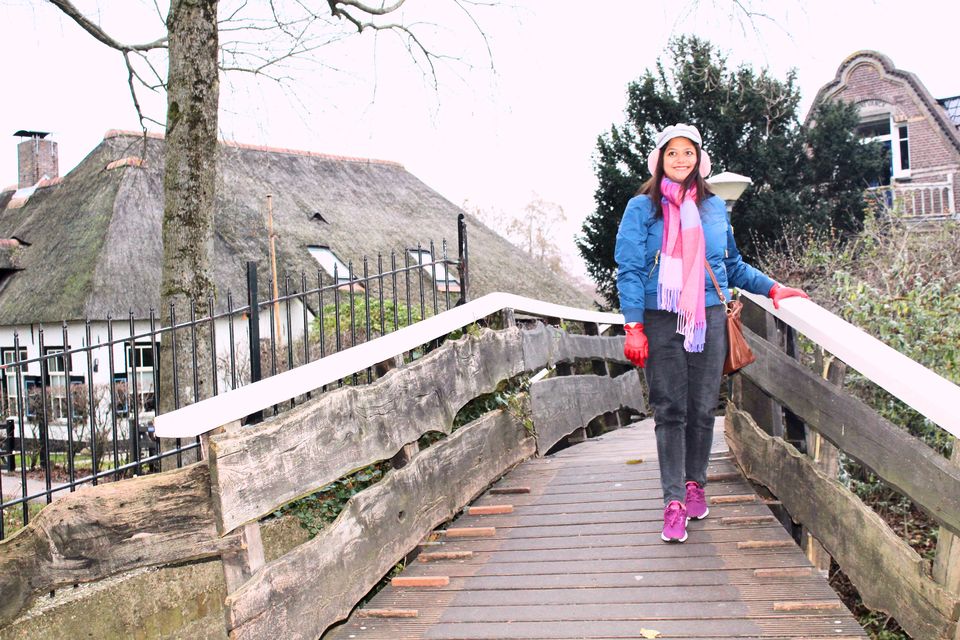 The little graceful houses plotted at uniform distance with thatched or terracotta rooftop and orange brick walls increased the authentic European sensuality by manifolds. The glass windows sectioned the walls into three or four parts. Christmas wreaths and paper stars were hung with red ribbon on the main entrance doors and windows. The wooden interior was well lit with string lights and gigantic Christmas tree beside the fireplace. Grey smoke rolled up from the chimney top. Every house was adorned with a rectangular garden outside. The grass blades was well manicured and in some parts it turned yellow. The flowers lost their colours but managed to stick to the brown stems. Living fence of shrubbery and dried bush outlined the gardens, often flanked by white wooden gate in the middle.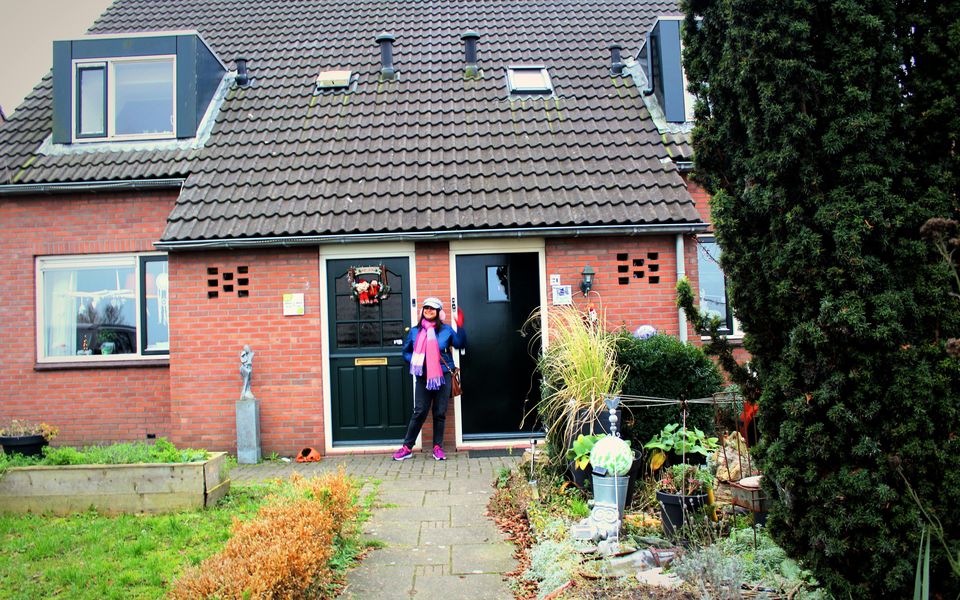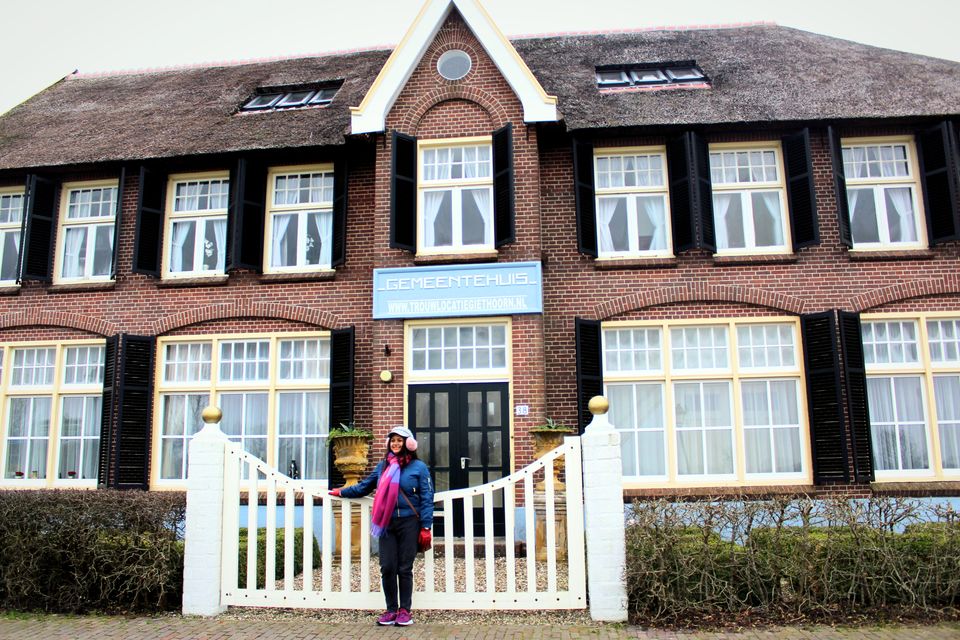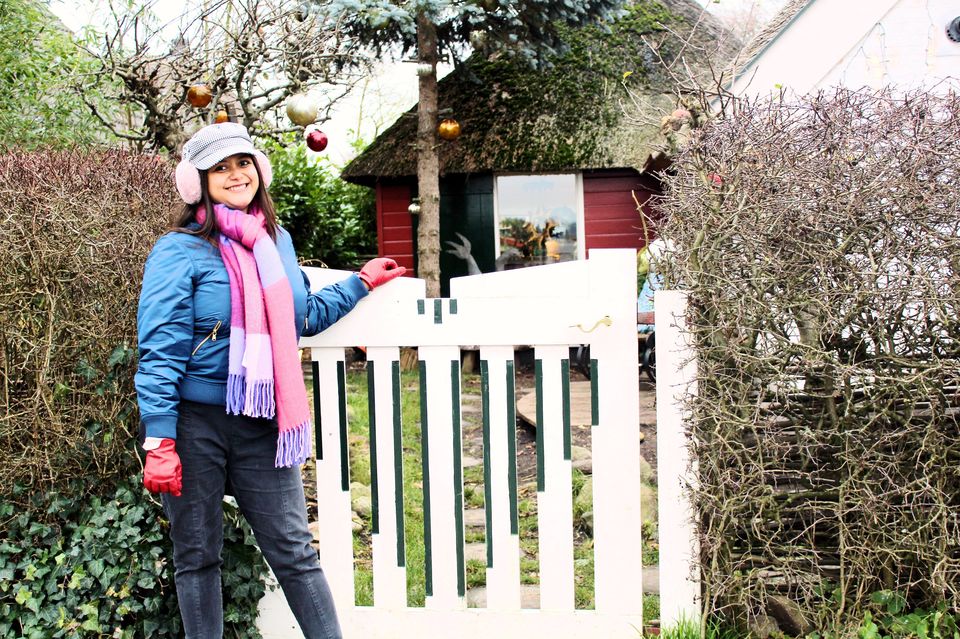 Credit: Saheli Bera
This place was too beautiful to be real. I pulled my red leather gloves off and on repeatedly. I pinged my frozen fingers a hundred times just to convince myself, Giethoorn isn't a dream anymore. It's real. It's no more in my wallpaper or Instagram pictures or television screen. It's in front of my eyes.
Go for Museum Hopping
Museum visit in Giethoorn is something that receives least attention. It seems mostly are enthusiastic about village walking and canal tour. If you are a history geek and very much into museum hopping, there are a few to visit.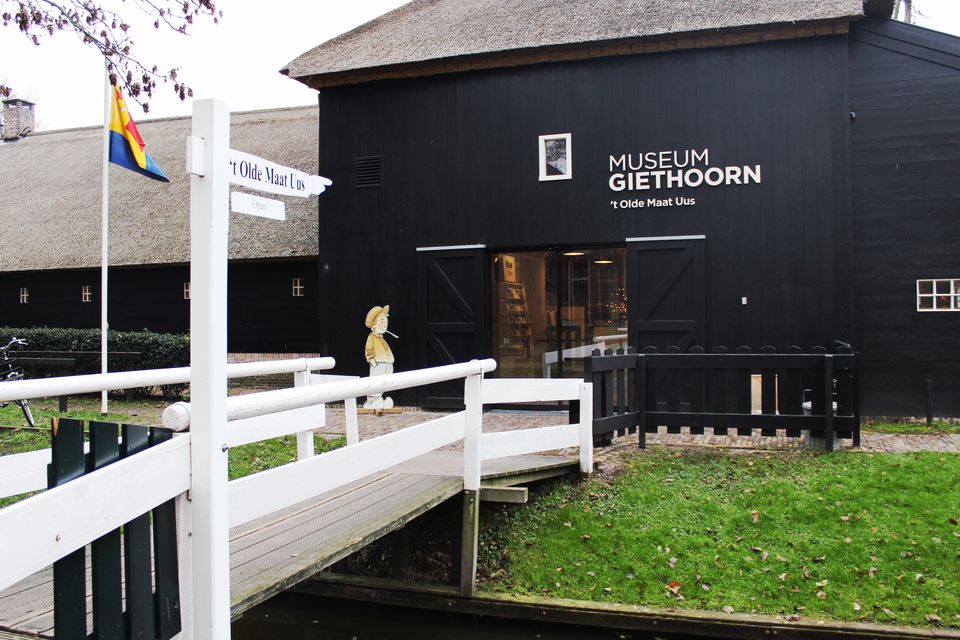 Het Olde Maat Uus Museum: It's a traditional museum in a farmhouse set up featuring history of Giethoorn and local lifestyle in 20th century.
Museum De Oude Aarde: This museum is packed with gemstones, precious minerals, fossils and geographical specimens.
The Histo Mobil: This museum has large collection of old cars, bicycles, motorcycles, carriages from all over the world.
Buy or taste cheese at the cheese shops
There were few cute little cheese shops where a wide variety of cheese like truffle cheese, goat cheese, wasabi cheese were available. You can taste and buy a cheese block back home.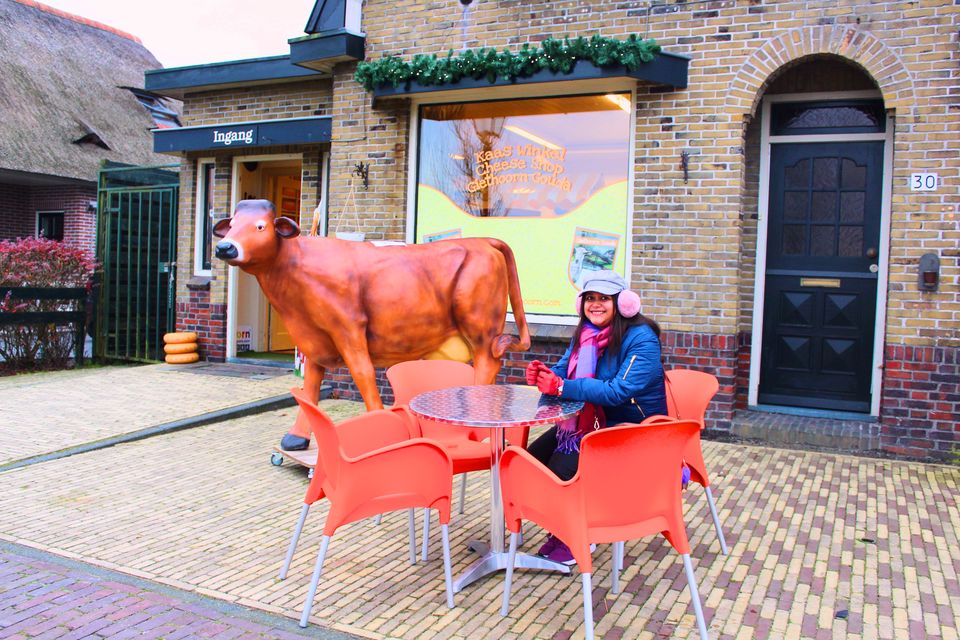 Satiate your taste buds at the breezy canal side
Given the small size of this village and huge tourist crowd in peak season, the restaurants and cafeteria in Giethoorn can be over pricey. All over the island you can find many restaurants with slate board standing on wooden stand and hand written menu with colourful chalk on board. It would be an amazing idea to grab some Dutch or Italian snack, a glass of good wine or a quiet sip of coffee by the canal.
Do consider for an overnight stay
I went for only a day trip to Giethoorn and going back in the evening was really a regretful feeling. I wish I stayed for a night there and witnessed the charm of this place when dusk creeps over the sky, under the moon and star studded night sky. Next day watching sunrise in early morning from a wooden bridge could have allowed me to be a part of these magic for more few hours. So if you are planning to visit Giethoorn, try to book one night in any hostel in the village and feel yourself as a part of this magical, fairytale village life.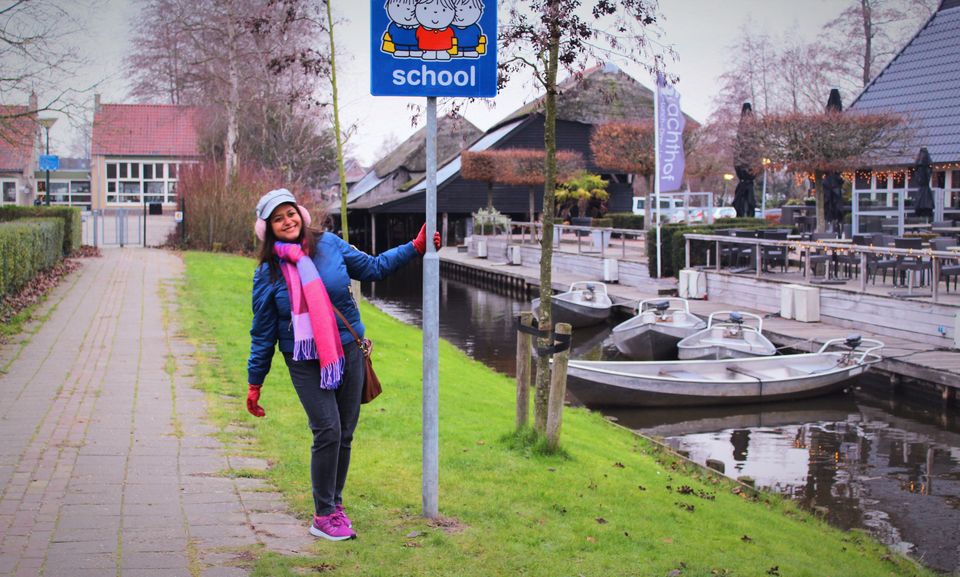 Learn to believe in dream
During my silent canal side moments in Giethoorn, I realised, an imagination, a fantasy or a dream hits our mind, our soul because somehow, somewhere it does exist in real realm and is secretly waiting to be discovered by us.
'Giethoorn isn't a dream any more. I'm in Giethoorn. Giethoorn is real. I'm real. So from all these years down the line, I was actually dreaming a reality.'
If you want see more from the journey of my itchy feet visit my Instagram profile Saheli Bera
Thanks for stopping by. Please Wishlist and share my blog if you like. If you have any queries post in the comment box or message me.