Is it really possible to do 'everything' in Amsterdam? Three trips at three different stages in life, and Ruchira Bose, discovers there's still more to do on her next trip to the Dutch capital
A first visit there is like all the lights coming on at once, a step into a world where no one ever says no, in the city the musician Stew so beautifully called "a shopping mall of vice." For many people, that visit to Amsterdam is the first hint that the world does not have to be like it is back home. I was seven when I fi rst visited Amsterdam. I vaguely remember my mother very briefl y rue that she couldn't go out and see the city's nightlife. I fi gured it was because I was too young to be taken out and she couldn't leave me in the hotel room on my own. So I believe I promised her that when I grew up, I would bring her back for a visit and that we'll do everything! I don't think I had any idea at the time what 'everything' even included.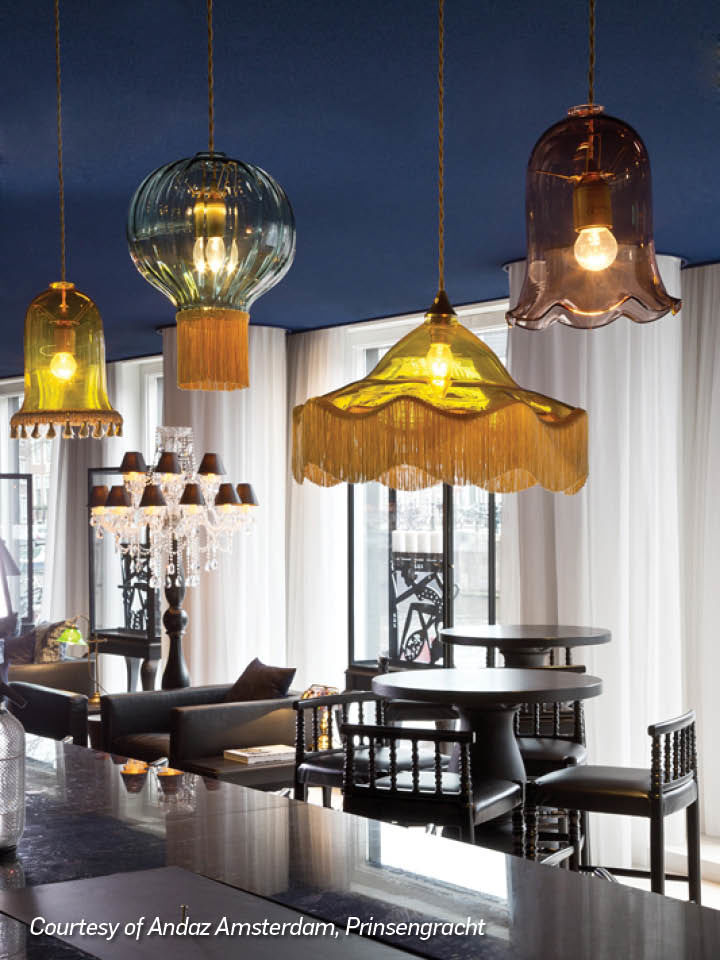 Unfortunately, I've still not delivered on that promise. My following trips to Amsterdam were during my student days in Paris. And even that was almost half a lifetime ago. So when I had to visit the city again, I was ready to see it with a set of older-and-wiser eyes behind a stylish set of sunglasses, instead of the thick plastic-rimmed glass-bottom spectacles I used to wear back in 1999.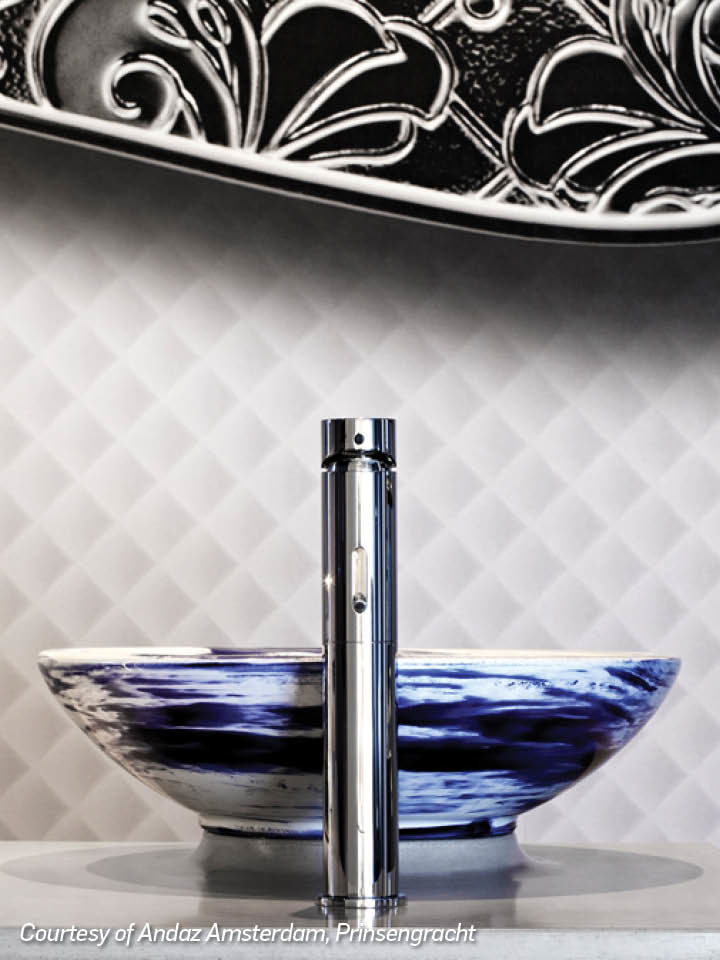 My primary reasons for this visit, an insider tour of the new Andaz Amsterdam designed by Marcel Wanders, the biggest Banksy exhibit put together till now; and to soak in Amsterdam's Springtime delights. As a gorgeous BMW 7 series magically glided through the canal side streets and brought me to Prisengracht, I couldn't help but be drawn to its atmosphere. On the side of the canals are boathouses, where men stretch themselves out on deck chairs, have potted plants on every bit of surface of their boat cabin.
Little row boats with handsome dutch men at the helm, and others drinking wine or beer sail by. On ground, cafes spill over on to sidewalks, tables pop up and people sit in the soft sunshine even if the actual café serving them is half a block away. The residents of the center of Amsterdam are ever ready to leap aside as very pretty girls on bicycles rip by with all the concern a migrating herd of wildebeests would show for pedestrians.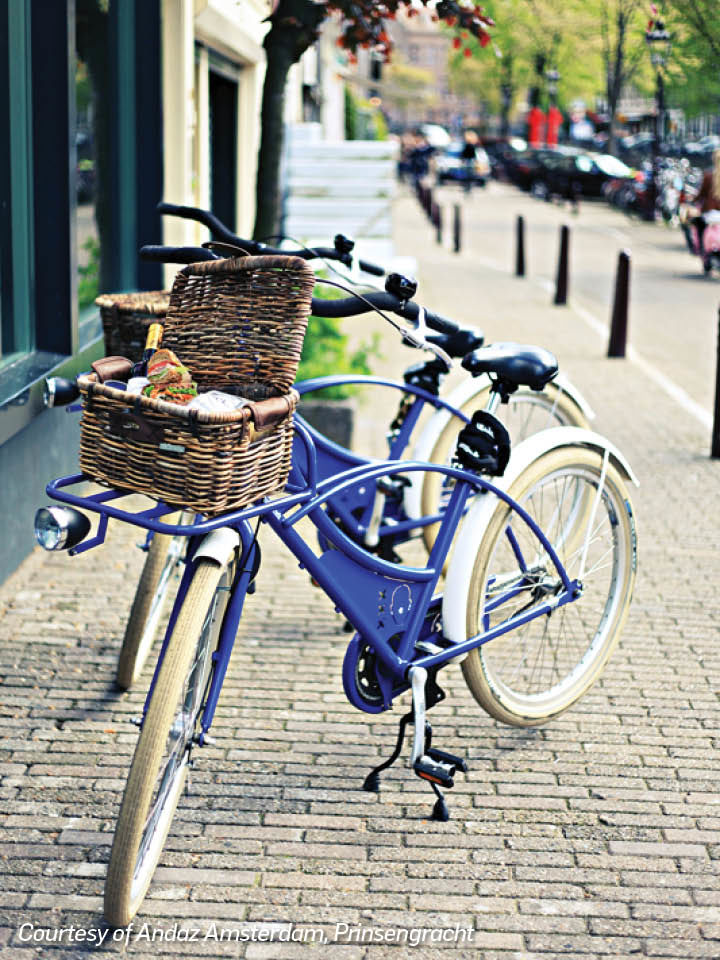 Later as I explored another area on foot, and dodged a blonde riding a tall bicycle and wearing an expensive scarf and absolute confidence in her right of way that took me straight back to 1999, the city off ered up a gift. In front of the Apple store, a woman was walking a small and most handsome pig, heading toward the flower market for a morning sniff. I knew then that this time round, I just might see 'everything' in Amsterdam. Take the spaceship from 2001: A Space Odyssey, supersize it, crash-land it in a bog, and you've got the spoked form of the old city, canals in concentric circles reflecting postcard photographers' secret dreams.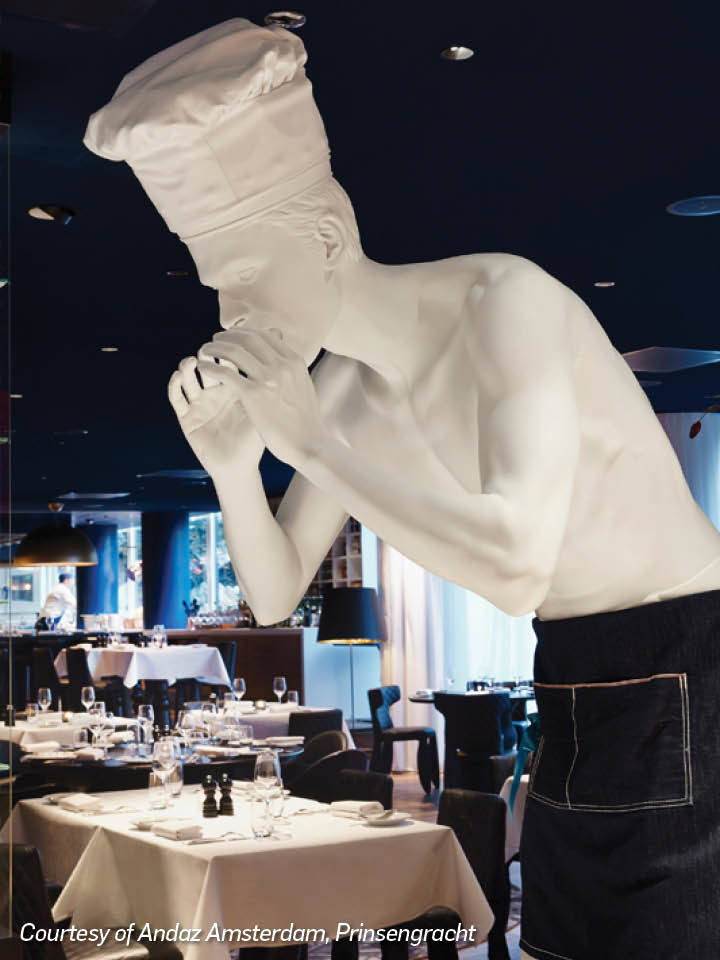 Amsterdam's history begins in this bog. It edged the very rich sea, and thanks to a new kind of ship, one that went farther and allowed the processing of herring onboard, by 1600 trade was booming, money pouring in faster than the windmills could pump bog water out, and the city grew fat and happy. And what did these people do with all their money? Well, first they bought the kind of ruffled collar that today you can find only in your better clown supply stores. Then the burghers put their peasants to work driving pilings 12 meters into the mud, hundreds of thousands of pilings, pounded with a driver that required 40 men to operate. Do this long enough and you get a city walking on stilts, you get Amsterdam looking like the world's most perfect sand castle. You get gently curved canals, you get houses that are the epitome of middle-class real estate lust.
And I want one. Oh, yes, despite a lifelong idea of never tying myself down by owning real estate, I want one. Every canal is lined with fi ve-and six-story houses, shoulder to shoulder, all with a family resemblance but none the same as another. On narrow, serifed facades—one house, the beautifully named House of Mr Trip's Coachman, is all of eight feet wide—gables loom, rose-pink bricks live happily next to off -white. Side by side like a very old married couple, a fl at-faced house snuggles up next to one scalloped with decorative shadows.
Most visitors only ever go inside one particular high-period Amsterdam house. They see only one version of how this narrow life is lived, and they climb the secret staircase behind the bookshelves. But I'm not a fan of visiting touristy places built on traumatic history/events.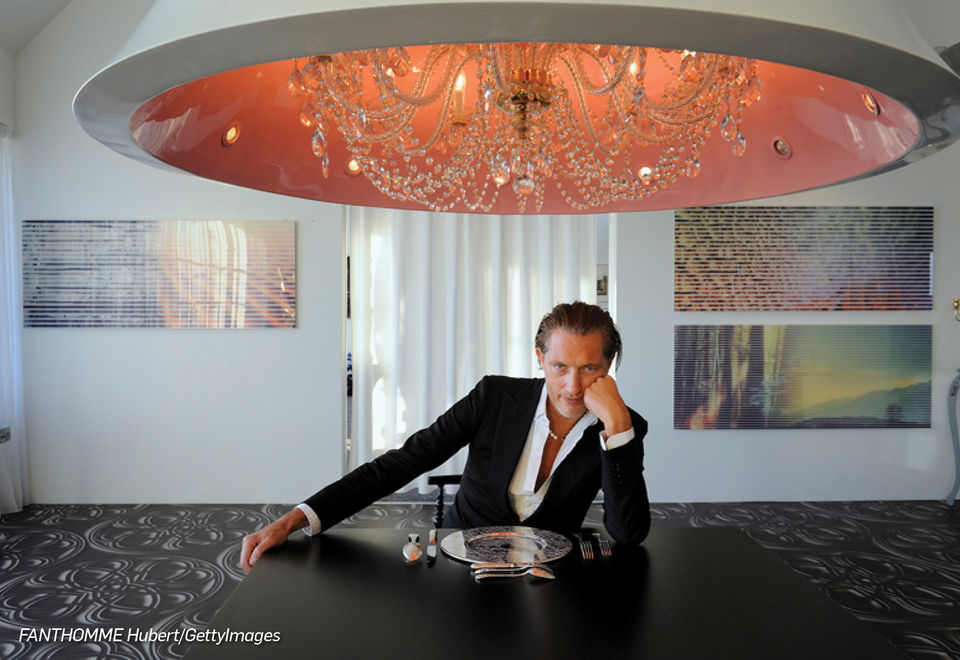 Wander's 8 Wonders At Andaz
1. Alice In Amsterdam
In the garden, a wonderland of sorts set in a Dutch courtyard is a largerthan- life black and white wall mural of Alice crouching, as if she's playing hide and seek. Which, in classic Marcel Wander's sense of humour, is ironic, because she's massive on a giant wall. She can't possible go unseen. Still, the story of Andaz' Alice is not so far from the original. She seems to be in a room in the old public library, shrinking after drinking from a mysterious small bottle, and growing large again after grabbing a blue spoon from the table. Her existence in the garden represents the eternal magic in the silent garden, where she looks out into the twisted paths as if waiting to catch The White Rabbit amidst the hydrangeas.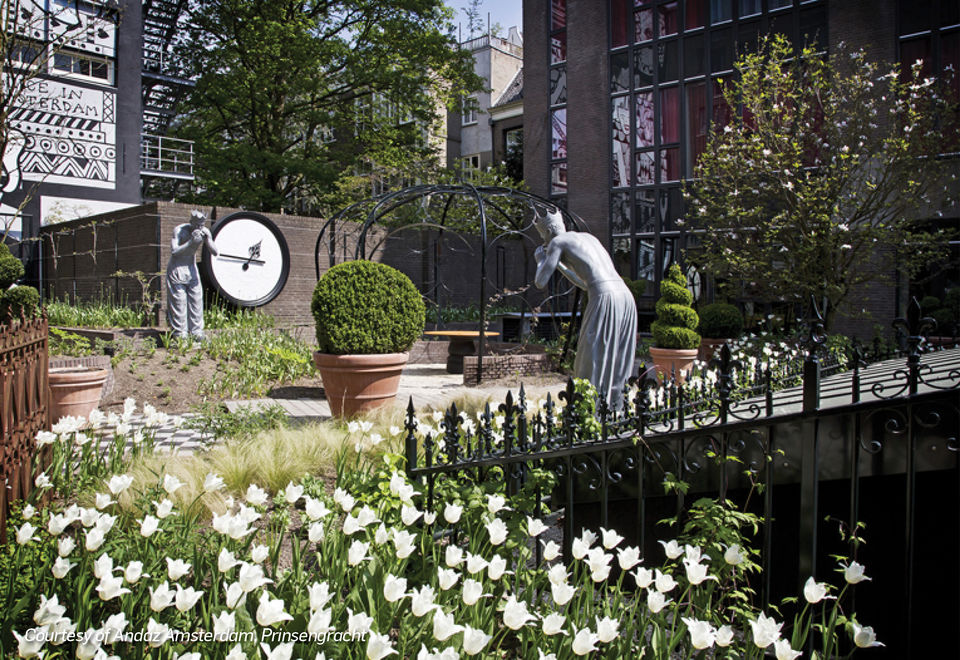 2. The Princess Of Lost Dreams
He pops up in a lot of places… hotel corridors, around the corners. He was even supposed to be on the rooftop. The Prince of Lost Dreams is iconic across Andaz. The canal and street is named after him. He's dressed in traditional Dutch wear, always bending down with his hands slightly apart. You're supposed to put your head between the hands, and he's supposed to whisper something naughty into your ears. Although the formal explanation is that he's silently screaming to make people remember their inner strengths and most vivid dreams. It is even rumoured that the Princes' silent screams have magical powers of their own—if you lost dreams or wish to remember some of your most vivid dreams, place your head between his cupped hands, and he will whisper to your unconscious to make your dreams come alive.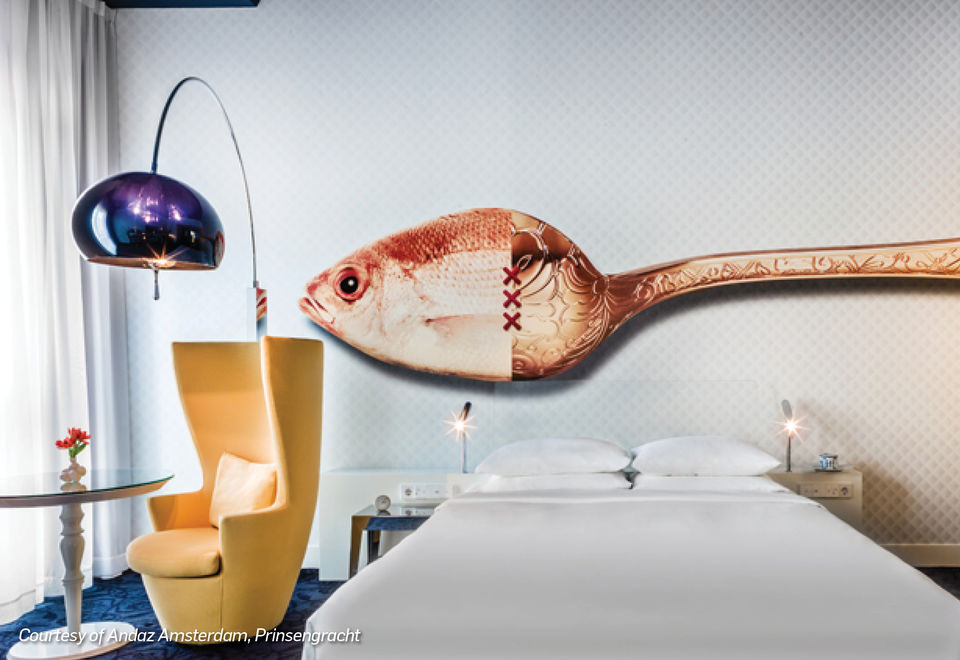 3. Wallflower Bouquet
The Wallflower Bouquet is mesmerizing and incredible. A palette of fifty constantly changing colors is chosen randomly from a library of images of dying flowers. The concept is based on the idea of life perpetually being built upon death.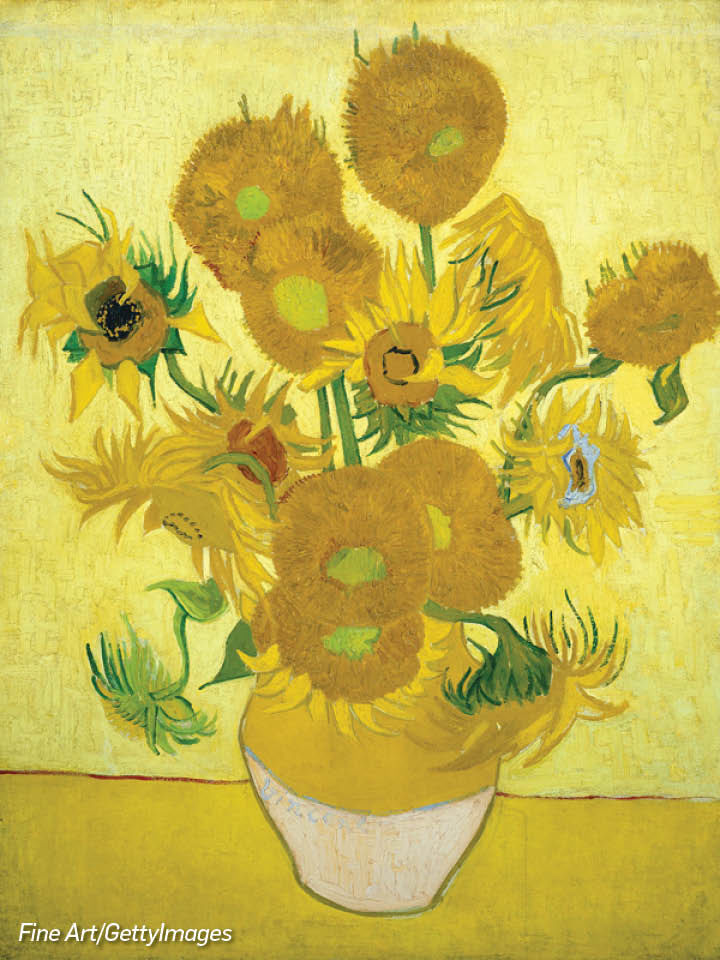 4. One Minute Delft Blue
Look at the wash basins in your room, the furious blue strokes of the vases and plates, and you see what Wanders wished to encapsulate in his contemporary nod to mass produced Delft Blue porcelain. It represents his desire to move beyond the mass production of art, and to create personal character on an ongoing basis. Visit the Delft Blue room adjacent to the entrance to immerse yourself in the brilliant blue tones of these pieces!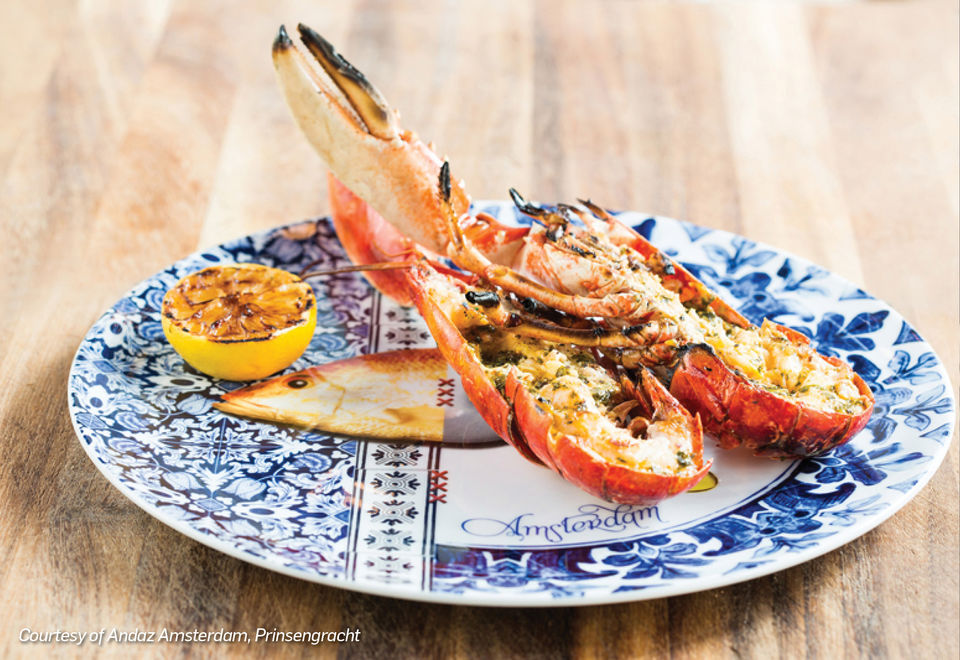 5. A Ride From Hell To Heaven
The elevator ride at Andaz is one of the most unusual in the world. It has the best view of the Observatory. Beyond the astronomical installation of light like a complex mobile of constellations hanging from the ceiling, your can see a vast expanse of intricate blue images along the back wall which trace the path from Hell to Heaven.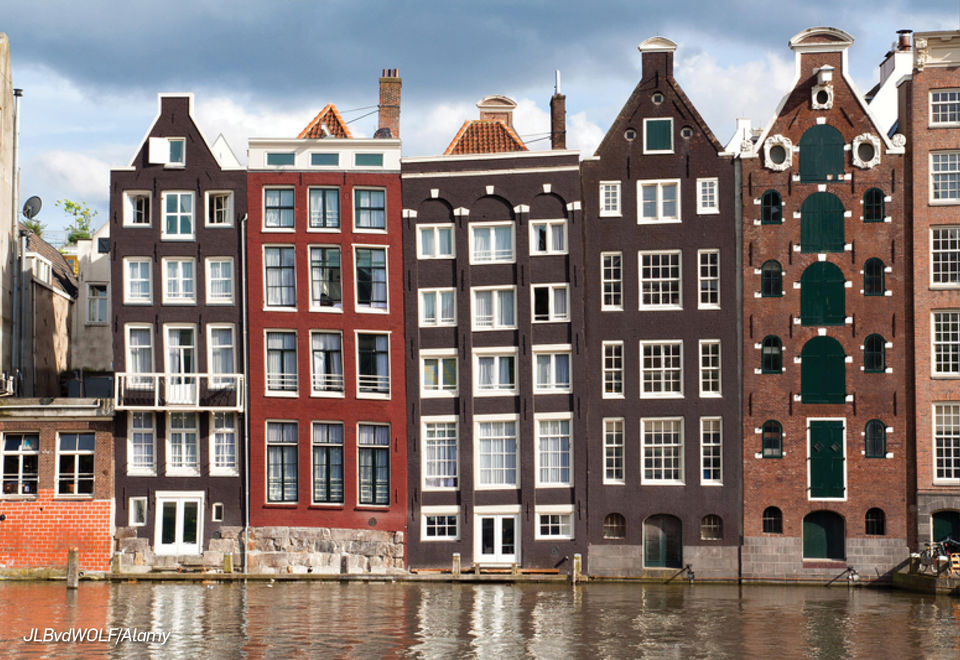 6. Tulip Chairs And A Carpet Map
Sink into a gorgeous $10,000 dollar Wanders Tulip chair and check in in style. Inspired by Holland's most famous flower, the Tulip chairs in the Andaz lounge is where you can unwind, while a host, armed with a tablet, checks you in. If you find yourself looking down at the carpet again, you're right to do so. There's an elaborate world map woven into it, representing the Dutch explorers who traveled the world.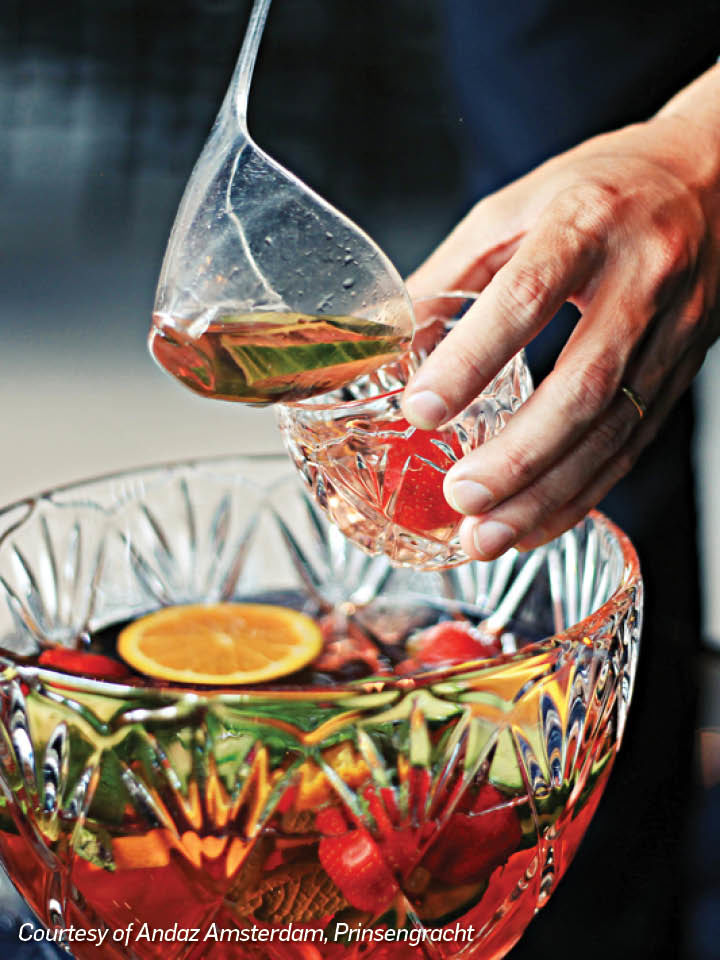 7. Holographic Lucky Cats
An ultra cool passageway full of holographic lucky golden cats waving and greeting you on video screens leads you to the Spa and Fitness center in the basement. The infinite mirrors and the cats create a world of illusion and amusement. A symbol of fortune and prosperity in Asia, here, they also represent the booming cat business brought to Japan by the Dutch.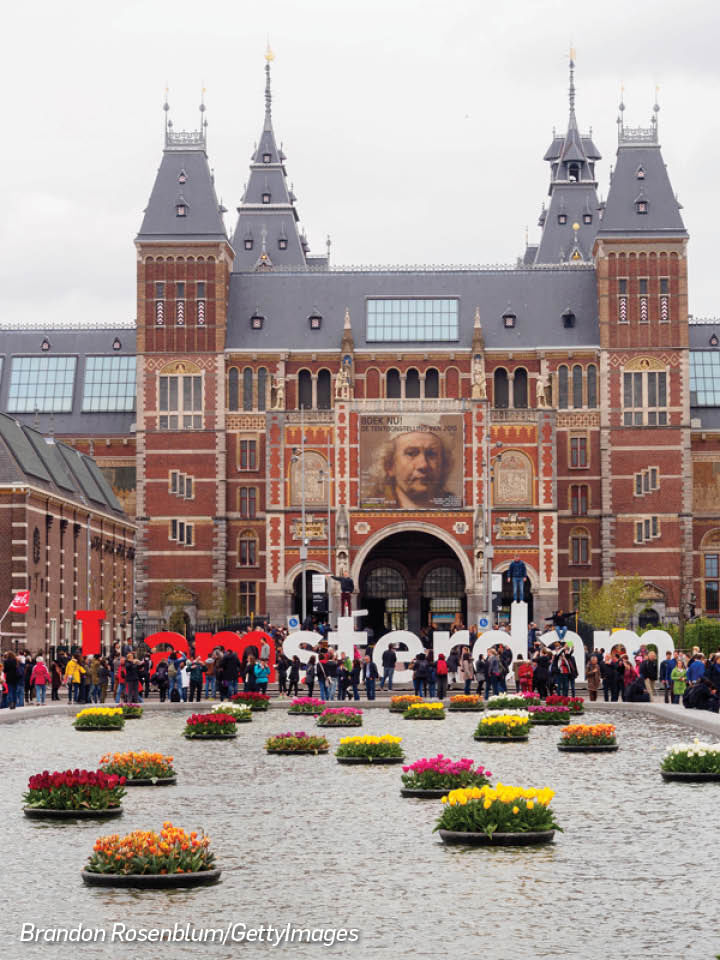 8. A Fairytale Between Floors
Marcel Wanders excels at playful design. And he's hidden a story among the floors at the hotel. Take the elevator all the way up, and then come down floor by floor. You'll notice each fl oor has an intricately designed number indicating which fl oor it is. Among these, you'll find vignettes from the story of Sleeping Beauty.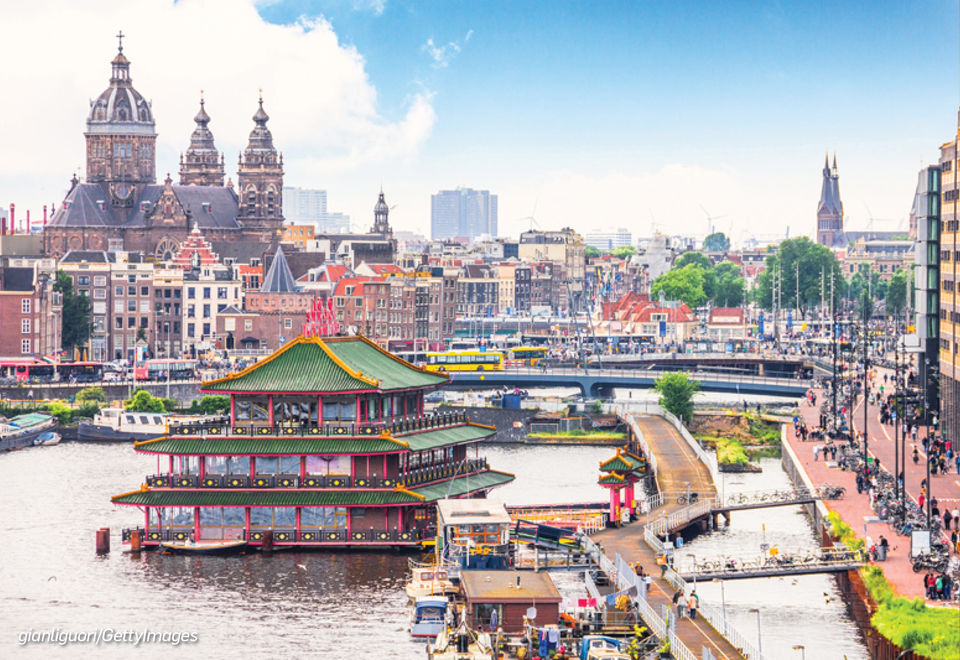 The mural—Known as connected polarity—shows half of a fish seamlessly blended with the stem of a spoon. The two unexpectedly connected items are stitched together by Amsterdam's iconic three crosses.
So instead of going to the Anne Frank house, I go to the man who invented how Amsterdammers see their sky. How the Western world sees the sky. Rembrandt Harmenszoon van Rijn's house, the place where possibly the greatest artist the world has ever known took off his clown collar and put his feet up, doesn't face the water.
Although you'd have to ransom a small country to buy a Rembrandt painting now (in fact, even the Rembrandt House Museum can't aff ord a single Rembrandt painting, only etchings), during his life, he was too broke to afford a canal view in a city designed to give almost everyone a canal view.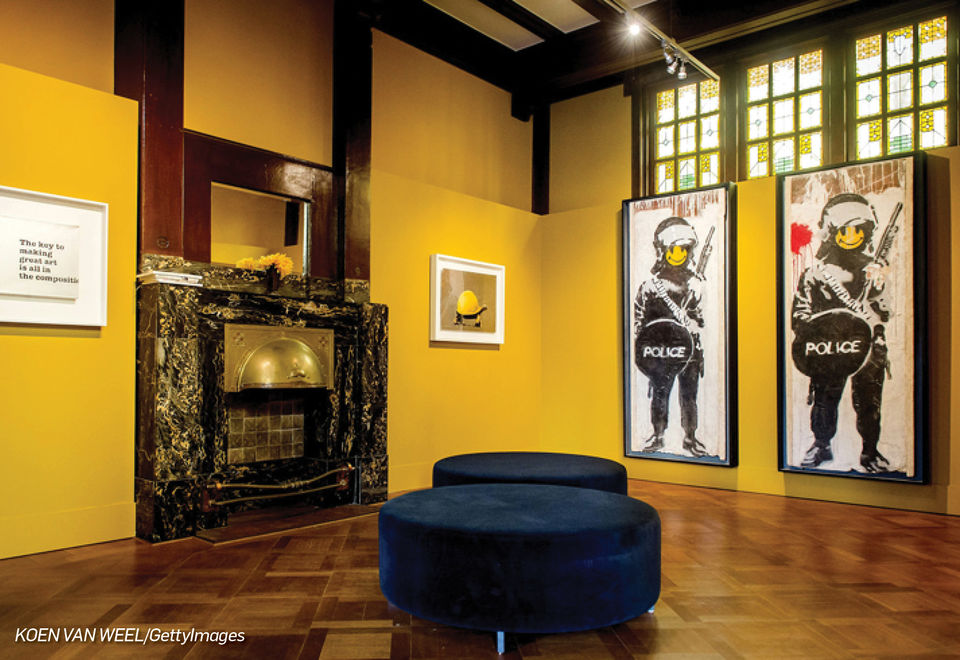 Since he couldn't spend his days looking at the city's mercury-silver water, Rembrandt must have spent hours looking at the sky, unlocking the secrets of the North Sea's chiaroscuro light, turning the fish-belly sky into a lambent sheen. Never direct, the light slides in, traveling a maze of cloud layers. I see it shimmering on canals and refl ecting into the houses as though the windows were giant kaleidoscopes.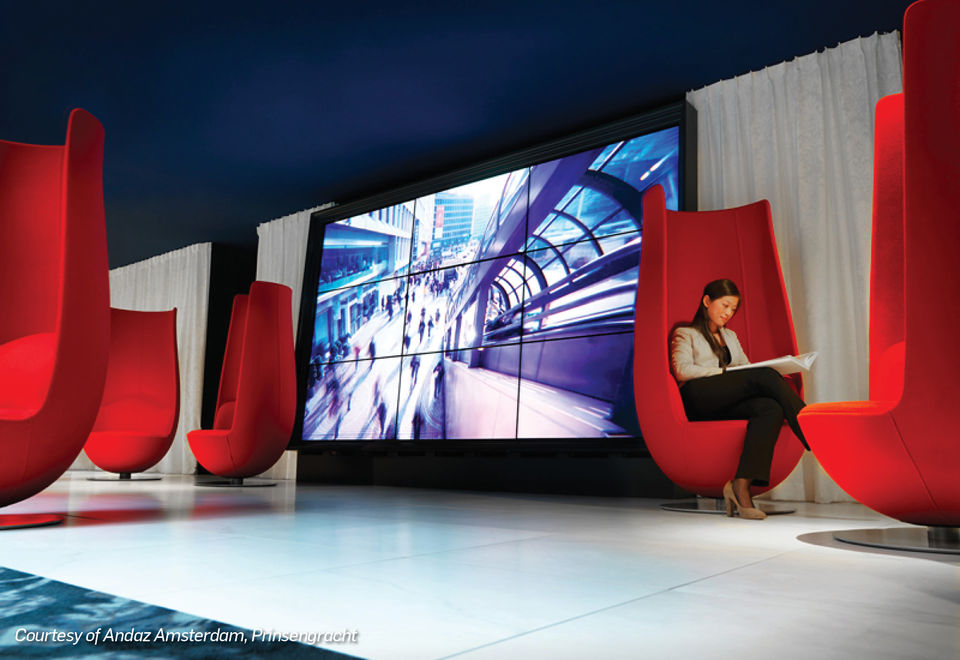 After strolling though the houseturned- museum, I step outside and get in line at a waffle stand (herring are next door if you want to combine them yourself, but I don't), utterly content to be here under this sky. Even fancy collars and flawless architecture weren't enough to soak up all the city's new riches, so with money burning a hole in their purses in the early 1600s, the Dutch went Beanie Babies bonkers over what that sky, the rain, and the boggy soil did best—turn the earth into a carpet of tulips.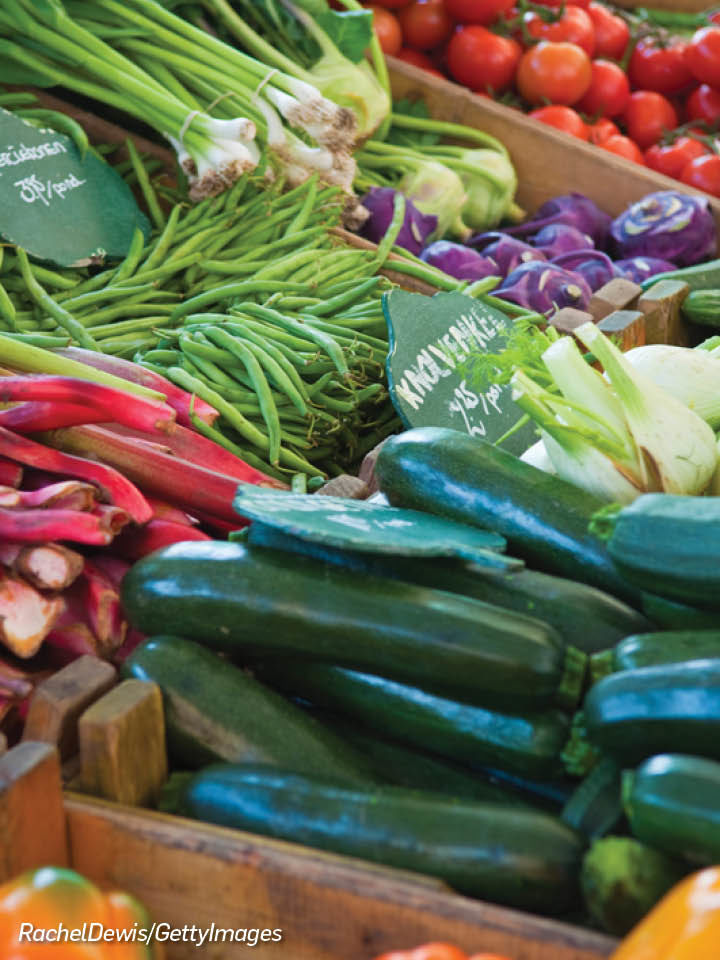 Tulpenmanie, they called it, "tulip madness." A single rare bulb traded for as much as 12 acres of land; a run-of-the-mill bulb could go for enough to buy a couple dozen sheep. The most valuable of all were actually infected with a virus that burned fl ame colours onto the bloom. But as dumpsters full of Beanie Babies can tell you, after the boom comes the inevitable crash. By the end of the 1630s, a bulb meant nothing more than maybe a tchotchke and some bankruptcy papers.
Some of this history, surprisingly didn't come to me from books. I read the wall in the toilet in my room at Andaz Amsterdam, where different stories from the city's history are told on delft blue tiles in script and imagery. My other big reason for visiting this city is to explore Marcel Wander's latest creation. Now, I've met the Dutch designer at three Milan Furniture Fairs. But never in the city where his studio and residence has been for decades now. Amsterdam's spirit is however clear in his personality and in his latest hotel project.
The new hotel in the designer's home base carries the stamp of his trademark tonguein- cheek wit, whimsical imagination, and his reverence for contextual design. "What's special about Amsterdam is that the city is able to connect worlds that are not otherwise connected. The city is very open-minded and welcoming and the three crosses—the symbol of Amsterdam—in the middle of this fish mural connect two elements that seem to have no connection," describes Wanders about a mural on the wall of one of the rooms at the hotel.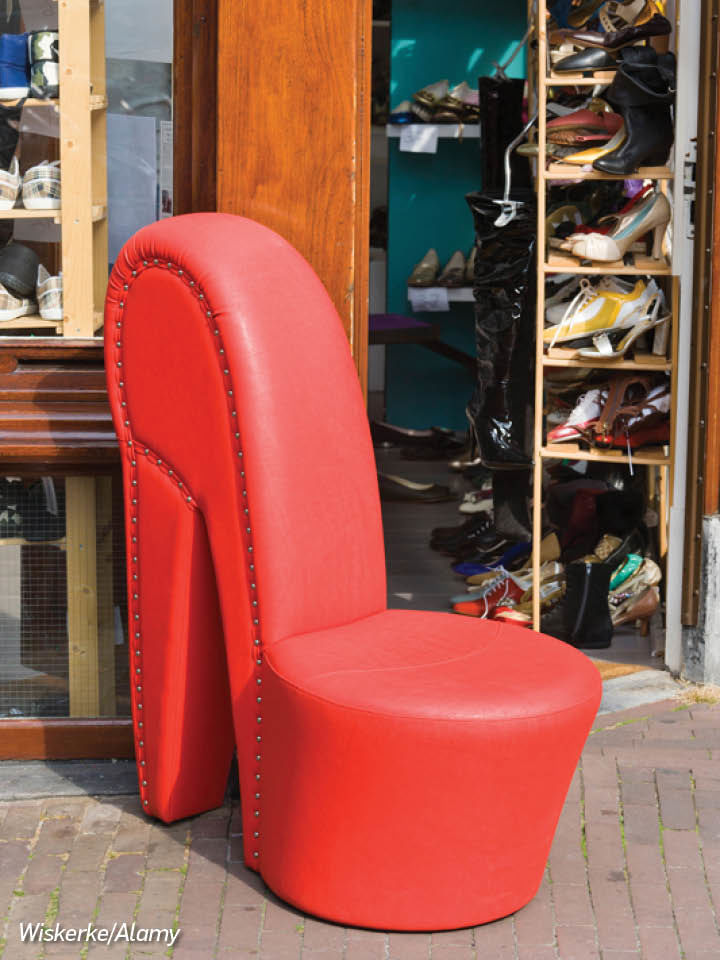 The mural—known as Connected Polarity—shows half of a fi sh seamlessly blended with the stem of a spoon. The two unexpectedly connected items are stitched together by Amsterdam's iconic three crosses (that look like a cross stitch in embroidery) to create a new, surprisingly whole visual. The idea, as Wanders explains, stems from the notion that Amsterdam is a creative and tolerant city, open minded to offer room for conversations without judgment. By embracing two seemingly diff erent objects and then showing how they can connect in a unique and interesting way, Wanders discloses the secret to how Amsterdam keeps this spirit alive.
"When I wrote my book about Amsterdam, the main objective was to talk about the city's creativity rather than just its design. The wallpaper in the bathroom—is a representation of the universe of thought and ideas that the city encompasses, from the philosopher Spinoza to the footballer Johan Cruyff. A lot of the creativity here comes from the fact that people from elsewhere came here to collaborate," he adds.
Once Amsterdam's main public library, the Andaz Amsterdam Prinsengracht looks like a 1970s block on the outside. But inside, Wanders has transformed the space into a magical grown-up homage to Alice in Wonderland. Decorated with over sized furnishings (including Wanders' signature Tulip chairs and modern twists on chandeliers – they are set inside large bells), Delft blue tile-work and brocade upholstery (references to historic Dutch style), and avant-garde artwork, the design hotel hardly feels like part of a chain, even one as hip as the Andaz. Instead, with its serene herb garden full of quirky topiaries, a checkerboard mural, and chess-piece statues, the canal-side hotel presents a Amsterdam with a fresh context.
Each Andaz property across the world is built and designed in a way that when you wake up in your room, you know immediately which city you're in. Each hotel is meant to connect people to the place—off er a local experience to the visitor. At the same time, each hotel is also a venue to showcase local talent and heritage. So at their restaurant the Bluespoon, don't be surprised when you come down to breakfast and find a wall of great local and artisanal foods for you to browse and buy.
Down from the lobby, you can gaze up into a constellation of glittery stars, a connection to the beyond and an ancient navigation system for travellers. As you ride the elevator up, you can see the OBservatorium – that shows the story of Amsterdam not only according to time but also visually layered by realms. Elevator rides at our hotel are defi nitely something to look forward to, especially when you can view our Observatorium from the clear glass windows of the elevator.
A complex light installation with thousands of LEDs in rings and balls create a galaxy. The light from the stars are soft and warm. And they are set against a backdrop of a vast expanse of intricate blue images that depict stories from hell to heaven. Wisdom from the books that once lived in the old library has been transferred to the walls to create a covering that has enough stories to tell, so you wouldn't need to bring any reading material with you—as I mentioned, not even to the toilet.
In the rooms, another special feature is the wash basin. Inspired by Delft blue, each basin has been personally created by Wanders. No two basins are identical. And if you look closely, it's highly likely you'll fi nd a thumb or fi ngerprint on it in blue belonging to Wanders from when he swirled the colour. Another interesting feature in the room inspired by the hotel's biblio-past, are the shelves that are wrapped like old leather-bound books. Each room has a different mix of titles on the shelf, and the garden view is as charming as the canal view. Andaz, as a brand, has this unique talent to dress sophistication with an air of the casual. It's perfect for those who like to be surrounded by great design, local flavour, and a youthful style and spirit.
Banksy's Great Guts
There are two grand Banksy exhibits on in the city. One at the MOCO, and a larger one at the Beurs van Berlage, the former stock exchange A private museum of modern and contemporary art has joined the heavy hitters on Amsterdam's Museumplein. The Modern Contemporary Museum, or Moco, which opened with a show of works by Banksy and Andy Warhol, is across from the Rijksmuseum and adjacent to the Van Gogh Museum and the Stedelijk. It aims to present the "rockstars of contemporary art," according to its founders, art dealers Kim and Lionel Logchies.
The husband and wife own the Lionel Gallery in the Spiegel quarter of Amsterdam. The gallery represents Banksy, Mark Lagrange, Jeff Koons, Julian Opie and others. They have invested an undisclosed amount of their own money into the project and enlisted the help of four unnamed investors to rent the 13,500-square-foot space, in the former Villa Alsberg, a stately private home built in 1904. It's not often you see two internationally renowned, household names come together, especially from two massively contrasting genres of art. However, Banksy and Warhol have merged in a, sort of, satisfying coherence with one another at the MOCO.
Although for the likes of Banksy, the museum itself is an odd environment. Walking in you are immediately met with classical music and a grand staircase in the style of an eerie horror film. His controversial pieces are set between large marble fi replaces, often displayed in gilded frames where you can bask in his graffiti art on velvet ottomans. The mystery man did not consent to the display but it's hard to imagine the unlikely, homely setting would gain his approval. However, as a viewer its entertaining to see the irony of street art hung on the walls of what could be a high-class family home.
Get to Amsterdam in the spring and this spirit is there in all its glory. This afternoon, the sun shines straight overhead like a spotlight, and the town is surrounded by squares and trapezoids of solid colours and some multi-colours. Having explored Wanders world of the whimsical at the Andaz, I head to the Stedelijk Museum. I come to a room of paintings by Piet Mondrian, who studied art here in the early 1900s. I've loved his simple abstract geometry of primary tints in squares and rectangles my entire life, but now I realise his paintings were entirely representational, blocks of colour that could pass for the right-angled fields of blooming tulips—"an absolute of perfect sensations," as the artist Barnett Newman wrote. In 1999, I didn't go to the Van Gogh Museum because my friend and I had money for one of two options: tickets to our first Opera or the Van Gogh Museum.
Verdi won over Van Gogh. This time, I could aff ord both. Vincent Van Gogh came to Amsterdam nearly as broke as we were in our student days. He had not yet begun his work as a painter—he was training as a clergyman—but instead of spending his time with God the way he was supposed to, he spent his year in Amsterdam thinking about art. "Everything reminds one of Rembrandt's etchings," he wrote his brother, going on about his need for "nothing less than the infinite and the miraculous." Van Gogh stared at flowers lit by 1877 Amsterdam's roiled sky, and I find myself in the heart of the Van Gogh Museum staring at the permanent springtime of his sunfl owers, their yellow the shade of a tassled lampshade that used to be in my grandfather's room.
But what stops me cold is the iris, dark blues and purples like a sneak preview for the hour right after sunset. After leaving the Van Gogh Museum, I pass through the arch at the Rijksmuseum. Buskers sing Andrea Bocelli's Nessun Dorma, filling the archway between the two wings, and captivating tourists.
I find space between chained bikes waiting for their blonde Amazons to pedal away, and leaned against canal rails. A few feet away, is a mini-field of Nargis (Narcissus) flowers, one of my favourites. Their Springtime sweet smell makes your heart happy just the way the smell of sugar melting in butter does. And suddenly, I feel all is well in the world.
Happy, as the city goes by and the coming evening's cold starts to get to the small of my back, where I'm leaning against the railing. Then, as beautiful as a pig on a morning walk, the street begins to twirl with Hare Krishnas dancing and singing through a crowd that had, a moment ago, been thinking only of Benetton or Kiehl's or Prada, what the 21st century has replaced dreams of tulips with, the modern world filling windows of 17th-century buildings that seem slightly off ended.
The Krishnas clash their tambourines and chant for the beauty of creation. I'd fall in and dance with them, but the end of the conga line is by a french fry stand, the hour grows late, and I grow hungry—and not for enlightenment. I rarely take pictures on travels now. As far as possible, I refuse to take selfies. Despite being an editor of a travel magazine, and much to the annoyance of my boss, I rarely post personal shots of my travels on social media. How can you reinvent yourself, how can you be better than who you were, if you're always tied to everybody who already knows you? Besides, I don't need a camera.
Years of travel have taught me how I remember things. I know I'll remember the taste of the fries, the sky's arcs of light, clouds glowing as though they were hiding a parking lot of UFOs. I know I'll remember the street with two smoke shops—Super Skunk and Easy Time—flanking a restaurant called Everything on a Stick. At a flea market, I buy a stack of old postcards, other people's letters home, the things they wanted to remember. At the farmer's market I buy a massive jar of buckwheat honey. And then it's time to go see if the thing I remember most has been remembered right at all. The Rijksmuseum—near the Van Gogh, is in a building that looks as if it was raised to house a cavalry regiment of stair-climbing horses. It is one of the greatest art museums in the world.
You can tell by the number of people standing in front of Rembrandt's grand painting The Night Watch, the utter perfection of his side light ruined by a crowd blocking the view. Maybe I'm the only one who cares, because nobody else is looking at the painting at all; they're looking at their phones and taking pictures of themselves blocking the view of the painting, pictures that, for their sake, I hope they'll live long enough to regret.
But let's face it, 1600s Amsterdam had its own version of a selfie. As soon as you had your narrow house and your wide collars and your tulip patch, you hired someone to paint you— fat, smiling, smug, and without the judgment of time that would tell you that you just got painted by one of the best artists in the world.
Upper crust Amsterdam was papered wall-to-wall with these portraits. And I remember this, more than anything else, about Amsterdam in 1999: the endless gallery, a Mö bius hell with no clear means of escape in the Rijksmuseum, walls of nothing but one round and rosy face after another, eyes following, ruffled collars making the burghers look like a cannibal's lamb chops. Hundreds. If not thousands. And I couldn't fi nd a way out, and I was minutes from a full wobbly fit of claustrophobia, and there were more and more of the paintings and suddenly—wait.
Those are Brueghel colours. I was well enough educated in 1999 to recognise a Brueghel painting from 10 meters. I was not well enough educated to know there had been a whole family of Brueghels in the 16th and 17th centuries, fathers and sons, all, apparently, smoking the same stuff . From 10 meters away, the painting is a bucolic landscape, a picnic on a riverbank. But come closer and you notice two of the people are actually frogs. Fully dressed and cursed by a goddess for not letting her drink from the stream. In 2016, I re-walk the galleries in search of those frogs. I see Vermeer's milkmaid and Steen's baker, but no frogs.
Apparently, sometime in the last two decades or so, they hopped out of view, perhaps into storage or are on loan somewhere. And what I know now that I never would have known in 1999 is that it's OK. That you don't have to see what you thought you wanted to see. That, in the end, your expectations don't matter at all. Because sometimes the world throws suit-wearing frogs at you and sometimes it doesn't, and it doesn't really care what you want.
Out on the street again, I decide to head to Amsterdam's famous, albeit now mostly touristy, red light district. I didn't see it when I was 7, I didn't make it even in 1999. Now at the age of 40, and with a few hours at a loose end one afternoon, I find myself wandering down De Walletjes. I see bored lingerie-clad women in behind street-front glassed rooms. I'm not sure how this is remotely titillating. They look like any moment they will pull out knitting needles and balls of wool and start knitting out of boredom. What is more suprising to me is the sight of tourists and locals walking through this area with kids, who also don't seem to be too fascinated by the lingerie clad women or shop windows with all kinds of sex toys.
As I turn a corner into the back lane, I find a strong sweet scent curl around my nose, it's wafting from a long line of stores that sell marijuana. It's legal here and up until now, I had mostly seen it being sold in the form of lollipops, breath mints, candy and even car-freshner at magazine vendors and tobacco shops in the city.
Here, however, there were full-scale stores. Amused by this amazing afternoon route of art, sex and marijuana, I head back to Andaz. Back out on the street, I walk slowly and reflect on everything I saw in Amsterdam. Some things I had seen then, and some things that I had seen now. But I hadn't seen everything.
But that's why I travel, why I know I have to come back (hopefully, this time with my mother). That's what the miles have done for me. We don't have to be good. We just have to be open. Show up and say "cool" at all the rewards revealed under strange skies.