Delhi and Tajmahal are places that have fantasized me always. So, once I made up my mind that its time, I promptly enquired tourist packages, but, eventually, gave up the idea because I know the fun part in any solo trip is curating our own program and schedules and not blindly following someone else's itinerary. After all, that is what solo trips teach us - to be completely responsible for things that may or may not happen as we please. Thus I began curating my own Golden triangle of Delhi-Agra-Jaipur.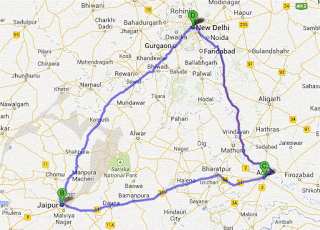 Honestly, I was nervous while boarding the Airport shuttle in Bangalore. This was my first solo trip too far away and for a long time too. And Hindi is a complete no-no. But, the nervousness transformed into a sense of excitement as soon as I entered the airport. Watching the red-orange horizon, flying from Bangalore filled me with a newfound passion to live the next 4 days to the fullest, come what may.
As soon as I got down in Delhi, took the metro to my hotel. But the hotel duly rejected my booking citing their business quarrels with OYO. Oyo customer care was not helpful either. They told me they would modify my booking to a hotel 10km away. It was already 11 P.M then. I spoke to the hotel and paid for one night's stay. Thankfully there was one bed left in Zostel for the next day. I blocked it right away. Delhi was freezing cold and I didn't even care to change my jeans.
Thoughts about Delhi: I am surprised that they still have cycle rickshaws at places and the battery-operated rickshaws don't sit well with cosmopolitan cities in my opinion. Delhi seemed more like a tourist place and a place of administration rather than a metro city. From what I enquired, industrial and technological developments are hugely concentrated around Delhi in the NCR regions and not Delhi per se. Also one interesting observation I noticed was men in Delhi were more receptive to the idea of free rides to women than the men I have seen in other cities. They seem to be more aware of the reason and logic behind these sops. Also, everyone, I spoke with unanimously supported the AAP government.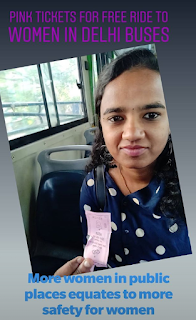 My first stop was to the Rashtrapati Bhavan for which I have pre-booked my visit online. They take us through a guided tour inside the house, museum, and gardens through any of the circuits which we have opted already. You can also visit the change of guard ceremony if your date of visit falls in their schedule. My second stop was to the Parliament of India. It is overwhelming to acknowledge that the Tamil Nadu MPs are actually responding to the mails we send them and courteous to arrange for a show around pass for the parliament with absolutely zero political connections. Going through strict security protocols, we (a bunch of people with me) were toured to the LS, RS houses and joint sitting house. Also, we were able to stroll around the iconic pillared lounge of the parliament.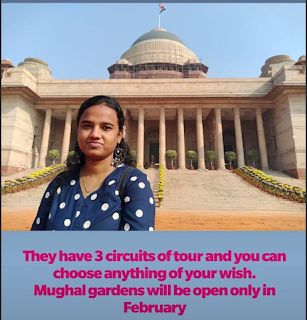 For the afternoon I have booked with Delhi tourism's sightseeing program and joined with 3 more people from Kashmir. We stopped at Red fort and took photos at the background of the 500rs note backside's original location(Lahori gate of Red fort). Next, we moved to Rajghat and then finally to Humayun's tomb. We drove past the India Gate and I finally reached Zostel for the night. I had a sound sleep for almost 10 hours skipping dinner and the recreational activities that were happening in Zostel.