This story begins on 8th May, I landed in Delhi from Bangalore to begin a new journey. I was starting a new project where I had to work and stay with 5 complete strangers in Himachal Pradesh. We moved from Delhi around 4 Pm, just after I met them for the first time. After that, for 9 hours it was just us, music and the road. Just when we started driving in the mountains, our car got punctured. Well, it was dark but I believe it was a pretty amazing spot. Under the moonlight so bright, and the music coming from the villages we stood near a tree with the view of the village in front of us. It was an hour before we were back on the road but it was an experience I will not forget, and at that moment I realized it was going to be an amazing journey. By the time we reached Palampur, our destination it was pretty late in the night. We crashed in the hotel waiting for the view to mesmerize us in the morning.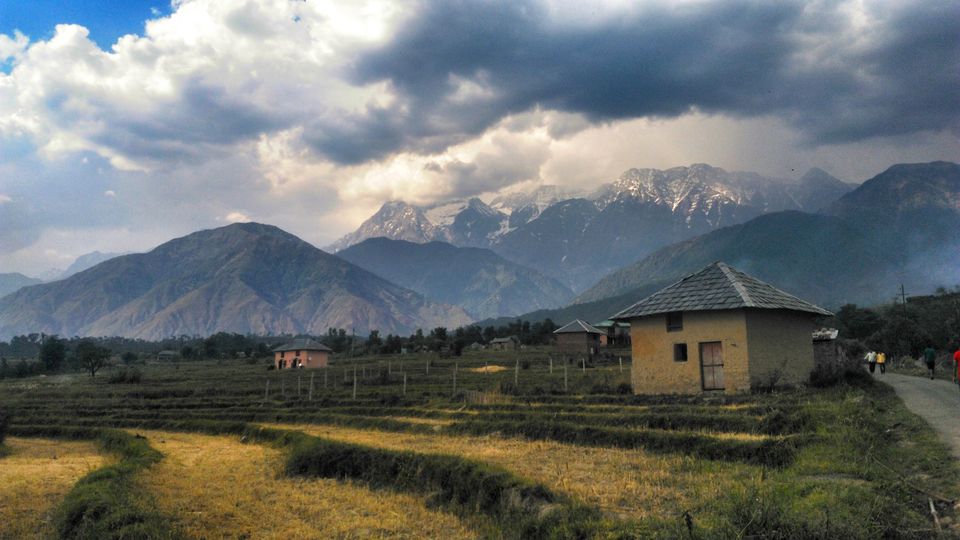 I got up around 7 in the morning, and I was awestruck. The place was surrounded by lush green fields with snow-capped mountains around us. Our floor had an amazing balcony where you could sip coffee and enjoy the view all around. Just when we started working the mighty clouds blessed us with storm and rain. It became too difficult to work and we couldn't help but just enjoy this weather around us. After a thousand clicks and pakoras and chai, we finally motivated ourselves to work.
Palampur- people and paradise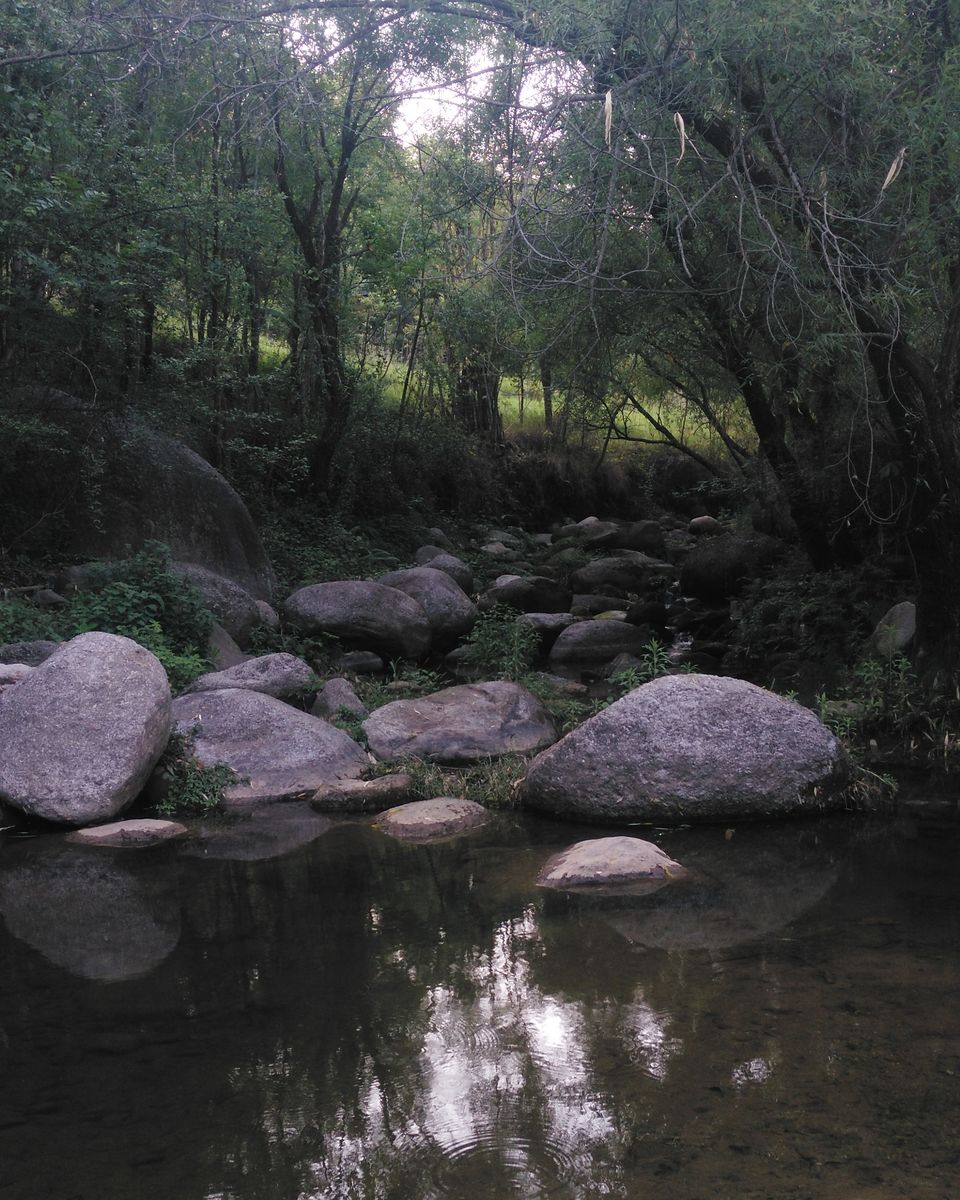 Palampur is one of the lesser known places in Himachal Pradesh. The place where we were staying was 18 Km from Palampur, a small village called Nagri. I had to make most out of my visit there, so I started exploring the location step by step, I first visited a small locality by the end of the road from the place I was staying. The road was just beautiful with kids playing, field all around, and villagers staring at the new people in the place. While I was walking in that area, I saw a few stairs leading down the mountain, I thought let's just see where this goes. After 10 minutes I could hear a sweet voice of a Brooke, I really wanted to see the end that walk. As I kept walking down I could see the Brooke and a small bridge leading to the other side. It was one of the most unforgettable moments of my life. I sat on the bridge for a while with the sweet sound of nature surrounding me. Wish I could go back to that moment again. After A wonderful evening in the middle of nowhere, it was time for me to leave but I will always keep that in my heart.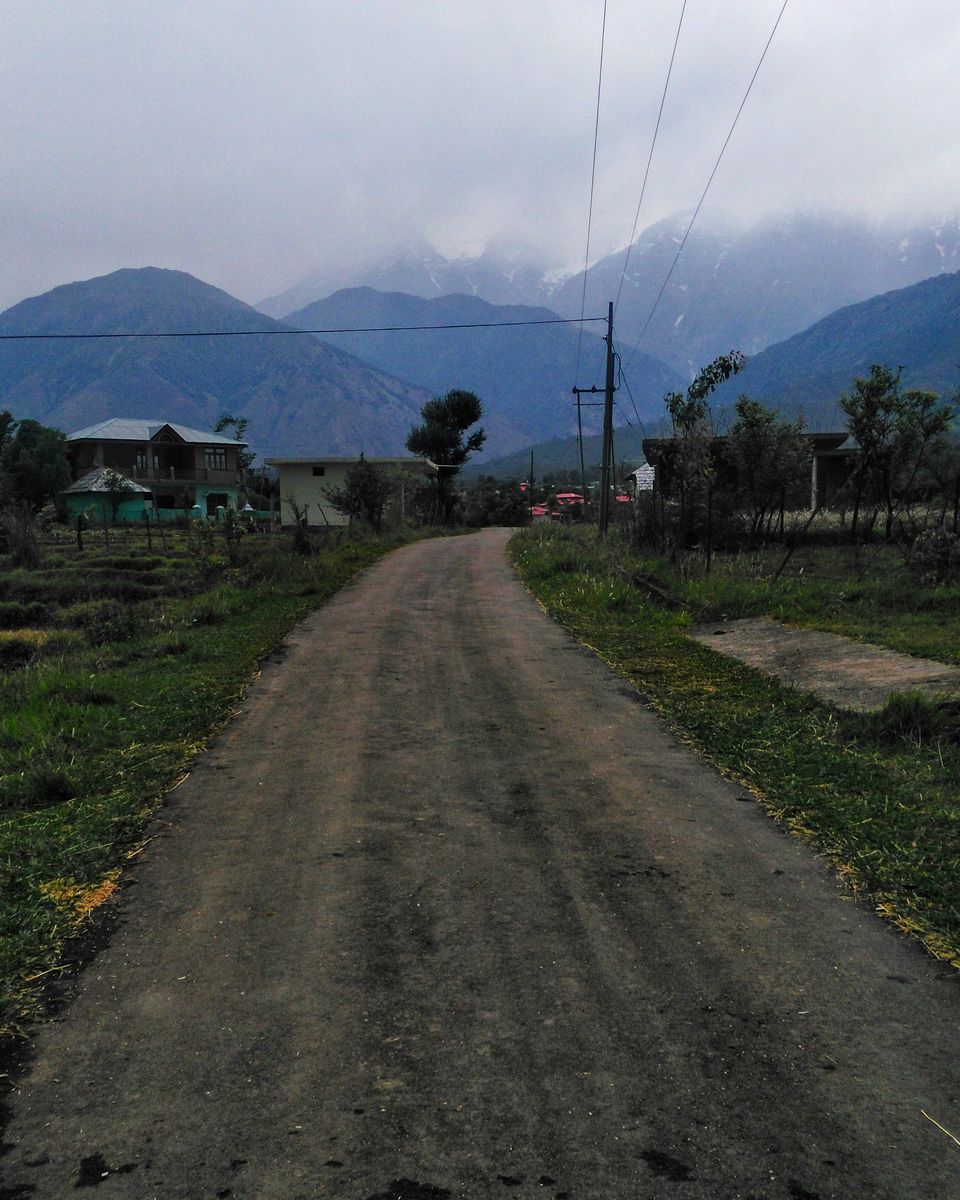 Every day was a new adventure in Palampur. With trying the local cuisines to spending time with the beautiful people in the mountains. The homestay we were staying in and working for had a funny cook and a hard-working houseboy, they were too kind to us with feeding us tasty treats, sneaking some of the special dishes and enlighten us with some new things.
Our work in Palampur was to redecorate one homestay. All the 6 of us belonged to different cities and had different occupations. Our artists and the project lead helped us to certain unimaginable things. We were out of our comforts zones and exploring new areas of work. From chopping logs, to varnishing stones, to making jar lights to painting, there was nothing that each of us didn't try. And for me, it was certainly an event of discovery about the things I am capable of doing.
The Locals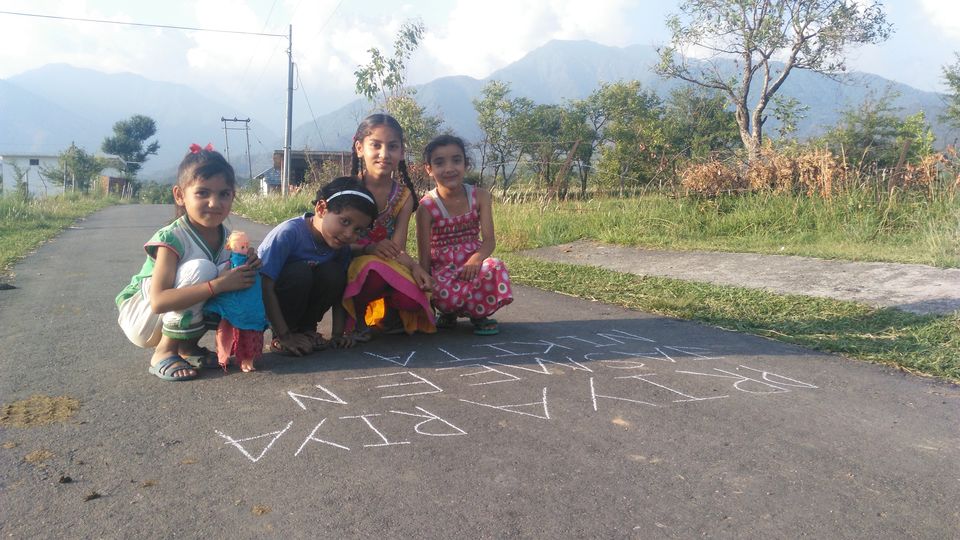 Himachalis are one of the most warming people you will ever meet. Their lifestyle is quite inspiring.
During my visit, we got a chance to stay with the locals for a while. They were quite interested in our work, our culture and our lifestyle. The family that we stayed with was extremely simple, the aunty and her daughter used to make food for us sometimes, make local tea for us and even invited us to their rooms and told us their family history and stories. It was fun sitting with them, drinking tea and looking at their family pictures. They didn't expect the city people to be interested in their lives. Their son even showed us the famous spots of the city, the famous momo wala, with the most beautiful sunset location, the zoo etc. It is wonderful how people you know nothing can be so courteous to show us their city.
Out of all the local cuisines, I tried there, one of the best things I tasted there was the milk ice cream. One fine day, while we were working, we heard an old man walking by shouting he had some ice-cream, our landlady invited him inside and asked us to try it. The old man was carrying a wooden blue coloured trunk, inside the trunk he had stored ice cream. He started scooping the ice cream, put it on a leaf and measured its weight on a weighing machine and served us one by one. He had the most beautiful smile while serving us. As one by one we tasted the ice cream we couldn't resist and said, "ek aur". The ice cream was made of milk, cardamom, and his sweet smile. On a hot day, he came as an angel and rescued us. I was shocked to see that even at such an old age he was able to carry that huge box and feed this lovely sweet to people. He was truly a strong man.
The Dhauladhar ranges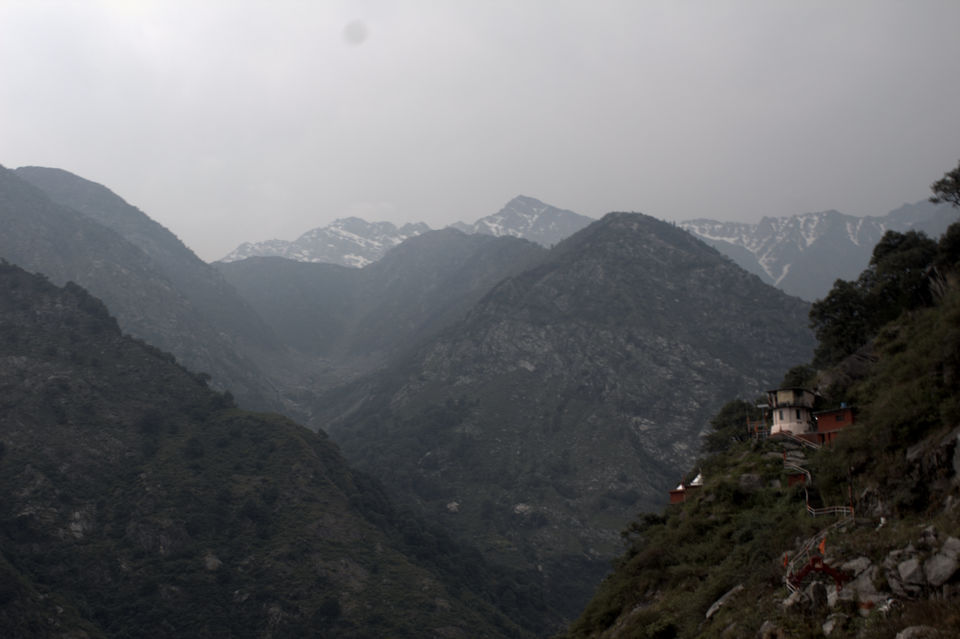 As I was working mainly in the marketing department of the homestay, I had to look for tie-ups to promote the place. A travel agency approached us and wanted us to come for their promotional day event. One fine day, I and my other colleague went for that event. We weren't the only ones there. Two young men, entrepreneurs, were also invited along with few men from Air India. One guy was the owner of a tea estate there, which was also an exclusive homestay. The other was a potter, and also the owner of Andretta Pottery, where they provided workshops on Pottery. And from the fellas from Air India, one middle aged man was a cyclist and a marathon runner, it was a truly inspiring lot. And after introducing each other we boarded our open jeep, our first activity was a safari ride in the dhauladhar ranges. We drove around 15 Km in the mountains, in the alternative terrain, crossing caves, to reach the location which I had only seen in movies. It was a hiking spot from where you could see the snow-capped mountains on one side and the river on the other. Only when you are in the mountains, you know what the actual smell of fresh air is. I felt like I was surrounded by happiness. From there we moved to a temple, which the baba who stayed there made on his own. From the outside, the temple looked normal, but once you go inside, it truly looked like God's home. It had its own personal waterfall, where the water got collected in the pool below, I could only describe that place as an infinity pool. The sunlight hitting the water passing through it. Soaking my feet there for 10 minutes relieved me of all my worries. All I could do was thank baba was discovering such an amazing place.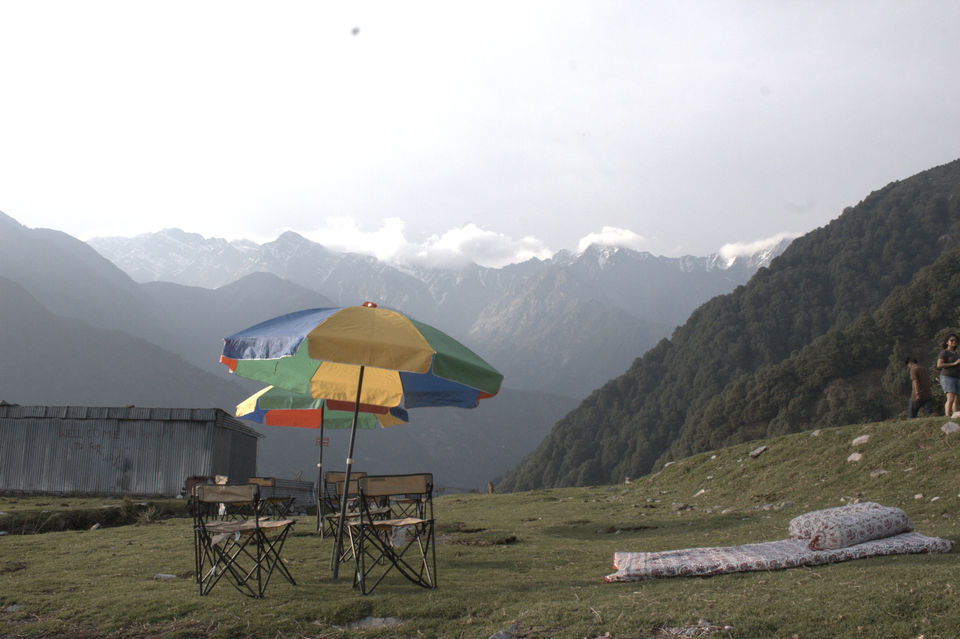 While we were driving up the mountain there was a check post, at first I thought it was someone's home, and I was a mesmerized to see the location of that house. It was on the top of one mountain and surrounded by the others. When we were driving down the mountain the jeep suddenly stopped at that stop, we halted for snacks, I think I had the brightest smile on my face. There was a small house, with a sheep flocks and shepherds, wish I could build a house there one day. Spending half an hour in that picnic spot was a precious memory that I will always have.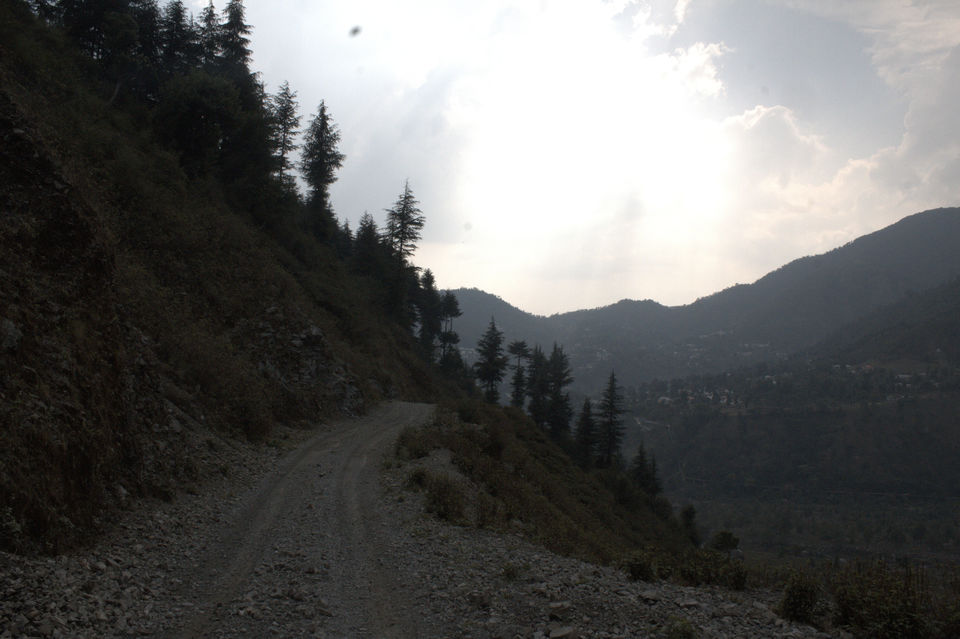 Our next stop was Gaddi village. It was a well-developed village in that area. With schools, library and bus connectivity to the cities. The village had houses which were nearly 40-60 years old, with generations staying together. After taking a round of the village we finally stopped at the dinner place. It was a bonfire dinner, with entire place lit with lanterns. We interacted with the travelers and the locals over drinks and local food. Under the stars listening to the stories of various journeys. In the end, we were also honoured by the travel agency with Himachali topics. That day showered me with a lot of unforgettable memories.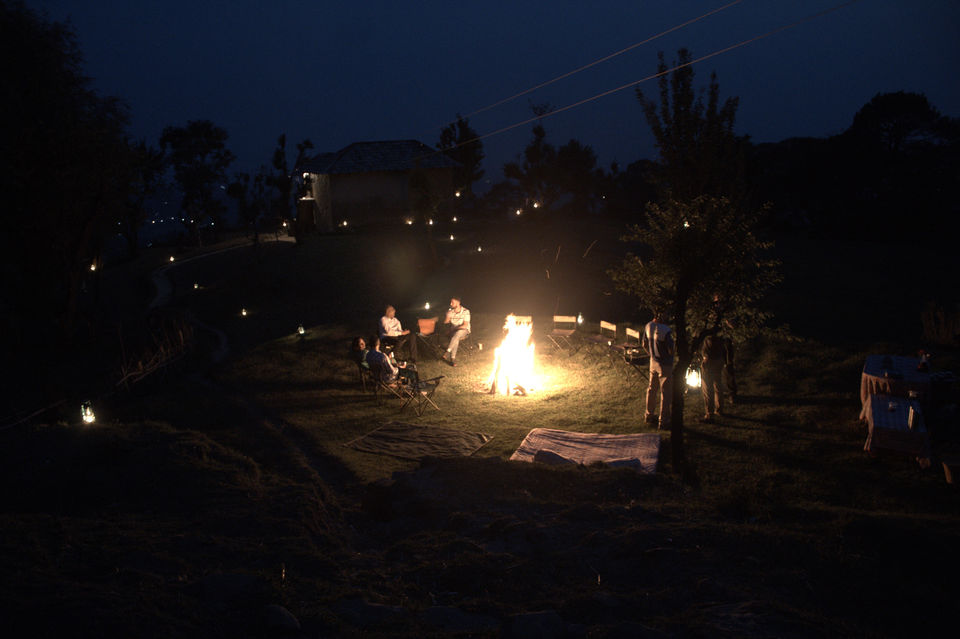 The ticks of the list
When we go for a trip, we have a certain bucket list in mind. In this trip, I had a few checks that needed to be ticked off. It first one was "setting up a tent". In Palampur it rains quite often so we needed a good store room outdoor to protect the goods from getting ruined. Our project leader had a few tents and he knew how to set them up. And I happily volunteered to learn how to setup a tent. It looked a bit tricky, but I had an experienced person to guide me through the steps. And, within 15 minutes are tent was up and ready. And with that I got my first check on the list.
In the homestay we were staying there were a couple of bicycles, and I always wanted to take it out for a spin but for the first few days, it didn't happen. On one fine rainy evening, I thought this is my perfect moment." Riding down the hill", on the bicycle was my second tick off. To be honest going down the hill was pretty but coming up was extremely tough but the weather helped a lot in giving inspiration. As a child I always loved cycling but this was a joy one slop at a time.
The third tick was certainly a thrilling one. As I have mentioned before we were staying 18 Km away from Palampur, and it used to take around 45 minutes to go there. One day, as everyone was busy, I and my friend were asked to get some things from Palampur on a scooty. I used ride scooty a lot during my high school days, and it was my first time riding on the mountains. I have to admit I was pretty nervous as I had to take of someone else along with me but it wasn't going to stop me. As we started it was difficult to ride with the beautiful view around you and within a few minutes we were almost there and suddenly it started to rain. I love riding during rains but this was a whole other experience as I was unaware about the roots, plus I had to be careful while riding in the narrow lanes. And pretty soon there was a huge hail storm and we had to take a break for a while. I started to think what a day I picked to ride. As soon as the hail storm stopped we started again and this time I thought to explore the city, we entered the lane where all the army folks stayed it was a beautiful road. There were trees all around, road covered with flowers and it was sparkling because of the reflection of the water. Within seconds the hail storms hit us again and this time I was lucky enough to stop at a spot where they served momos. The aunty was from Darjeeling and their small restaurant was called The Darjeeling momos, we asked for a plate of mutton momos. The rain and hot momos was a perfect combination. They were undoubtedly the best momos I have ever had. It was so difficult to say bye to that place and that moment. And while going back the view was very contrasting as it was completely dry on the other side of the mountain. You could see that rain clouds go behind and see the sunny side in front. And with that I got my third tick off the list.
Fireflies and us
When you travel with strangers, you always have a part of you that quite doesn't want to open up. You tend to hide some parts that you are not sure if they will understand. But even after such insecurities you understand each and other, and try to make the journey more comfortable. I will share two such incidents that have a special place in my heart.
One night the six of us were walking back to the place we shifted to in Nagri village. If I may, I would like to mention we under the influence of some questionable substance, but we were sharper than ever. While walking all us stopped at this one place where we could see the stars, even the galaxy, and when we stood there between the fields, we saw something even more pretty. We looked around and we were surrounded by fireflies, and when we saw that our faces were more lit than the flies. We stayed there for almost an hour soaking this view within our veins, to never let it go. What a beautiful moment the four of us shared that day, unforgettable!
The moonlight and the mountain top
One day while working for the homestay, we did a lot of extreme hard labour. The boys were too tired by the end of the day and felt like drinking. We got drunk and only when we were about to get tipsy, one of them got an idea to go for a drive. So our project lead who was the only one who knew the way around decided to get adventurous. He drove us to this mountain top with a difficult terrain, we were both scared and excited. And finally he stopped at a location that I had only seen in the movies. The only guiding light was the moon there, and as it spread its light on the mountain top we finally saw the view on the other side. It was huge snow-capped mountains. Allow me to paint a picture, the moon right above us, bright and shiny, snow-capped mountains in front of us, and 6 of us on the mountain top. To top that perfect frame there was music in the background. We got a guitar, one played the others sang, and we lived through the night, just talking and singing.
Our journey was full of unimaginable beautiful frames. And I don't know how the 45 days in Palampur came to an end. With so many precious memories of people, places and locations.
Frequent Searches Leading To This Page:-
himachal tour package with flight, 5 nights 6 days himachal tour package, himachal tour packages from jammu, himachal pradesh tour package from ahmedabad, all himachal tour & travel package, himachal tour packages from bhuj, himachal pradesh tour package cost, himachal tour packages from dehradun, himachal tour packages 10 days, himachal tour packages in september, tour package in himachal pradesh, himachal tour packages from sri lanka