I'm in love with cities I've never been to and people I've never met!
It's true! Whenever we have an upcoming trip, we always feel hopeful and Lively! Especially when its your dream destinations like Paris, Switzerland and Venice!

EUROPE- That 6 letter word, that will add sparkle to every travelers eyes! My life long dream 'Europe' is now going to be True! I was at the peak point of happiness that I couldn't focus on anything!
My parents have booked through Santa Monica travels agency for the entire trip. Since I'm settled in Dubai, I planned to join with the team from Muscat. Hence for me the total cost of the trip was 1.55 lakhs including to and fro flight tickets from Dubai-Muscat-France.
Below are the main documents to be arranged for the Schengen Visa processing for the trip.
1) Valid Passport
· Original recent & old passports
· Spouse Details (if spouse name is not endorsed, require marriage certificate if spouse is also travelling)
· Hand written, damaged and passports having validity more than 10 year will not be acceptable.
· Blank Pages (At least two full blank pages)
· Clear and Legible (not wet, no ink spread etc…)
2) Photographs (4 photographs per person)
3.5cm x 4.5cm size, White background, 80 % face close up, Glossy finished
3) Original Bank statement
· Original personal updated bank account statement of last three months with bank's address, account no, seal and sign in all pages
Minimum Bank Balance (INR 300,000/- or AED 15,000/- must be there exceeding tour cost and tour expenses)
4) Supporting documents (mandatory)
For Employed :
· Salary Slip of last 3 months
· Original Leave sanction letter/NOC from the firm (leave sanction letter from the authority on letter head mentioning duration of leave and purposes of leave)
· Employer Letter (Employer letter must be in letter head which showing designation and period of the employee)
· Salary bank account statement of last 3 months with bank seal & sign in all pages
6)Travel health insurance
7)Proof of civil status: Marriage certificate
The travel agency has provided with the below set of documents from (1) to (7). I have arranged the documents set from (12) to (14) from my office.
1) Schengen Visa Application Form
2) Schengen Visa application receipt from
3) Hotel Confirmation Letter from the travel agency with the list of passengers
4) Return Flight Tickets for the entire trip ( Dubai-Muscat-France)
5) Group Letter from the travel agency with the passengers list
6) Detailed day by day itinerary
7) Covering Letter for the Document Submission
8) NOC from Husband
9) Passport & Visa copy of Husband
10) Marriage Certificate
11) Last 3 months Bank Statement with current minimum balance INR 300,000 or AED 15,000/-
12) NOC for 7 days leave from Company(I have submitted Email Approval)
13) Last 3 months Payslip
14) Copy of Labour Card or Labour Contract
15) Passport Copy & Photos(80% face close up photo)
16) Travel Insurance
Once you have arranged all the above set of documents, book for a time slot for Schengen Visa document submission in the VFS Global Portal. Since we have planned for this trip within such a short span and the trip will start on 17th July, luckily by Gods grace, I have got the time slot at 9.40 am on 9th June. It is always advisable to book 2 months in advance to avoid last minute hurry.
I have visited the VFS Global by around 9 am because I need to get travel insurance too. I have visited AIG Travel Insurance company in the same floor and obtain a travel insurance from them within 10 minutes. Total Charges for the Travel insurance was AED 121/-. You will also receive the Travel Insurance Certificate through email at the same time.
Then I went back to VFS and have opted for Premium Service in the VFS Global since I was running late for work and waited for my token. After sometime, they called me and I have submitted all the documents. I have submitted an email Approval instead of NOC for the Leave from my company. They told me in case Im receiving any call from consulate, I might have to submit the original NOC from company. Then they put all the documents in one folder and collected my passport. I have paid AED 511.00/- for the Visa Charges & Premium Service Charges. They will ask us to write down Name, Email & Phone Number in one form and They will give the receipt for the payment along with a reference number which we can trace later. They will then give the receipt and document folder and allow us to go to the Biometrics section. You have to submit the folder and receipts there. They will take the photo and fingerprints . Then they will attach the biometrics receipt along with the document receipts. Now you are done! They said I will receive a call/email/text message regarding the Visa. Also, I informed them I will collect the passport by myself once its ready and didn't opt for the courier facility. Collect the receipts and wait for the email or call from Consulate. Meanwhile if you want to check the status, you can check the application status by visiting the VFS Site.
Exactly after 2 days, I have received email and text message that
'Processed visa application Ref No: XXXXX is ready for collection at the XXXXX. The Original receipt is required for collecting the Passport.' Hurrayyy!
Next day I have visited the VFS Office and collected my Passport with stamped Schengen Visa!
**************************************************************
DAY 1
17th July 2019, Wednesday
Travel from Dubai to Muscat, Muscat to Paris
Food: Lunch from Flight, Dinner from Dawat Restaurant
Stay: Novotel Suite Paris Velizy
All set for the Biggg day. I was super excited and little bit sad that my brother and husband couldn't join us for the trip..My flight from Dubai Terminal 1 was at 11 am. My hubby dropped me to the airport by around 7.35 am. Check in counter was opened at 8.05 am. I have collected boarding pass for the entire journey till Paris, since I will be reaching Muscat by 12.30 pm and my connection flight from Muscat to Paris was at 2.00 pm. Hence i got 2 boarding pass- one from Dubai to muscat and from muscat to Paris. Baggage checked in till Paris. After check-in and immigration, i just walked inside the airport dreaming about lots of pictures about Eiffel tower. I still feel like its a dream.. Dream come true!.. Thanks to God, to my Parents who planned the trip, my manager who approved for leave, and my dearest hubby. Had breakfast Buffet from the Airport.
Flight was at correct time and took off at 11.20 am Dubai time. Landed in Muscat airport at 12.15 pm. I went to transfers area and did immigration check directly since i had the boarding pass. Thankfully my Dubai sim was working there. Hubby called me and informed me that my parents are waiting in front of the gate. After check- in, i scanned my boarding pass and obtain WiFi code at the kiosk. And found parents and the entire team.
Our tour was organized by Santamonica Travels from Kochi. I met the team of 29 people in front of the Gate in Muscat Airport.
Flight from Muscat at 2.15 pm. It was a long flight journey of around 6 hours. I liked the Oman Air flight. They served snacks and lunch during the journey. They gave headsets to watch movies. I saw Veere Di Wedding, Varathan, Eat Pray Love movies and slept for sometime. Finally we reached our destination Parisss...!
We took our luggage and wore the Santa monica cap and headed to hotel. I was amazed by the construction, greenery and cleanliness of the city. There was a small cool breeze while waiting for our bus outside. I was wondered that the sunset in France was at 9.45 pm. Even though the time is showing as 8 pm, i felt like its 4 pm in the evening. Daylight was there till 9 pm . No wonder this is the peak season since the tourists can explore maximum if the daytime is more.
We stopped in between to have dinner from Dawat Restaurant. Food was good. Indian Buffet. They were playing Malayalam songs in the background!
After dinner, we headed to hotel. Tour Manager gave instructions to get ready tomorrow by 8.15 am and wait in the reception lobby area and we will be heading to Eiffel Tower.
Checked in to the hotel and I went to sleep. However, i wished if my Hubby and Brother also were there, it would be more awesome. The more the merrier right.
**************************************************************
DAY 2
18th July 2019, Thursday
Eiffel Tower & Paris City Tour
Food: Breakfast from Hotel, Local Buffet Lunch from Flunch Restaurant, Dinner from an Indian Restaurant
Overnight Stay: Novotel Suite Paris Velizy
As instructed earlier by the Tour Manager(TM), there was a wake up call at 6 am and we got freshened up and had breakfast buffet from our hotel Novotel. After having breakfast, we joined at lobby area and got inside the bus. We started at 8.30 am and reached Eiffel tower by 10 am due to the heavy traffic. On the way to Eiffel tower, we saw the The Flame of Liberty. An exact replica of the Statue of Liberty's flame offered to the people of France by donors throughout the world as a symbol of the Franco-American friendship. On the occasion of the centennial of the International Herald Tribune. Paris 1887–1987.
The Flame of Liberty became an unofficial memorial for Diana, Princess of Wales, after her 1997 death in the tunnel beneath the Pont de l'Alma. The flame became an attraction for tourists and followers of Diana, who fly-posted the base with commemorative material.
I was curiously waiting to see the Eiffel tower and I couldn't control my happiness seeing it from a distance. My heart was overflowing with joy of seeing the Eiffel tower. TM briefed about Eiffel tower and he got tickets to go to level 2 and 3 of Eiffel tower. Beware of pickpockets here, always remember to put your bag in a crossed way. We waited in the queue and headed towards the life.
France made many industrial progress as well as scientific progress and that they wanted to show to the world and they organized an exhibition. Gustave Eiffel, a civil engineer cum entrepreneur - he came up with novel idea of constructing a pillar, a pillar made of steel. The french do not like steel and glass architecture. Why? It reminds them of industrial construction, ie it looks like a factory. Hence they declined. Hence Gustave made some modifications to the initial design and then he bagged the project Since he lost a lot time in bagging the project, he has to make this construction very fast, it took him 2 years, 2 months, and 5 days for construction of the Eiffel Tower. That was a fast construction, Eiffel Tower is made up of 18000 pieces of steel, all were prefabricated in a factory and then it was brought to site to be mounted up.
It was mounted up using Revits. 2.5 million revits holding up the Eiffel Tower. Just imagine the works of the Engineers, Engineers have to dissect the plan and then make this 18,000 pieces of steel in factory and then it was brought up to site to be mounted up. Industrial revolution period, production took place in one spot, erection took place in another spot. It was during this time that the war between the engineers and architects was put to an end. Engineers proved that they can built something better than the architects. Until then architects have never come up with such kind of a construction.
So Just imagine the noise and heat created by 2.5 million revits. Many of the workers who work for the construction of Eiffel Tower became deaf during the construction. One very important thing is that during the construction of the Eiffel Tower, there wasn't any accident(There was one Italian guy, he was trying to impress his girlfriend, by climbing up the Eiffel Tower, at a time which is outside the working hours, he fell down and died, but this was not considered as an accident since it was not happened during working hours and was not happened in a place where works were taking place). Initial height of the Eiffel Tower was 300 m, because for a very long time, it was the Pyramid of Keops which was the tallest monument in the world, height was 150 m height. So during engineering revolution time, modern day engineers want to double the height, that why they came up with the height as 300 m.
(Pyramid of keops was built in 3500 BC and was one of the first ancient wonders of the world. So it is 4500 years old and even now, we can visit Pyramid of keops. All the 6 wonders are gone away. The next old one is called Hanging gardens of Babylon 2600 years old, gone up, and all other 5 were the Greek Hellenistic art, which started after the death of Alexander the Great. There are other 5 wonderful works, all have dissappeared). Eiffel Tower is 324 m in height. She has grown up 24 m because of installation of Antennas. Eiffel Tower is made of Steel and Steel is bound to rust. That is why, every 7 years, 60 tons of paint is used to paint the Eiffel Tower. Colour of Eiffel Tower is its trademark. Nobody else in the world can use this colour. It is called the Eiffel Brown. For the naked eye, it looks the same colour from bottom to top, however it has got 3 shades of colours. Since the concentration of Steel is high on the upper levels, if it was to be painted the same colour, it look much darker on the upper level. Thats why the shades will get lighter and lighter as you go up and because of optical illusion it looks the same colour from bottom to top.
Initially, the people went up Eiffel Tower by taking steps for the first time. It has 1789 steps. Because 1789 is the year of French revolution. Now we have only 1665 steps (for weight reduction, they have reduced many steps). A portion of 1665 steps went on auction last December 2018.
Height until 1st level is 58 m. We have a restaurant at the 1st level, which is called Restaurante 58.
Height untill the 2nd level is 112m. We have a restaurant at 2nd level, called Restaurant Jules Verne- gastronomic restaurant. This was privatized on 13th July 3 years back in 2017, because there was a VVIP- he visited Paris along with his wife and they were hosted a private dinner in this restaurant. Whole of the Eiffel Tower was privatized on this day.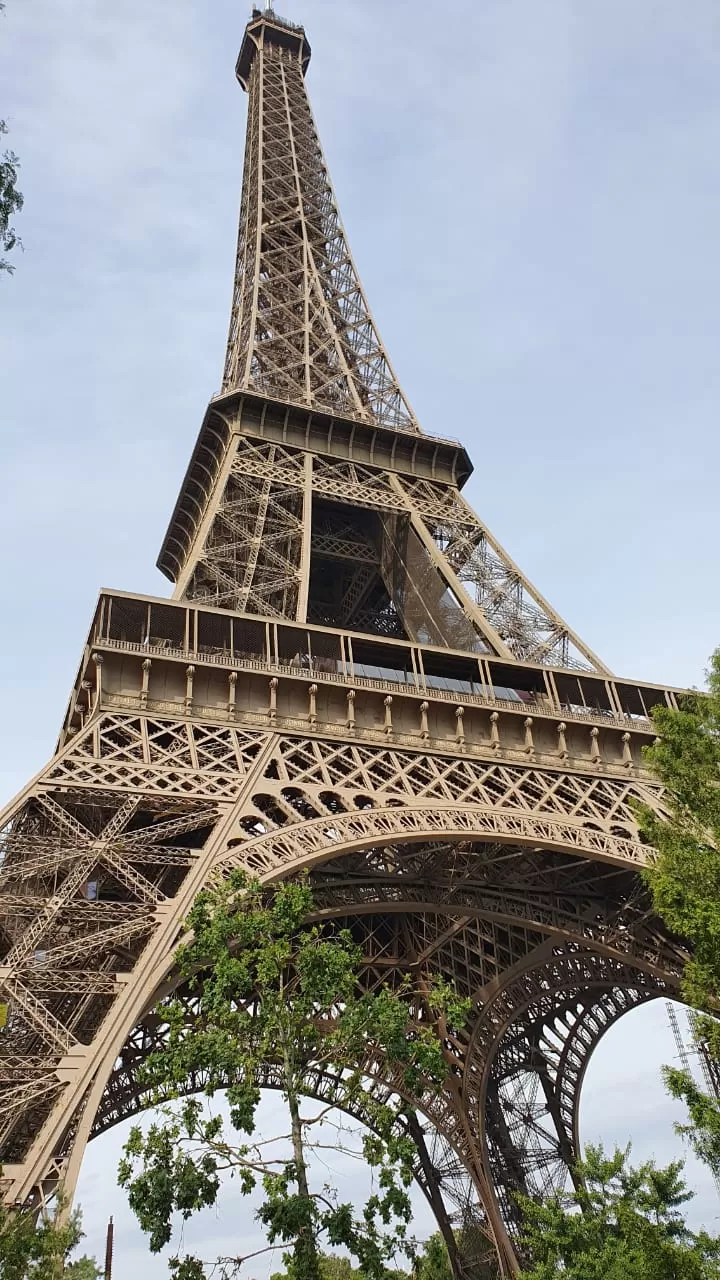 We waited in the Queue and collected the tickets. If you would like to take the stairs, you can proceed. But due to time constraints , we took the lift. First it will go to 1st level - its a restaurant. Then we proceeded to 2nd level. We got out in 2nd level and joined Sommet queue to 3rd level. In 3rd level, there is wax statue of Thomas Alwa Edison. Entire view of Paris can be visible. I was amazed by the spectacular view of French architecture. Such an organized one. Then we got out and waited outside in the meeting point. Got a Cappuccino costs 3.5 euro. TM then told us to go to one point where exact full view of Eiffel tower can be viewed. I got one small Eiffel Tower souvenir monument for 5 euros, to keep as a memory. Then we took many pictures. Then we Got back to bus. We then headed to Flench restaurant and had local lunch. After the delicious lunch, Then another guide joined us for the Bus City Tour and explained about many monuments.
On the way we saw church of Madeleine built by Napoleon Bonaparte and its called the Greek style of Architecture.
We saw National Assembly with the similar Greek Style of Architecture. Its called the Greek perspective.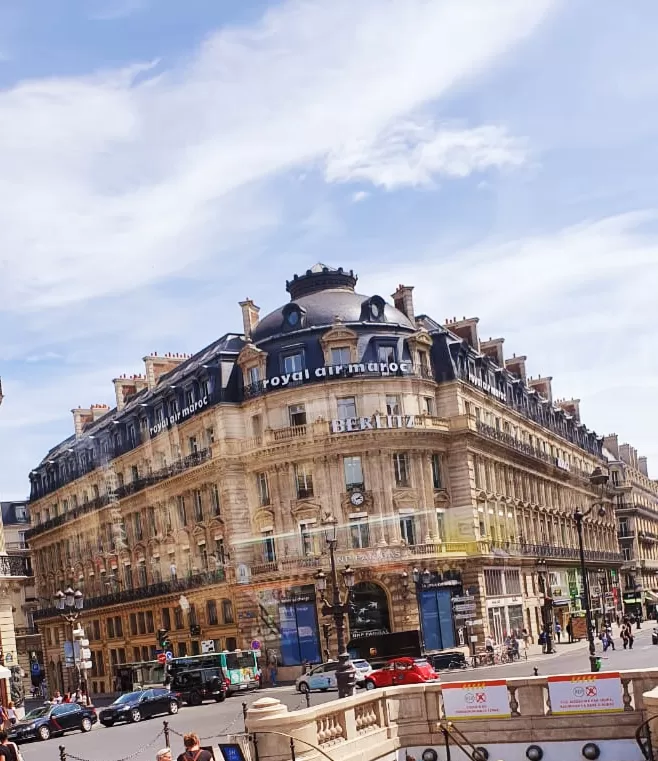 We could see that there was a piller in the center and is the oldest monument and is called Obulesque and it comes from Egypt. The church and National Assembly(Lower house of French Parliament- like our Lok Sabha) are examples for the Greek prespective.
Name Paris come from the Tribes, who were called Pharisees who lived in this area in 250 BC and it was this tribe who gave name to the city as Paris. When romans lived here, name of city was changed from Paris to Lutetia. With the fall of Romans, name of the Paris was got back.
This city was given Facelift by an Emperor Napolean IIIrd. We might have heard about Napolean Bonaparte or Napolean Ist or Napolean The Great. His nephew was called Napolean IIIrd.
He transformed paris from mid level city to a modern capital.
It is a sedementary city. Size of city grew as per population.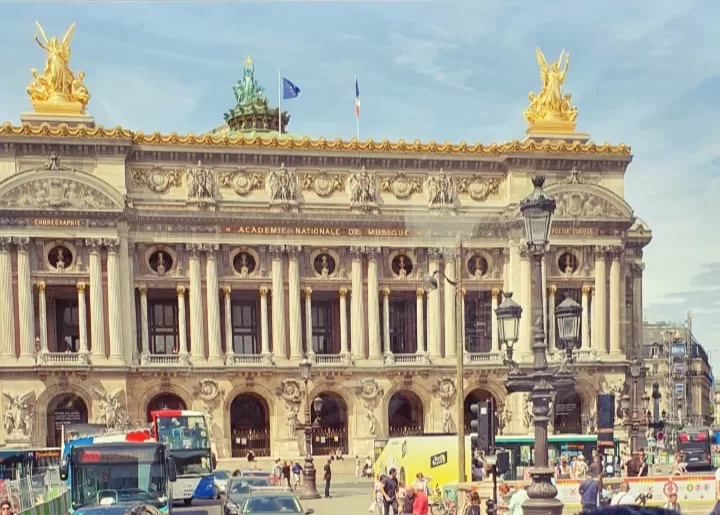 Then we saw Opera of Paris or Palais Garnier and right at the top we can see Statue of Apolo-The God of Music, holidng a musical instrument called Lyre. 2 statues on either side represents dance and music. We could see two letters embedded, N for Napolean The IIIrd and E for represents the name of his wife Empress Eugenie. Napolean IIIrd was a Lover of opera. While attending an earlier Opera, there was a bomb blast. So he wanted an Opera which was safe. That's why he commissioned the construction of this Opera. On the left side, there was an entrance. This entrance was reserved for Napolean Bonaparte and his wife. How ever He never got to use this entrance because it took 15 yrs for this opera to be complete, by that time Napolean Bonaparte has fallen off from power. Charles Garnier is known as the Architect of Opera.
On the right hand side, we can see all the buildings are of same height. Its called the perspective. If you happen to be on the other side of the street, you will see the Opera at the vanishing point. Thats how the monuments of the France are been honoured.
Then towards the Left Side- We saw Grand Hotel. It has got a wonderful Hall. It was in this Hall that the 1 out of 5 day marriage ceremony of the daughter of Lakshmi Mittal took place.
On the right side, we saw two red coloured buldings, galaries Lafayette, and prangton.
Then we saw Pelit Palais. The Petit Palais (small palace) is an art museum in the 8th arrondissement of Paris, France. It has got 35 varieties of italian marbles. This is soo beautiful from outside and inside too. Centrer portion which is bulging on both sides, these are the seating areas and the seating areas are in horse shoe seating area and is completely made of steel. When we see the building, we never understand it has got Steel Architecture, but in the center area,its completely made of Steel. This was used for dance and music purposes, now its only used for dance purposes.
Then we saw the Most beautiful square in Paris- called the Vendome Square, We can see a green pillar and on the top is the statue of The King Napolean bonaparte.
We saw the Rue De La Paix street, it was earlier called Napolean street. This street is known for jewellers. We can see Mellerio Jewellery Shop. It was the first jeweller to set up jewellery Shop in this Square.
In any Square, architectural backbone is very important. All the buildings in the square has similar architecture. That is how a square is being decorated. If we look on the 1st floor balconies, we can see a gilded round and in the center we can see a face radiating like a sun. This was symbol of King Louis The XIVth. He called himself as the Sun King. This Square belongs to King Louis The XIVth and in the center, we have the statues of King Louis The XIVth. During french revolution of 1789, revoluitionists brought down statue of King Louis The XIVth and this area was vacant and when napolean bornepart came to power after french revolution, he erected his own statue on the top of the column. We can see all the famous Jewellers around the square. We could see Chanel, which is famous for perfumes. Chanel number 5 is the best perfume. Also, We saw Ritz Paris where Lady Diana had her last supper.
19th Century was the century of hygiene. So Haussman introduce toilet facilites. sewage facilites, water facilites, fresh air and fresh light. Thereby he transformed Paris from Midlevel city to Modern City. We could see the harmony of Architecture in Paris.
Then we saw Louvre Museum, the worlds largest art museum in the world, it has got 13 km gallery, more than 35000 pieces of art displayed. Here we can see the famous Mona Lisa Painting by Leonardo Da Vinci.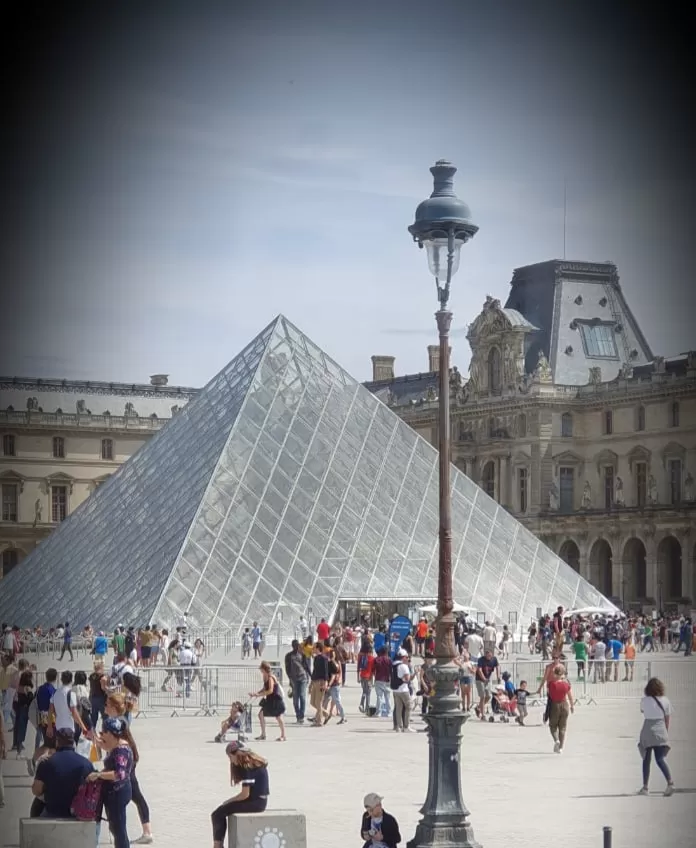 We saw the Paris Bridge of Love where many couples used to put the lock on the bridge and threw off the key inside the river as a belief that this will protect and increase the love they have in between.
We could see some construction works happening in Paris for creating a separate path for the 2 wheelers. One thing i noticed here is everyone is using cycles for their day to day commute.
Then we saw the Concord Square, which is the Largest Square. Its surrounded by monolithic pillars, and is the oldest monument from Egypt. This was the Gift of Egyptians to French. The centre of the Place is occupied by a giant Egyptian obelisk decorated with hieroglyphics exalting the reign of the pharaoh Ramesses II. It is one of two the Egyptian government gave to the French in the 19th century. The other one stayed in Egypt, too difficult and heavy to move to France with the technology at that time. In the 1990s, President François Mitterrand gave the second obelisk back to the Egyptians.
Then we proceed to Les Invalides- Complex of buildings in the 7th arrondissement of Paris, France, containing museums and monuments, all relating to the military history of France, as well as a hospital and a retirement home for war veterans, the building's original purpose. Louis XIV initiated the project to take care of the invalidated soldiers. Even today, its a hostel, church and hospital for wounded soldiers.
We could see Grand Palais/Palace- Which is made of Steel Architecture. We took many pictures and then proceed to Arc De Triumpe.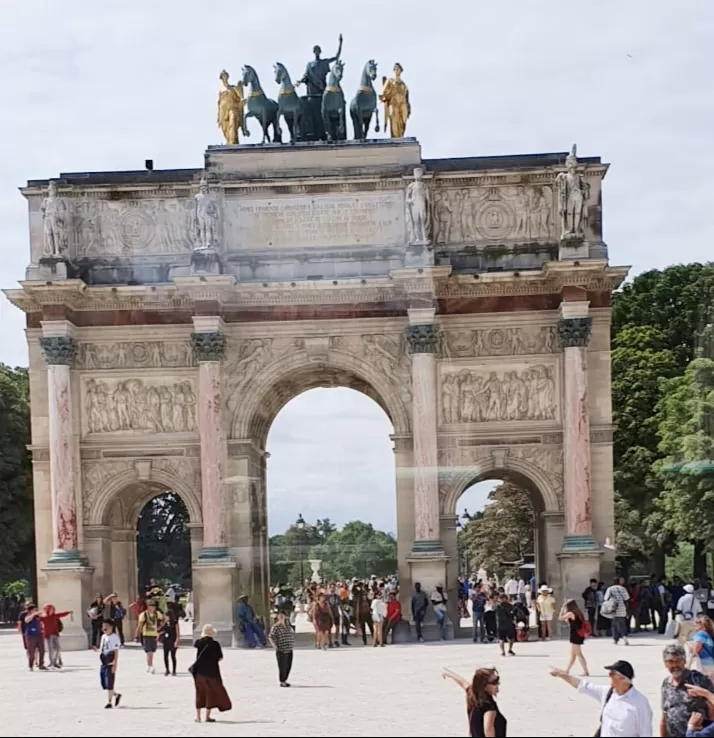 The Arc de Triomphe honours those who fought and died for France in the French Revolutionary and Napoleonic Wars, with the names of all French victories and generals inscribed on its inner and outer surfaces. Beneath its vault lies the Tomb of the Unknown Soldier from World War I. There is a flame which is dedicated to all the unknown soldiers who were died in the war.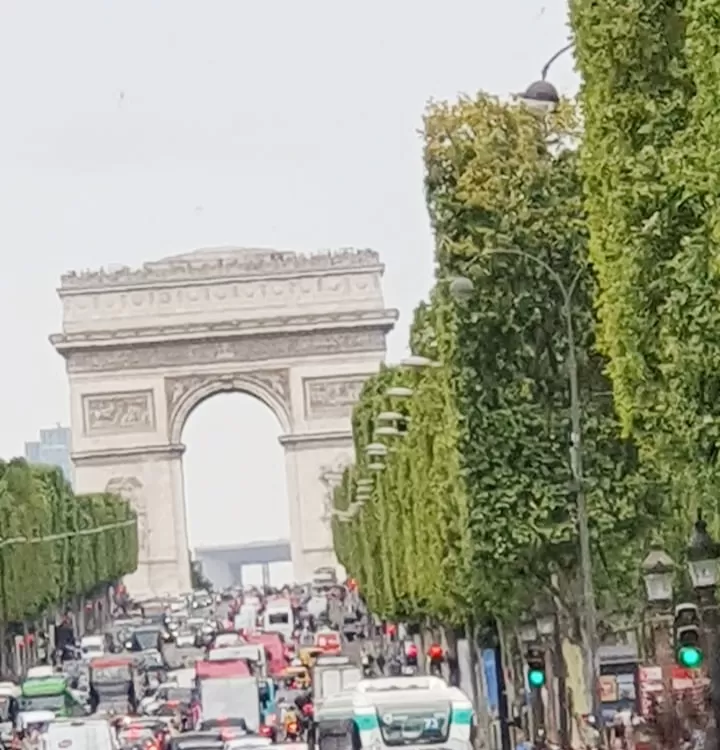 Then we saw many branded iconic departmental stores. Also, here is the only place where you can McDonalds Signage board with Black background and white letters.
Then we saw Musée d'Orsay, a museum in Paris, France, on the Left Bank of the Seine. The museum holds mainly French art dating from 1848 to 1914, including paintings, sculptures, furniture, and photography.
Then we saw Place de la Bastille, a square in Paris where the Bastille prison stood until the storming of the Bastille and its subsequent physical destruction between 14 July 1789 and 14 July 1790 during the French Revolution. No vestige of the prison remains.
Then we went for boating in the Seine River. The Seine is known for its romantic sightseeing boats, called "bateaux mouches," that drift up and down the river in Paris. We took Seine River cruise and enjoyed the entire beauty of Eiffel Tower and Paris along the Riverside.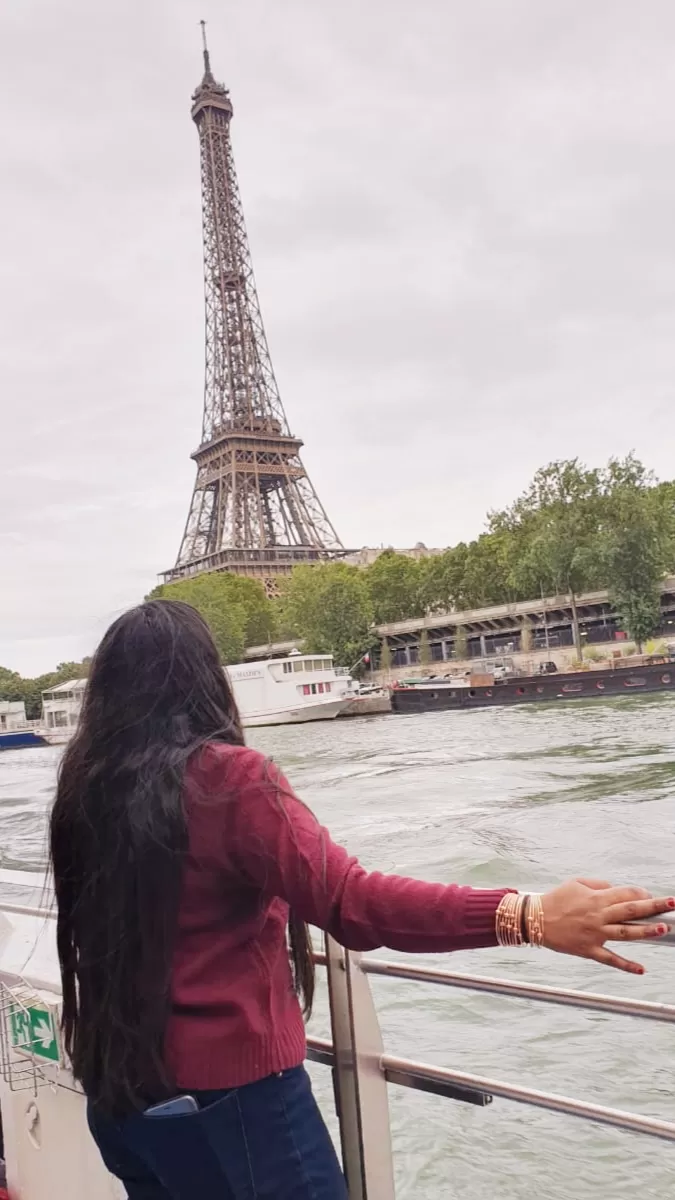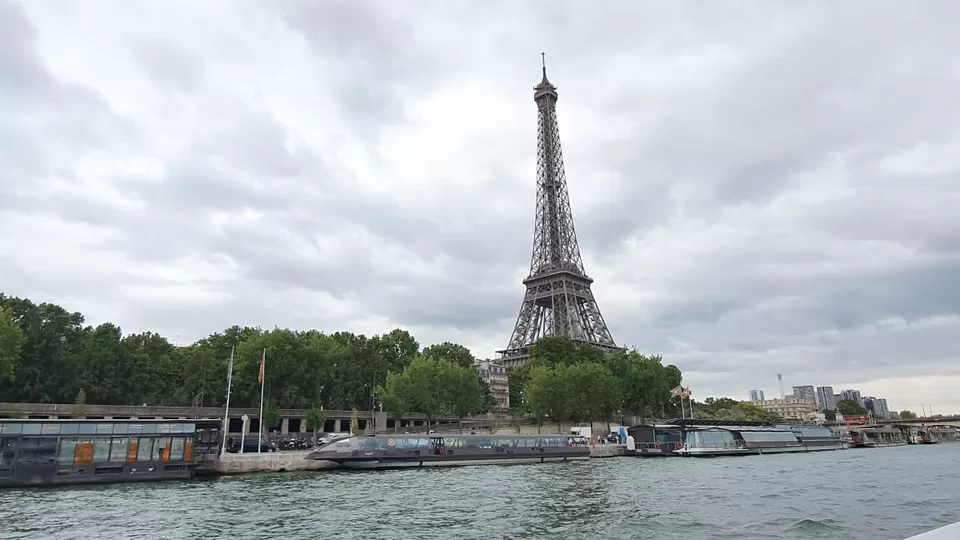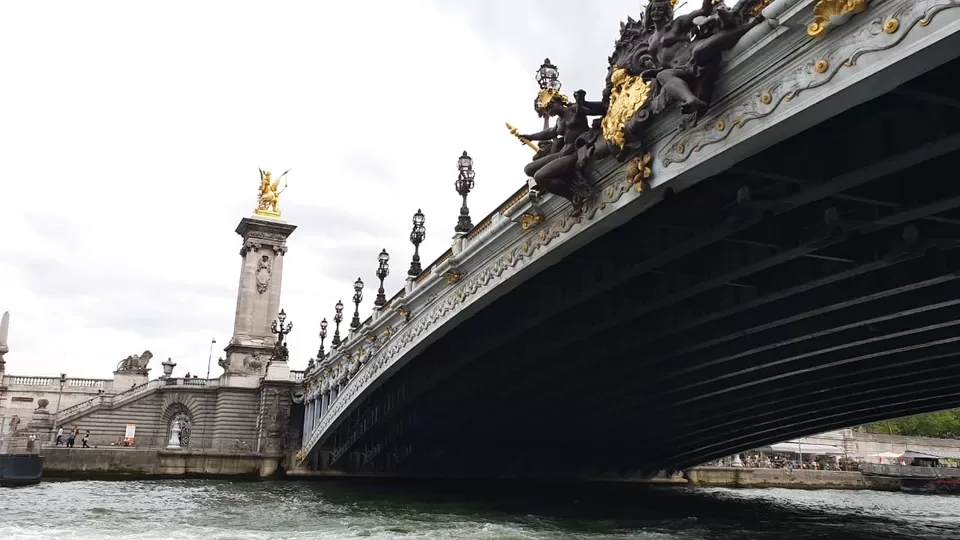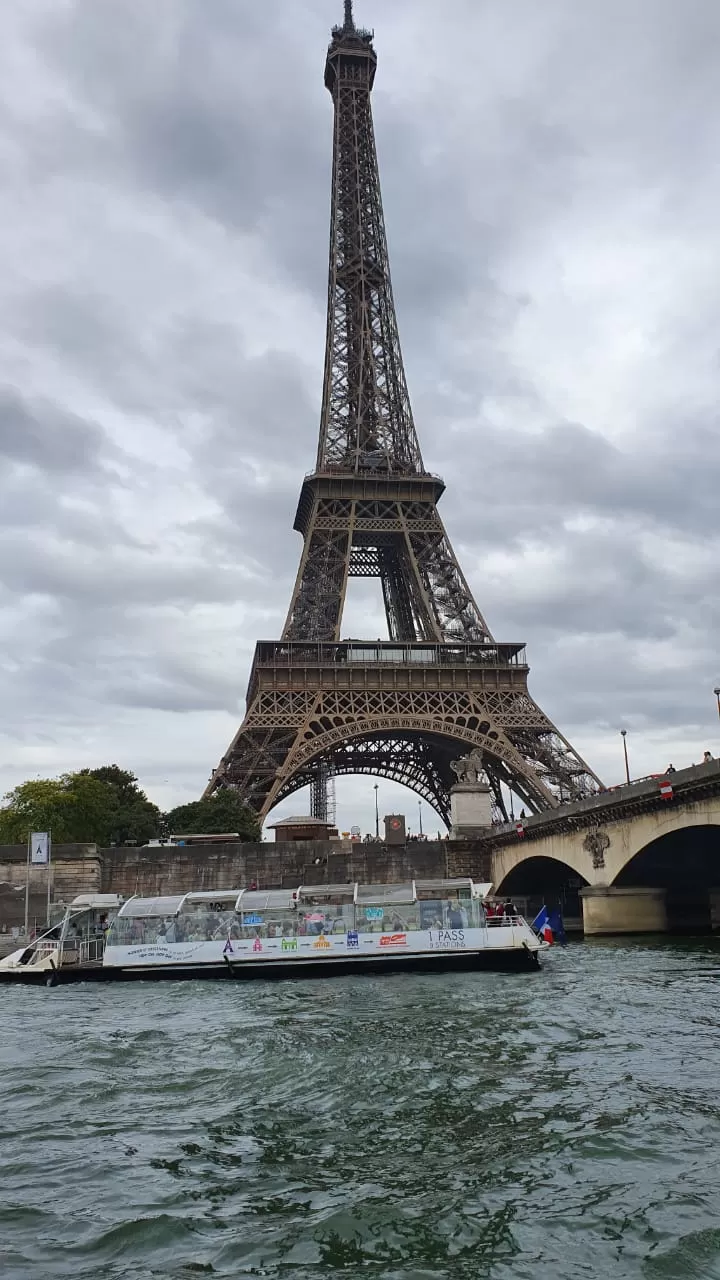 Paris can be explored mainly by 3 ways- By Road tour, By water tour and by walking. The best option to explore this city of love is through walking. We entered the cruise and we could hear recordings that describe about each buildings along the river banks of Paris. It was such an amazing experience to view the Eiffel Tower from the boat. I felt so relaxed, satisfied and peaceful. I could see many couples holding their hands and walking along the sides of river. Paris is always a good idea! However I was not able to enjoy the night view and lights of Paris and the Eiffel Tower since it was not included in the itinerary. I promised myself, I will come back again for sure along with my hubby and waved goodbye to Eiffel Tower.
After the cruise boating, we start from there to restaurant at 6 pm. Had dinner from an Indian restaurant and Got back to hotel Novotel, dreaming about the things that will excite me next day.
**************************************************************
DAY 3
19th July 2019, Friday
Brussels City Tour and Visit to Atomium
Food: Breakfast from Novotel Hotel and Check-Out, Local Buffet Lunch from Leon Restaurant- Belgium, Dinner from Appayan Indian Restaurant(Luxembourg)
Stay: Ibis Hotel, Luxembourg
Woke up at 6 am. Got freshen up and after having breakfast we check out and waited in the lobby.
Then we headed to Belgium. On both the sides of the road, we could see grass fields. Our guide told us that once these grass reach a certain height, it will be cut and sent to cattle fields in Switzerland for feeding the cows. Greenish fields and the light blue sky made our mind so refreshing. I could feel that travelling by bus is always good to enjoy the landscape. There are options to travel by train, but the train is travelling through the outskirts area and is more costly. Also, In Europe, if we change the countries, there is no border cross. Just a signage board will be there. There is only one border cross which is in Switzerland, sometimes they will check the passport of the travelers, so make sure you carry the passport when you are travelling to Switzerland from any other European country. Slowly 29 of us introduced ourselves and we sang songs and it was a 4 hour journey. We were also given 45 mins break because as per rule, drivers in the bus are called captain, and for every 4 hour drive, we have to give 45 mins break. We stopped in petrol pump and there is food court in every petrol pump. We had a cappuccino.
We reached Brussels by around 12.30. Unlike Paris, Belgium streets are very different. Architecture is extreme different. You can see trams through the center of roads, different bus and cars. I could find that here we could see little more tall buildings with black and grey combinations. We had local lunch from The Leon restaurant. Its a 3 course meal. Since I'm Vegetarian, first they served lentil soup and bread, then salad and potato cutlet, finally the dessert. Then we walked outside and walked through the streets of Brussels. I was soo excited that I cannot believe if this is real or this is a dream. A local lady guide joined us for guiding the street tour. I was wondered by the shops on both the sides.
Brussels is a region of Belgium comprising 19 municipalities, including the City of Brussels, which is the capital of Belgium.Brussels is the most densely populated and the richest region in Belgium in terms of GDP per capita.
We walked towards the Grand Place or Grand Square. The Grand Place or Grote Markt is the central square of Brussels. It is surrounded by opulent guildhalls and two larger edifices, the city's Town Hall, and the King's House or Breadhouse building containing the Museum of the City of Brussels. The square measures 68 by 110 metres. The Grand Place in Brussels is hidden away in the centre of the city but when you enter on foot, you are guaranteed to be left awestruck. At the centre of the Grand Place is the beautiful 15th Century city hall but dotted around the square you will also be impressed by the six guild halls and their striking architecture.
We saw the Town hall building, Kings House and Houses of the Grand Place. The Town Hall is the central edifice on the Grand Place. It was built in several stages between 1402 and 1455 and is also the square's only remaining medieval building. The Town Hall is asymmetrical, since the tower is not exactly in the middle of the building and the left part and the right part are not identical, since these two parts were not built together. This building was initially constructed using wood and was destroyed during a bomb blast. Then they re do the construction and hence two sides of the building doesn't have the same size. We could see that the entrance gate is kind of shifted towards left side.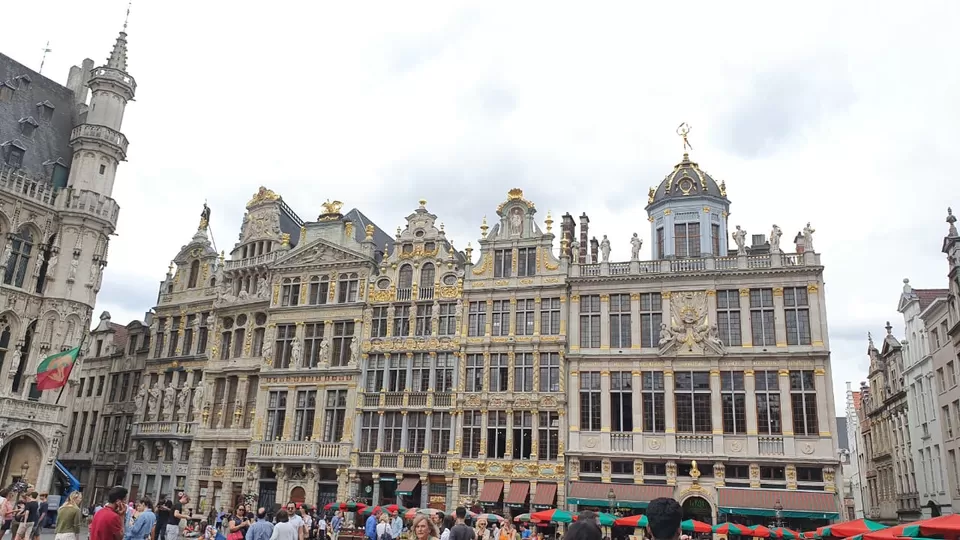 She then briefed about the King's House. As early as the 12th century, the King's House was a wooden building where bread was sold. The original building was replaced in the 15th century by a stone building which housed the administrative services of the Duke of Brabant, which is why it was first called the Duke's House, and when the same duke became King of Spain, it was renamed the King's House. In the 16th century, Holy Roman Emperor Charles V ordered to rebuild it in a late Gothic style very similar to the contemporary design, although without towers or galleries. Because of the damage suffered over time, especially during the bombardment of 1695, the city had the King's House rebuilt in 1873 in the Gothic Revival style. The current building, whose interior was renovated in 1985, has housed the Museum of the City of Brussels since 1887.
The Grand Place is lined on each side with a number of guild houses and a few private houses. We could see a house with lion statue at the top and surrounded by birds statue. This represents the Phoenix bird, which was destroyed by Fire and re built raising from the ashes.
The guide told us that there is one flower carpet festival conducted every two years in August in the Grand Place, which is very beautiful to see. Entire Grand Place will be covered by Flowers.
Then we clicked some pictures and we could see Everard t'Serclaes statue, located on Charles Buls street in Brussels, just off the Grand Place. It is said that the statue of Everard t'Serclaes brings luck and grants the wishes of all who touch it. Many tourists touch the statue, particularly the arm, because legend has it that rubbing the arm will ensure one's return to Brussels. Other parts are also touched frequently by the tourists such as the face of an angel, a dog, and one of the shields.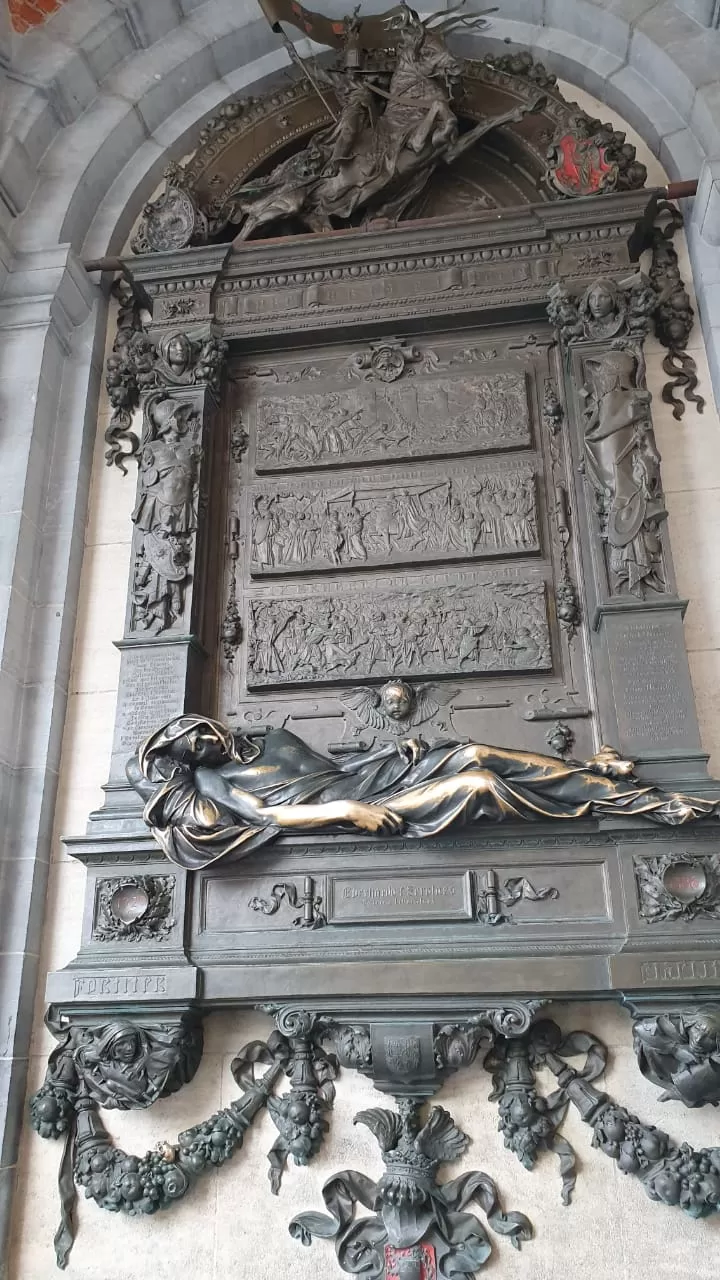 While walking through the streets, we could see many shops selling the most famous Belgium Waffles. I bought Belgium waffles with chocolate flavour for 4 euros. It was soo yummy and a must try thing if you visit Belgium. I was delighted.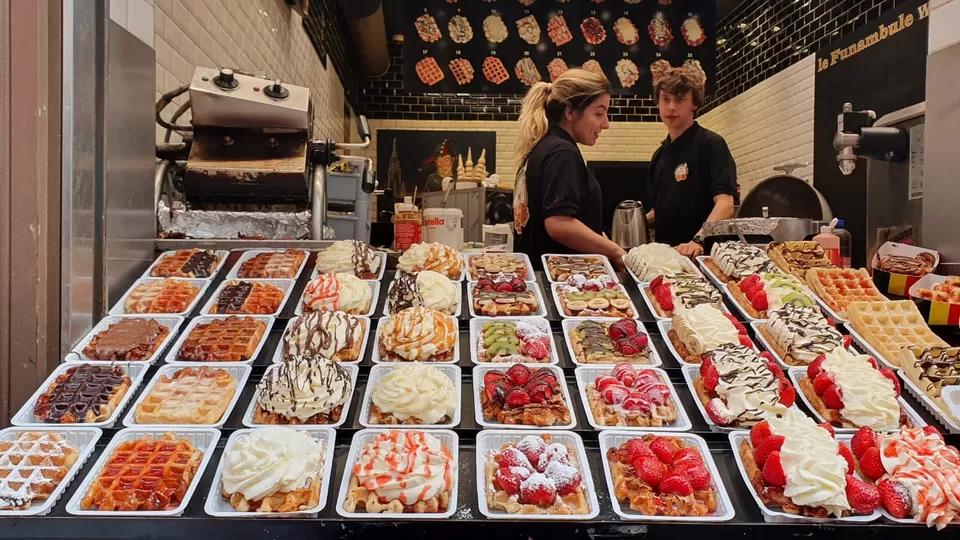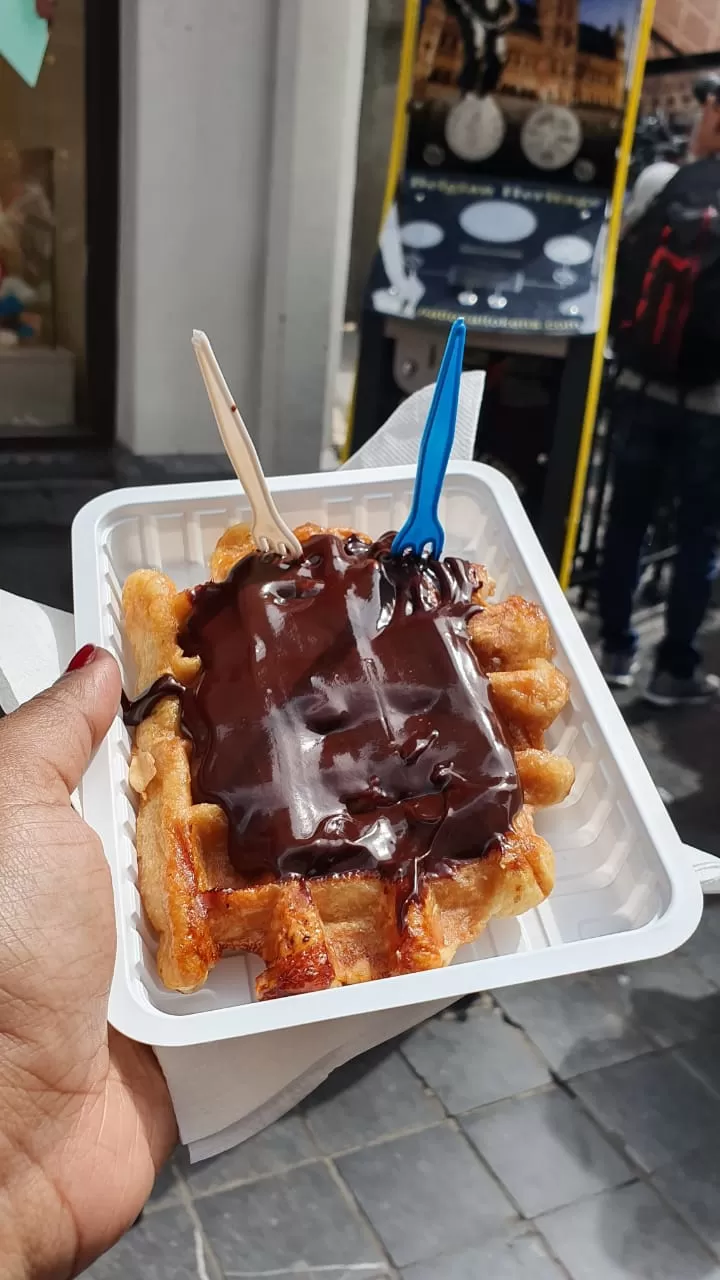 On the way, we saw paintings of Tintin comics on the walls, we saw Hotel Amigo and Mannekan Pis. Manneken Pis is a landmark in bronze sculpture in the centre of Brussels (Belgium), depicting a naked little boy urinating into a fountain's basin. The original is kept in the Museum of the City of Brussels. Manneken Pis is the best-known symbol of the people of Brussels. It also embodies their sense of humour and their independence of mind.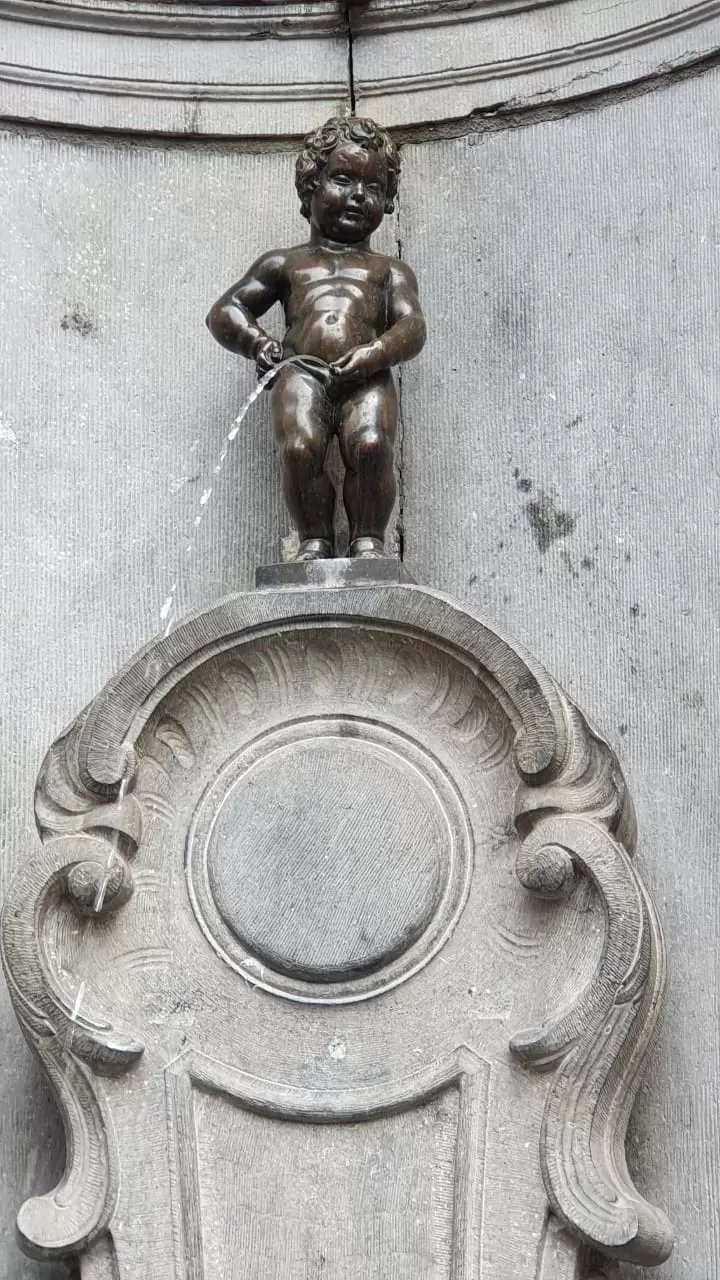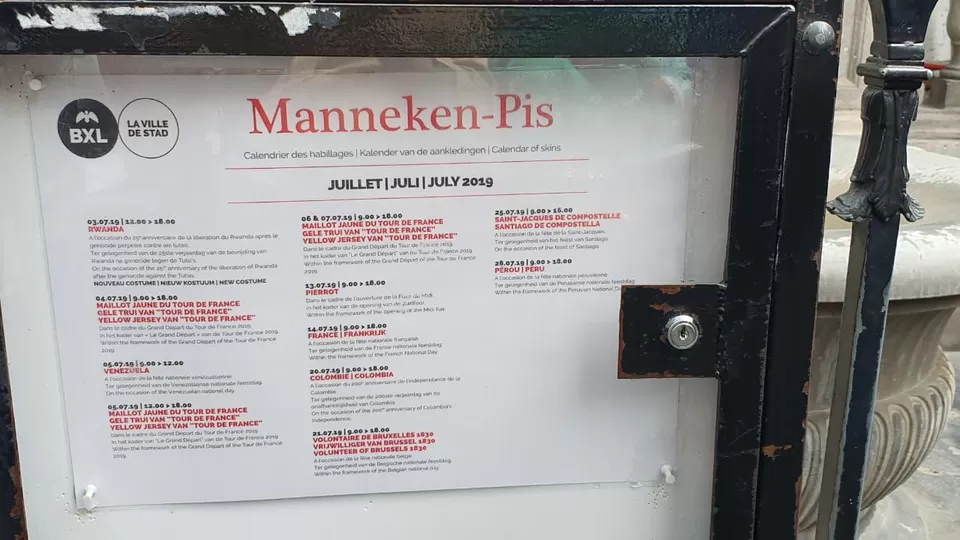 There are several legends behind Manneken Pis, but the most famous is the one about Duke Godfrey III of Leuven. In 1142, the troops of this two-year-old lord were battling against the troops of the Berthouts, the lords of Grimbergen, in Ransbeke. The troops put the infant lord in a basket and hung the basket in a tree to encourage them. From there, the boy urinated on the troops of the Berthouts, who eventually lost the battle. On certain occasions, the statue is hooked up to a keg of beer. Cups are filled up with the beer flowing from the statue and given out to passers-by.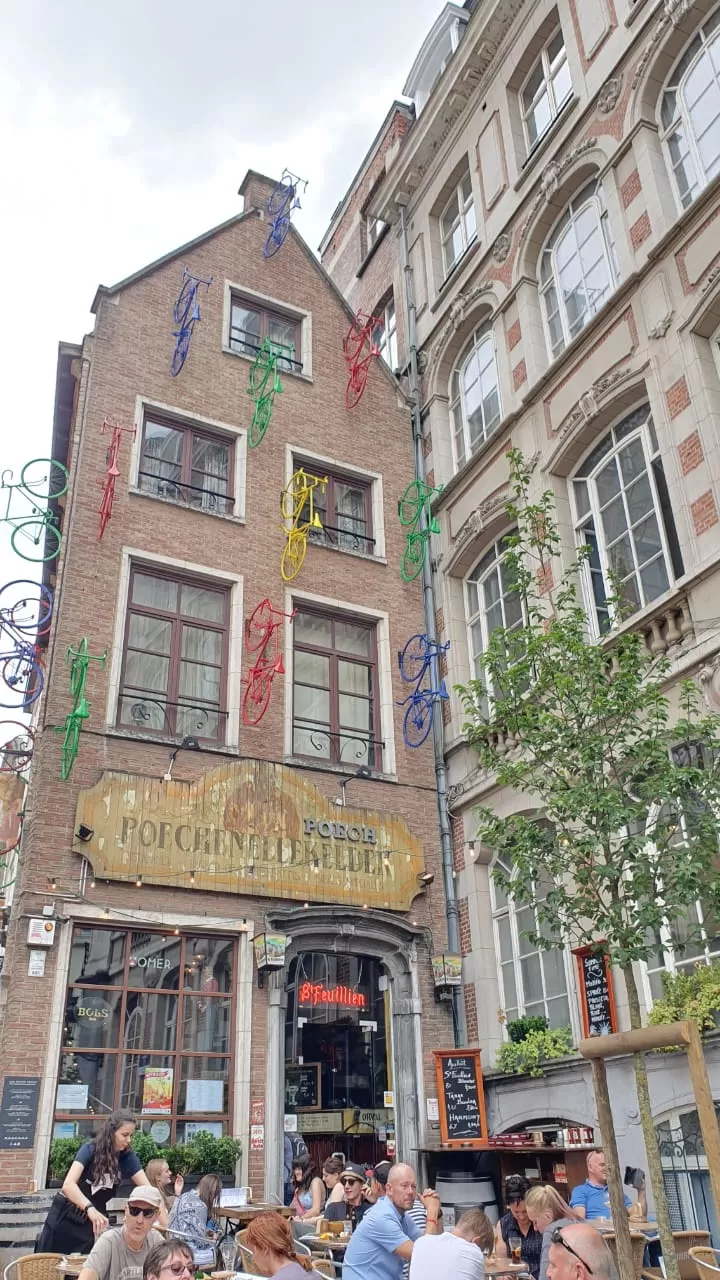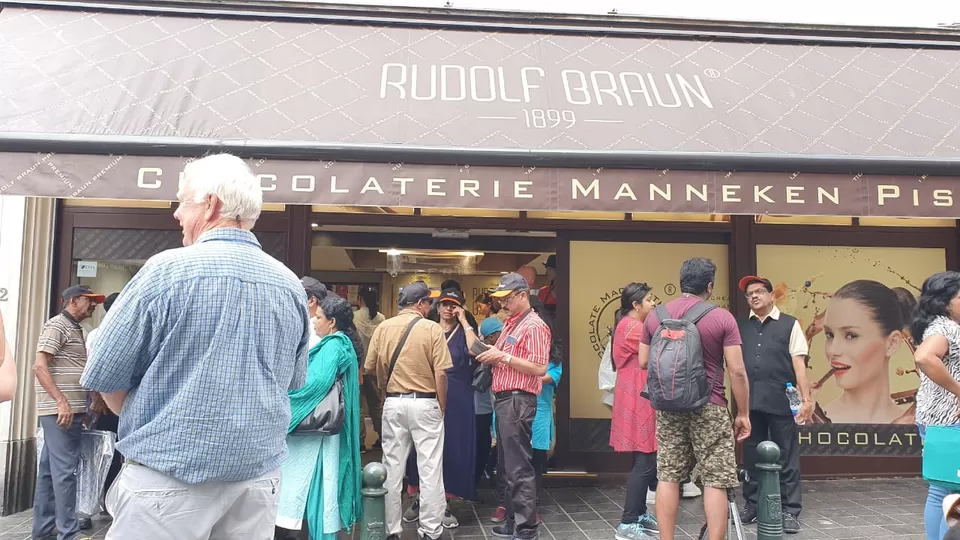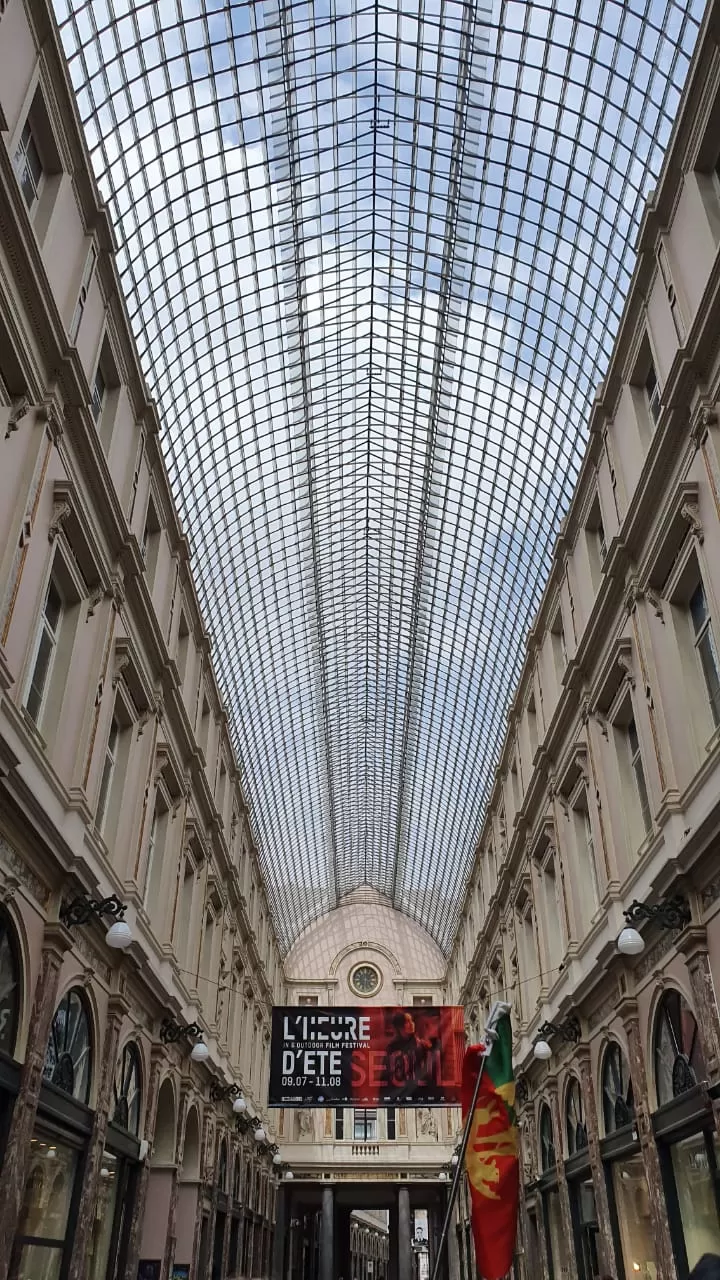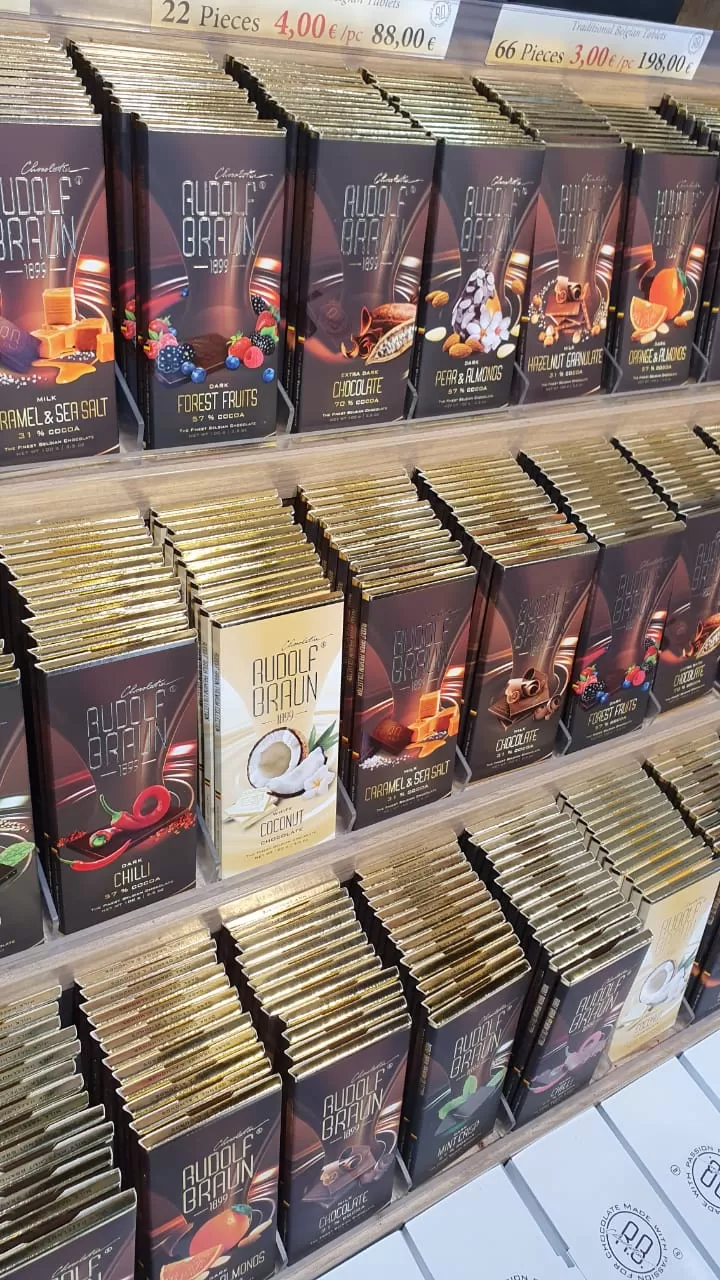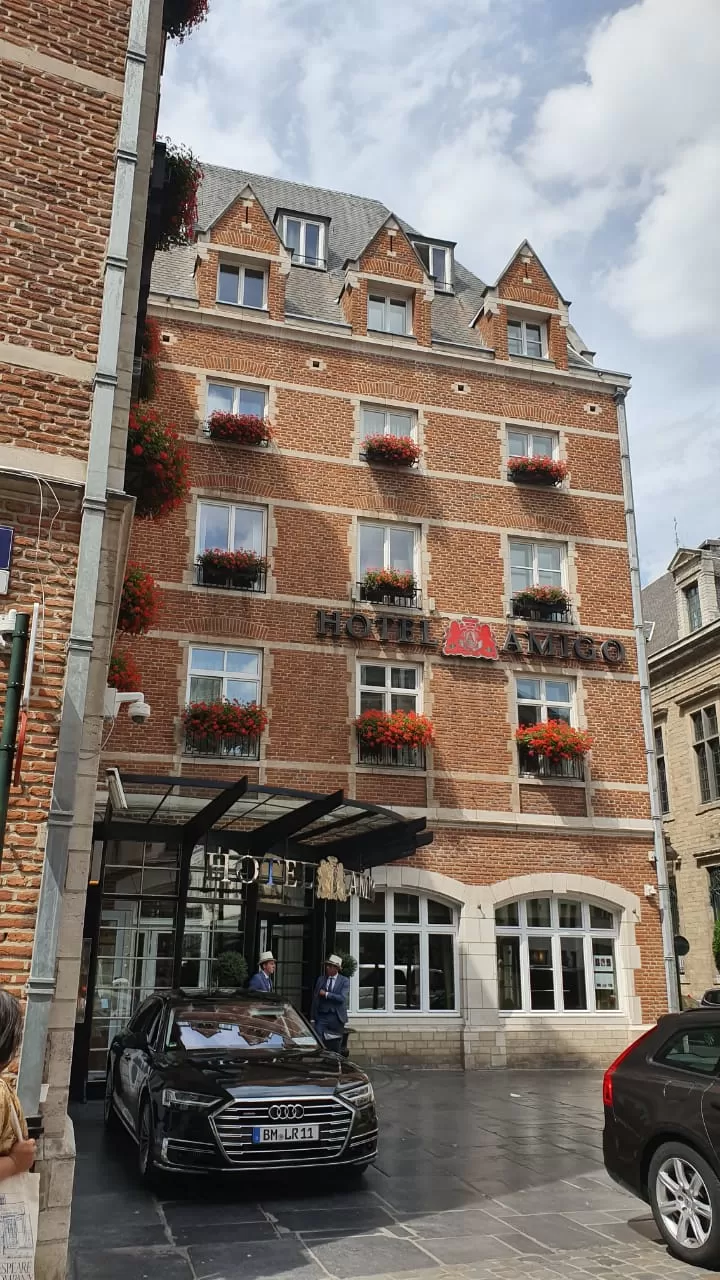 We stopped there for a while and clicked pictures and then we went to the famous chocolate shop Rudolf Braun which is older than the country. We bought chocolates from the Chocolate Shop. If you buy as a group, there will be offers and is more affordable for us. So we paid 35 euro for 4 boxes of the famous Belgium chocolate. Then we walked back towards the Bus Point and on the way back through the streets, we could see many branded shops, pharmacies(which sells medicines covered by chocolates), chocolate shops etc. We saw the shops which has models of Atomium made completely of chocolate. Also, I noted the construction of buildings in the Street. We cannot see the end of the building while walked though the street. Guide told us that this street is not straight because of 2 reasons. Once reason is to prevent the wind and other reason to increase the curiosity of the people visiting the streets. Then we entered inside the bus and proceeded to visit the great Atomium, which is the landmark in Belgium.
On the way to atomium, we could see many buildings with different architecture including the Japanese or Chinese Style. Our bus stopped infront of the Atomium. The Atomium is a landmark building in Brussels, originally constructed for the 1958 Brussels World Expo (Expo 58). It is located on the Heysel Plateau, where the exhibition took place. It is now a museum.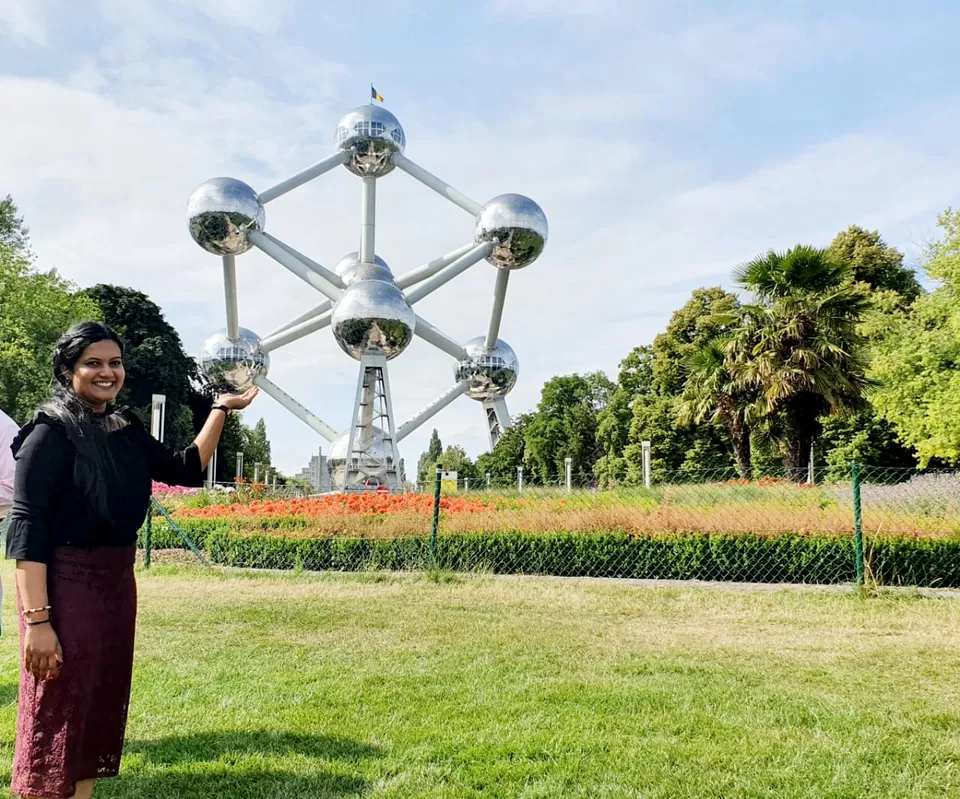 Designed by the engineer André Waterkeyn and architects André and Jean Polak, it stands 102 m tall. Its nine 18 m diameter stainless steel clad spheres are connected, so that the whole forms the shape of nine iron atoms in the shape of the body-centered cubic unit cell of an iron(Fe) crystal, magnified 165 billion times. Tubes of 3 m diameter connect the spheres along the 12 edges of the cube and all eight vertices to the centre. They enclose stairs, escalators and a lift (in the central, vertical tube) to allow access to the five habitable spheres, which contain exhibit halls and other public spaces. The top sphere includes a restaurant which has a panoramic view of Brussels. We clicked many pictures from outside and started our journey to Luxembourg. We had Indian Bengali dinner from Appayan restaurant and proceed for Check in to ibis Hotel.
**************************************************************
Day 4
20th July 2019, Saturday
Luxembourg- Titisee River- Cuckoo Clock-Rhyne Falls in Schaffhausen
Food: Breakfast from ibis Hotel and Check-Out, Indian Buffet Lunch from Rangoli Restaurant- Titisee, Dinner from Namasthe India Restaurant(Zurich)
Stay: Hotel Seedamm Plaza, Zurich
We checked out at 8.30 am from ibis Hotel. Had buffet breakfast from ibis hotel. I didn't liked the breakfast options they had and I ate only 2 bread and cappuccino. Hence i was hungry the whole day till we had lunch.
Its a 4 hour journey from Luxembourg to Germany. Hence we took our first break at 11.30 and I had the yummy french fries dipped in Mayonaisee from one of the Food courts. It was yummy and reduced our hunger. Luxembourg is a small European country, surrounded by Belgium, France and Germany. By around 11.45 we could see Kehl river that connects France and Germany. We entered Germany from Luxembourg by passing through a small portion of France area. First we were heading towards Titisee Lake in Germany. On both sides of the road, we could see picturesque grass fields, small houses, really a feast for the eyes. We reached Titisee by around 1pm. Straightaway we wnt for having lunch from Rangoli Restaurant. Titisee Lake and Titisee area is soo beautiful and cannot be explained in words. We could feel the cool and breezy wind, mesmerizing flowers, I was surprised to see a black coloured flower. Its a perfect blend of the mountains, lake and flowers.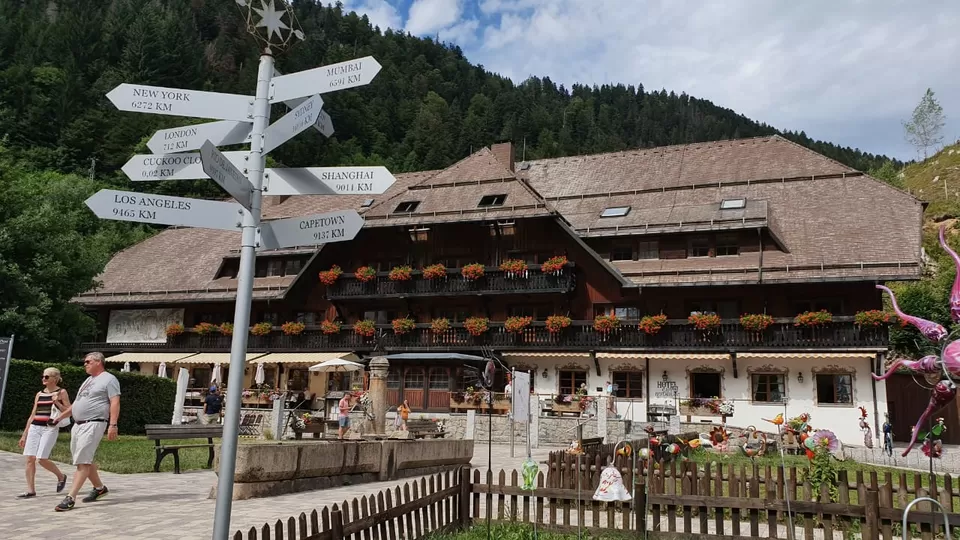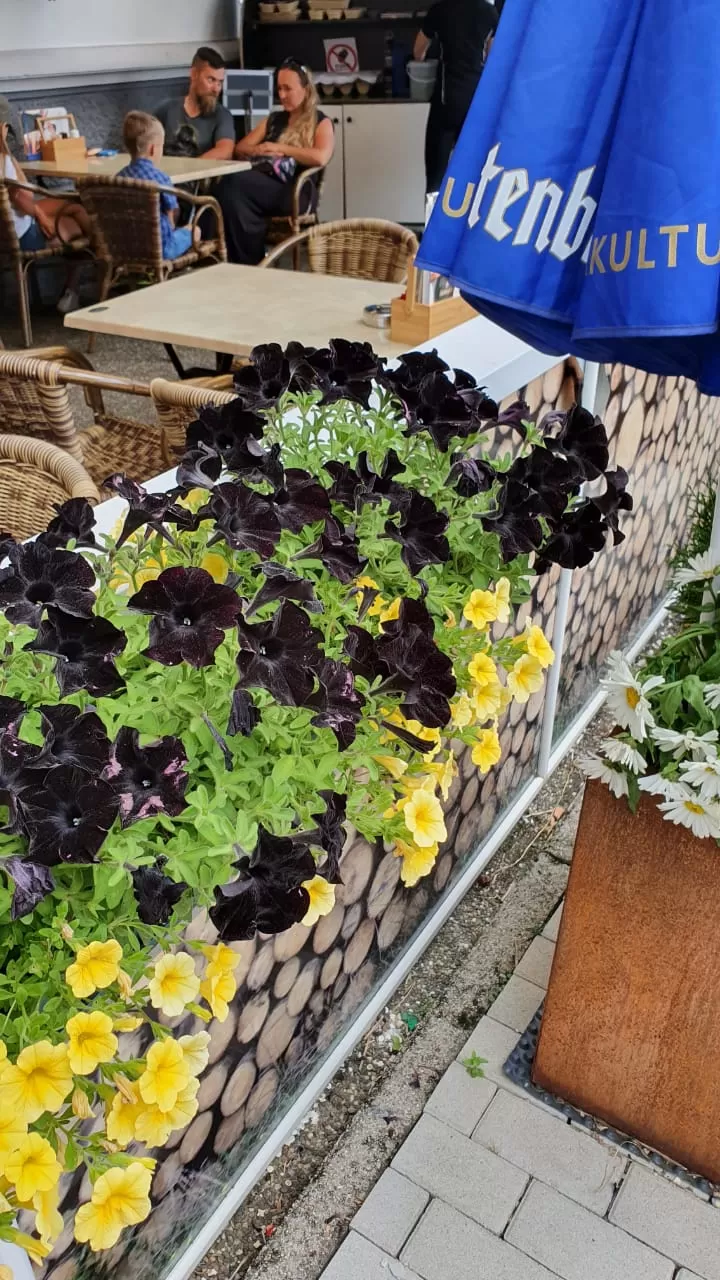 We stand there for sometime, took some pictures and enjoyed the beauty of Titisee lake. During winter season, between December to February, this Titisee lake will be fully frozen. This will be the main spot for Winter sports. Lake will freeze up to that much depth were even flight can land above the frozen lake. I was imagining the frozen Titisee Lake and i felt may be it will look similar and more beautiful than the frozen Tsomgo Lake which i saw nearby the Nathula Pass, Gangtok. There are many stalls where you could buy Cuckoo Clock and other souvenirs. Since we were visiting the Cuckoo Clock manufacturing Place, we didn't purchased anything.
We continued our journey to Black Forest and we reached there by 2.30 pm, we reached black forest, it is called so because of no Sunlight. It reminds me of the black forest cake and I wish if I could get some pastry/cake now. TM said during winter, from December to January, all the oak or pine trees will be covered with snow. Hence we can call as white forest. Cuckoo clock was made from this oak trees.
The famous cuckoo clock is made in separate areas. Wooden frame will be prepared in one local home, cuckoo another home, instruments inside in another home, and the completion or assignment happens in another place.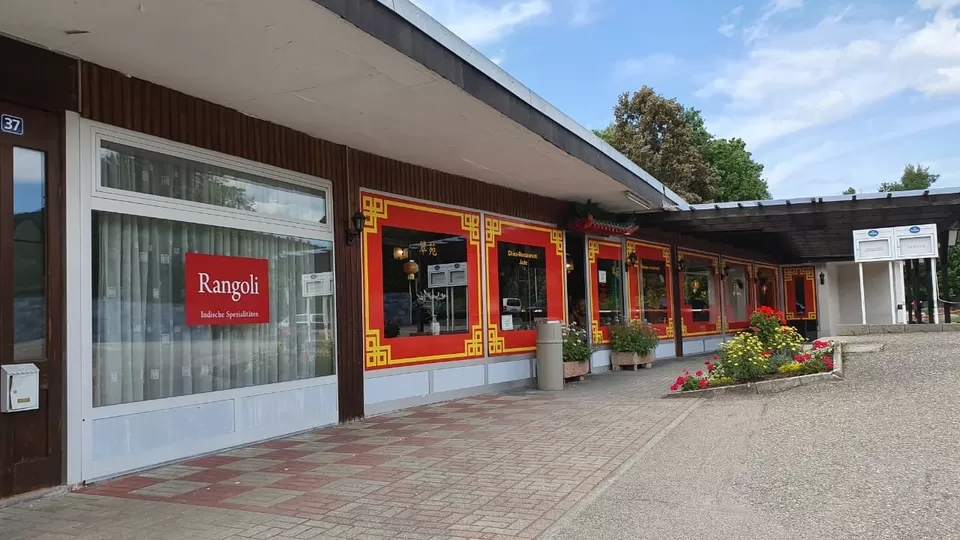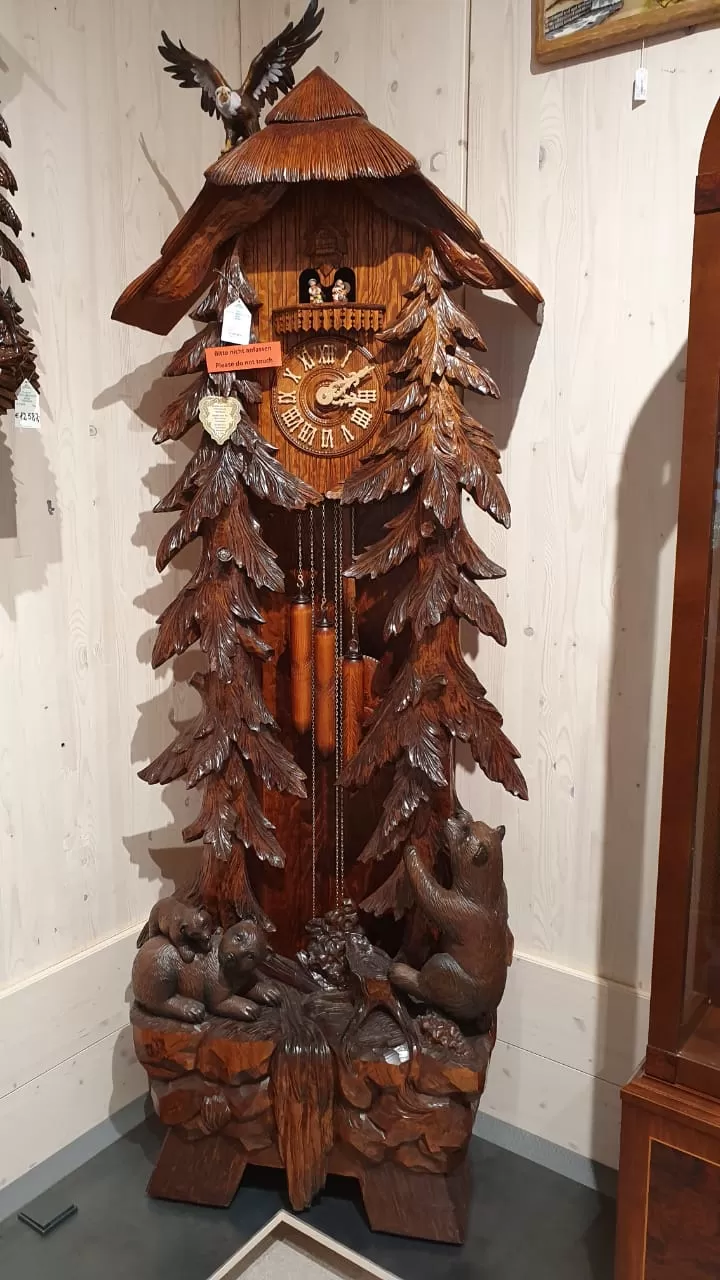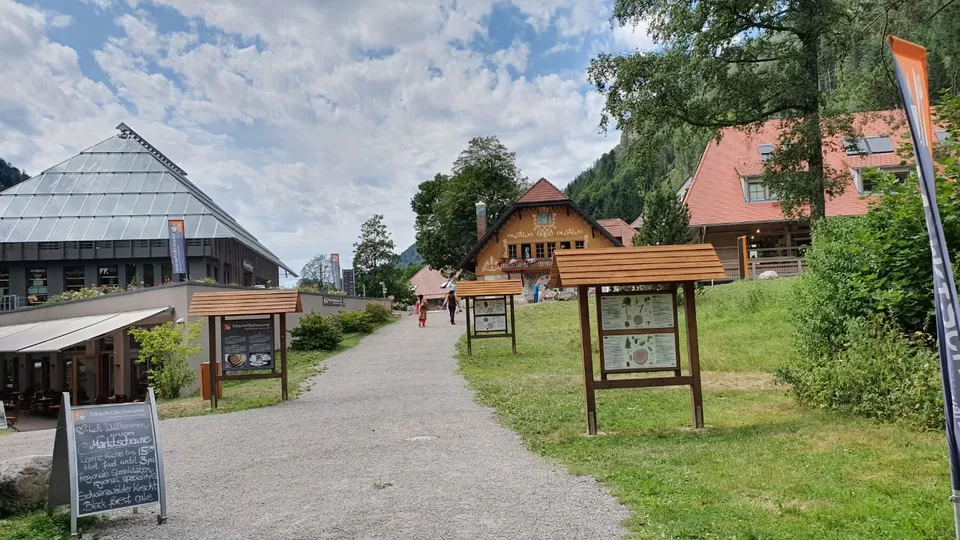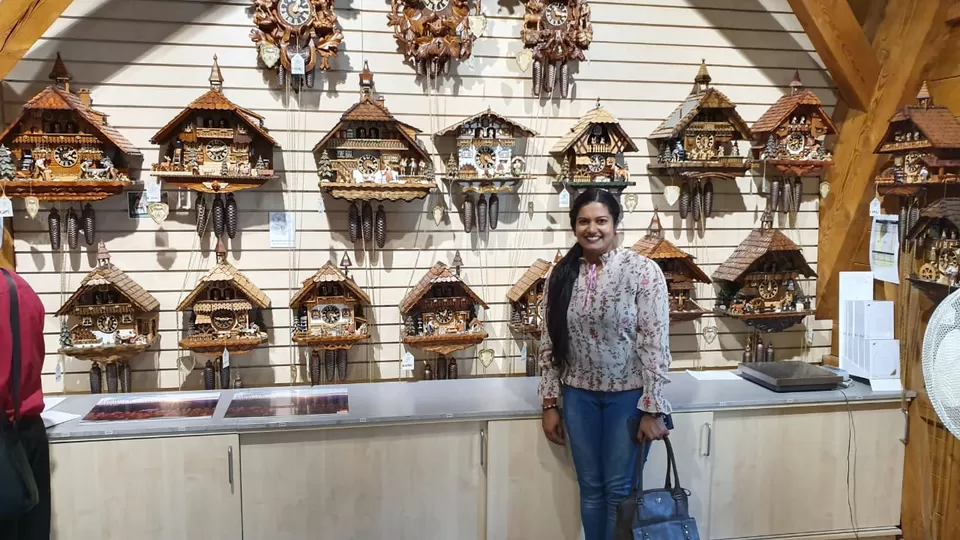 The cuckoo clock is a timeless symbol of fine artistry. From its unique carvings to its famous "cuckoo" sound, the cuckoo clock is as much decorative as it is functional. The cuckoo clock's history and development have spanned many generations, but how a cuckoo clock is made is still considered one of the most intricate and detailed processes in modern clock making.
Cuckoo clocks originate from the Black Forest region in Germany, seen by many as the clock-and-watchmaking capital of the world. This region is also famous for its lush forestry, forming the foundation on which many cuckoo clocks are made. In fact, for a long time, natives of the Black Forest region appeared to be the gatekeepers of how to build cuckoo clocks. The style of clock will determine how a cuckoo clock works, the materials needed and manufacturing process.
Prime wood is the critical material in crafting these clocks. Cuckoo clock bases can be made with walnut or pine, but the clocks overall are primarily made from linden wood, a soft wood that is easy to carve and grows in Europe. Usually, the wood is purchased in advance and aged two years before artisans begin work on it. The wood for the outer casing is then cut into various shapes and sizes using a selection of hand and power tools. Once it's dried and set, the artisan prepares for the clock's design.
German artisans outline a shape on paper before sketching it into the wood and cutting it out. An artisan might then carve the design with up to 50 different knives for fine detail. When building a cuckoo clock, the design is almost as important as its function. Owners want that traditional, but almost nostalgic feel when they hang up their clocks.
The clock spring, or movement, is built into the clock and consists of a system of brass and steel gears. This is what keeps time and triggers the cuckoo function. Artisans may choose a one-day or eight-day movement. In the past, an artisan might have made his or her own movement, but nowadays, they can be bought ready-made for convenience.
A small, decorative bird is screwed into the movement once it's been set and attached to metal wires that control its ticking. These are held down by weighted lead, usually in the shape of pine cones or leaves, as homage to the area where the clocks come from. But contrary to popular belief, this mechanism isn't how a cuckoo clock makes sound. The bird may pop out every hour on the hour to greet you, but the cuckoo sound is actually made by air pumping out of two miniature bellows, also made of wood, located at the top of the clock. The "cuckoo" is no different with air being pushed out of slotted whistles one at a time, making the "coo" and "koo" sounds we've all come to know and love. A music box, often attached to the top of the clock, is optional.
Quality is key when building an authentic cuckoo clock, which is why each clock is tested for two days before they're ready to be used or sold. The clocks run as they normally would, with each hour or half hour being signalled by the bird, and only after they've achieved satisfactory results does the artisan give it a stamp of approval. The cuckoo clock, prized for its many features and beautiful, intricate designs, continues to be a perfect gift with timeless charm.
Our TM gave us the tax refund coupon, where tax paid for the purchase is refundable from the airport, if we purchase more than 150 euro. We purchased one Magnetic Cuckoo clock for 4 euros since all the cuckoo clocks were too damn costly and around 150 euros.
There were many other stalls nearby and I have visited all the stores and I could see one biggest Clock which costs around 9500 euros. We could see beautiful glasses and watches for sale. After enjoying the greenery outside, Then we continued our journey to Rhine falls in Switzerland.
As mentioned earlier, In Europe, there is no border or security check between countries. Only border checking happens in Swiss. Hence our TM told us to take passports along with us just in case if they are asking for it. We crossed Swiss border at around 5.50 pm.
We were desperately waiting to do Boating in Rhine Falls and we rushed to take tickets to do boating in the 2nd largest waterfall in Europe.
Counter was closed, but luckily we met one Keralite guy who was working at the ticket counter and our TM spoke to him and we finally we got tickets.
It was such an amazing boating experience I had in my entire life. Till then the best experience I had was doing the banana ride in Goa. But this boating in Rhine Falls is speechless. 7 euro per head for 15 mins boating. Trust me you should not miss this. When you are nearby the waterfalls, stop taking pictures and enjoy the beauty and mesmerizing waterfalls with the best camera-our eyes. Still I'm getting goosebumps when I think of the Waterfall View we experienced.It was definitely feast for our eyes. I could see some people standing at the top of a small area in between the waterfalls. I believe that should be a separate ticket to enjoy the Rhine Falls close.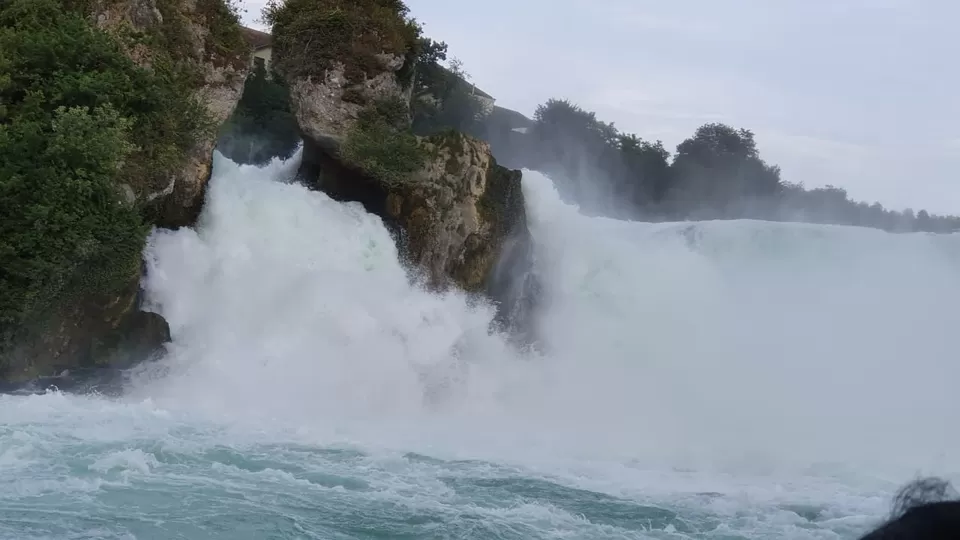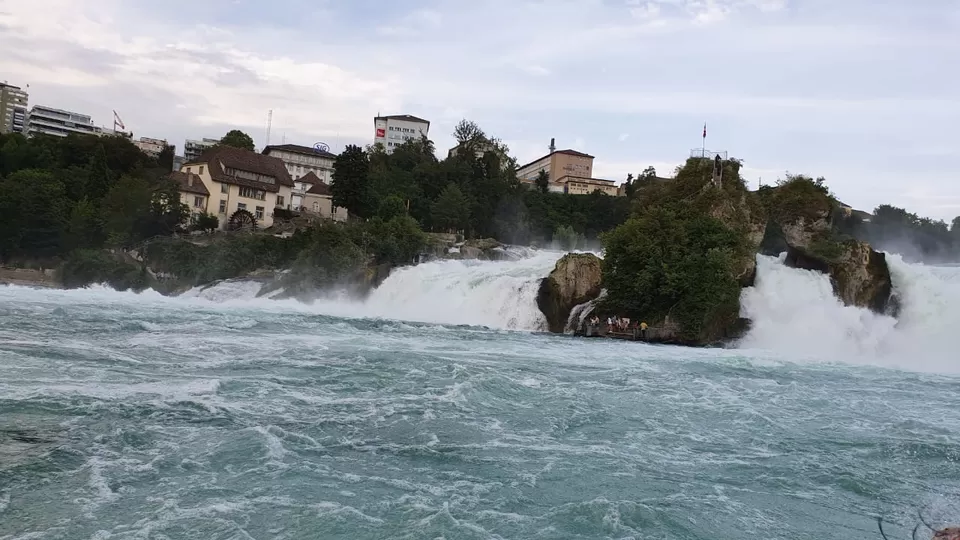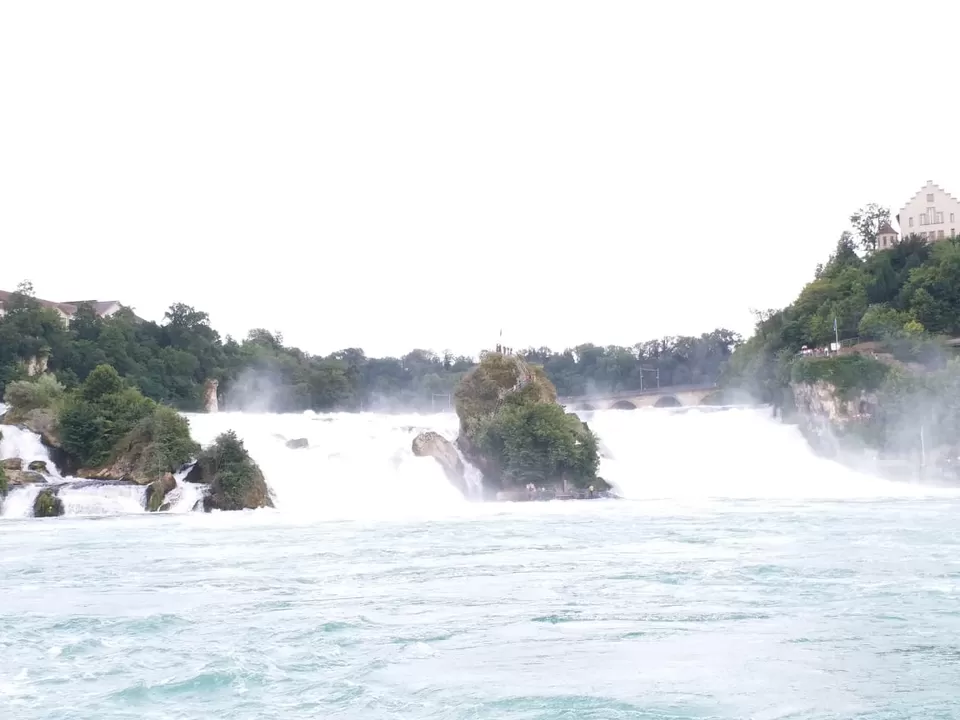 We got one Masala tea from an Indian cafe 2.8 euro and ran inside bus. Dinner was arranged at a hotel- Namasthe india Restaurant which is 45 mins away. It was around 7 and we headed to Hotel Seedamm Plaza located in Zurich.
I went to bed thinking about the Mount Titlis which we will be visiting the next day. I was not able to sleep thinking about the snow caped Titlis.
**************************************************************
Day 5
21st July 2019, Friday
Switzerland-Mount Titlis- Lucerne- Keppelbrucke
Food: Breakfast from Seedamm Plaza Hotel and Check-Out, Asian Lunch from Panoramic restaurant, Mount Titlis , Dinner from Rani Restaurant
Stay: Seedamm Plaza
Had breakfast from Seedamm Plaza. I was wondered to see colored boiled eggs in the breakfast buffet which reminds me about Easter Eggs, but they have literally colored it to differentiate between boiled and raw eggs. Colored Eggs indicates that its boiled.
After breakfast, we got gathered in the reception lobby at 8.15 am and started our journey to Engelberg to visit the highest mountain in Central Switzerland, Mount Titlis. Alps Mountains which we see in Switzerland is called Swiss Alps, Alps in Austria are called Austrian Alps and Alps in Italy are called Italian Alps.
On the way to Titlis, we could see peach trees on the way to Titlis. Our TM briefed many things about Swiss.
If any other country is attacking swiss, they will immediately close these tunnels and these tunnels can be closed within seconds. Thats for safety nd swiss people will be safe. We went through 5km length tunnel. Swiz is the only country with square flag.
Berg is the capital city of Swiss with 8.42M population. It take 12yrs stay to get the Switzerland citizenship. Teaching is the highly paid profession in Swiss. Most salary for teachers is around 10,000 swiz franc per month!
Jungfrau is the point with highest altitude of around 12000 feet. 60 percent electricity is from is hydro electricity
Swiss is the country who export chocolates and import grass and where we get best diary products. Its said that charlie chaplin stayed his last 25 yrs in swiss, Einstein found out E=(mc)2 while he was staying in Swiss.
Swiss was the main location for Many Shahrukh and Kajol movies
Swis is only country who flied the 1st flight using solar ebergy
In 2015 Swis got award for most peaceful place in world. Here suicide is considered as legal. Nescafe 1st introduced their coffee brand in Swiss.
Best luxury wrist watches are being made in Swiss. Swiss banks are known as swiss credits. Banking and finance are the main income of Swiss other than diary and chocolates. Languages spoken mainly french, german, italian and romanish.
There are around 1500+ lakes and 2000+ mountains in swis.
Theres one more main attraction in swiss - Interlaken which was not included in our package..Our TM said atleast 3 nights is required to cover that area. Its very scenic.
On the way to Titlis, We could see zurich river towards one side and euro rail in other side.
Finally, we reached Titlis valley. The view of mountains were stunning and lustful.
We stand in a queue and we got the tickets and a tag from TM. We have to keep the tickets till the end of Titlis tour..its a barcoded ticket..With that there's a machine where we need to swipe at the Entrance of cable car and Exit. If the ticket is misplaced we have to pay 40 Swiss franc. Hence ensure that the tickets are safe with you.
We have swiped the tickets and got inside the Cable Car. Maximum 6 people can be accomodated in the car..TM asked us to get down in 2nd station. We could see 1st station there was a glacier lake which was not included in the itinerary.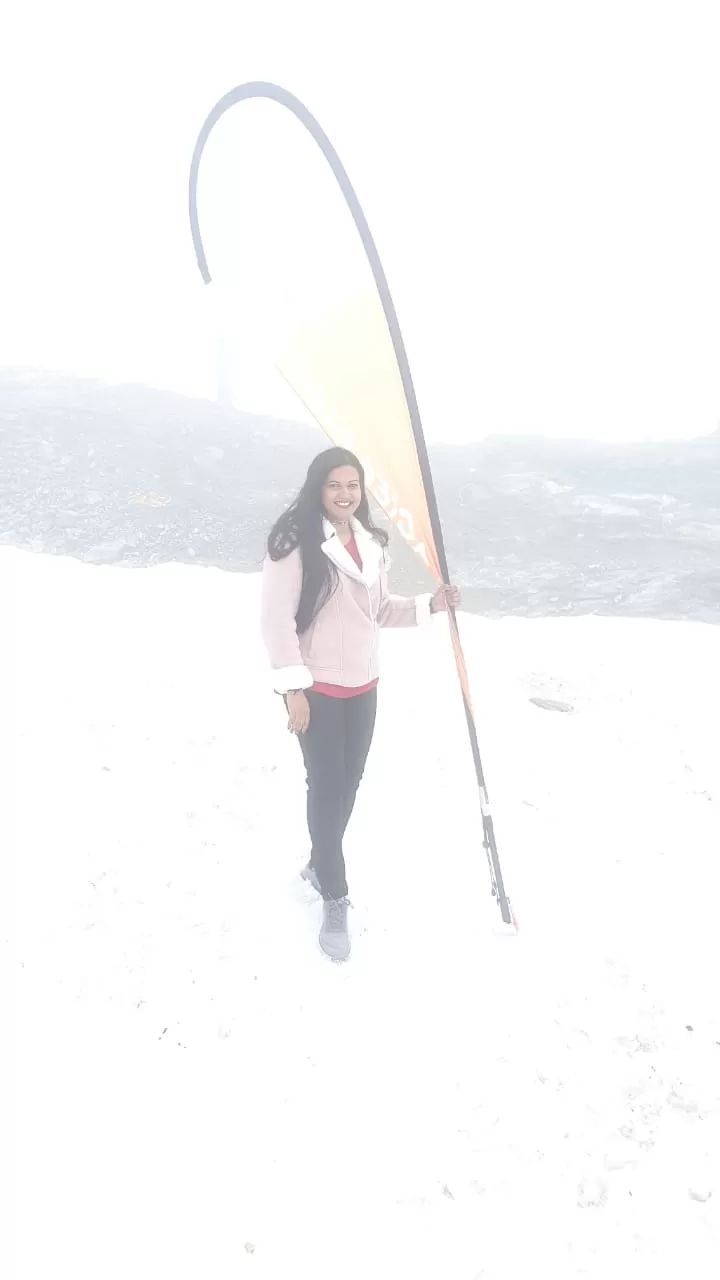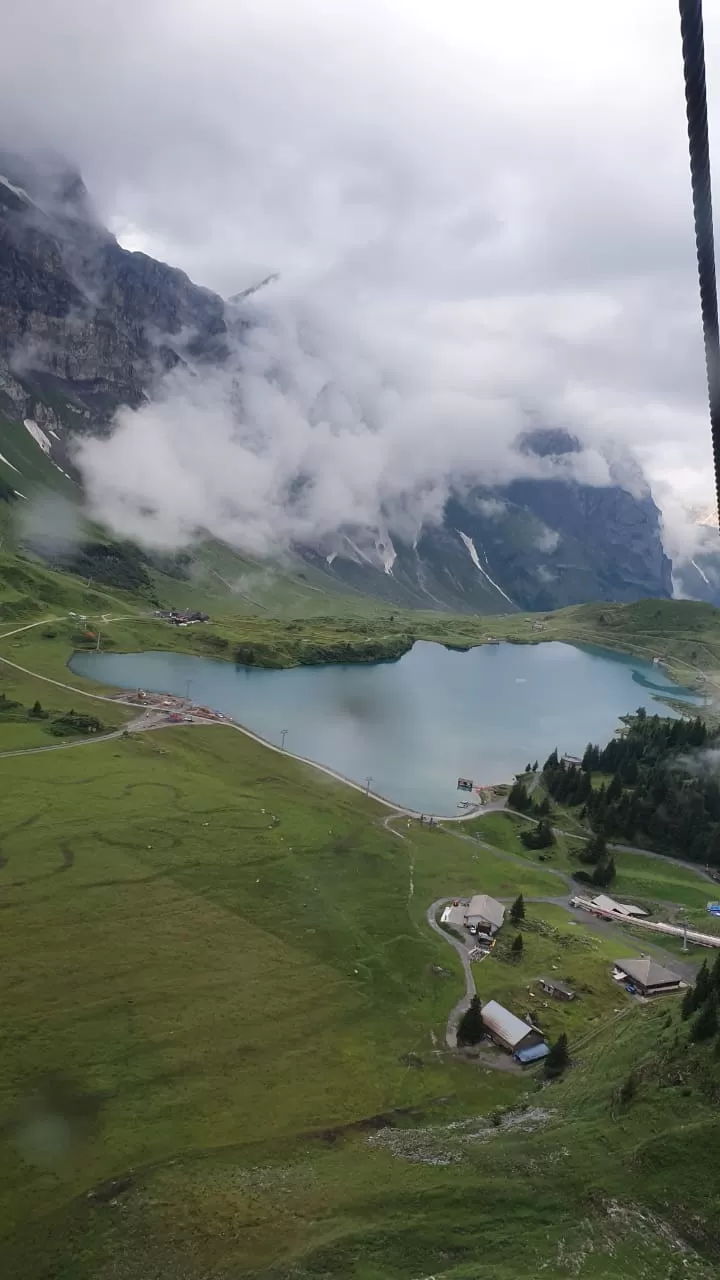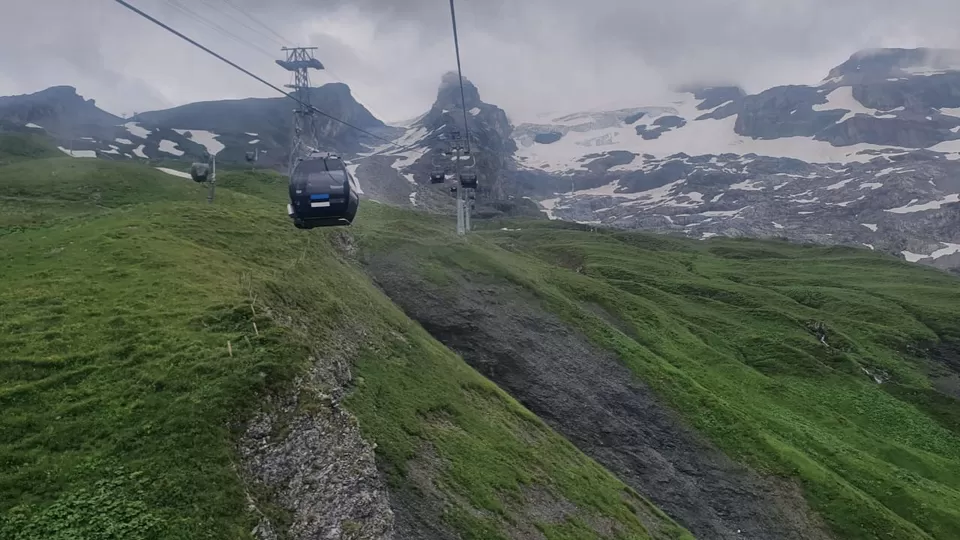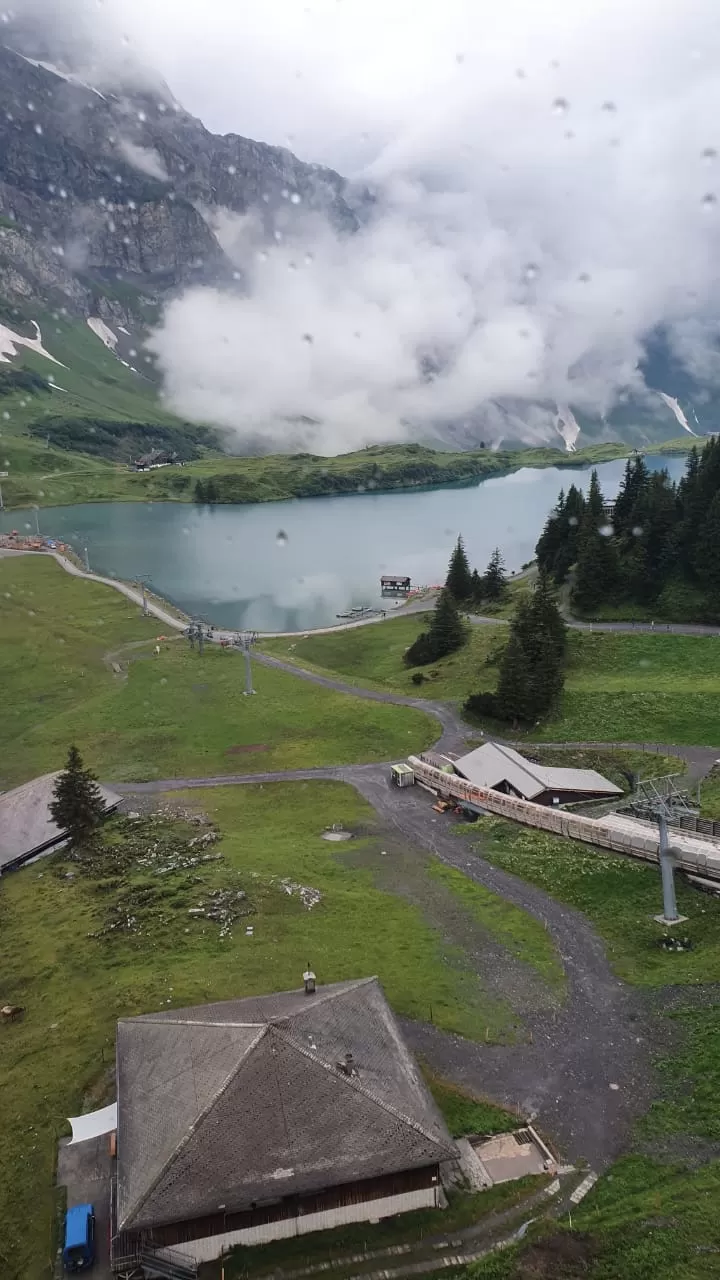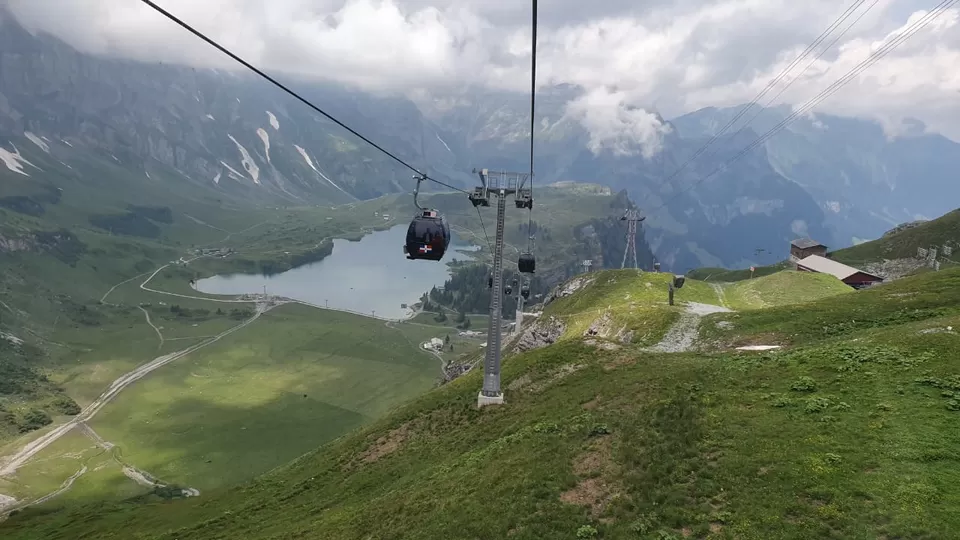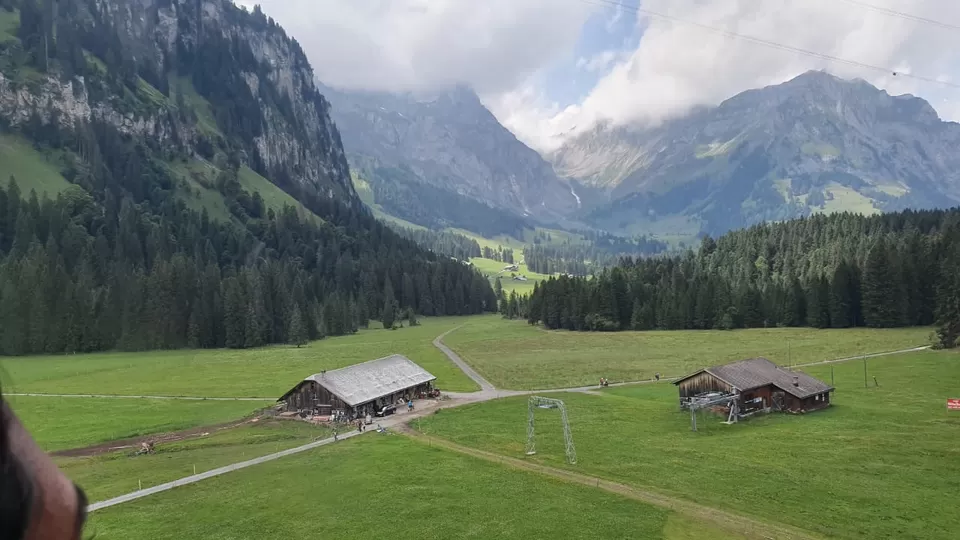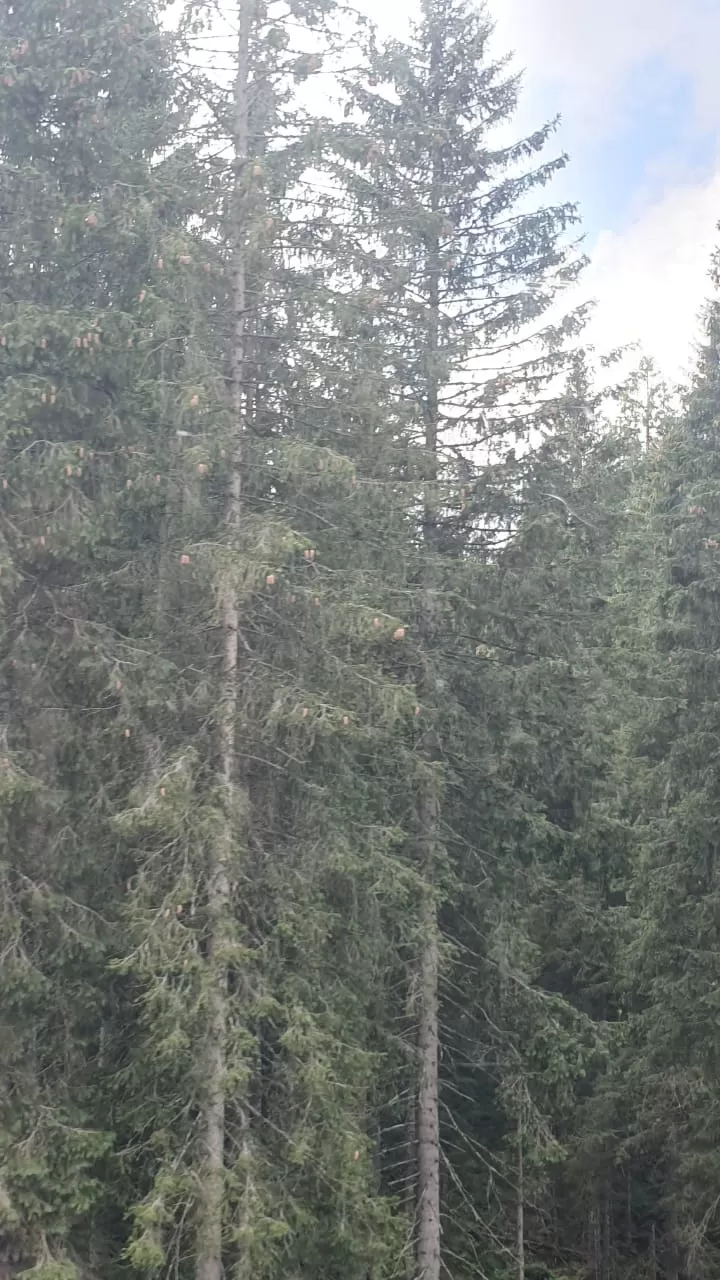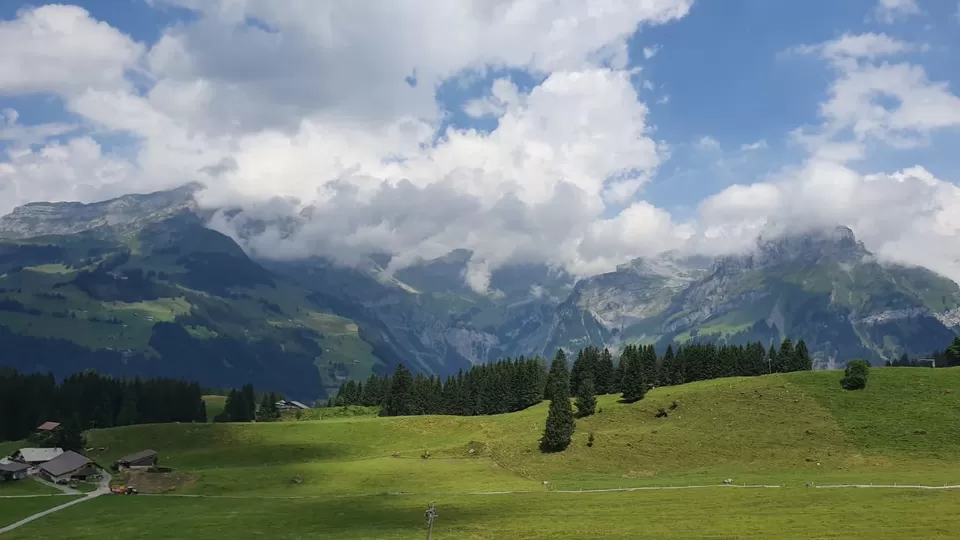 We stepped out in station 2, walked a little and reached nearby Rotair..TITLIS Rotair is the world's first revolving cable car. We swiped the tickets in front of Rotair entrance. Its a huge glass covered cable car which rotates 360 degree view can bee seen.
That was really thrilling experience and then we reached top.
First we went to the Snow Area and we had fun in the snow..Then we walked through the hanging bridge and clicked many pictures. TITLIS Cliff Walk is the Europe's highest suspension bridge..I could see love locks on both sides of the bridge. Even though it was summer, it was all foggy and we couldn't get a proper clear view of the mountains from the bridge. I wondered how it will look like during Winter.
Then we went down to level 2 and had cappuccino and then went to the Glacier cave. That was also a good experience. There is provision to hold the steel installed on both sides and walk..we walked slowly..it was also fun. Around 65 euros is the charge for Mount Titlis visit if you are going individually.
Then we all gathered in level 3 and had Asian lunch from the Panoramic restaurant. After having lunch, we went back to Titlis Valley. Climate was good..breezy and foggy sometimes..whenever sunlight is there, we ran for taking pictures.
We started from Titlis to Lucerne at 2.45 pm.
We reached lucerne within 45 mins. We parked our bus and then went to lion monument in Lucerne.
During the french revolution time in 1798, when Louis 16 was being transferred from Versailles palace to Tuileries palace, entire responsibilty of Tuileries palace was handled by Swiss guards.
During that time, protestants do many arrow attack. (At that time protest was done with arrows). In this arrow attack, around 600 guards were killed, 200 were jailed, 150 were wounded
As a memorial of those dead people, in 1820 Bertel Thorvaldsen and hewn thought of creating a monument. Hence in a single rock, the lion was carved out. Lion indicates the brave nature of the people
When we look at the monument, we feel there is a portion on the other side, but the other side is actually flat. We can see an arrow through the body of the lion. This indicates Swiss guards who were killed in the war, till their last breath, they were protecting their shield. This is known as the saddest lion in the world.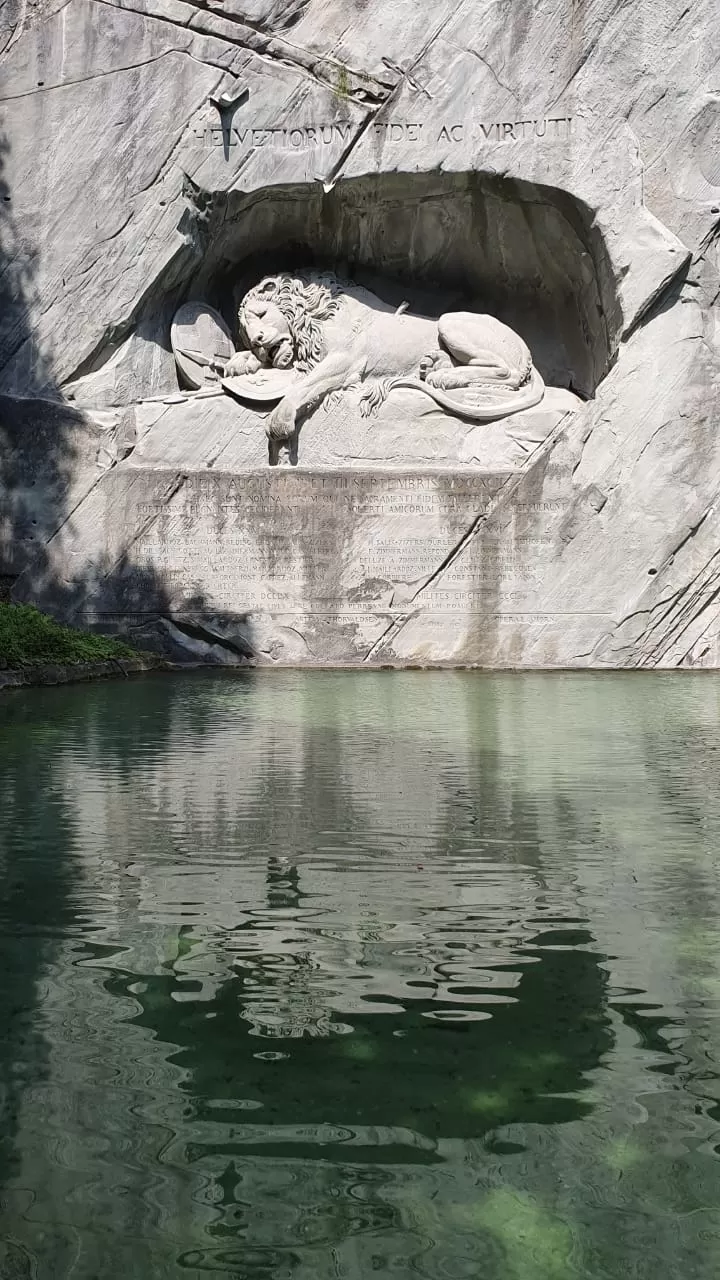 Now Pope is the only person who is given protection by Swiss guards. We can see that when we visit Italy
Then we took many pictures of the lion monument and proceed to Chapel bridge or Kapellbrücke. This is the oldest wooden bridge built in 13th century. This bridge was built to cross the Reuss river, because there is one church- St peters church on the oposite side of the river. Thus Inorder for people to go to church this was constructed in 1333. Hence called chappel or kappel or wooden bridge. Its having 204m length. Beauty of the bridge can be enjoyed by viewing from another bridge nearby. There is one octagonal shape building in the middle of bridge. This Area used to punish people in 13 or 14th century, ie this was used as a jail. Later they also used as water tank. We can see 17th century or lucerne history encripted in the bridge as 147 paintings in each points in the bridge. In 1993, due to fire, it got damaged and around 33 to 34 paintings were restored and put back in the bridge. Paintings affected by fire can be seen as black. Then we were asked to come back at 4.15pm.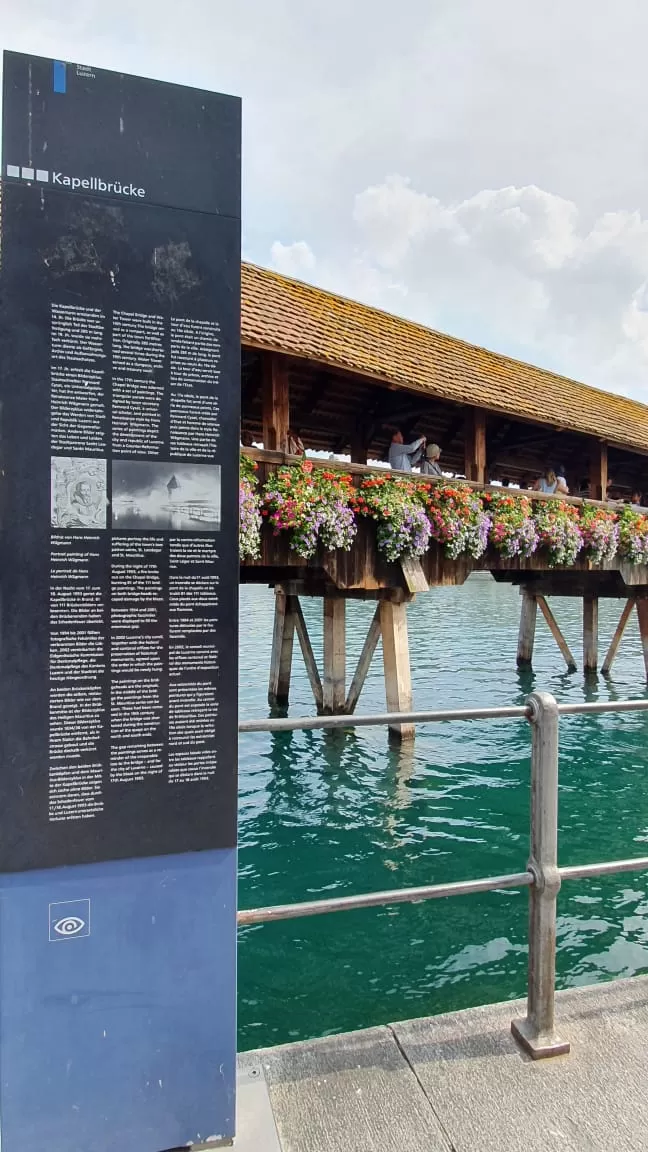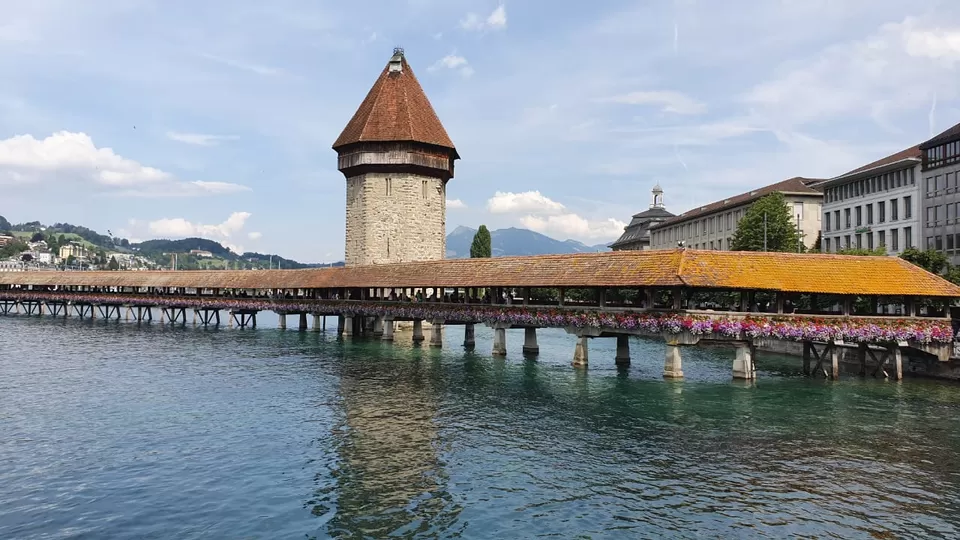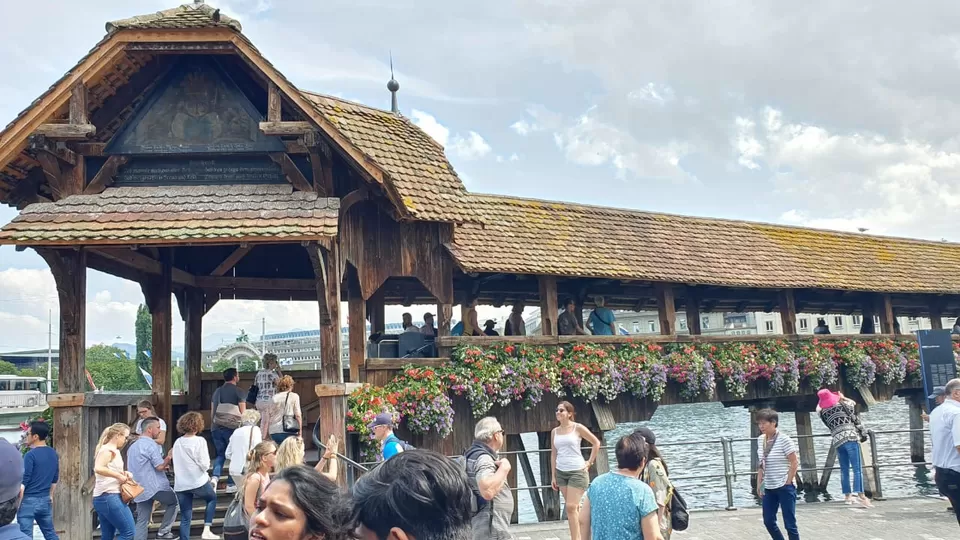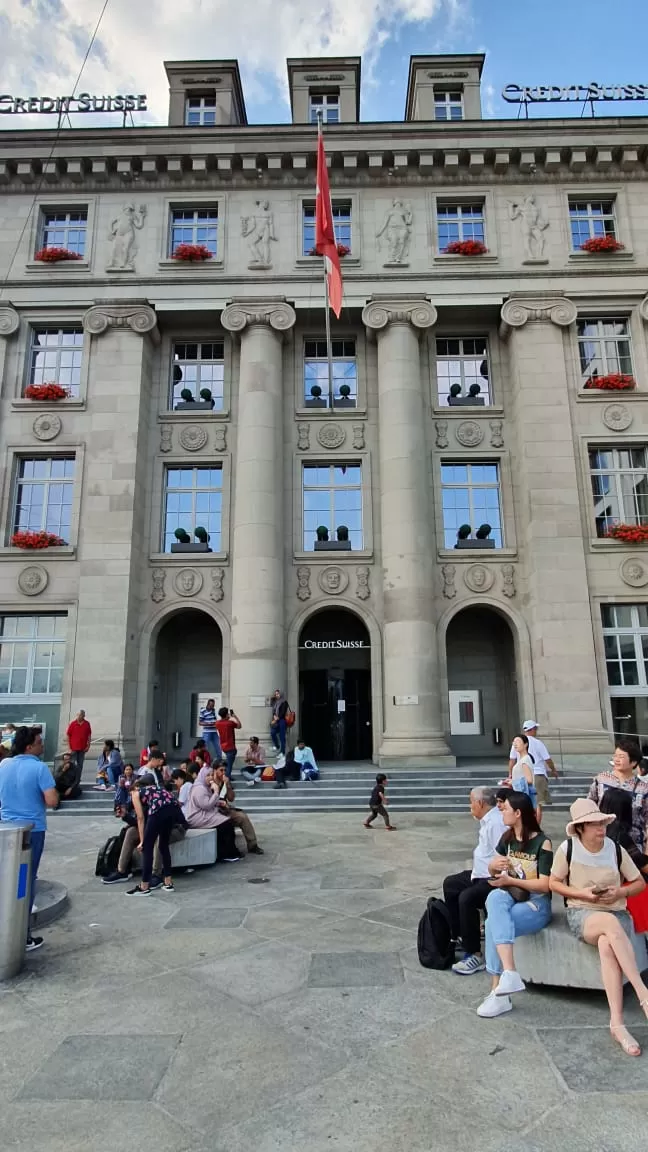 Then it was the time for shopping. We visited casagrande to Purchase watches. Casagrande shop is good option for ecomonic customers. I got fossil explorist gen 4 watch for hubby it cost around 260 swissfranc. I used my Dubai Card and got charged AED 1003/- which i feel is a reasonable rate for Smart Watch.
Then we went to Mc Donalds and got egg muffin..it doesn't taste good.
There is famous chocolate cum ice cream shop Bachman and we got mango, vanilla and caramel single scoop ice creams..Mango ice cream was soo yummy. Cost around 3.8 swissfranc.
I made 10 mins walked through the street shops to check for band..but it was costly and i went back. We were notified to meet infront of Swiss bank at 6.20pm since that was our meeting point.
We left from Lucerne at 6.30 and went to Zurich. Had delicious dinner from Rani restaurant. Reached back to Seedamm Plaza hotel at 8.45pm.
**************************************************************
Day 6
22nd July 2019
Vaduz - Innsbruck- Austria- Swarovski
Food: Breakfast from Seedamm Plaza Hotel and Check-Out, Lunch from Mahal restaurant in Vaduz, Buffet dinner from Alpenkonig Tirol
Stay: Alpenkonig Tirol
Check out from seedam plaza at 9 and proceed to Liechtenstein.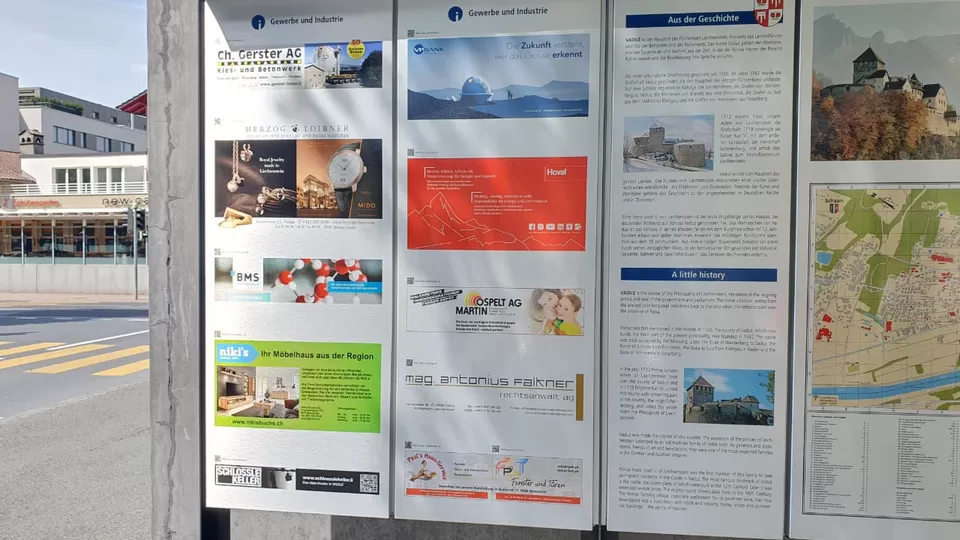 Reached Liechtenstein by around 10. Liechtenstein is Europe's fourth-smallest country. We went to capital city vadoz. Its around 48km. We first went to the counter to stamp Liechtenstein, this will costs around 4 SwissFranc. As you know, best part of memories in life can be found between the pages of passport. Then we took tockets for toytain. That was a 35 mins ride through the vaduz Town..That was a cute experience. Theres recordings in the train that depicts the history of Vaduz.
I entrirely loved the houses in Vaduz surrounded by cute plants and greenery. I wish we also should adapt that style of architecture in construction of houses in India. We would see wineyards and a red building. Our TM told all wine are nanufactured here. Since we went in july, grapes were green. September is the peak season and then we will have option to taste wine. Also, we cud see plum trees and we plucked some plums and tasted..it was sour because it was green. In that toy train ride, we saw rheinpark stadium and vaduz Castle on the mountain top. Now rulers are staying there, so no entry. After the toy train ride, we were free for shopping and told us to gather at meeting point at 11.45pm. Theres one shop where we can shop sovenirs and metallic soap. This soap will not finish, this is the speciality which can be seen in vadoz. While preparing fish dishes, we can use this soap for cleaning hands and utensils, there wont be any fish odour. This shop accepts swissfranc and euro.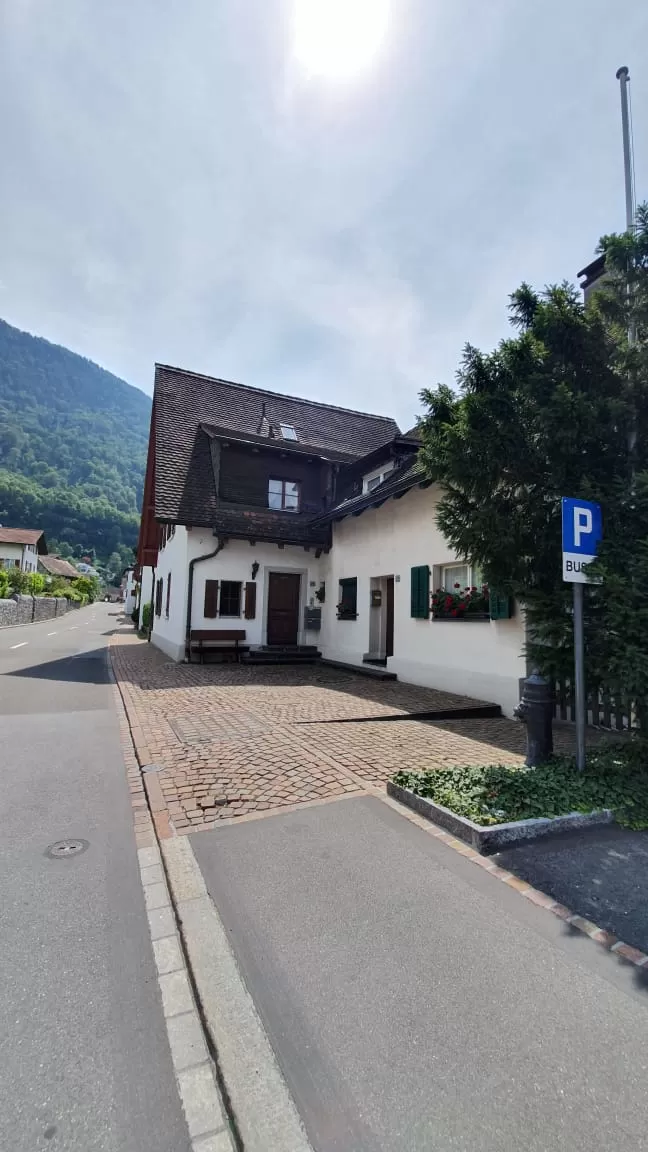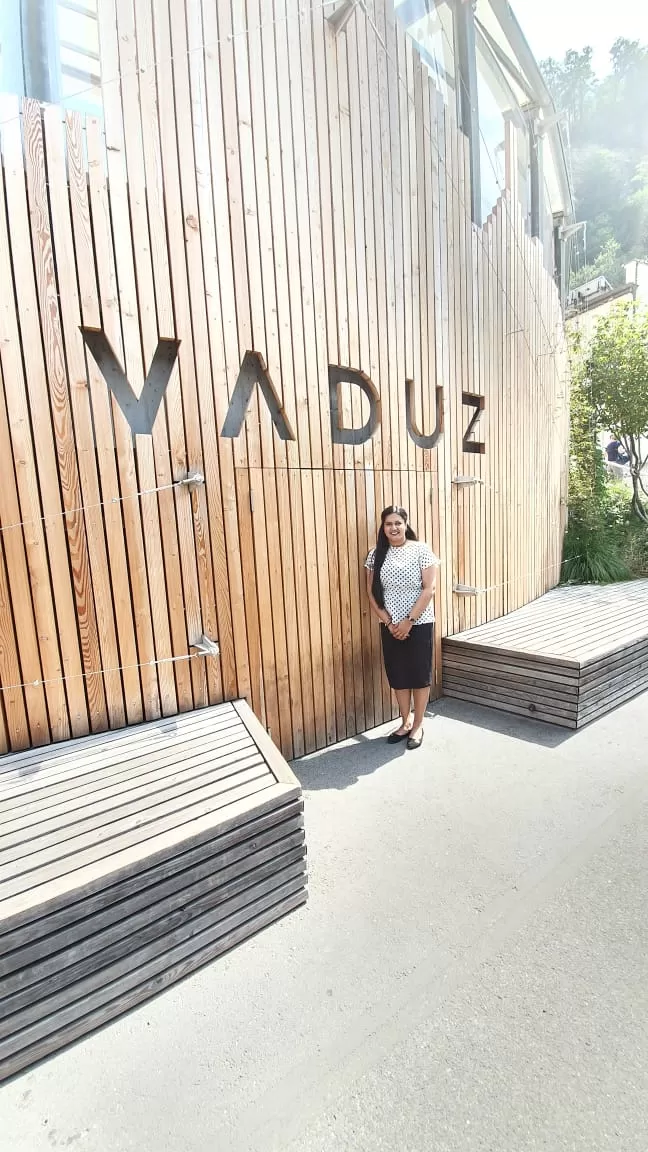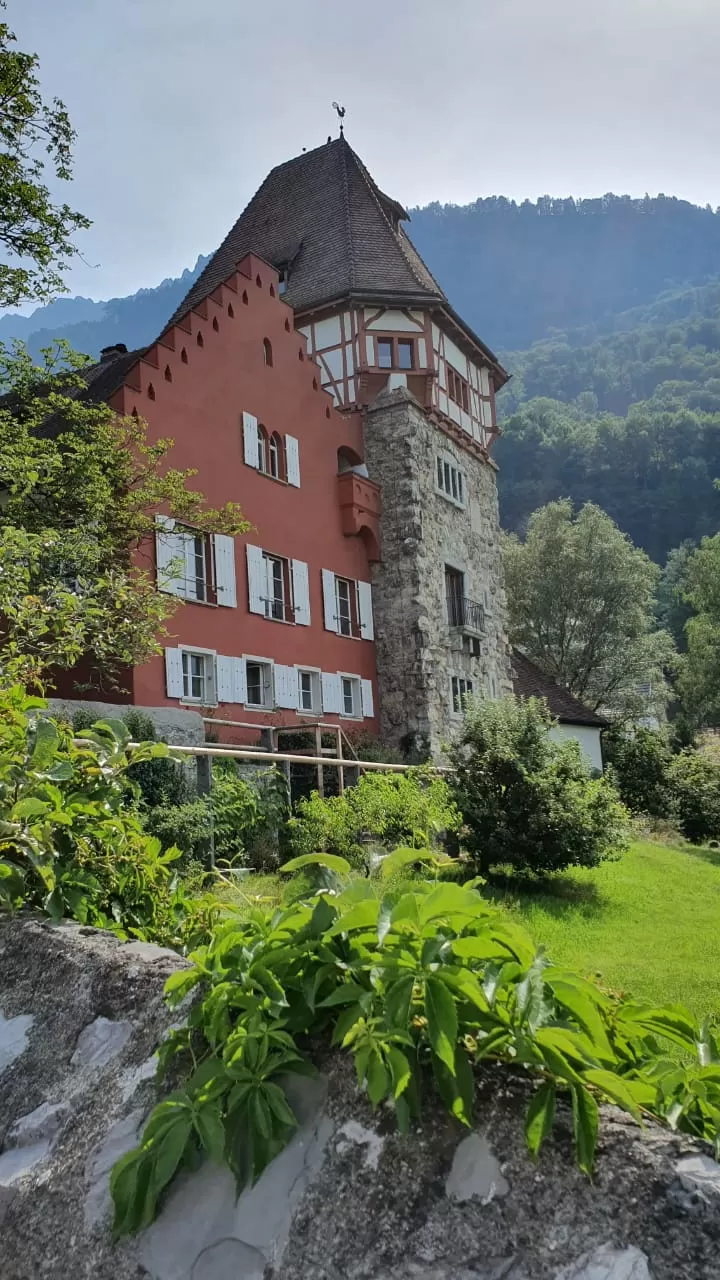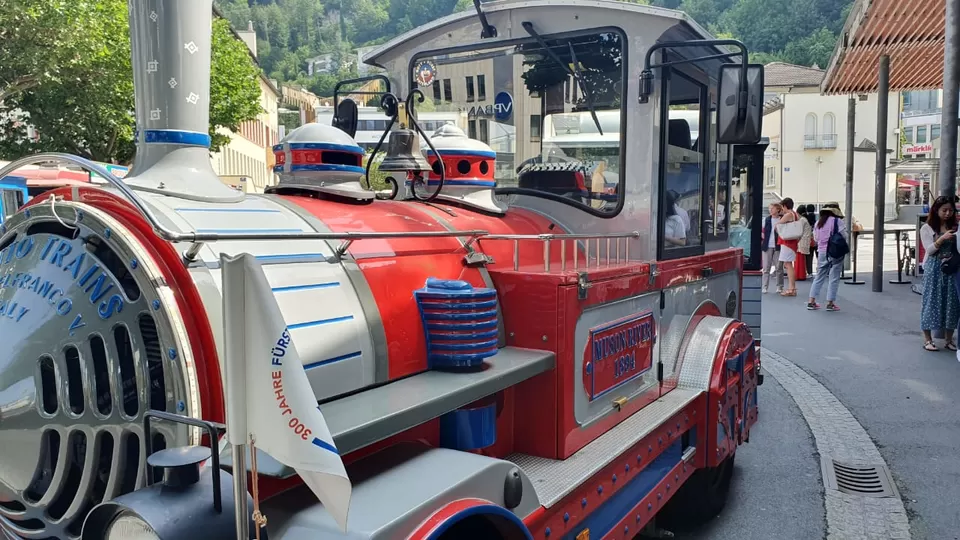 There were some coins left after purchasing things from swiss..we gave back all coins here. I got metallic soap and coin shaped chocolates to give to office colleagues.Then we wento have indian lunch from Mahal restaurant. After lunch, we continued our journey to Innsbruck, Austria. On the way we can see scenic beauty, we saw Blue lakes due to copper content in them. Austria houses have long balconies, more greenish. We Crossed austria border at 1pm, we could see Austrian Alps on both sides. First we were going to Swarovski. In Swarovski museum we can see from smallest to largest crystals. We entered the meuseum by around 3pm and were informed to came back at 5pm.
This is the 2nd most tourist attraction in austria. Ticket price is 18 euro. At the entrance you need to swipe the card and get inside..1st there is a demo..they will describe swarovski history..theres around 40million tourists..we can see indian copy of horse chetak.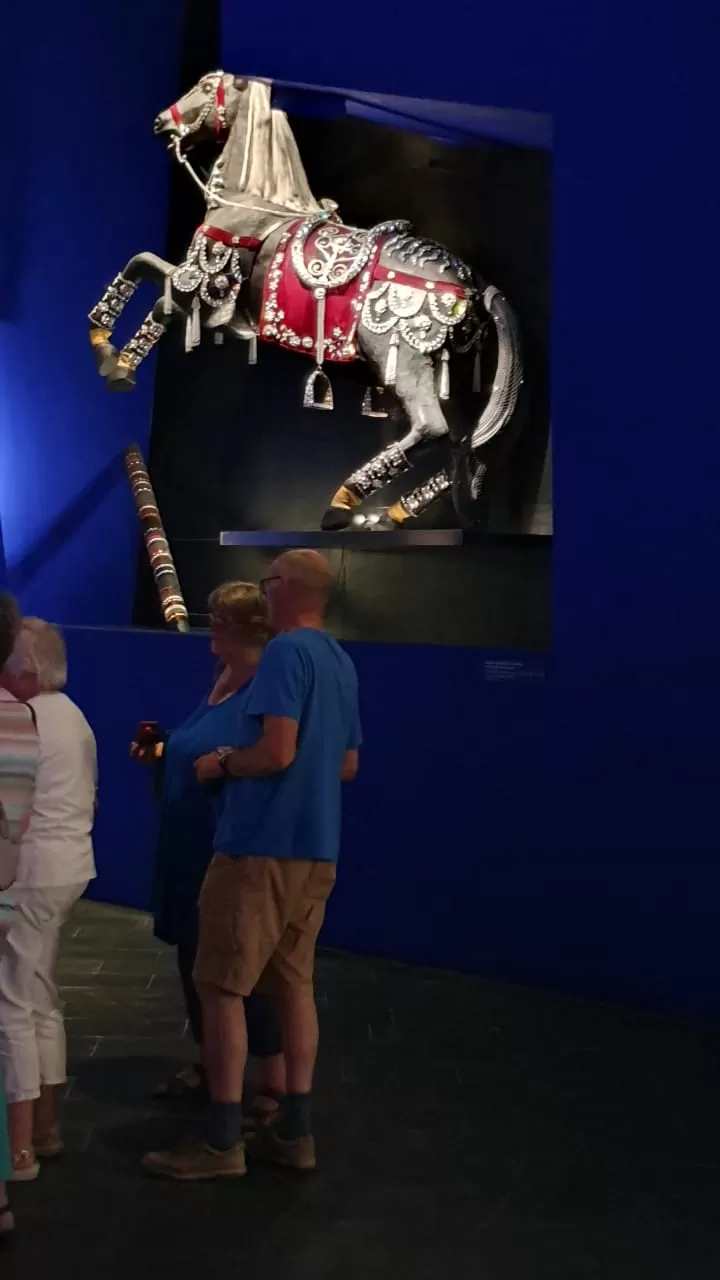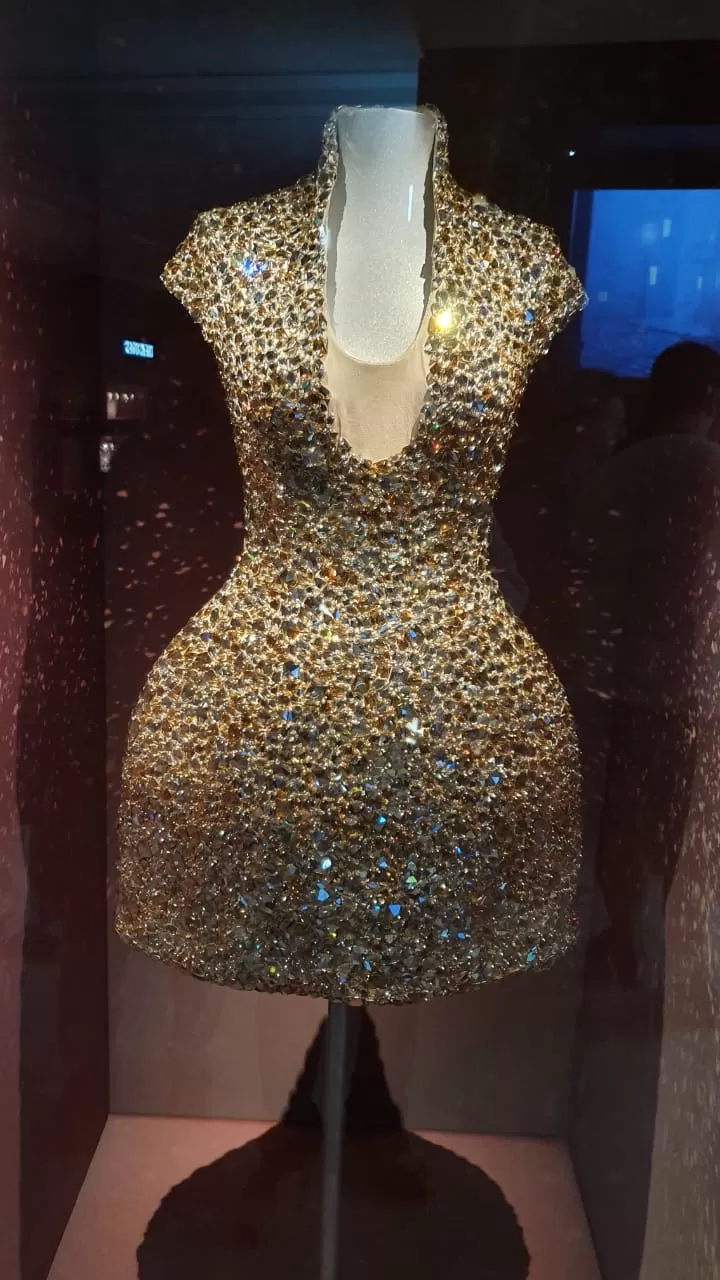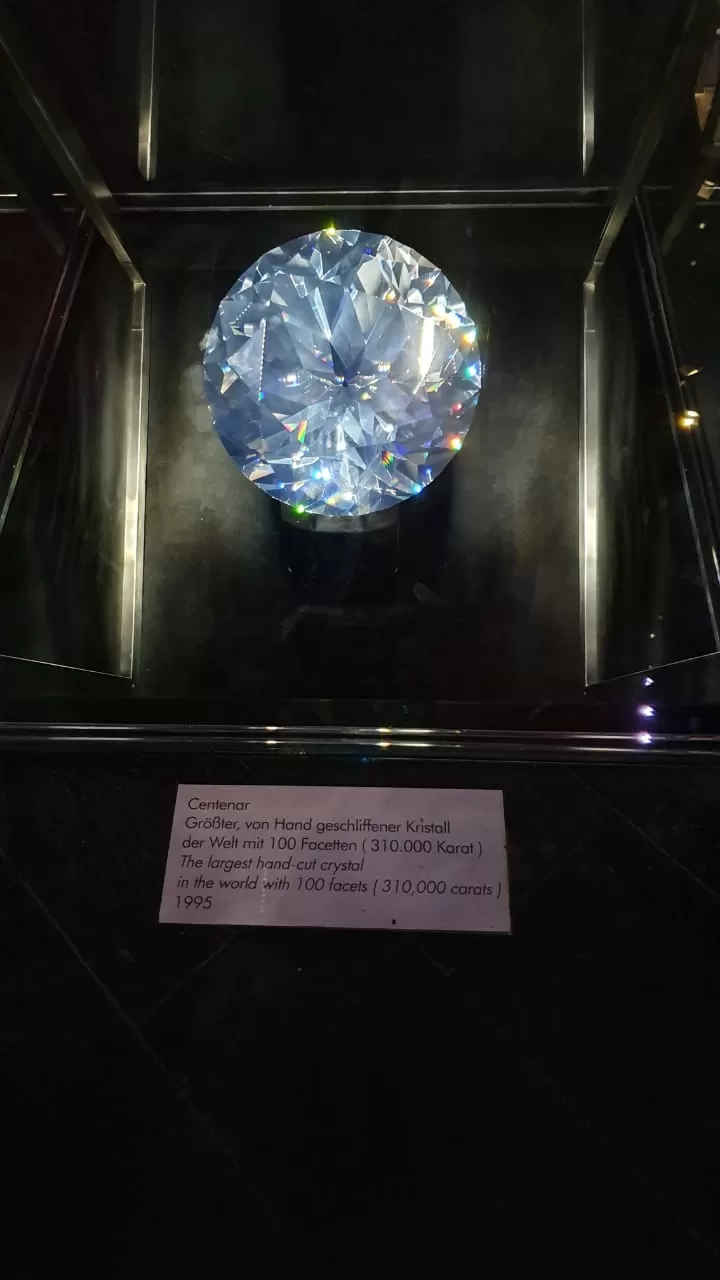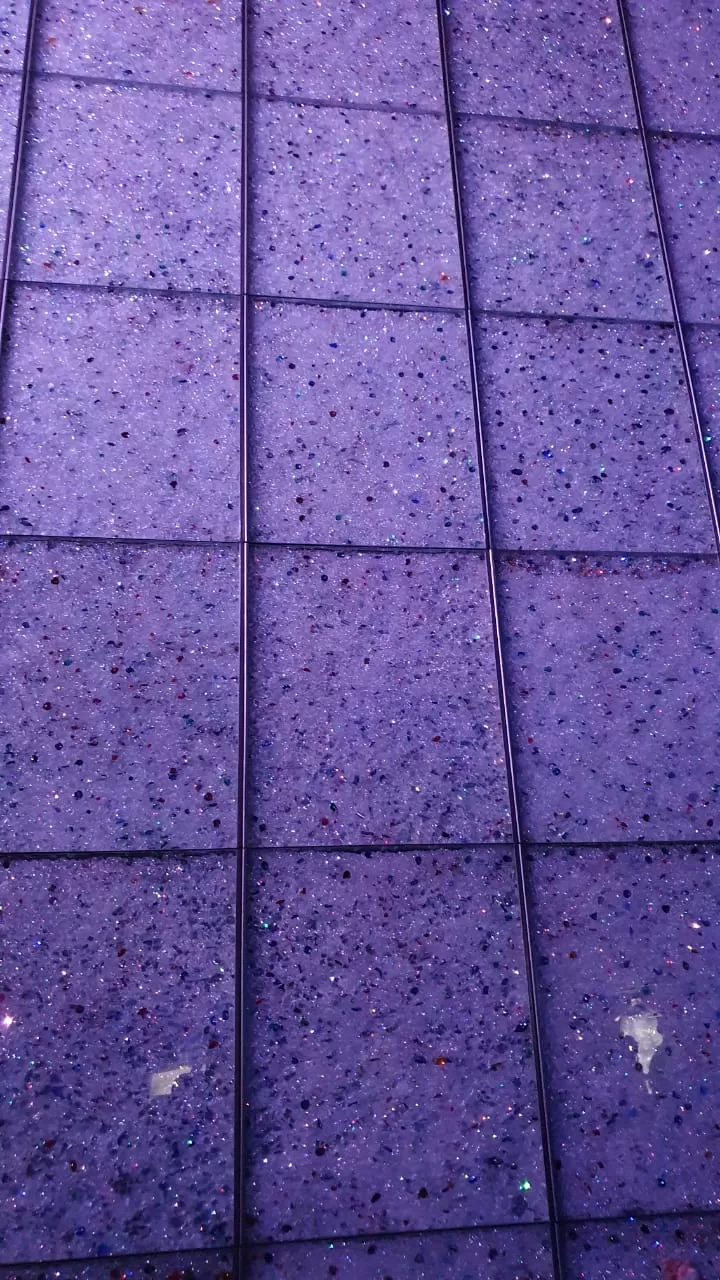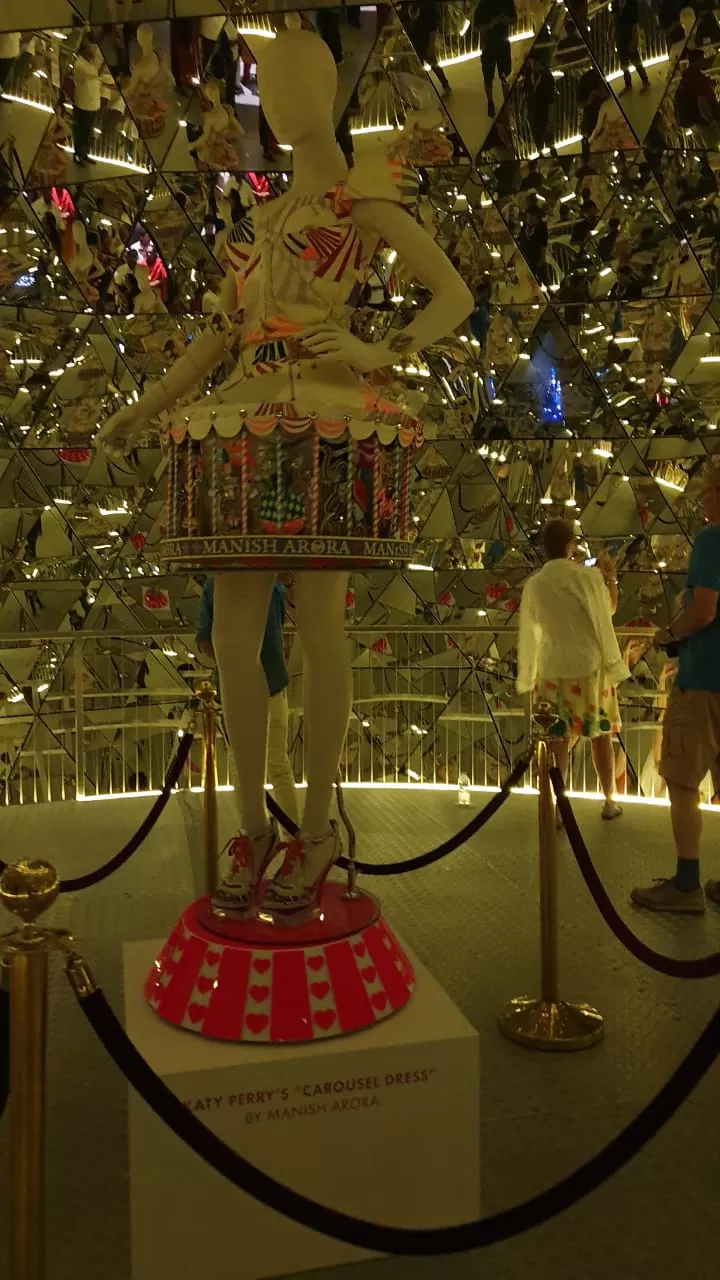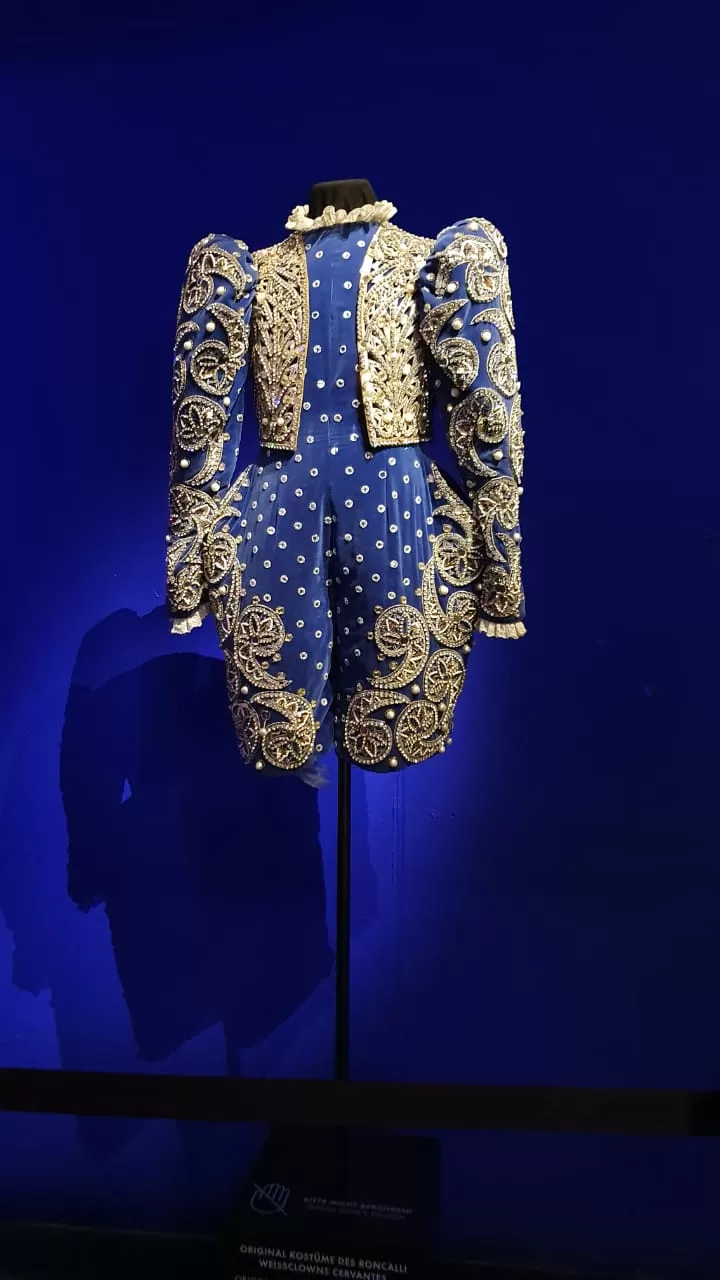 Worlds largest handcut 1 piece crystal we can see here..it took 1 year to finish and is in guiness book, 40cm radius, 62kg weight. Then therez worlds smallest crystal which i cudnt see, i heard we need to look through microscope to see it. Then we saw the crystal wall with 11 m height..worlds most expensive wall and great expensive selfie. We can see many chambers..each chamber is dark n crystals will shine in the dark. Each chamber is separated by curtains and there is the description of the items and manufacture history at each entrance of the chamber. There are a total of 17 chambers.It is said that the crystal costume of Martin Luther King was made here using the Swarovski crystals. We could see different structures in the museum, shirts with crystals, dress etc..at the exit point, there is 3D virtual reality show which is a must see. Then there is the shopping outlet from where we can do shopping. I got one ring for me for 150 Euros. After shopping, we had one cappuccino from one of the stalls and got inside the bus and started our journey to Innsbruck.
We reached Innsbruck Park by around 6pm. We saw the famous Innsbruck bridge, who got it name because the bridge was constructed to cross the Inns river.
We then parked bus and walked inside the Innsbruck Park..We could see the Innsbruck University nearby. People spend their maximum time in the Innsbruck park by jogging or walking or simply sitting and relaxing. 1st we went near the famous 'Positive stone'. About the positive stone, its believed by Austrians that if two people hug on both sides of the rock for 2 mins, a positive energy will be spread after 2 mins. This stone is brought from Alps. During cold time, cooling will be felt on the rock. Maybe bcoz of that feel, they feel it is the positive energy. Or maybe there is really a positive energy. Just like the sayings if 2 ppl kiss or hug for more than 2 mins, they fall in love. Then we crossed the road, we could see Opera kindof building, where many programs music happens..we walked to the city square area. We could see many shops on both sides.
Then we saw Golden Dachl or rooftop. This is the 15th century building, Emperor Maximilian I dedicated this to his wife Bianca Maria. This is made of 2657 gold glitted copper tile. This was a main city square at 15th century. They used to celebrate festivals, events, sports etc. In 2003 this was converted as international convention hall by austrian government. 2017 tiger zinda hai movie song was shoot here, mainly in austrian alps.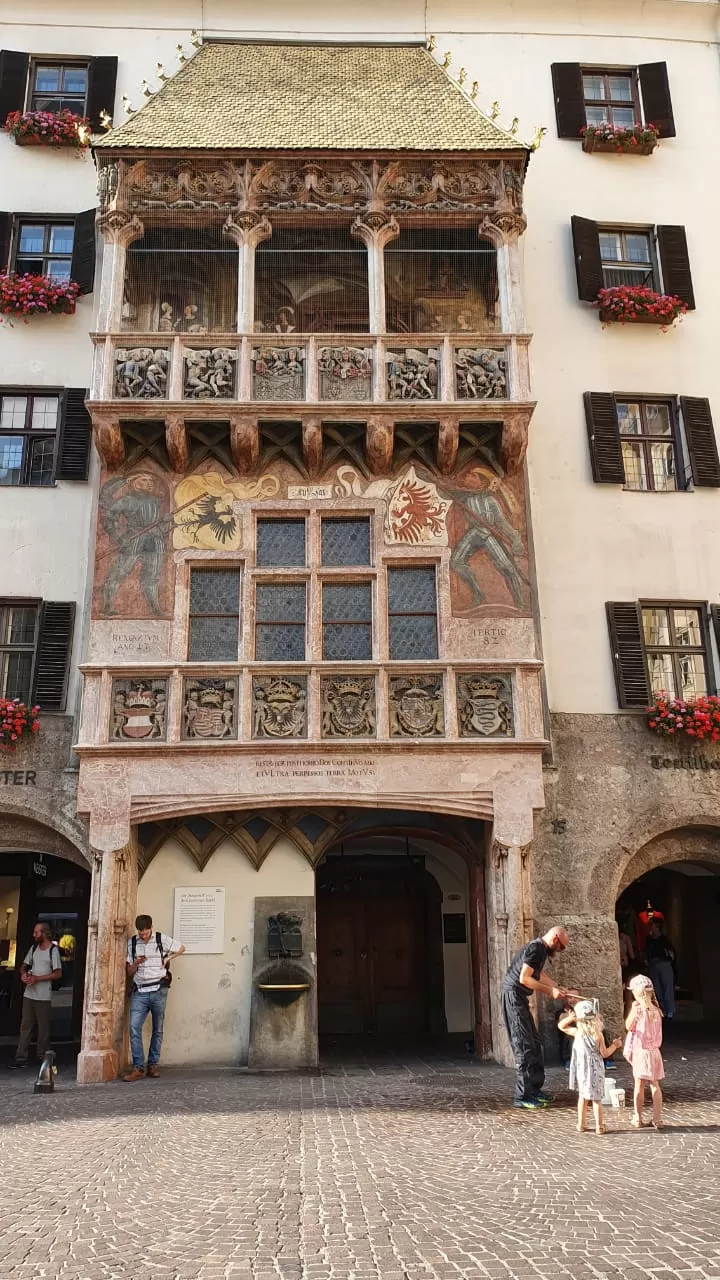 Then we walked towards st cathedral church. On the way we could see buildings with 2 type construction, ground floor one structure, top floor another type. This is because of the re construction that happened after the destruction of buildings in this area. Inorder to take pics inside St Cathedral church, take 1 euro ticket. 1855 st james cathedral. This was the time when churches were transfered from room to hall. Then after, we could see all churches have halls. In an earthquake, church got destroyed. In 1816 political people were interested to reconstruct the church. They collected money and 1716, architect Johann Jakob Herkomer and his proposed design was selected, It took 8 years to complete the church and in 1824, it was completed. They wanted to re create in the same way it used to be before.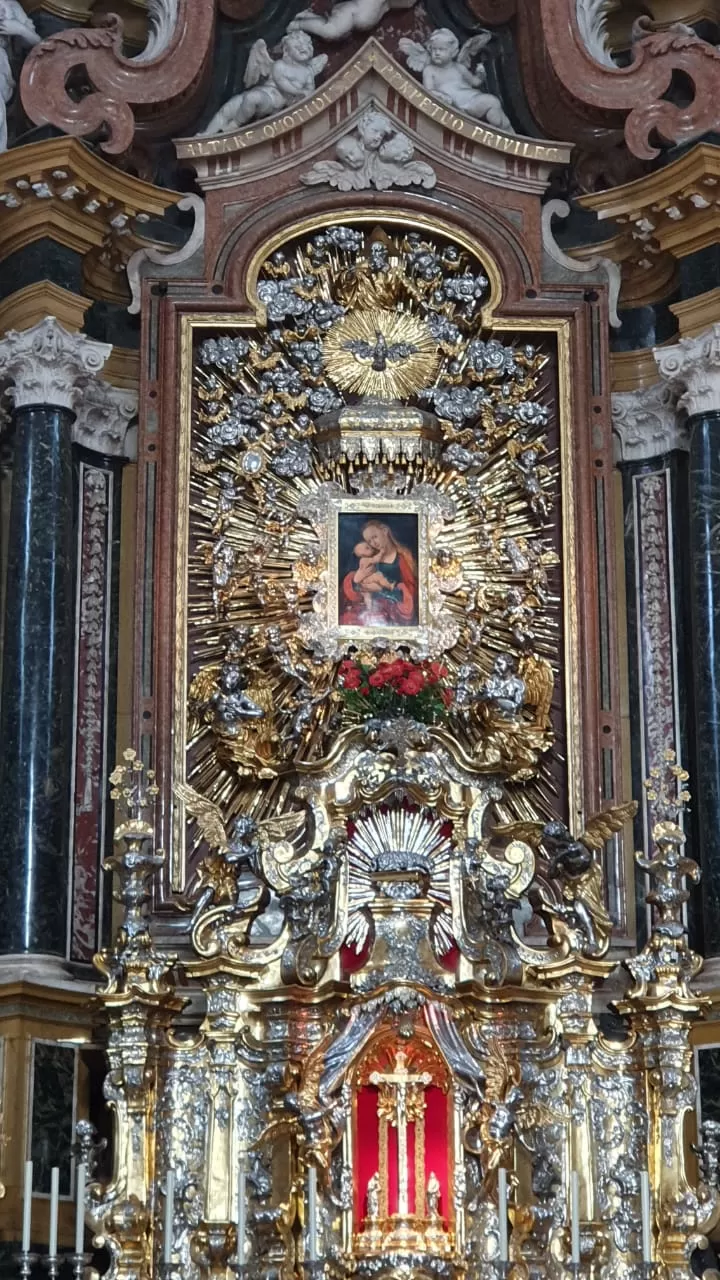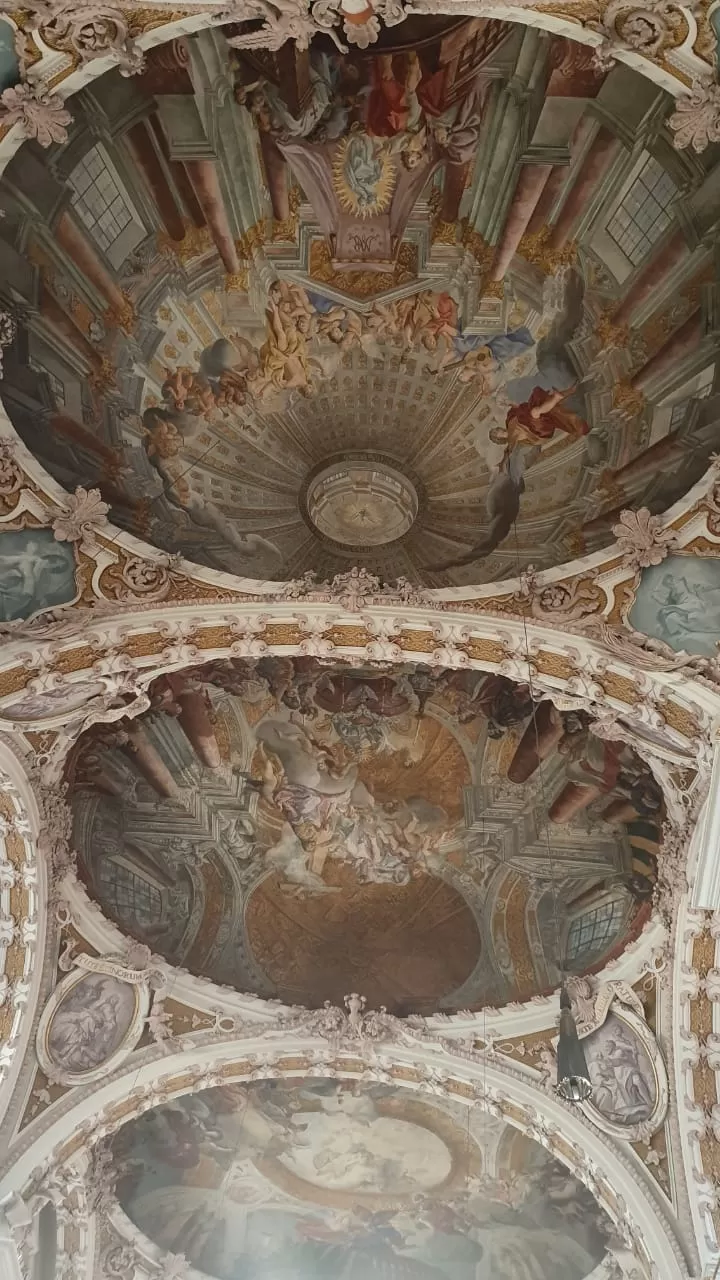 In 1824 they put maria hilf painting, which was famous painting in europe at that time. After that in 1944, during 2nd world war, germany bombed this church and full area. Hence we can see many buildings bombed and reconstruced the difference. How the church was before 1700, they want it the sane way and recreated in 1964.
Another point is that we can see an optical painting at the roof. When we see the painting, we feel it is a dome shape. Cosmas damian painted this. When we walk towards the altaire and look front, and watch from the front of altaire, we could see its flat. 1624 cosmas wento italy and learned optical illusion. 1964 church recreated and then elected as cathedral in innsbruck. This painting is one of the most important must see place in innsbruck. Also, we can see the tomb of emperor maxmillion 2..There is the statue of max million 3 and st george punyalan near by the tomb. The left arm of the transept stands the canopied tomb of Archduke Maximilian III of Austria. All golden colour is copper plated. Then we prayed for 2 mins and went back to bus. Then we started our journey to the Hotel and dinner was arranged at the same hotel. Checked in to superb alpenkonig hotel. I loved that place and i walk around the property for sometime. It was such a romantic place n i wished my hubby also should be there. The rooms were extremely spacious, with balcony that open towards mountain view with lot of flowers. After enjoying the beauty, we went down at 8.15 for having Buffet dinner. Once again I thanked God for this golden chance.
**************************************************************
Day 7
23rd July 2019
Venice Boating- Venice Tour- Bridge of Sighs- Drive to Bologna
Food: Breakfast from Alpenkonig Tirol and Check-Out, Lunch from Officina Del Gusto restaurant in Venice , Dinner from Ramada Hotel.
Stay: Ramada Hotel, Bologna
We started from Austria at 7.35am in the morning.Stopped at 11.15 for a break. Since we entering Italy and Italy is famous for Food, I wanted to try Pizza. I had an Italian Margerita pizza, but I felt its more tasty in Dubai than in Italy. I felt something was missing. However I was able to supress my hunger. Again we Started journey to Venice at 12.
Straight away, we went for having local lunch from Officina Del Gusto resturant..they got Rice Mix with Seafood..Since im an Eggitarian, i didnt eat it. Then they brought lettuce leaves abd chicken breast..that also i couldnt eat..Howver i tried to have some lettuce leaves and bread and water. I thanked myself for having the Margeritz Pizza earlier, otherwise i would have fainted. Also it was hot in Venice. We continued our journey to Venice. Theres one bridge called Liberty Bridge thats the only bridge connecting venice to land. By crossing this bridge we will go to the main trunch or boat jetty..This is the single island that connect venice island with the road. From there we have to take boat taxi or Vaporetto.
Theres no bus or car or taxi in venice. All travel is by boats. Venice is called the Queen of Adriatic sea, City of Water, City of Masks, City of Bridges, The Floating City, and City of Canals. Masks festival in venice is famous..it was banned because prostitution, snuggling, drugs mafia were happening behind this mask festival, since we were not able to recognize ppl..Thus masks festival got banned. Venice is known by the name venezea..If we go more deep inside the venice, theres no police..all will be mafia..hence we were instructed not to walk too deep inside the city..we walked through the main areas only. As mentioned earlier, we reach boat jetty. There we get inside vapouratoo and it was a 20mins boat drive to the main island where the St Marks Square , Doges palace were there. Venice has 118 islands and they are connected by 400 bridges. Its been said that venice is currently drowning and will not in the map after 20 years. I could see some similarities similarities to boat jetty ride in marine drive. We could see some slanting buildings which were drowning..even though the temperature was 30plus, due to the cool breeze from the sea, it felt nice..i really wanted to ride gondola boating..its a 30mins drive through inners of venice..but due to time constraints we couldnt do..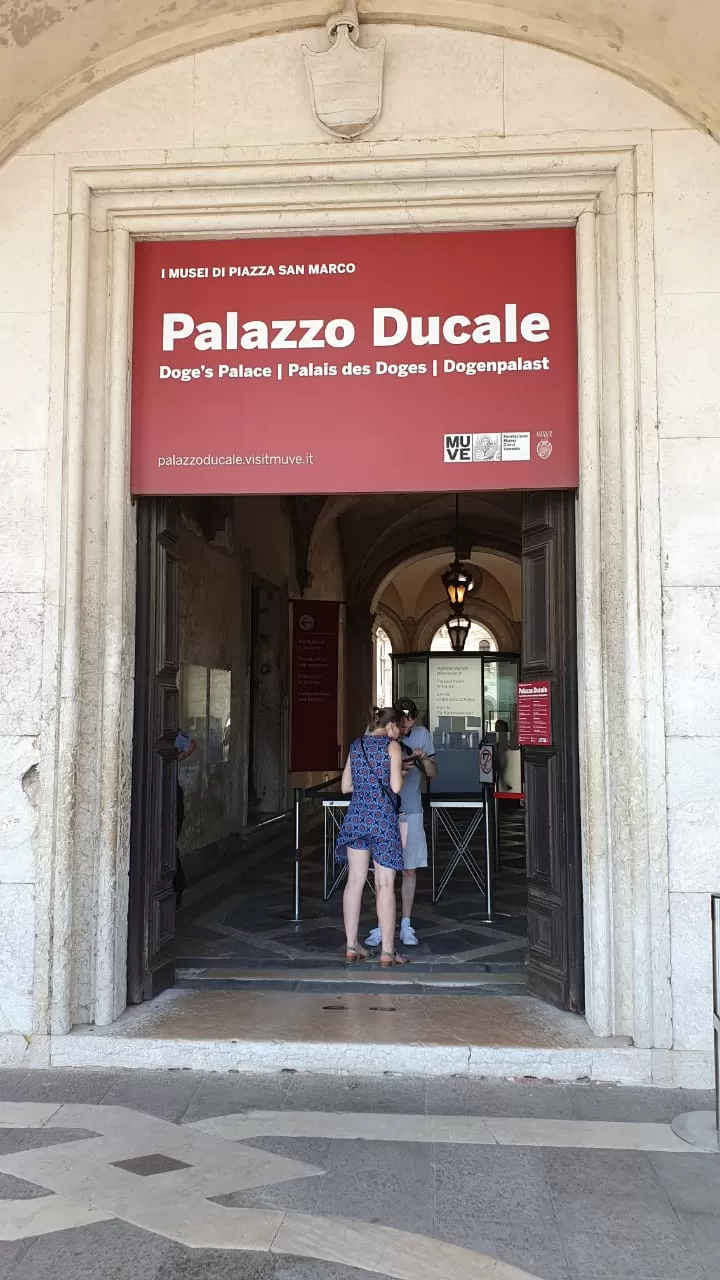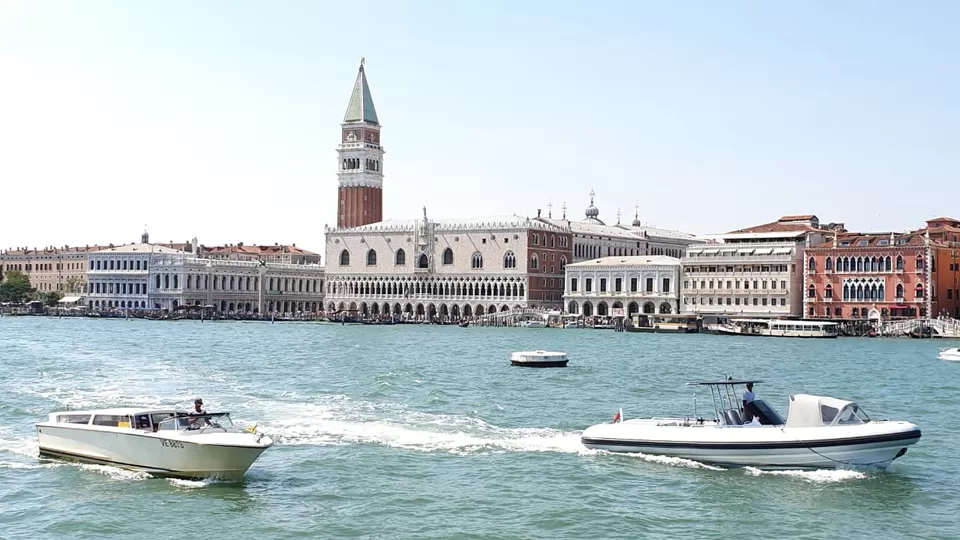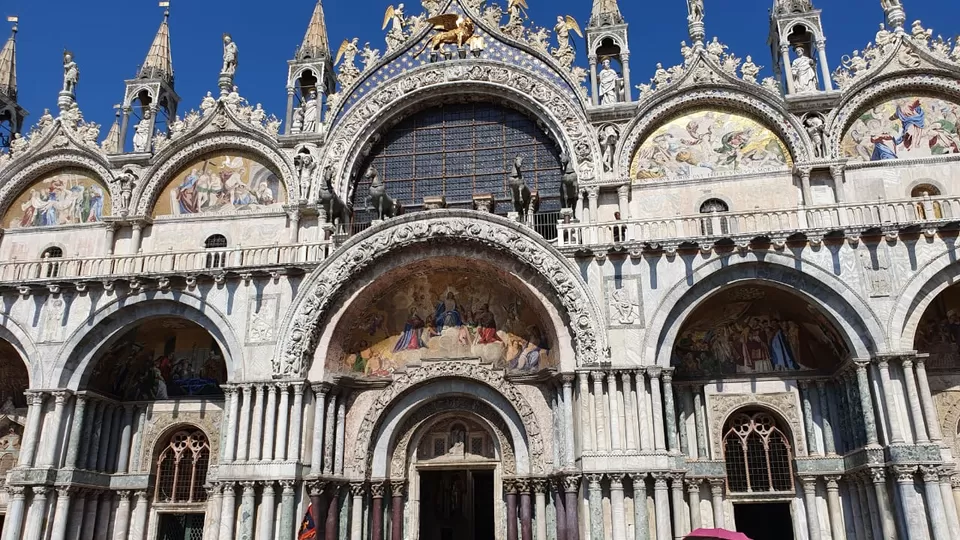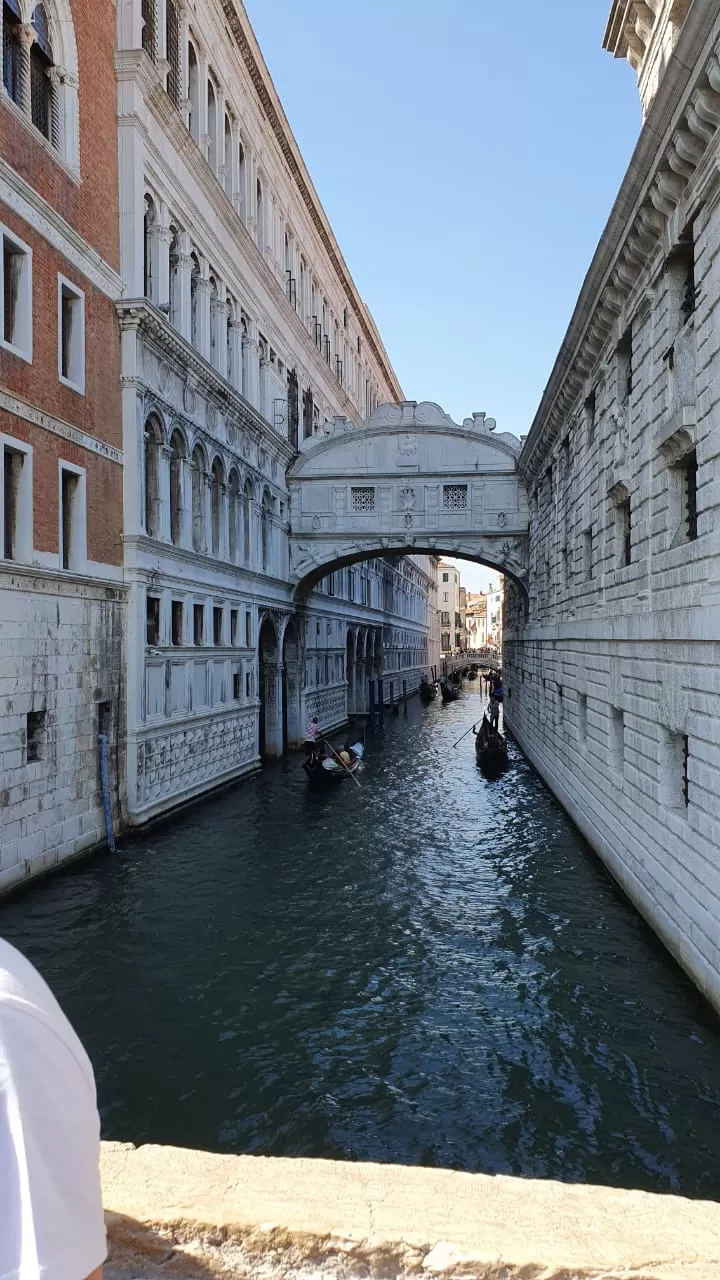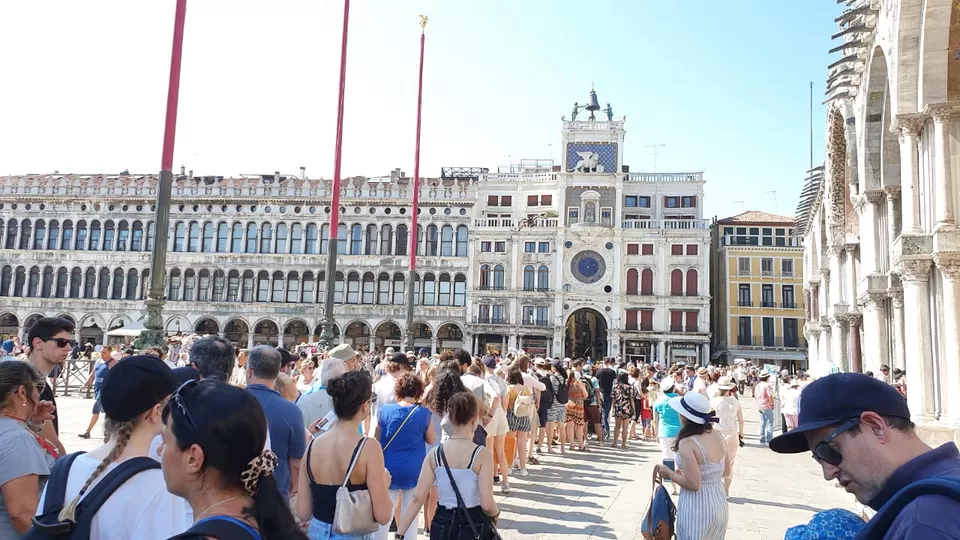 From there we gathered infront of one hotel, i could smell pizza and pasta..i was soo damn hungry because i didnt eat anything for lunch.
Then a local guide Ms. Lara joined our team. She explained abt venice bridges. We first stand infrnt of Doges palace and saw Bridge of sighs..Here prisons of venice on the past was imprisoned. This was used till 1922. Venice in the past was republic. 1st people arrived in the islands of lagoon in 5th and 6th century..they established here and created 1st formal government..then venice become republic till 1797. In 1797, venice was conquered by french troops so became part of french empire. And only in 1866 became part of italy again. We could see the statue of soldier on a horse..thats the statue of king of italy Victor Emmanuel II, we have the statue to remember the king who joined venice to italy in 1866. When he was ruling, venice become part of italy.
Again, we were standing infrnt of prison of republic, theres one pink building infront called doges palace
Then we saw the Doges Palace. Doge means duke. The duke of venice was the president of venezual republic. He was staying there and was working there and there were offices of venezual republic including court of justice. So prisoners were judged there and they have to come to prison using a bridge, this is the famous bridge in venice..called Bridge of sighs..they were thinking abt destiny while crossing the bridge and looking outside, probably for the last time..poor prisoners were judged only for political crimes..from the bridge where we stand, we can see bridge of sighs connecting 2 buildings.
We stand infrnt of prison and enjoyed the arch above doges palace. We saw the window through which the prisoners watch beautiful venice for the last time. No one has ever escaped from this jail, except one person Giacomo Casanova.
Palace of doges palace of dukes built in 14th century is a very old building. Here there was the govt of republic. Here was elected and leading duke of venice. Total of 112 dukes in venice. They were not kings. The charge was not transferred from father to son. Duke was only the symbol of republic. Other nobleman also working inside office. Offices were decorated with paintings of three famous Kings. These paintings are very important collection. Most important painting is of Paradise by Tintoretto with 187sqm. Its a meuseum now. You can see the St Marks church nearby. Its the oldest building in venice. St marks church was the patron centre of venice and is still the patron center of venice. And with his symbol lion. Thats why we have lion symbol in venice flags. Because this is the symbol of venice from the past. This church is building of 12th century, inside tomb of Saint Mark. In 1828 2 merchants of venice brought the body of Saint Mark from egypt. So 1st church was built. Its decorated with Mosaic. All decorations by glass and Mosaic. Total of over 8600sqm. It took 300 yrs to complete. This is the only building decorated with Mosaics.
Nearby the church theres new Bell tower, which is new, because the oldest tower collapsed in 1902 and was restored in 1912. Theres a lift to go up and from window, we can see all the islands of palace. Behind tower, theres St marks square, deepest place of the city. Here we have high tide or floods, esp in Oct nd nov, water comes up. Now due to weather change, every month, when there is a full moon, water comes up. Highest level is reported in Oct-Nov. Last year in 2018, there was water in this area and this area was completely closed because it was dangerous to come here. Sometimes we have to close the area and wait. Tide changes and then goes. Its the water of the lagoon.
Also we have a library which is the cultural center of republic, constructed 500yrs ago. Then theres clock tower built in 15th century. There are 2 statues above the tower, moving and striking the bells every hour. Under the tower is the main street of venice with all the shops. Next decorations of church and Glass factory. Then We wento laguna murano glass factory. They showed us demonstation abt glass preparation and made a glass. I was wondered how ease the master is creating the glass. It takes 15 to 20 years to masterate the art of glass making. Once its created, we have to wait for 24 hrs to make it strong..They are using silica sand and the elements are fused at 1000 degrees in an oven. After the demo, we went upstairs to see the glass store. We could see many glass utensils and soveniers. After bargaining, i got 1 champane glass for 75 euro as a memory for venice. So that when i see it, it reminds me of this trip. This glass was special. There are some lines in the glass. When you pour this dissapears. Then we came back to boat point at 5pm. Took a boat back to the main land area where our bus was parked. We started our journey to Hotel Ramada in Bologna. Reached ramada at 7.30pm. Dinner was arranged in hotel only.
They got veg lazagna. Even though Im a vegetarian, I didnt like the taste. Luckily there was plain rice. I had little rice with salt n pepper and wento sleep.
**************************************************************
Day 8
24th July 2019, Wednesday
Rome- Collosseum- Rome City Tour
Food: Breakfast from Ramada Hotel and Check-Out, International Buffet Lunch from La Dogana in Rome , Dinner from Himalaya Palace.
Stay: Hotel Pineta Palace, Rome
We checked out from the Hotel and started our journey to Rome. In between, we took break at 10 to 10.15..i bought cut fruits for 4 euros. Then drive to Rome. We took 2nd break at 12.45 to 1.15pm. and I had a margerita pizza.Theres a permit that has to be taken to enter rome..Inorder to control the traffic. Took permit at 1.45pm. Luckily we got permit to view collosseum. Our TM said if there is any parade, national day or any special events, they will not allow the permit and the last team didnt get the permit because there was some event happening at the Collosseum. By Gods grace we got the permit. We didnt get permit to park near the colossium, we have to walk 15mins, bt it was totally fine. The temperature was between 35-38 degrees. It reminded me of the current Dubai temperature. Atleast here , the humidity is less. After getting the permit, we directly went for having the Internation Buffet Lunch from La Dogana in Rome.
Reached restaurant at 2.20pm and had the deiciuos international Lunch. It was good.I had fries, fruits n salads.
In Italy, august will be the off month since most of the Romans prefer to go out to beach destinations. In Italy, we can see Stone Pine trees which reminds me of mushrooms.
Then we started our journey to Colossium.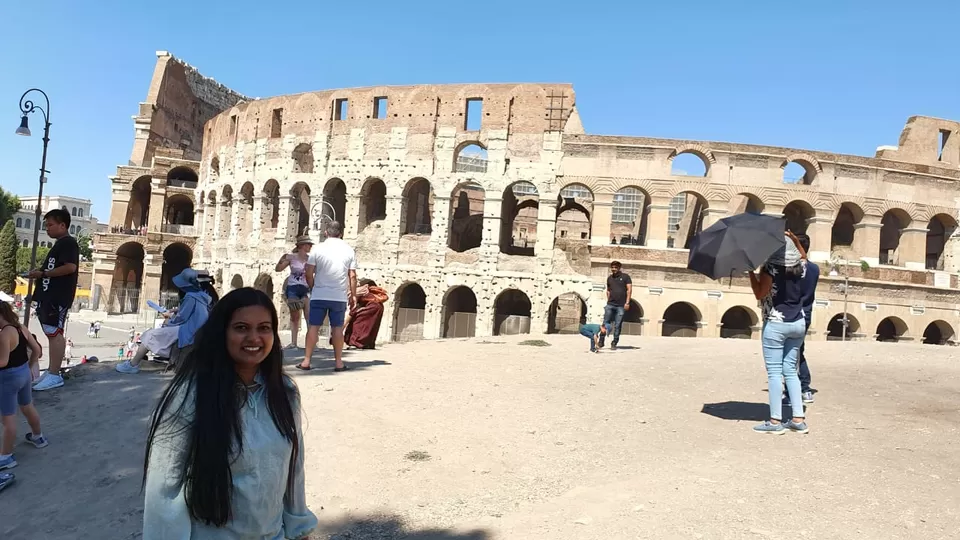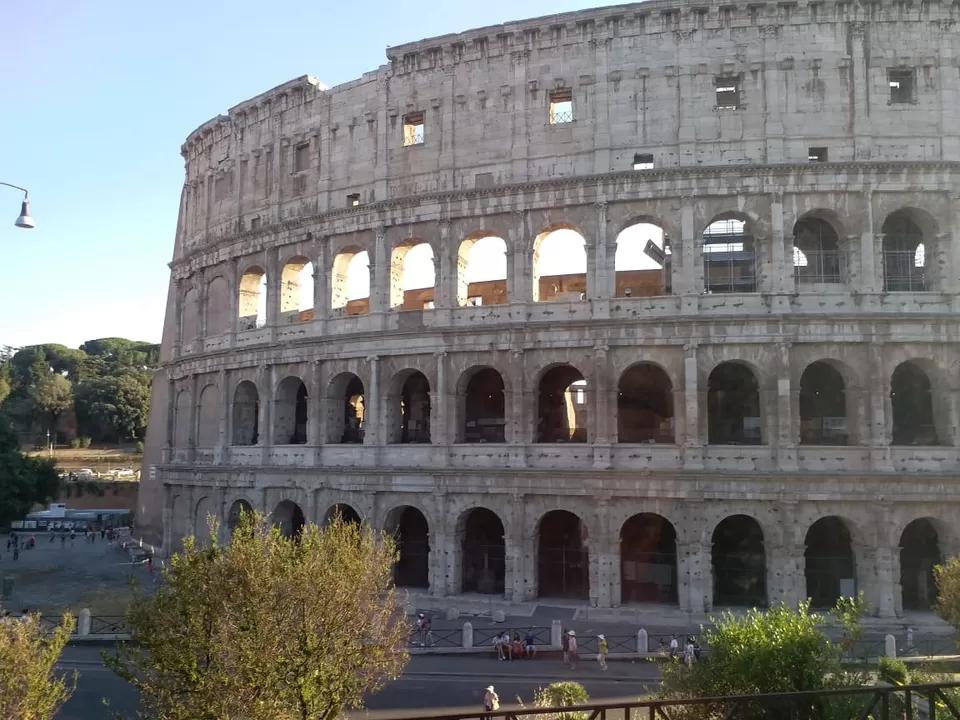 It was a local guided tour. Rome, the capital city of Italy, is surrounded by 7 hills, or it is located on 7 hills. We can see Roman Castles, Old villages, foryified some as castles. Rome has cool air because its surrounded by hills and the food is Good. 1st we did a small bus tour around the City of Rome. We can see a pyramid, its a tomb. The Pyramid of Cestius is an ancient pyramid in Rome, near the Porta San Paolo and the Protestant Cemetery. It was built as a tomb for Gaius Cestius, a member of the Epulones religious corporation.
In Rome, you could see narrow Roads. Hence they have small cars. Bolonia has many hills, universities, hence young people live there. Most visited cities in italy are Milan, venice and Rome.
Then we saw the The Palatine Hill, which is the centremost of the Seven Hills of Rome, is one of the most ancient parts of the city and has been called "the first nucleus of the Roman Empire." It stands 40 metres above the Roman Forum, looking down upon it on one side, and upon the Circus Maximus on the other. In Ancient Rome it was considered one of the most desirable neighborhood in the city, and was the home of aristocrats and emperors
Then we stopped nearby collosseum and walked 5 mins from there to reach infront of colosseum. In italy bus will not go infront of monuments, there will a dedicated parking slot and from there we have to walk. This is to reduce traffic.
Finally we reached colossium. Name of this theatre is Amphitheatre. It takes name from the dynasty the family who built it. Construction began under the emperor Vespasian in AD 72 and was completed in AD 80 under his successor and heir, Titus.
Name colosseum is a nick name given in middle ages because nickname was given by colossal statue nearby Amphitheatre. The Colossus of Nero (Colossus Neronis) was a 30-metre (98 ft) bronze statue that the Emperor Nero (37–68 AD) created in the vestibule of his Domus Aurea, the imperial villa complex which spanned a large area from the north side of the Palatine Hill, across the Velian ridge to the Esquiline Hill. It was modified by Nero's successors into a statue of the sun god Sol. The statue was eventually moved to a spot outside the Flavian Amphitheatre, which (according to one of the more popular theories) became known, by its proximity to the Colossus, as the Colosseum.
So they were providing the meeting point as colosso. Colosso was nero and the statue was nearby amphi theatre. Hence it got the nick name as Collosseum. Original name was Amphitheatrum Flavium.
There used to have fights of humans and fights between animals in the theatre. It was built by Empero Vespasian for amusement. They have 2 fights, one in morning and one afternoon. There were fights between animals and between man. It was inaugurated in AD 72 and opening party lasts for 100 days. 9000 animals were killed, 2000 humans were killed during that time. Amphi theatre used to contain 50,000 people. But you can enter exit very quickly by 10 mins. They have tickets which have the details about no of row and no of arches. Arches were entrance. Ie detailed no of entrance nd seat no is there in the ticktet. Hence theatre coukd be empty or in by 10 mins. Very organized. Before the theatre was made there was a lake during Nero period.
Emperor Nero had built a gigantic villa for himself, called the Domus Aurea. It included an enormous man-made lake.
After Nero committed suicide in 68CE, the senate issued a Damnatio memoriae on him, meaning, let's condemn his memory and remove all traces of him.
A couple of years later, emperor Vespasian decided to remove Nero's lake and put an arena there, to entertain the people and make them focus on fun and forget the hated Nero. In doing so, Vespasian also showed the Romans he was a man of the people.
But in middle age, they abandaned it because they thought it was a cruelty to kill animals and humans. Hence they stopped the fight. The last known gladiatorial fight in the Roman Colosseum therefore took place during the reign of Honorius. The Emperor Honorius, finally decreed the end of gladiatorial contests in 399 AD. The last known gladiator competition in the city of Rome occurred on January 1, 404 AD.
This theatre was built of white marbles. These marbles were taken out to build other palaces or churches. That's why we can see holes in Colosseum. These marbles was used in the construction of St Peters Basilica. In Colosseum, there used to have fights in Middle Arena. There was a wood Arena and it was covered of sand. Sand in Greek is called Arena. All Roman Emperors used to please people by building theaters, bringing water from hills to the city. Rome are very good engineers or architects. They used to have boats similar to racing boats. Arena was whole filled up by water and they used to have boat races. Colosseum is still standing because it was made of walls and its also made of ashes. There were 2 volcanoes nearby Rome, which are now silent. But when they erupted, there were ashes. They mix ash and cement and constructed the Colosseum using this very strong material and hence Colosseum is still standing.
Now this belongs to UNESCO. Colosseum is one among the Seven Wonders of the World. Now its a Part of the heritage and all tourists visit here. Entry fees for Colosseum is around 32 Euros. All the stadium structure we have now are inspired by Colosseum. Ticket system, Gallery Area and Seat nos of Collosseum were famous. Collosseum has a Height 46m, length 158m, width 156m.
Other buildings nearby are roman cultural buildings. There is a roman forum nearby. It was the center of social or political life. They discuss politics, meet people over there and walk to theater for fun.
After taking many photographs, we got back to bus and started our bus tour. We saw Theatre of Marcellus, which looks like colosseum. It was an Open theatre. Now our guide told people live upstairs.
We saw the river Tiber, which is the third longest river in Italy. Our guide told us that during the old times, people used to live near by the river. Water was clean. Water becomes dirty due to flood and then they shifted. During summer, people used to go nearby the river side, coffee shops will be opened, concerts will be there. We could see white canopy on both sides of the river.We were also amazed to see too many cars parked on both sides of the road. We asked her whether any events are happening on that day. Guide told us mostly people used to park here and walk to the center of Rome.
On the right side, we could see The Mausoleum of Hadrian, usually known as Castel Sant'Angelo, is a towering cylindrical building in Parco Adriano, Rome. It was initially commissioned by the Roman Emperor Hadrian as a mausoleum for himself and his family. The building was later used by the popes as a fortress and castle, and is now a museum. The structure was once the tallest building in Rome.
Then we saw Corte di Cassazione, The Palace of Justice, Rome, the seat of the Supreme Court of Cassation and the Judicial Public Library, is located in the Prati district of Rome. It fronts onto the Piazza dei Tribunali, the Via Triboniano, the Piazza Cavour, and the Via Ulpiano. The huge building is popularly called in Italian the Palazzaccio. On the way, we saw the Temple of Peace.
Our bus stopped at one of the main squares and our guide told us that we have to walk from there. It was damn hot at that time. We took our umbrella, shalws and sunglasses and followed our guide. We walked through the street road that take us to Peoples Square. On the way to Peoples Square, we could soo many shops. These were the most elegant streets in 50s it was very fashionable streets. During old times, actors used to spend time in the coffee shops and now its converted to expensive hotels. Now you could see Embassies too.
The Piazza di Spagna is the location of the Spanish Steps, one of the most famous landmarks in Rome. This square is dominated by the broad, monumental stairway leading up to the Trinità dei Monti church, but it also features a small fountain by Bernini.
There we walked through the great Spanish steps. It was very slippery because many people has walked through the steps. And finally we reached Piazza di Spagna. It owes its name to the Palazzo di Spagna, seat of the Embassy of Spain among the Holy See (Spanish Embassy). This street is Full of expensive brands like Dior, Prada, Sephora etc. You could also see that the headquarters of Valentino brand located here.
Another attraction in the square is the Fontana della Barcaccia/Fountain of the Boat , a fountain found at the foot of the Spanish Steps in Rome's Piazza di Spagna (Spanish Square). According to legend, as the River Tiber flooded in 1598, water carried a small boat into the Piazza di Spagna. It is credited Pietro Bernini; a member of the renowned artist family Bernini and father of famous Baroque artist Gian Lorenzo Bernini. The fountain has the form of a sinking ship and it is said to be based upon a folk legend. The legend tells that a fishing boat was carried all the way to this exact spot during a massive flood of the Tiber River in the 16th century. The design with the sinking boat also helped Bernini to overcome a technical problem, due to low water pressure. Bernini is the one who built the main Alter in St Basilica and columns in St Peters. He was an Architect, Painter, Sculpturer.
This square is famous because of Spanish Steps. With its irregular butterfly design, the beautiful "Scalina Spagna", or Spanish Steps are just one of these must see places when in Rome and a great example of Roman Baroque Style. It's a great place to just sit down and enjoy the atmosphere and views of the Eternal City. The steps are a wide irregular gathering place consisted of 138 steps placed in a mix of curves, straight flights, vistas and terraces. They connect the lower Piazza di Spagna with the upper piazza Trinita dei Monti, with its beautiful twin tower church dominating the skyline.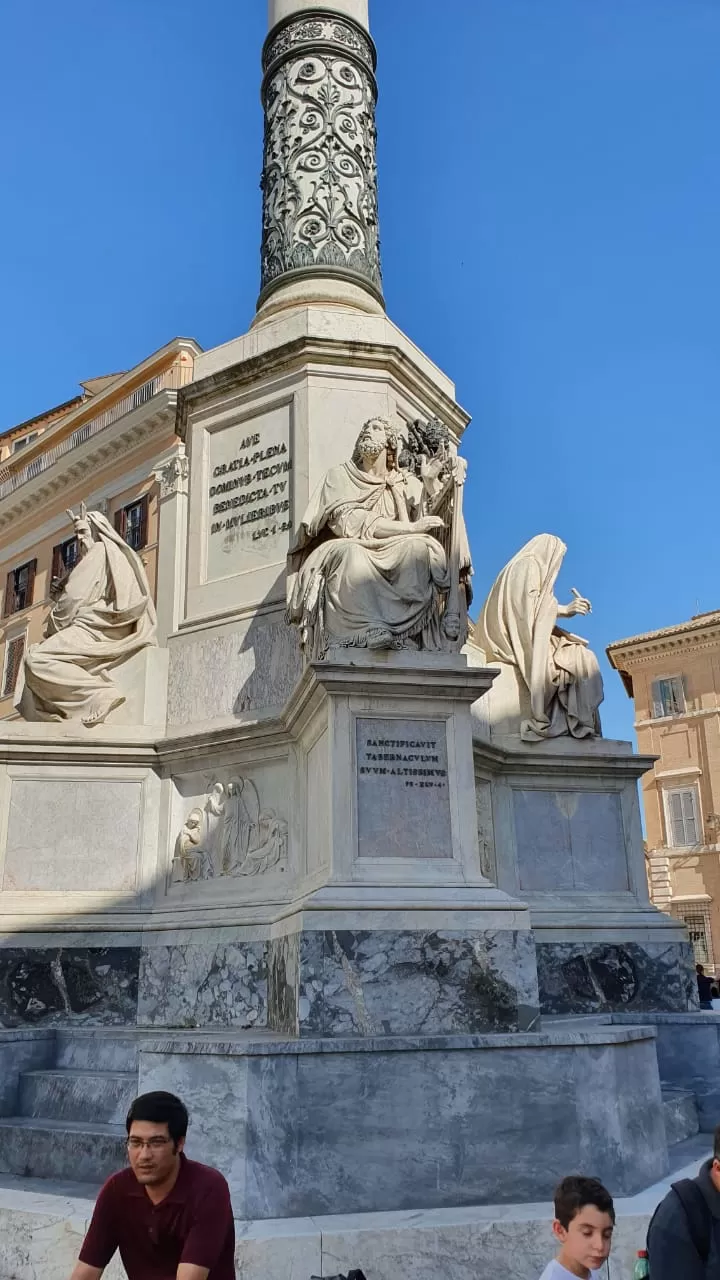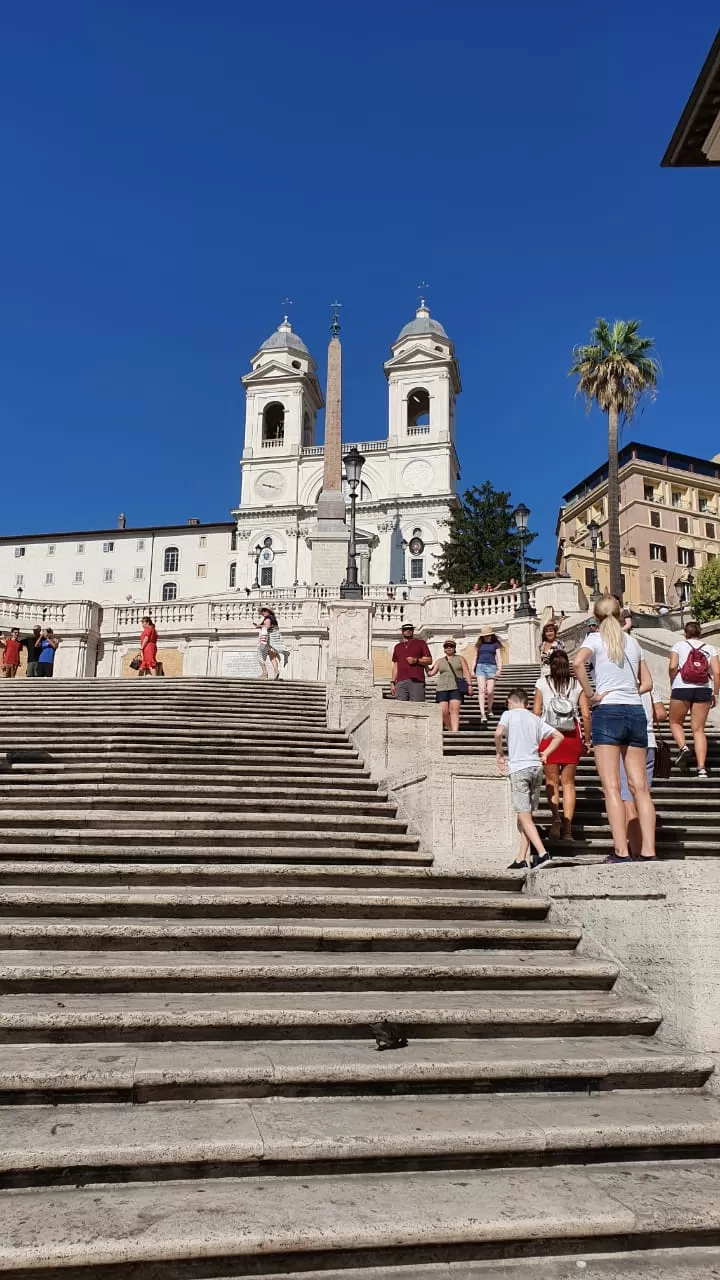 Our guide told us when she was young, fashion shows were held at the Spanish steps during the night time, she used to see the very important fashion shows with main brands such as Valentino's, who has headquarters here, Models coming down stairs in their pretty Attire, but now the shows are not conducted here. Now the Capital of fashion is Milan. All the fashion shows are now conducted in Milan. I was so curious to know and imagine about the fashion show which was conducted. I searched videos and could see the beautiful illuminated and decorated Spanish Steps at night.
After enjoying the Spanish Square, we slowly walked toward the famous Trevi Fountain. The Trevi Fountain is a fountain in the Trevi district in Rome, Italy, designed by Italian architect Nicola Salvi and completed by Giuseppe Pannini and several others. Standing 85 feet tall and is almost 65 feet wide, it is the largest Baroque fountain in the city and the most famous fountain in the world. The fountain has appeared in several notable films. The fountain is at the junction of three roads. There are two versions of where the word Trevi comes from. The first is that it comes from tre vie meaning three roads (the fountain is at the junction of three ancient roads). The other is that Trevi comes from the old name for the area that was originally called Trebium. A legend surrounds the fountain. It is told that in 19 BC Roman soldiers were guided by a young girl to a source of pure water about 8 miles (13 km) from Rome. The discovery of the source led to a commission for the construction of a 14 mile (22 km) aqueduct leading to Rome named Aqua Virgo or Virgin Waters after the young girl.
According to legend, throwing of one coin from the right hand over the left shoulder will ensure that you will return to Rome in the future. The second legend was the inspiration behind the film " Three Coins in the Trevi Fountain". This legend claims that you should throw three coins into the fountain. One coin ensures a return trip to Rome; two coins are for those seeking love; three coins symbolize wedding bells.
The coins collected will be dedicated to charity. With water pumping out of multiple sources and the large pool in front, the fountain spills about 2,824,800 cubic feet of water every day! No need to fret though, today the water is recycled. The white marbles and the light green bkuish water makes the Trevi fountain looks so beautiful.
After clicking some pictures, I had a coconut ice cream from Melorano Shop, just infront of the Trevi fountain.
Then we slowly walked back toward the bus parking point. On the way back, we saw Vittorio Emanuele II Monument/Altar of the Fatherland is a monument built in honor of Victor Emmanuel II, the first king of a unified Italy.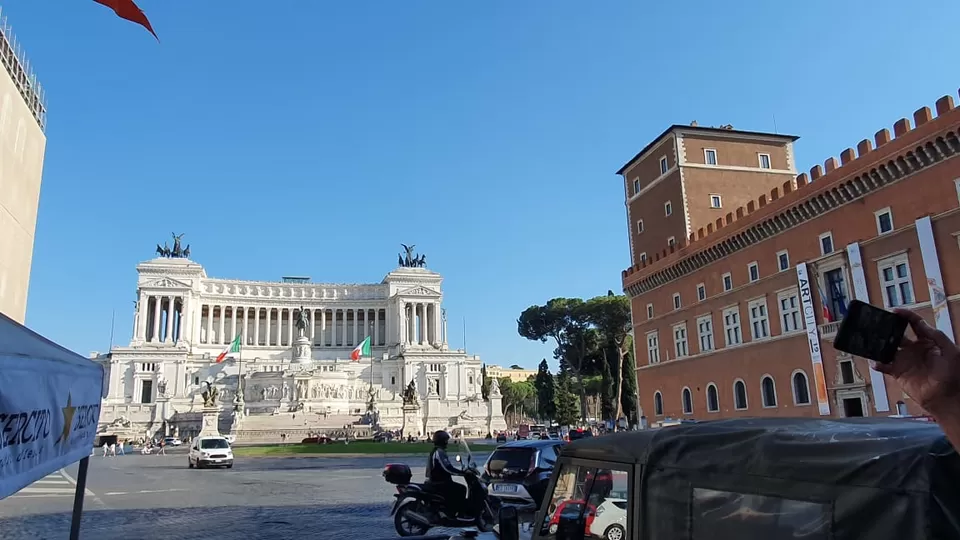 It features stairways, Corinthian columns, fountains, an equestrian sculpture of Victor Emmanuel II, and two statues of the goddess Victoria riding on quadrigas. The monument holds great national significance. It is an architectonic and artistic tribute to the Italian Risorgimento: the complex process of unification undertaken by Victor Emmanuel II throughout the second half of the 19th Century. It is regarded as a national symbol of Italy and every year it hosts important national celebrations. The largest annual celebrations are Liberation Day (April 25th), Republic Day (June 2nd), and Armed Forces Day (November 4th). During these celebrations, the Italian President and the highest government officials pay tribute to the Unknown Soldier and those who died in the line of duty by laying a laurel wreath. It looks like typing machine. We walked back toward the parking area. On the way back, my father bought one trolley bag for 55 euro and I got a pen written 'I Love Rome' free. Finally we reached the bus and we all were super hungry. Our TM told we are going to an Indian restaurant for dinner and we were happy. We had a heavy dinner from the Himalayal Palace restaurant and was able to suppress my hunger from last 2 days. After dinner, we Checked in Hotel Pineta Palace, Rome.
**************************************************************
Day 9
25th July 2019, Thursday
Vatican Museum, Sistine Chapel, St Peters Basilica, Leaning Tower of Pisa
Food: Breakfast from Hotel Pineta Palace, Rome and Check-Out, Lunch from Papa Rex, Dinner from Grand Hotel Plaza & Locanda Maggiore
Stay: Grand Hotel Plaza & Locanda Maggiore
We check out from the hotel and started our journey to Vatican city at around at 7.45am.
It will take around just 20 mins to reach the Vatican Museum from our Hotel. We were notified that we should not take any extra bag with us becuase there will be strong checking at the entrance. If we carry any bags, we have to deposit it at the entrance and once we finish, we may have to come back and stand in queue and collect our bags. This is time consuming. Hence I took my shawl, sunglass, 20 Euros and Mobile only. Make sure that you dress appropriately. For men, this means wearing long trousers and a shirt that covers your shoulders. For women, shoulders and knees need to be covered and low-cut tops are a no go. We reached Vatican Museum by around 8.30am. We could see a small queue at the entrance. We waited for our Local guide to join us.At the entrance, we could see a security checking similar to the airport. We cleared the queue and followed our guide. We took the stairs and reached the 1st floor. They gave us a headset and a radio device. Now the things which guide told us are more audible.
The Vatican Museum is one of Rome's most significant buildings – not only for its Papal connotations and rich history, but for the extensive collections of art within its walls. On average walking around the entire Vatican Museum will take you a solid four hours if you were to try and see everything.
The museums contain roughly 70,000 works, of which 20,000 are on display. The Sistine Chapel, with its ceiling decorated by Michelangelo and the Stanze di Raffaello decorated by Raphael, are on the visitor route through the Vatican Museums. In 2017, they were visited by 6 million people, which combined makes it the 4th most visited art museum in the world. It is one of the largest museums in the world. Not only does Leonardo da Vinci's masterpiece, the Last Judgement, adorn the ceiling but you can admire Botticelli's long murals which often get overlooked.
One you enter the museum, guide will explain about each sculpture exhibited there. The four Raphael Rooms act as a grand entrance to the Vatican where you can't help but be wowed as soon as you arrive.
Gregorian Egyptian Museum now houses ancient artefacts originating from ancient Egypt, and taken via Rome and Villa Adriana in Tivoli through the Imperial Age. Occupying nine rooms, this section displays sculptures and statues, clay figurines and bronze objects – among many others! If you are fascinated with ancient Egypt, this is a section not to miss.
The Gallery of Maps is located on the west side of the Belvedere courtyard and, as you've guessed, contains a series of painted topographical maps. Commissioned in 1580, it took Ignazio Danti three years to complete the 40 panels. The Gallery of Maps contains the largest collection of geographical paintings ever created. These wall-sized maps depict Italy and Italian provinces, and were commissioned by Pope Gregory XIII in the 16th century. These maps, based on drawings by the Dominican Monk Ignazio Danti, are amazingly accurate for being made in the 1500's! The maps are really well-detailed, showing mountain ranges and even boats in the water, but they are also somewhat whimsical, containing fantastic sea creatures and even Neptune, the Roman god of the sea.
Tapestry Hall, as you literally have to walk through it to get to the Sistine Chapel. But it could be easy to breeze past these special works of art, and not really know what exactly you should look at. Most tours cover at least some of the tapestries room, but in case you are on your own, take some time to notice these things:
First of all, look up. The ceiling looks like a plaster 3-dimensional design. It's actually painted! Each tapestry took years to make. They were finely woven by the best weavers of the day, out of wool but also silk, and gold and silver thread. Notice in particular the tapestry of The Resurrection of Christ. As you approach it from the left, keep your eyes on Jesus's eyes, keep walking and watch his eyes. By the time you pass the tapestry, the eyes are still with you! It's a wonderful example of "moving perspective", a technique you find sometimes in paintings (like the Mona Lisa.) But to do this with a tapestry takes a lot more mastery and talent, and requires some very fancy stitching indeed!
And of course, no visit to the Vatican Museums would be complete without the Sistine Chapel. In fact, it's usually the only reason people come to the Vatican Museums. And since it is at the very end of the museums, you won't miss it. Our tour guide explained that we should be quiet and camera or photographs should not be taken inside the Sistine Chapel. Its such a divine place where you will be amazed by the Michelangelo paintings and the blissful atmosphere.
When you are inside the Sistine Chapel, make sure you did not miss to observe the below. I think the most famous part of the Sistine Chapel is the series of paintings by Michelangelo on the ceiling. These are 9 scenes from the book of Genesis. And the most famous painting in this series, perhaps one of the most iconic paintings in the world, is the Creation of Adam. It's spectacular.
But also, take the time to enjoy some other things in here as well, especially Michelangelo's other great masterpiece in this room: The Last Judgement.
This painting was done later, between 1535 and 1541. And by this time, Michelangelo was in his sixties. He'd thought he was done with painting. he'd thought of himself primarily as a sculptor. But the new Pope Paul III (Farnese), convinced Michelangelo he had more in him, as a painter but also as an architect. So he had Michelangelo finish St. Peter's Basilica. And the Pope had Michelangelo paint Il Giudizio Universale, The Last Judgement.
The painting shows the second coming of Christ on the Day of Judgment (Revelation of John). Notice Jesus' position in the center, he is neither standing nor sitting, but almost in motion. On the bottom left are the souls selected for passage to heaven, and on the bottom right, are the damned souls being transported to hell by Charon on the river Styx.
Michelangelo painted The Last Judgement after the Sack of Rome in 1527. Also, he'd become much more devout as he'd gotten older, and had a lot of inner conflict about his younger, more pagan days. So the painting has a considerably darker feeling about it than the ceiling panels. And, if you look closely at the flayed skin of St. Bartholomew, just below Jesus and to our right, you can see that is Michelangelo's face. It was his way of atoning. He has worked only on freshly laid plaster and each section of work was completed while the plaster was still in its fresh state. In other words, Michelangelo did not work 'a secco'; he did not come back later and add details onto the dry plaster.
We stayed inside for 10 minutes and then got out towards the St Peters Basicilla. I could still close my eyes and visualize the stunning paintings which we saw there inside the Sistine Chapel.
St Peter's Basilica is considered important because the church is built over the tomb of Saint Peter (the 'prince of the apostles' and first pope). It is also the largest church in the world. It is traditionally believed that he was crucified in Rome and buried where the Basilica of St Peter was later built, beneath the high altar. The basilica is a Renaissance church, built in the 1500's. It replaced the first St. Peters Basilica originally built under the emperor Constantine in the early 4th century.
It took around 120 years to construct Basilica and this is the church which can include maximum crowd around 60,000 people at a time.
The first thing I would tell you is that you should just see the church itself, inside and out. It's magnificent.
Inside are incredible works of art, including the altar with Bernini's Baroque baldacchino and Michelangelo's moving Renaissance sculpture, Pieta. When we enter inside the church, towards the right side , we could see the very famous Pieta Statue. Michelangelo was just 25 years old at the time when he created the 'Pieta' statue. This famous work of art depicts the body of Jesus on the lap of his mother Mary after the Crucifixion. It was carved from a single slab of white marble and was the only work Michelangelo ever signed.
We could see the Michelangelo's dome- Its dome is the tallest dome in the world at 448.1 ft. There are two stunning fountains either side of the square. There is also a 40-meter high Egyptian obelisk (including the base and the cross on top), which was bought to Rome in 37 B.C. From here you will also be able to see the 140 aforementioned statues of saints on top of the pillars. At the front of the square you will be able to see the large statues of St Peter and St Paul.
St. Peter's Baldachin – Situated directly under the dome in the Basilica stands this 29-meter high bronze canopy. Gian Lorenzo Bernini started work on the Baldachin in 1623 and it was completed 11 years later in 1634. The Baldachin stands over the papal alter which is directly above St Peter's tomb. Only the Pope may serve at the altar.
Bronze Statue of St Peter – Created in 1300 by Arnolfo di Cambio, the statue of St Peter seated on a throne has been situated in the Basilica since 1605. The tradition of pilgrims either touching or kissing the statue's feet has caused the right foot to wear down.
After spending some time there, we got out to St Peters Basilica Square where Pope used to address people. During noticeable events St. Peter's Square has held more than 300,000 people. We could spot Swiss Guards there, the Pope's personal body guard and the standing army of the Vatican City-State.
Then we walked towards one souvenir store. I purchased a copy of the two paintings inside the Sistine Chapel, which costs around 5 Euros each. Since I was so hungry, had a veg sandwich and lemonade. Then we walked towards the parking area and continued our journey, had lunch from the famous Papa Rex hotel. I loved the Spinach-Cheese Veg Pasta as starters they served along with the roasted vegetables and Rice! The Desert Chill Ice cream was also yummy! Best food I had from Italy! After lunch, we started our journey to Pisa by around 1.40 pm. We reached Pisa by around 7.30 pm.
Captain dropped us in the parking area and we walked towards the Lenaing Tower of Pisa. It wook aorund 12 mins to reach the Tower. On the way, you could see many Africans selling leather bags, soveniers etc.
Leaning tower of Pisa (Height 57m) is a bell tower of a church. In old times, churches were constructed as per the Gothik style of Architecture, thus bell tower of church will be outside the church. Speciality of gothik sryle they considered life by 4 Stages. Birth,Baptism, Church(signifies life) Balance compound is cemetery or death. So Birth, Baptism, Life , Death Gothik style of churches.
The Leaning Tower of Pisa took 344 years to build, beginning in August 1173. It began to lean in 1178 once construction on the second floor had begun. The lean was due to one side sinking into the soft ground. The construction was stopped twice, the first time for 100 years, the second time in 1284. Both times it was due to wars. When 1st 3 floors were constructed, due to construction issues and speciality of sand, constructed was stopped for around 100 yrs. Then again war happened. During World War II, the Allies heard that Germans were using the Leaning Tower of Pisa as an observation post. Once the Allies saw how beautiful the tower was they refrained from destroying it. Germany conquered this tower and then they used Pisa 3rd floor as Watch tower. After that in 1272, 4 more floors were constructed and then above that 7 bells were placed. Each bell represents one note of the musical major scale. Slanting happened again after the installation of Bells. They stopped the work for 100 years, Then in 1655, renovations were done and bells were removed and replaced with bells having weight adjusted with that of the total Tower weight.
The Leaning Tower of Pisa became a UNESCO World Heritage Site in 1987. Also included in this designation were the cathedral, cemetery and the baptistery.
The tower was closed to the public from 1989 until 2001, after the restoration was complete. It is thought that the restoration will keep the Leaning Tower of Pisa stable for at 300 years more. In 2008 engineers stated that the Tower had stopped moving. This is the first time in its history that it has not been slowly leaning further to one side. The Leaning Tower of Pisa is a circular shape and has eight floors. The 7 bells are located on the eighth floor. It is having a 4 degrees slant, there are 249 stairs to reach the top of Bell tower. 12 euro entry fees to get to the Top. Maximum of 50 to 60 people can be entered at a time.
We took many pictures and walked back. On the way back, I got 2 samosas from an Indian hotel. We then started our journey to Milan. I felt sad that tomorrow is the last day of our trip and also felt grateful that I got a chance to see all these wonders. Not everyone will get this opportunity.
Our Dinner was arranged in Grand Hotel Plaza & Locanda Maggiore and after dinner, we Checked-in to the Hotel.
**************************************************************
Day 10
26th July 2019, Friday
Milan- Milan Cathedral- Shopping- Milan Airport
Food: Breakfast from Grand Hotel Plaza & Locanda Maggiore and Check-Out, Buffet Lunch from Restaurant Le Banque- Milan , Dinner from Flight.
Finally its our Final day of the Trip! I was having mix feelings- happy that I can go back home and see my hubby and share all the experiences I had, sad that the trip has ended and more places to explore in Europe, I felt we all got attached to Europe.
This was the last overnight stay at the Hotel. We had breakfast and Check Out from the Hotel.
We started our journey at 8am. Reached Milan by around 1pm. We stopped in between for the mandatory 45 mins break. I had a tasty Cappuccino for 3 Euros. We had delicious Buffet Lunch from Restaurant Le Banque- Milan. Then we straightaway went to Milan Cathedral. Milan is a global capital of fashion and design. Home to the national stock exchange, it's a financial hub also known for its high-end restaurants and shops. You will be fascinated to see the branded shops with pretty attire displayed at the entrance. Anyone can easily distinguish between the type of roads and buildings in Milan. We could spot the Swiss Credits Bank nearby the restaurant.
We walked towards the Milan Cathedral. It is the largest church in Italy (the larger St. Peter's Basilica is in the State of Vatican City), the third largest in Europe and the fourth largest in the world.
It can accommodate maximum of 40,000 people at a time. The construction of this church began in 1365 .
The cathedral took nearly six centuries to complete. It is constructed in Gothic style.The characteristics of Gothic architecture are stone structures, large expanses of glass, clustered columns, sharply pointed spires, intricate sculptures, ribbed vaults, and flying buttresses. One of their main characteristics is the Ogival, or pointed arch.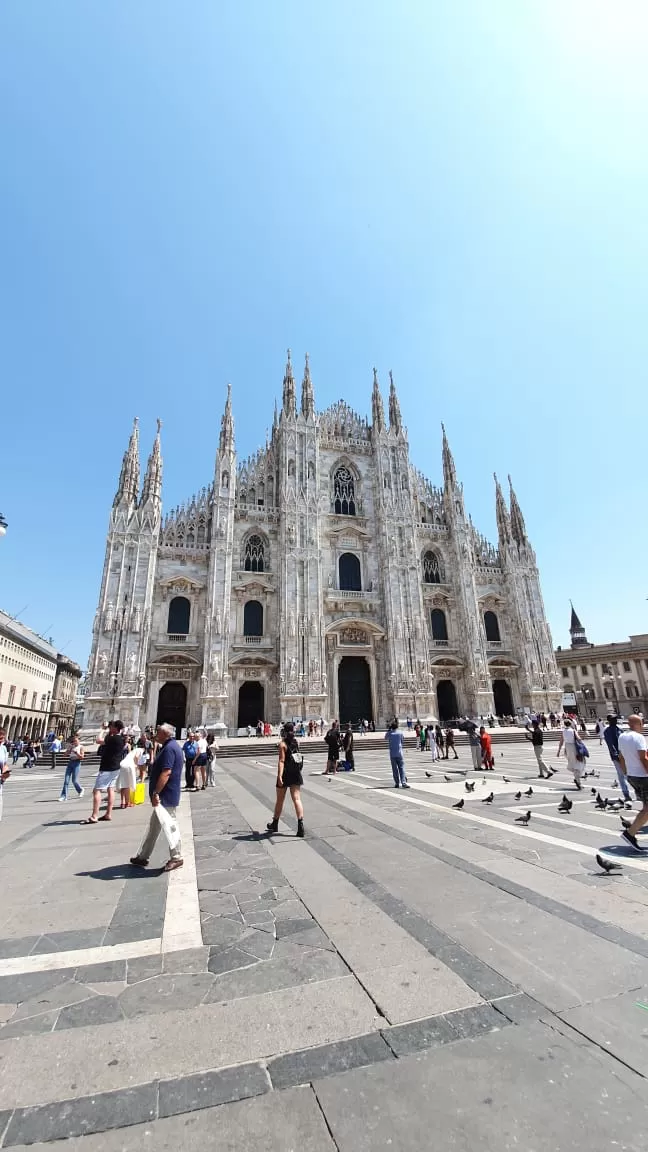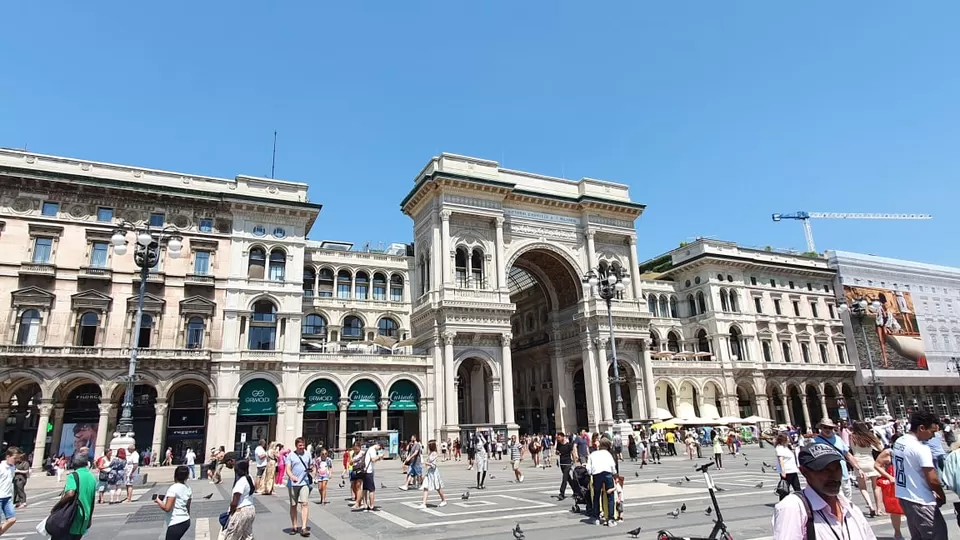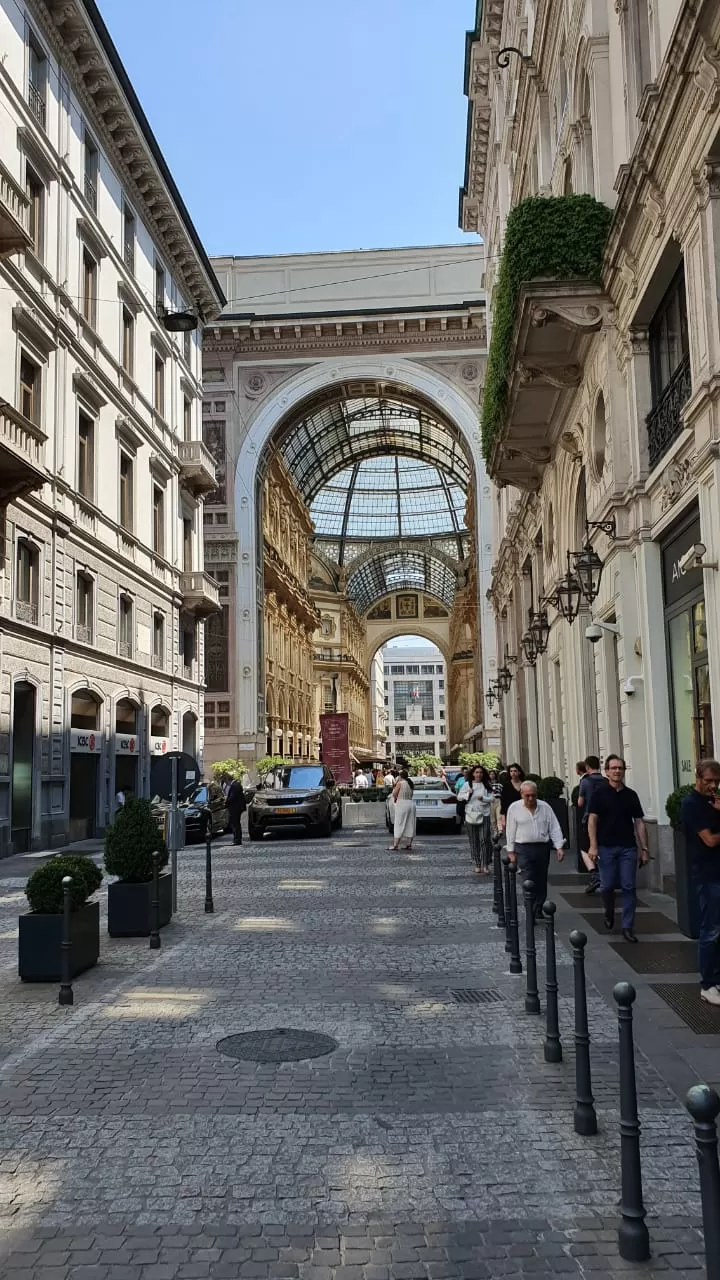 We could see many statues in front the Cathedral and its a must see place in Milan. This church is also constructed using While Marble. Entry Fees for visiting the Cathedral is around 6 Euros.
In front of the Cathedral, we could see many Souvenir shops, from where you can buy souvenirs. It was around 1.40 pm and and our TM told us to meet the same point at 3 pm.
First I went to buy the famous Rose shaped Italian Ice cream from Amorino, that costs around 5 Euros. After having the Rose ice cream, we slowly walked towards the Fashion Street. Some of the shops displayed that 4 letter word that makes us happy - 'SALE'. We entered inside some of the shops and was amazed to see the beautiful sandals, however i felt like the rates were too high.
Suddenly we saw 90% sale in one of the Bag brands and we got inside. We could see the best Carpisa bags On Sale. I purchased one Sand brown color Office bag for 12 Euros. Thus I was satisfied that I have achieved my Shopping goals for this Trip. Then we walked back to wards the meeting point and started our journey towards Milan Airport.
It will take around maximum 1 hour to reach the Airport. On the way back to Airport, we shared our experiences and feedback about the trip. One thing was common-Everyone enjoyed the trip very well. It was worth and well organized.
We reached airport by around 4.15 pm. Check-in counter was not yet opened. If we have purchased an item for greater than 154 Euros, you are eligible for the Tax Refund at the airport. Make sure to collect the Tax Refund form when you purchase the Item. Keep the product wand the Bill with you. I was eligible for a Tax refund of 14 Euros. For availing this Refund, first get your Bill stamped by the Customs Officer at the airport. Produce your stamped Bill at the VAT Refund Desk- Global Blue, 1st Floor Terminal 1, if you are flying back from Milan Airport. They have taken 3 Euros as the processing charges and I got 11 Euros as Refund. After having some snacks and coffee, we waited outside the Gate. Flight was on the right time. I was thinking how fast these days have gone and felt a little bit sad to bid goodbye to Europe. I made my mind that I will be visiting Paris and Switzerland again.
Fill your Life with Experiences, not things!
Have Stories to tell, not Stuff to show!
Because the best things in Life are the People you Love, the Places you have seen and the Memories you have made!
**************************************************************