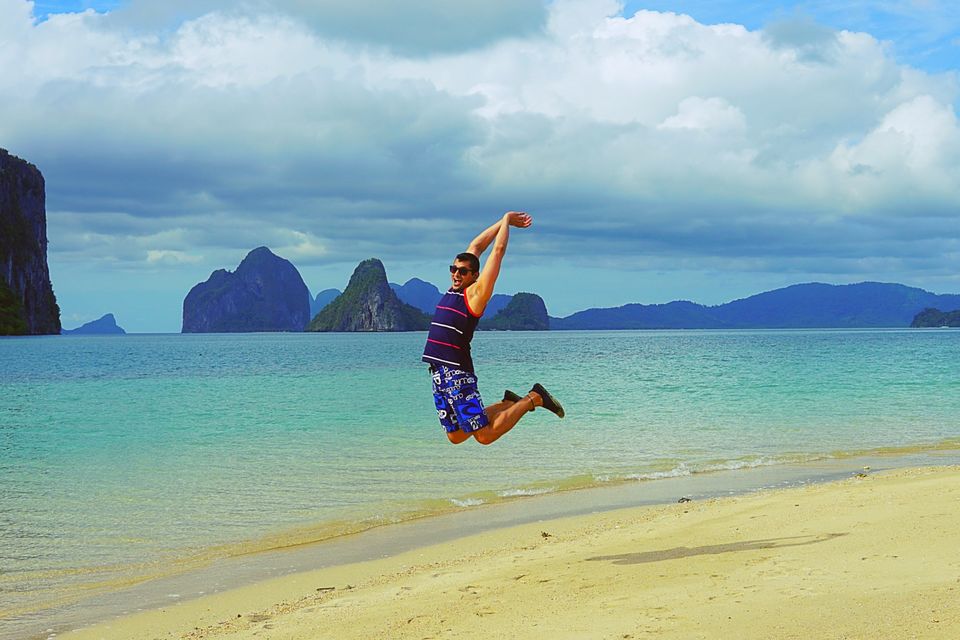 Philippines was in our bucket list ever since we (my wife and I) started planning our honeymoon in 2011 but the travel costs itself made it out of bounds for us...it was as expensive as reaching a European destination. Come 2018, we made up our minds that we are going to Philippines without fail at the start of 2019. Planned out a 8 days and 7 nights itinerary with a budget of Rs. 250k and finished all the bookings 3 months in advance ☺
If one already has a valid work/tourist visa for US, UK, Canada, Australia, Schengen, Japan or Singapore then they would not need to apply for a Philippines visa. I got a 14 days entry (same for all countries) based on my US visa and my wife had applied for a Singapore visa as it is easier & faster to get it when compared to a Philippines visa. It was really hard to get hold of Philippine peso in India (exchange rate 1 Philippine Piso equals 1.3 Indian Rupee) so we got ourselves US dollars instead. Note that unlike Thailand, we didn't come across any money changer in Philippines who exchanged Indian rupees so don't bank on INR.
We took a Cathay Pacific flight from Mumbai to Manila via Hong Kong as the timings were perfect. Total flight journey was 8hrs with a 2 hrs layover. This flight was priced around Rs. 35k for a single return journey. After entering the Philippines airspace one can see some amazing landscape like the one in pic #1.
Post landing we bought a local sim card at the airport for 700 pesos that included voice and data. The prepaid cab (our online booking had been cancelled last minute) charged us 1.2k pesos for a ride to Makati.
Day 1 was more of a stopover in Philippines' capital city of Manila. We stayed in Seven Doors Aparthotels in Gramercy Makati (rate per night 3.5k pesos) because it is situated in one of the most happening areas of Manila and the views from our room were spectacular..check out pic#2 and #3 to see for yourself. There was no clear agenda on day 1 but to celebrate the beginning of the trip at night. The flight left us pooped so we ended up sleeping till evening and then began to plan for the night.
Many of the local sites recommend visiting bonifacio high street so we got ready and headed there. Do note that the taxis here do not seem to use the meter. Bonifacio high street was probably the most swanky looking area of Manila with high rises, posh surroundings and was full of restaurants, bars and cafes. After walking up and down the street we chose a chic Italian joint called Italianni's for dinner. The pizzas were pretty good and we sat outside as the weather was great. It was time to party and we headed to club Xylo at Palace which was just a 5-10 mins walk from the restaurant. Entry charges were 1k pesos each that included 2 complimentary drinks. The place, regarded as one of the top night clubs in Philippines, was massive and it was absolutely rocking on Saturday night. We partied till late and left for our apartment all happy.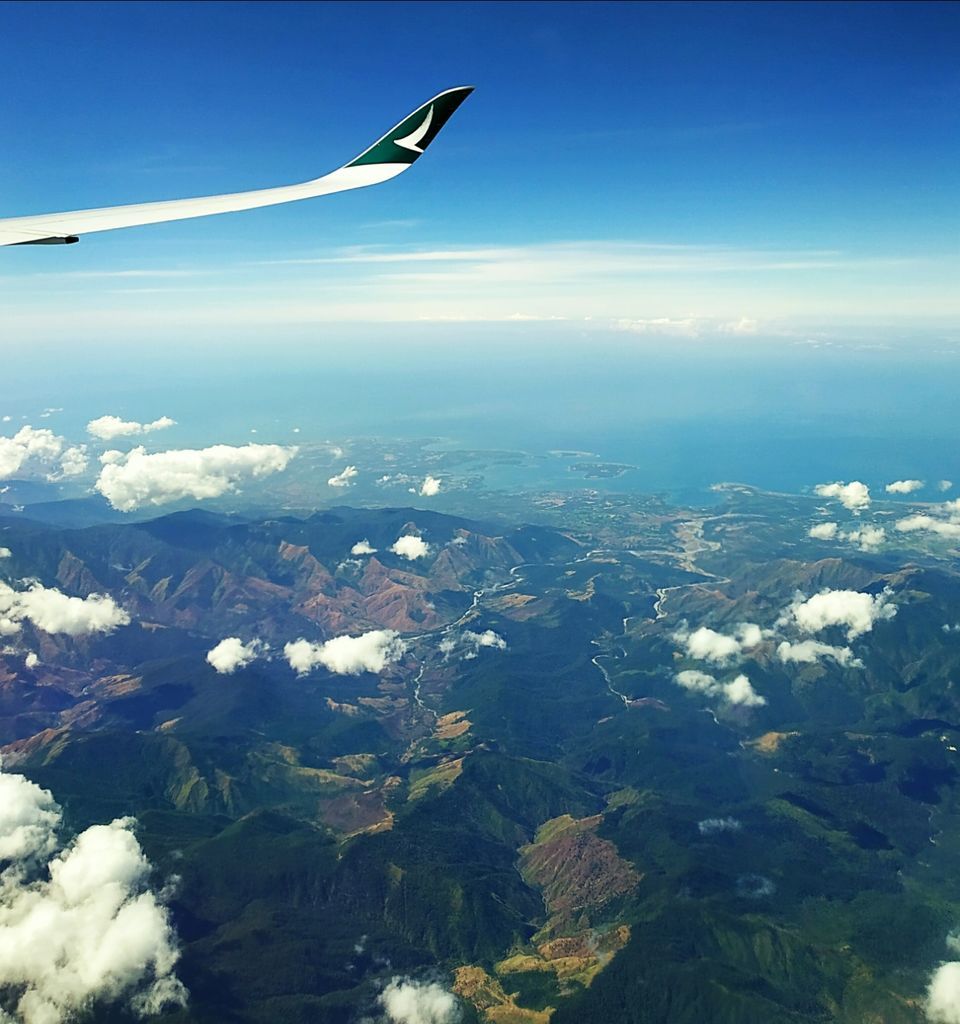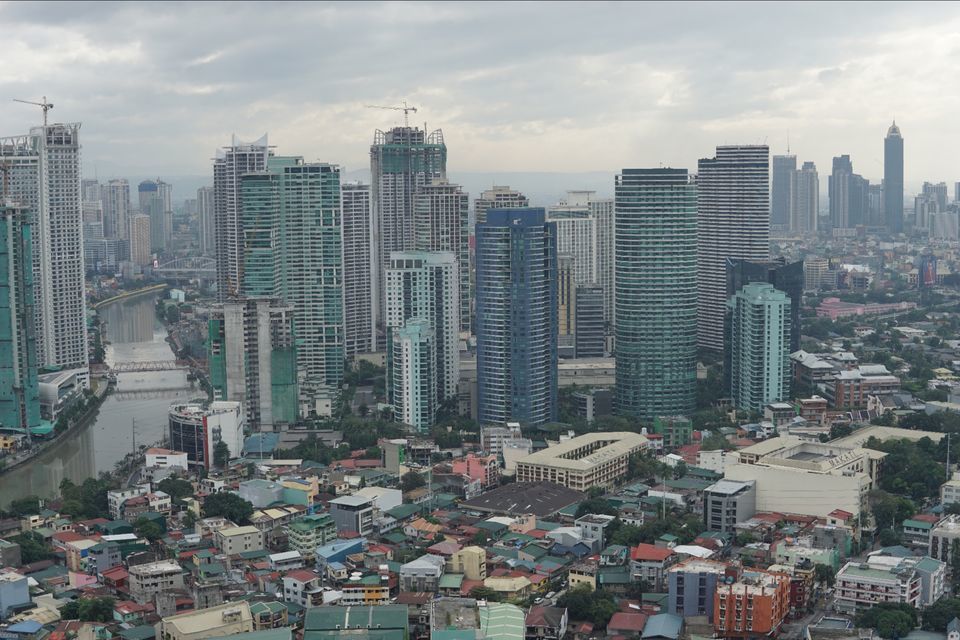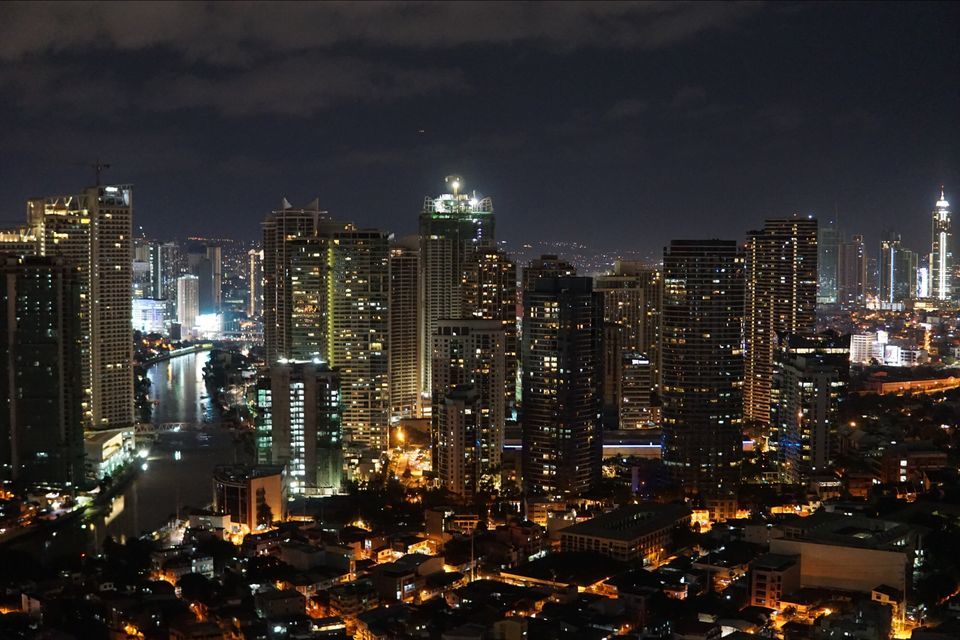 The beach bums, that's us, were finally heading to the world famous beach destination of Boracay. Man we were super excited.
There are two choices for flyers in terms of the landing Airport to get to Boracay. One is the Kalibo airport which is 2.5 hrs away and the other is the Caticlan airport from where you will take just 5 mins to reach the jetty to catch a ferry to Boracay. Flight options are more and cost lesser if you choose Kalibo but we didn't want to waste time hence we booked a Cebu Pacific flight from Manila to Caticlan (4.3k pesos per person with 10kgs pre booked luggage & seat selection)
Our hotel in Boracay booked us with South West travels to get us from Caticlan airport which I would recommend (700 pesos per person for one way) as we had a hassle free transfer from airport to Caticlan jetty to Boracay jetty and then to the hotel. Please note that one has to produce hotel booking confirmation before hopping on to the ferry as the number of tourist in Boracay is limited to 19k a day.
We checked in to our hotel, Boracay Haven suites (rate per night 6k pesos), which is located in station 2 of the white beach. The beach is just a minutes walk from here and the hotel is quite nice. Once we freshened up, we headed to the beach and were a little shaken up by the number of tourists that thronged it. Nevertheless, we were amazed by the white powdery sand and the azure waters. We walked and chose a random place for a very late lunch at 5 PM and patiently waited to see Boracay's famous sunset. Feasting on the local noodles and Mai tai we started to see the sky change colours and boy were we blown away. I wasn't expecting the sunsets to be so spectacular. See the pic#4 and #5 to see for yourself.
We headed back to our hotel and relaxed. Once recharged, we headed out for the night. The entire stretch of white beach, which is 4 km long, is lined up with hotels, restaurants, bars and cafes. The night life here is absolutely pulsating. There are so many places that host live music which made the musician in me super happy. We chose an open venue situated at Boracay uptown with live music and the acoustic band performing here was great. After a couple of drinks and having heard some amazing cover songs we grabbed a quick bite at Leylam to fuel up before hitting a night club. Yeah, we love to party. The shawarmas were reasonably priced and pretty good to taste.
We chose Summer Place to be our party venue for the night as it looked to be the most happening of the lot that we passed by. An entry of 300 pesos was worth it as the place was buzzing and the music scene was groovy. We partied again till late and landed up having a ball.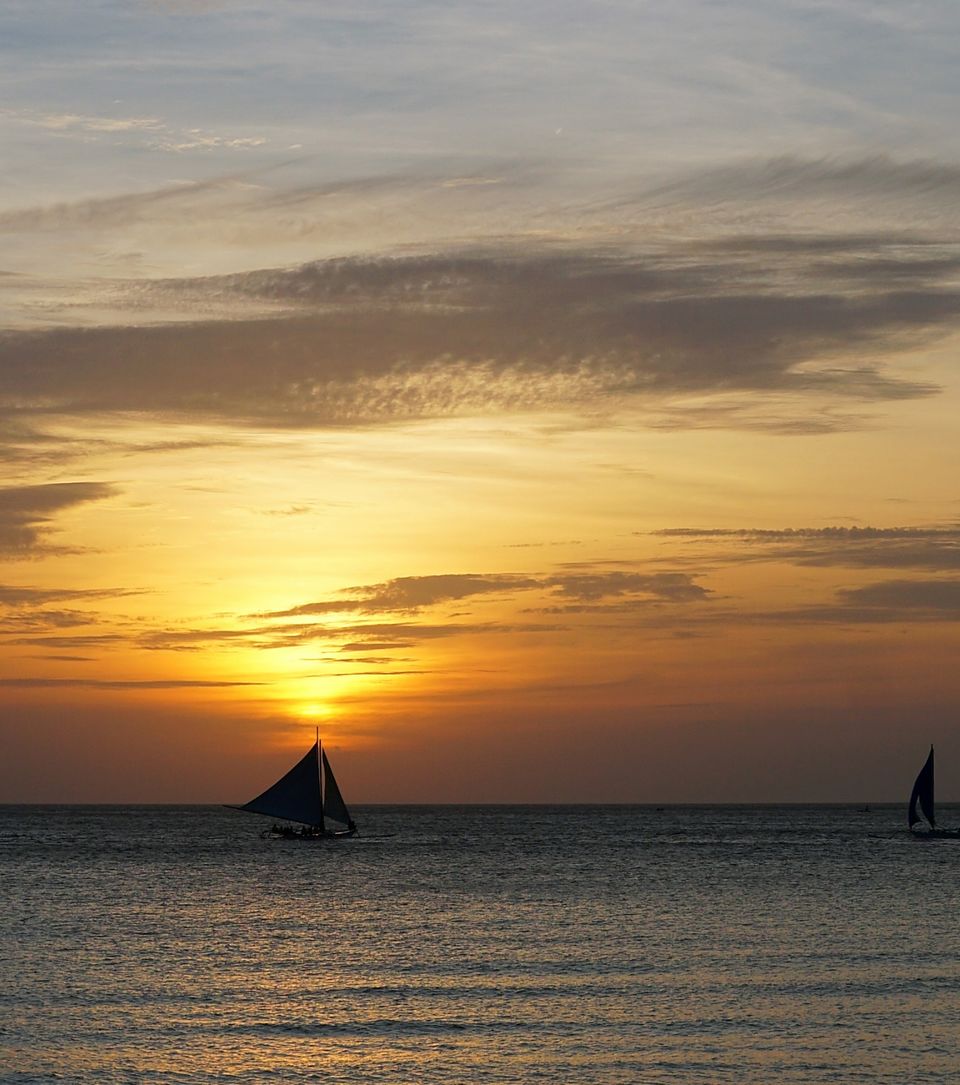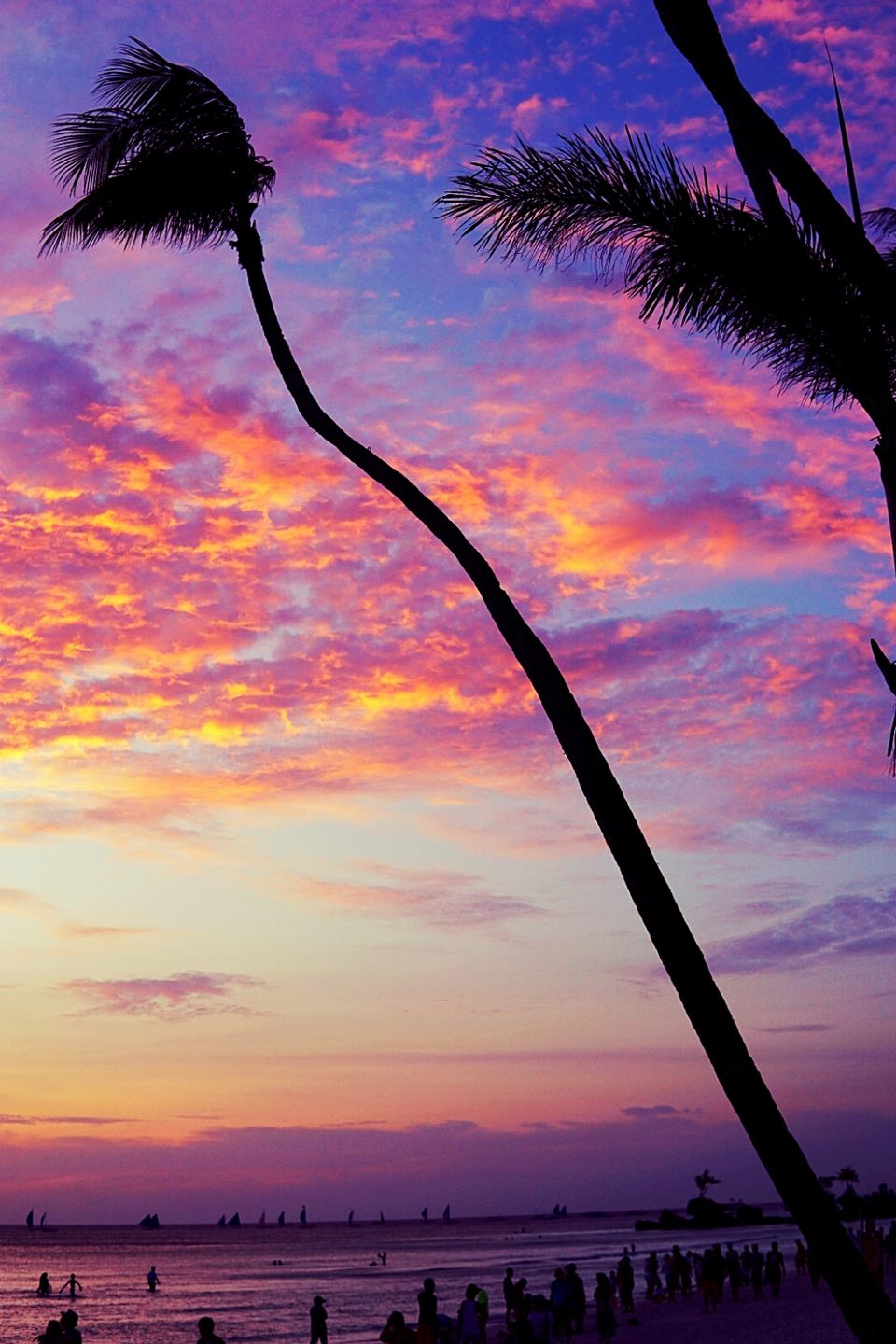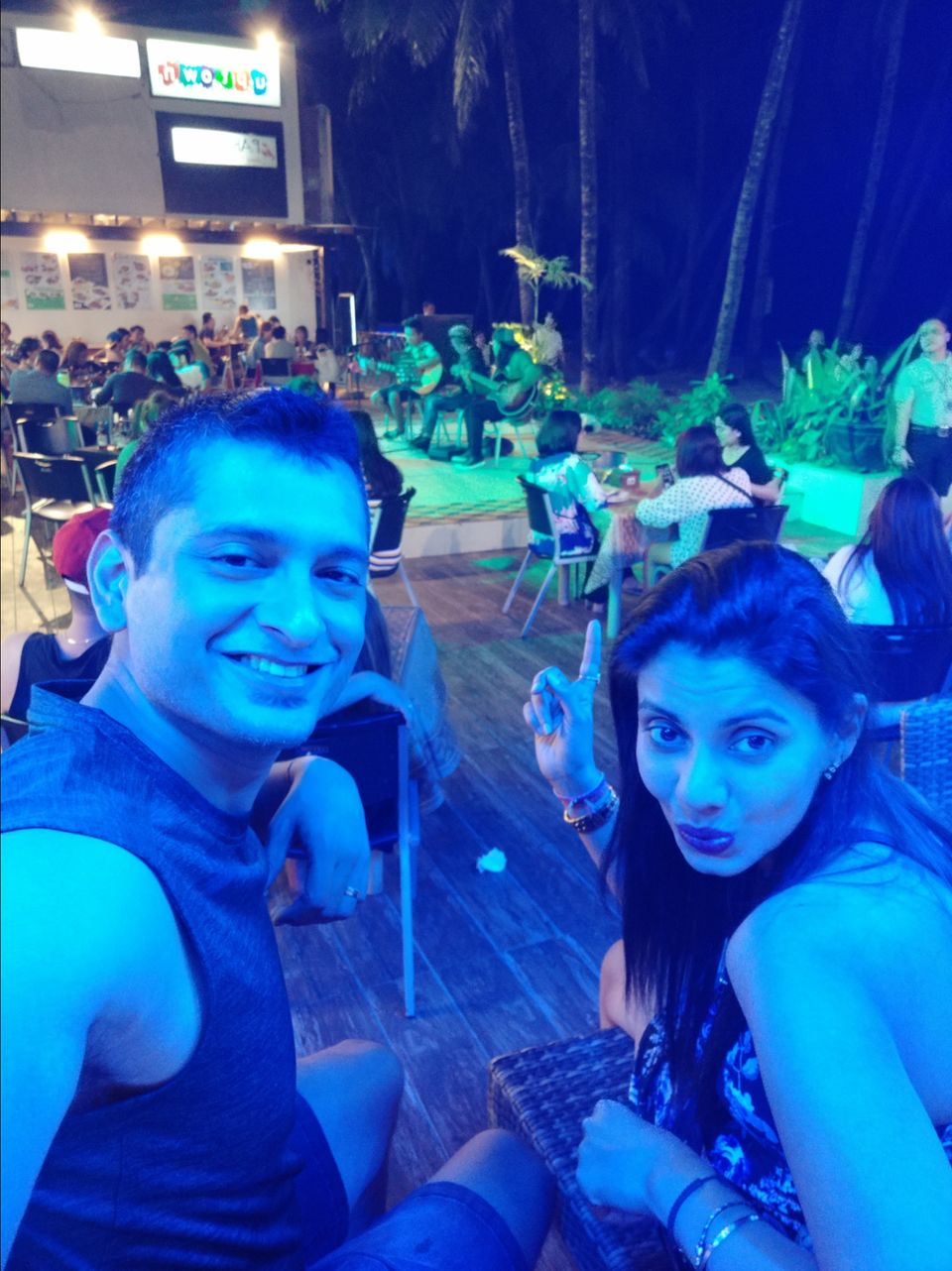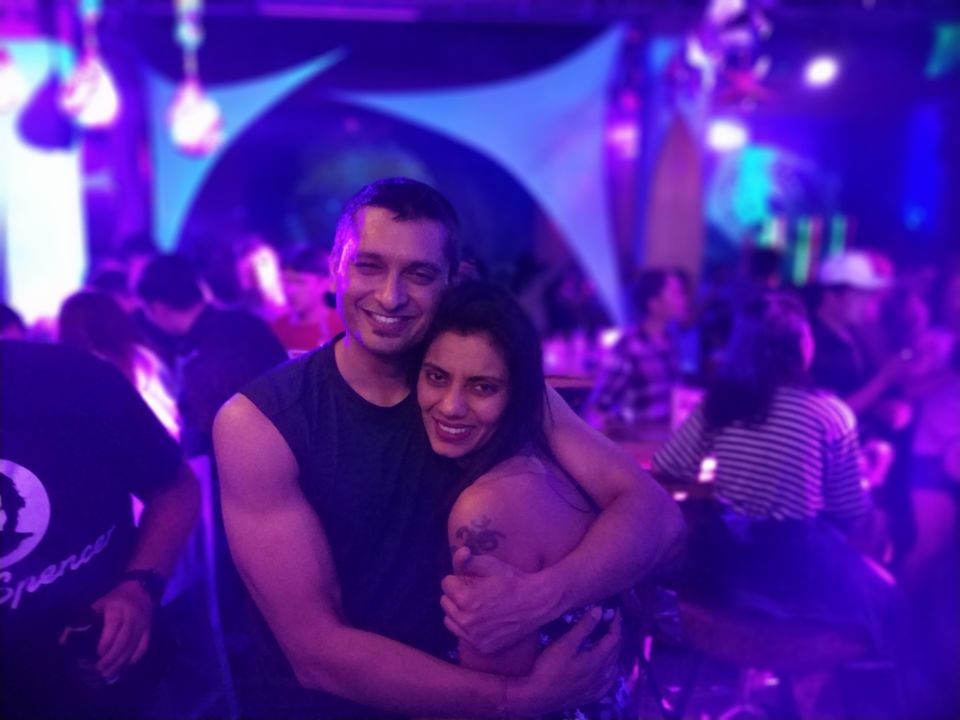 Day three was set for exploring other areas of Boracay and we had Puka beach in our radar. But before we headed there we wanted to see how white beach looked in the day time. So we walked out to the beach and were even more stunned with its beauty. We have been to beaches in Mauritius, Thailand and Majorca but this left us even more awestruck. After tripping over it for a considerable time, we went to our hotel and asked the concierge to arrange a tricycle for us.
Puka beach is situated in the northern part of the island just a 20 mins tricycle ride from our hotel. Tricycle is the common mode of public transport here and will cost you 200 pesos one way to Puka beach. Cheaper option would be to go for shared tricycle ride which looked very uncomfortable.
Once we reached Puka beach, we instantly realized that it was a great decision to visit this place. It is not as popular as white beach so it is less crowded and if you walk around 10 mins to the left from the beach entrance, you will hardly find any tourists. We found a serene spot for lunch where we ordered local noodles again. Sipping on a chilled beer I thought - I can live here forever. The beach gets its name from the Puka shells that are found here. The water looks lovely, shades of light and dark blue, though it is much rougher than white beach. So if you love swimming, you will enjoy a challenging swim here.
After chilling and having the fantastic noodle meal, we wanted to visit Mount Luho where the island's viewpoint is situated. On enquiring around, we discovered that the view point had been shut temporarily so unfortunately we had to return back to our hotel instead. We couldn't miss the sunset and also decided to get a massage done before the long night that was planned out. The massages here are cheap, 350-500 pesos for a 1 hr session. We found an open beach facing massage place near D mall (main shopping area of the island). The spot was perfect as you could watch the sunset while listening to live acoustic music from the eatery next to it. It felt like a dream and this inspired us to get a massage done everyday of the trip..yeah, we actually did.
While we were doing our research on the things to do in Boracay, we came across a pub crawl event, Haqqy, that had very positive reviews online so we decided to give it a chance. This can be booked online as well. We got adequate rest back at our hotel and then headed to the meeting point of the pub crawl. The organizers handed us free pub crawl t-shirts, shot glasses and coupons for 10 shots, 2 for each of the 5 pubs and nightclubs we were to visit. All this for just 990 pesos and the entry to all the places is included in the price. Unlike the pub crawl that we went in Prague, our hosts made sure the participants interacted with each other and also organized fun social activities so one could let their hair down even before the alcohol effect set in. We visited the most happening joints, danced like crazy and made new friends. Our hosts ensured that the energy levels were high throughout the night which lasted till 2AM. The last place we visited was club Galaxy which is the largest nightclub in the island and it was quite happening for a Monday. This was the most epic night of our trip and I would highly recommend all the party lovers and fun seekers to book the Haqqy pub crawl.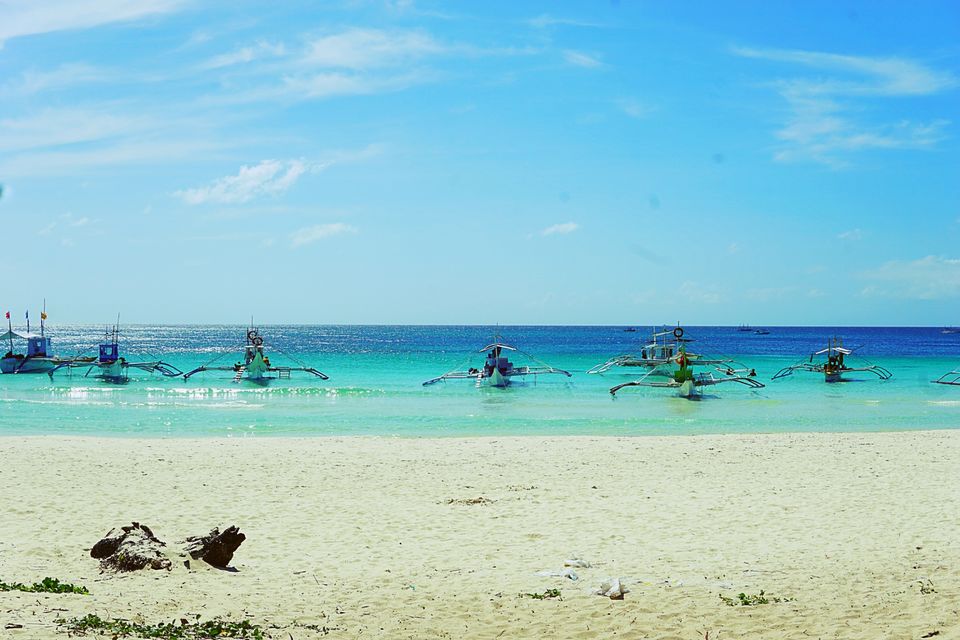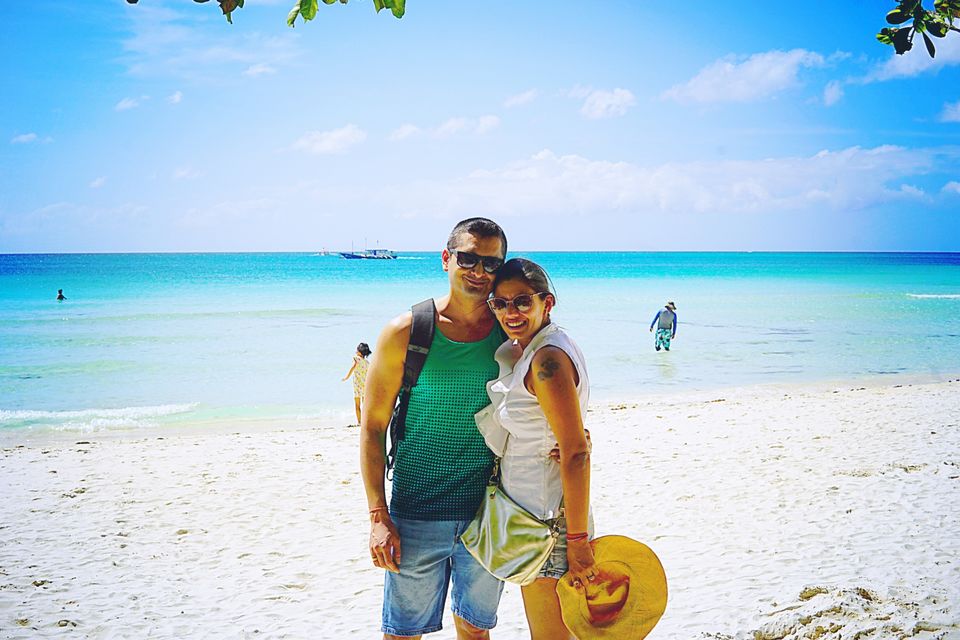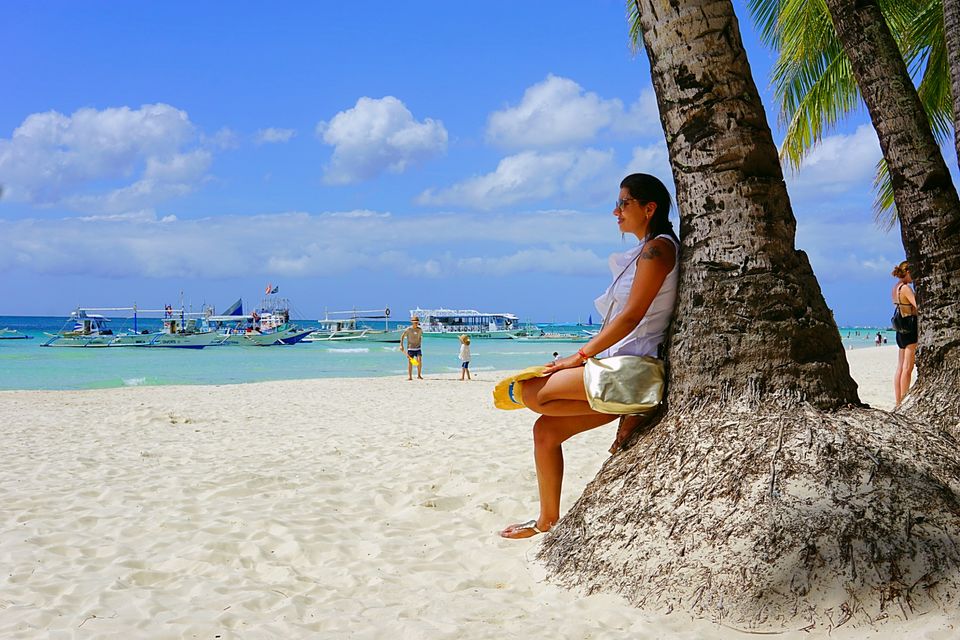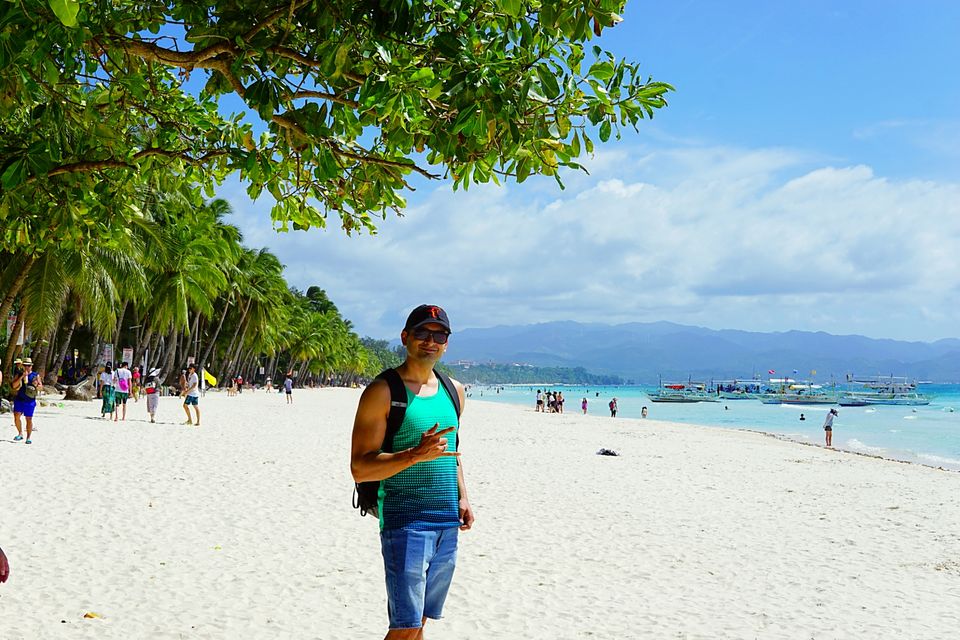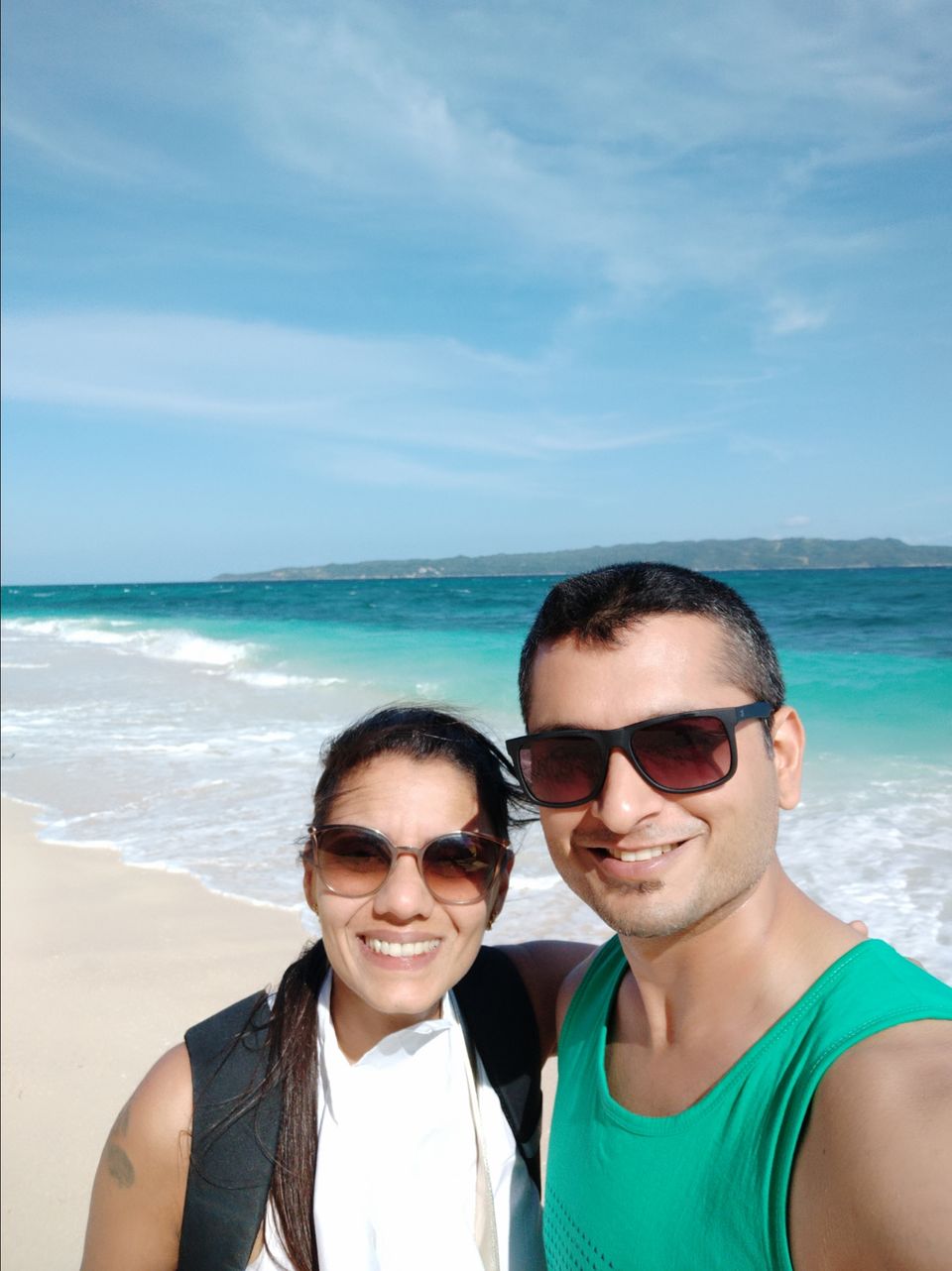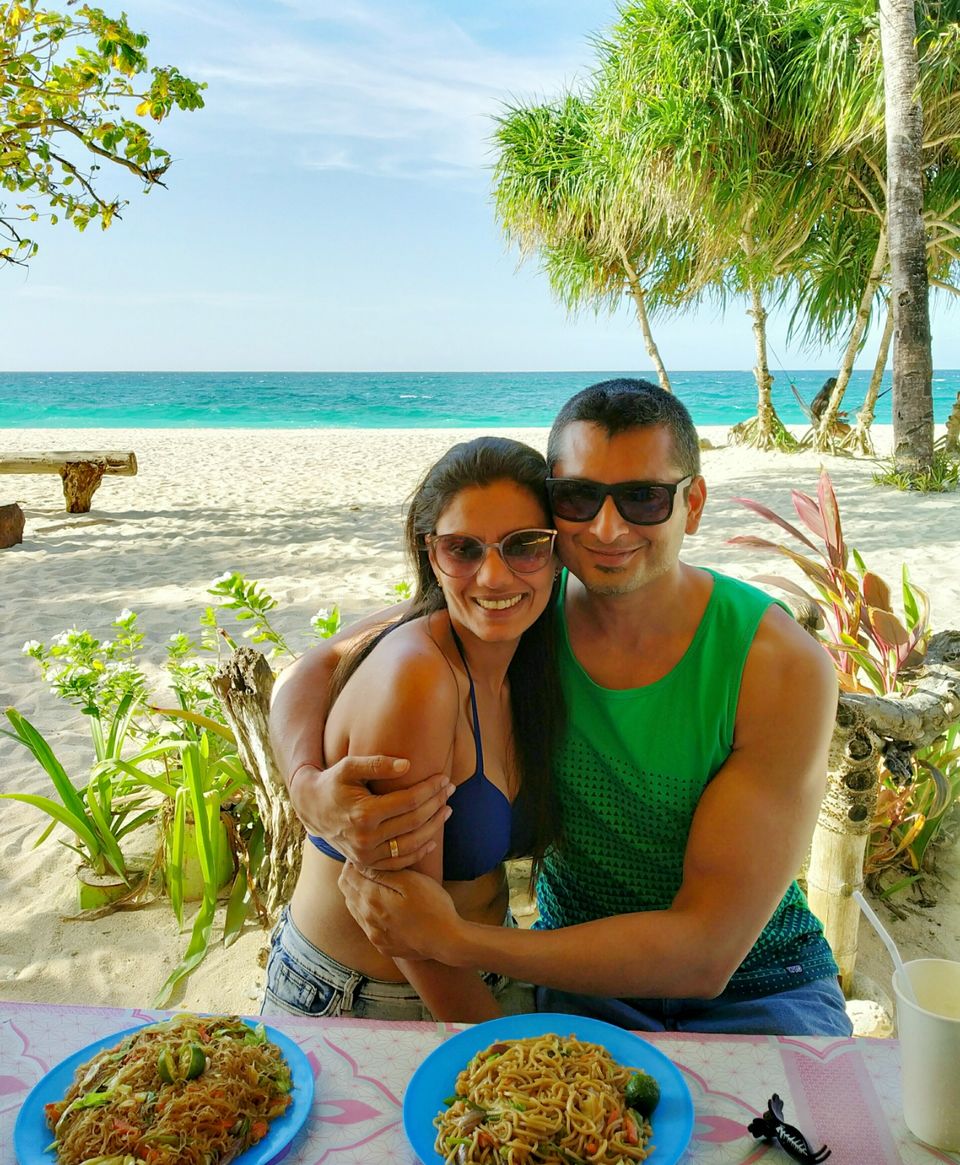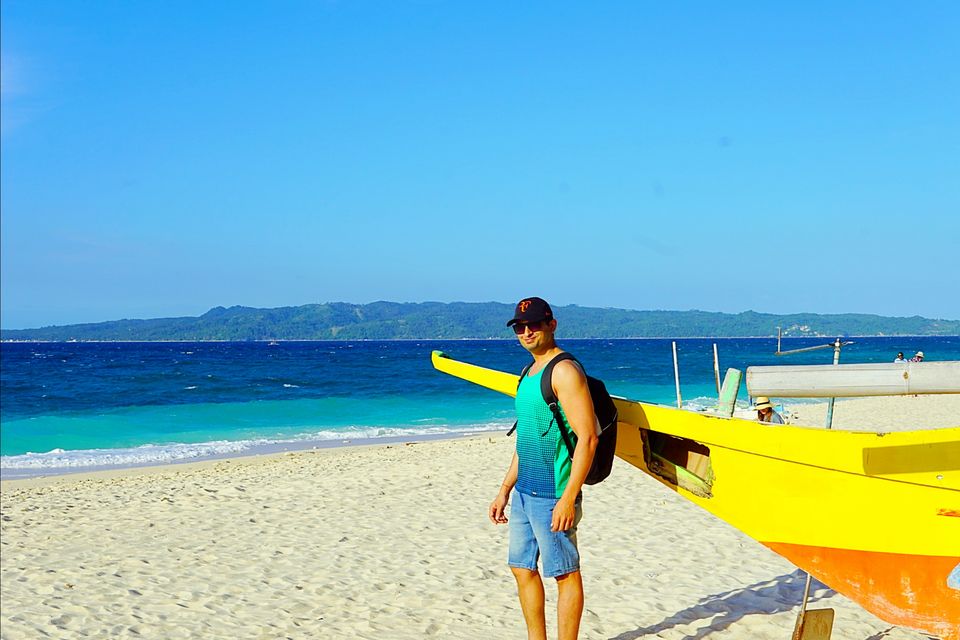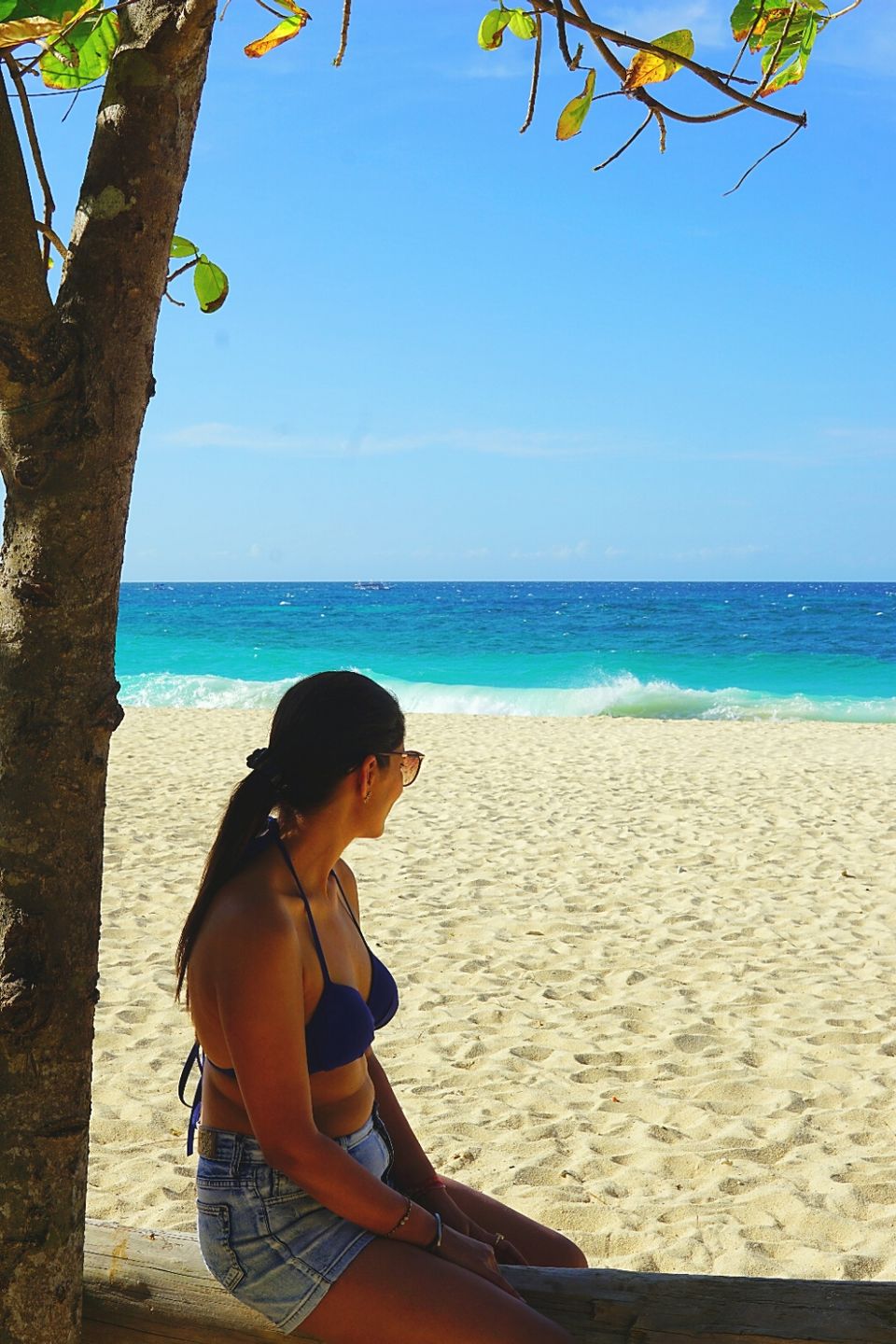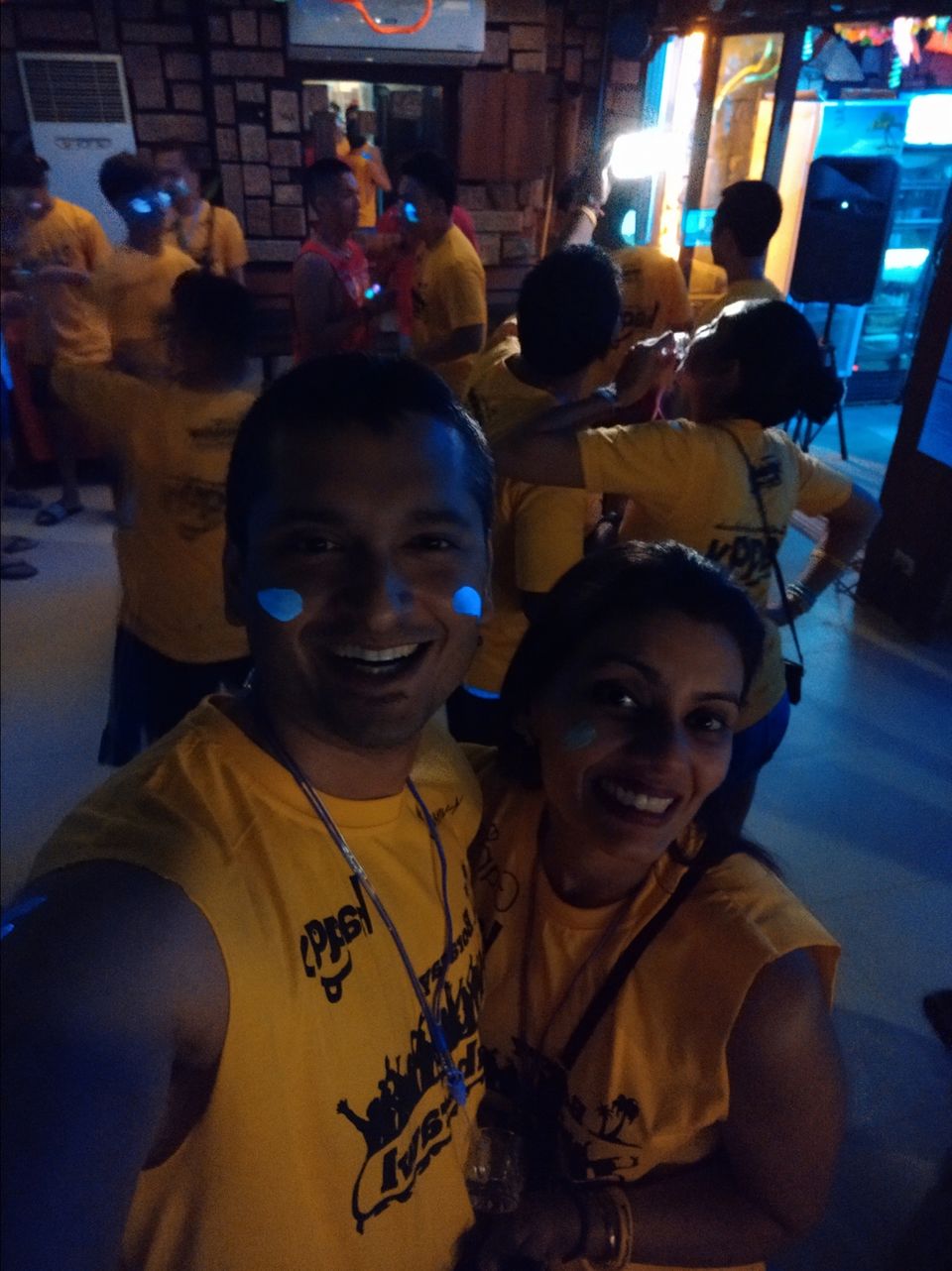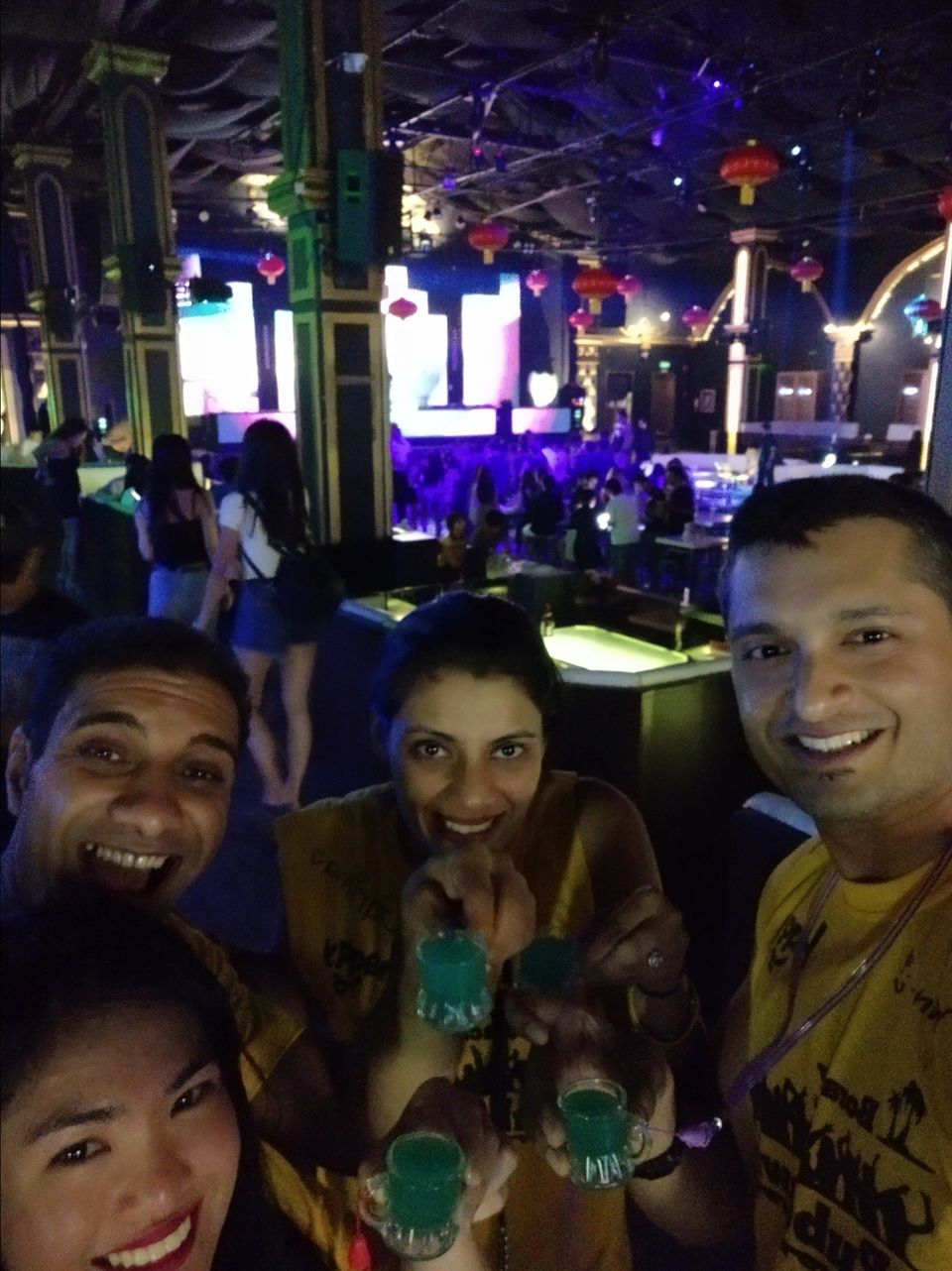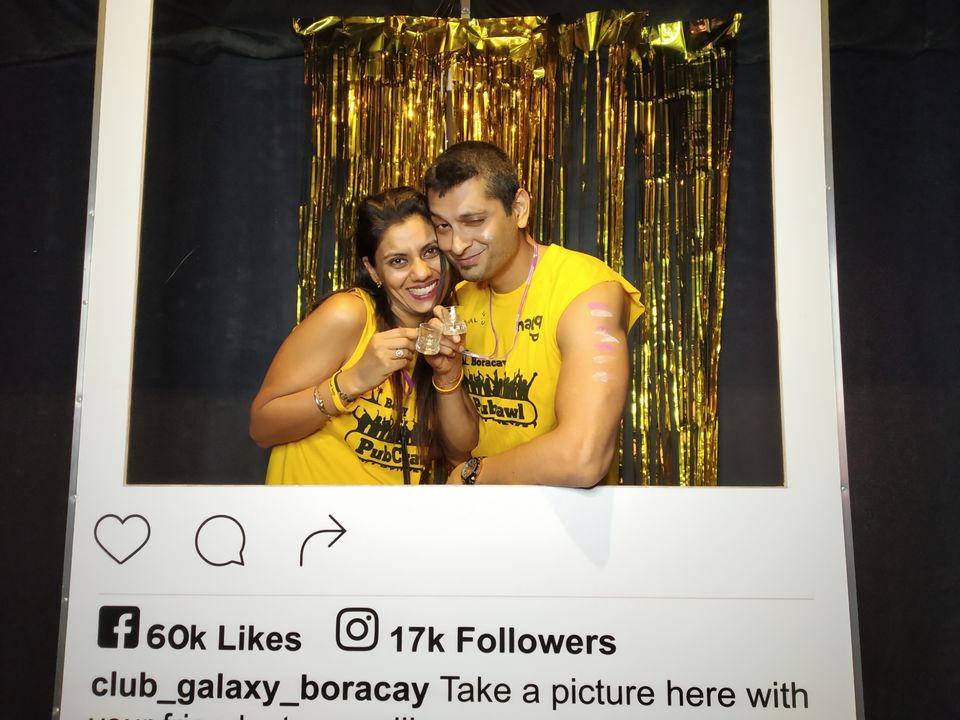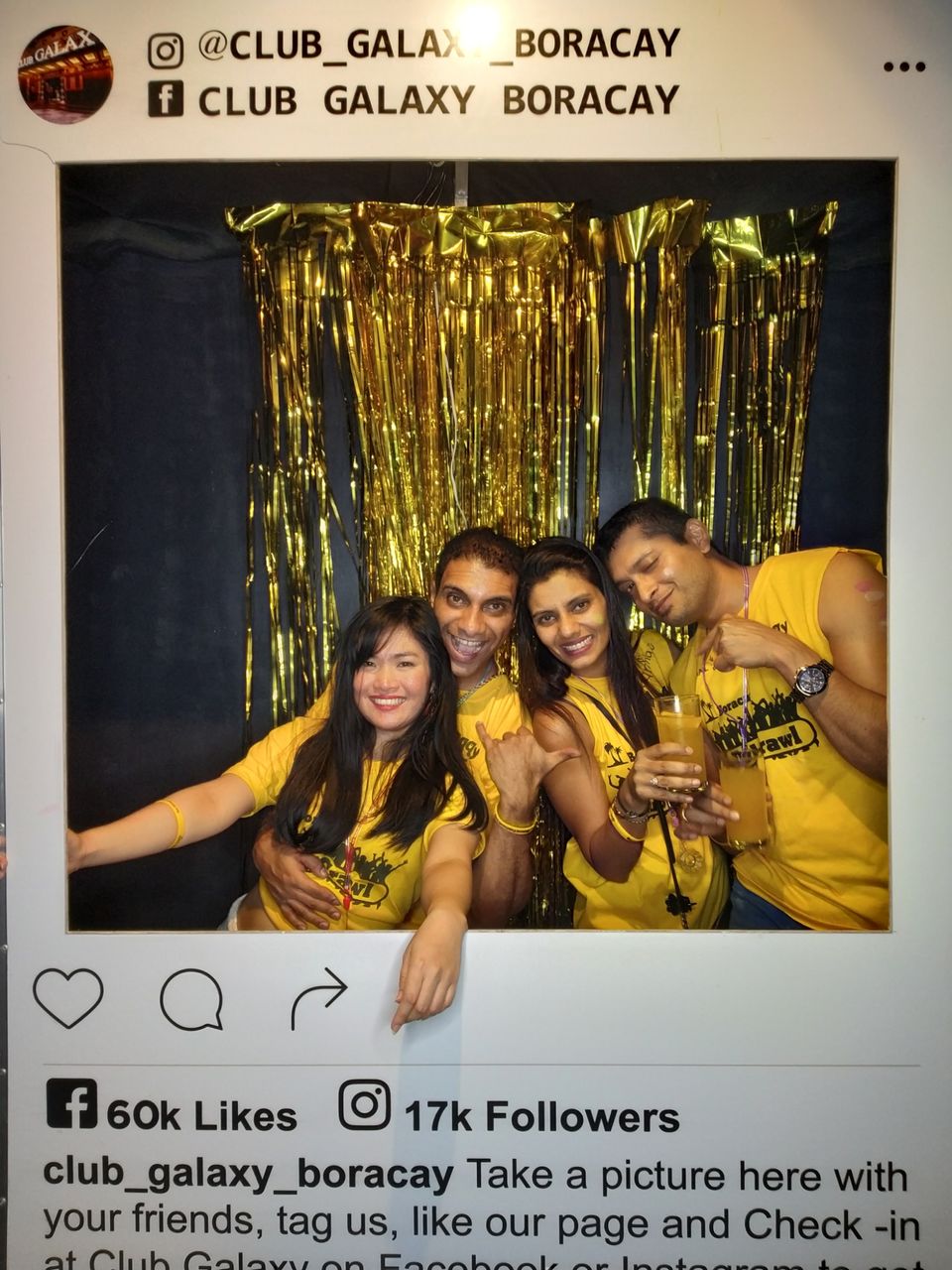 No brownie points in guessing that we woke up late on our last day here and missed the buffet breakfast at our hotel. So we headed to Starbucks where we had our morning coffee and breakfast while enjoying the sea view. We lazed around and went to get some foreign exchange done at D Mall.
Our venue for a late lunch was Cha Cha's which was chosen based on great online reviews. It is situated next to the beach and has a nice airy setting. We ordered for cocktails and garlic French fries that really filled us up so there was no scope for a proper lunch. I took advantage of the location and headed for a swim in the sea. The water temperature was just perfect and it was such a joy to see all the way through to the bottom of the sea even while swimming in neck deep waters.
Next up in the itinerary was parasailing that we had pre-booked through the website Klook. I found their rates very reasonable and had used it to book our airport transfers in Manila too. A 15 mins parasailing session costs around INR 3500 per person. We were picked up from our hotel, dropped at the meeting point and taken in a speedboat to a floating platform from where people are taken on the parasailing boats. You can even opt for a jet ski ride which costs around the same. Unfortunately for us the sea was choppy on this day that triggered some nausea in us. The parasailing crew consisted of 4 people, one captain, 2 handlers and a photographer. One of the crew members offered to take snaps for us from our cell phone which was a nice gesture. While up in the sky, you could see almost the entire island of Boracay from there. The winds were blowing a little crazy and gave my wife a vertigo because of which we ended the session in 10 mins by showing a dedicated hand signal to the crew. I personally preferred the parasailing in Île aux Cerfs (Mauritius) as the scenery around was more beautiful though it was a much shorter ride of just 2 mins. The photographer showed me a series of pictures she took, I chose one which I liked and got a print of the same for 150 pesos. It was almost time for our last sunset here when we got back to the beach. Grabbed a cheeseburger from Army Navy (turned out pretty good) along with some sodas and watched the sunset while sitting on the beach. We decided to take rest to overcome the lingering nausea we felt.
After 3 nights of partying it was time to take a break from it and enjoy a good meal. As lovers of pizzas we chose Aplaya for dinner which is again next to the beach. The ambiance of this place is great and the DJ station was belting out nice happy numbers. The pizzas were really nice which tasted even better with their chilli oil and fresh pepper. I would recommend this place to all pizza lovers.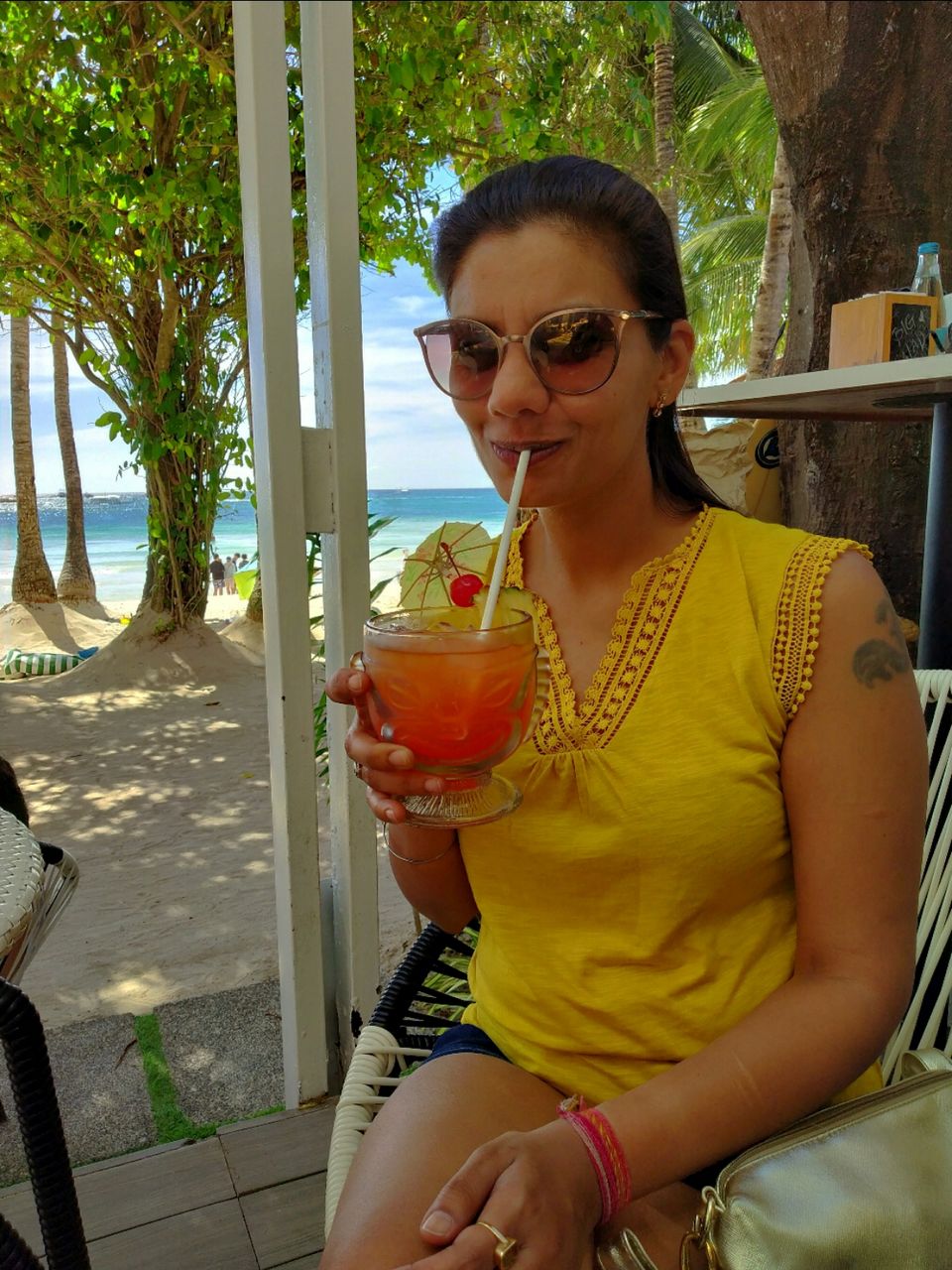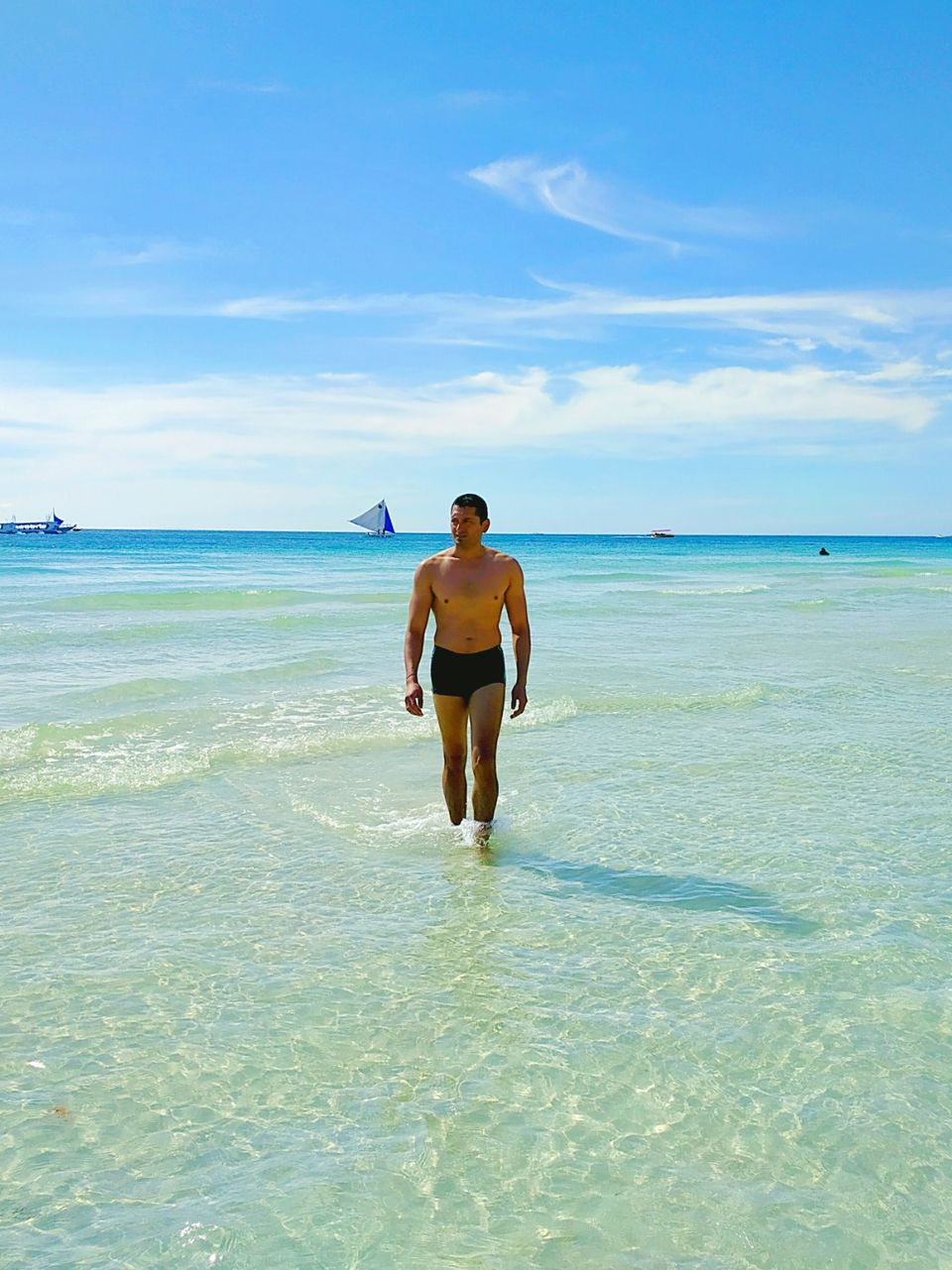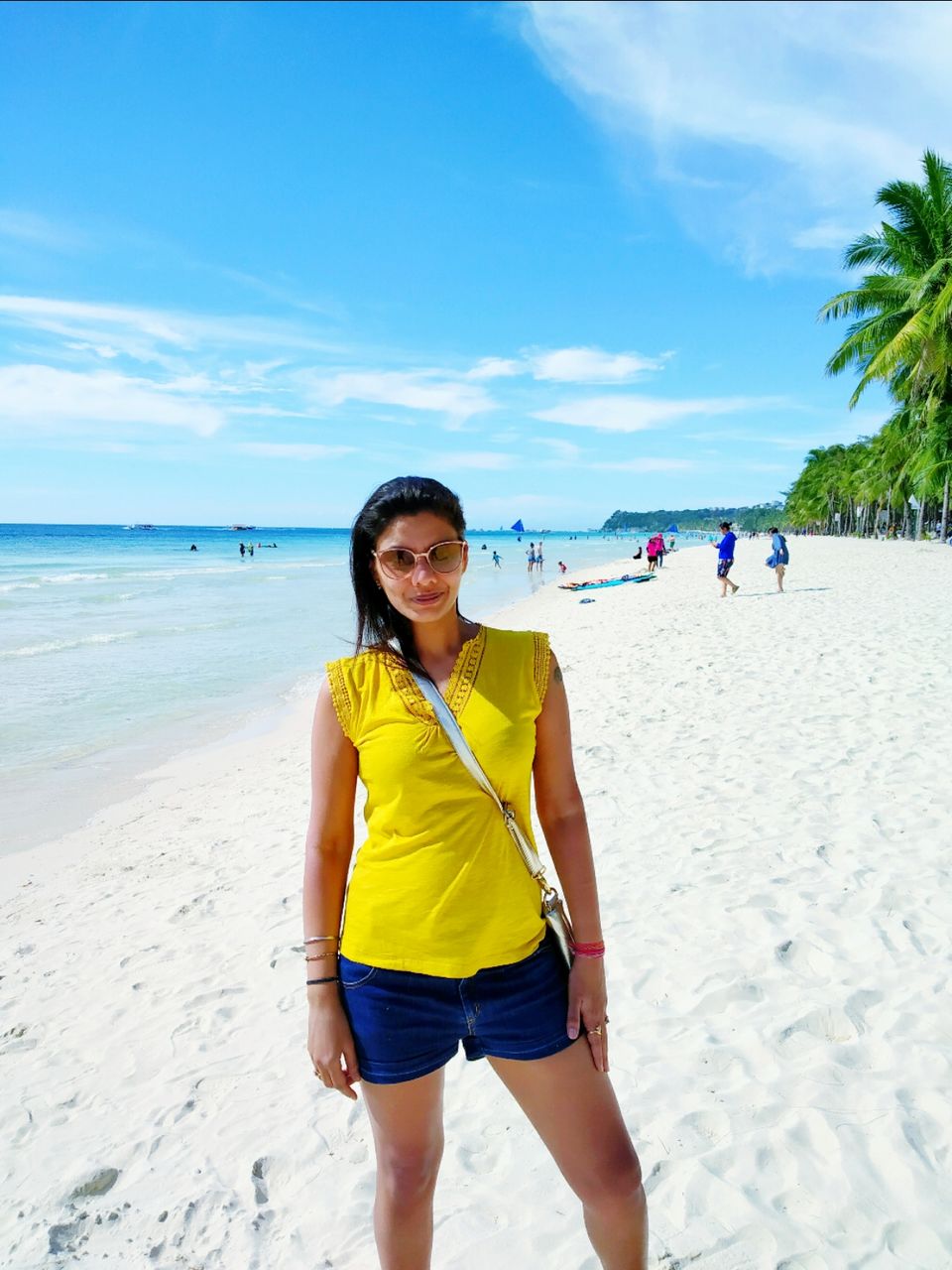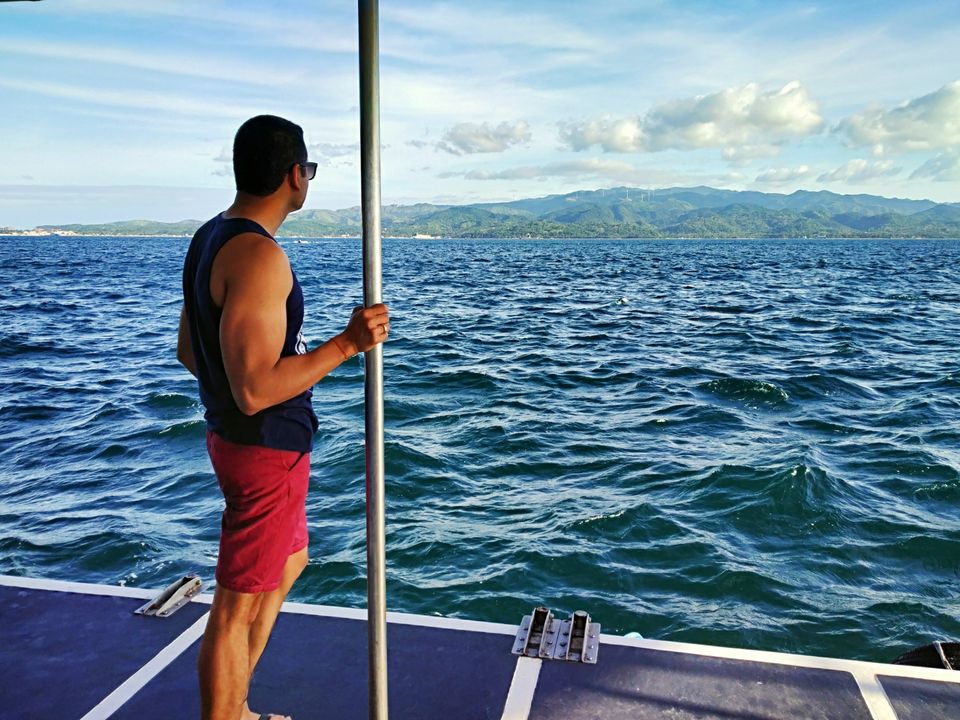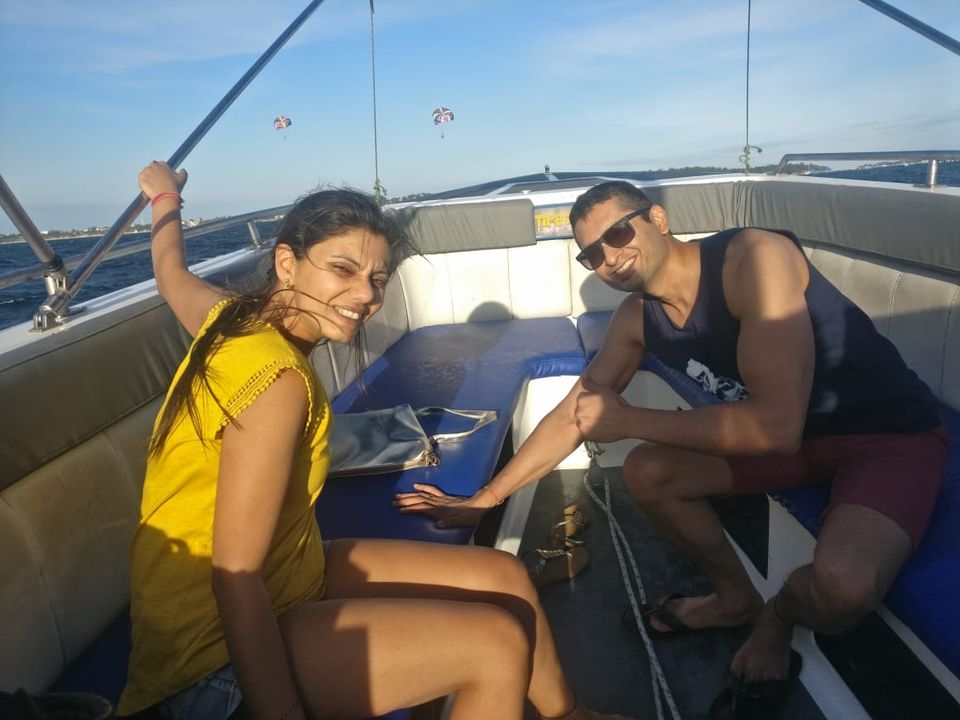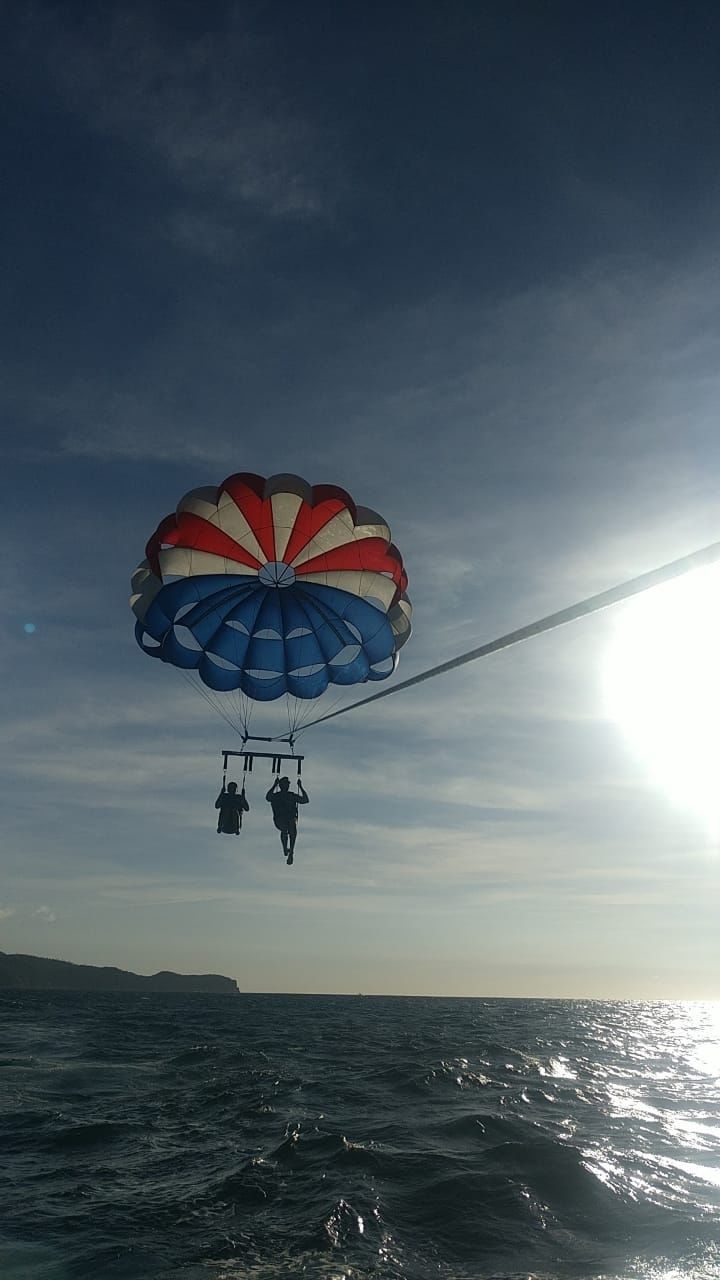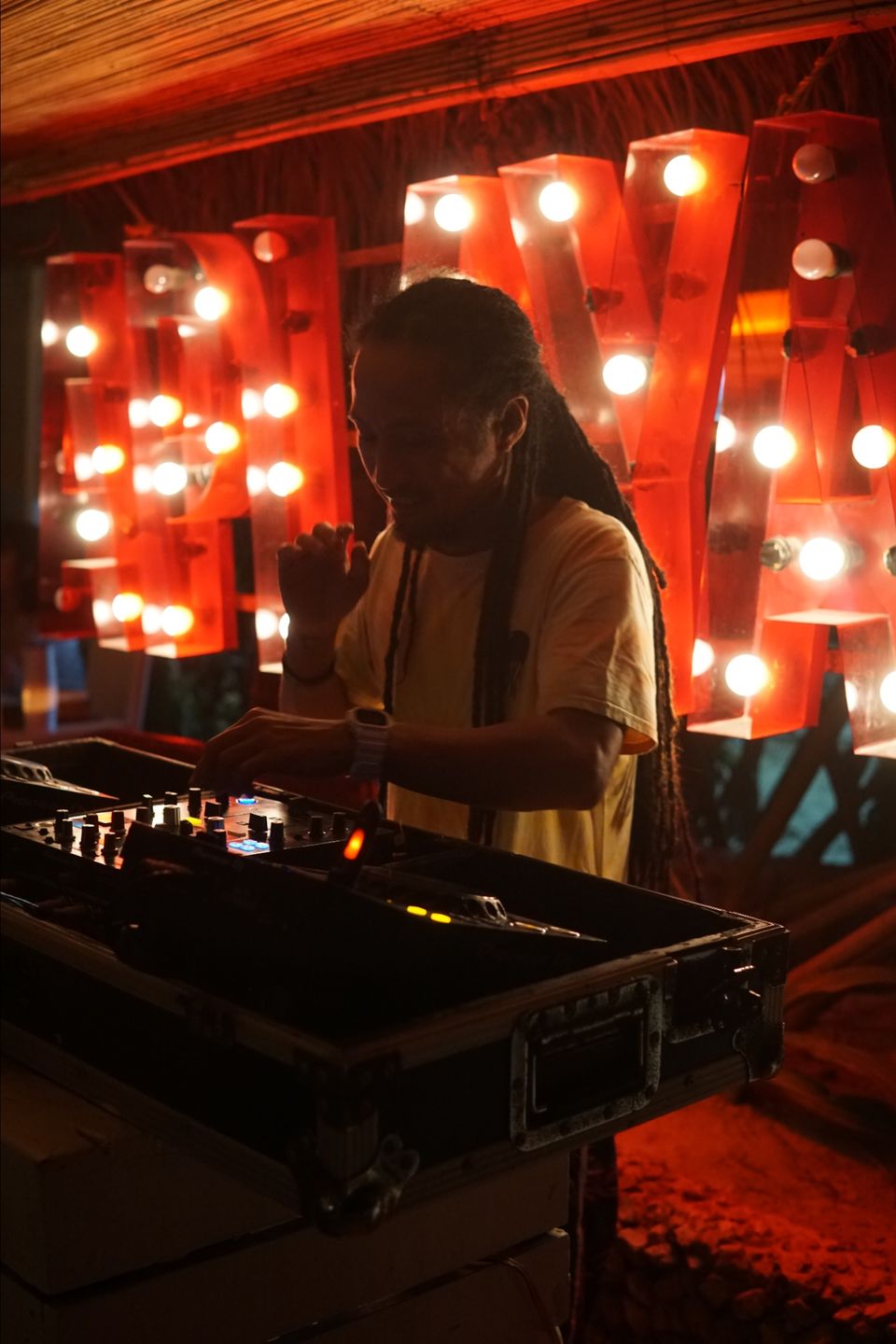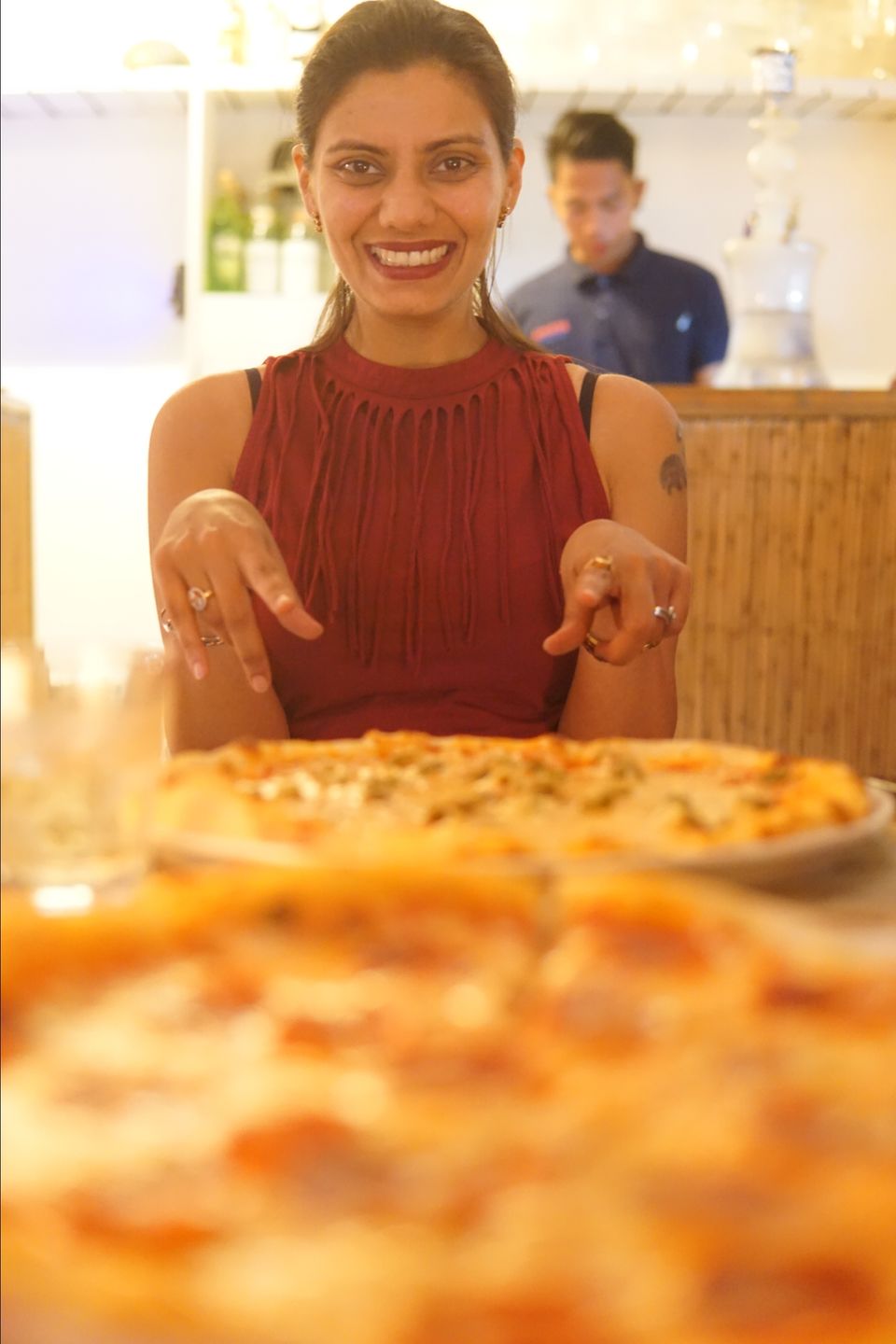 Neither me nor my wife are morning people but we had made up our mind to wake up early to watch the sunrise before we headed to our next destination. Thanks to hitting the bed early the night before we did manage to wake up before sunrise and reach the beach. Unfortunately logic evaded us and we missed watching the sunrise. All these days we had watched the sunsets from white beach so logically the sunrise would have been on the other side of the island, closest being the bulabog beach which is famous for windsurfing. There was no chance to make it on time so we ended up visiting Willy's rock which happens to be Boracay's most famous landmark. It is a rock formation just off the beach with a statue of mother Mary atop. White beach looked so pretty at this hour with minimal crowd. We wished we had spent another day here though we were looking forward to El Nido. We are definitely getting back here in the future. If you didn't know, Boracay had reopened after a 6 months shutdown as the island was adversely impacted by tourism fuelled illegal developments which led to major environmental issues. There are heavy fines if you are found smoking, lettering, drinking and eating on the beach. We can see cops religiously patrolling the stretch to catch and penalize the offenders. Don't think of having sex on the beach (literally and not the cocktail) as you will be jailed and then banned from stepping foot in Boracay again.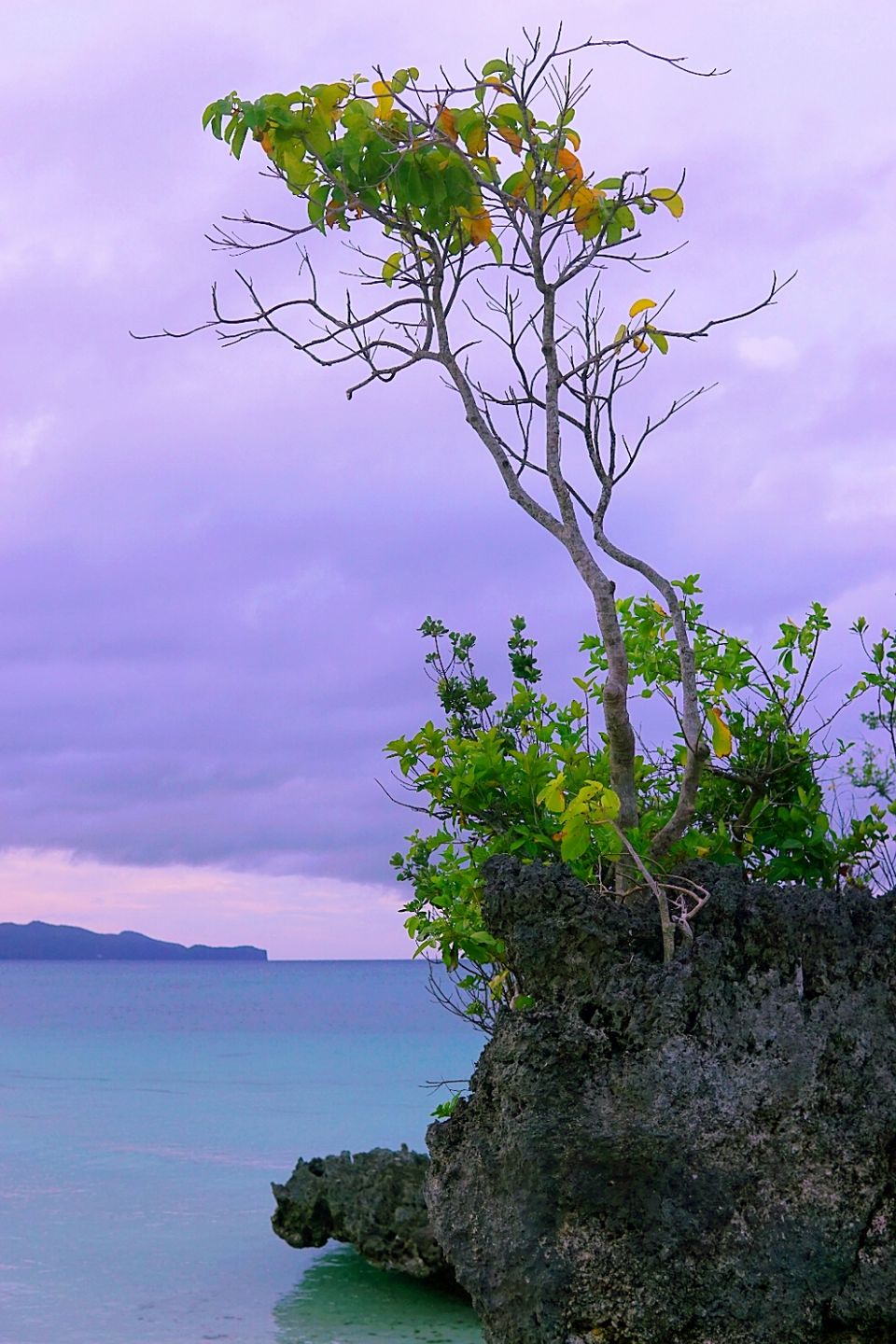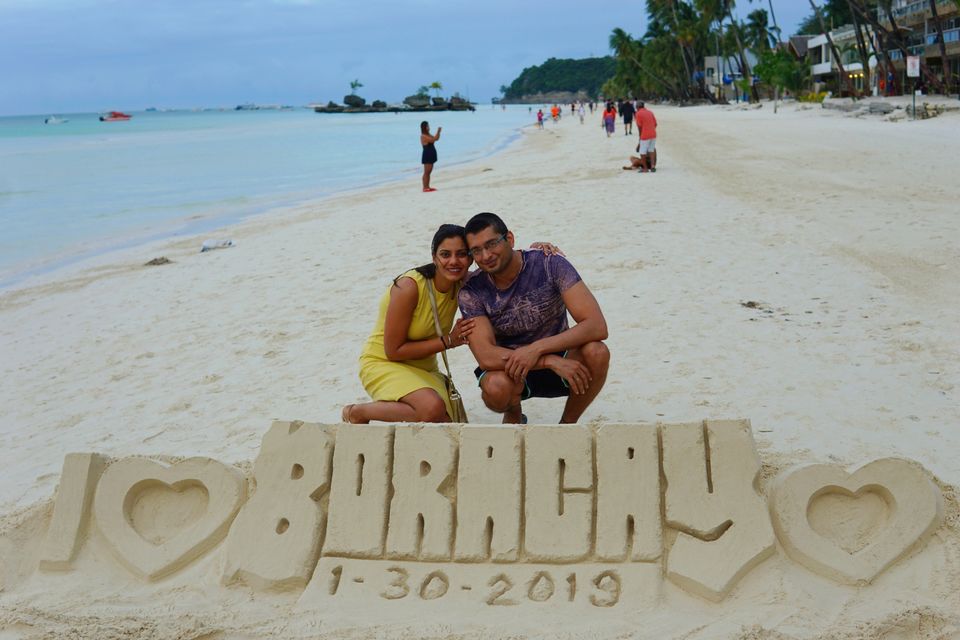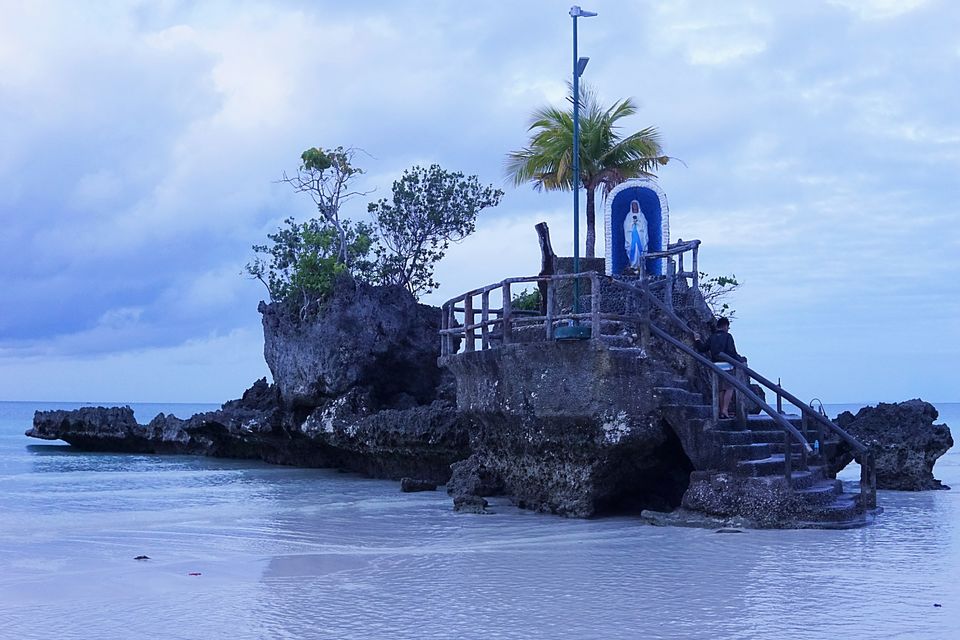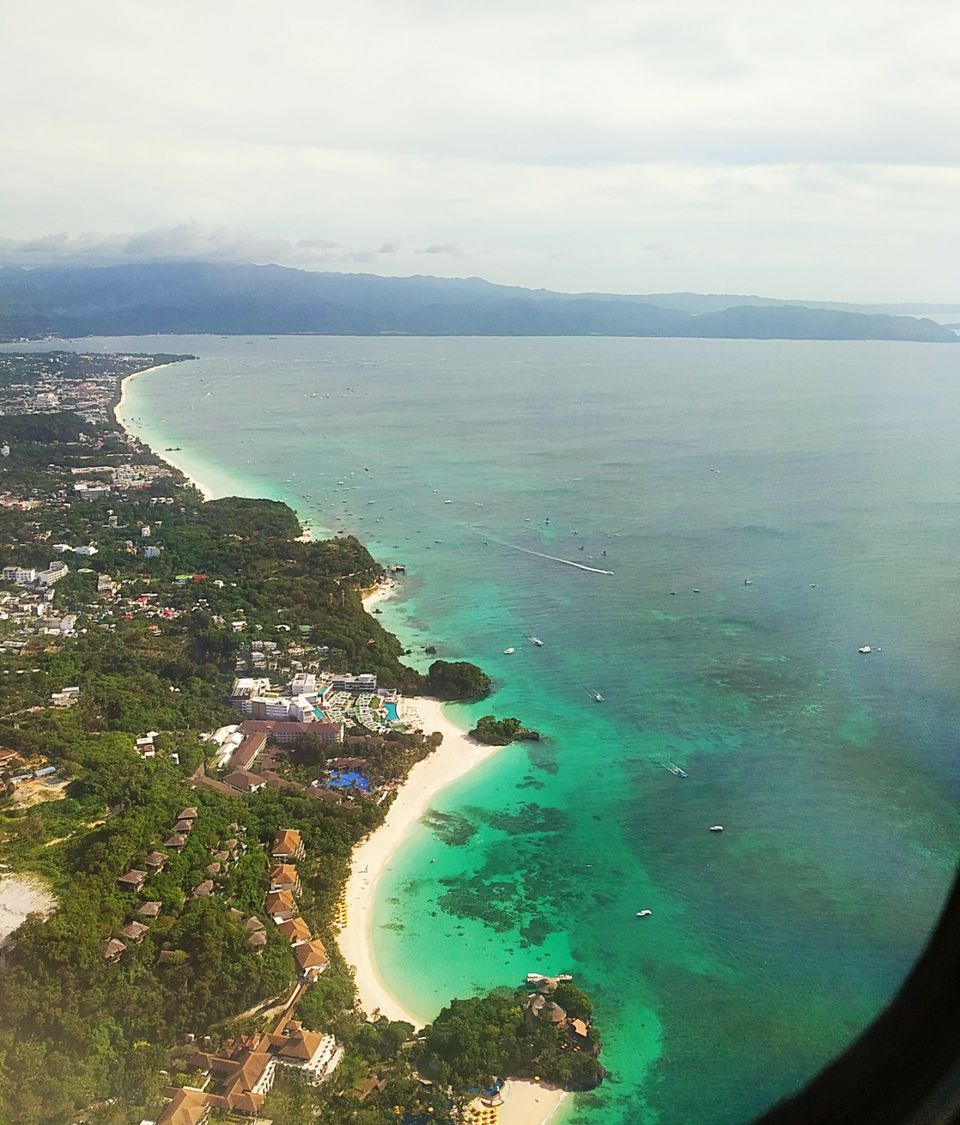 The flight from Boracay to El Nido took us just an hour throughout which I was mostly admiring the views from my window seat. There are again two landing options to get to El Nido which is El Nido airport which was just 15 mins away from our hotel and the Puerto Princesa airport which is 6 hours from the main El Nido Town. Only Airswift operates out of El Nido airport and fares are high compared to the many flight options at Puerto Princesa. Again, we opted to save time rather than money so we flew straight to the El Nido airport (4.7k pesos per person with 10kgs pre booked luggage & seat selection) from where the town proper is just 5 kms.
We stayed at hotel Cuna (rate per night 3.5k pesos) which was perfectly located in a quite place yet close to all the action. They arranged for our airport pick up for which they charged 1k pesos that I thought was high. It was already around 4 PM by the time we checked in so after freshening up we headed to the hotel's rooftop restaurant for a late lunch (yet again). The view from here was awesome and we discovered that happy hours were going on hence we indulged. Ordered pastas which were super yummy and then watched a beautiful sunset from here while sipping on well crafted cocktails. Perfect start to our first day in El Nido.
We decided to take a stroll and discover the town. The town proper of El Nido is tiny yet bustling with bars, eateries, pubs with live music and massage joints. It is advisable to drink only packaged water here so we picked up our stock from the market and headed back to the hotel. After resting for sometime we ventured out for the night and came across Happiness beach bar which is quite a famous place here. I loved the way the place is set up and we got to sit on swings at the bar and drink. Unlike Boracay, most of the places here shut by 10-11PM so we had to look for another place for dinner. We found a late night eatery and ordered local dishes which ended up tasting quite nice. This is how we wrapped up for the day as we had to get up early next morning for our island tour which is the primary reason people visit El Nido.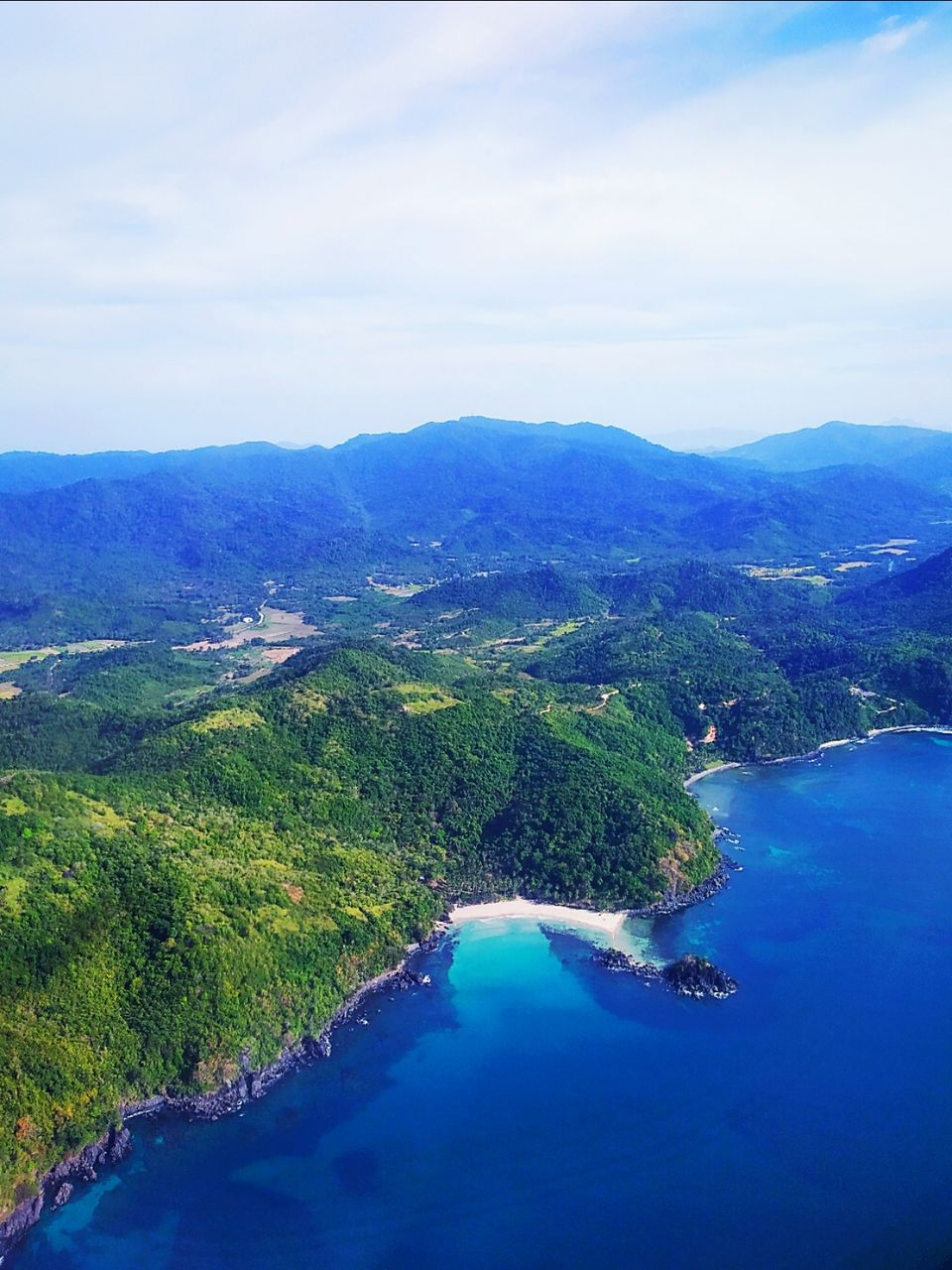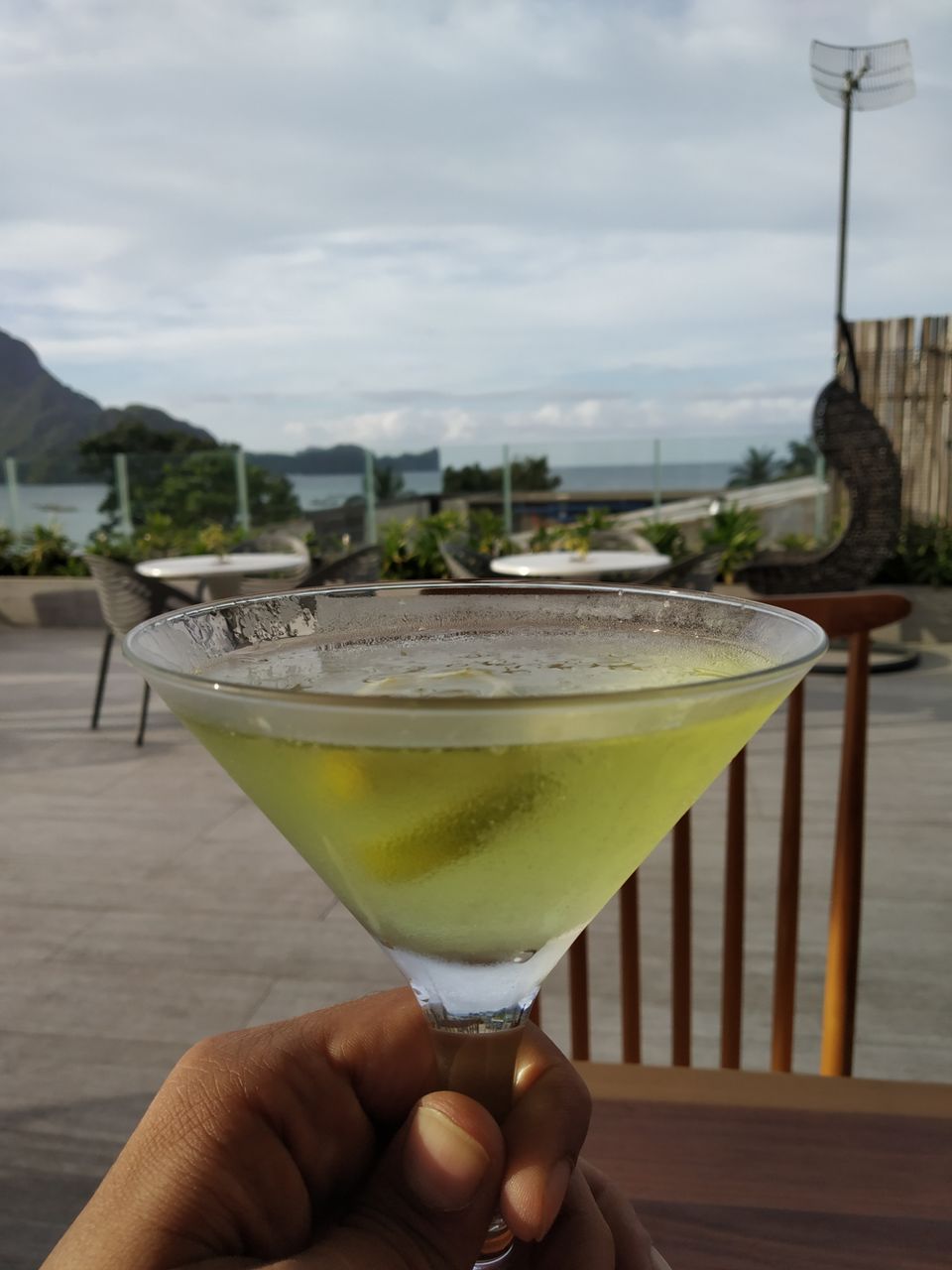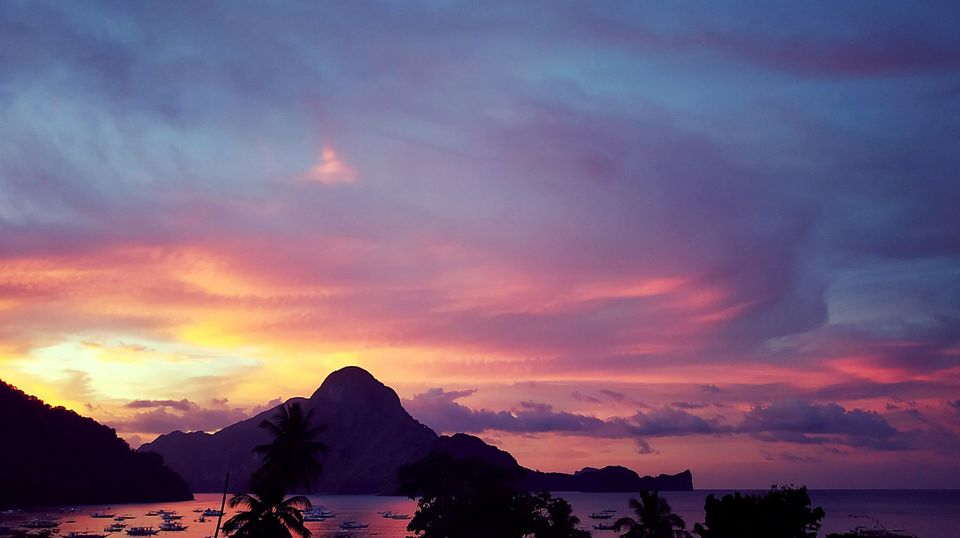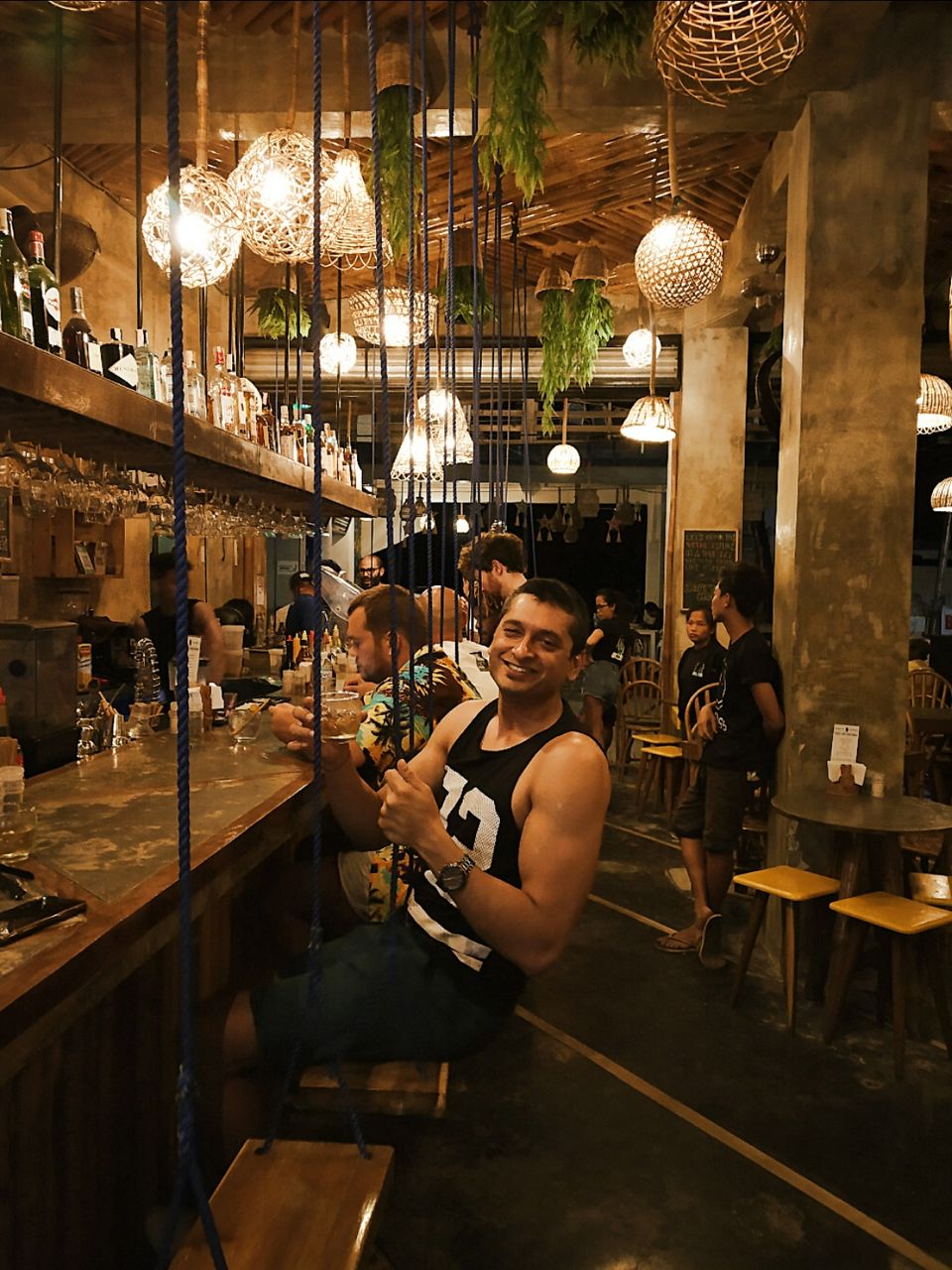 I was quite excited about the island tour as I had been tripping on pictures of beautiful beaches, stunning lagoons and tropical islands that defined my vision of El Nido. We had booked through Skipper Travels as many travel blogs suggested that they were the best. Definitely more expensive at 3.5k pesos per person when normally you can get it at 1.2k. The tour is on a speedboat and takes max 8 people to around 4-6 spots. There are a total of 4 island tours (set by the authorities here) called A, B, C and D so check them out to decide which one is of your interest. We chose tour A as it is recommended for first timers. We headed to corong corong beach where we met the crew and the rest of the tour pack.
First up was Cadlao lagoon with clear azzure waters surrounded by beautiful limestone cliffs. This is where a set for the Survivor series was getting built. Without wasting time I dived in and enjoyed a swim. After that we headed to a snorkelling spot which at first didn't look interesting from where the speedboat stopped. Once we swam to the actual spot and saw what was underneath, we were all dazzled with the beautiful corals and the colorful fishes. One of the best snorkeling sessions I ever had. Next up was Snake island which is one of the popular stops of the island tours and not included in tour A but our tour operator decided to include it anyways. The island is called so because the sand bank which connects the two adjacent islands is in a form of a snake. Do climb to the view point as you will be rewarded with some great sights. Btw you can buy beer, pack of cigarettes, cuppa noodles and fresh coconuts at this island.
Next stop was what I was most thrilled about...the big lagoon has to be the most popular spot in El Nido and probably the most photographed. One has to kayak their way into the lagoon to discover its surreal beauty. Thankfully our guide, Sam, offered to kayak us as we had no prior experience doing it. One has to pay an additional 200 pesos to rent a kayak. We were mesmerized by the beauty of this place and the snaps I have shared doesn't do justice to it.
It was time for lunch (included in the package along with drinking water, sodas, snorkeling gear and towels) and we headed to another island, don't recall its name, which seemed earmarked for lunch breaks by many tour operators. The crew informed us that it would take an hour for them to cook the food. They suggested we relax by then and told us about a cave that can be explored too. One had to crawl their way through to get in hence folks from my group gave it a miss but I wasn't going to. So I crawled in and boy I am glad I did. The rock and limestone formations inside were uniquely beautiful. Lunch took more than an hour to get prepared and the entire group gathered around the big spread. There was fish, prawn, chicken, pork, rice, an eggplant dish, salad and fruits. It turned out pretty decent though there was nothing much for my vegetarian wife but she managed.
Post lunch we headed to Cathedral caves which again is normally not a part of tour A. The towering walls inside of the cave resembles that of a cathedral and hence the name. Our speedboat was small enough to go all the way inside which the usual banca boats cannot so we were lucky to get a complete view of its beauty. Then we went for a quick stop at a sandbank in the middle of the sea that was surrounded by tropical islands. Clicked a few snaps at this fabulous location and hopped back in our speedboat.
Our next and last stop was papaya beach where we had the option to snorkel as well. It's a bit commercialized so you can get basic things to eat and drink here. We went for a last swim into the clear emerald waters and then got ready to head back to base. Was the tour worth it...yes, totally. The beauty of El Nido lies in these magical islands..just gorgeous. We took a tricycle ride back to our hotel feeling a sense of fulfilment after having covered 8 beautiful spots within 8 hours ☺
After a nice massage to get my stiff shoulder fixed and some relaxation we headed to the Rooftop bar. We had come across it the previous night and it looked lovely from outside but they were shutting down at that time hence we came back to experience it. We really liked the decor and the chilled vibe of the place. Got friendly with the group sitting next to us whose members were from Morocco, Algeria and Tunisia. It was great to make new friends and we exchanged numbers to catch up with them the next day.
After a couple of drinks we decided to catch a bite. While walking we saw many people lined up at a shawarma takeaway place called Holy Smoke so we decided to give it a go. Well the shawarmas were big and turned out excellent in taste. After polishing them off we wanted to check out Sava beach bar, regarded as the best in El Nido, but was unfortunately closed temporarily. We decided to head back to the hotel as we were drained out after a long day so now it was 3 nights without partying.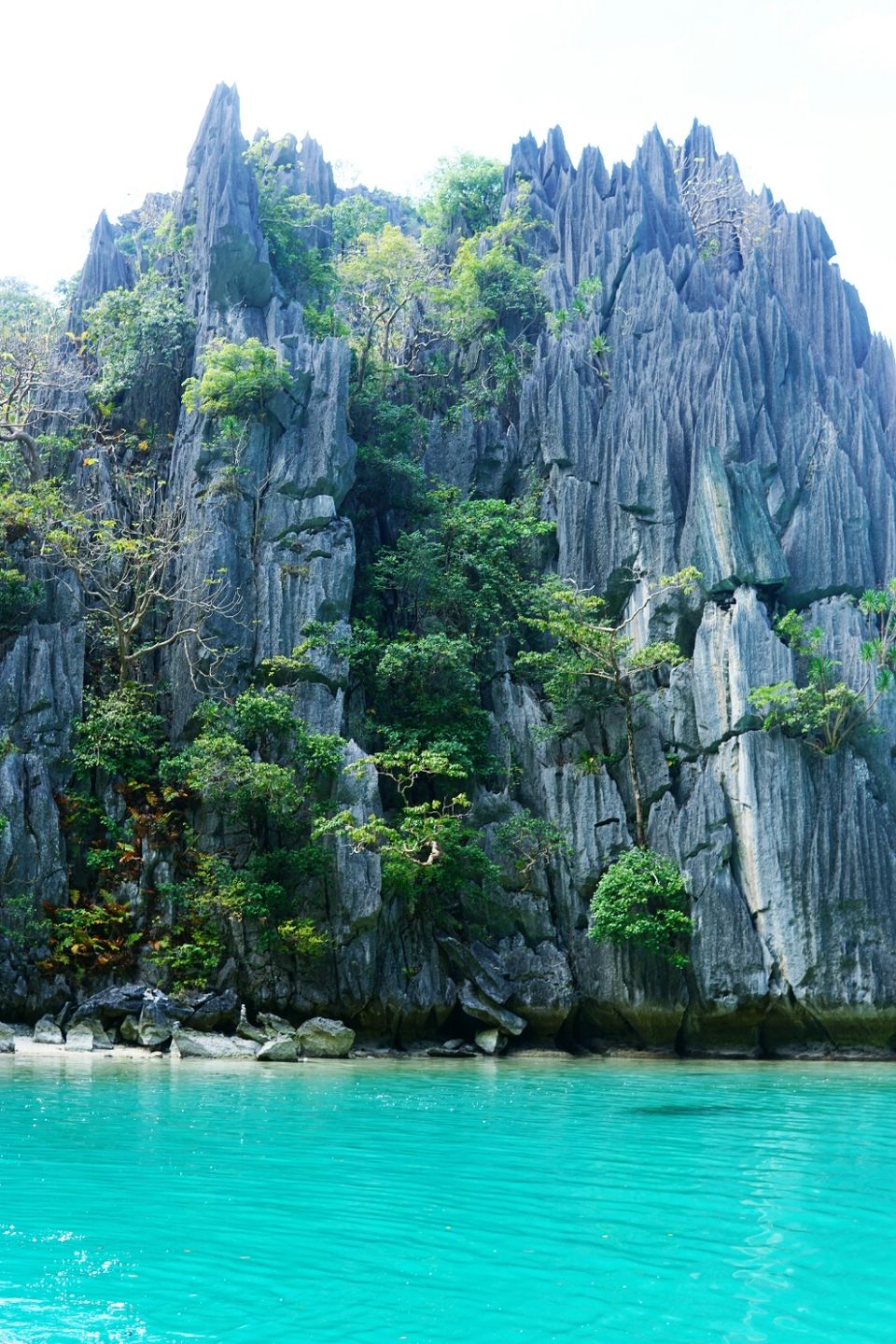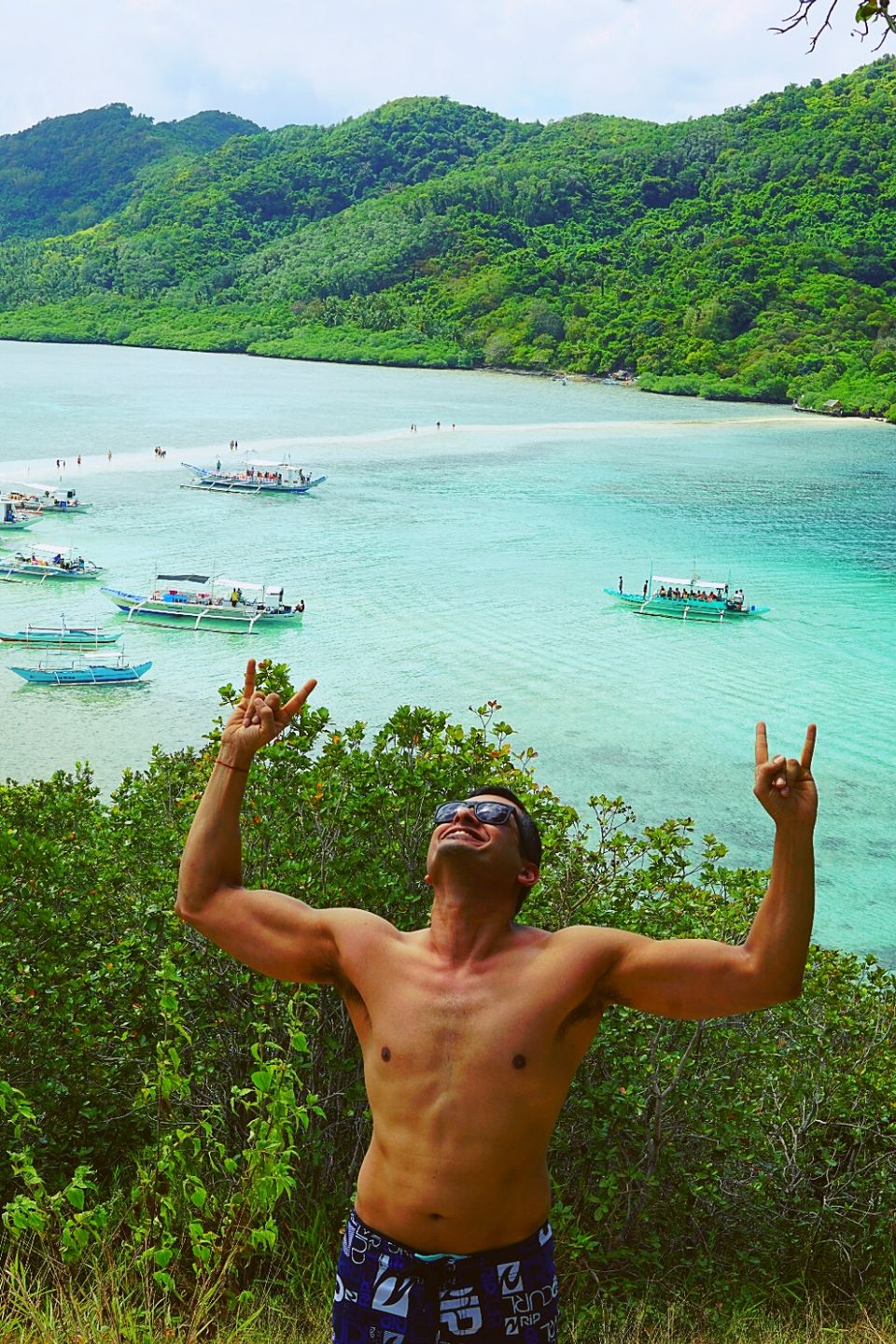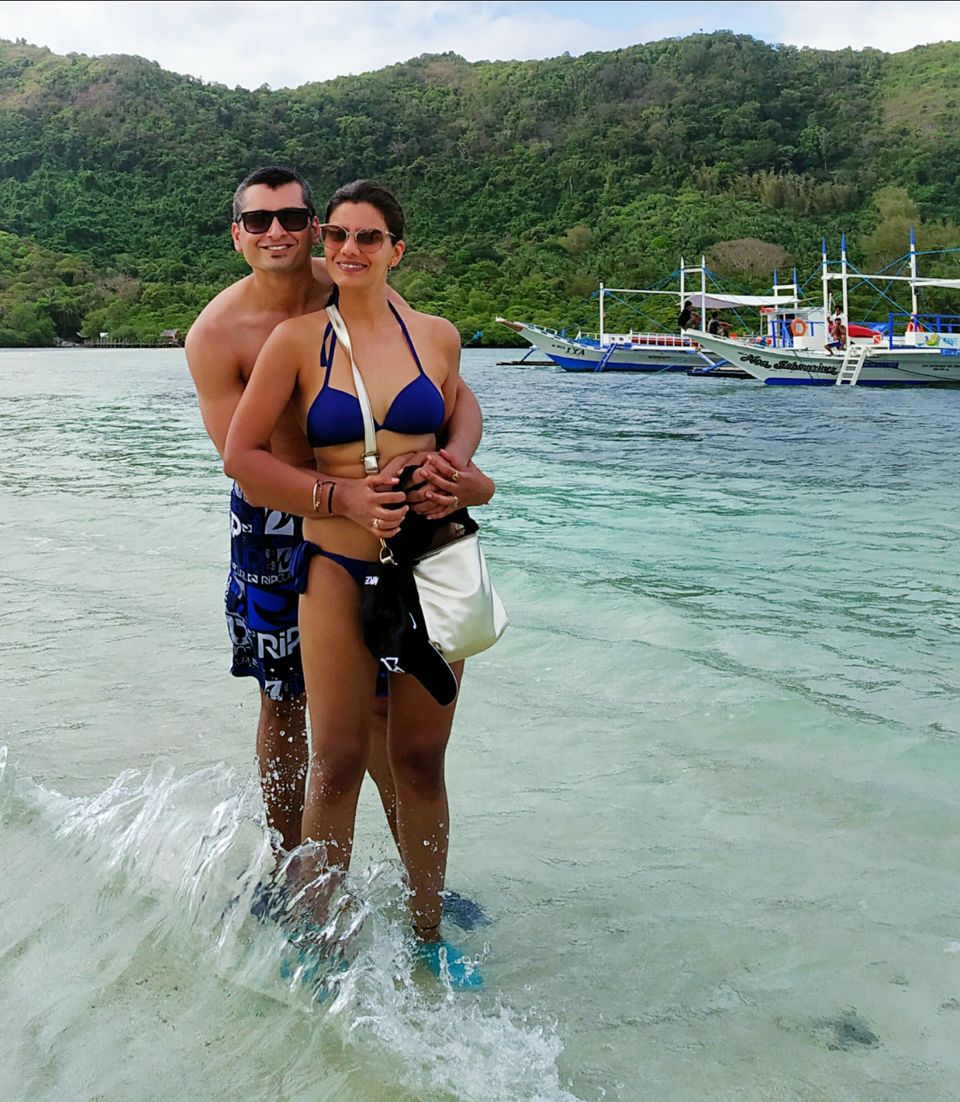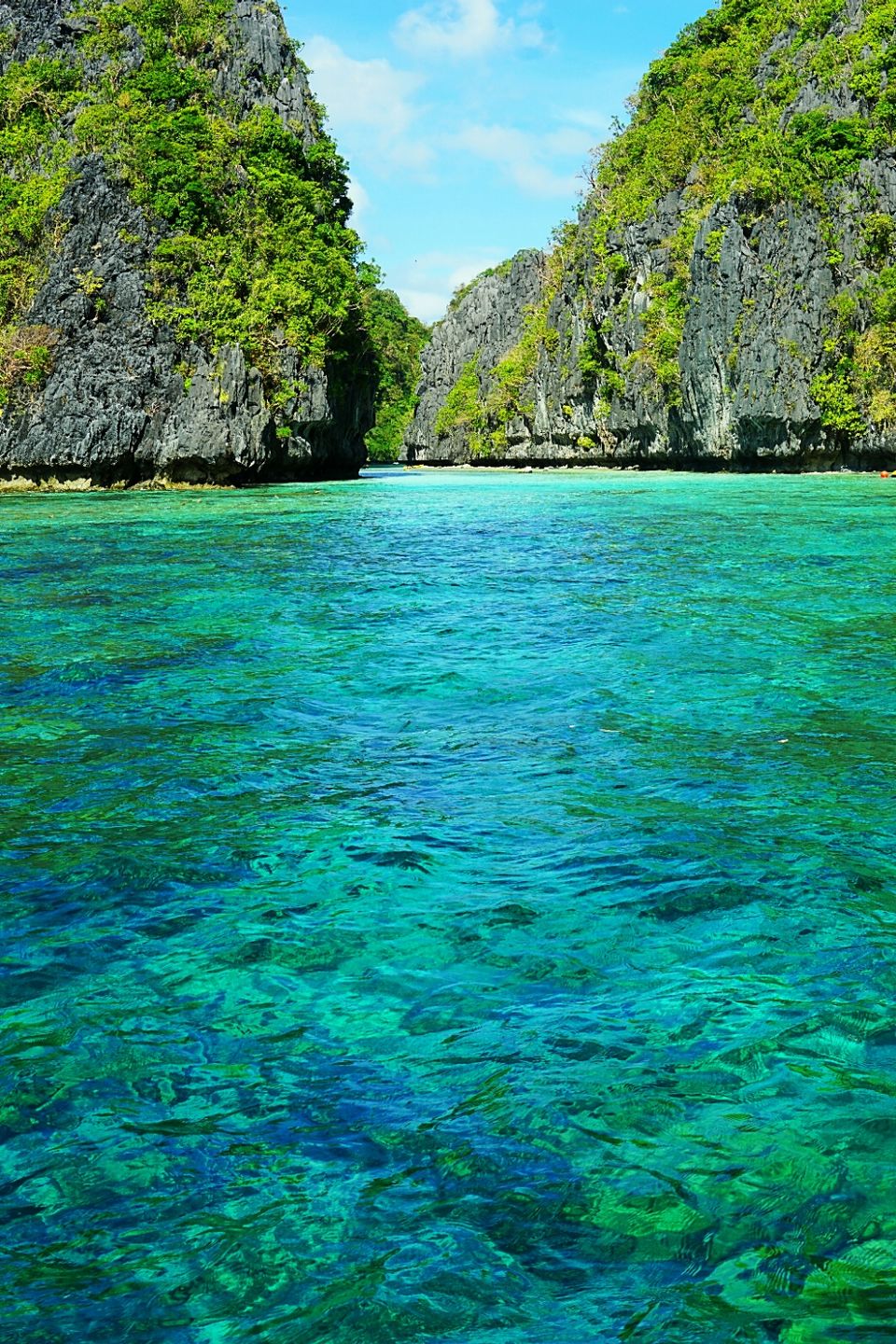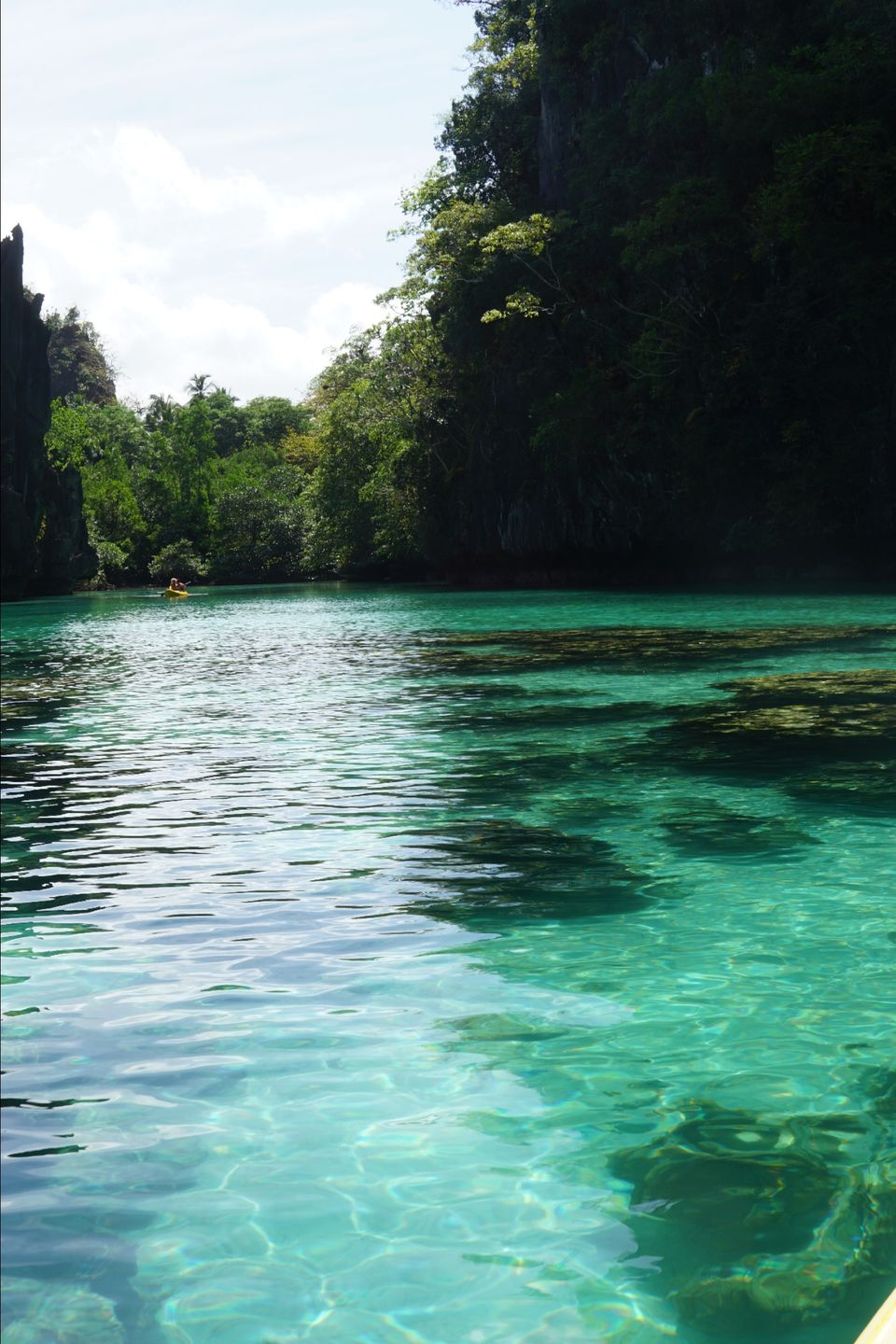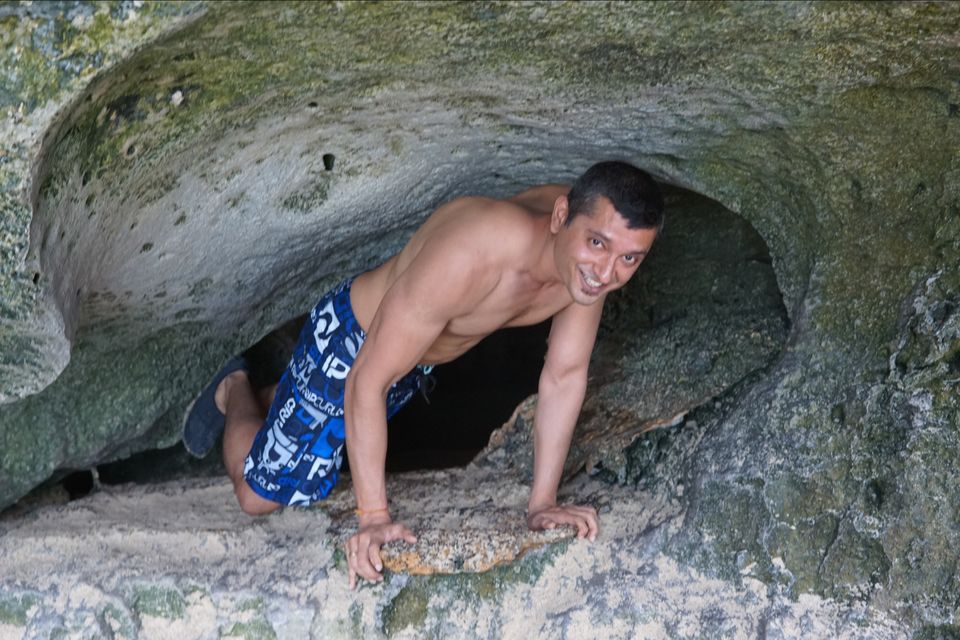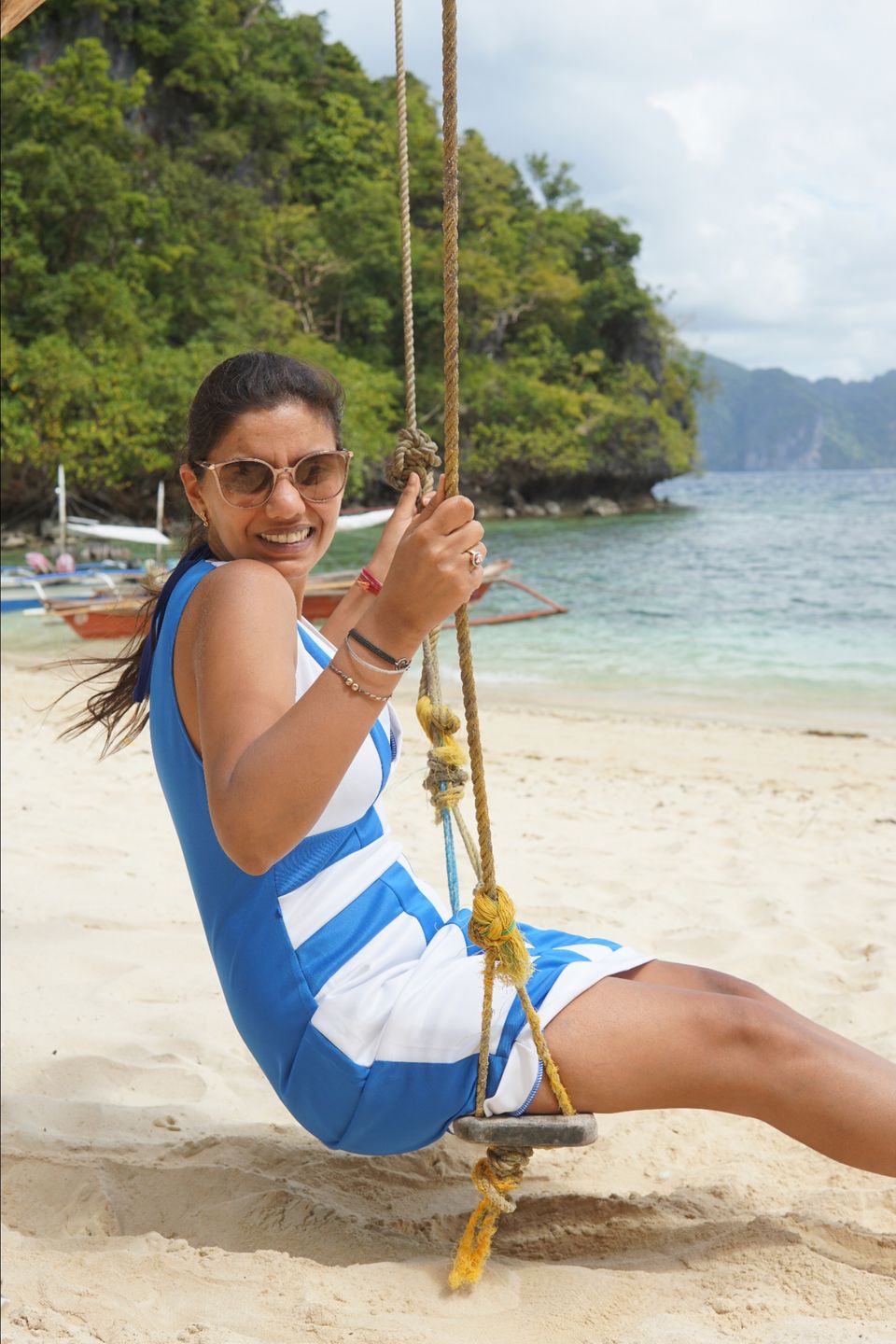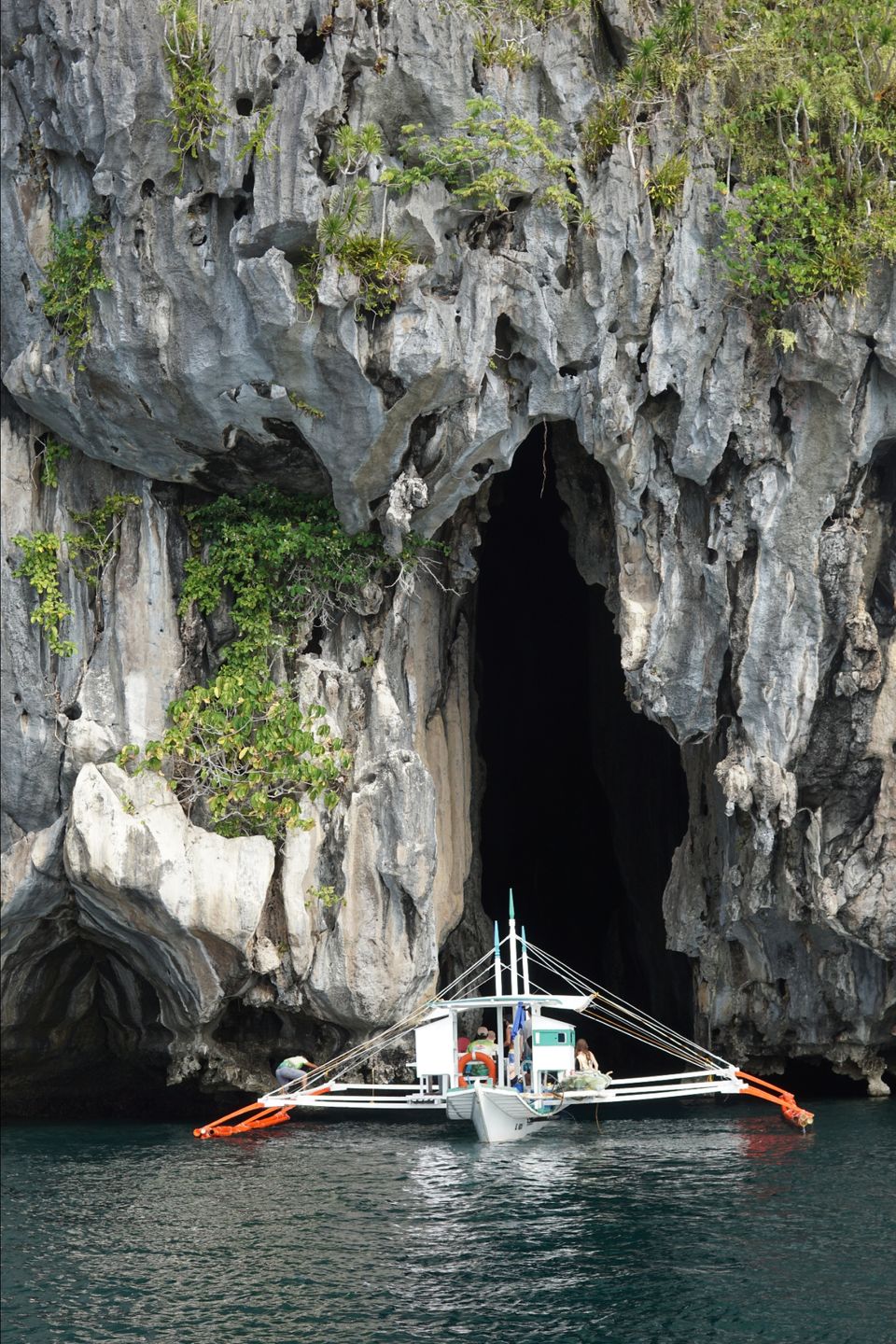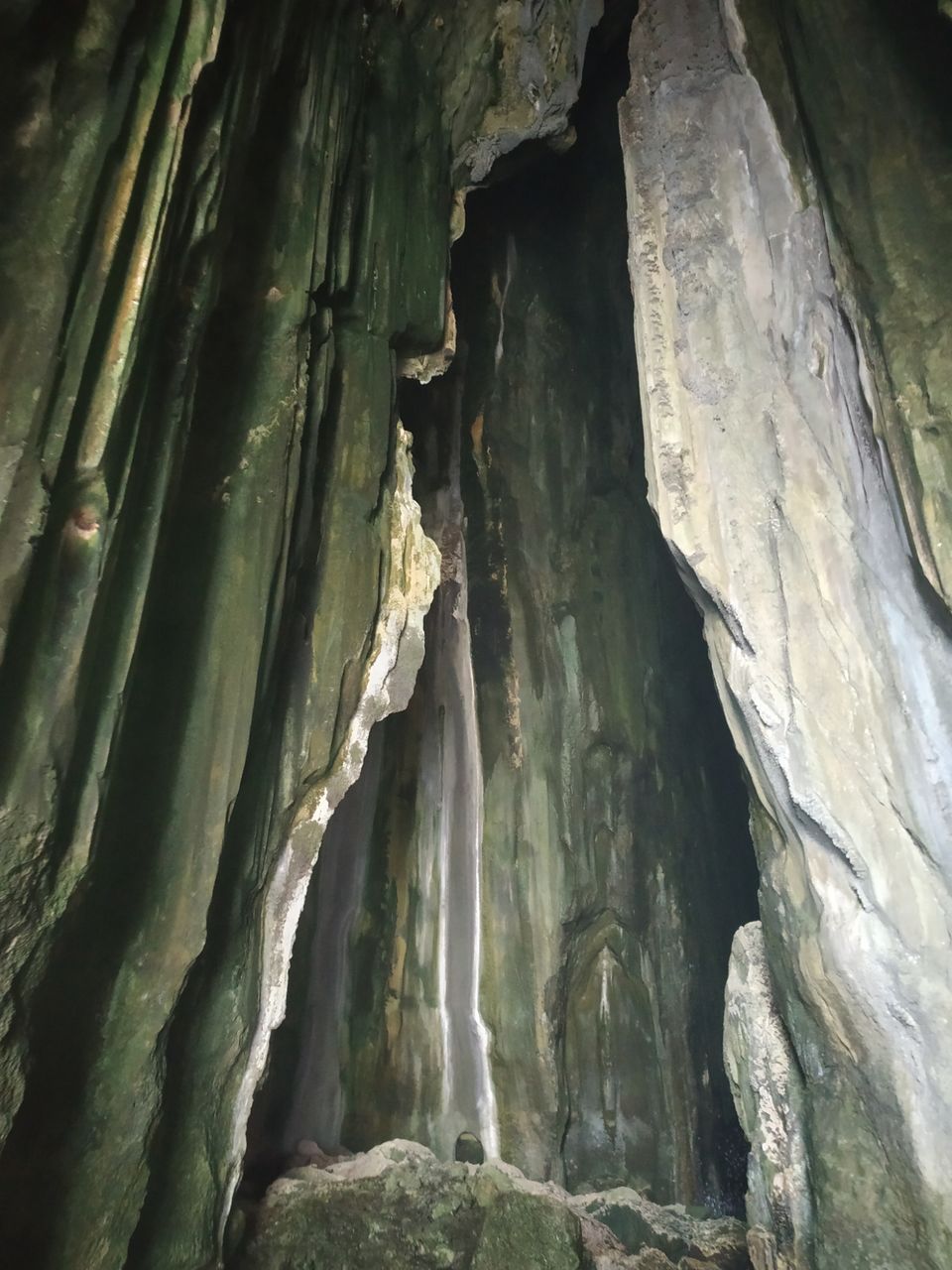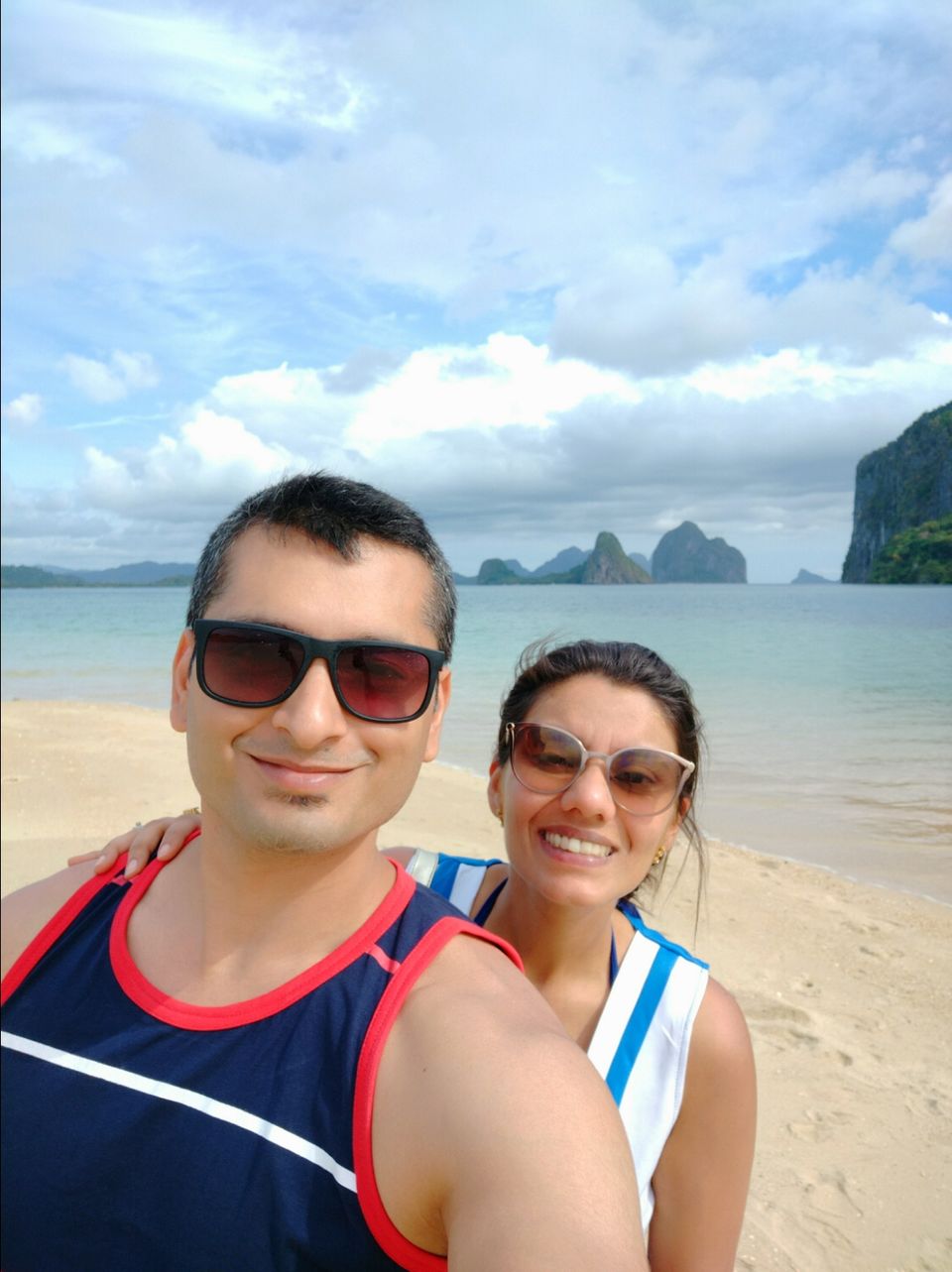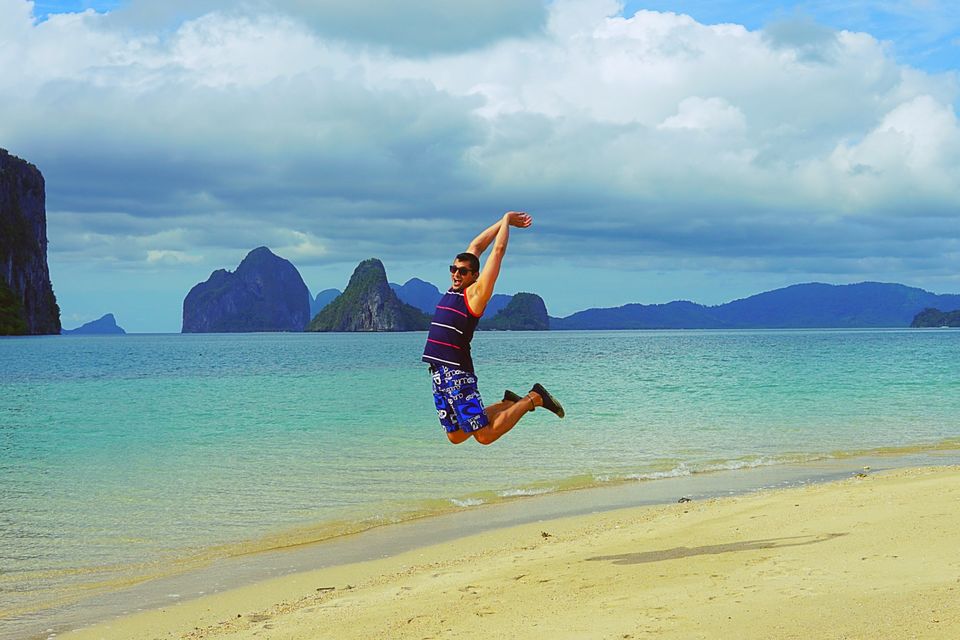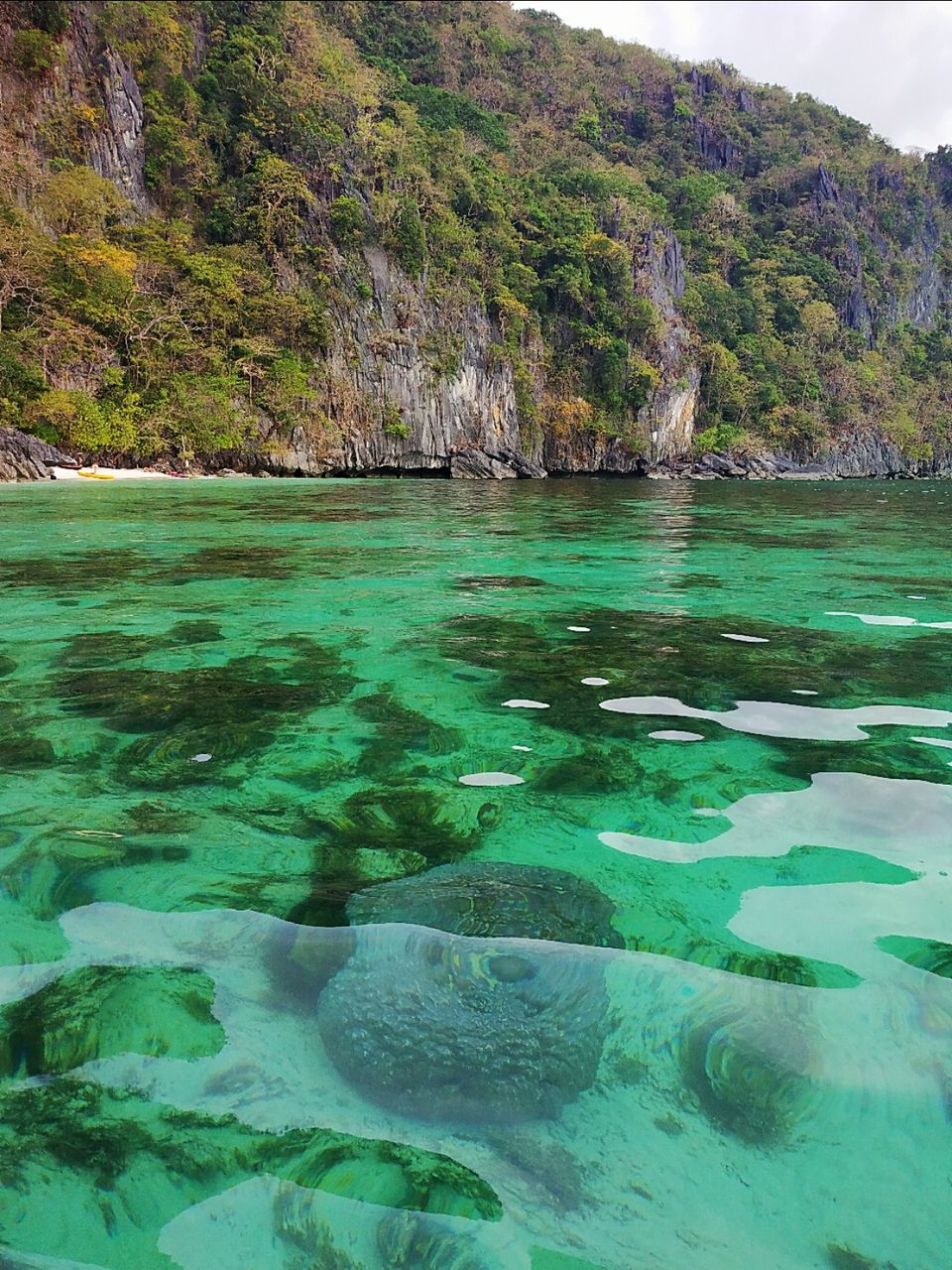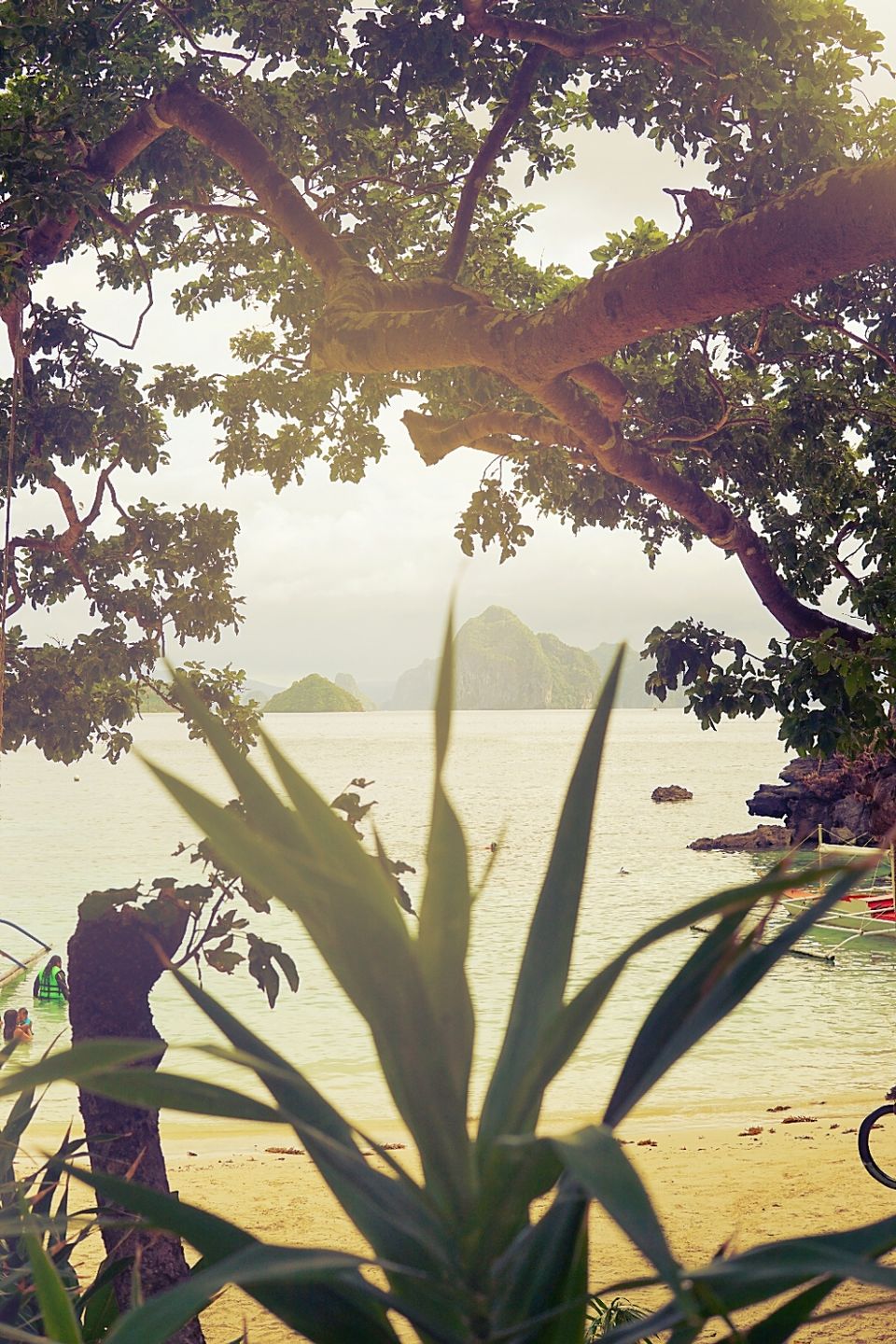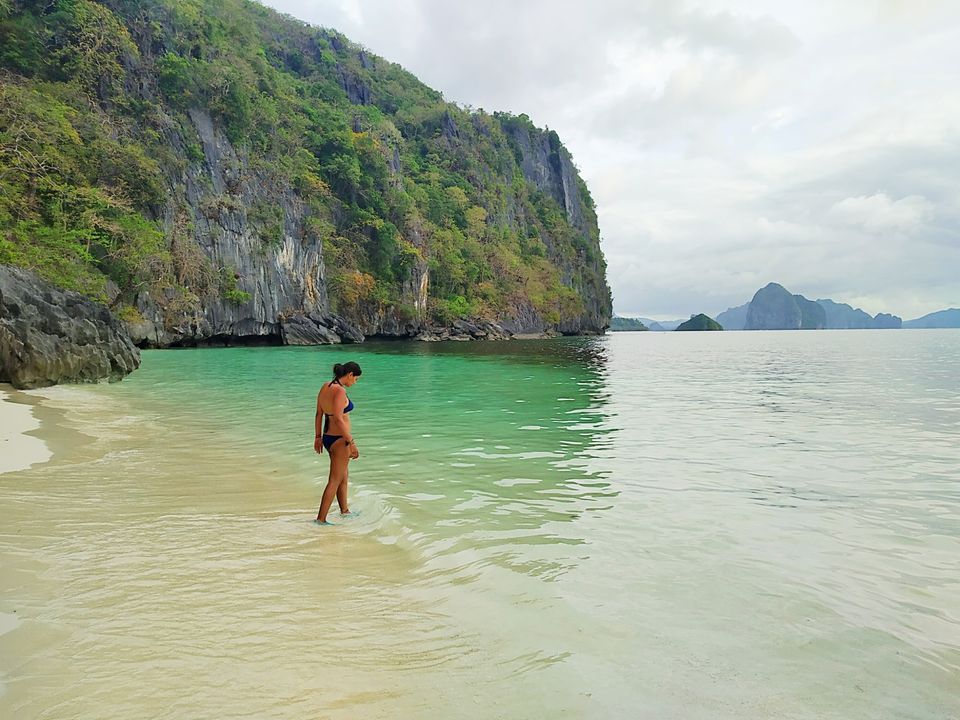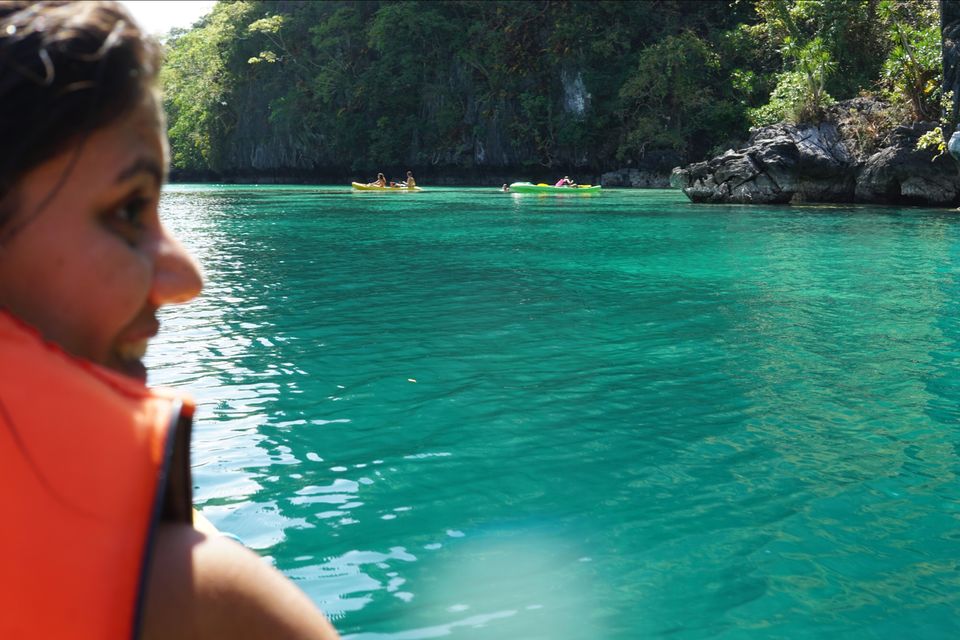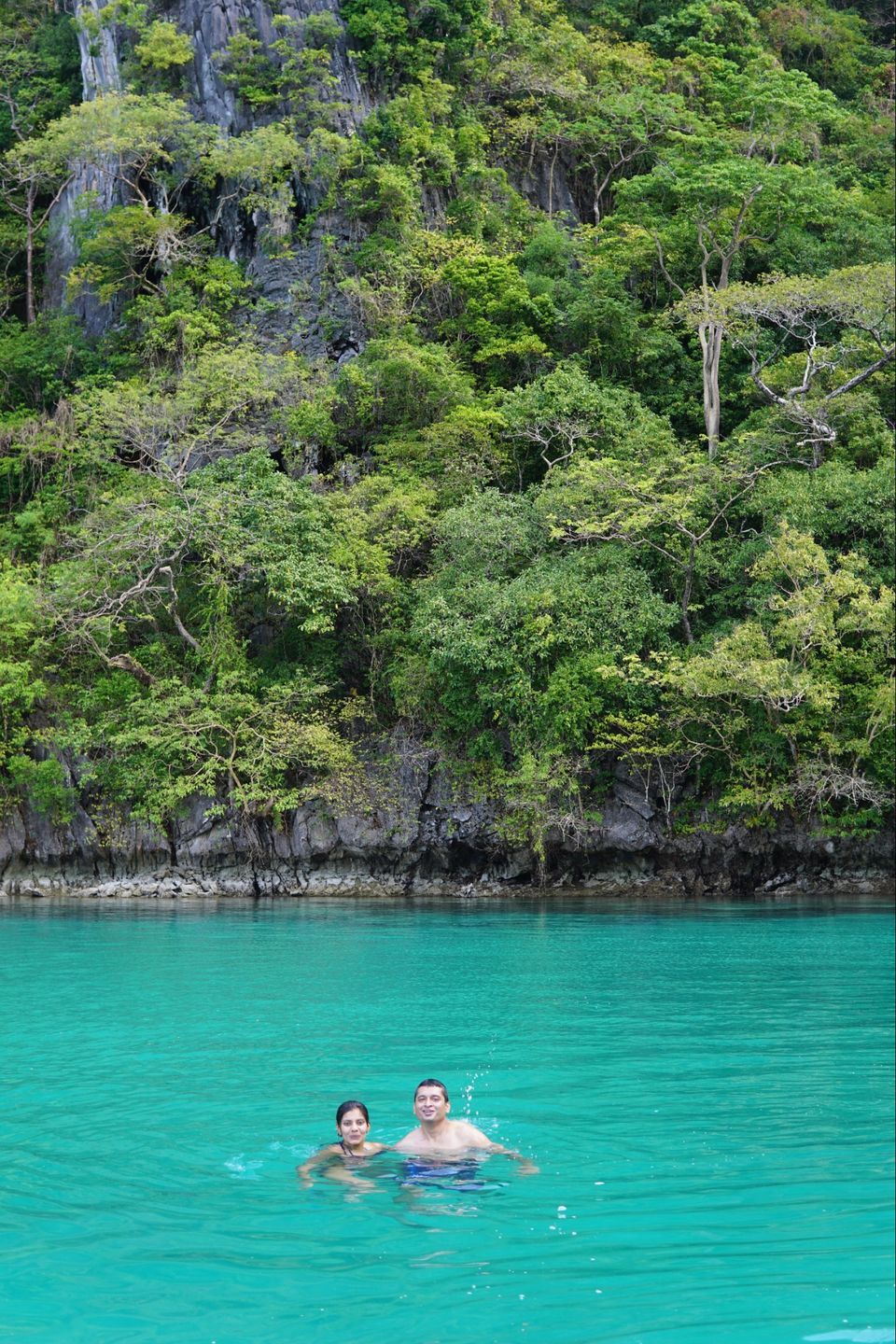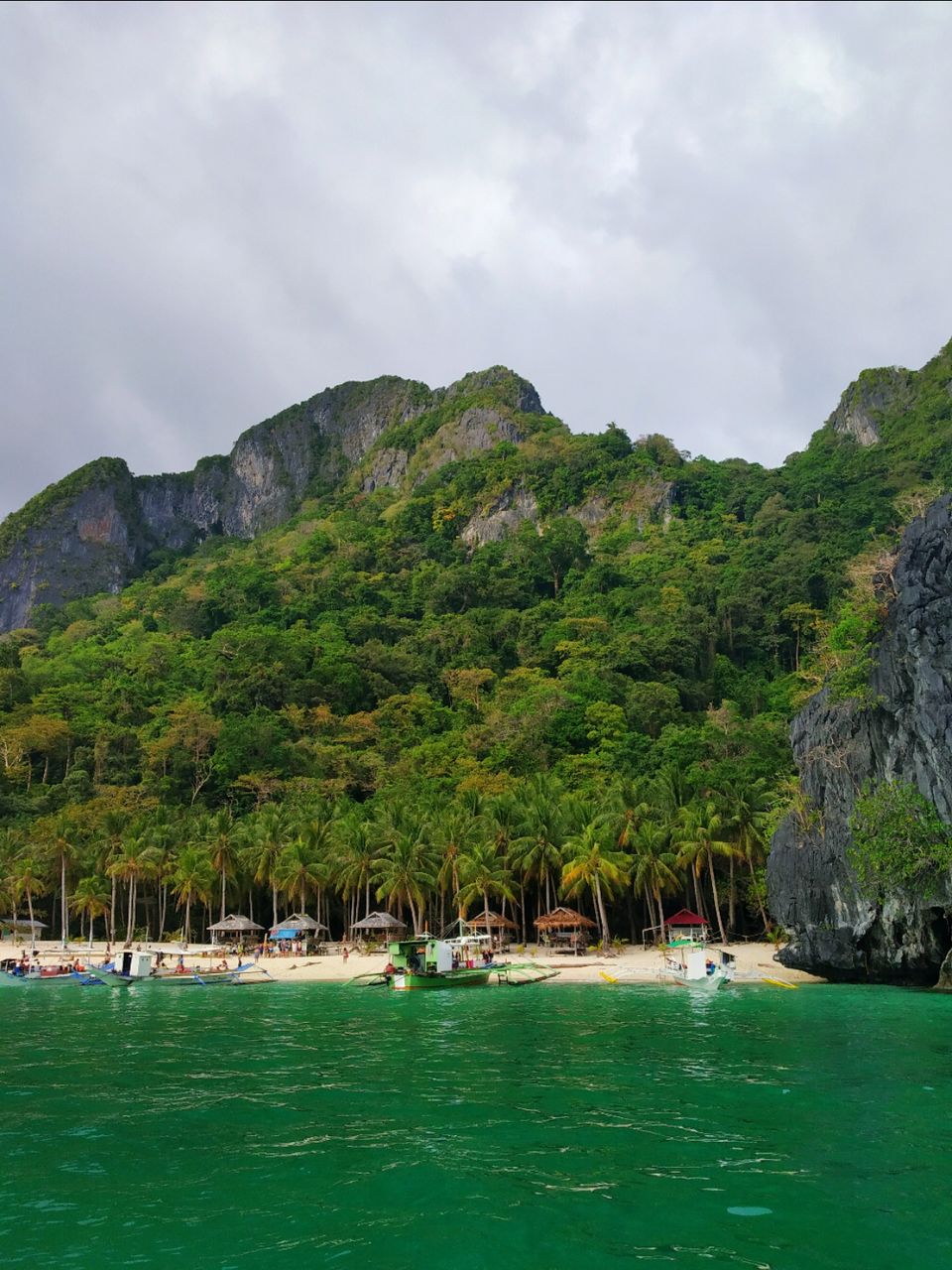 It was the last day of our trip and as always, a sense of sadness prevailed over us. The original plan was to go for another island tour but then realized it won't be all that different from the one we went for the previous day. So we decided to explore the mainland itself and plan the day's itinerary over breakfast.
As we hadn't booked breakfast at the hotel we headed out to look for a nice breakfast spot. I was craving for bacon so when I spotted a place called Maa's Grill which served American breakfast, we parked ourselves at an empty table. At just 150 pesos I got coffee, a fried egg, bacon, 2 toasts and a small banana..not bad at all. My wife got a plate of pancakes and they were soooo good, probably the best I have had.
Now for the planning part - I had seen an advertisement for flying fox at Marimegmeg beach which got me excited though many sites and the locals recommended visiting Nacpan beach so we selected the latter. It costs 600 pesos per person for a return journey to Nacpan in a shared air-conditioned van. Cheaper option is to hire a bike or scooter for 400 pesos a day and ride all the way. Thankfully we opted for the van (my heart was set on a bike ride) option as the last 5kms of the way to the beach is really bad and riding post sunset would have been risky as there were hardly any street lights. You will also have to select the pick up and drop times when making the booking.
It took us around 45 mins to reach Nacpan beach and on the way we saw sign boards of waterfalls that we could have planned to visit. The beach is nice, clean and around 4 kms long with soft golden sands. It wasn't very crowded and the water looked perfect for swimming. After Boracay and the beaches we saw during the island tour, this beach came across as standard so we were a little disappointed. The dining options are limited here so we chose the 1st place that we saw and it turned out to be the top rated restaurant here. Sunmai sunset restaurant has a great setting next to the beach and they have their own beach beds as well. We orders for cocktails and nachos which took forever to come. We decided to chose another venue for lunch so we walked leftwards to one end of the beach. You can spot another beach called Calitan at this end which is why the area is also called Nacpan twin beach. We sat at Mad Monkey for lunch but they had a very limited menu so we decided to have some drinks and head back to Sunmai. We got back to Sunmai and ordered our super late lunch. We watched our final sunset while waiting for the food to come. I finally tried the pork sisig which is a popular local dish and it turned out great. Got back into the van at our pick up stop at 7PM and headed back to the hotel.
We decided to hit the bed a little early because we had a flight at 8AM in the morning. After getting back to our hotel we cleaned up, relaxed a bit and then headed out for the final night. A live band venue, Subasko resto bar, was the spot we chose. Had nice cocktails while listening to the local bands. Alligator meat is available here and I thought of giving it a try but chickened out as I didn't want an upset tummy while traveling. We tried meeting up with the friends we made the previous night but unfortunately missed each other, thanks to the poor network connectivity in this town. Being the last night, we decided to have one last celebration so we headed to Pukka beach bar for a final round of drinks. The place was packed with revellers and the music kept the crowd high on energy. Well, we ended up partying till 2 in the morning knowing very well that we had to get up in four hours. Ending the trip on a high was more important than sleep so who cared?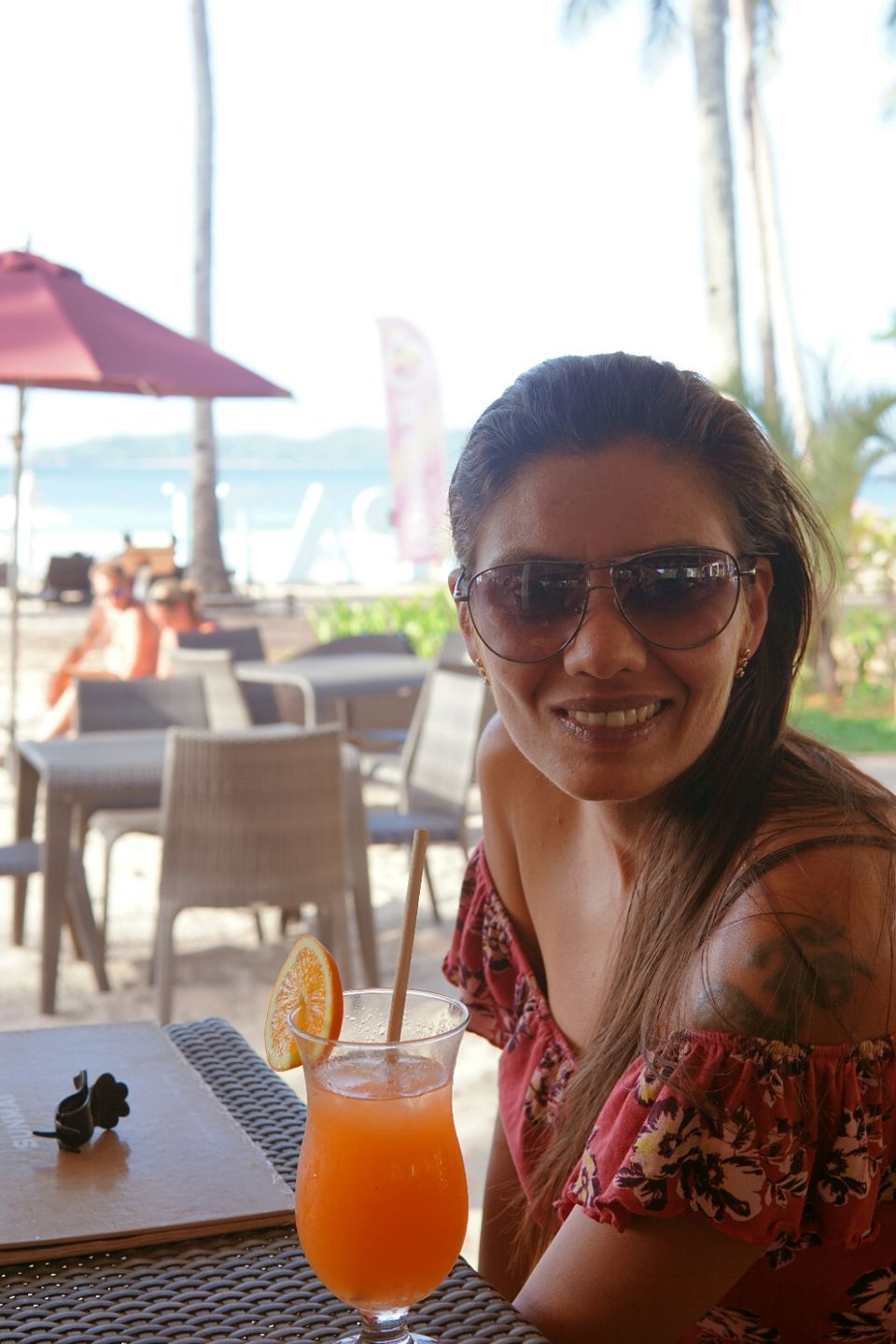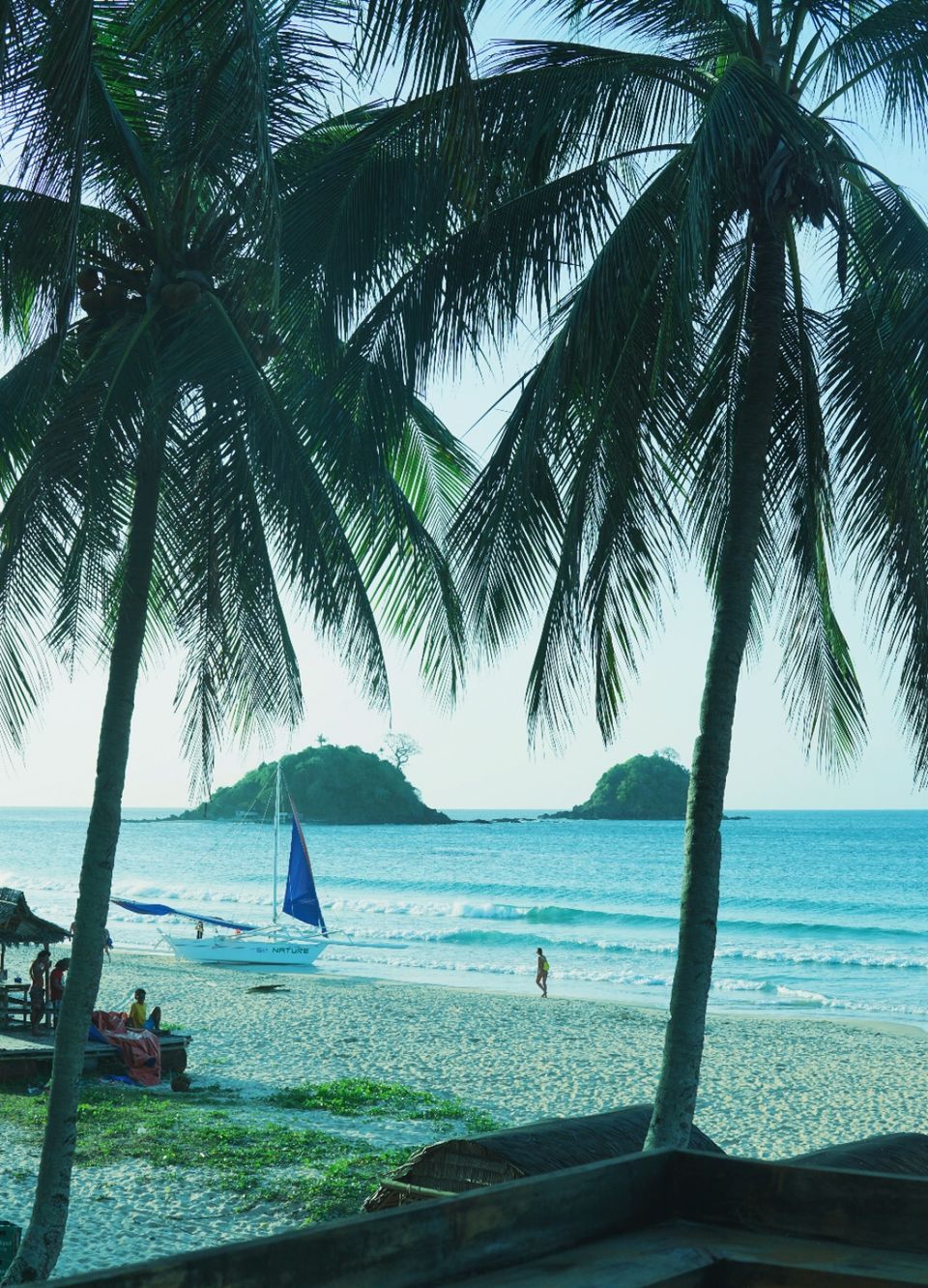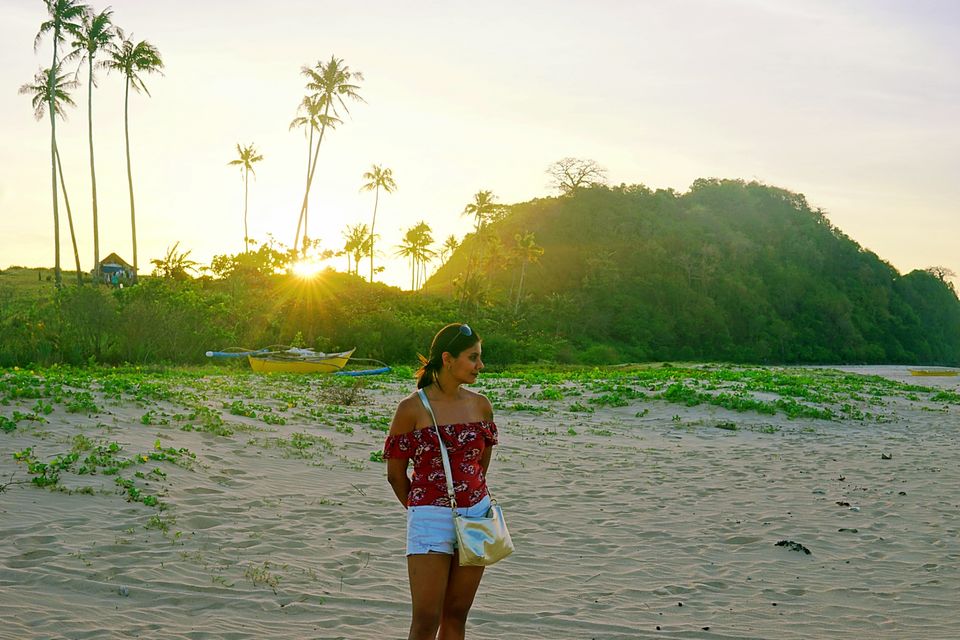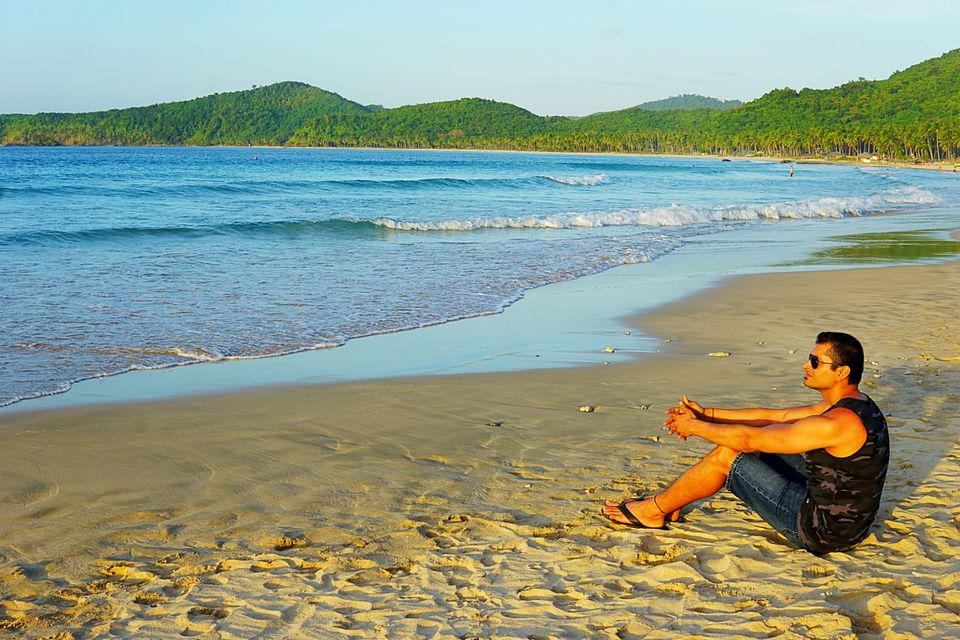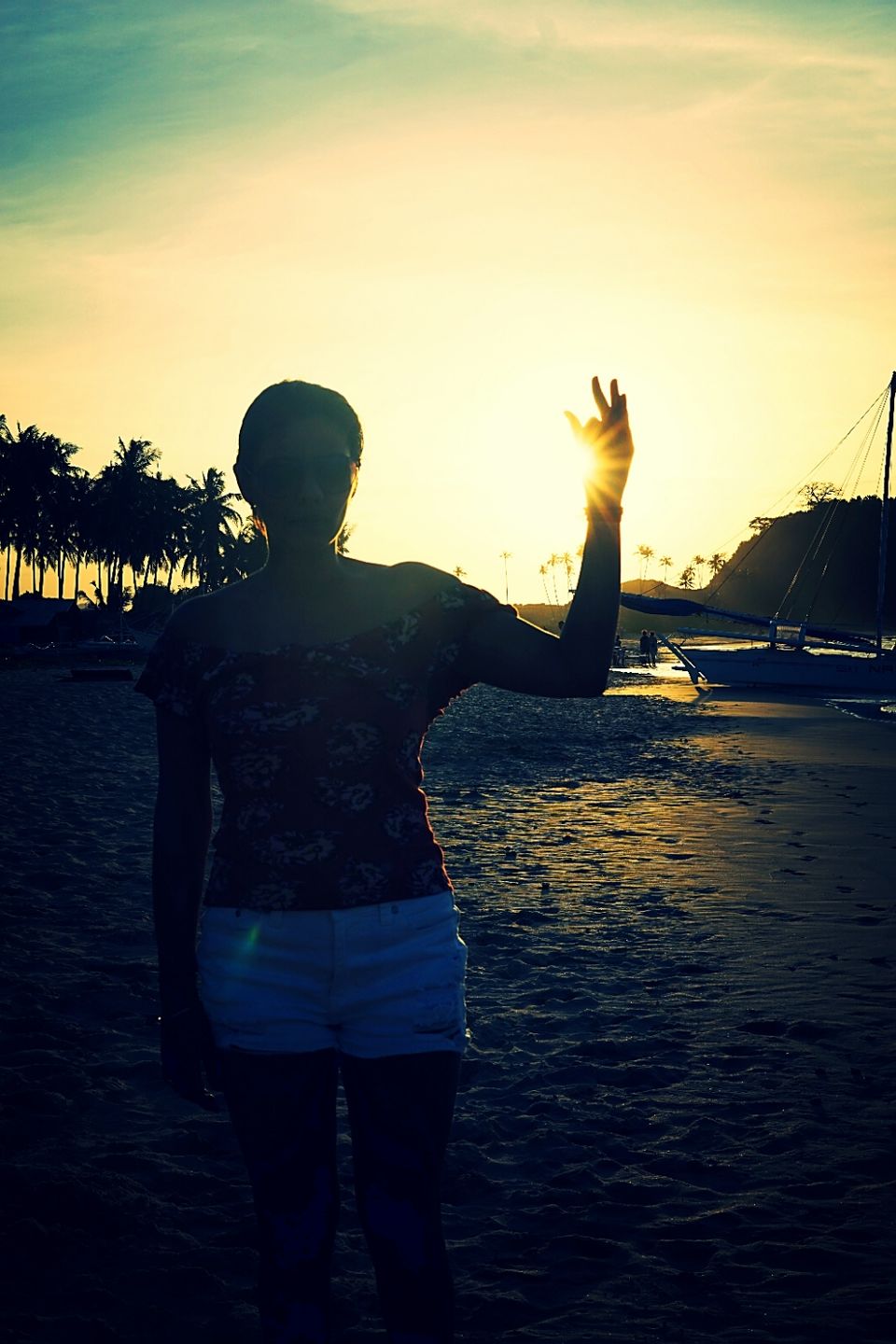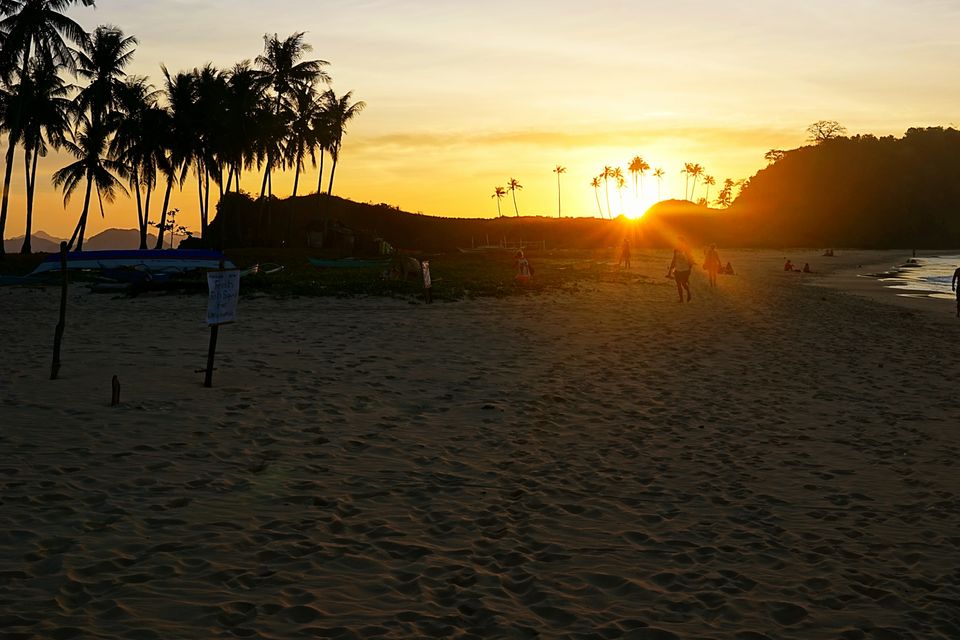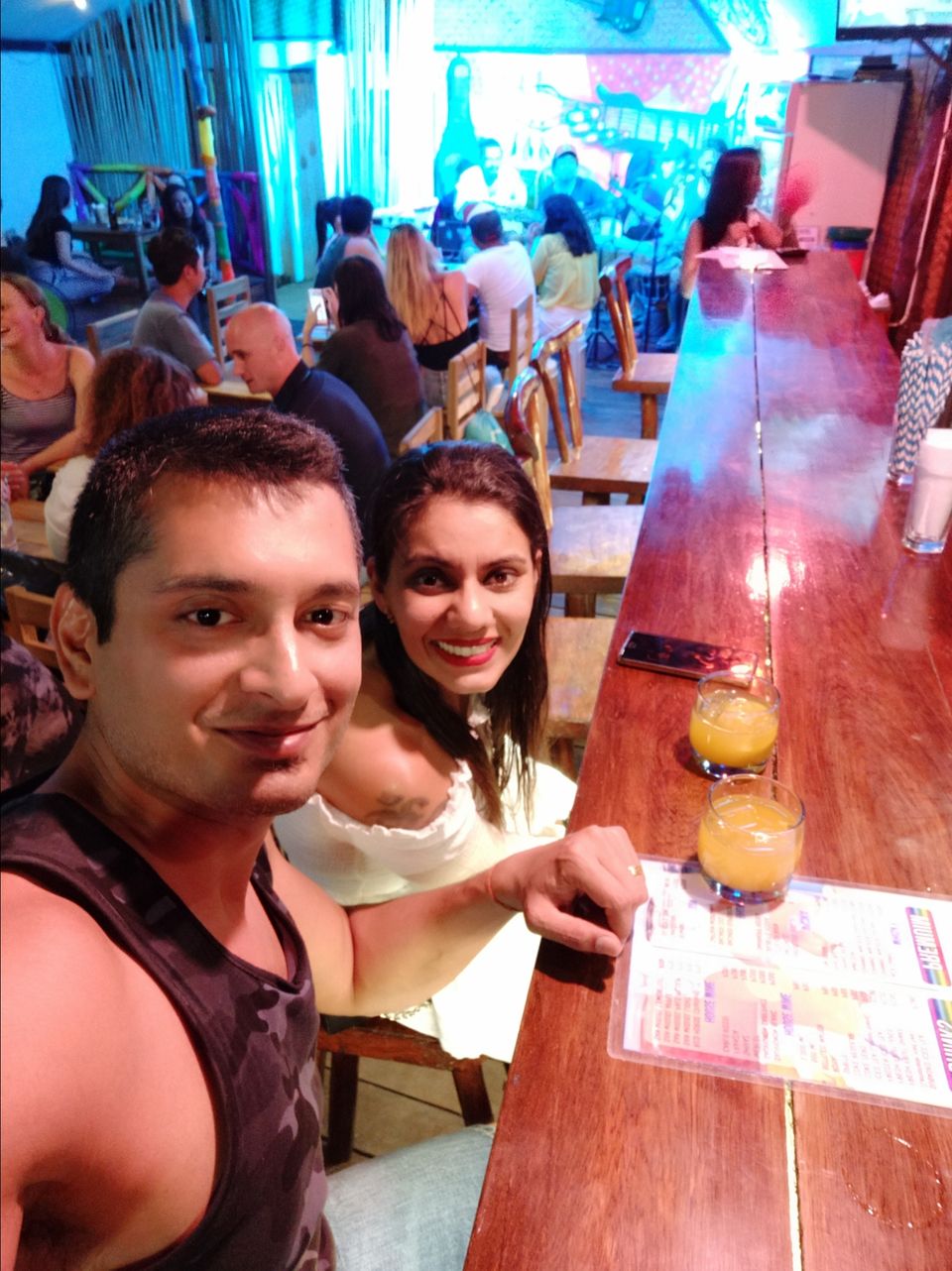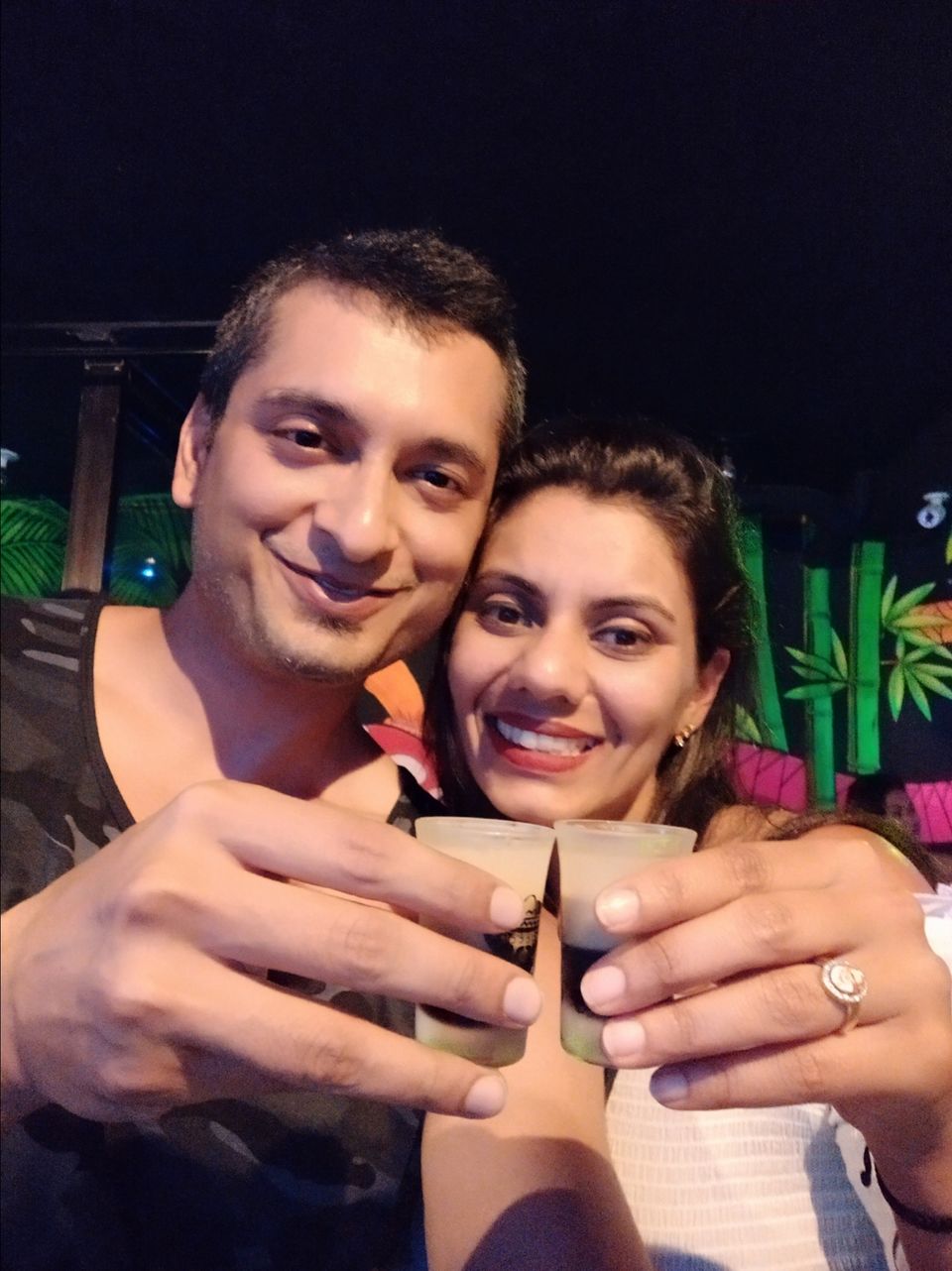 We thankfully managed to get up on time without a heavy head. Completed our packing, got ready and went to the reception to check out. We had booked a drop from the hotel and paid in advance but it never showed up on their record. From here onwards and till the time we caught our connecting flight to Manila, it was nothing less than an adventure. The stress began with the van coming in at almost 7AM which was the time we had planned to be at the airport. Then on checking in we discovered our Airswift flight to Manila (6.1k pesos per person with 10kgs pre booked luggage & seat selection) was delayed by 40 mins. After landing in Manila, the plane took 30 minutes to get to a parking spot because of on-ground congestion. Our baggage came after 20 mins. My wife went to book a cab (350 pesos) while I got the luggage. We had our flight to Mumbai from another terminal and many had suggested taking a taxi rather than the internal transfer as it was a faster choice. There was originally 3 hours between us landing in and taking off from Manila but now we had just an hour and 20 minutes left. On reaching the other terminal after 15 mins we rushed to the gates but the line was long and all baggage had to be screened before entering. Thank god that the counters for international flights here close 50 mins before take off. We made it just 2 minutes before the counters were going to close and this was a huge relief. We could finally stop panicking.
Moments like these make the trip much more eventful and now when we think about it, makes us laugh too so I guess it turned out to be good for the memories though I don't wish for it to happen again. How was the trip you ask..it was just amazing.
Hope you all enjoyed reading this post (my very first one) and got some great insights to plan your own vacation to the paradise like destination of Philippines.