'Flamboyant' is the word that comes to my mind when I think of Rajasthan. Rajasthan, the land of kings has been aptly named. Jaipur undoubtedly is most photogenic and visited city in India by travellers. Also, known as Pink City, its painted in a pretty shade of pink which was done to welcome Queen Victoria in 1800s.
I will share some of my favourite spots in Jaipur along with when and how to reach to get those instaworthy shots.
Sunrise at outer walls of Amer Fort
There is nothing better than starting your day with the beautiful views of sunrise over the Amer Fort. Not known to many people, the best spot for sunrise viewing is just in front of Amer Fort, across the road. You need to hike up around 300 stairs to get to the top. There are not many tourists here hence it provides an excellent photo opportunity. Start your hike around 5:00/ 5:30 am so that you are up by 6:00 or 6:30 am.
Amer Fort
Amer fort opens at 8:00 am so you can come right here after taking your sunrise shots. Amer/Amber fort is UNESCO World Heritage site. Its a majestic palace where I can actually spend an entire day.
Panna Meena ka kunḍ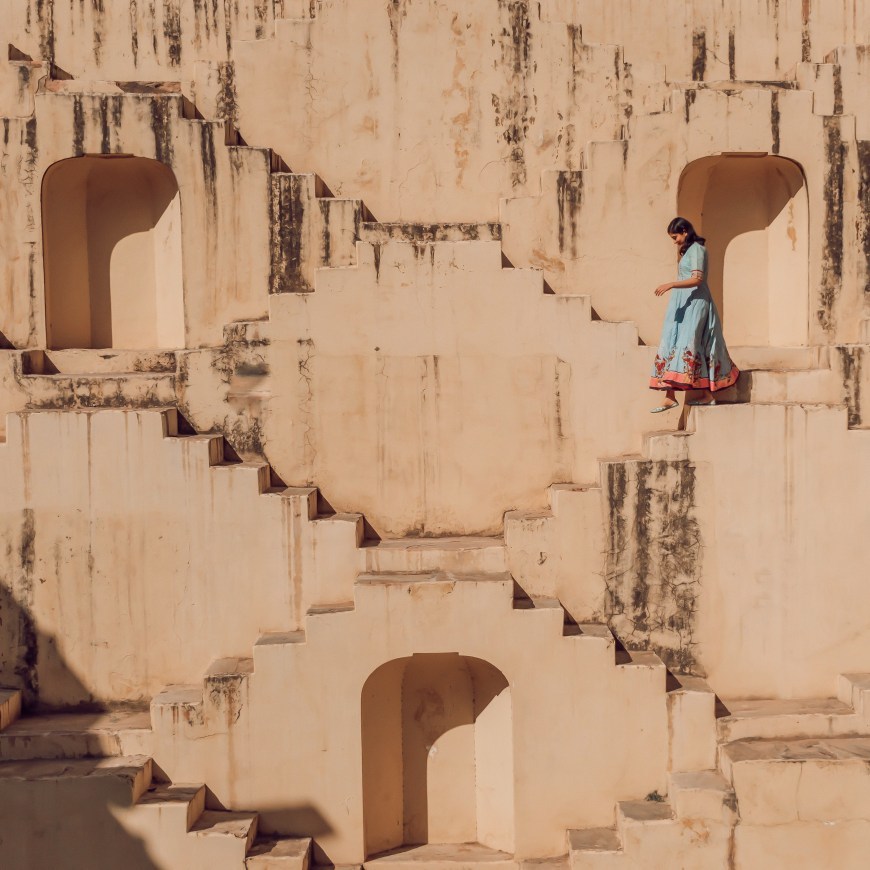 Near Amer fort is another insta famous spot called Panna Meena ka kunḍ. Its a huge symmetric step well. Walking on the staircase is prohibited as its really old and might collapse if lot of tourists will walk on these ancient steps. However, you can try to get your way by requesting the guard on duty.
City Palace
If you love architecture, colours and art you are gonna love this palace. It open at 9:30 am, so reach early to beat the crowds. Most photogenic spots here include 4 gates that symbolises four seasons and four Gods, Diwan I Aam and Chandra Mahal.
Chandra Mahal has an additional fee of 2500 rs and provide you ample of photo opps. I did not do it however if you have time and money you can surely visit it.
Hawa Mahal
Hawa Mahal is one of the prettiest palaces i have been to. Painted in a pretty pink, it looks even more beautiful at sunset. It has 953 windows on its facade for ventilation and keeping the interiors of the palace cool. The windows were also used by the females of the palace to observe the outside life. I actually sat by one of the windows and peeped outside to feel what it must have been like. To catch the sunset views, you can visit one of the roof top cafes just across the road and enjoy the views with a cup of tea.
Nahargarh Fort
Another amazing place to catch up the sunset and have best aerial views of the city. Try to reach at least half an hour earlier before sunset.
Jawahar Circle and Patrika Gate
This place is perfect symphony of colours. It's like a multicolour pastel palette. Also, there is not much crowd here so you can conveniently take your pictures.
Albert Hall Museum
If you are wondering where to get that perfect picture with those flying pegions without using Photoshop, this is the place for you. You can click either in front of the museum or outside the complex.
Royal Gaitor
One of my rare find this time, royal gaitor or Gaitor ki Chhatriyan, is the place where pre wedding shoots are done. Best place to capture some sunset shots. Royal Gaitor is actually a place for tombs for many Maharajas. The architechture of this place is breathtaking like most of the other attractions in Jaipur.
Monkey Temple or Galtaji
This is complex of Hindu temples just 10kms from Jaipur. What makes this temple unique is that it is centred around a natural spring which has been channelised to fill seven large pools. These pools invite numerous monkeys which come here to quench their thirst. You can hike to the vantage point to watch sunset.
This blog was originally published on The Travelling Lipstick.
Frequent Searches Leading To This Page:-
jaipur city tour package, places to visit in jaipur for couples, weekend getaways from delhi to jaipur, jaipur trip from delhi, best resorts near jaipur, 2 days trip near jaipur