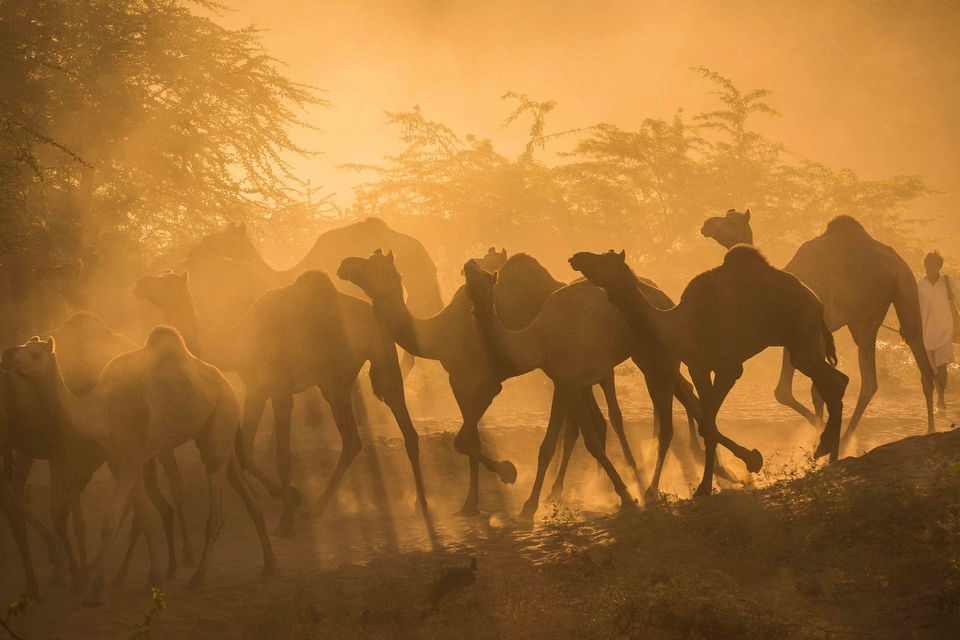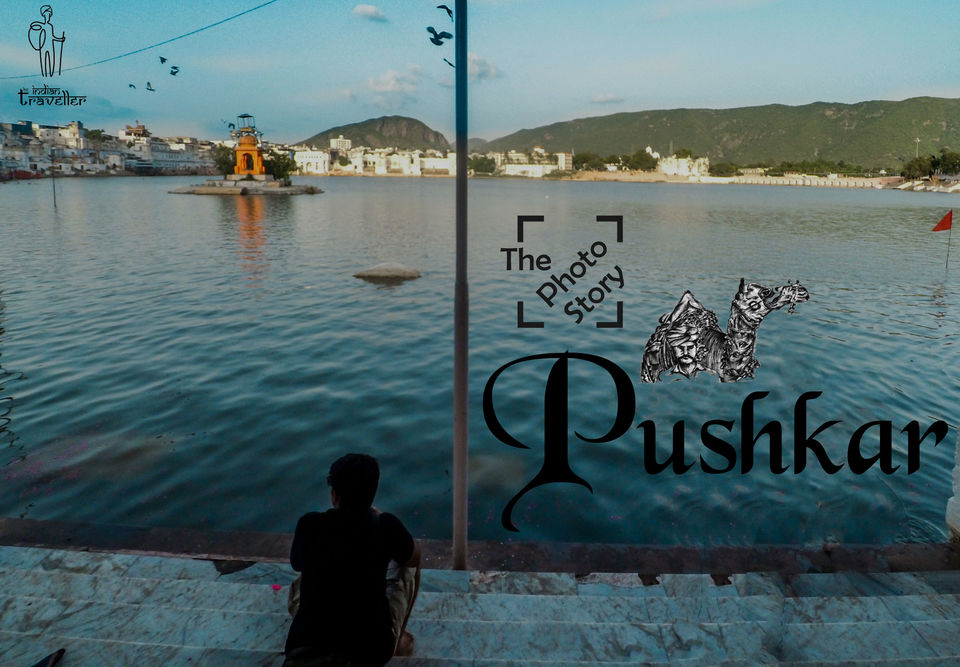 'The photo story' is one of my first projects on travel photography. The project is about the stories of people and places captured in a set of pictures. Born and brought up in Rajasthan, there couldn't be a better place for me to start the project with, Pushkar. Engulfed in Aravali Hills, it's a small town near Ajmer (120 Km from Jaipur) which I visited during the very famous Camel fair.
Pushkar is one of the 5 sacred dhams for devout Hindus and is also known as 'Tirth Raj'(King of Sacred places in India). It is quite famous around the globe for one of the most famous and biggest Brahma Temples. With 52 bathing Ghats and 400 milky-blue temples, the town often hums with puja (prayers) generating an episodic soundtrack of chanting, drums and gongs, and devotional songs. And to add, Pushkar is seriously a photographer's paradise, especially during the Camel Fair.
Because it is a spiritual place, you can feel its ambience. The place is calming, colorful, tranquil and timeless. If you are really into backpacking and want to learn making heena, cooking Rajasthani food, practicing Yoga or traditional dances, this is the place to be.
Mornings in Pushkar
It's a little cold on the streets of Pushkar in November mornings and when you wake up early to take pictures before sunrise, you need something to keep yourselves warm and what is better than a hot 'Elaichi wala Chai' for that?! We stopped at this Chai Wala and asked him about the places where we could find the camels and herders. With little information from him and more from the guard standing next to him, we found the way towards the 'Deras'(tents and huts) of Camel herders and started walking towards the dark street.
It wasn't looking like it was just 5.30 in the morning as the streets were quite lively, workers were cleaning the roads, shopkeepers were getting ready for the fair next day and guards were busy talking to each other in small groups.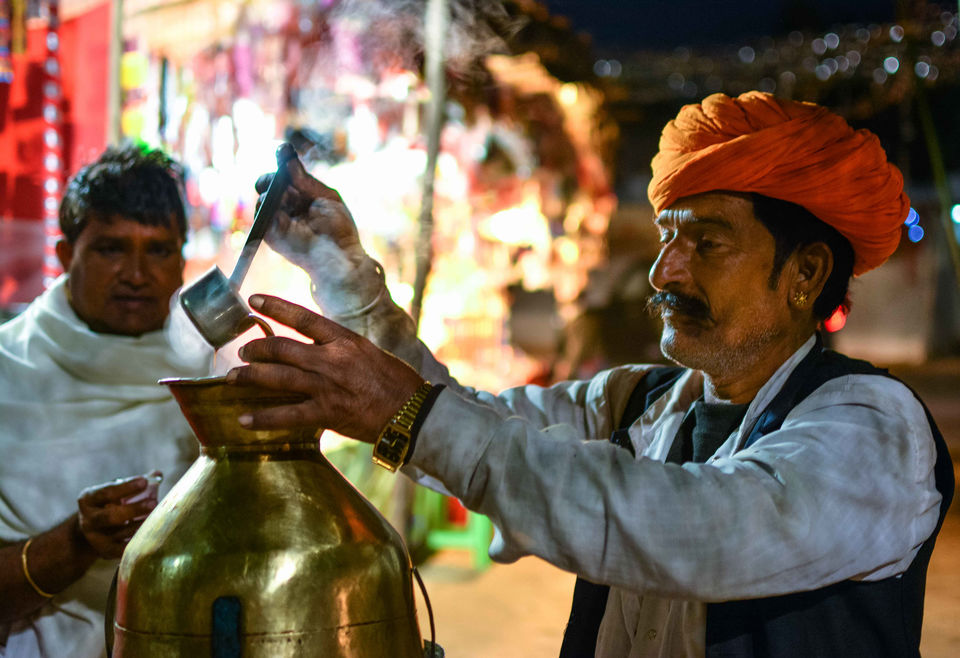 While walking on the street we saw the locals getting ready for the fair. Shopkeepers were unfolding their tents and restaurant owners were busy preparing their sweets and other dishes. As I told you that the mornings are a little cold, the locals made small groups and sat around fire.
In Rajasthan, this is called 'Taap Karna' or 'Taapna'. It's not only to beat the cold but it also serves the purpose of getting a bunch of people together for a quick morning chat. If you want to know more about a place and its local language, try sitting with them and they will be the best people to help you with that!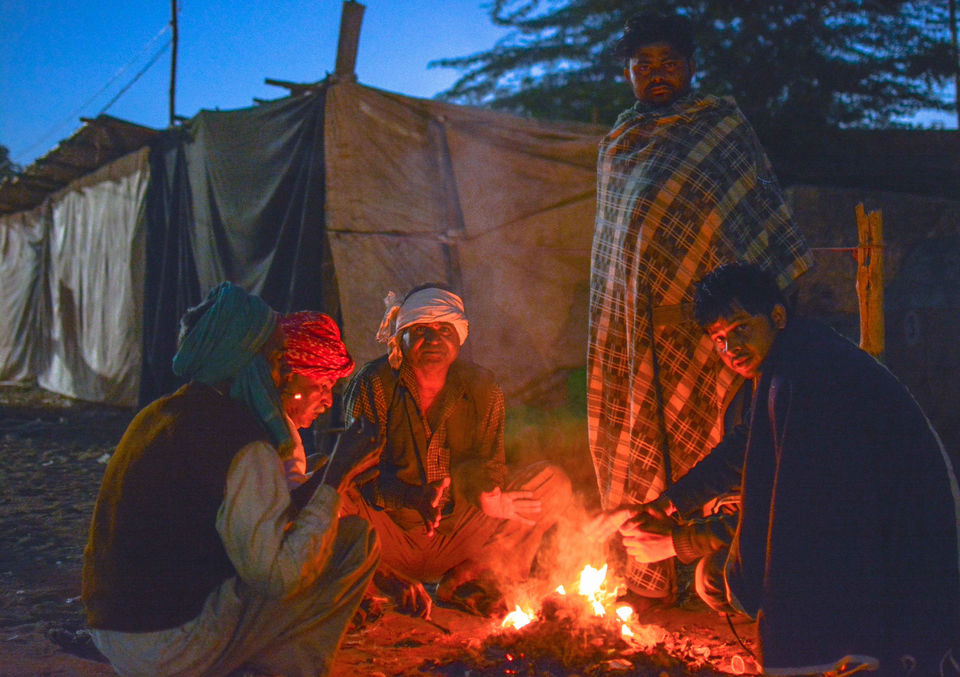 After walking for a few minutes on the street, we took the off route and went towards the area where the camel herders' camps were present. They were all sitting beside their camel carts and all their luggage was well covered. They said that all their food of next 5 days was kept under it safely. They had come from villages far and near, mostly for camel trading.
The camels were tied to the stones/rocks around them and the females were busy cleaning the area.
Some of them will ask you for money if you try and click their pictures. They will say "Bhaiya Chai-Bidi ka paisa to dedo"(At least give us money for Tea and cigarette). You can give them 10 bucks, get your shot and at the same time make them smile too!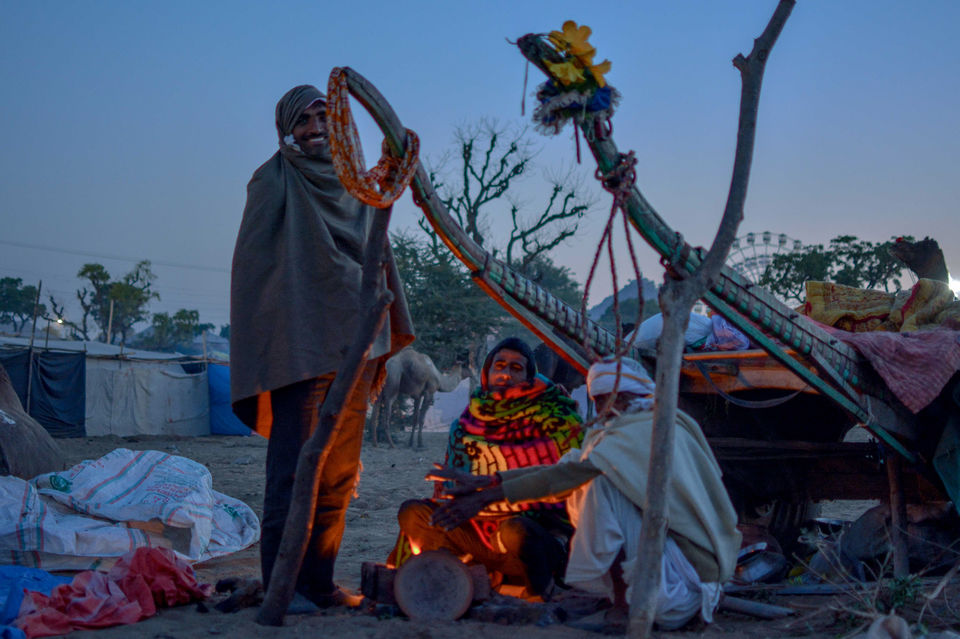 As we moved ahead with our prime lens loaded on our cameras, I saw this guy making tea for him and one of his friends. His friend initially told me not to take a picture and shouted "Aa photu-graphy band karo athe" (Dont do photography here). But while talking to his friend I was constantly waiting for a shot. And when he looked at me, I got this shot.
They were 3 guys from the same village and had brought a few camels together. Their herds were standing next to each other in 3 separate groups. I went to him after the shot and thanked him. I convinced his friend also by talking in marwari. :D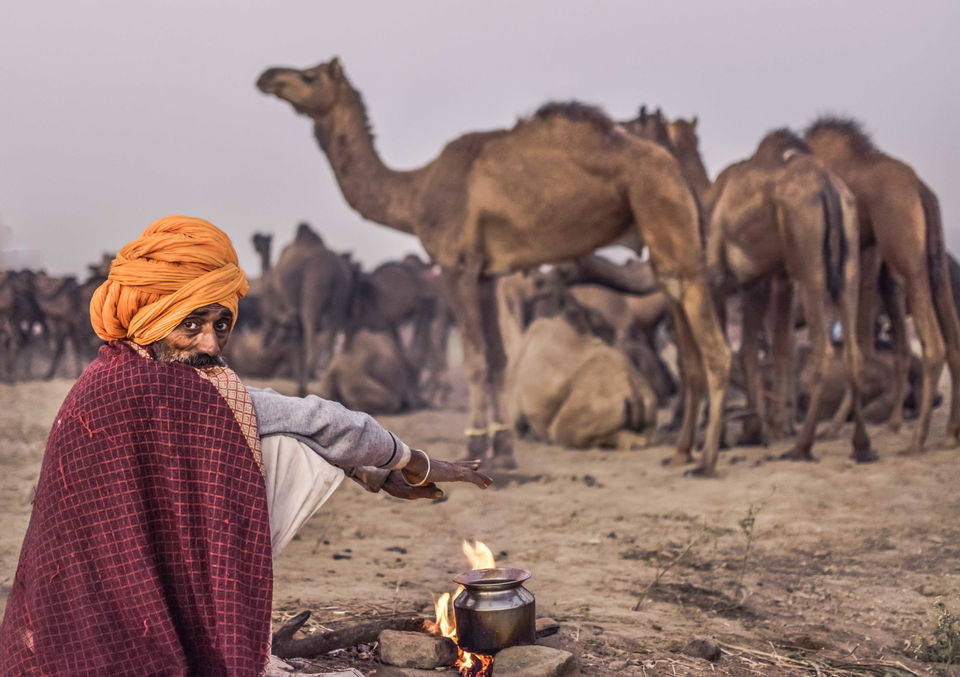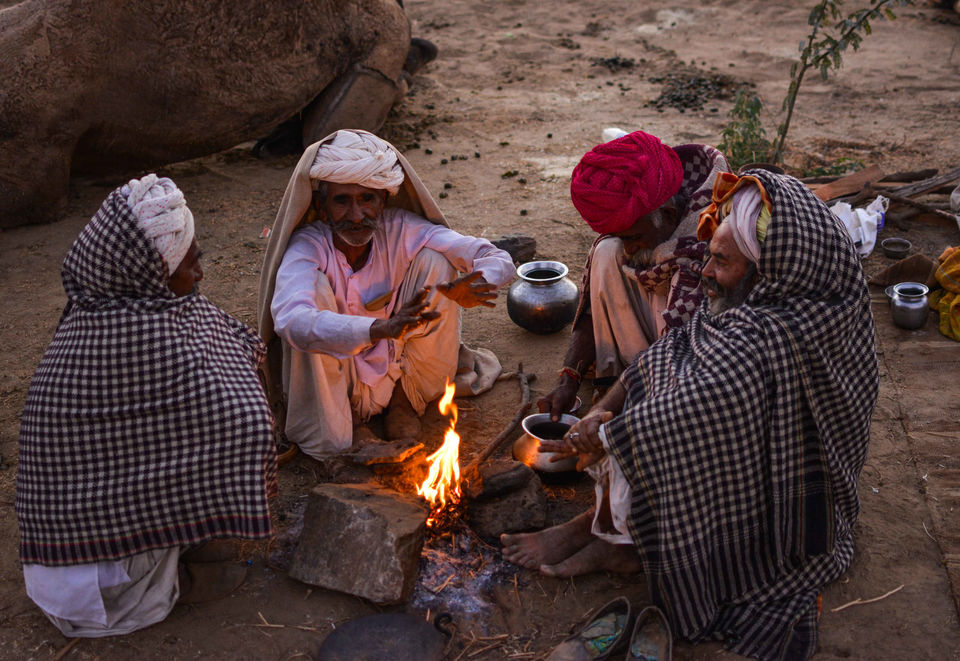 The sun was about to rise and darkness was slowly fading away. We had reached an area where there were hundreds of camels along with their owners. Since I know the local language (Marwari), it was easy for me to talk to these people.
This guy had brought 8 camels in the fair and the least he would offer out of his livestock was Rs 20,000 for a young camel he had. I told this guy to smile, to which he said "Ab main hasu kikar, manne ni aave" (how can I smile for no reason, I can't pose) and while that he laughed. I had got my shot by then!
The colored turbans, wrinkled faces and intense looks were best for taking some portraits and so I switched to my prime lens. You can even use a zoom lens which gives you a better DOF.
Useful tip: If you want to interact with these locals and know their stories, try and go with one of your Rajasthani friends. If you don't have one, make one on the very first day of the fair!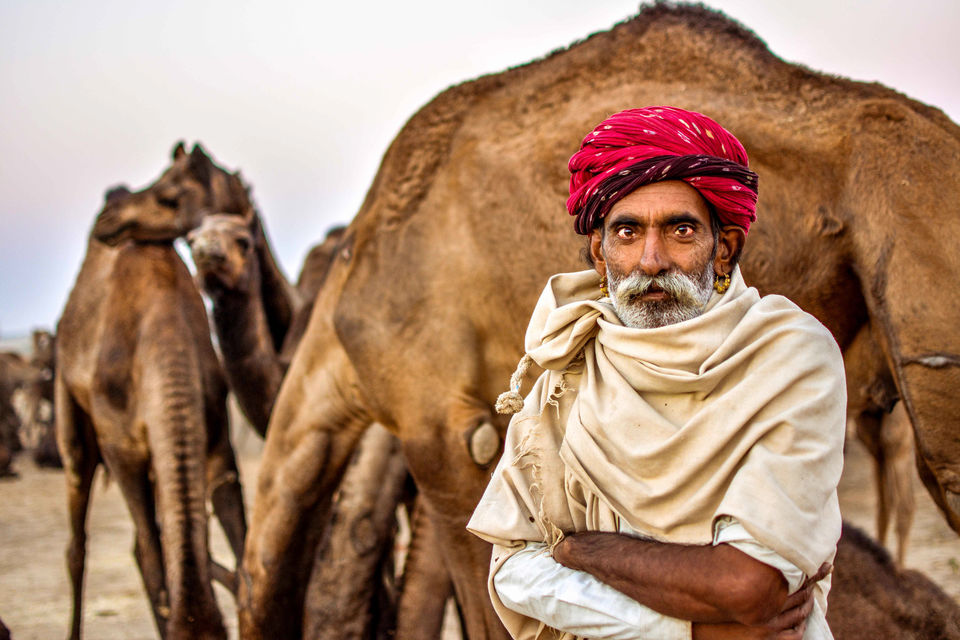 The traders come from near and far villages well before the fair starting day. They set up their camps, interact with others and most of the selling and buying is over in first 2 days.
This particular scene made me wonder that what must be going on in the minds of the owners and these camels.
Owners must be thinking about the best price they could get by selling the camels to run their families and the camels might be scared of their new owner and be in doubts about how he will treat them.
Isn't it a similar to how we work and switch jobs?
Do you see that rope tied to one of the camel's feet? The ropes tied to the camels' feet in my previous post, this is what the camel owners use it for. They tie camels' feet with their knees so that they can't run anywhere. I found this really disappointing. Imagine standing for hours on only one leg? And not just for hours, most of the camels have to stand like this for days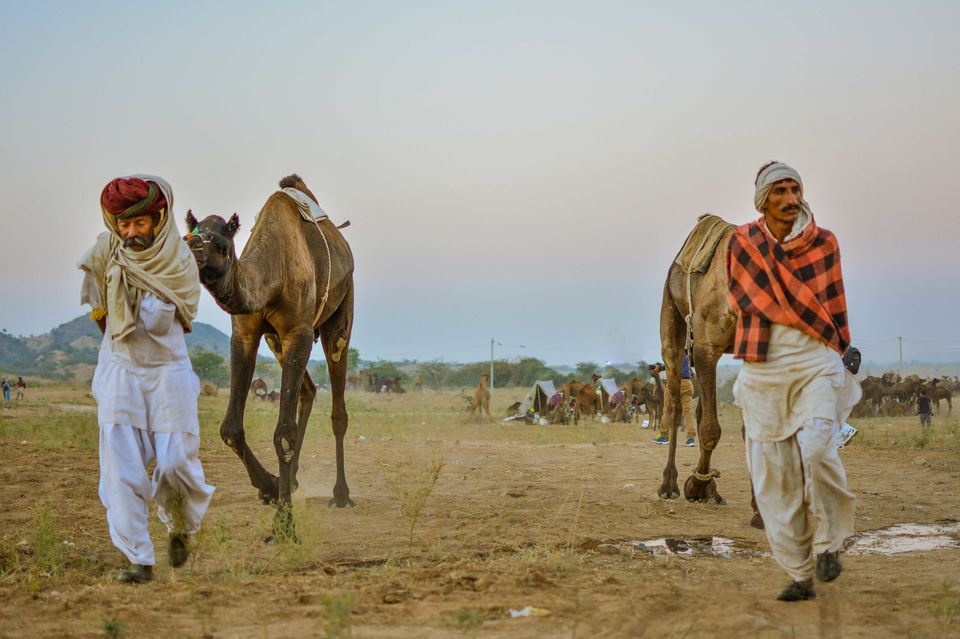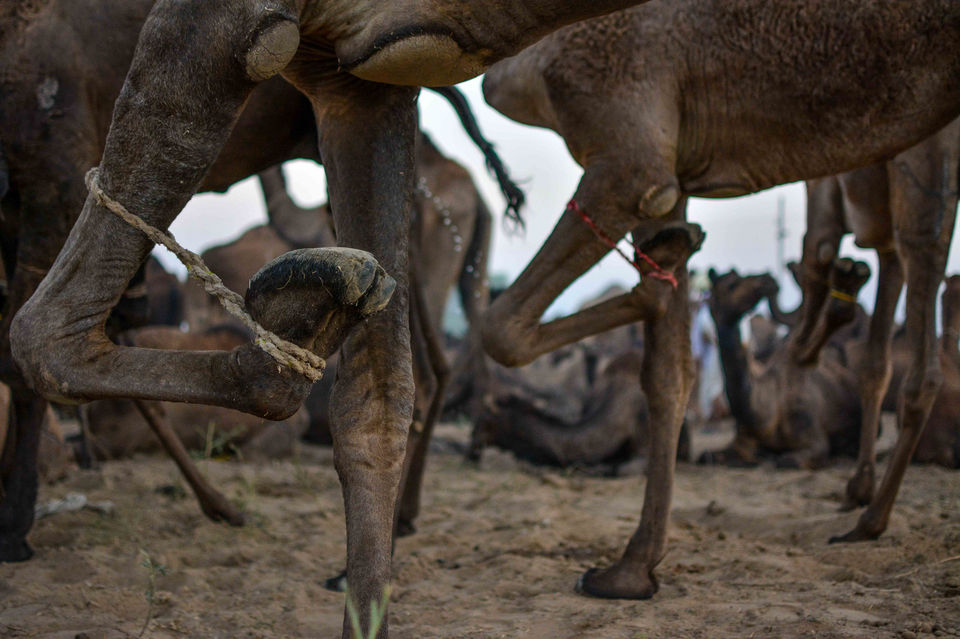 The Arrival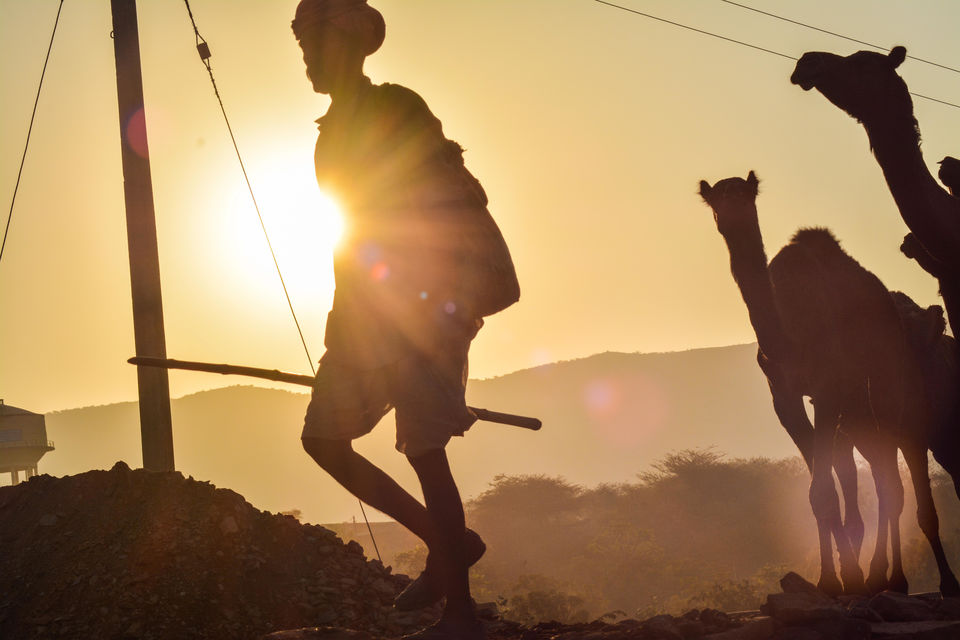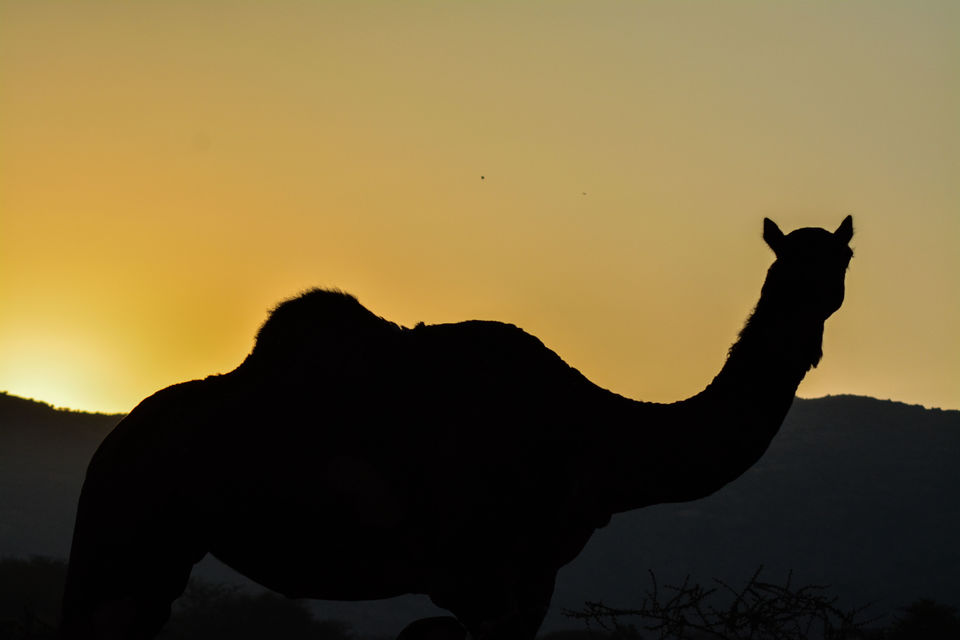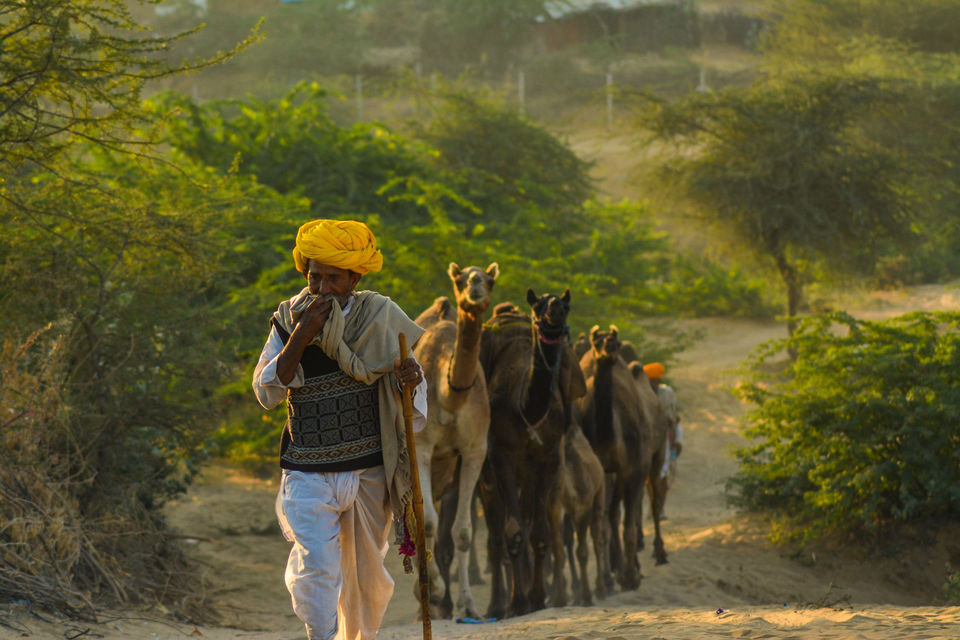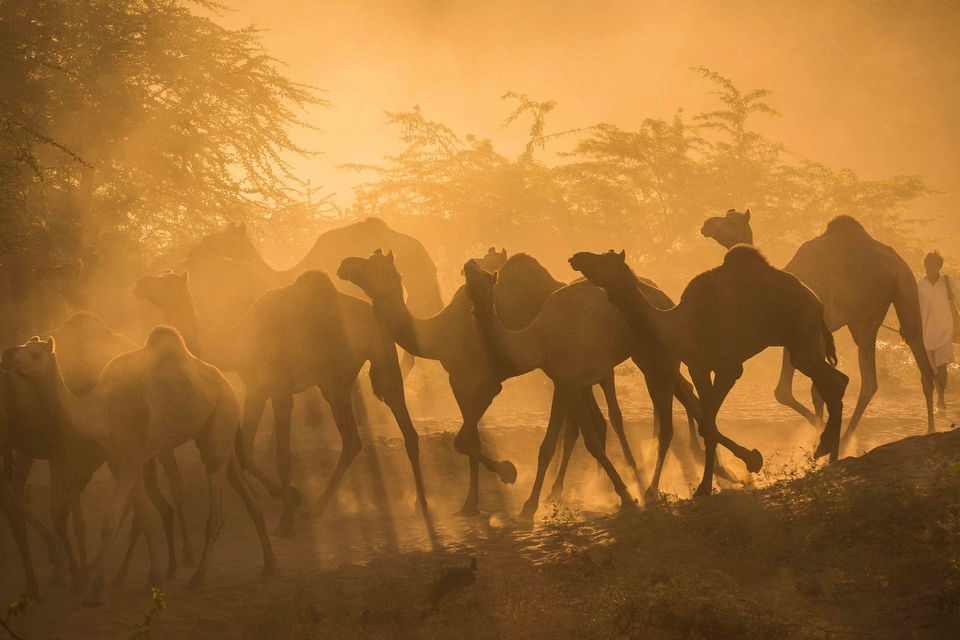 I was standing a small dune when I saw a group of camels coming towards us but I wasnt getting a good angle to click pictures. I ran to the closest dune at a greater height and parallel to the camels and this was when I saw sunlight playing around them. It was a magical scene, better than this picture. And this is also my favorite picture from the picture trip.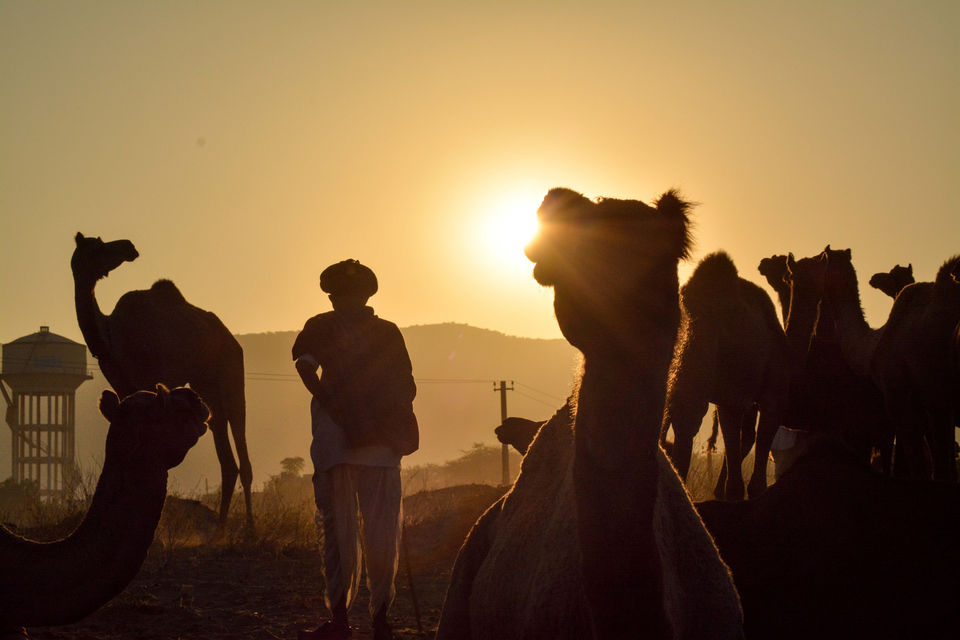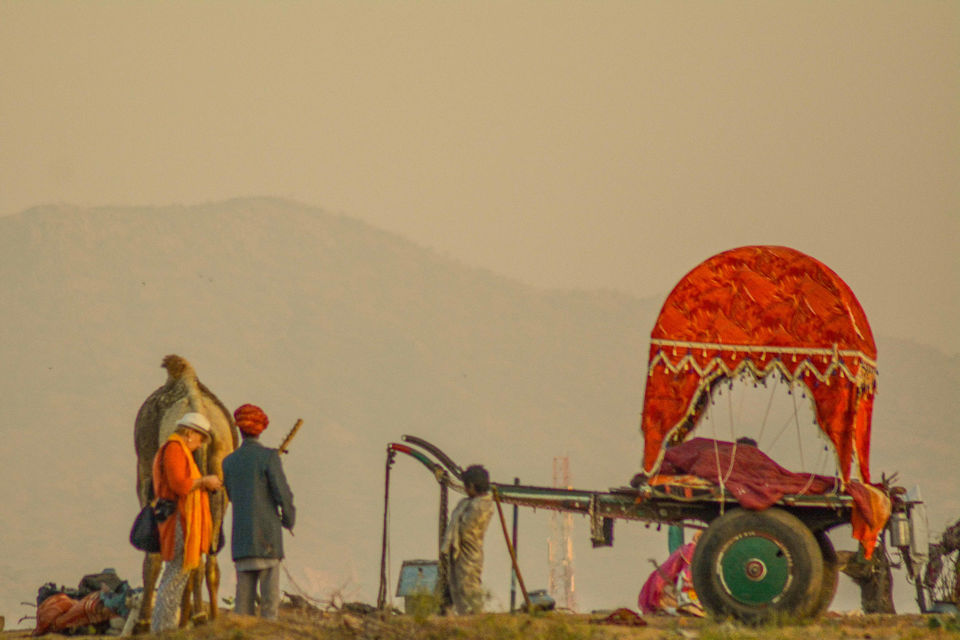 This picture has a lot of things you will find very common in the Pushkar fair.
• The dune and hills in the background. Pushkar a lake city in a desert area and is surrounded by hills from 3 sides.
• The 'buggy' (cart) you see here are in abundance at the fair. For 500 Rs they will take you on a ride of 3-4 km which takes roughly an hour. Make sure you bargain when they quote 800-1000 initially! You can also ride the camel for 400 Rs.
• The local playing the Rajasthani instrument is called 'Ravanhatha'. If you haven't heard it even once, pay 10 Rs to them and they will play for you. It does sound good. Also, their default track is "Udja kaale kaava" from movie Gadar.
• The tourist in the frame taking money out of her wallet to pay the guy is another common scene.
• And last, I like how the kid is looking at the transaction. Wonder what is he thinking!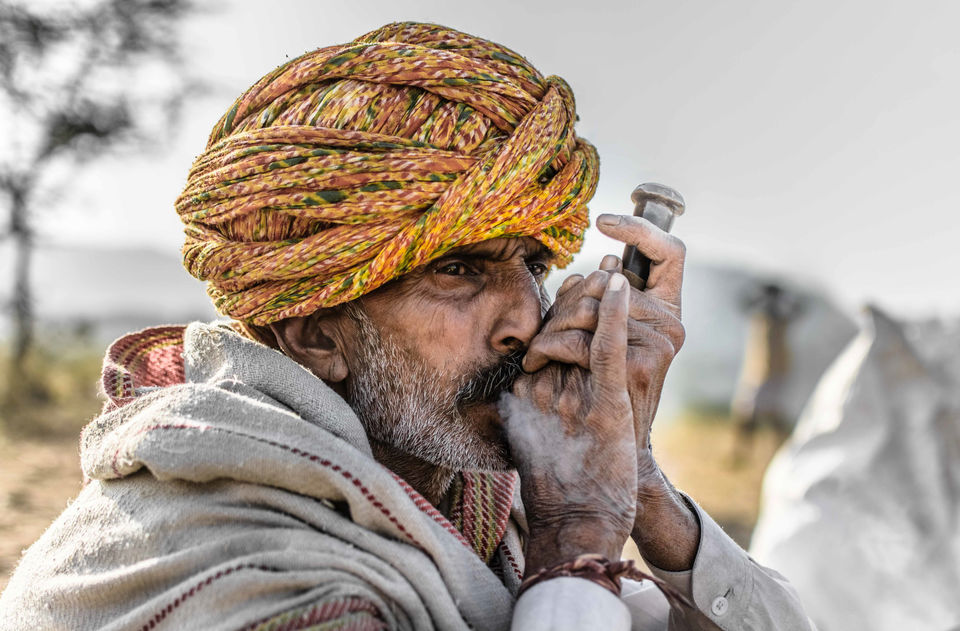 Streets, Nights and Ghat Pictures in the second part! Read Part 2 here..
How to Reach Pushkar
Flight: The closest airport is the Jaipur International Airport which has frequent flights from Delhi/Mumbai/Bangalore. From Jaipur you can take a bus to Ajmer (120 Km - 2 hours) or hire a taxi directly to Pushkar. Pushkar is 11 Km from Ajmer and is separated by the Nag Pahar (Snake Mountain).
Train: There are frequent trains from Delhi to Ajmer and Mumbai to Ajmer. You can travel to Ajmer by train and then take a local bus/taxi. From Delhi it will take you 6-7 hours to reach Ajmer by train.
Bus: Overnight buses from Delhi is the best option to reach Jaipur first and then travel to Pushkar via Ajmer. You can stop in Ajmer and visit the world famous Sufi saint Khawaja Mohiuddin Chishti's Dargah. Overnight buses from Jaisalmer, Jodhpur and Bikaner to Ajmer are also available.
Where to Stay
If you are traveling on budget or are backpacking, there are many guest houses spread around the city ranging from 200 Rs per day to 1000 Rs day. Do check out the reviews of the places you book. Zostel, the backpackers' hostel is one good place to stay in Pushkar. There are a few guest houses around the Ghats as well, where you get to live around the locals and experience their life and routine.
In case you are traveling with family, there are a few good resorts with all luxury facilities. They have their own tour plans and events to keep you busy on your trip.
I personally prefer Airbnb and Couchsurfing while on my travels and if you have planned your tripped well in advance, you should do the same.
What to Do
- Pre-Sunrise hike to Savitri temple to have an amazing view of sunrise with the Aravali range.
- Pre-Sunrise visit to the camel herders' camps in case you are visiting during Camel Fair.
- A camel ride towards the desert side during sunrise and sunset to get the best landscape views.
- Shopping in the Bazaar. Buy handmade bags, leather accessories, silver Jewellery and local items.
- Eat local food. Dal Baati Churma, Ker Sangri, Gatta along with masale wala Butter milk.
- The other thing that is abundantly available in Pushkar is Hash or Bhang! You can ask for 'special lassi or coffee' – Try the road side cafes in the main market if you want to get some high!
- Visit the Ghat during night and evenings and enjoy the calm atmosphere. Walk around the lake.
- Take your camera and walk around the city during the sunset time. You will get the best shots when the herders take the camels back to their villages around Pushkar.
- See one of the 'Aarti' (Prayers) on the Ghat.
- Among the cafes, I have heard good reviews about Sunset Cafe and Sixth Sense. Little Italy, Out of the Blue and Sun-n-Moon are decent restaurants to visit.
- Rishi
Instagram: @the.indian.traveller