The best way to witness and explore the culture of the imperial state of Rajasthan in India is to pay a visit to the Jaisalmer (The Golden City of Rajasthan) and to attain the Jaisalmer Desert Festival .
Every winter Jaisalmer comes alive with the vibrant colors, authentic music and passionate dancing of the Desert Festival. Thousands of people swarm the city to experience the richness of Jaisalmer culture.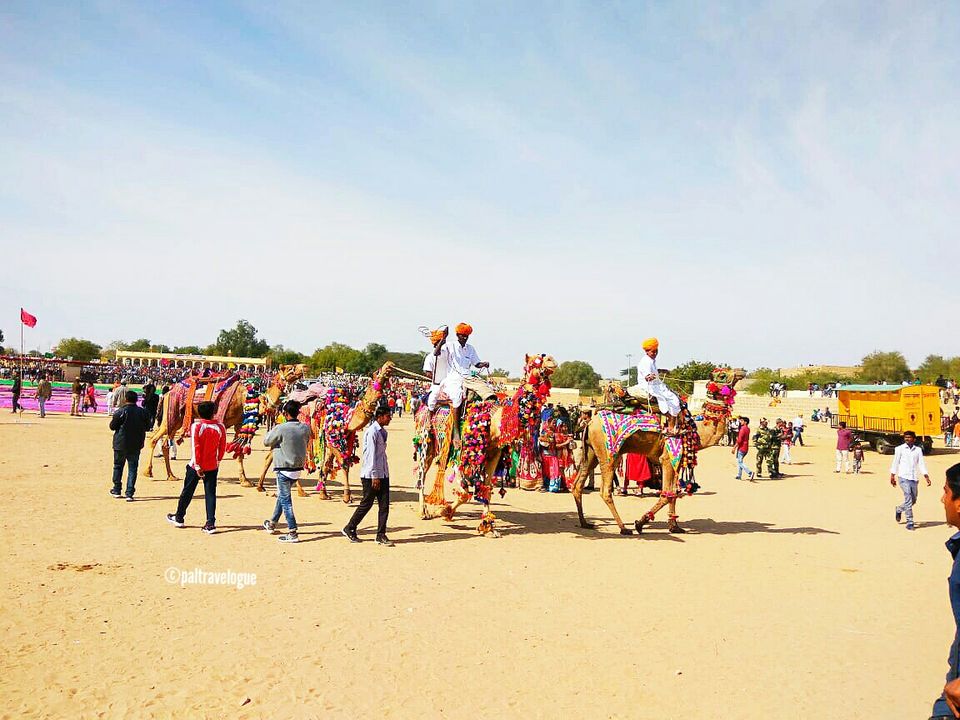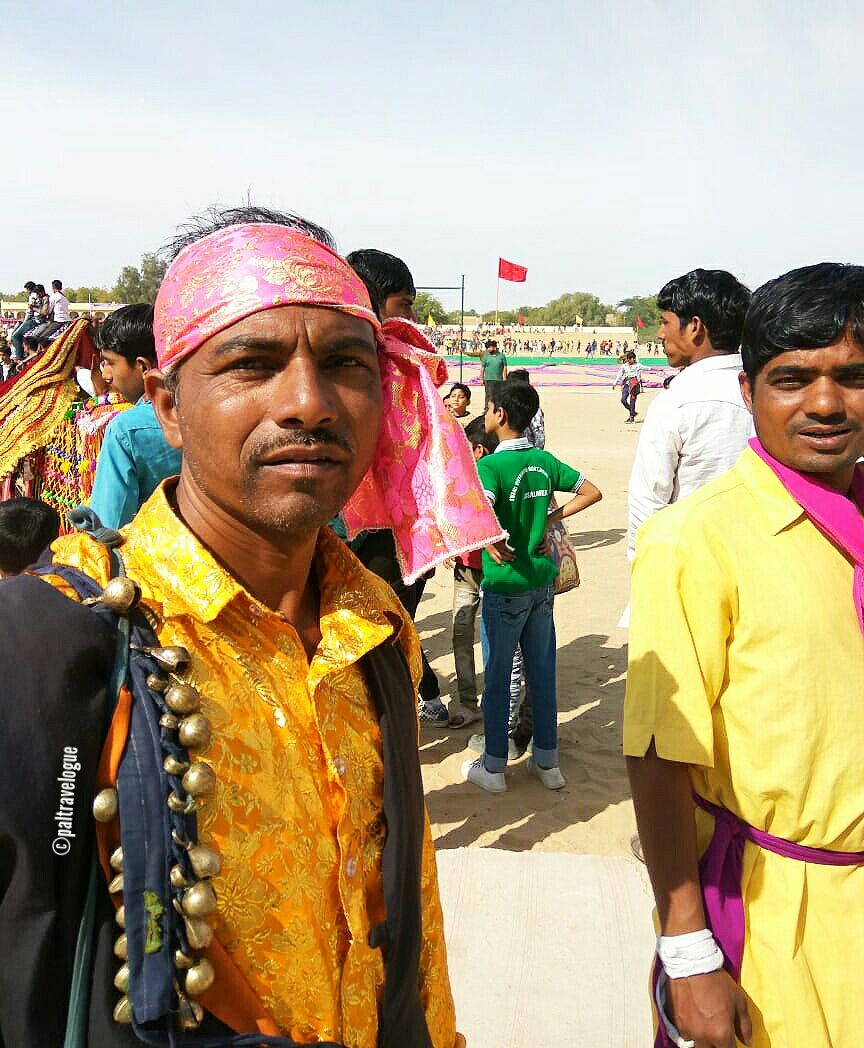 Last month, we visited Jaisalmer and lucky to have a chance to see the Desert Festival 2019.
It is a cultural extravaganza prepared specially for tourists and travelers to showcase the colorful culture of Rajasthan. We were really lucky to witness amazing musical performances, fascinating competitions, unique beauty pageants and indulge in decadent local favorites with a showcase of exquisite handicrafts that are hard to come by anywhere else in the world.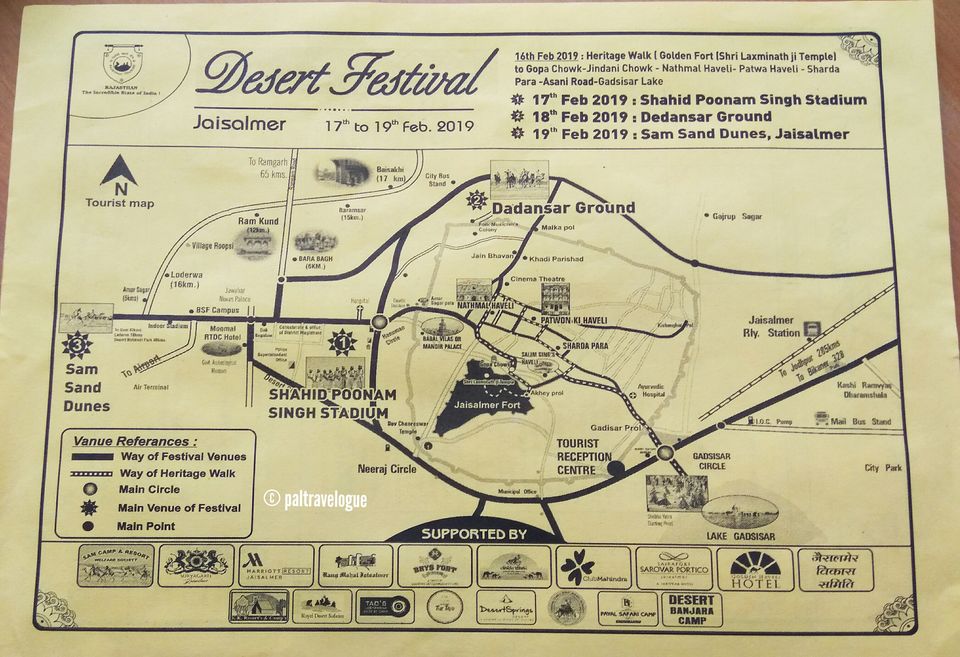 History of Desert Festival
As every Indian celebration, the Desert Festival has its story. According to the legend, Lord Krishna, ruler of Yadav community told Arjuna that a successor belonging to the Yadav clan will establish his kingdom on the Trikuta Hill. The prediction of Lord Krishna, eventually, came true. In 1196 Rawal Jaiswal, a descendant of the Yadav community set up his kingdom in Jaisalmer. Naturally, when people found out that the prophecy came true, they were overwhelmed with happiness and started celebrating it. The celebrations soon evolved into the Desert Festival.
The main purpose of contemporary Desert Festival is to involve more people, to attract more tourists to learn about exquisite Rajasthan culture. Due to the efforts of the Rajasthan Tourism Development Corporation, which is responsible for organizing and hosting the festival, this celebration of the Rajasthan cultural heritage has flourished and developed significantly, attracting more and more visitors from all over the world.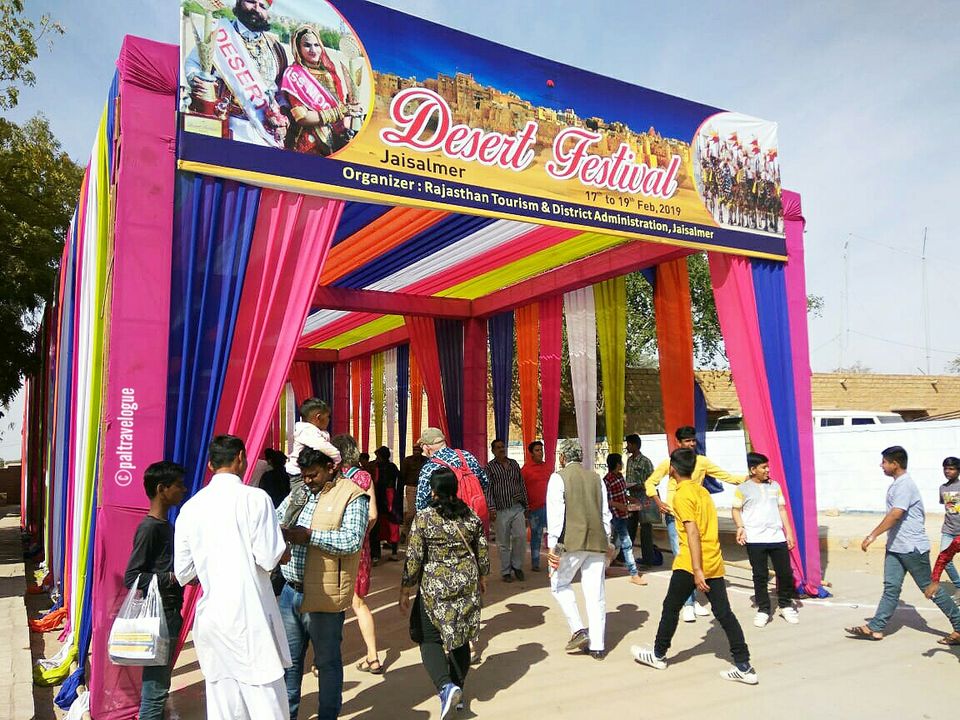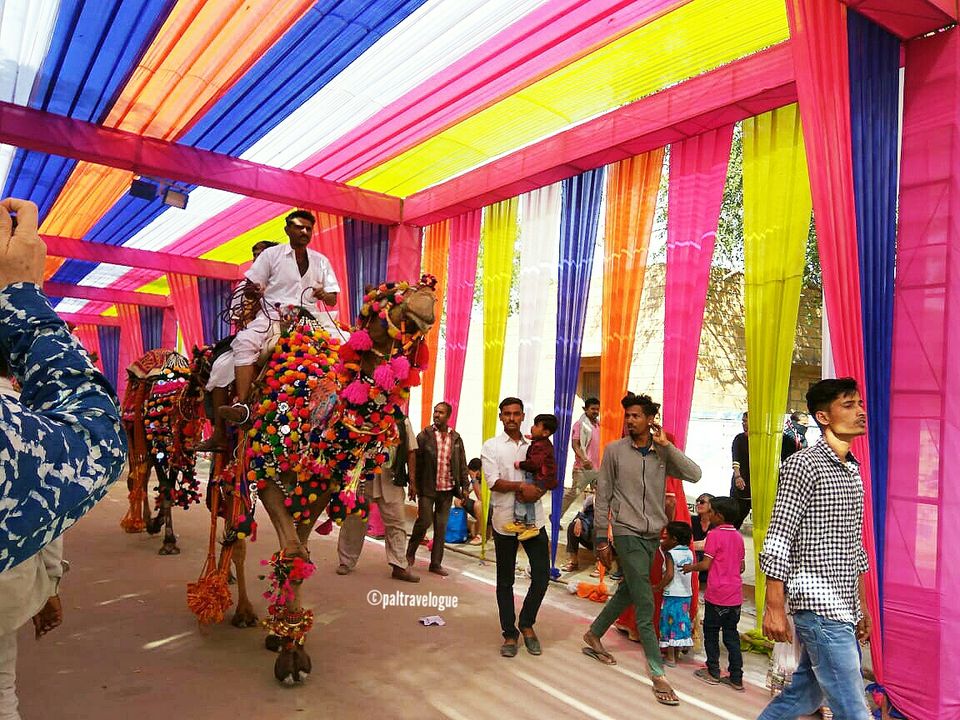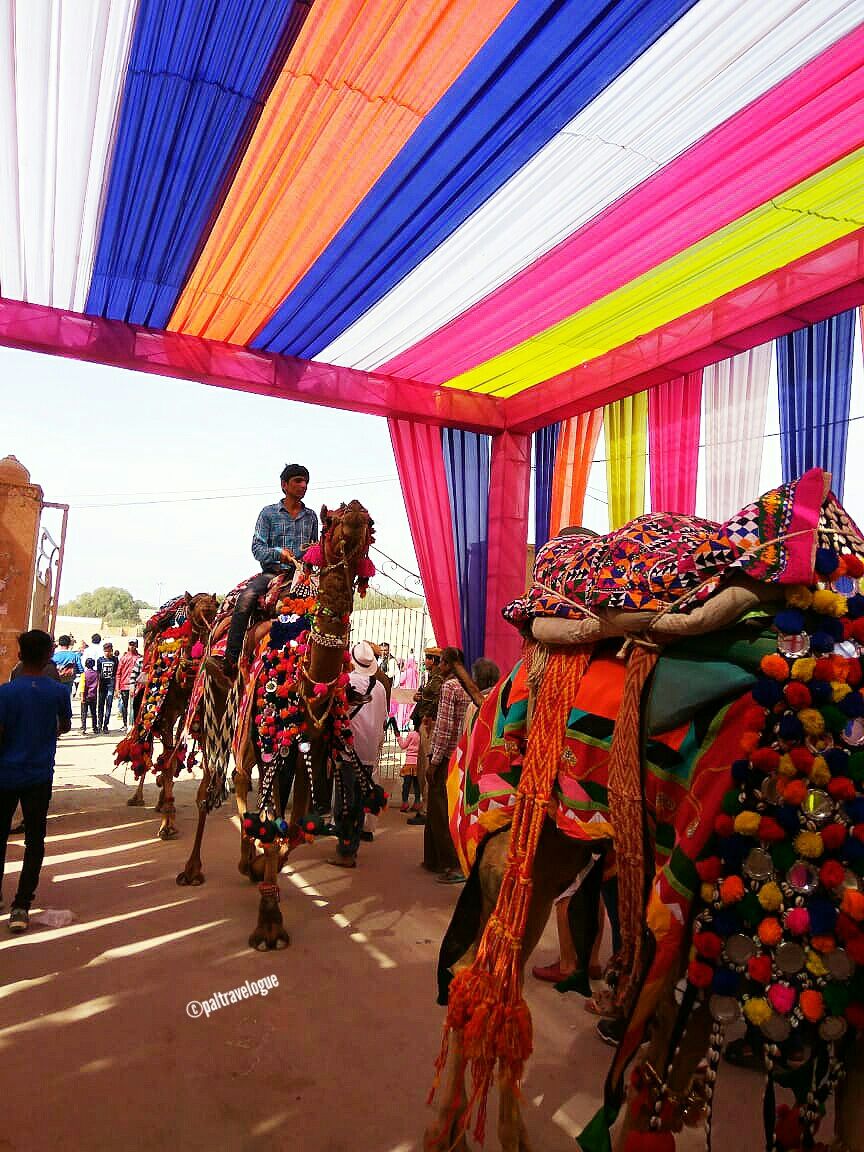 Things happened at the Desert Festival 2019
In 2019, Desert Festival took place from the 17th to 19th of February at the beautiful golden desert city of Jaisalmer in the state of Rajasthan, India.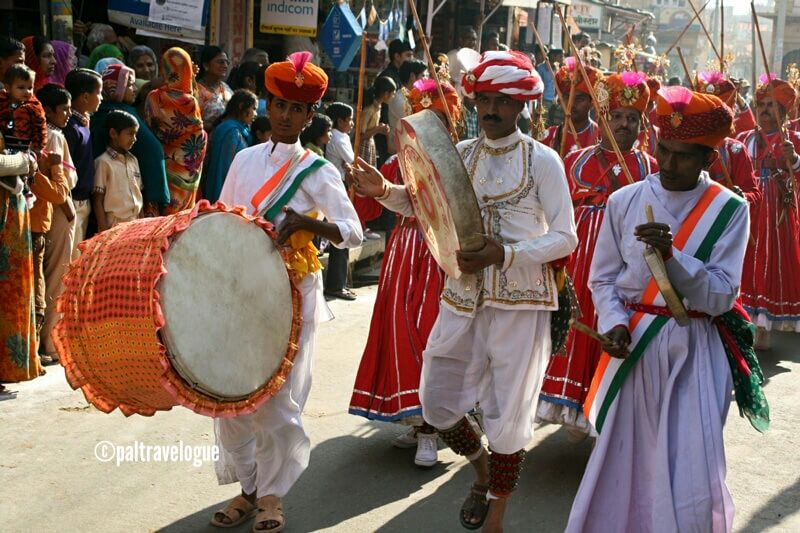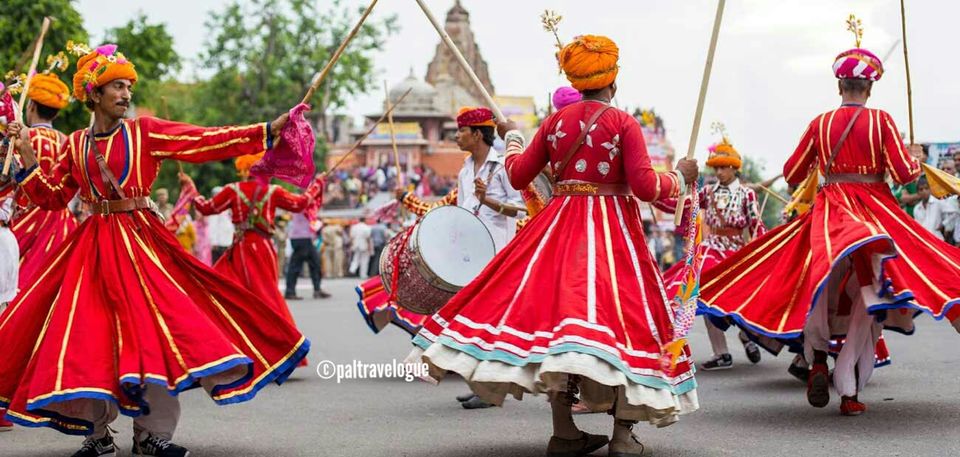 The festival begins on 17th February 2019 at Gadsisar Lake with Shobha Yatra, a ceremonial procession of traditionally dressed Rajputs and local clans. Cheered by spectators, men carrying swords as they ride horses, camels or elephants into Shahid Poonam Singh Stadium, the main venue.
Fireworks unleash a kaleidoscope of colors across the landscape, bringing Jaisalmer Fort to life.
Ghoomar Dance followed by Turban Tying Competition, Moustache Competition, Mr. Desert Competition ....... were the main competitions for the 1st day.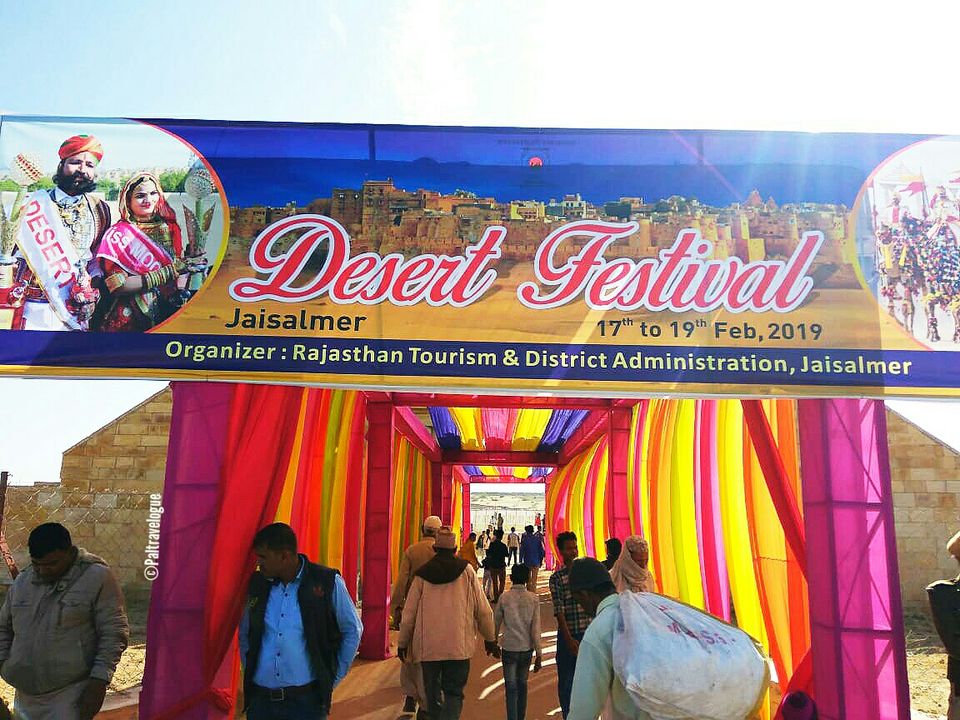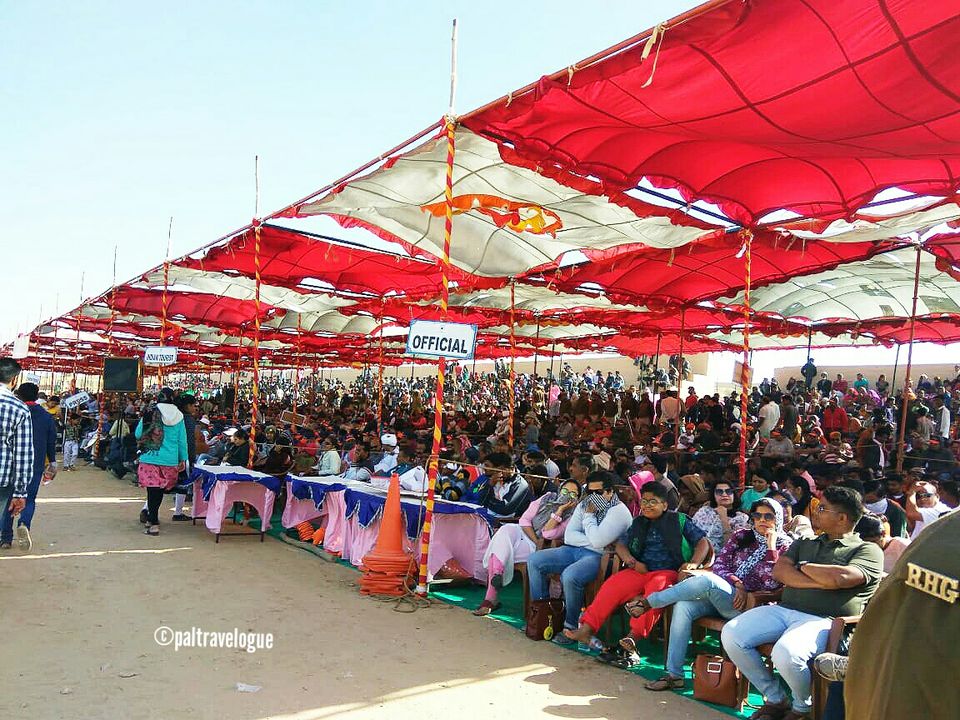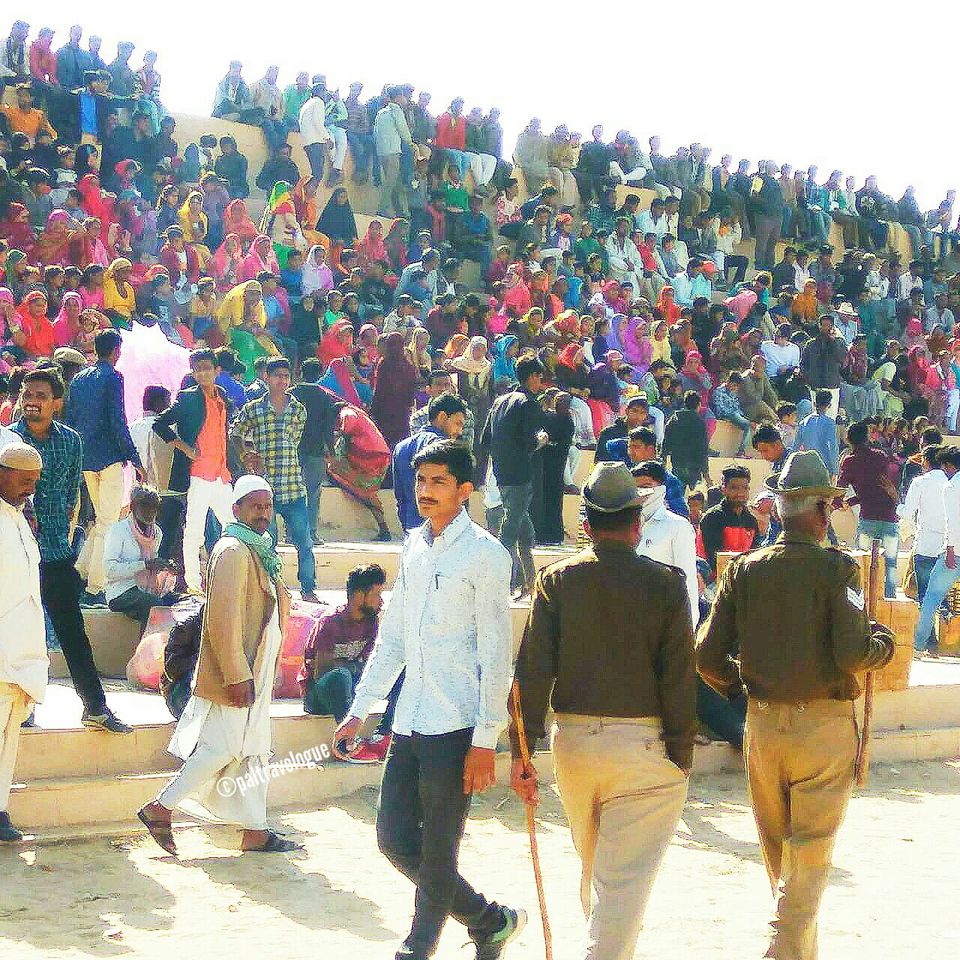 On Second day (18th February 2019), the venue of the Desert Festival was at Dedansar Ground, Jaisalmer .
Camel decoration competition, Shan - E - Marudhara compettition, Camel Polo Match, Kabbadi Match ..... were the main competitions for the 2nd day.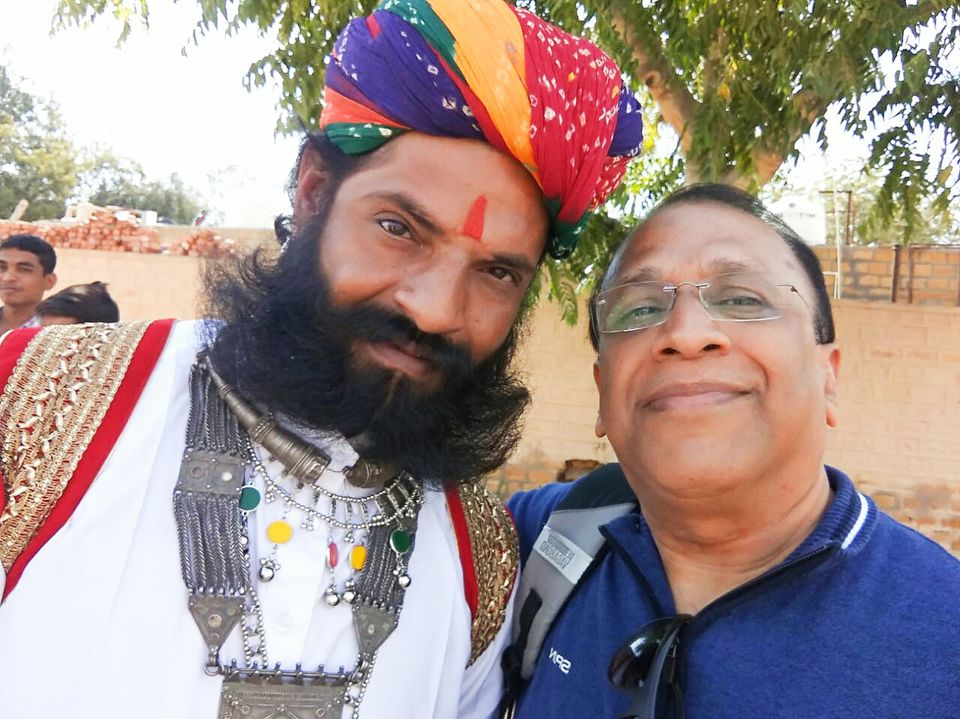 Mr. Desert Contest
Rajasthani symbols of masculinity and honor are their mustaches and turbans. One of the biggest, most honored festival draws is the Mr. Desert Contest, held annually since 1988.
As with any competition, various criteria must be fulfilled.
The contest focuses on contestants rustic physique, correct traditional clothing, the perfectly-bound turban, length and style of mustaches, ideal personality, good ornaments, and above all, must personify the perfect representation of Jaisalmerand of course, the desert.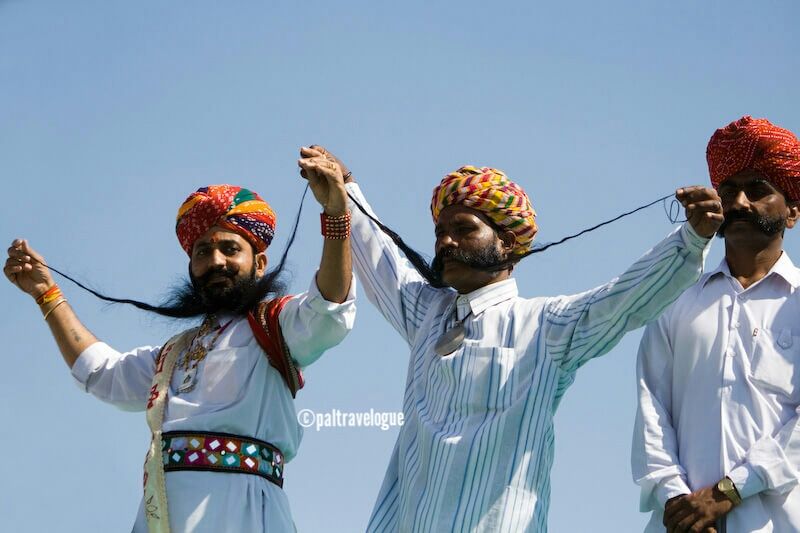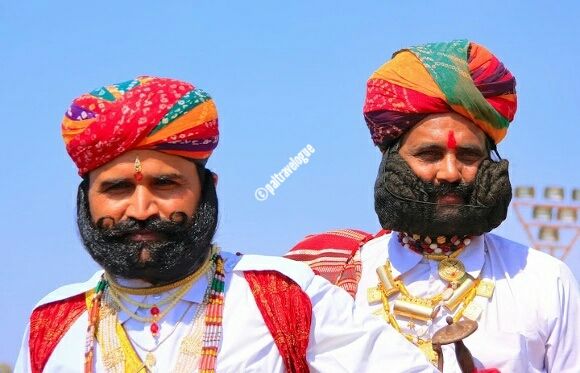 Longest Moustache Competition
Rajasthan presents the most splendid mustaches, hallmarks of honor and admiration. Like peacocks strutting their stuff, the men twirl and stroke their nifty hairy property. Mustaches are assessed on length, style, quality and maintenance.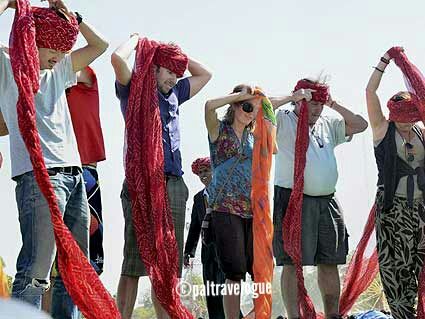 Turban Tying Competition
Popular among locals and visitors, competitors attempt to twist and turn the flowing lengths of colourful fabric forming it into turbans.
Often, the contestant bundles up the turban tying into coiled-up snakes, sending crowds into loud guffaws of laughter.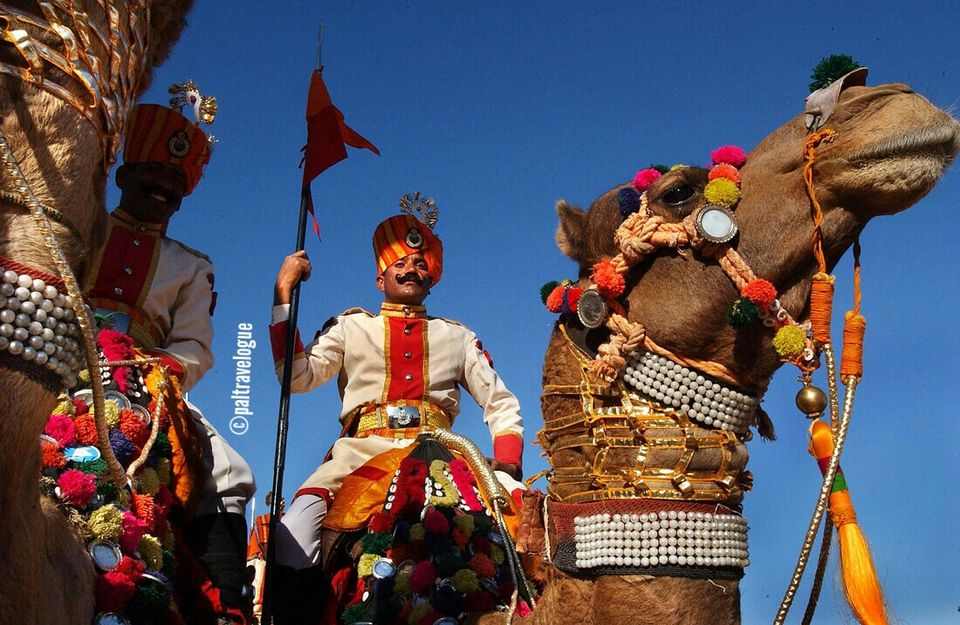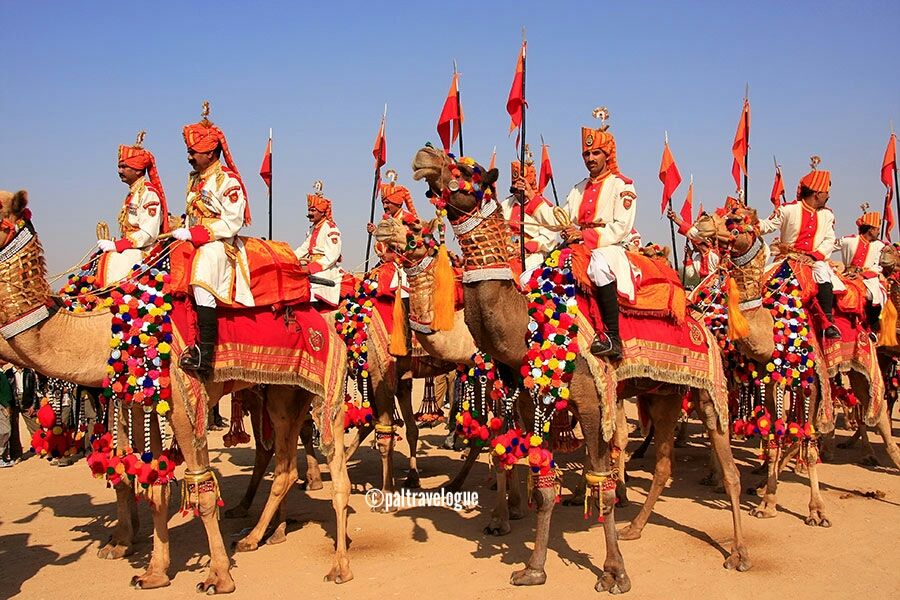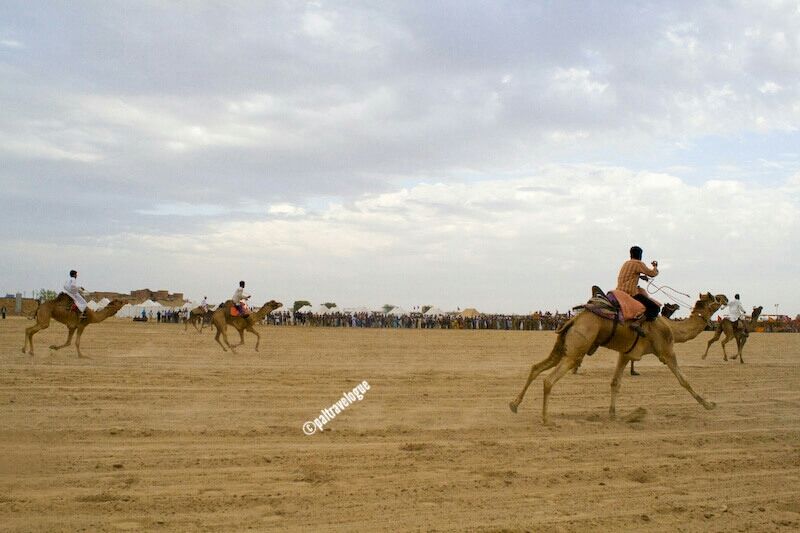 Camel Races, Dances & Rides
Camels adorned in finery 'walk-the-walk' as their owners compete for the Best Dressed prize.
Magnificently mustached locals in their ethnic best flaunt their bedecked camels to join camel dances, camel races, camel acrobatics and a quirky camel tug-of-war!
A polo match organized by the Camel Polo Association of India is played by Border Security Force teams on the festival's second day.
Revelers come together to pull a rope in the tug-of-war contest. If mighty Olympus is not favorable, the losing team falls like a pack of cards!
Panihari Matka Race
Local and foreign women participate in Panihari Matka race, underlining the drinking water culture. Women visitors endeavor to race balancing water laden earthenware pots placed on their heads.
Gair and Fire Dancers
This thrilling crowd puller involves dare-devil fire stunts where dancers perform swaying to traditional tunes holding flaming rods and 'spitting' kerosene.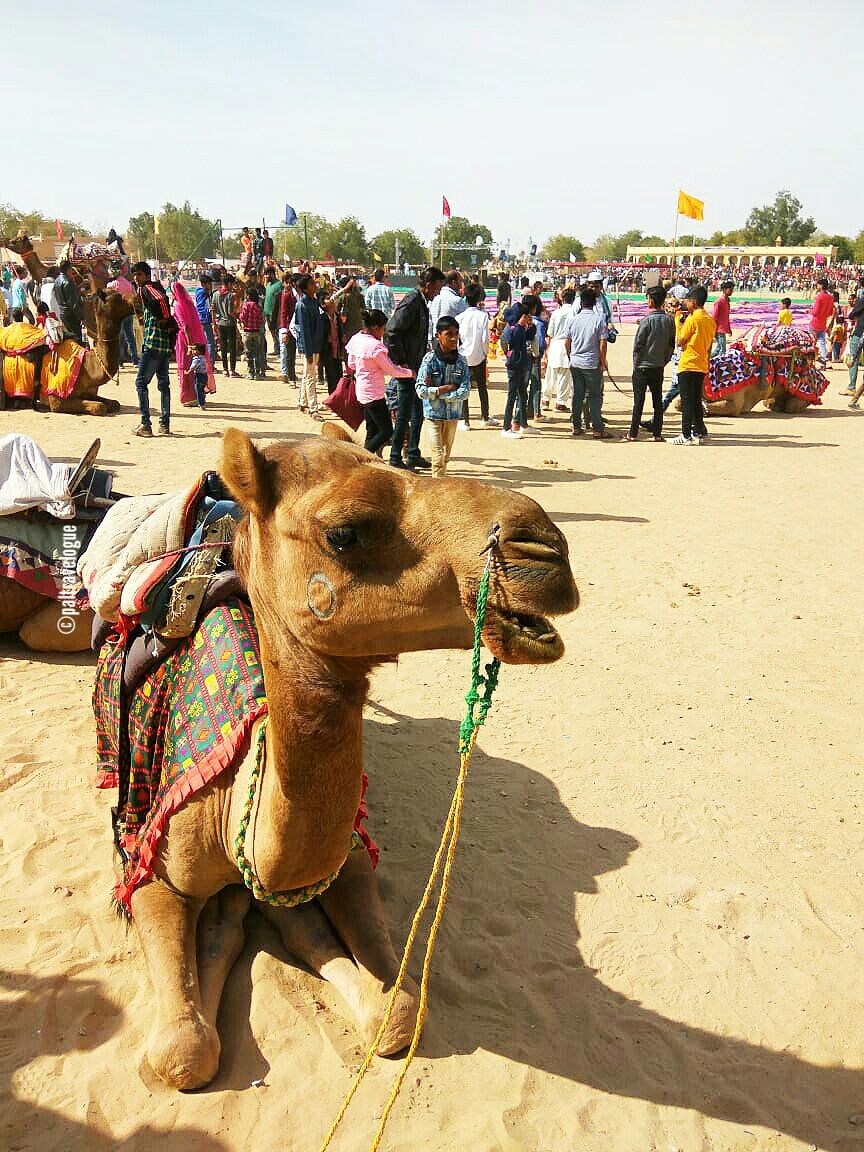 The Third day of the Festival (19th February 2019) was at Sam Sand Dunes, Jaisalmer .
Showcasing of Village Life, Camel Dance , Kalbelia Dance, Camel Race ........ were the main items for the 3rd day (last day of the festival).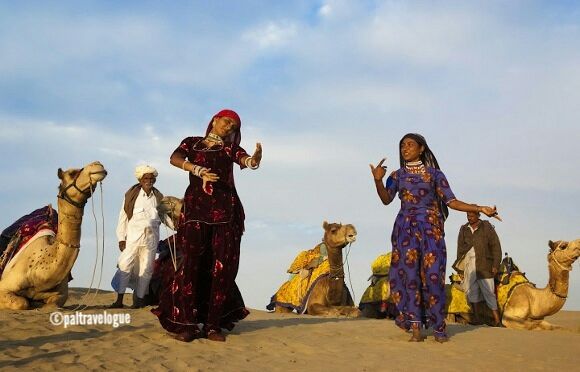 Kalbelia Dance
Inscribed in 2010 on the UNESCO Representative List of Intangible Cultural Heritage of Humanity, Kalbelia is one of Rajasthan's most sybaritic dance forms celebrating joyful events by the kalbelia or 'snake charmer community'.
Dancers dress in long black skirts embroidered with silver ribbons.
They sensuously spin in circles to the accompanying pungi (snake charmers wind instrument), dafli (tambourine) and melancholy tunes of been (the snake charmers' wooden instrument).
Festivities end on the third day with a desert safari to Sam Sand dunes, corresponding with Poornima (full moon). An enchanting moonlit music and light show between the golden sand dunes draws this wonderful festival to a close.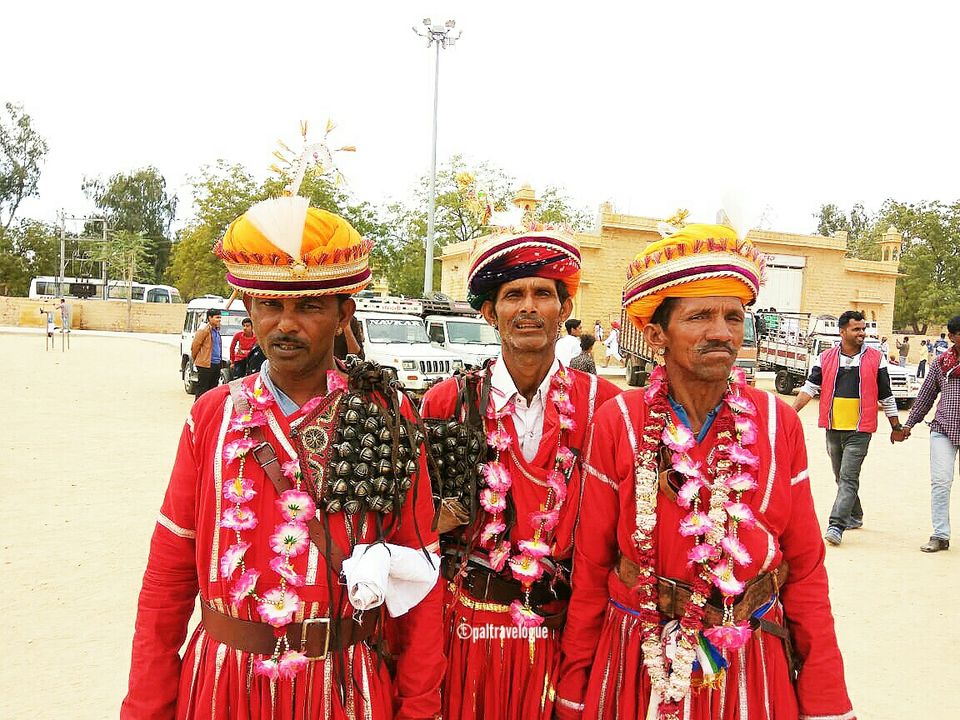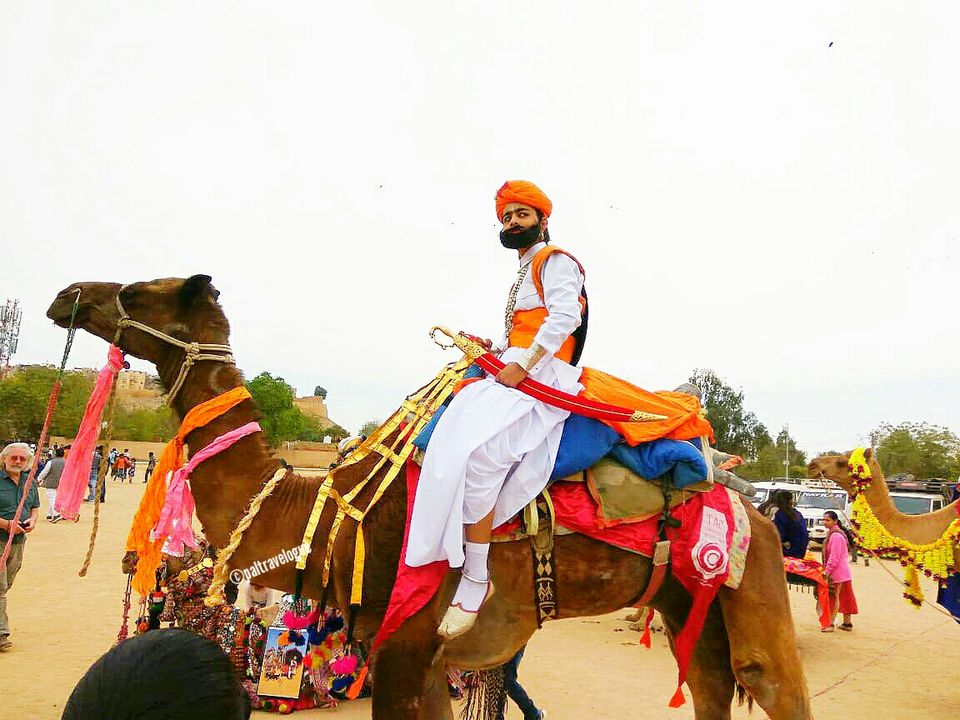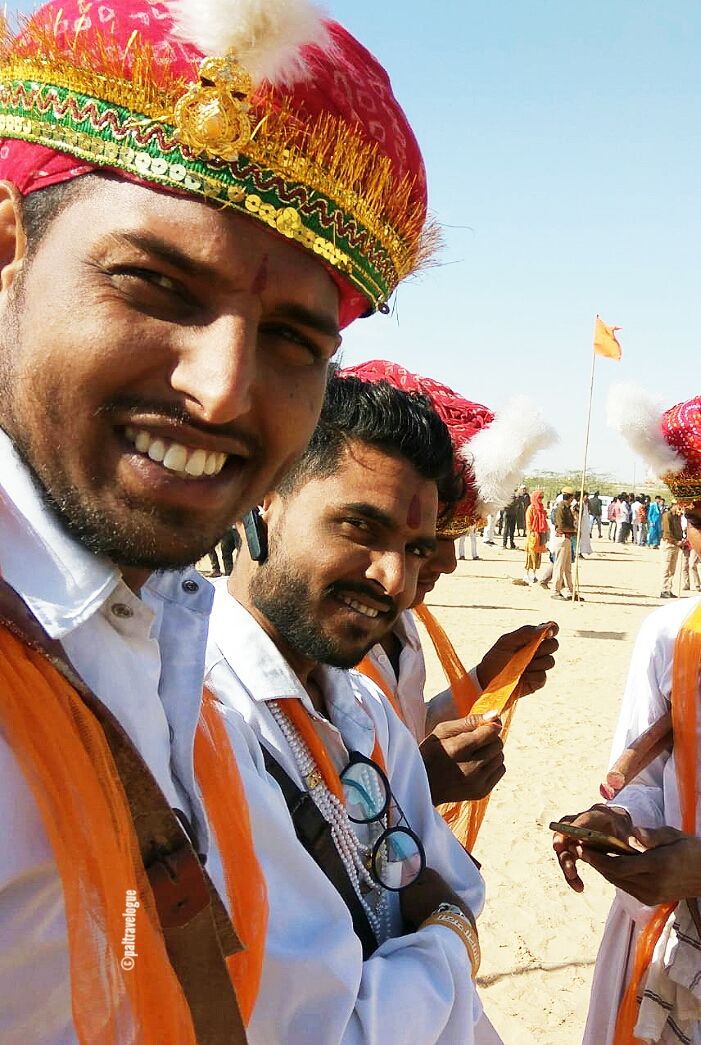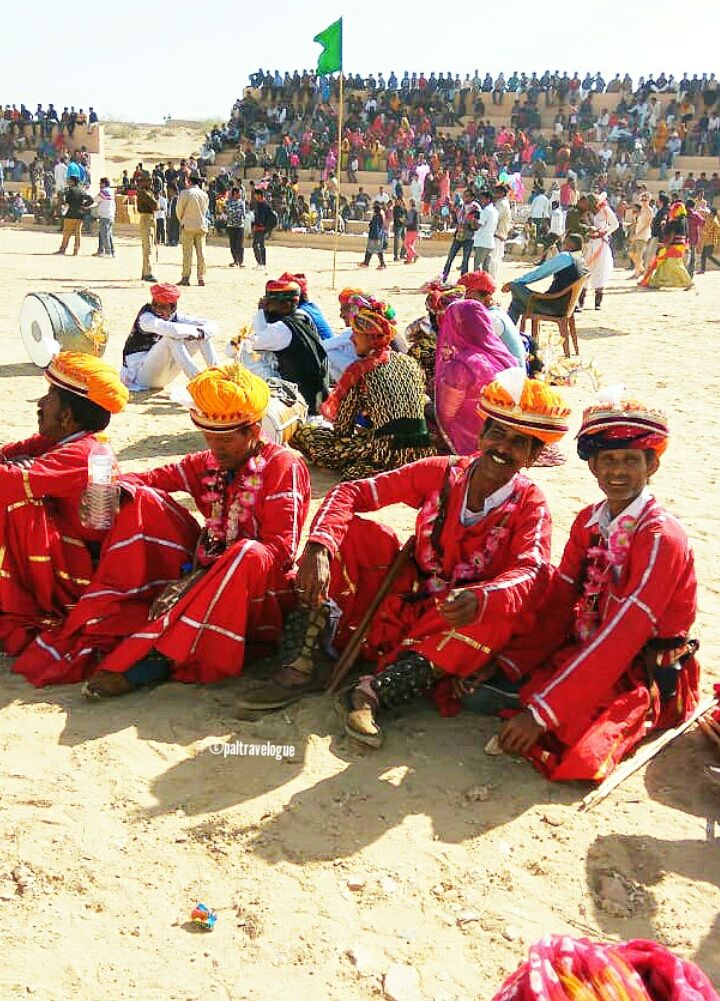 Jaisalmer's Desert Festival delivers an opportunity to perceive the traditional fusion of music, dance, culture and attire that imprisons your heart, far from the usual experiences in urban India.
In Jaisalmer, you will experience another India, remote, unspoiled and romantic atmosphere of golden sands far from hustle and bustle of typical, always in a move, exuberant and noisy India.
In Jaisalmer, if you need any help, you can go to the tourist help center, where people are always eager to help tourists with how to spend the Desert Festival and enjoy time to the fullest.
Things to Buy from Desert Festival
The festival is a shopper's paradise for those seeking intricate handicrafts and handloom attires in vibrant colors, decked with meticulous thread work and mirrors. Shop for unique home décor artifacts and exquisite pieces of attires that are quintessential to the land and are made by local craftsmen in the traditional manner! The festival is also a hub for foodies as it serves an authentic Rajasthani fare with stalls and dhabas offering freshly made hot local delicacies.
Fortunately, money exchange will not be a problem at the festival as there are several portable money exchange stalls and most major shops accept credit and debit cards and mobile wallet payments to ensure a great shopping experience.
How to Reach Jaisalmer?
By Road – Bus / Taxi
Jaisalmer is easily accessible for those coming via road. It is a few hours drive away from major Rajasthani cities including Jodhpur, Jaipur, Udaipur and Bikaner.
There are local buses and Private Taxi services plying from major cities nearby like Jaipur, Udaipur,Bikaner, Jodhpur and New Delhi to Jaisalmer which is comfortable for travelers.
By Train
The city also has its very own railway station where frequent trains ply to and from major Indian cities along with cities in Rajasthan.
By Air
The Jaisalmer city also host its own airport which has started last year only …… there are direct flights from Delhi, Mumbai and Jaipur to Jaisalmer .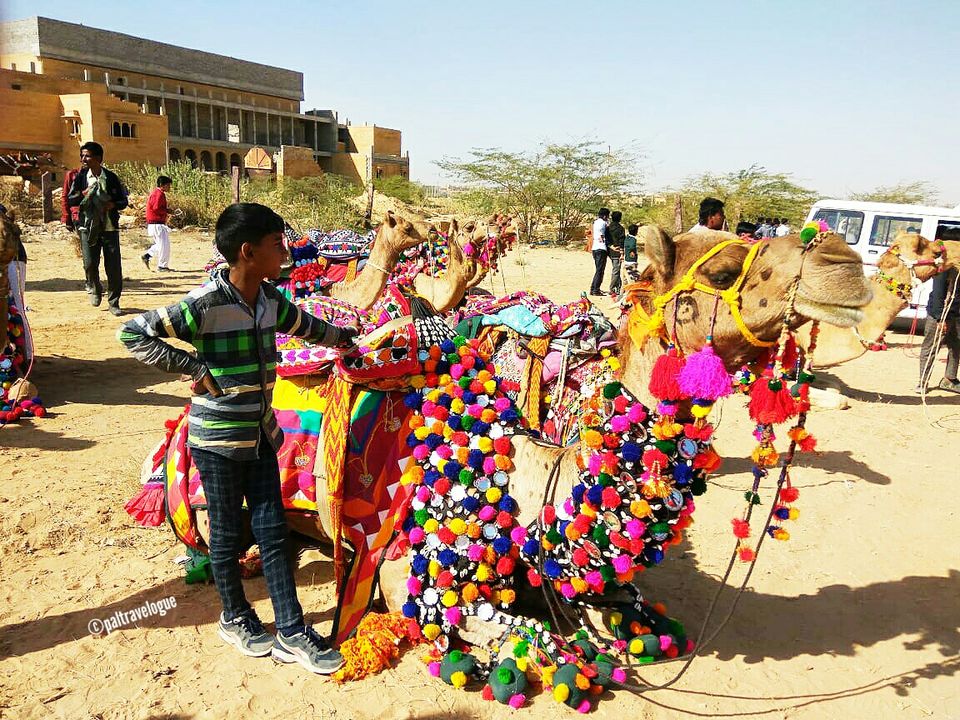 If you do like the idea of escaping from daily routine to the Jaisalmer Desert Festival, start planning your trip straight away for next year.
Hope you will definitely enjoy your trip to Jaisalmer Desert Festival at 2020 !!!