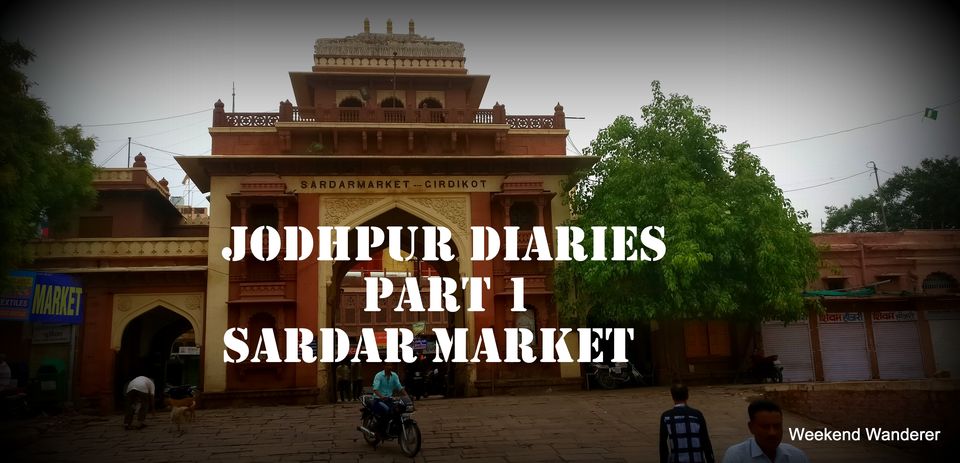 Jodhpur Jinks:
I have been planning for weekend trip to Jodhpur for long. Luckily this time around my friend Nikhil and Pooja agreed to accompany me and my wife,so we were ready to hit the road (in our case rail). In India if train journey is required then the first prerequisite is to book the tickets well in advance. Population itni hai ki train ka tickets milta hi nahi. Thankfully advance booking of one month ensured that we got confirmed tickets. But then as they say there is always a slip between a cup and the lip, toh mere bhi hoto per jaam aate aate jhalak Gaya.... 3 days before the trip,
Jodhpur jinks ka kala jadoo chal gaya,
Aur maine viral fever se bister pakad liya.
I cancelled my tickets! Trip cancelled !
However after cancelling the tickets, I started to feel the pangs of missing out my trip,I couldn't sleep the whole night and next day no sooner when I felt better.I again booked my tickets, this time around I got wait listed tickets and waiting no 84!, Per kahte hai na.....Agar kisi cheez ko shidat se chaaho toh puri Qayanat usey tumse milane ki koshish mein lag jati Hai.
Well on the day of the departure my tickets got confirmed miraculously and I was on my way to Jodhpur.
Jodhpur here I come !!
I love train journeys, Sitting at the window, watching the rivers, creeks, bridges, houses, green fields,trees,mountains pass by are the most cherished moments for me.It was raining very heavily so the scenery outside the window was all the more mesmerising.
Lush greenery due to monsoon
Most often I hardly sleep a wink when I am traveling because I love to get down on stations especially late at night, with the sound of tea seller calling out chaiii, and you can actually enjoy drinking tea on a deserted station.
Trains and Rains
After the overnight journey we reached Jodhpur at 6:30 in the morning. My excitement knew no bounds. I was standing at the door of the train to have the first glimpse of Jodhpur and slowly our train glided on the Jodhpur station.
First glimpse of Jodhpur.
As soon as we got down at the Jodhpur station we got the taste of the Rajasthan by just looking at the station itself. The prominent clock tower , then the painting on the wall all spelt Rajasthan in bold letters.
Prominent Clock Tower at Jodhpur Station
Typical Rajasthani style Paintings
on the station walls
As usual we took our mandatory group picture at the start point.Note the sleepy faces after all it was 6:45 am in the morning.
Yaaro Chehra toh doh lete
Being a backpackers we decided that we will walk to our hotel, which was around 2 KMS away from the station and another reason for walking was that we felt we will start exploring the city from close quarters. However after walking for over one and a half km , my wife started giving me ferocious looks so I thought its better that I hail an auto. The auto driver plundered Rs.40 from us for 2 minutes ride. Loot lo tourist hai was written all over us.
Loot lo tourist hai was written all over us.
Our hotel was a Haveli, ab feel aana mangta hai na bhai ki hum Rajasthan me hai. Our Haveli was 3 storied Haveli with a huge verandah in the center of the Haveli, which housed the restaurant of the hotel.
Our hotel is an old Haveli
Kisi ne sach me kaha hai sokh badi cheez hai, So time for some enjoying haveli life. We checked into our rooms got freshened up and marched out of the hotel to explore the town.
Time to enjoy Haveli life
Jodhpur, especially the main city centre has this typical small town ambiance viz. narrow lanes, with shops flanked on both sides of these narrow streets,scooters and autos screaming past you without a care in the world. We walked our way from the hotel to Sardar market our first destination for the day. A mere walk of 15 mins from Merti Gate and we were standing at the Sardar market gate.
Sardar Market Gate
Coming out from the lane on our right side we saw this gigantic Sardar Market gate and just across the road we couldn't miss reading out Shahi Samosa board so with hunger pangs clinging to us we felt it better to raid the samosas.
Shahi Samosa Shop on the right
Samosa were indeed jumbo in size, the filling was so delicious that it's beyond words to be described. In fact when we asked for chatni with Samosa, the shopkeeper smiled and said Aap Samosa khaker toh dekho aap ko samajh jayega ki chatni ki koi zaroorat nahi...and indeed those words were too true. Next we hogged on local delicacy of Mirchi wada followed by the ever famous pyaz kachori.Ab papi pet shant , we moved forward towards the Sardar market gate from the Nai sarak side road.
Top view of Sardar Market from Nai Sarak Side
This gate is known as Girdikot, which means crowded gate. True to its name the gate is surrounded by small shops with tea seller on one side, lined up next to him is a shoe and saree shops, actually opposite the Sardar gate lies Nai sarak which is a kind of popular local market for the natives. Major attraction on Nai sarak road was series of shoe stores selling mojadis, leather bag, local handicrafts and dresses.
Riots of Colours
As soon as we enter the Sardar market, we are confronted by a huge clock tower in the center of this market.This clock tower was built by Maharaja Sardar Singh. This area is also popularly known as Ghanta Ghar.
Ghanta Ghar
Sardar market I was told is one of the noisiest place is Jodhpur. It has shops flanked on both sides and numerous hawkers vending their wares keep roaming around the premises.
vendors vending their wares
If you ask me Sardar market epitomize a true market place of a small town with the array of colors displayed through jingling jodhpuri Bangles,gunny bags of colours, mounds of spices like turmeric powder, chilli powder, multicolored fruits and of course the famous colourful bandini sarees.
Colour Festival
As a traveler you stand dazed for a few minutes, among all this noise, chaos and colour festival.that you have to find your moorings.Am I in a real world !! There is so much available for shopping in this Sardar Market that one should dedicated atleast a day for exploring different shops and restaurants. We had time constraint during this visit,but next time I am definitely going to spend an entire day here.
Standing in the market we could see the majestic Mehrangadh fort in the background.
We clicked few pictures and came out from the back gate of Sardar Market and took left to move to our next destination that was Toorji ka Jalra. In my next blog I will take to the mystical world of Toorji ka Jalra. Stay tuned till then.