Jodhpur emerges like a blue mirage from the cityscape amidst the rich cultural heritage. Unlike what many would think, Jodhpur offers a pleasing amalgamation of old world charm and modern day vibe. From the majestic Mehrangarh Fort to the mesmerizing blue streets, from authentic local experiences to contemporary worldliness, Jodhpur is a modern tale of the classic era and has something for all kinds of a travelers.
This was our second time in this fascinating city and we discovered it unlike before, something new something old but still as exciting as ever. Let us take you through the list of our favourite things to do in Jodhpur.
#1 Visit the mighty Mehrangarh Fort
If ancient architecture is your thing then top your list with a visit to the majestic Mehrangarh Fort.
It is an epitome of glory, royalty and grandeur. It stands tall in splendour overlooking the city of Jodhpur. The view of the blue city from the top of the fort is absolutely breathtaking.
Go early morning to avoid the scorching heat and skip the crowd. The fort is famous for its exquisite design, carved panels and intricately decorated windows and walls. The fort and its palaces were built over decades under different rulers and as a result you'll notice a transition in the construction style as you progress through the fort. Trust us, you'll be taken by surprise with the stories the fort has to tell.
Entry fee : Nationals: Rs.100, International: Rs.600, Camera: Rs.100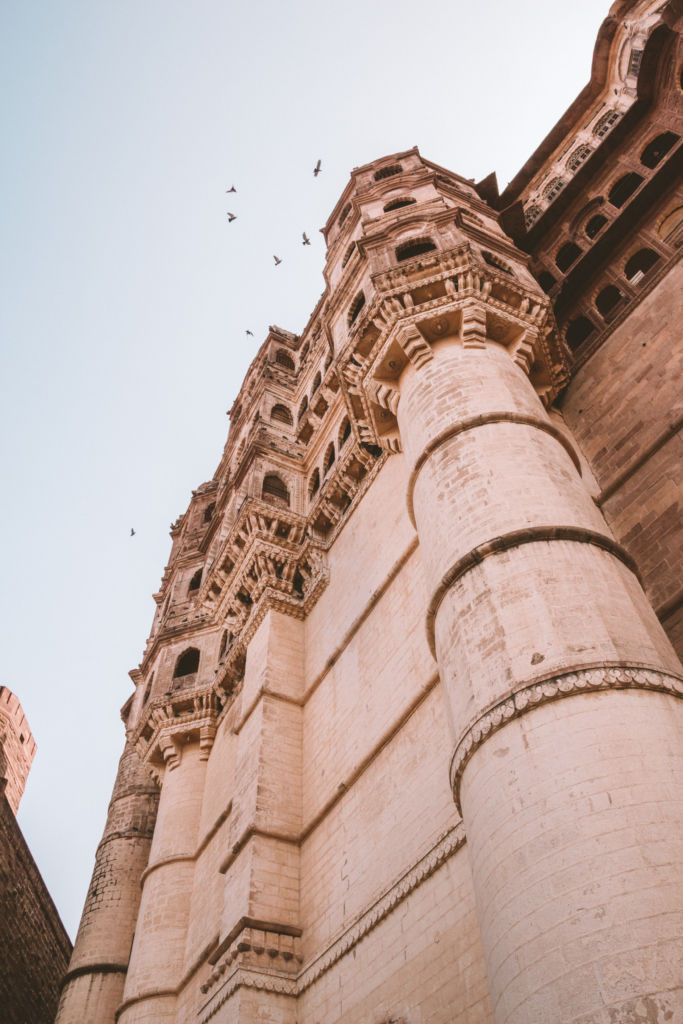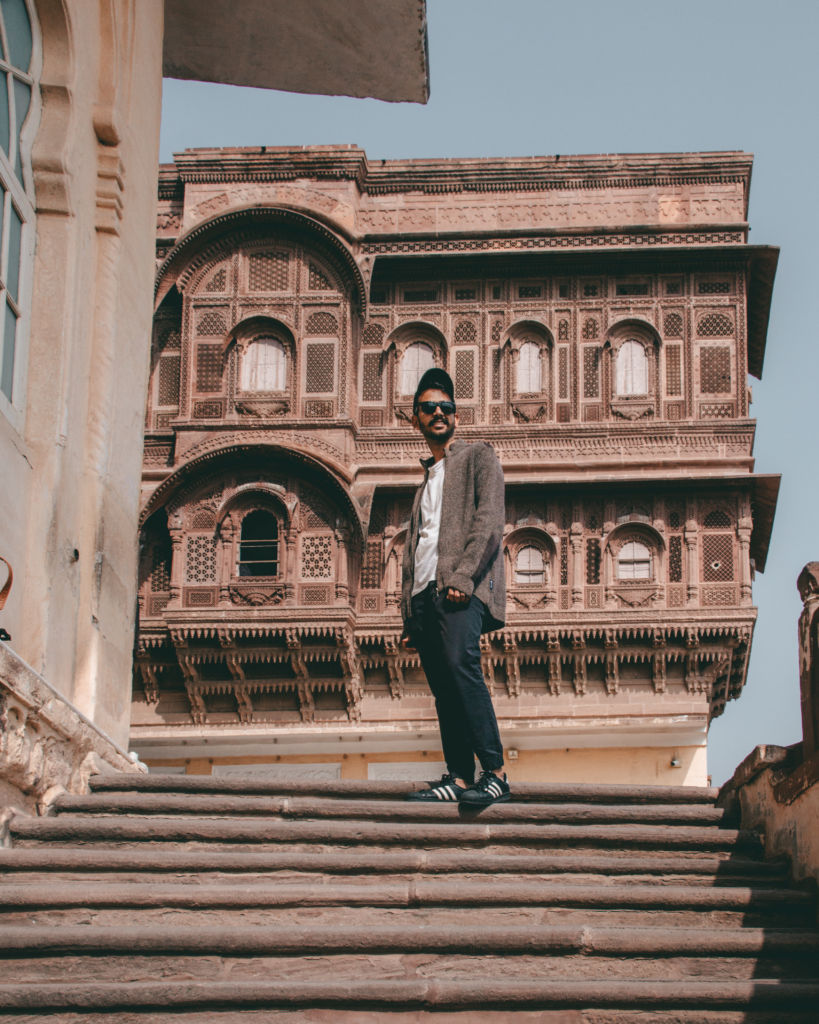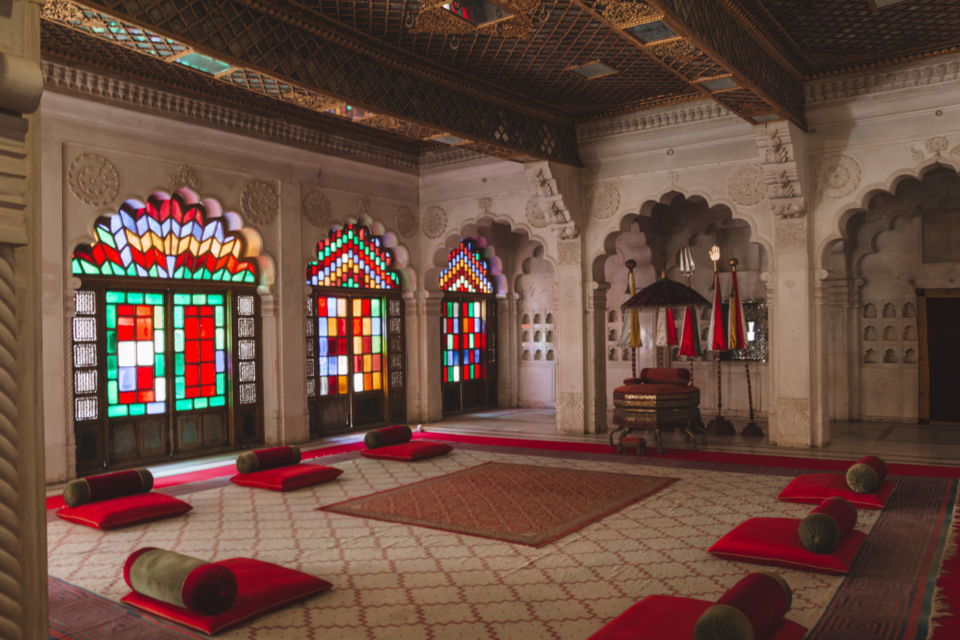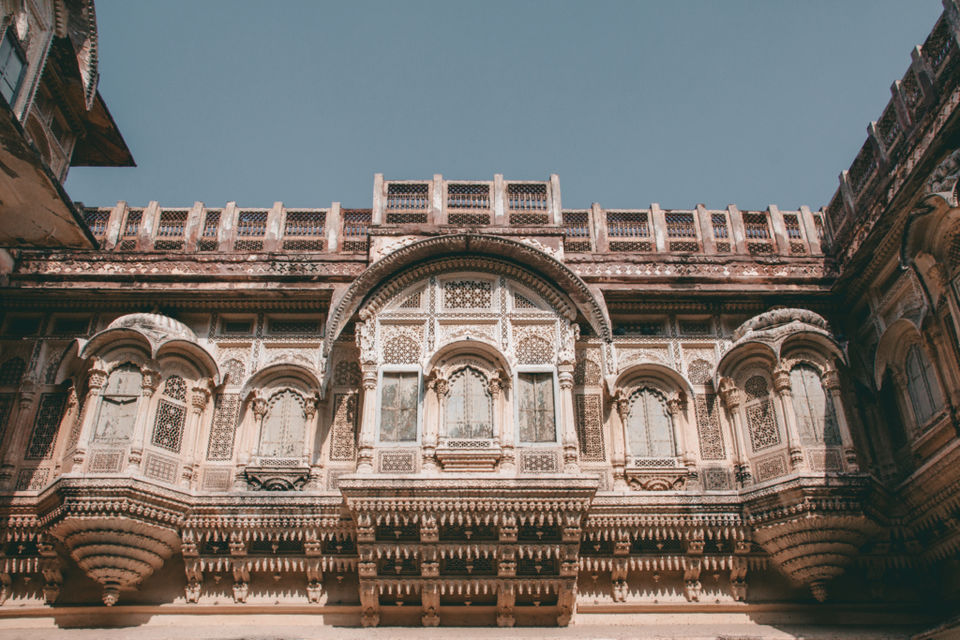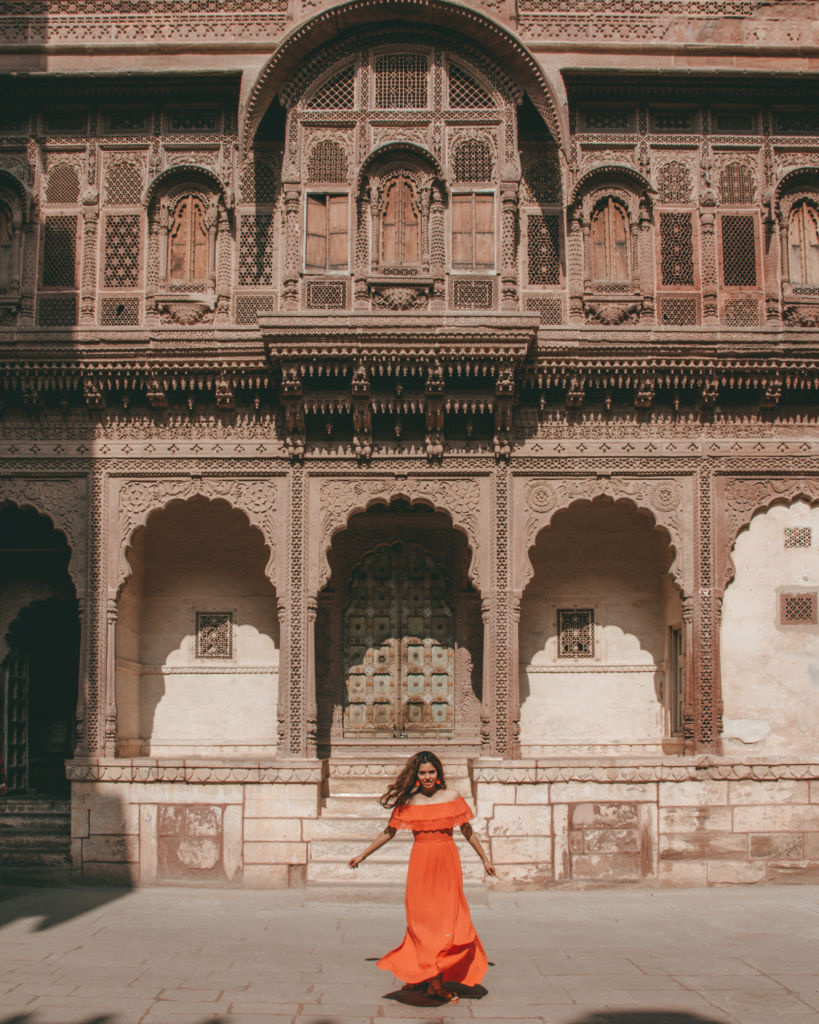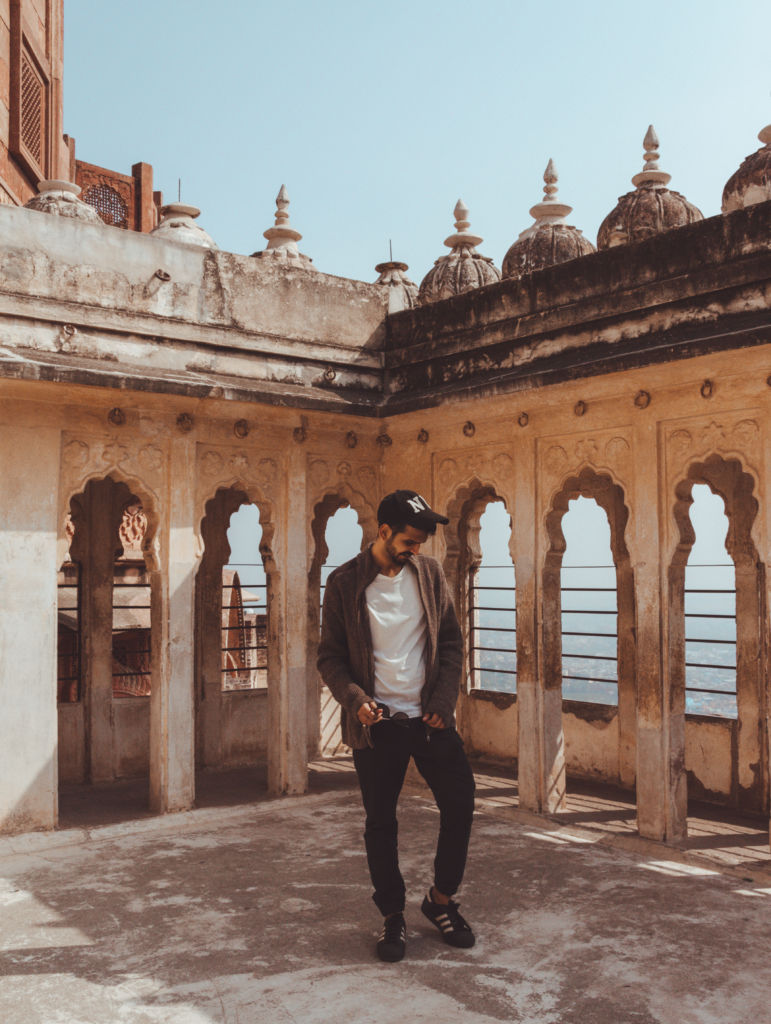 #2 Walk the trails of RaoJodha Rock Park
This has to be one of the most underrated places in Jodhpur. When we visited the park there weren't many tourists and not many come here either. Rao Jodha Desert Rock Park lies at the foot of Mehrangarh Fort. From the terrace of Mehrangarh Fort, Rao Jodha Desert Rock Park stretches as far as the eye can see. It was created in 2006 to restore the natural ecology of a large rocky wasteland next to the fort. It has been beautifully restored and planted with native species to show the natural diversity of the region. Upon entering into the park you'll be handed over a map for the entire region and you can choose to walk any of the trails marked yellow, green and red. You can easily do these by yourself or with a guide, arranged at the visitors centre.
Entry: Adults: Rs.100; Hire a Naturalist for a guided walk: Rs.200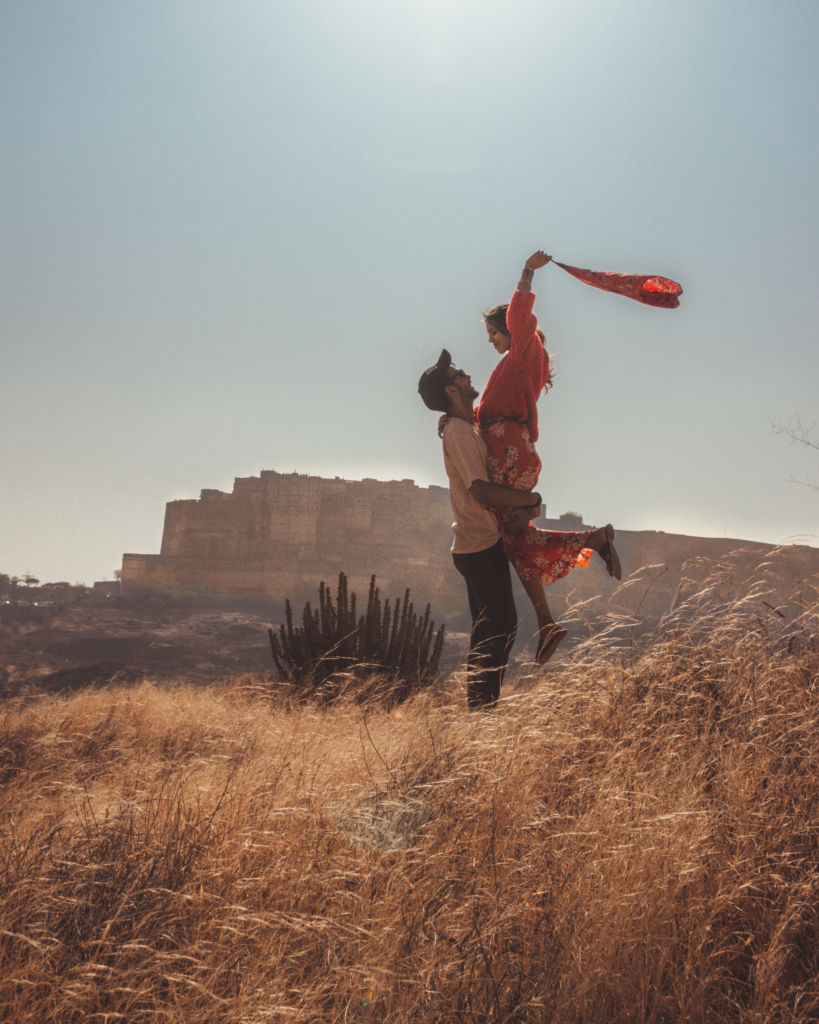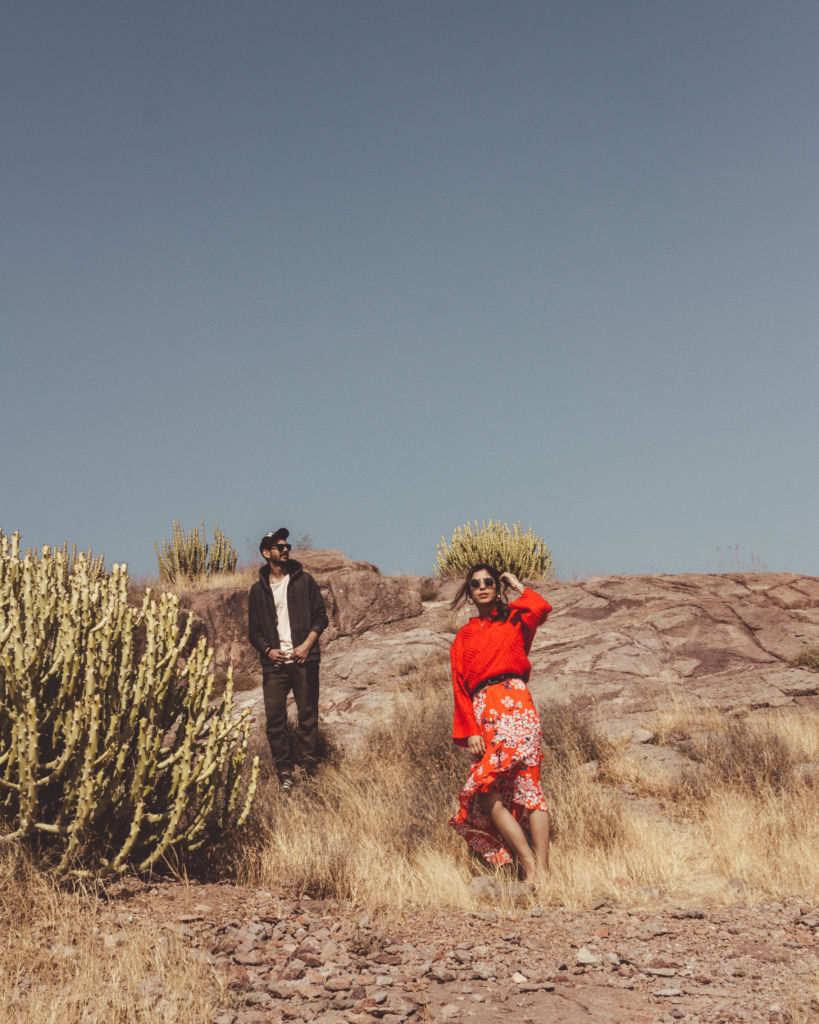 #3 Enjoy a peaceful morning at Jaswant Thada
Jaswant Thada, the burial ground of the Marwar rulers was built as a royal cenotaph by Maharaja Sardar Singh, in memory of his father Maharaja Jaswant Singh This milky-white marble sitting above a small lake, is an exquisite disposition of whimsical domes. Situated just about a kilometer away from the crowded Mehrangarh fort, Jaswant Thada is a peaceful escape from the otherwise buzzing city. The view across to the fort and the lake is mesmerising. Considered an epitome of Rajputana architectural style, essentially an amalgam of Mughal and Hindu structural design, it displays some of the finest finesse, reflecting the creative genius and sculptural prowess of the artisans of the time.
Entry Fee: Nationals: 30, International: 50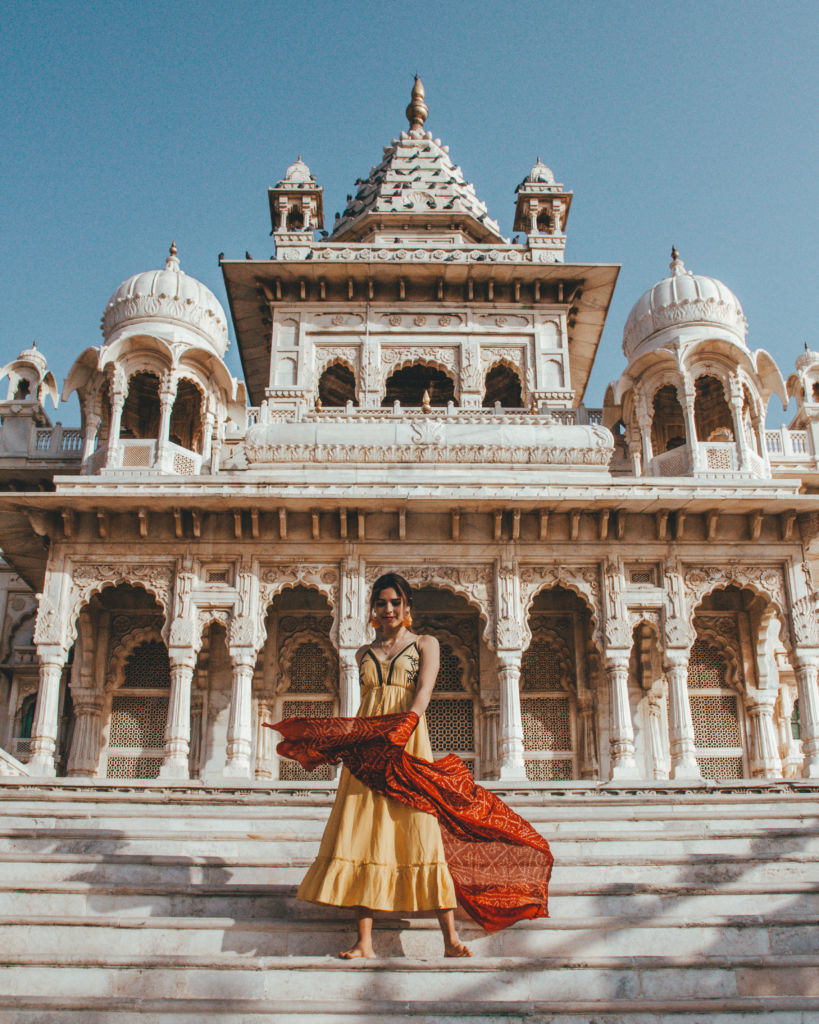 #4 Dine at the many Rooftop Cafes in Jodhpur
The one thing that we totally dig about Jodhpur are the exquisite views of the city and the Mehrangarh Fort towering the blue houses from the many rooftop cafes. Jodhpur has innumerable rooftop cafes offering breathtaking views at sunset. Have a cup tea, a glass of beer, much on some snacks and sit back and relax, the magic begins once the fort's lights come on. Some of our favourites are: Indique in Pal Haveli for a romantic dinner, Zostel for all the cool feels, Stepwell Cafe for a charming vibe and unique food choices, Dagley for wood fire pizzas, Rani Mahal for remarkable views. Cafe Sheeh Mahal, Pal Haveli, is not a rooftop cafe but if you're craving a freshly brewed cup of coffee head out to this cafe without any second thoughts.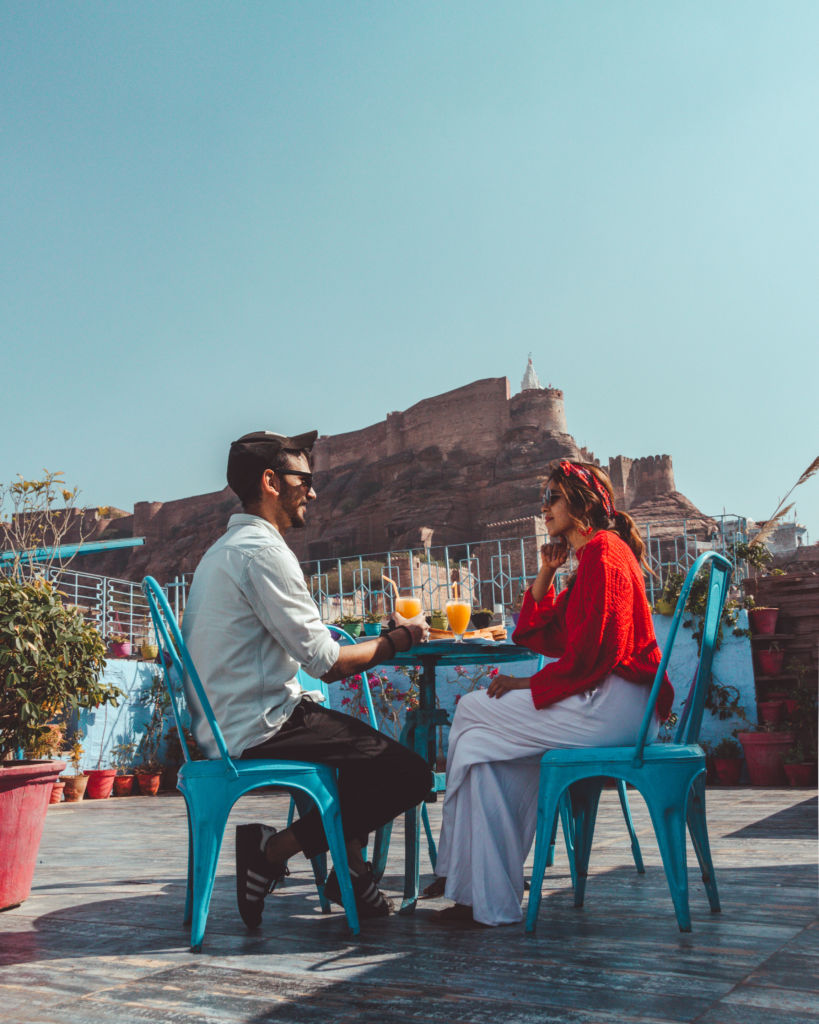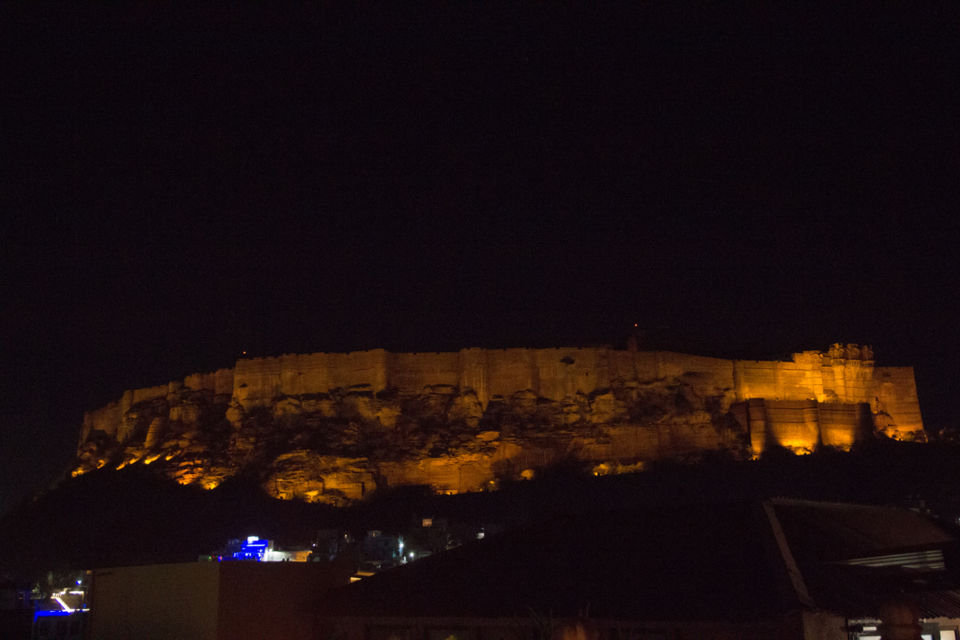 #5 Get lost in the endless maze of Blue Streets
Jodhpur rises like an azure cloudless sky from the cityscape and its narrow alleys are lined with blue houses bustling with activities, ceaseless movement, alluring sights, sounds from distant bazaars and locals around. While the new city area does not have many blue houses the old city around Brahmpuri is replete with streets that are dotted with blue houses. There is no consensus on the underlying reason as to why these houses are blue. Some say the colour is associated closely with the Brahmins, India's priestly caste others say it helps to banish the intense heat. While we're are not sure of the correct theory but we do agree that these beautiful houses make for aesthetic photo backdrops.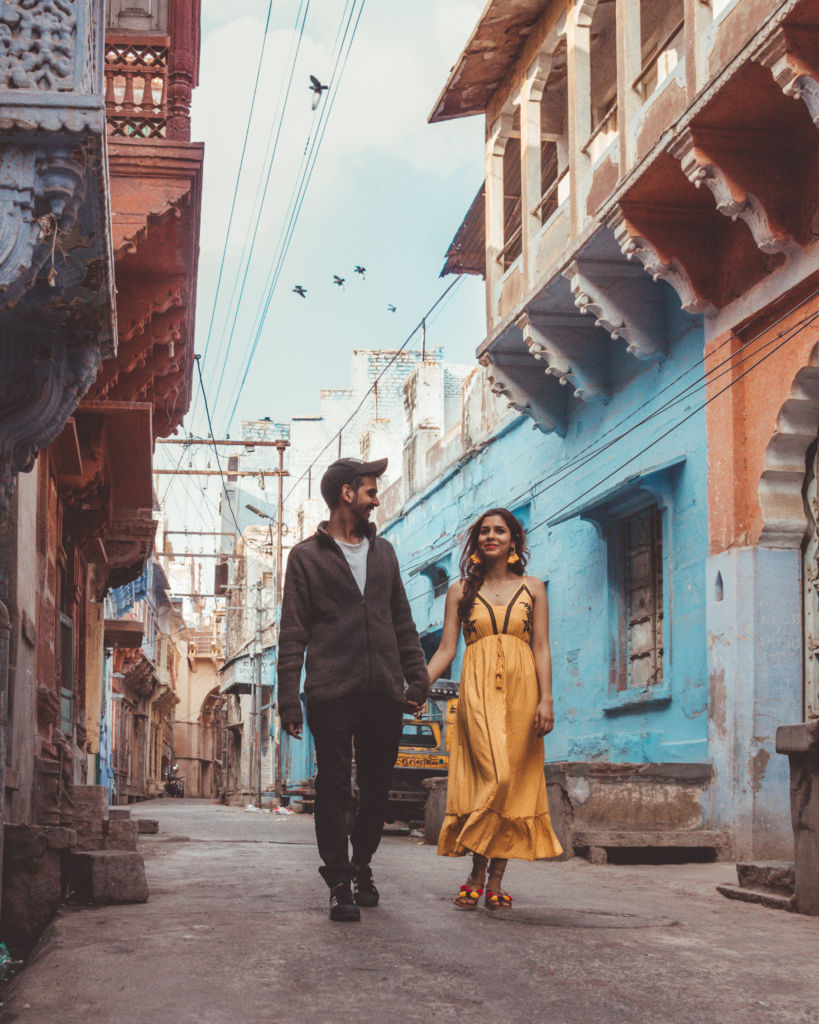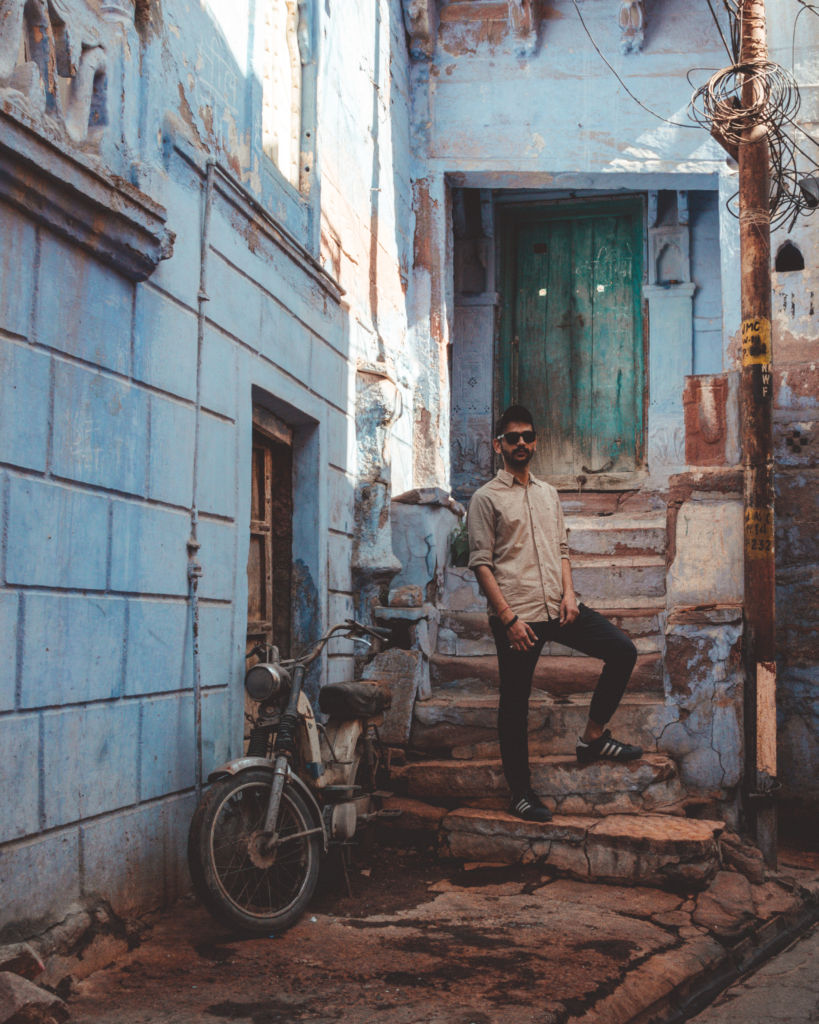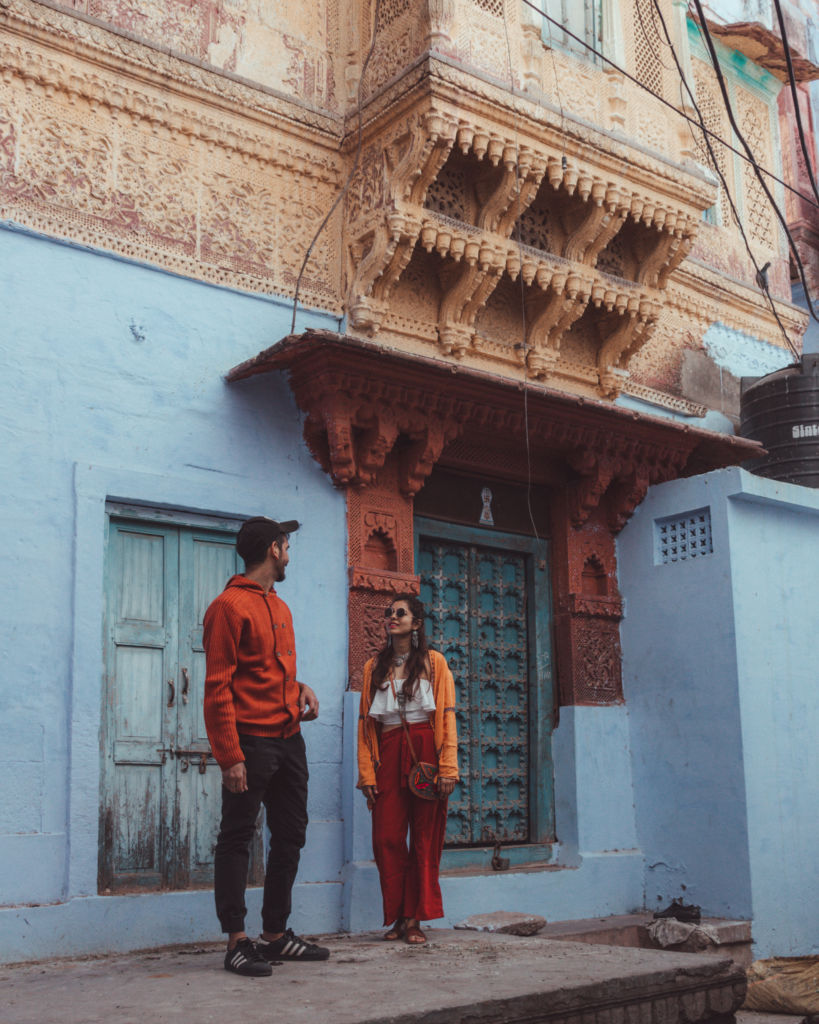 #6 Indulge in some scrumptious Street Food - malaai roti, mirchiwada, omlette shop, samosa,
Alright let's get talking about the real stuff now, shall we? A trip to Jodhpur would be incomplete without sampling the local food. As you walk down the streets your senses will be captivated by the smell of the many freshly cooked snacks and savouries. Jodhpur is known for its kachoris and mirchiwadas, and your trip wouldn't be complete without sampling at least one. The Clock Tower market has a number of restaurants offering freshly-cooked versions. Our pick? Try out Shahi Samosa or Janta Sweet House near the clock tower. You must also try out the Malai Roti, a dessert, available at a small kiosk opposite Kunj Bihari Temple, trust us it melts in your mouth and is unbelievably delicious. Now who would have thought that you could get some of the best omelettes in Jodhpur? The Omelette Shop located near the Clock Tower has been there for almost 40 years and serves delicious omelettes throughout the day. They have an interesting variety of omelettes and the cheese masala omelette is a speciality. Lastly, Jodhpur is also famous for its Dal Bati Churma, head out to Bhati Dal Bati, as suggested to us by a local and we honestly didn't regret it. Hygiene might be an issue for some, it was for us as well, but hey it tastes good!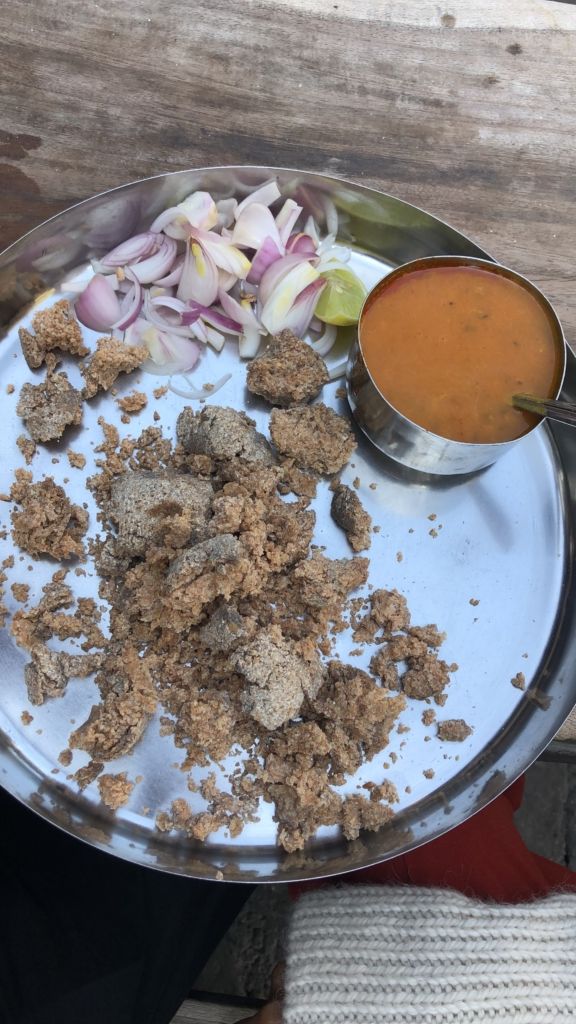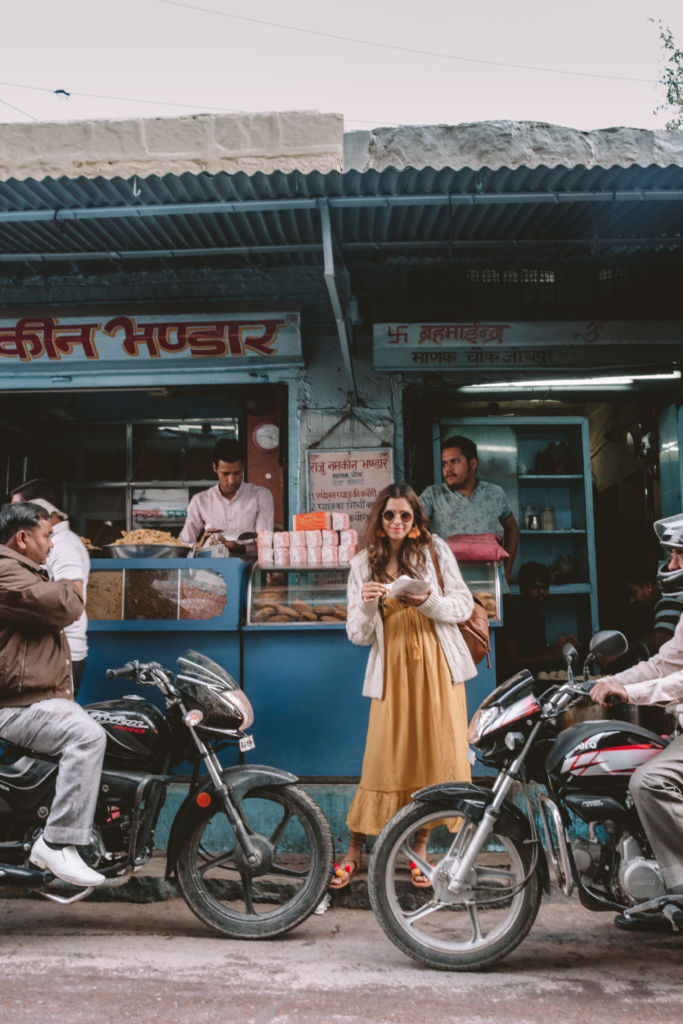 #7 Enjoy the Sunset at Pachetia Hill
Okay, this has to be the most magical experience of our trip. Pachetia Hill is quiet hidden gem tucked away from the otherwise boisterous city. It makes for a mesmerising sunset point and I not many people come here. A small gate leads to the hill which opens after 5 P.M. We sat , drifting away into a dreamy land, watching the warm golden sunset over the blue city of Jodhpur leaving a iridescent cast on the fort and the surrounding landscape. We were transfixed at the sight. Now reaching this place can be a little difficult, we were caught in a loop! But walk your way towards the old city area and ask the locals to guide you to Pachetia Hill and they'll be more than happy to help.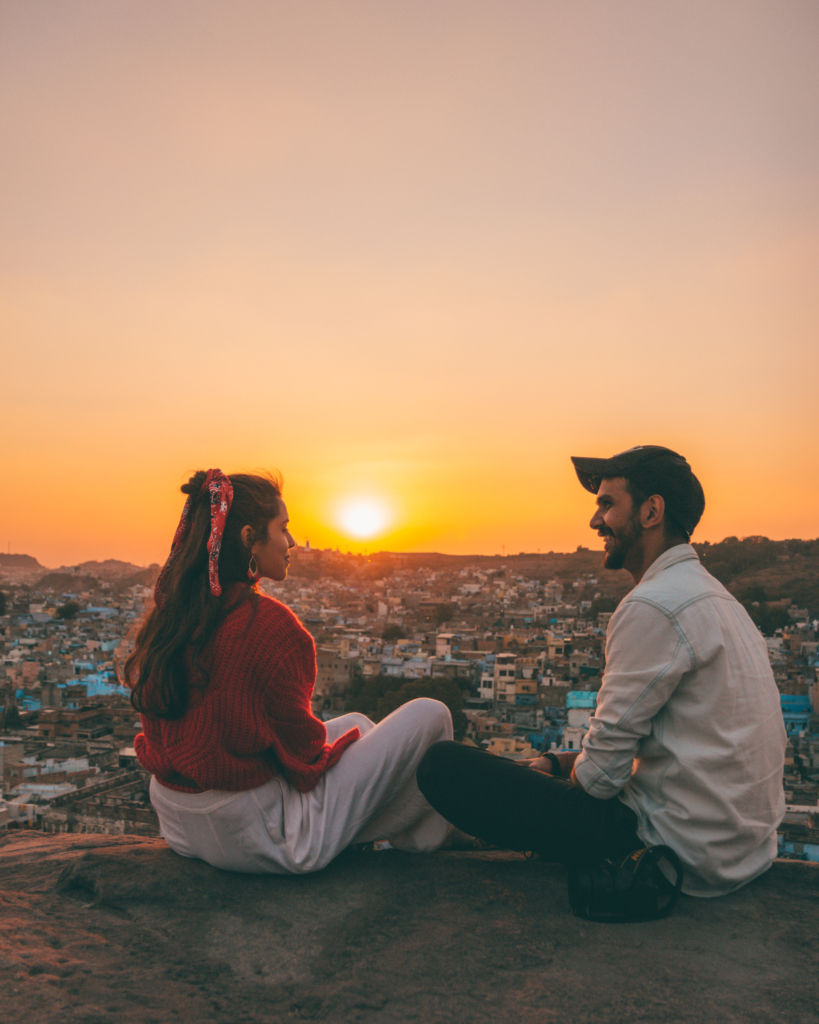 #8 Visit Toorji ka Jhalra
Optical illusion at it's best! This symmetrical stepwell might just leave you dazed. It was built in the 18th century and has been revived after decades. In the process of restoring the stepwell, the excavations had to go under two hundred feet where some hand carved treasures of Jodhpur were found. The whole stepwell has been given a contemporary vibe and is now called the Stepwell Square with the addition of cafes, restaurants, hotels, shops etc.
#9 Shop your heart out in the markets of Jodhpur
We'd be surprised if you return empty handed from Jodhpur. Colourful clothes and dupattas, beautiful silver jewellery, classic ethnic footwear and finely crafted handicrafts well describe the shopping scene in Jodhpur. You'll find it hard to resist yourself from buying everything that you see. Sadar Bazaar near the Clock Tower, more like a flea market, gives immense shopping pleasure to visitors. Nai Sadak is the perfect place to get your hands on the quintessential Rajasthani fabrics, head out to Mochi Bazar all you shoe lovers. You can also Tripolia Bazar where you can buy a range of local articles at pocket friendly prices. The Stepwell Square is a hub of some of the most premium Indian brands like Nicobar, Forest Essentials and Good Earth.
Lastly Jodhpur not only has colourful buzzing bazaar but many narrow lanes inside the city are also lined with tiny shops selling beautiful merchandise.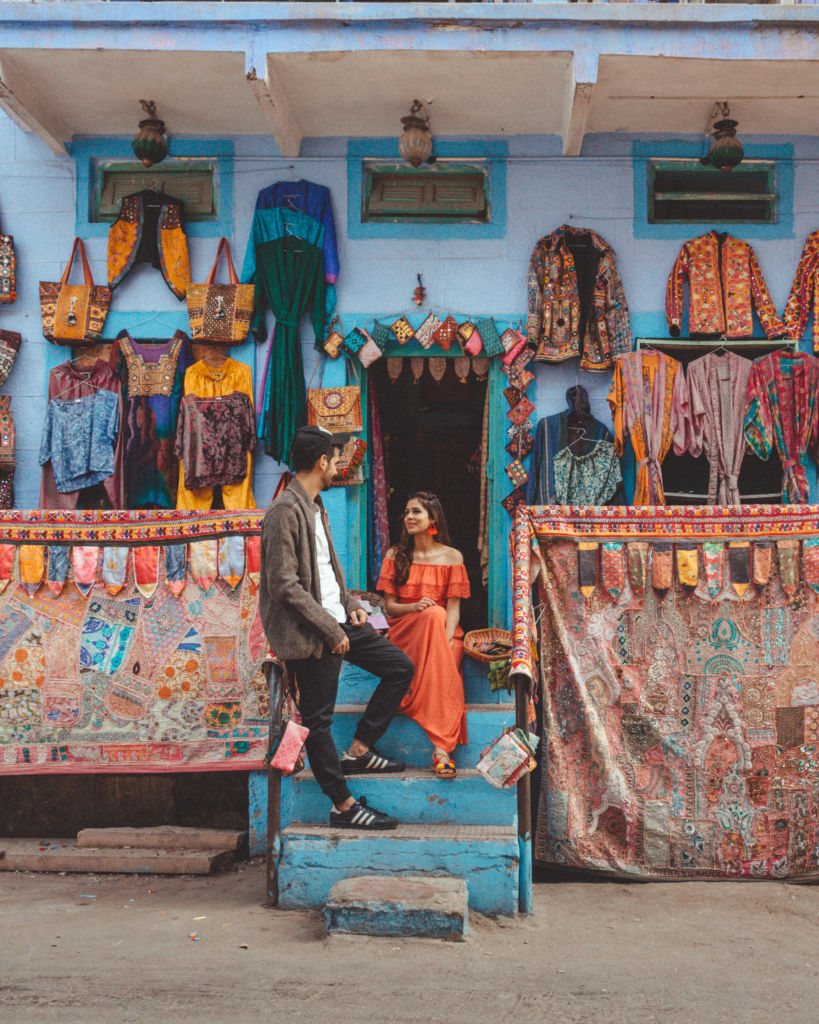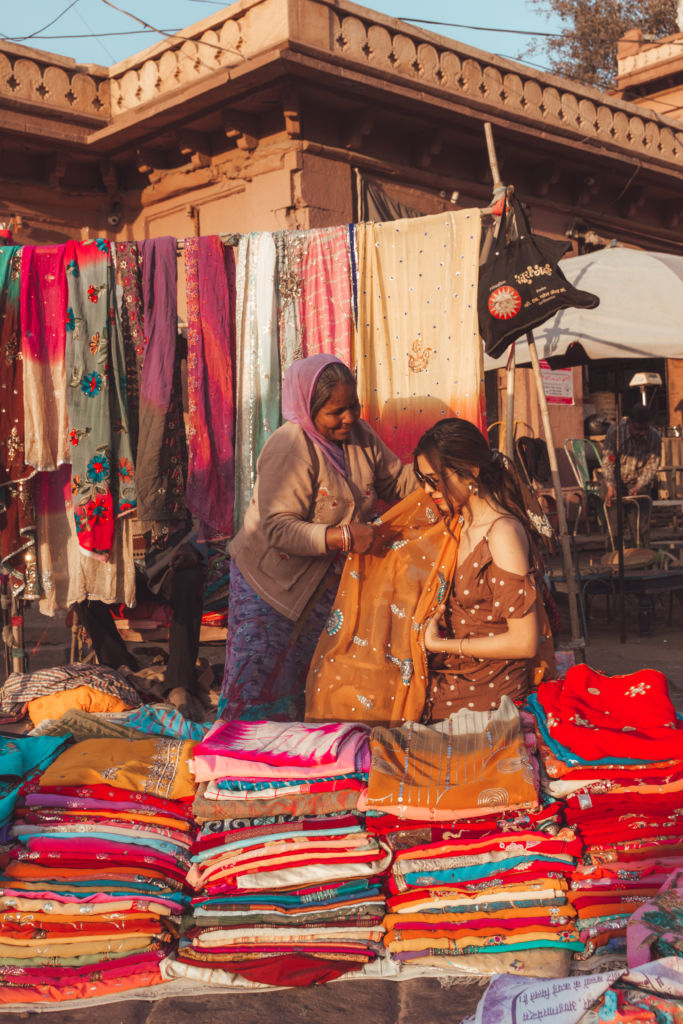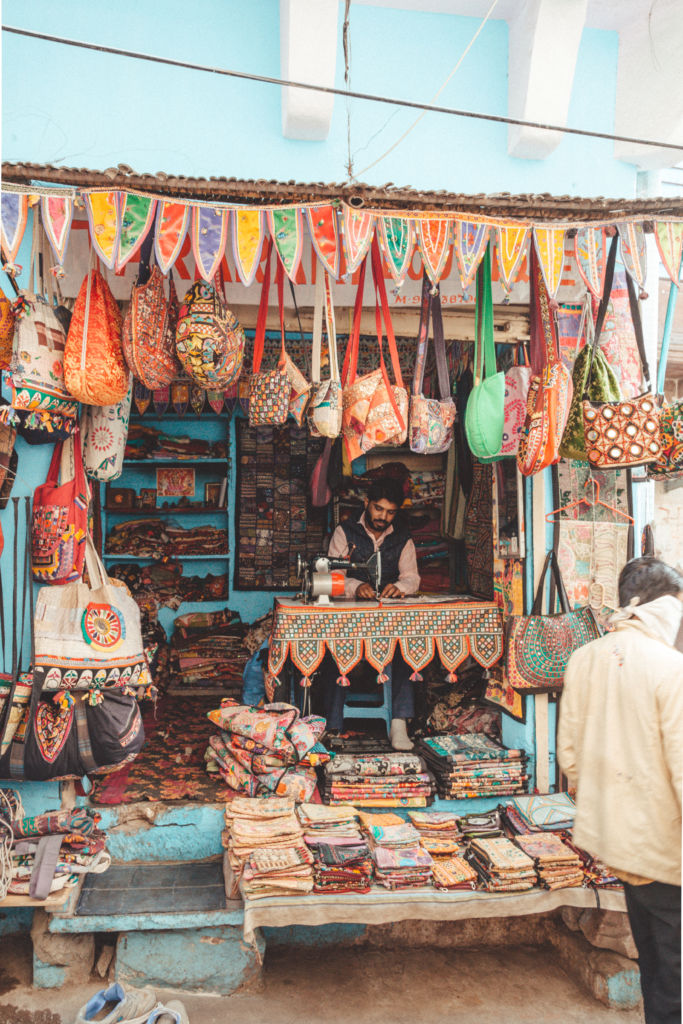 Have you been to Jodhpur before? We would love to know your experience in the comments below.