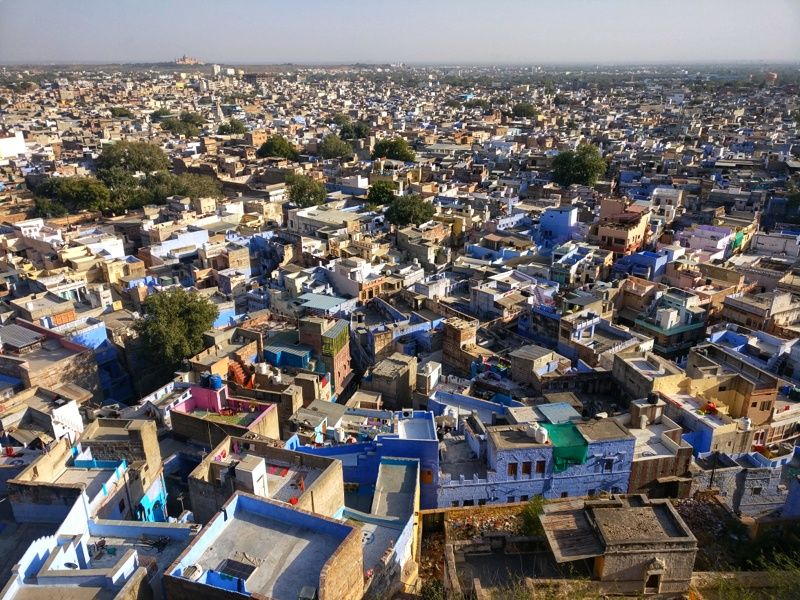 Jodhpur or the 'Blue City' is a perfect winter-weekend getaway from the chaotic metropolitan life to a surreal feel-connected-to-your-indian-roots vibe. It has a flavour of the intricate royal architecture where you would want to get your pre-wedding shoot done and a soul of the grandeur which you cannot feel disconnected from. There are a few major attractions in Jodhpur, both in terms of sight-seeing and eating (because duh, food is needed even when I am not working). I have tried to wrap up most of the things one can do on a perfect budget trip to Jodhpur.
P.s. Each picture in reference to the mentioned place is a capture of my Canon 600D/ One Plus 3.
You can follow the following itinerary to visit in order in Jodhpur:
Day 1:
1. Umaid Bhawan Palace Museum
2. Jaswant Thada
3. Rao Desert Park
4. Mehrangarh Fort and museum
5. Pachetia Hills (sunset)
6. Toorji ka jhalra
7. Clock tower market
8. B Road, Nai Sarak market
Day 2:
1. Machia Biodiversity Park (Zoo)
2. Kaylana Lake
3. Mandore Gardens
4. Masuria Hills (sunset)
You can also go for Ashok Udhyan, Shastri Circle, various temples, fairs and festivals which keep on going there.
Places to stay:
If you are a solo or a group less than 3/4, Zostel Jodhpur is the best place where you can chill, relax, play games, read books, hangout with other solo travellers. And it is nearby to the main attractions of Jodhpur.
P.s. Alcohol and noise are not allowed there.
If you want to live lavishly, there are many options to stay in palaces and resorts. Choose areas to stay near Mehrangarh fort/ B road/ Jodhpur Junction/ Jodhpur Airport/ Umaid Bhawan.
There are certain affordable OYO and Treebo hotels available as well which you can find online.
7. After Pachetia, we went to Jaswant Thada which got a Taj-Mahal-vibe attached to it. This cenotaph serves as the cremation ground for the royal family of Marwar and is intricately carved out of marble. There is a lake view also where you can sit and eat something from the cafeteria present there. I got my favorite Nestea there which blessed my soul.