Rajasthan is painted in hues of pink, blue and gold; each of its cities has picked her crown in a colour of her choice and dons it like only a queen would. After my rounds of the pink city, the blue beckoned. We got on an early morning train from Jaipur to Jodhpur, our first train journey in more than a couple of years. The journey did not disappoint, instead of the farms we was used to in South India, the barren brown panorama of the desert zipped by outside our window.
By the time we reached Jodhpur and got some rest, it was well into a hot desert evening, although there was something ominously muggy in the air. Our little B&B was tucked away in old town where no vehicles can go (well, except the ubiquitous two-wheeler of course!), and just finding it amidst the tiny streets was an adventure by itself. That evening, we pushed further into the old town's interior streets through to Manek Chowk. The streets were a wonderful miniature delight - everything that can be crammed into an 80 feet wide road was squeezed into a 20 feet wide road. Shops, people, dogs, cattle and cycles. Not cars though. There really wasn't any space!
We walked up to Mehrangarh Fort. The Mighty Mehrangarh Fort. Because nothing in the skyline for miles towers as mightily as this massive fortress that watches over this pretty Blue City with a hawk's eye. That evening, we just sat there at the foot of the gate and took it all in. The massive fort was a beautiful backdrop for local scenes - local women returning home dressed in all their colourful finery to the rhythmic beat of their silver accessories, local children humming a local tune as they skipped behind their mothers, and local men clad all in white bringing up the rear protectively behind their clans. The sun set on this scene and we still sat there, watching.
Courtesy for all photos: My significant other @bsridharan
The next day …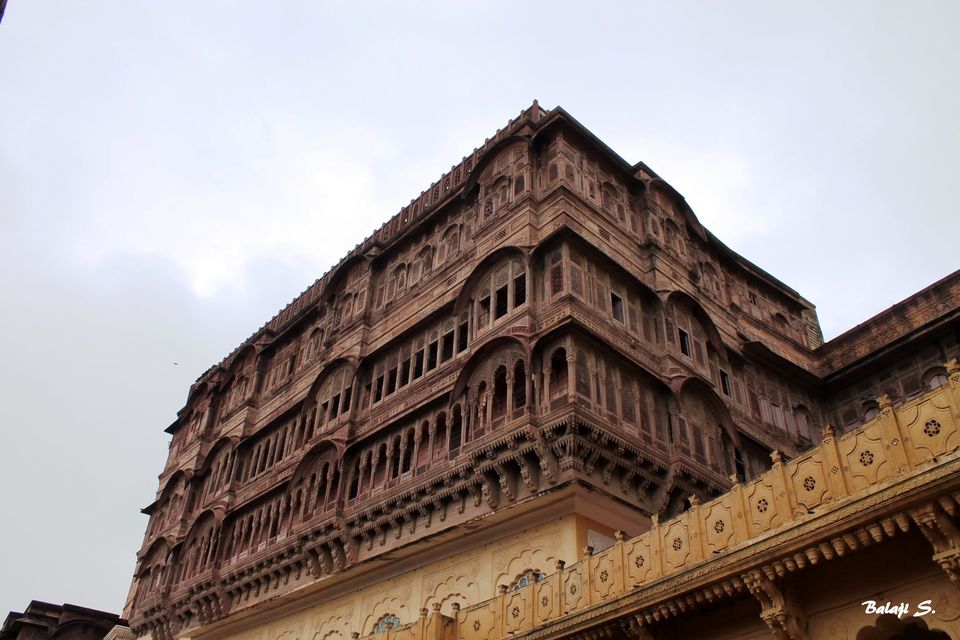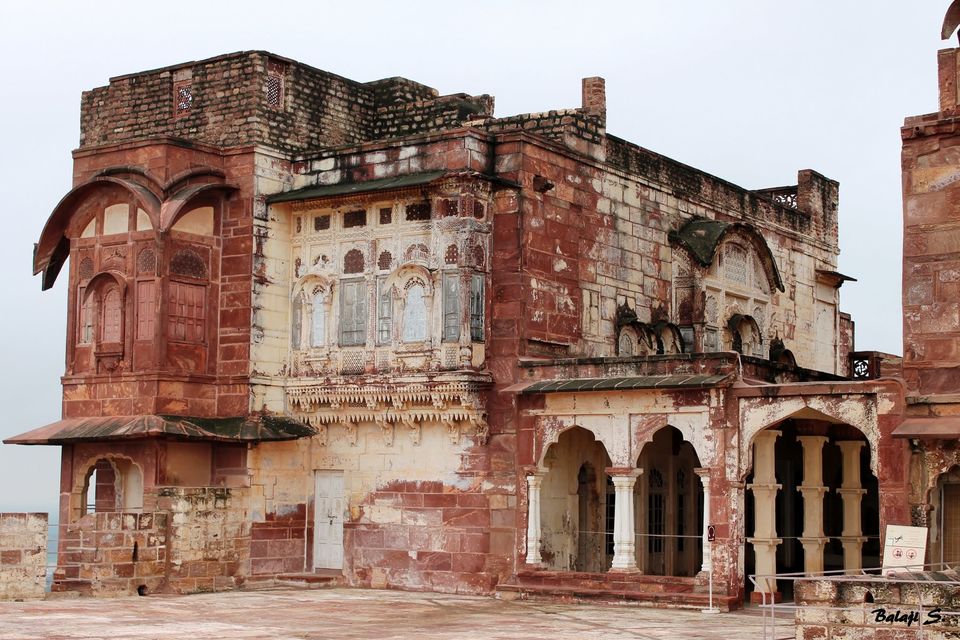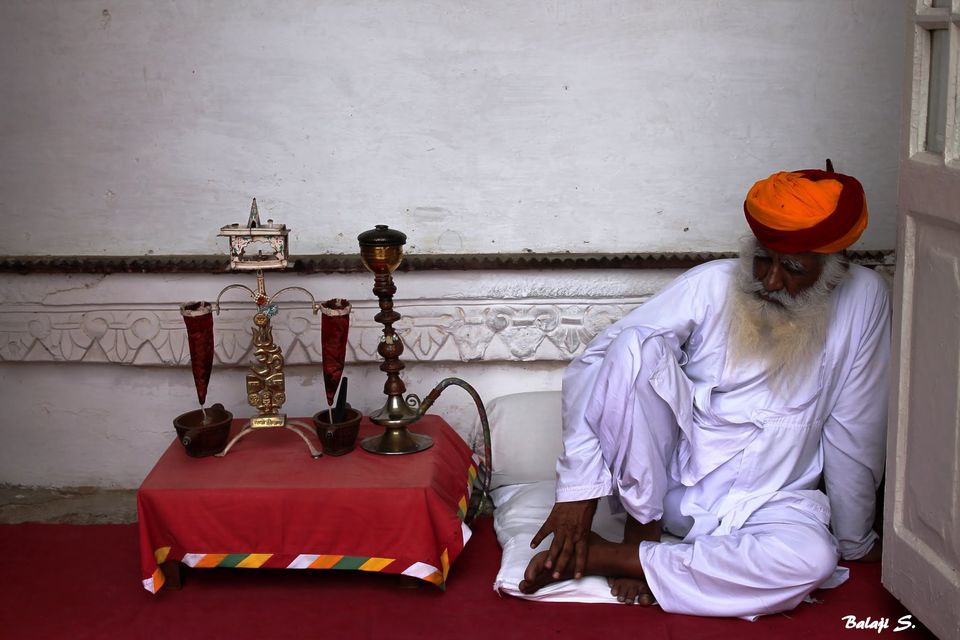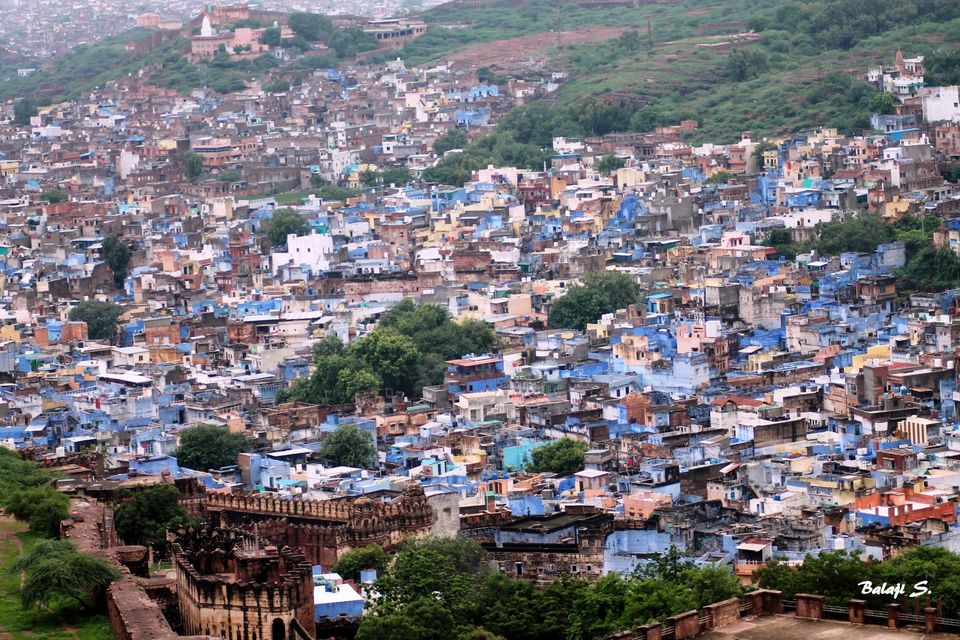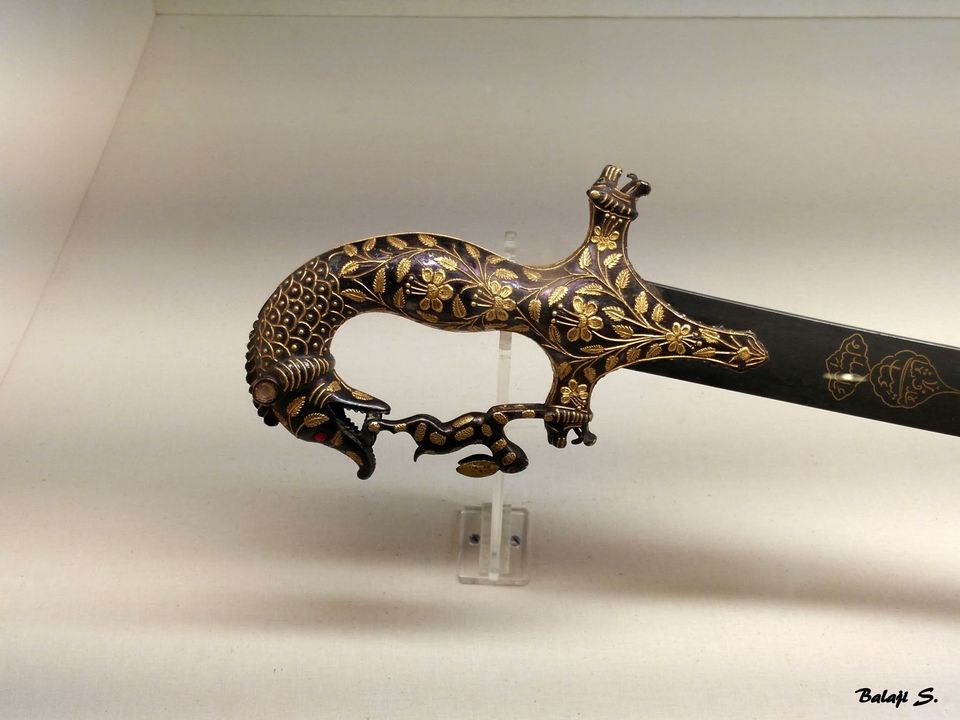 Just as we reached Umaid Bhawan Palace, the skies opened up. Thunder rumbled and lightening flashed as we ducked inside. The courtyard between two museum rooms turned into a little pond as rain lashed without letting up. We worried about finding a taxi back and it took us a long time to get one. There was no way we could go back to old town to retrieve our bags from our B&B, so we headed to a cafe in the middle of town.
There, we waited. And waited. And watched. And waited some more. The rain just would not stop. The power went out. Our train to Jaisalmer got cancelled. We were stranded in the middle of an unknown city with no bags and no place to go.
The cafe owner let us stay in and stay dry. "Hum sab kahan jaayenge saab? Kahin nahin jaa sakte. Thode der idhar hi rukiye aap." (Where can anyone go, sir? Nowhere. You just stay here a while."). We can't forget how dry and well-fed we were at this point of time inside the cafe, while the rain lashed outside like it wanted to turn the desert into a sea.
And then, our B&B host got someone he knew with a two-wheeler to brave the little rivers that the roads had become in old town, and get our bags to us.
As much as the mighty Mehrangarh and the imposing palaces, this kindness of strangers is what we associate with Jodhpur. Thank you, universe.