It was the rainy months of 2018 which sprouted the desert in me. Summers had ended and I for the first time realized how beautiful they are .. May be it was to be attributed to the backaches I had last year in winters or the haunting reminisces of one terrible winter which I call the winter of depression I went through while I was in my 12th class..
May be it was nothing but the office stress or the vastness of change which has come in my life after 1 year of marriage. I felt losing control, fearful all the time, depressed and getting drowned in the flow. While I never thought I will have such outbursts of emotions frequently in my life while before but I almost cry every time whenever there is even an emotional scene of a minute intensity on TV.
Lost and battered came the weekend before Independence day and I had decided feebly to give myself a break of 5 days by taking two days off from work. Bruised and battered as I was - I didn't know what to do in that break, how to make a plan, itinerary - like be in control - like I felt while I went to Thailand. While my wife's neutral approach to the places added more to my piscean misery - I get easily influenced by enthusiasm and confidence around me but neutrality has 'you-decide' written all over it. I almost gave up on the holiday plan and thought I should just let the life be and may be I should cancel my leave.
May be it was "let's do it anyway" or finding out that the route to Jaisalmer goes through my hometown, I decided to pack my bags and head towards home and then in morning resume my journey to the desert town of India.
Spent great night at home which recharged some of my batteries and I felt positive in the morning for rest of the journey. I broke the journey to jaisalmer in two parts from my hometown - Stay in Bikaner for a night and visit forts there and leave for jaisalmer the next day in morning.
Bikaner fort was interesting and had a fascinating history behind it. It was the smaller fort but royal nonetheless. Guides were free but I suggest you should take an audio tour without being double-minded. It was the first experience of me being inside the fort and watching it, there was not much crowd (as compared to jaisalmer and jodhpur forts). The history mentioned on the board outside the fort was the only source to quench your thirst for the stories as rest of it was coming from the guide who was not doing the good job at all.
After visiting the fort we want to Gallops restaurant which was recommended by Lonely Planet and had some snacks there which were very bad. It is at good location but the restaurant was empty. Then we decided to visit the lalgarh palace fort, which had a museum which had actually closed down by time we decided to reach there. This fort is the actual residence of the current generation of the Raja of Bikaner (Rao Bikaji's current family). However the certain sections of the forts had been converted to the Hotel and are run by ITC and WSJ groups by the name of Lalgarh Fort Palace and Laxmi Vilas Hotel respectively. While Laxmi Vilas was closed down due to renovation work going on but both the hotels looked majestic and it would be a great stay there if you choose. Both the hotel's staff were courteous enough to have us look at the paintings and antiques displayed in the lobby. We spent some time in gardens which were well maintained and saw peacocks as well. While 2/3rds of the property are leased to hotel but the royal family still lives in the 1/3rd part, and it is absolutely dreamy to see the place where they live - It's like there are still maharajas living inside the forts although they don't control anything but they are still treated like royality in Bikaner. It's absolute high-life!
We stayed at Harasar Haveli hotel which my wife booked through Yatra.com for 1000/- night. It was cheap but worth the money. They had clean air conditioned rooms, rooftop restaurant with traditional live music which was played inbetween. Roads to Bikaner were pleasure to drive to - I mostly drove over 120kmph and there was no tiredness.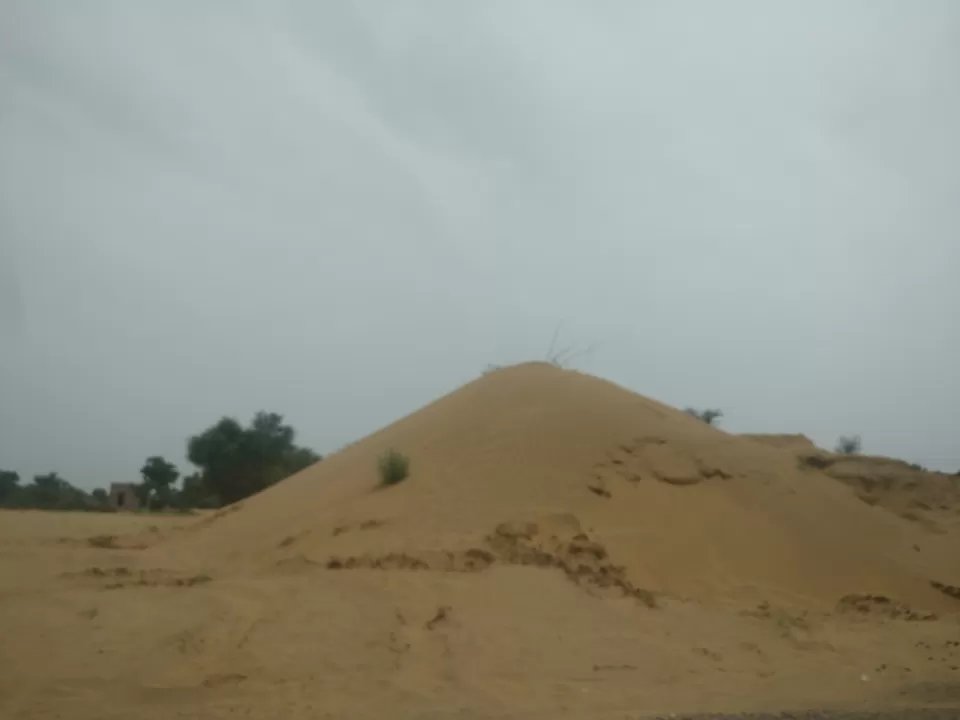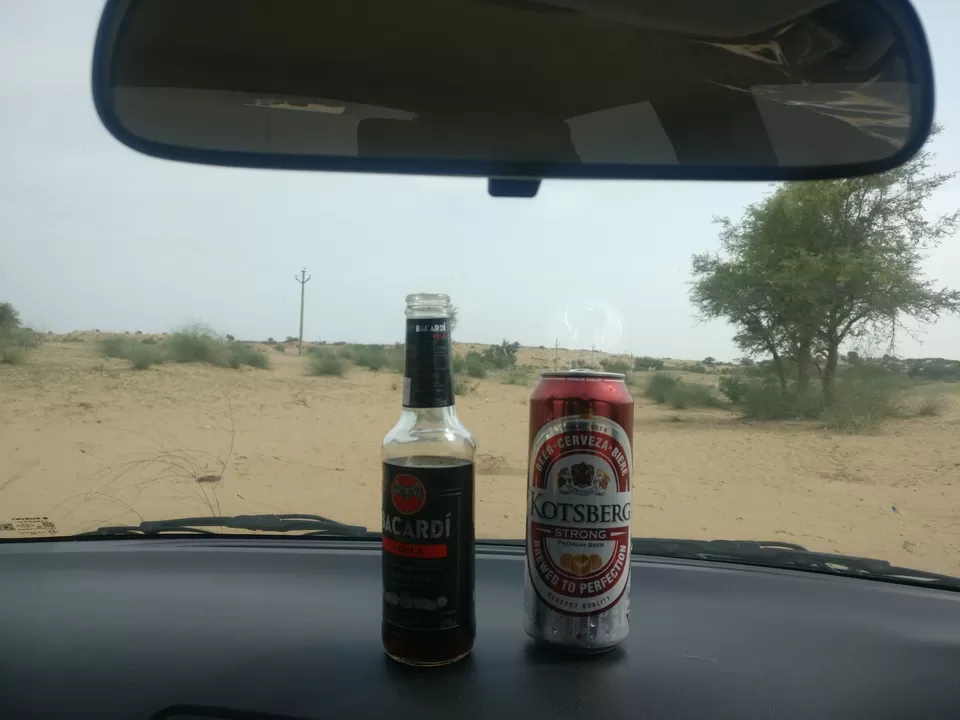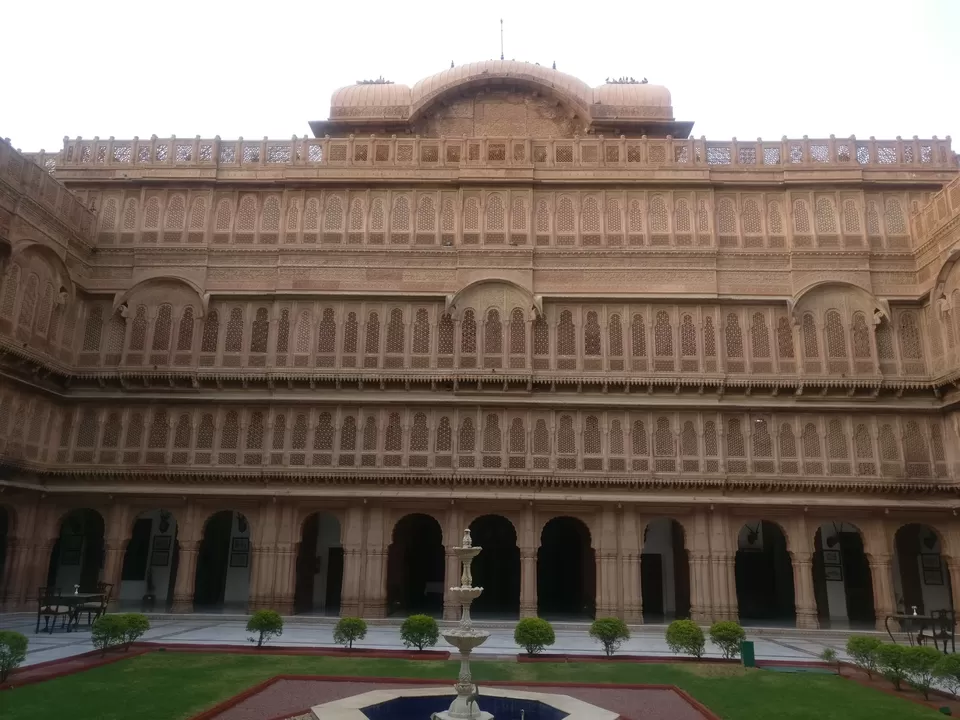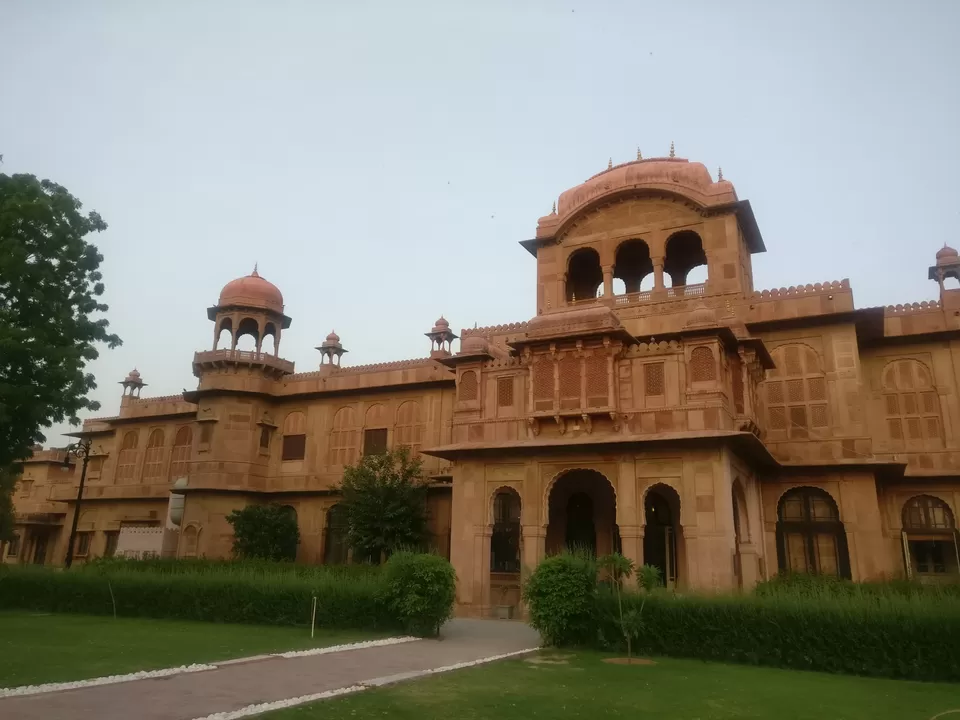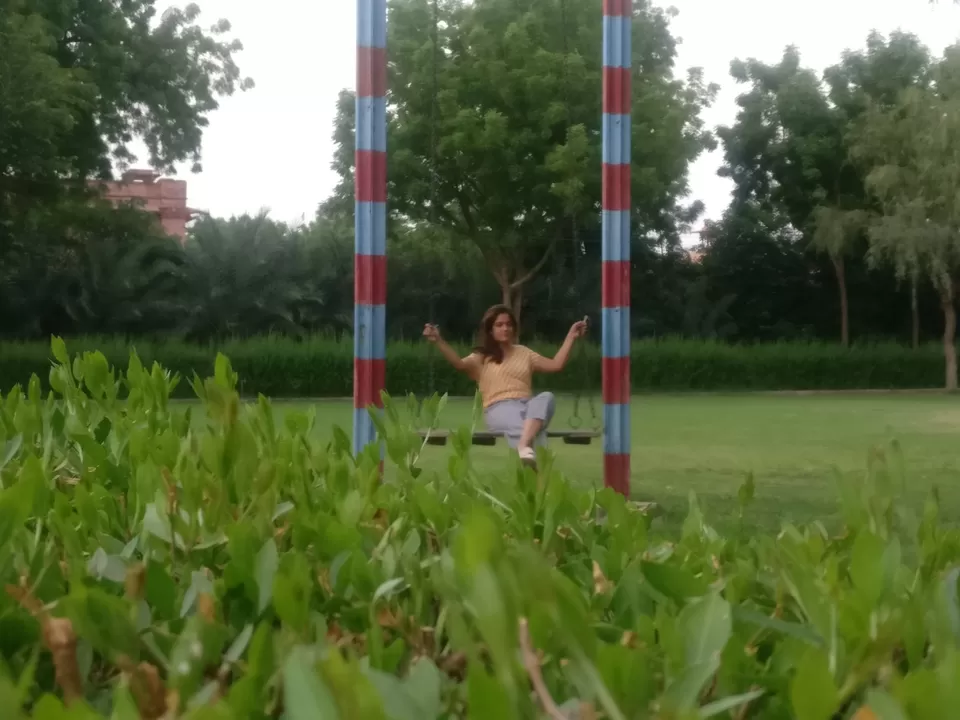 Next morning, we set out to Jaisalmer after our breakfast. It was 5 hour journey but the roads from Bikaner to Jaisalmer are fine but they were so deserted that it was actually scary to drive alone as a couple. There were very few cars that could be seen on the highway, it was mostly trucks. So if you are on this road make sure you tank up your car with fuel beforehand and avoid travelling in the night. Anyway, we reached Jaisalmer in around 4.5 hours clocking the distance of around 325 kms and there was no tiredness, thanks to good roads.
One noteworthy thing about the highways in Rajasthan is that although you won't get booze on the road but you will find many sign boards as from where to find one and most of them are just 500 metres away from highway as per SC ruling.
We booked Desert Safari for the day by looking at good reviews from the Real Man Desert Safari tour company on the way. Since nothing was planned, we were taking the trip as it comes - booking everything on the way and deciding the itenary. We had our lunch at cafe plus in front of the tour company office. It was nice restaurant with the hippie vibe.
*I don't know how do people get so brilliant ideas to do up their restaurants and that too so cheaply.*
We totally loved the relaxed vibe there and opened a chilled beer with some rajasthani dishes for lunch. After paying up, we left for the desert camp which was further 45-50 kms from Jaisalmer in village called Khuri. The sand dunes near the village are thus called as Khuri sand dunes.
To be continued in second part..