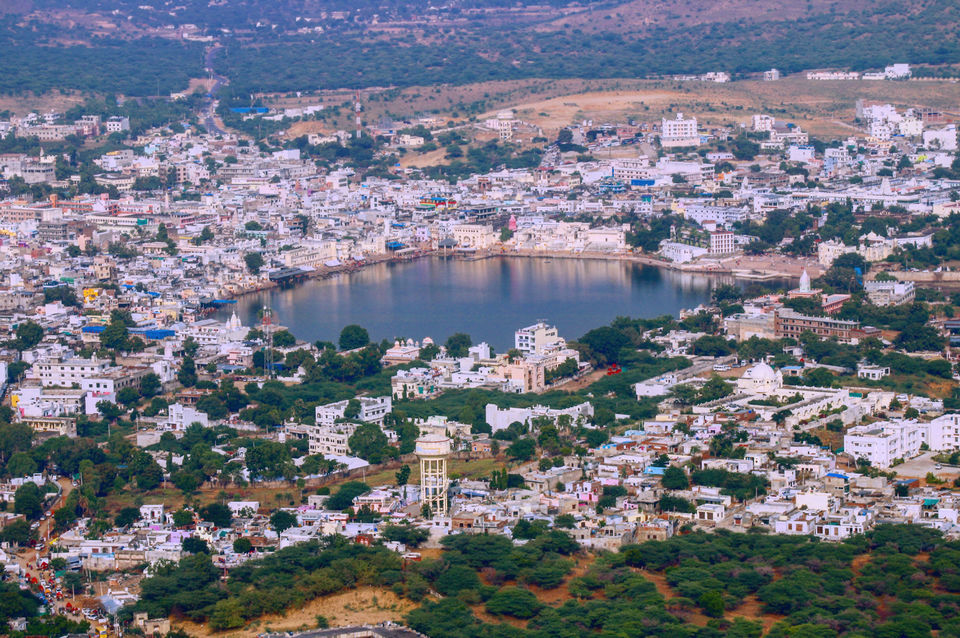 Pushkar is a city of temples, festival and food. I went there for the Pushkar fair, which is also called the Pushkar Camel Fair. It takes place in the last week of Kartika Purnima (Hindu calendar month).This small town in Rajasthan is well known among travellers for its food. They only serve pure vegetarian food (non-veg and alcohol is prohibited). This is most likely to maintain the spiritual and holy significance of the place. But this will not stop you from enjoying the delicious food available here, especially their street side Rajasthani cuisine. The fact that it is pocket friendly is an added advantage. I am going to take you through some of my favourites.
Kadhi kachori
Location: Pushkar chaat bhandaar – Mohanji Bhujiawale, Brahma Temple Road
I started off with kadhi kachori at this place. They are famous for that as well as methi pakoda with kadhi (methi bhujiya). The kachori is fried, has onion filling and is served with kadhi made of besan and water only. It was delicious and very different from the kachori I have had in other parts of India.
Malpua
Location: Radheyji Mistan Bhandar, Near Warha Ghat
For everyone with a sweet tooth, there are plenty of shops in every corner of Pushkar which serve Malpua. My personal favourite was Radheyji's Mistan Bhandar. They serve the malpua with rabdi and I think it is one of the best sweet dishes to try in Pushkar.
Paratha
Location: Mamta Restaurant, Beside Brahma Temple and Karnimaa Restaurant
You may find it unusual to think about paratha in Rajasthan because it is more famous for other foods items. But I loved the paratha at this place. They cook it on a clay pan, which gives it a nice earthy flavour.Try the aloo and paneer paratha (served with curd).
Dal bati
Location: Aroma Hotel and Pooja Hotel, Near fair ground
When in Rajasthan, have dal bati! One of the best and probably the most popular dish of Rajashthan, you can't miss out on eating dal bati there. The bati is fried in ghee, which makes it more flavourful. Spicy dal is poured over bati pieces and served hot, making it a mouth watering dish. You must also try dal bati churma. It is a dry sweet dish made out of bati, where the bati is broken down to minute pieces (sometimes even powdered form) and mixed with sugar or jaggery.
Friendly warning: Make sure to have an empty stomach before you go, the dish is too heavy to eat alone!
Lassi
Location:Brahma Temple Road
If you have had enough of eating, let's talk about drinking! Lassi is a popular drink in India. It is available in a variety of flavours here like malai, rose, gulkand. It is served in a very chilled clay pot, topped with pure malai (cream).
While all this was about Indian cuisine, it might surprise you that Pushkar also offers a good selection of international cuisine.
Falafel
Location: Ganga Restaurant and Pawan Restaurant
Lebanese food in Pushkar! O yes, and delicious too. They have falafel wrap and laffas with so many different ingredients. I tried both and preferred the falafel wrap over laffa. I personally liked Ganga restaurant more.
Pizza
Location: Pushkar In Cafe, Near Sunset point
As a pizza lover, I just fell in love with the simple wood fired margarita pizza at the Pushkar In Cafe. Don't miss the beautiful sunset view from this place.
There were a few more items on my bucket-list but due to lack of time, I didn't get a chance to try them. Some of these items which I would recommend are European coffee at Honey Dew Cafe, momos at Little Tibet and pancake with Nutella at Funky Monkey or Nirvana Cafe. Happy eating in Pushkar!