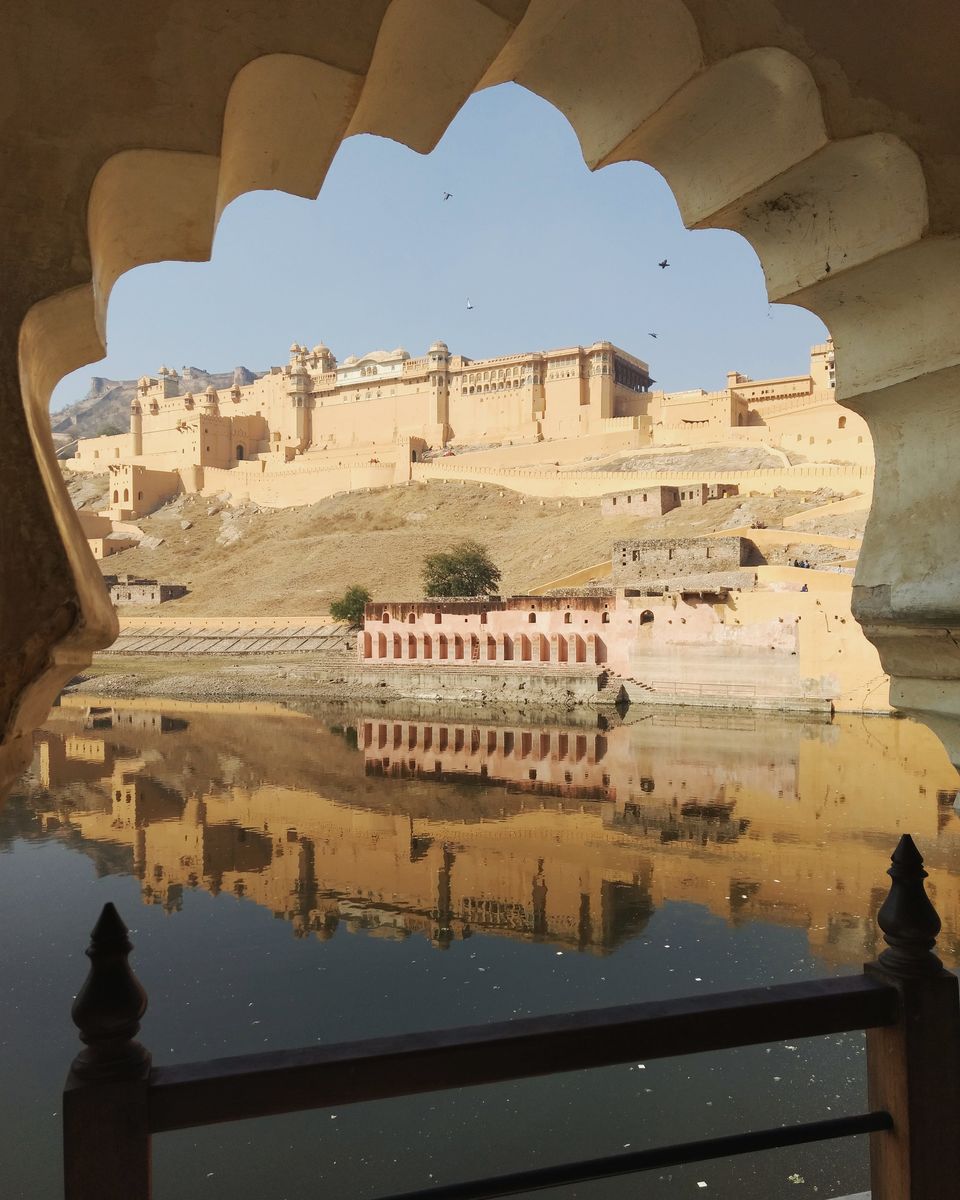 I stand and watch as Maike browses through a stack of big sized post cards. We were at this little souvenir shop at the Amer Fort. "This one's for mum...this for Jeroen..." she picks and chooses around 6 cards, "...and this for me."
"For you?" I asked, slightly intrigued. I understand buying post cards as souvenirs for friends and family. But she's already here, and she has taken enough pictures of every conceivable place. Then why a postcard with a generic photo of one of the Jaipur monuments?
"Yes," she said, with this flicker of a smile. "Whenever I go to some place, I like to get a post card there for me. I write little notes on what I did and how I felt in that place, and send it to my address in Holland, before leaving that place. That way, it reaches my home before I do. And I find this pretty post card in my mail box, which again reminds me of the wonderful experiences I had there. A good nostalgia, you know? It makes me happy." She turns and goes to the billing counter. And I stand there, smiling to myself, marvelling at the odds of meeting such an old school romantic like me, while travelling alone in an unknown city. When you put yourself out there, life does put your kind of people on your path.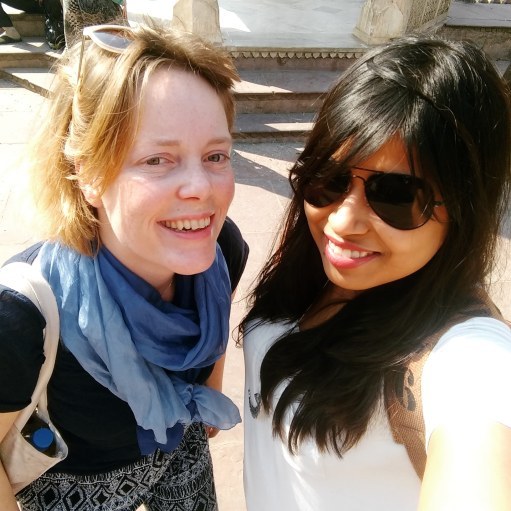 -
I was on my first solo trip to Jaipur, and had met Maike, a solo traveller from Netherlands, at the hostel [Zostel] I was staying in. 30 minutes into our conversation, she told me about this auto driver who had offered to drive her to the forts and I decided to join her. We met Ali [the auto driver] at around 10 in the morning, a few steps away from our hostel. He was a jovial little guy, who warmly welcomed the both of us in his auto - unlike some other drivers who scowl at the sight of an Indian with their foreigner passenger. And off we went. Throughout the way, Ali was enthusiastically recounting little tid-bits about various parts of the city.
-
Stop 1: Amer Fort (Amber Fort)
Amer is a small town in Rajasthan, about 11 km away from Jaipur. The fort was ruled by Raja Man Singh I, and is an opulent structure made of red sandstone and marble. It is located on a hill and overlooks the Maota Lake. Maike and I made our way through the cobbled paths that led up to the fort. It was a bright, sunny day and I was squinting my eyes, even with my sunglasses on. On the way, we saw elephants carrying tourists inside the fort. I am not a big fan of riding any kind of animal, and neither is Maike. And those elephants looked miserable enough. Hence, we opted to walk.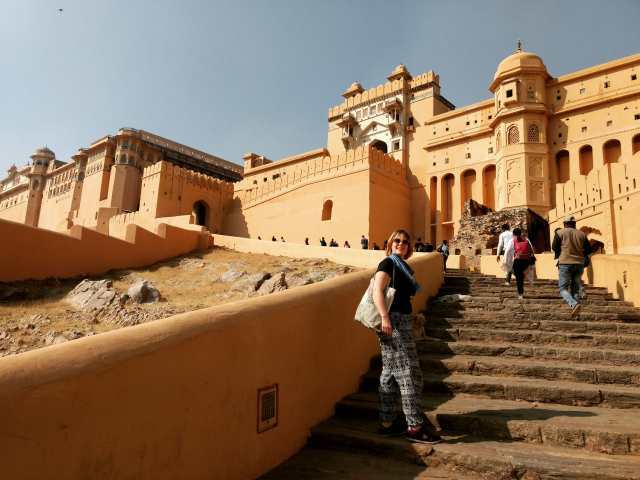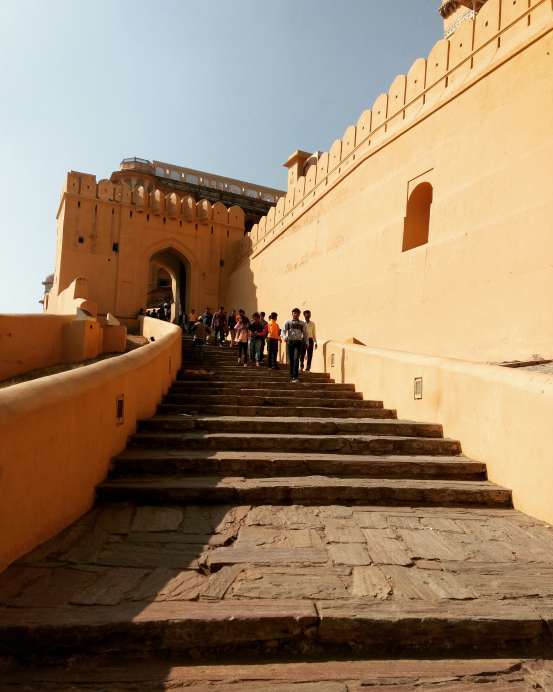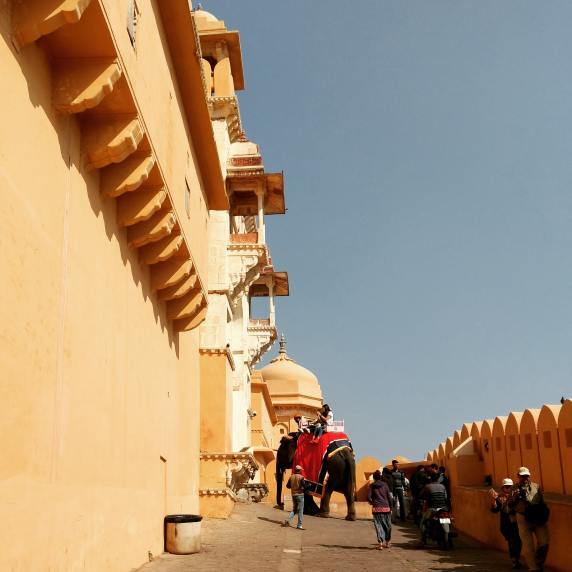 The main entrance gate (named Suraj Pol or the Sun Gate because it faces east towards the rising sun) led to a vast courtyard. It was flanked on all sides by the sandstone structures of the fort and was teeming with people.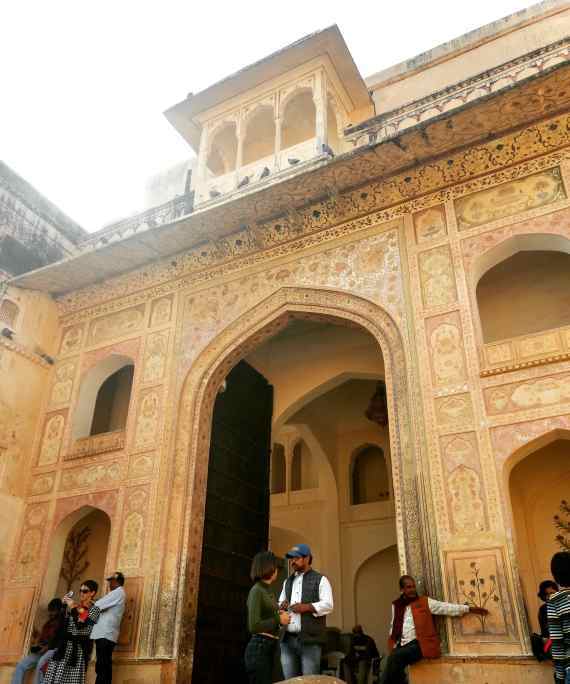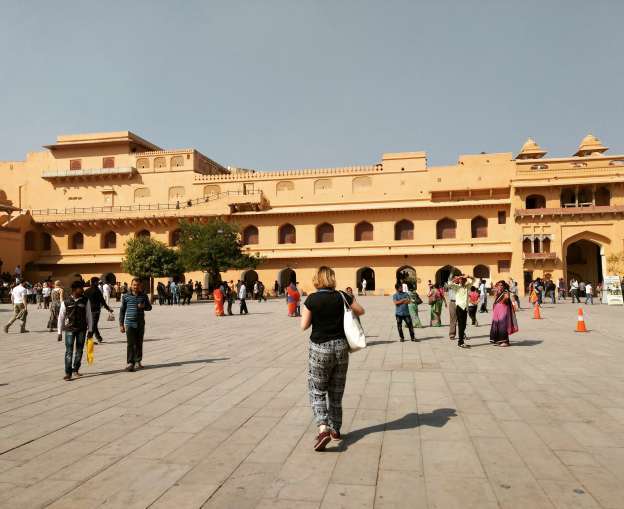 We went ahead, got our entry tickets and took the stairs up to the Shila Devi temple. From there we proceeded towards the second courtyard with the Diwan - e - Aam or the Hall of Public Audience. There was a structure of red sandstone, with 48 pillars mounted with elephant shaped capitals, with beautiful carvings at the top and a pretty view of the lake and the surrounding hills.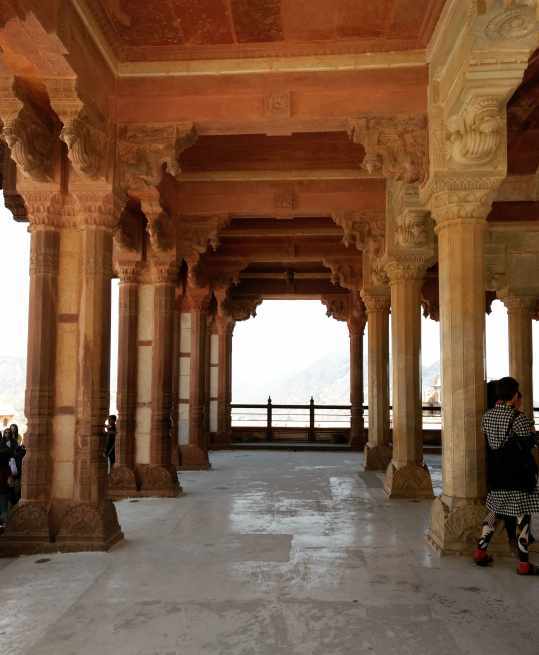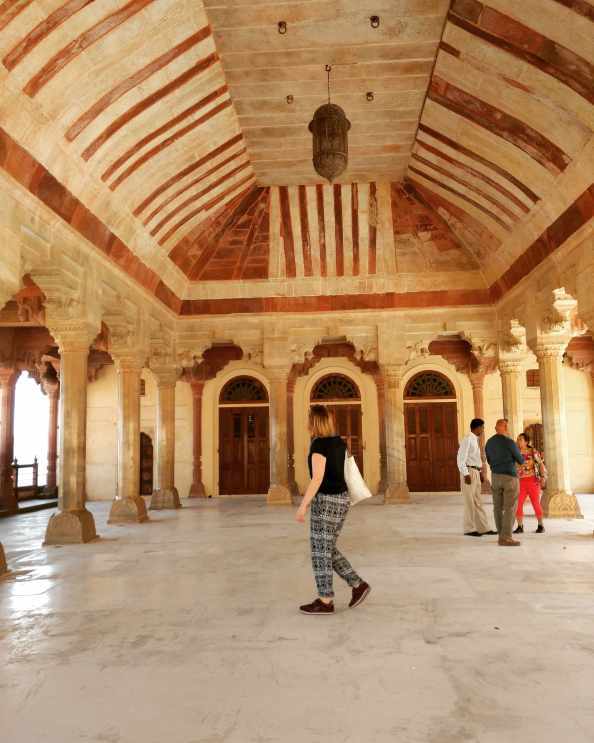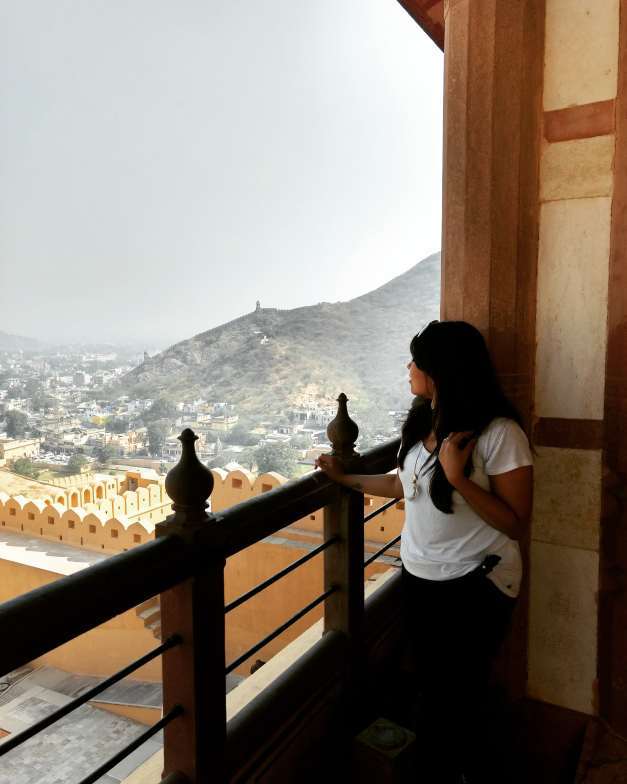 Next up was the Ganesh Pol (Ganesh Gate) which marks the entrance to the 3 rd courtyard where the private quarters of the Maharajas were located. The Ganesh Pol was a visual treat! I stood in front of it for quite a while, taking in the sheer art it was, with its frescoed arches, colourful designs (painted with vegetable dyes) and an image of the Lord Ganesha right in the center of it. Needless to say, it made for a really photogenic background as well!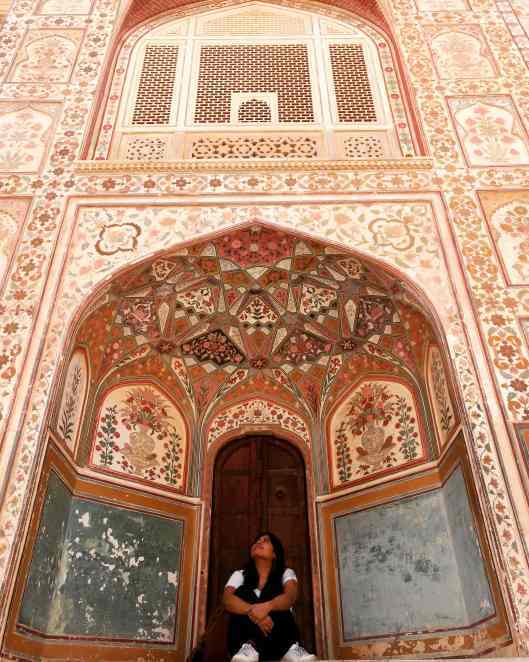 Through the Ganesh Pol, we entered the courtyard with the Jai Mandir, or the Hall of Victory. This was THE most stunning area in the entire fort! It had multi-mirrored ceiling and glass inlaid panels. The pillars were beautifully decorated as well, with flower carvings at its base. This place is also regarded as the Sheesh Mahal (Mirrored Palace) and Diwan-e-Khaas (Hall of Private Audience). It is said that if you stand in the center of this place and light a single candle, the mirror reflections would make the entire hall glitter like a jewel box. Now visitors are not allowed in the interiors of the Sheesh Mahal - you can only peek in from the outside. But even that is breathtaking.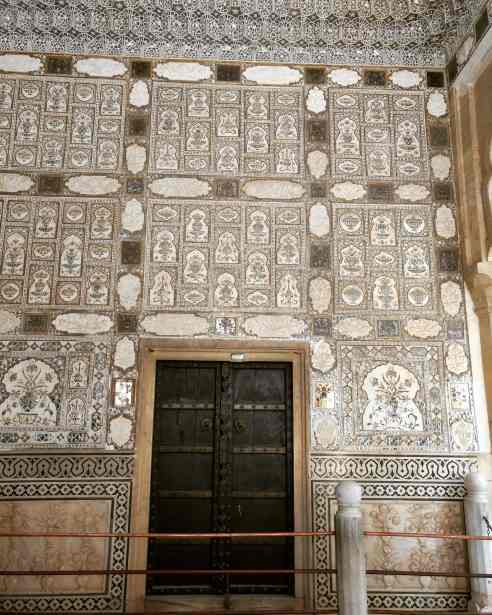 After spending a lot of time in this courtyard, Maike and I went up the stairs to the area built for the queens, from where they could peek and see the visitors to the palace. We walked to the area from where we could get a clear view of the Jaigarh Fort.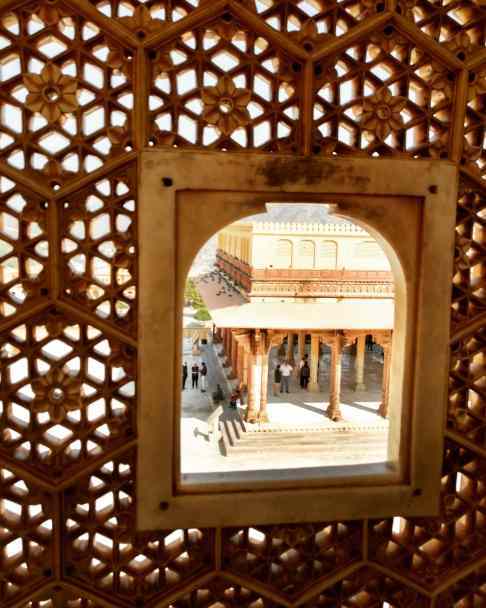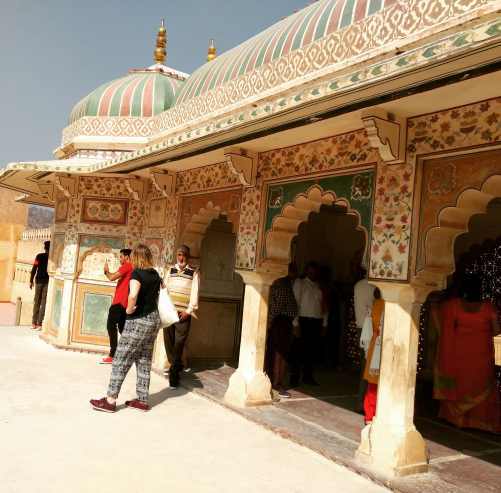 From here we proceeded towards the Sukh Niwas, or the Hall of Pleasure, which was right opposite the Sheesh Mahal. It had ivory and sandalwood doors. Here the Maharajas used to retire to rest or spend time with their queens or mistresses. In between the Sheesh Mahal and the Sukh Niwas, lies the Char Bagh or Four Gardens, which is a garden designed in a Mughal pattern.
Then we exited the third courtyard and went through a narrow corridor to the Man Singh Palace, which was built for his 12 queens. All the rooms had secret passageways and they all open to a common courtyard so that the queens couldn't tell which queen the king was visiting. Because apparently, the king loved ALL the 12 queens equally. Also, the queens were not allowed to interact with each other. B ecause, obviously.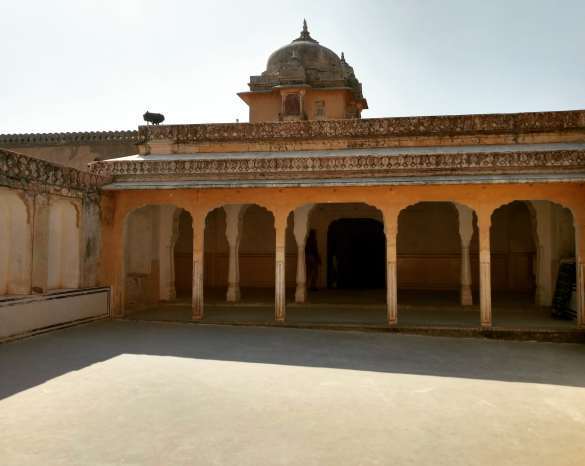 From the Man Singh Palace, we proceeded towards the exit, through cobbled paths. There was a Cafe Coffee Day here, followed by some souvenir shops, where we stopped for Maike's postcards. And with that, we were done with Amer Fort. It was exhausting, to say the least, as the fort covers quite some area. But it was mesmerizing! Each and every corner of this Fort tells a story and I was transported back to a different era. You really won't notice the hours melting away as you walk through this palace and lose yourself in a strange nostalgia. In the evenings there's a light show that takes place here, which I've been told is a must see. I couldn't this time but it's on my wishlist for the next time I come here (and I know I will).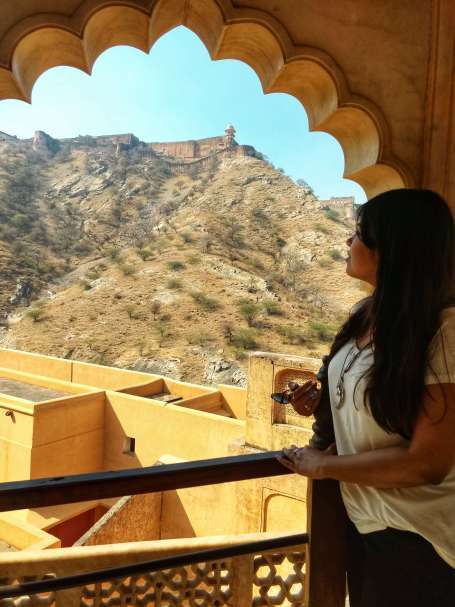 -
Maike and I decided to give Jaigarh fort a miss. Yes, it has the biggest canon in the world, but we had taken the outer path and not the secret tunnel that goes from Amer to Jaigarh, and it was a hot day and we were too tired to hike that much. So instead we decided to have lunch, shop a bit in the places Ali had promised to take us (these apparently were wholesalers and hence the products were priced at a lower rate) and then come back to Nahargarh fort for the sunset. For lunch, we went to a place called the Rainbow restaurant, where we ordered the Rajasthani Thali which neither of us managed to finish.
Then we went silver shopping (Maike bought a pair of earrings. The ones I liked were too pricey, so I restrained myself), and textile shopping - that is bed sheets, dupattas, cloth bags and Maike even bought a night suit. I binge shopped here, without a giving any thought to how I would carry them back to Kolkata (I had come with just one small duffel bag). The fabrics and the designs were just so pretty! The owner of the silver shop we had visited earlier invited us for Daal Bati Churma in the evening. At that, both Maike and I thought the same thing - free dinner! So after about an hour or so of burning our money, we were on our way to the Nahargarh Fort.
-
Stop 2: Nahargarh Fort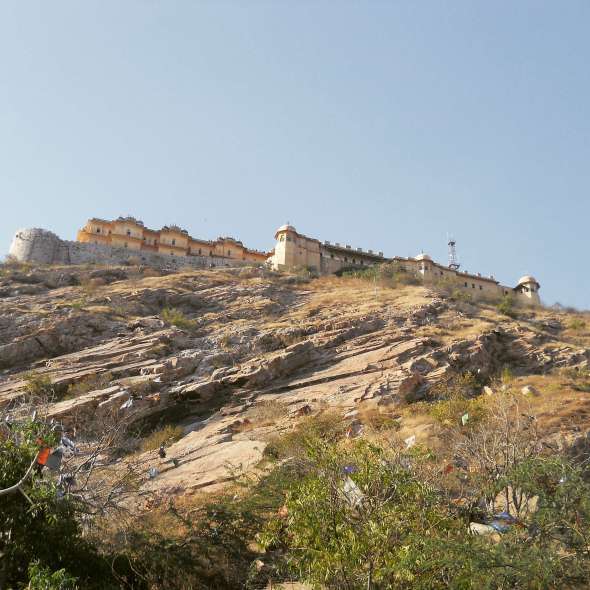 "I'm saying this once again madam. As soon as the sun sets, you both come down immediately. Ok?" said Ali, for the nth time.
We were on our way to the Nahargarh Fort. Ali would be dropping us at a particular point from where we had to trek up a slightly rocky trail to the fort. He kept saying that the area isn't that safe after dark, mostly due to the questionable crowd there - as Nahargarh is the place where young people come to hang out and drink (which became even more obvious from the empty beer bottles and cans we found abandoned in the bushes on our way up there). So Ali was extra worried. We assured him that we'll rush down with the setting sun.
Maike and I began our climb. The winding path was steeper than I expected it to be, and before I knew it, I was breathing heavily. Needless to say, we made multiple halts, watched many guys on bikes hurtle past us, considered asking for a lift and then wisely dropped that consideration. The one thing that kept us going was the view. From this height, we could see the entire city - and all of a sudden Jaipur was way bigger than either of us had imagined!
We reached the end of the trail and entered through a gateway, which led to a proper road. we walked down that road for a while, until it forked into two - and we took the right turn. The road was so smooth and beautiful here that even after that strenuous climb, walking was a bliss!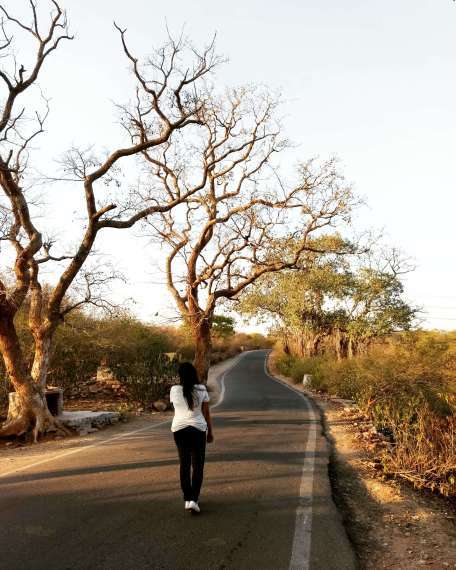 The road was lined with trees and shrubs on both sides, and in the serenity of the place, we could hear the bird calls clearly. Maike and I were walking, having a good time talking about our experiences earlier that day - until we noticed that the road was just not ending.
"Ali said it's just 2 kilometers away, including that climb. We have been walking forever!" exclaimed Maike.
"I know! I don't even see anything in front. I mean It's a large fort, we must have seen something by now."
And then Maike asked the most dreaded question of all.
"Do you think we are on the right path?"
I stopped in my track, looked at the never-ending stretch of road ahead of us, wondering if she could be right. And right then, a series of cars passed by us, coming from the direction we were headed in.
"Maybe it's just a bit ahead? All these cars are filled with what looks like tourists. They must be coming from the fort only, right? I mean, what else is here?" I reasoned.
"Yes, maybe you're right. Let's walk a bit more," said Maike.
An auto stopped and the driver asked us if we wanted to see the Jal Mahal. We politely declined, saying we have already seen it. He gave us a very confused look and drove away. We walked for 15 more minutes until we spotted what looked like the top of a fort.
"Hey, there's something there! I think we're close!" Maike said excitedly.
I smiled too, hoping she's right.
We reached that place and...
"This...is..a temple it says," I said, reading the signage near it. And then we spotted another signage, which stated that this was the path to Jal Mahal. Now it was our turn to be confused.
"But Jal Mahal is far away from here, no?" Maike asked.
And then it dawned on me.
"This is an alternative route! It goes all the way to Jal Mahal. That's where the cars were coming from!"
Maike and I looked at each other, and then at the road, we had just walked on.
"So...we have to walk all that way back...again?" she asked. "The sun is also about to set. We'll never reach in time for sunset!"
"I can't. I just can't. Let's just stand here and wait for an auto."
We stood for around 10 minutes and luckily an auto came by. We asked the driver to drop us at the Nahargarh fort, which, we soon discovered was on the left side of that forked road. We literally ran into the fort (since it closes at 5.30 pm and it was already 5 pm). Once inside, we began looking around at a more relaxed pace. This fort was built by Maharaja Sawai Jai Singh II and was basically a place of retreat.
We went into the main building of the fort and climbed up to the terrace where most of the visitors had gathered. And for good reason. Because from here you get a spectacular view of the city! And the people at Zostel were not exaggerating about the sunset either. We had reached right on time and were lucky to witness one of the most beautiful sunsets I have seen till date. There was also a restaurant right beside it and I could just imagine how amazing it would be to sit there under the golden-crimson skies, sipping a beer and watching the city from up here. Unfortunately, we didn't have the time. (I'll come back to this place one day to do just that.)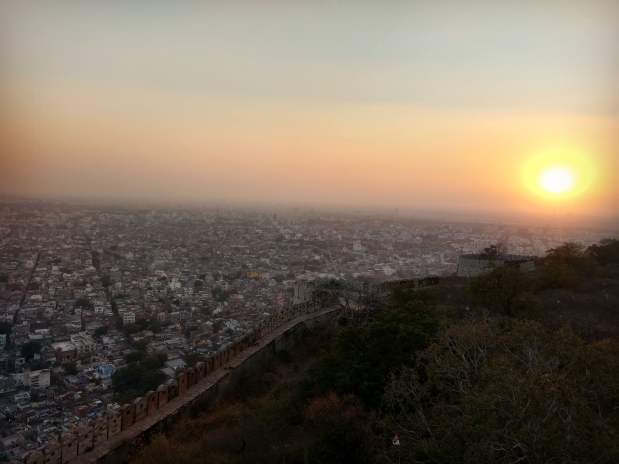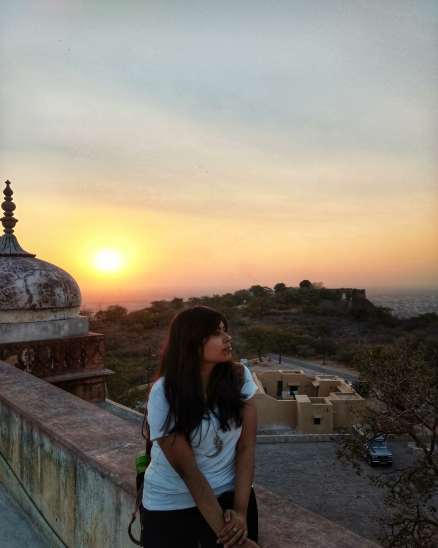 Soon enough, we heard the guards blowing their whistles and asking the visitors to leave as it was already past the closing time. We climbed down that winding path again and soon enough spotted Ali, who (with a relieved grin) quickly ushered us into the auto and drove us to the place where we were to have our Daal Bati Churma - which by the way was delicious! Both Maike and I were ravenous, which made the food even more delectable I guess.
By the time we reached Zostel, it was around 9 pm. Maike and I chilled in the common room for a while, drinking hot tea and browsing through the pictures we had taken that day. Then at 11 pm, we went to our respective dorms.
This was the first time I had visited a historical place - hills or seas are my usual haunts - and I didn't expect to like it as much as I did! Both these forts are not just visual treats; they transport you to an era long forgotten, and the goose bumps you get imagining the life that once thrived within those walls are very, very real. And I felt thankful for having met Maike the previous day because that trek to Nahargarh would have been a disaster had I been alone. Also, the wonder of seeing the Sheesh Mahal, the joy of going through various jewellery, apparels and accessories together and the relief of making it to the Nahargarh Fort just in time for sunset wouldn't have been as memorable. Some moments just get better when shared!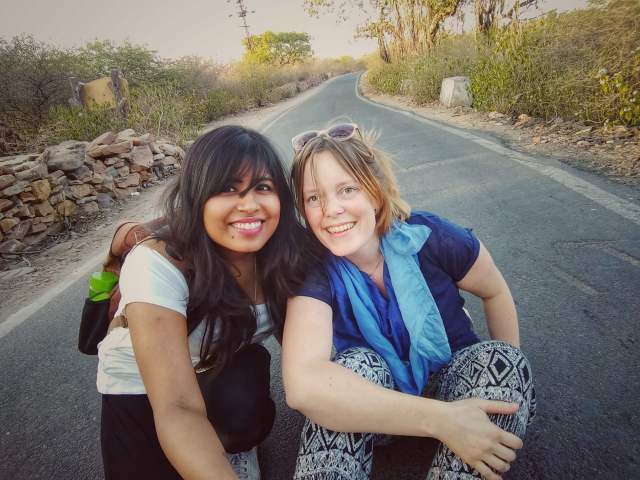 Frequent Searches Leading To This Page:-
jaipur local tour package, jaipur darshan tour, cheap jaipur tour package, jaipur sightseeing package by car, jaipur group tour packages, jaipur local sightseeing packages