There is something magical about Pushkar, Rajasthan. We visited during the 'Puskhar Mela' – a favourite destination for many aspiring photographers. This little gem is a few hours away from Jaipur, by car. Your best bet is to land in Jaipur and then drive down.
Once you arrive at Pushkar during the mela season, be prepared to walk to your hotel. There is a good chance the roads will be blocked by the authorities.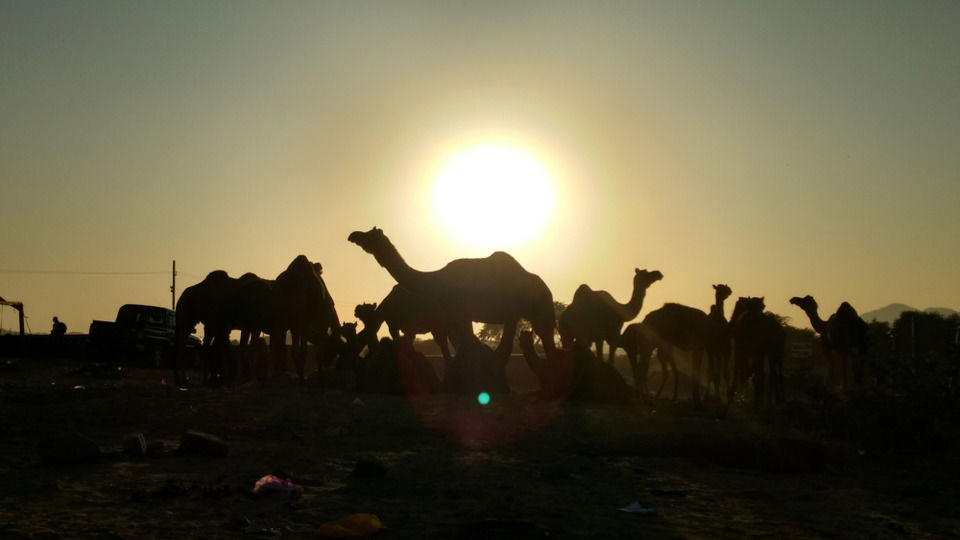 Your sure to be approached by guides to take you through Pushkar, but my opinion is it's best explored on your own. The magical place comes to life through walks in its by-lanes.
During the mela, the roads are busy into the night. It's packed and often slows you down. But this is the perfect opportunity to take in the sights and give in to the eclectic experience.
A good idea before arriving is doing some research on the schedule for the Pushkar Mela so you don't miss out on all the fun. This schedule seems to be hidden away and so we weren't too lucky to catch the moustache competition or the hot air balloon rides that happen early in the morning.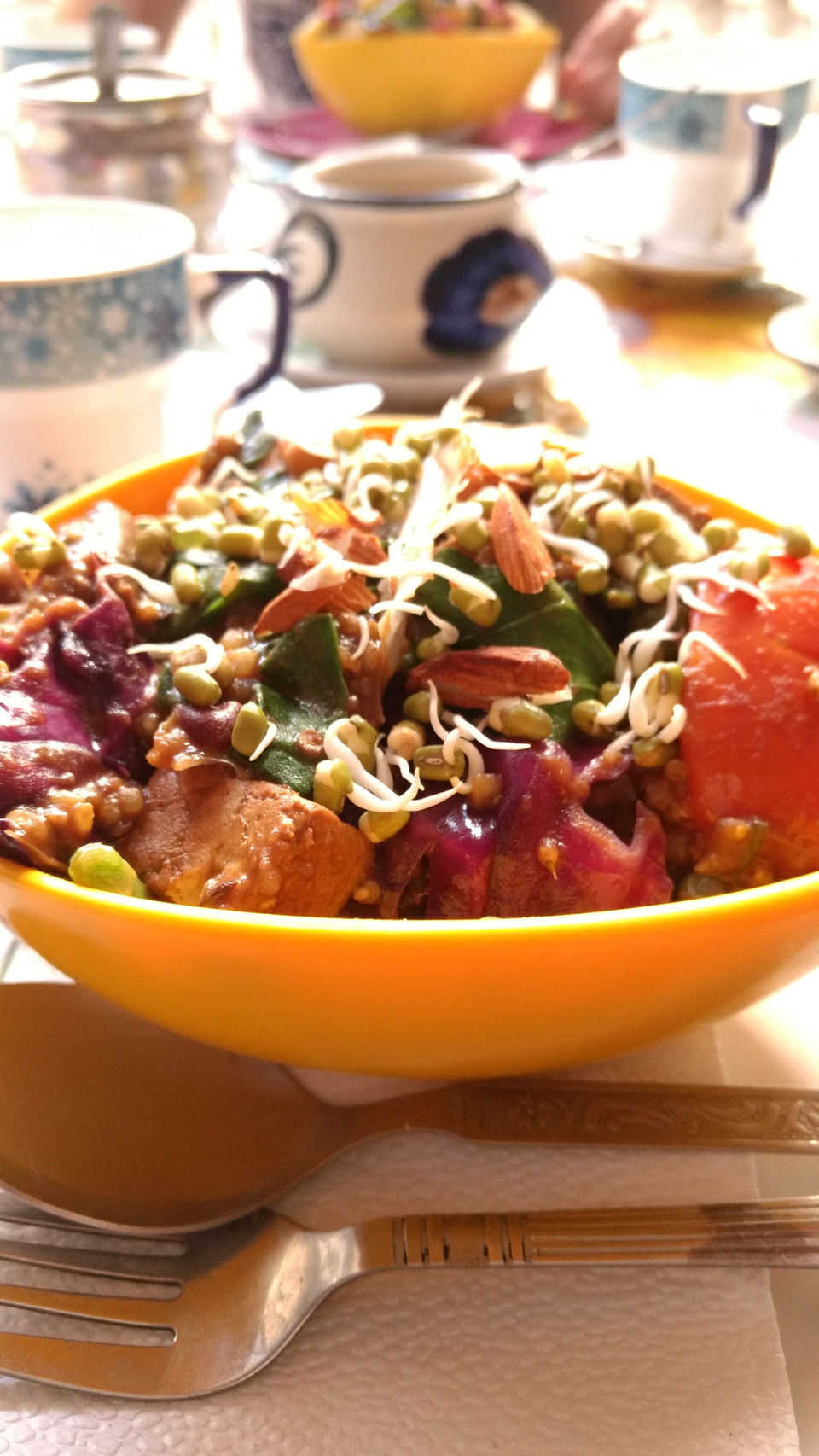 Nevertheless Pushkar has much to offer.
As you meander your way through the crowded streets you'll notice a lot of hippies! Dreadlocks, ragged clothes and a carefree attitude are common in Pushkar. The air has a relaxed sense to it (probably because it carries with it other things too ???? ).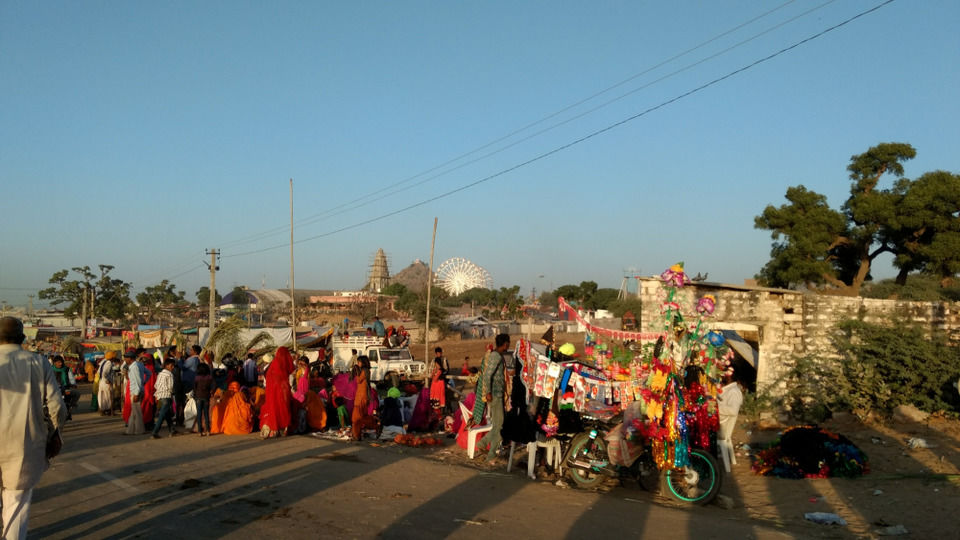 One of the main tourist spots here is the Sarovar – a large lake tucked away behind the narrow streets. During the day, it's crowded and filled with semi-naked men offering prayers in the waters. Children scream and their mothers chase after them. But during he might, it's beautiful. It's empty, has religious music playing in the distance with a silhouette of hills behind the lakes. It's waters glisten with light and if you're lucky you may catch fire crackers going off in the air, leaving you with an immediate sense of a spiritual connection.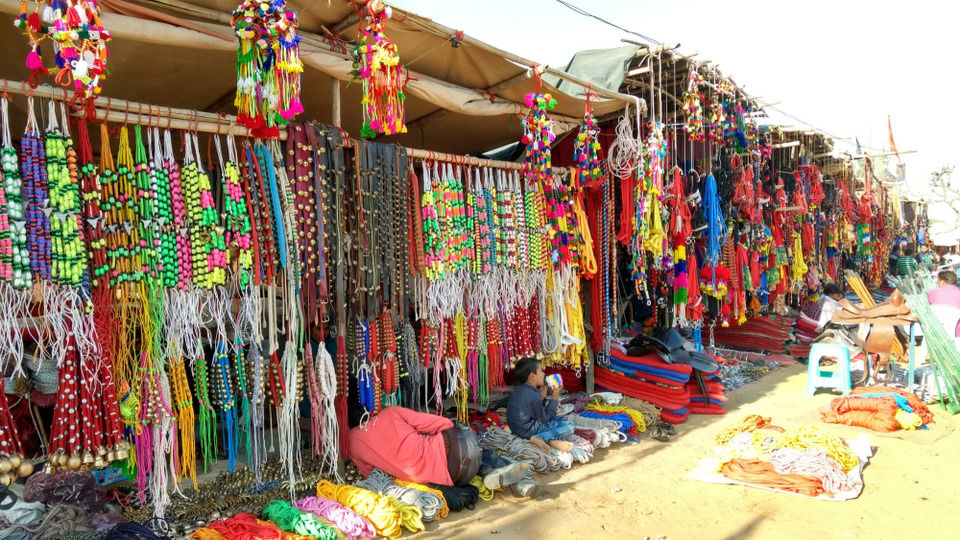 The other thing Pushkar is known for is the Brahma temple. Decked in cool white marble, the temple appears simple but has historical depth to it. You're not allowed to carry large bags or cameras here, so it's best to carry a tiny bag with essentials. Alternatively you can lock your bags away in a locker that seems like it can be easily tampered with.
As you climb the stairs, your feet are treated to a cold relief, essential when temperatures are soaring. Enchanting songs are sung by devotees that engulf you. The temple is truly charming and has paintings on its walls that whisper stories to you about Hindu deities.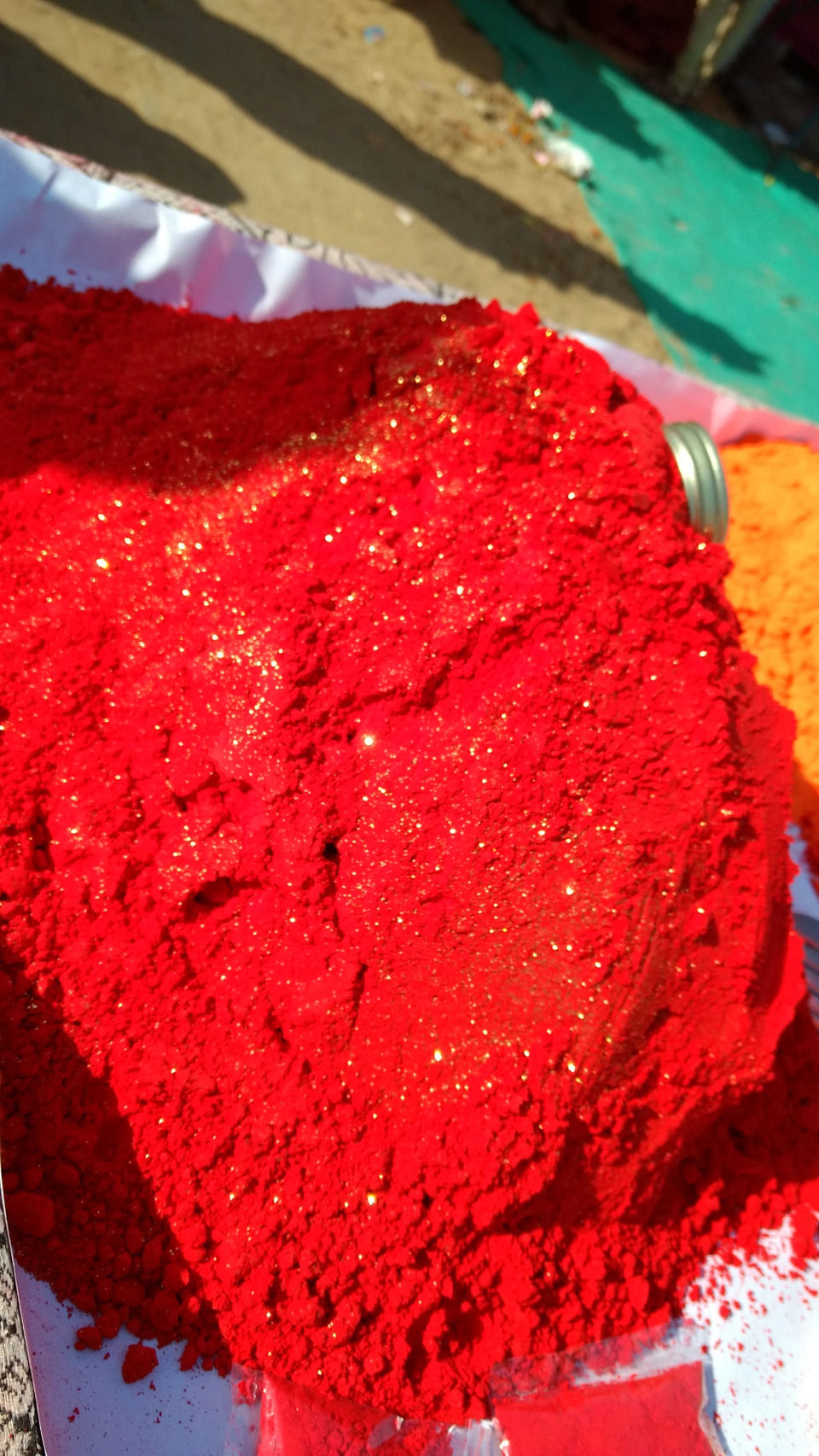 As you step down from the temple's 'stairway to heaven' you will notice the entry to the Pushkar mela itself. Here is where the action is. Hundreds of camels, horses and even some award-winning cattle run past you on the sandy path to the desert.
The camels were the most fun to observe. Their owners often decked in colourful turbans hold sticks and stand steadily in the sand. They're surrounded by photographers with fancy lenses (I wonder if their lenses will be filled with sand by the end of the shoot?)
You'll often find camel carriages with riders screaming out offers to take you on a ride. But it's preferable to walk as some believe the camel's aren't treated well.
Once we left the relaxed camels soaking in the last rays of the sun, we made our way to the stables that houses anxious horses. This to me was a sad sight. The horses seemed very afraid and uncomfortable. Yet tourists were reaching out to touch them and some even wanted to ride them. This was slightly painful to watch for me because I felt the horses weren't being respected.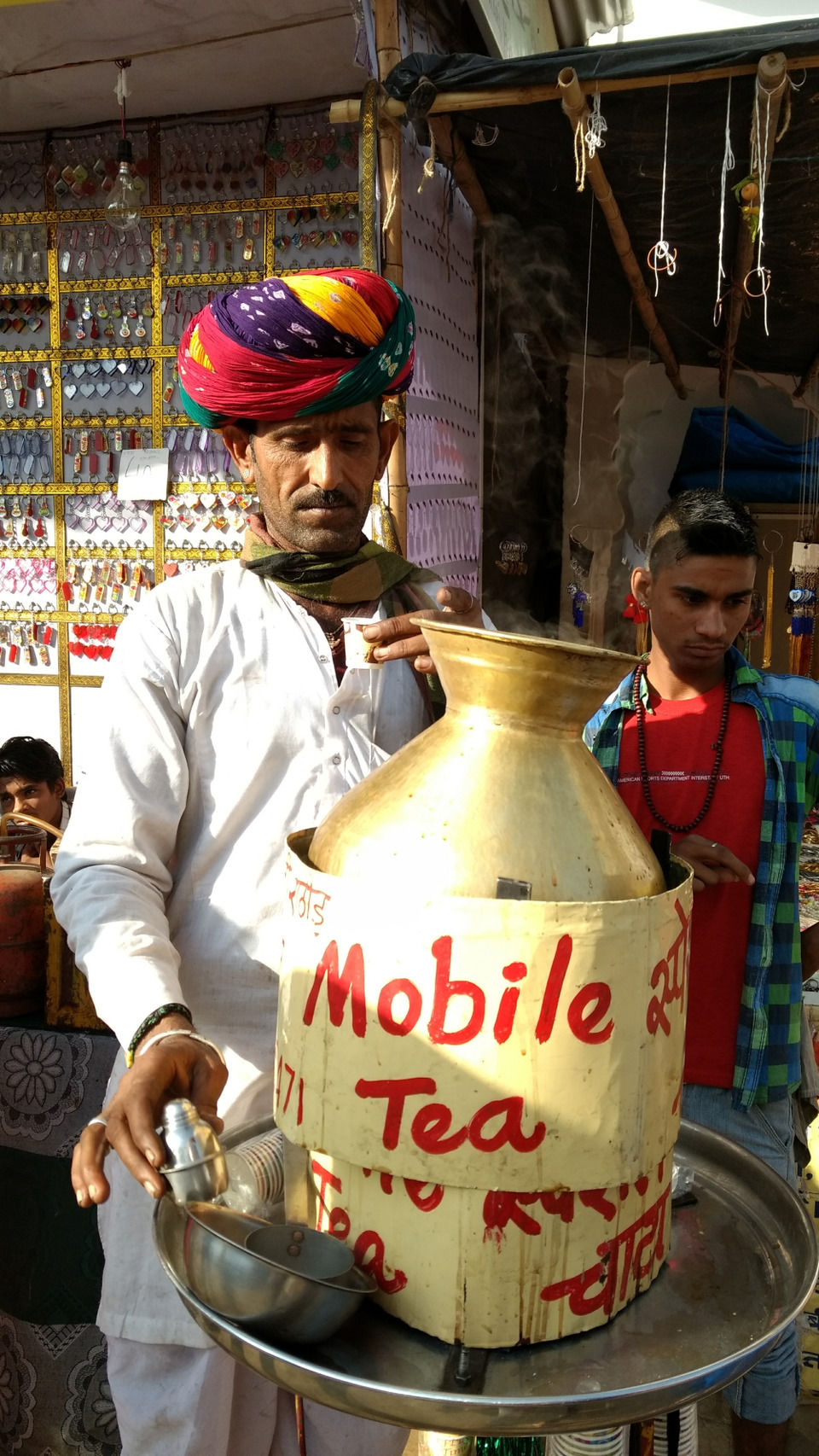 As we left the giant field, we found a bunch of shops that houses interesting items on sale. We also came across a strange sight – women standing on an elevated platform, dancing to Bollywood tunes. At first we had no idea what was happening. But as we tried to make sense of the incoherent announcements, we realized it was a 'dance bar' where men were invited to watch women dance for a price. We immediately left this vile sight trying to ignore the feeling of our skin crawling.
While you walk back to your hotel room I highly recommend you grab one of the many sensational falafels available at a little store in Pushkar. It's amazing and if you're vegetarian this is where you get spoilt for choice. The amazing falafels make you want to keep biting into them but each serving is so huge, you won't be able to stuff your face with a second.
For breakfast a healthy option is honey's – a little restaurant that serves organic food with vegan options. This is where I tried muesli with yoghurt for the first time and loved it!
I definitely want to visit Pushkar again and as I write this, I'm missing Rajasthan so much! I think when you visit Pushkar, you leave a part of your heart there.
This post was originally published on Vegetarian Trails.