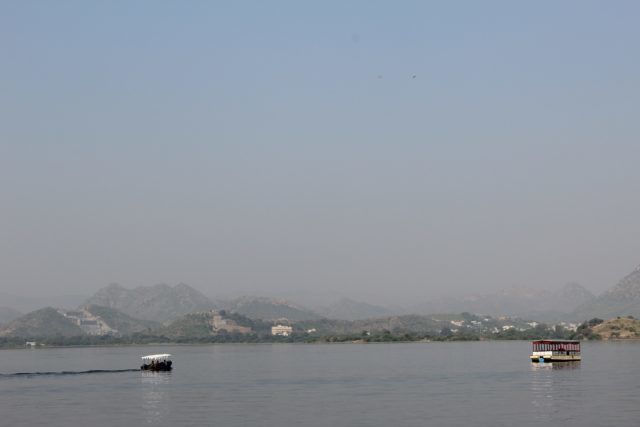 Day 3: Udaipur Local City Tour
After brain storming and queried about Udaipur local sight-seeing we decided to opt for local transport vehicle for ease of movement across the city. This was relatively cheaper and better option as it took away headache of locating places in Udaipur. As we were finishing our breakfast, Tapan has negotiated with one of the Auto Driver named "Ballubhai". Now Ballubhai is going to be our driver cum guide for whole day to explore City of Lakes.
He also had a small card on which important places of Udaipur is marked. We started little late today as our target was set for a day for Udaipur city tour followed by some authentic Rajasthani shopping. Ballubhai straight away took us to Lake Pichola ( on the ways he also shown us a lake famously known as "Dudhiya Talao". Ballubhai was too good to share knowledge about the places he was showing us. We didn't stop here, and went ahead to "Lake Pichola". ( as I did in first part, avoiding writing history about the lake as it's easily available on web).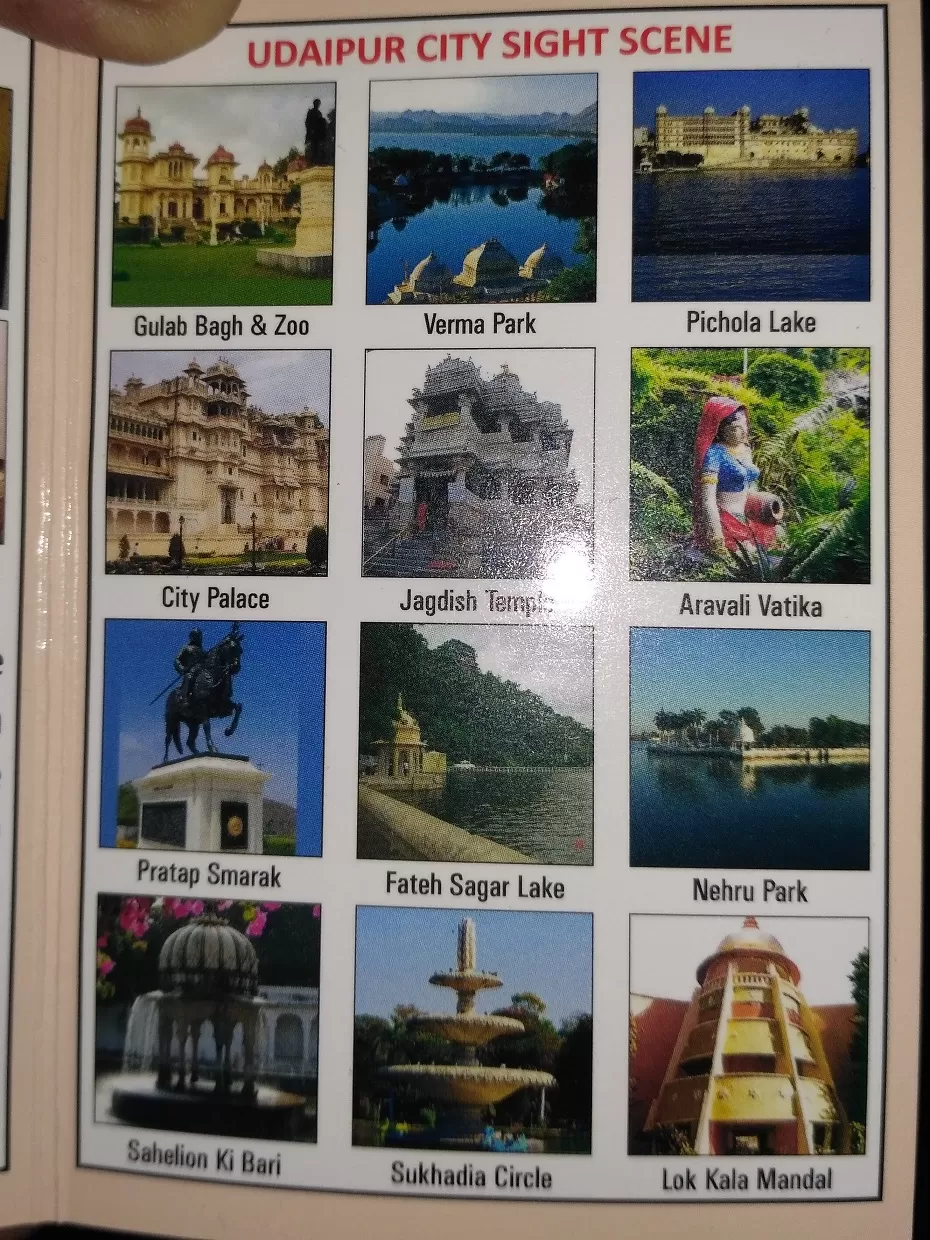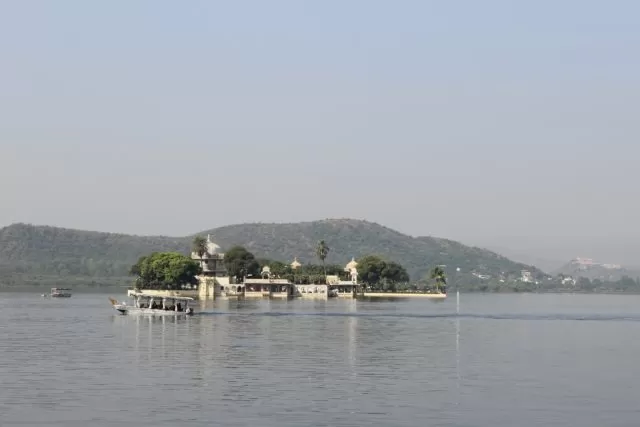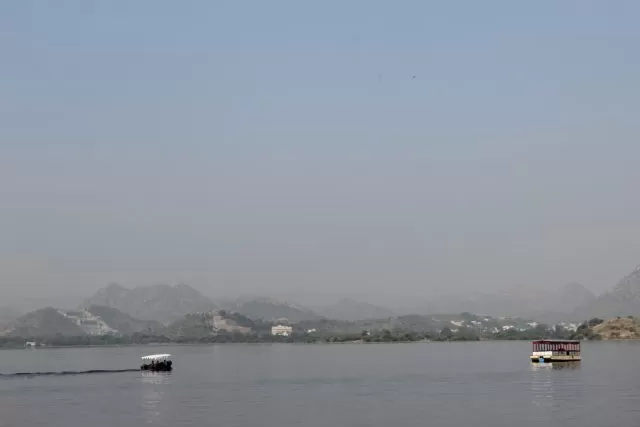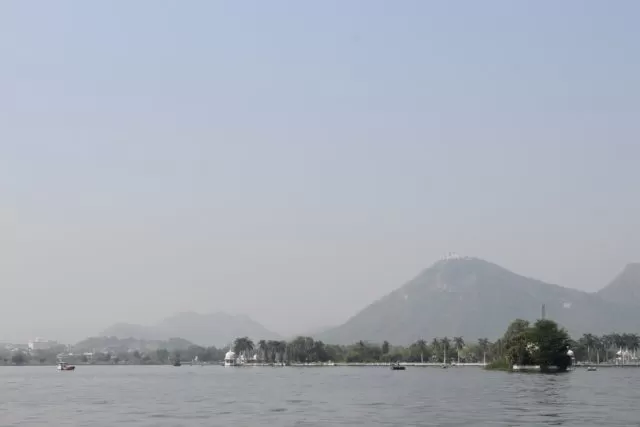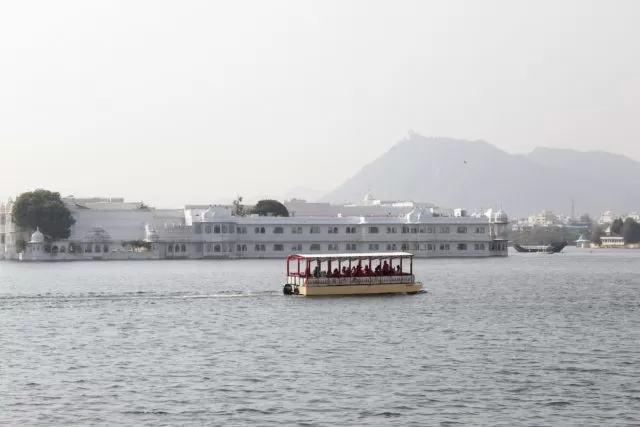 We spent good amount of time clicking some memories and gathering information about the places located within the lake. One is "Jag Mandir Mahal" and other notable is "Taj Lake Palace". You can also have backside view of "City Palace" which we were going to visit later. Ballubhai told us that "Jag Mandir Palace" is very popular amongst celebrities and businessmen for destination wedding. Viewing around we just sited a beautifully located fort like building on a small hill, we enquired with Ballubhai and got to know that it is "Sajjangarh". Curiosity increased to see the place.
We left "Pichola Lake" with a thought on mind that we will visit the place again in the evening as it was not far from our stay, although we didn't get chance to go there again. Just ahead on cross road is 'Maneklal Verma Park" a place which can be easily skipped, however we just had a brief look and moved ahead. On way to "Fatehsagar Lake" we gathered lots of information from Ballubhai about Udaipur. Our next stop was "Aravalli Garden", which was nothing but a simple garden.
Once we were out of it, we started discussing our plan to visit "Sajjangarh Fort". Finally we negotiated with ballubhai saying that we are not interested in such kind of gardens and vatika's instead we would like to visit Sajjangarh. He immediately understood our interest and set the plan at few bucks. Our next stop was "Fatehsagar Lake", a beautiful lake site. Exactly opposite to lake "Maharana Pratap Museum" is located. Although we skipped visiting there, as "Sajjangarh Fort" visit was constantly on our mind. We could not visit the "Neheru Park" too as boating to the place was closed due to some government formalities. Fatehsagar Lake was most memorable for Jalpa, as she lost her wrist watch while clicking some selfies, it fell in to the lake water. Our next stop was "Saheliyon Ki Wadi", a superb worth visit place to witness the park covered by many fountains. We left this place and headed towards "Sajjan Garh Fort". On way we crossed sukhadia circle and again passed Fatehsagar Lake.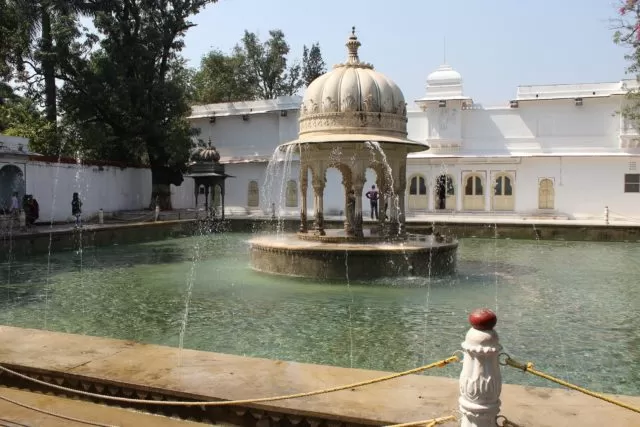 We reached at base of "Sajjangarh" at around 12.30pm. From here to reach up to fort you need to buy entry ticket to fort which is Rs.60/- and to reach on top of hill you need to buy another ticket of Rs.90/- which is required to travel in vehicles run by local authorities. Auto is not allowed inside the gate, although once can opt to drive own car by paying extra fees. One can also opt to climb it walking through roads to get the feel of nature.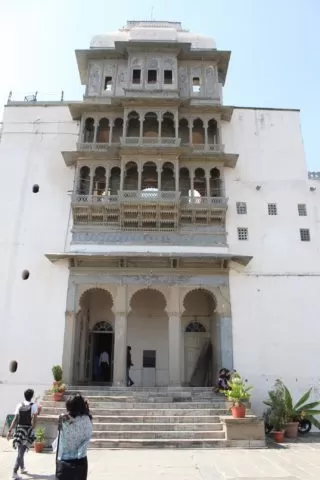 I would recommend that visiting this place is really worthwhile, from here you can get beautiful view of whole city of lakes. We spent good time here clicking memories and having site of Udaipur from the top of the hill. There is also some small zoo safari tour, however we skipped it as we wanted to spend more time to see city palace our next destination.
We left "Sajjangarh" at around 2.15 p.m. for "City Palace". On the way we wanted taste rajasthan variety snack and ballubhai rightly stopped and one of very famous food chain joint JBM. Never forget to try Dal Kachori and Pyaj Kachori here, it's affordable with great taste. At around 3.15 we were at "City Palace". Entry tickets for city palace is Rs.330/- (which includes entry for must recommended visit to museum). Believe me at first sight I was wondering why to pay so much for palace, but once we were inside felt it's worth.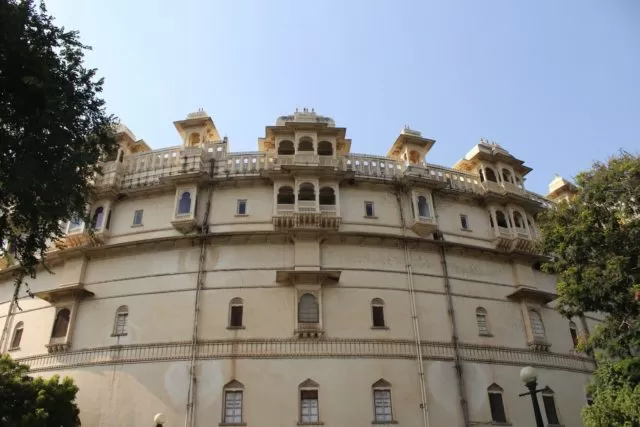 Once you enter in to the palace you must visit each zone / room of the palace to get idea of history of mewar and their warriors. Believe me we ran out of time even after spending more than 3 hours inside the palace. Clicking memories, looking at memorable articles possessed by great Mewar Warriors all was absolute pleasure. We left the place at around 6.45 and straight away headed to our stay waiting for next day. At dinner we discussed our plan and modified it. We decided to skip chittaurgarh, as we were getting curious to visit "Jaisamand Lake" which was highly recommended by our auto driver.
Day 4 : Jaisamand Lake : India's 2nd Largest Artificial Lake
We started early in the morning as our plan was to visit "Jaisamand Lake" and then heading back home. We google mapped the place and understood that it can be covered while we returning back home. Accordingly plan was modified and applied. Driving to "Jaisamand" was very good, hilly but smooth roads surrounded by greenery was amazing. Reached the lake around 8.45 and as soon as we got the first site of the lake we were really amazed with beauty of the place. "Jaisamand" is countries 2nd largest artificial lake (refer Wikipedia for more details).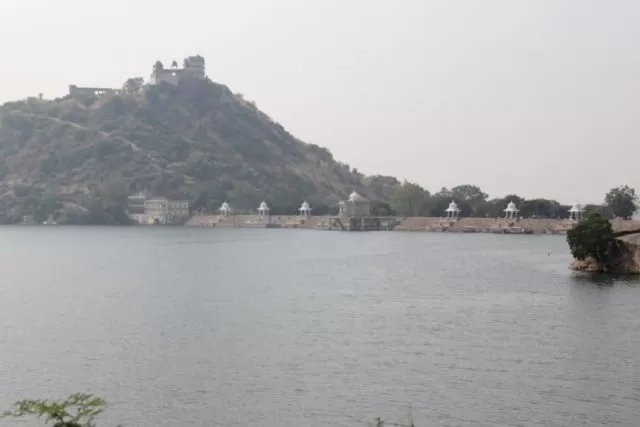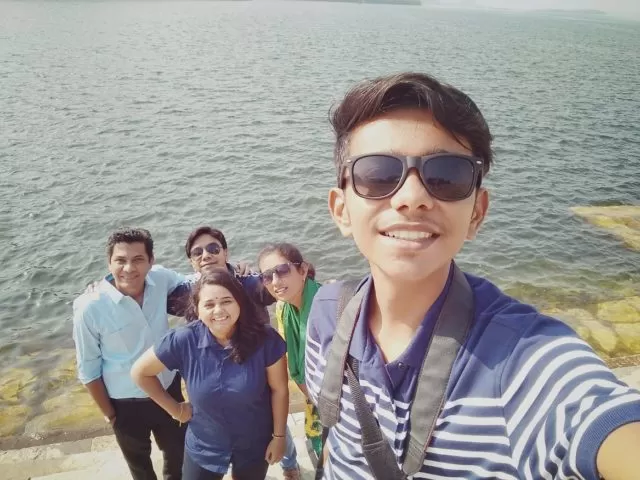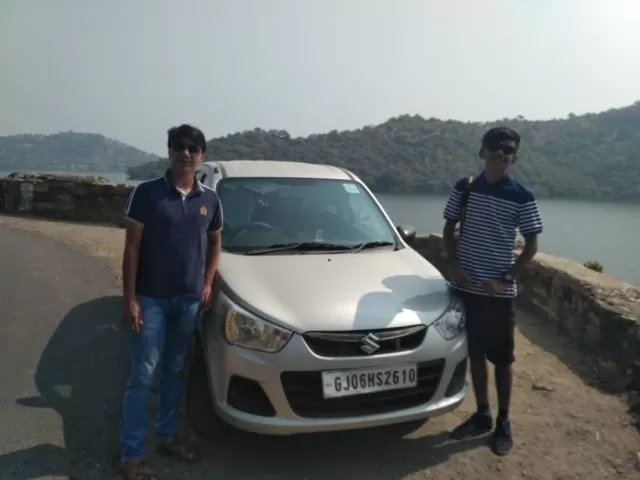 There is a haunted like palace located top of hill on right side of the lake. There are staircase till the top of the hill but as I had to drive the car back home we avoided the adventures thought. Lake site is absolutely beautiful with stunning view of island resort and hills. As this was our last stop of the journey we were keen to spend as much time as possible. Clicked memories, enjoyed boating, enjoyed lake side driving and then after final clicks along with our most trusted companion of the journey started thinking of getting back to home town.
We left "Jaisamand Lake" at around 11.30 and took a small village road to approach NH-48, which was approx. 38 km from the lake. However interior roads were typical village roads and it took us more than hour to reach on NH-48. We were on NH-48 and from here it was just a matter of time to be back to Vadodara. Now all the adventures were trolling on each one of us and I could see the back seaters were nicely enjoying the naps whereas Sachin (my son) was giving me company is countdown on the road signs. On return also we took the same route and had a little break at Shamlaji for some refreshment.
20th Nov 17:45 here we come at gates of Vadodara, safely driven, nicely enjoyed, memorable journey ended as we left Jalpa and Tapan as they had to catch an auto for their home. Greeted eachother by making a promise for future trips and waved them.
Reaching home we felt like we are in our palace after witnessing palaces of Mewar.. Wonderful..!!
Tip of the journey:
Don't forget to shop at "Bandhani Bazar".
If not interested skip aravali garden, verma park and other small place to spend enough time for other places
Notable Places:
Lake Pichola
Jag Mandir Mahal
Fatehsagar Lake
Nehru Park
Rana Pratap Museum ( we skipped)
Saheliyon ki Bari
Sajjangarh Fort
City Palace
JBM Food joint
Jaisamand Lake
Frequent Searches Leading To This Page:-
tour of udaipur, udaipur travel blog, how many days in udaipur, udaipur to mount abu, udaipur mount abu 5 day itinerary, places to visit in udaipur, romantic weekend trip to udaipur, budgeted hotels for 3 days in udaipur, 5 must things to do in udaipur, long trip to udaipur