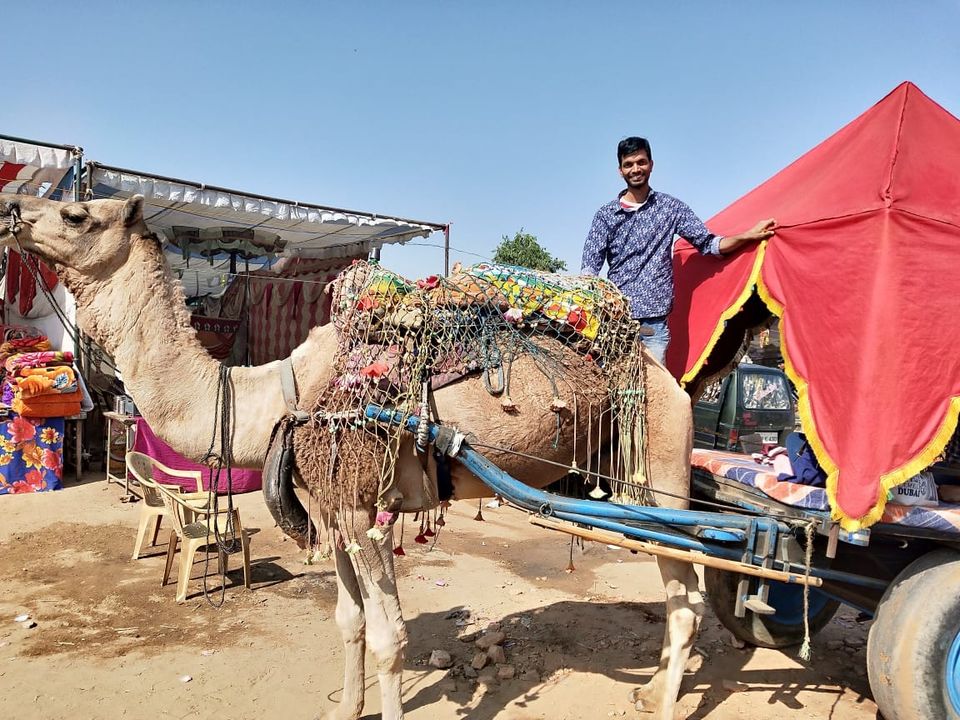 The name Rajasthan itself gives a glimpse of various colours in our mind with sand as the portrait of it. The white sand in the background with a diverse n beautiful patterns on it and all you can say is beautiful. Your thirst for beautiful Rajasthan can be quenched at once , PUSHKAR CAMEL FAIR.
It's a yearly festival held at Pushkar, Rajasthan. It's one of the largest camel market for trading those great ship of desert. This place is like Mecca for every Indian traveller. It's takes you to the days of basic fair with lovely animals as the hero's. Apart from camels you can also find other animals like horses etc.
We had started early in the V hours from Delhi for the fair. It took seven  hours from Delhi to Pushkar Direct with just a stop for breakfast . It's generally said that once you enter Rajasthan the smell of good food with trickle down you nostrils and make you look for your tongue too. We reached Pushkar around 12 in the afternoon. We parked our car near the destination and decided to take a walk . It gets crowded as u reach the main market . So it's advisable to park somewhere from where one can easily get out. One can also find parking easily,so don't stress.
We went straight away to the market and took a camel ride to the nearby sand dunes. The journey was short but it literally took over the market area so we could easily find various animals getting ready for the show. We tried the Rajasthani dress with sword in the hand and feeling of Maharaja in our heart by the gesture of the common local people.
We came back to the market and decided to look over the famous BRAHMA TEMPLE ,Pushkar. It's the onle temple of this God present in India because he was cursed according to Hindu mythology. We also took around the the sarovar where one can find salvation from their sins by taking a bath in it.
It was almost 2 in the afternoon ,we were ready for the famous delicious meals of this State. We headed for a beautiful restaurant which was on way from the sarovar to main camel market. It had good ambience with option of indoor and outdoor eating. The food seemed more utterly butterly with the outdoor ambience. Apart from filling our stomach it filled our hearts too.
Again we headed for the market to that portion where one can go back to the childhood days of kaabuliwalah, if one can remember. The fair where one can find large swings, children performing various arts and activities,small holpful children with parents,the shopkeepers selling their creativity. One can always find himself in those golden days in this fair, it takes you back in time.
Then after some shopping of the famous Rajasthani juttis we headed for our car . We started around five in the evening for Delhi and reached back at around 12 in the midnight with as usual one stop for lunch. One should always note that it takes more time to come back than to reach , traffic conditions apply.
It a total fun day for such a great event , people from all over the Rajasthan can be found with their flocks and all over the India with their eyes on these flocks. It's once in a lifetime experience,one must look for because WHEN IT'S RAJASTHAN ,GO COLOURFUL.