A fun fact: Did you know that it took around 4 years to build Jaipur and its construction was started in the year 1726?
I have another question for you. Do you know that it's just 4 hours away from the National Capital City?
Isn't it surprising that a place that preserves royal heritage in its inner depths is not visited by you yet?
All it would take is packing two sets of clothing and some cash, of course, as Jaipur can be seen widely and in depth within a span of four days. If you read this blog in the summer months, you would need to keep your excitement intact till the month of November as that is the best time to visit Jaipur.
You sure do not want to sweat out all your travel instinct by going there during summers as you will get burnt down. No! I am not kidding at all.
The winter season will give you the authentic essence of the place so that you can call it 'The Pink City' with all your belief.
A suggestion before we start our blog travel…
If you want to plan an itinerary, well, you are off to a great start. However, my suggestion is you reach there when you have ample of time on your hands and go around without a proper plan. The sole reason being, you'll get to view the city in its purest form.
The Raja who found this city, Jai Singh II (courtesy: Wikipedia), did not plan on finding it, you know! Why should you?
Perhaps, how much will you know by just following the rules on your itinerary?
You sure have Google maps to help you out whenever the need be, so, don't be afraid to let go!
• Amer Fort / Amber Fort
Whichever name you want to call it, the fort stands correctly on its name. Amer means 'One who has a long and prosperous life'. This fort has been standing on since 1592. Now you can count the number of years till 2019. That's a lot of time.
There are people who go around the fort in cars, but I intended on doing it on foot. On every milestone that you cross, you get to see a huge and magnificently built door. I suggest you wear your shoes as there is a lot of room to cover.
After walking for a few miles, you view this green and picturesque pond nestled in the middle of the fort.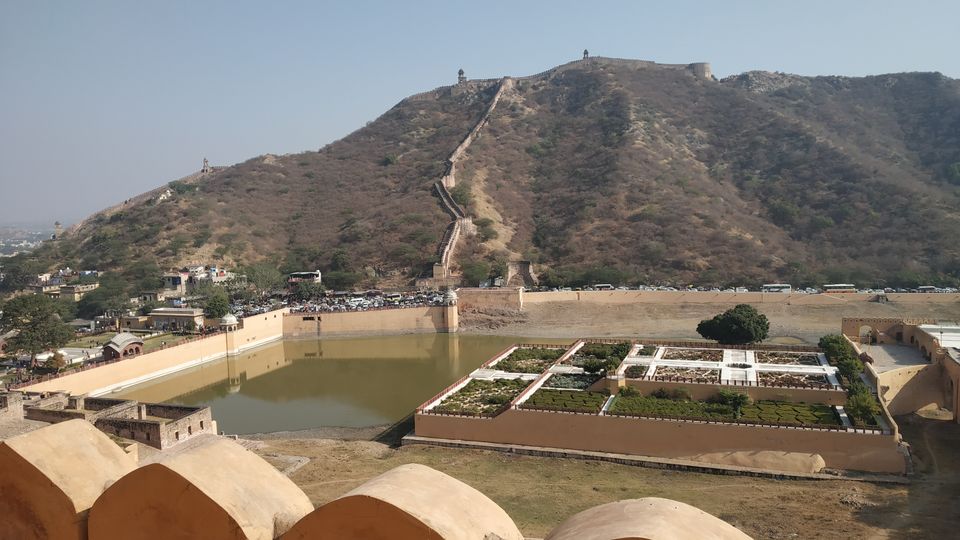 Walking further, you will come across various spots where you can use the 'Panorama' option in your smart phones just as I did.
The Amber Fort is built with Red Sandstone and marble giving it the 'UNESCO world heritage site' tag.
At every spot, you will find your surroundings encompassed by these huge Aravalli hills with a chain of stairs going through them making you want to leap and reach the top. That's the greed which will make you go to the topmost spot.
The greed to reach the top! We all have it, don't we?
Next up, walking for around half an hour, you will find a big entrance to the 'Jaigarh Fort'. Jaigarh Fort is also made of red sandstone and stands as it is since 1726, on the hill of eagles of the Aravalli range.
At Jaigarh, you will find the Canon Foundry with the history of Canon manufacturing and various rusted samples. The biggest canon is also preserved here itself! Imagine hitting an army with this huge thing!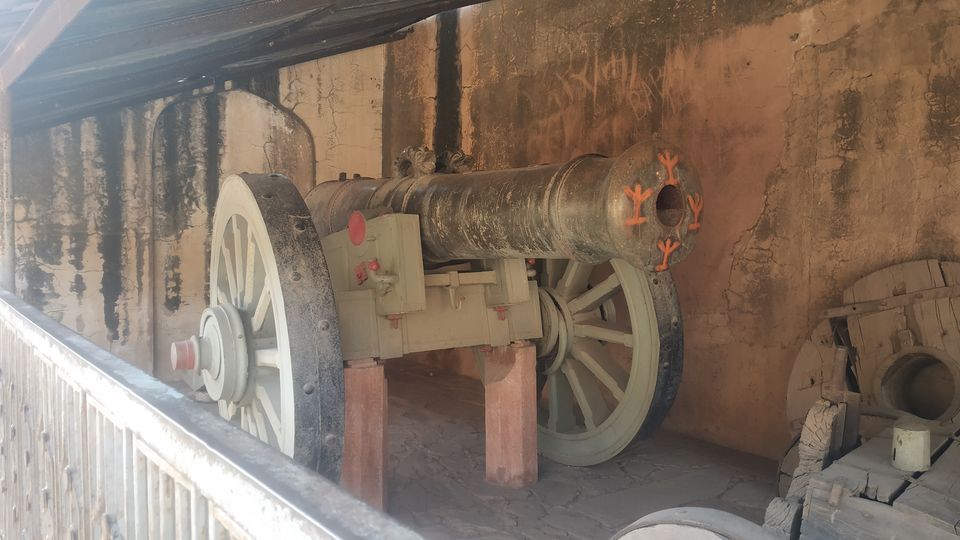 I found these small window-like holes in the topmost line, probably used for firing arrow shots while hiding from the enemy. These royal architects were smart enough at what they did, I must say!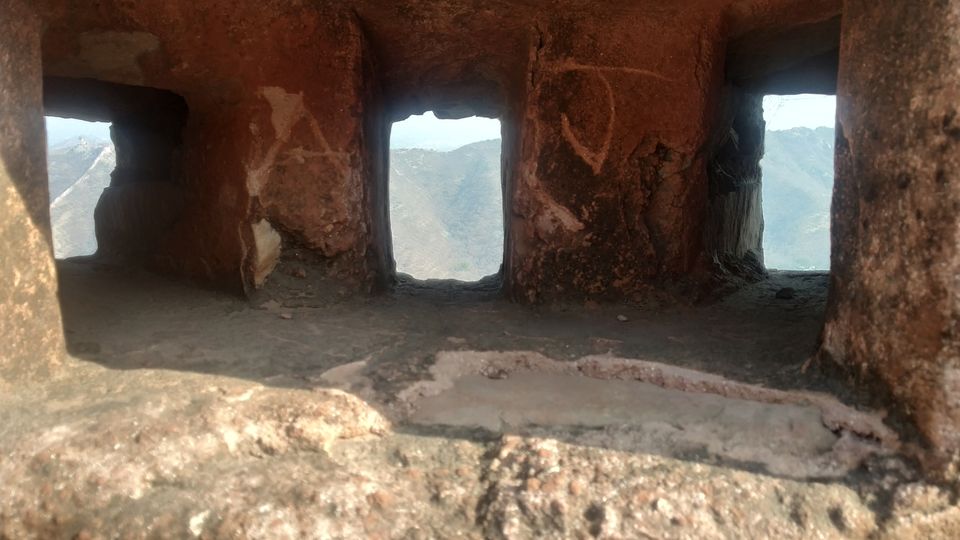 Amer Fort is visible from all these window-like holes, each one of them.
The Canon Foundry consists of all sorts of tools used to build historical Canons, for you to stare and imagine what it would feel like to hit somebody using them. The thought is also painful, yes!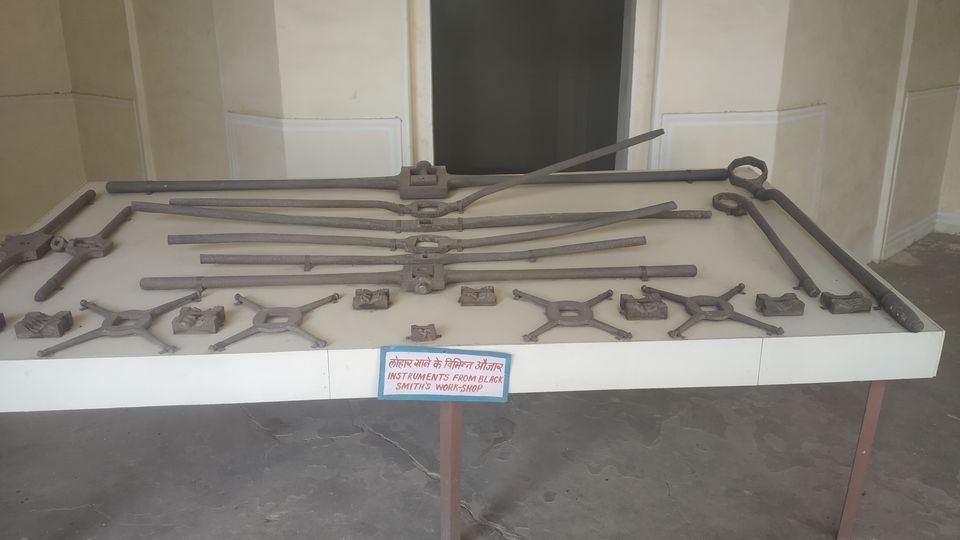 Finally, I reached the top of this fort, felt the air running at 100 Kmph across my face and looked down to view the 'Jal Mahal' right from here!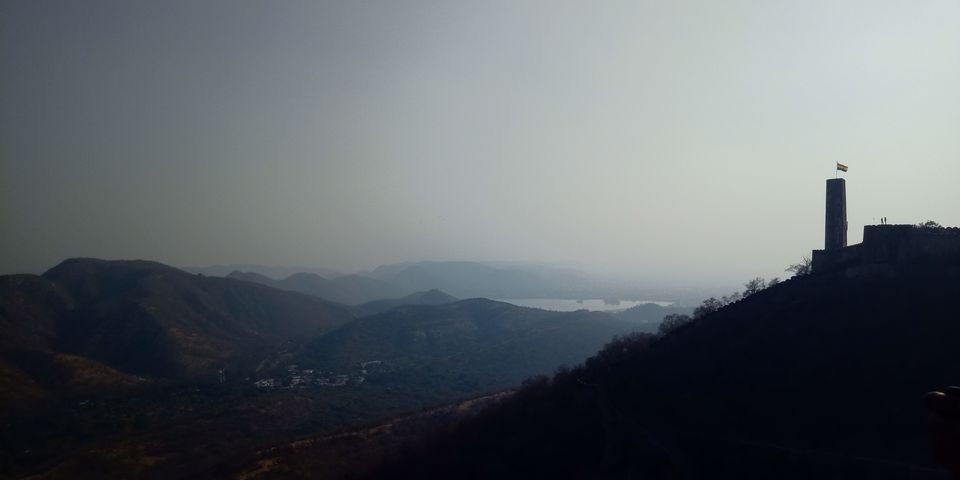 And, also how can I forget. Our trustworthy Amer Fort is visible from here too.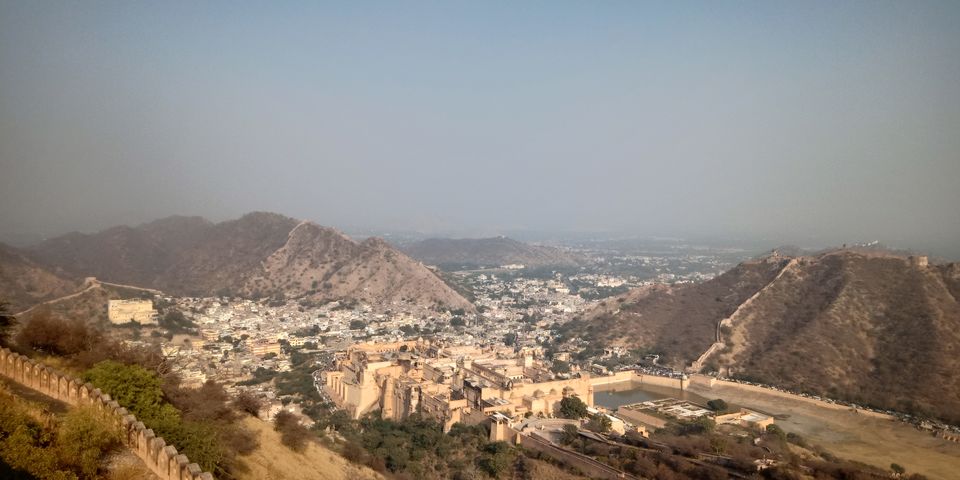 Amidst all this running and exploring, I found 'Ladoo'. Let me introduce you also.
Ladoo is a 15 years old Camel who lets you sit on him if you pat his back every 2 minutes and don't move much on his hump.
Now, if you think sitting on a Camel is an easy task. Well, you better sit on one then. It'll scare the shit out of you, I promise.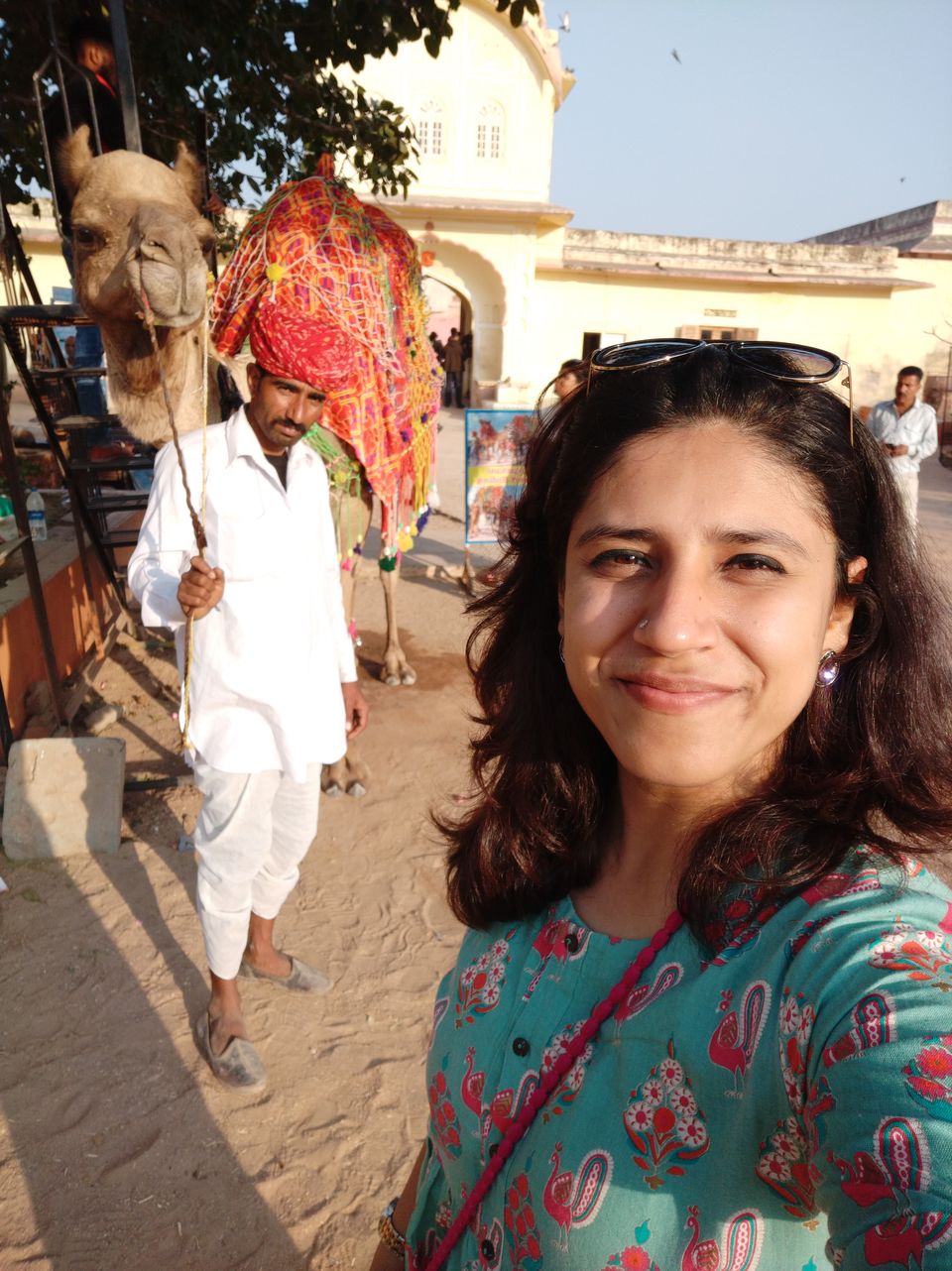 After all this Camel riding and clicking views, hunger comes out from your soul.
Now, Rajasthan offers spicy delicacies, all of it, in one single big plate.
Instead of going to any restaurant, next I decided to visit 'Choki Dhani', 30 Kms from Amer Fort.
I also met Mr. Rawal Rana who plays the 'Ravana Hasta Veena', an ancestor of the violin right outside the Amer Fort and is obliged when you compliment his craft and take a click with him just like my Ma did!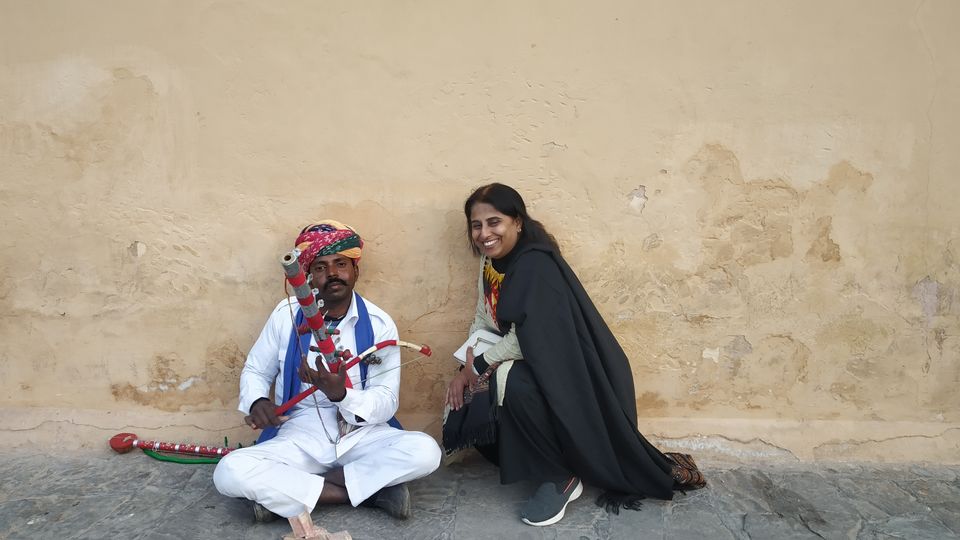 Also, it is better to walk back to your car in the parking spot at Amer as your driver will never be able to find you in this huge palace. The walk back will be a mere 2 Kms.
• Chokhi Dhani
Cultural Music, Hot and spicy Rajasthani Cuisine and varieties of folk dancing divided into separate sections await you at this very colourful surrounding.
Chokhi Dhani offers 5-star resort cottages along with ethnic design influences if you want to stay in Royal rooms and be called, 'Your Highness' every ten minutes.
I just wanted to eat the spicy food that would make my ears ring with vapour, so I went on to buy the royal thali tickets.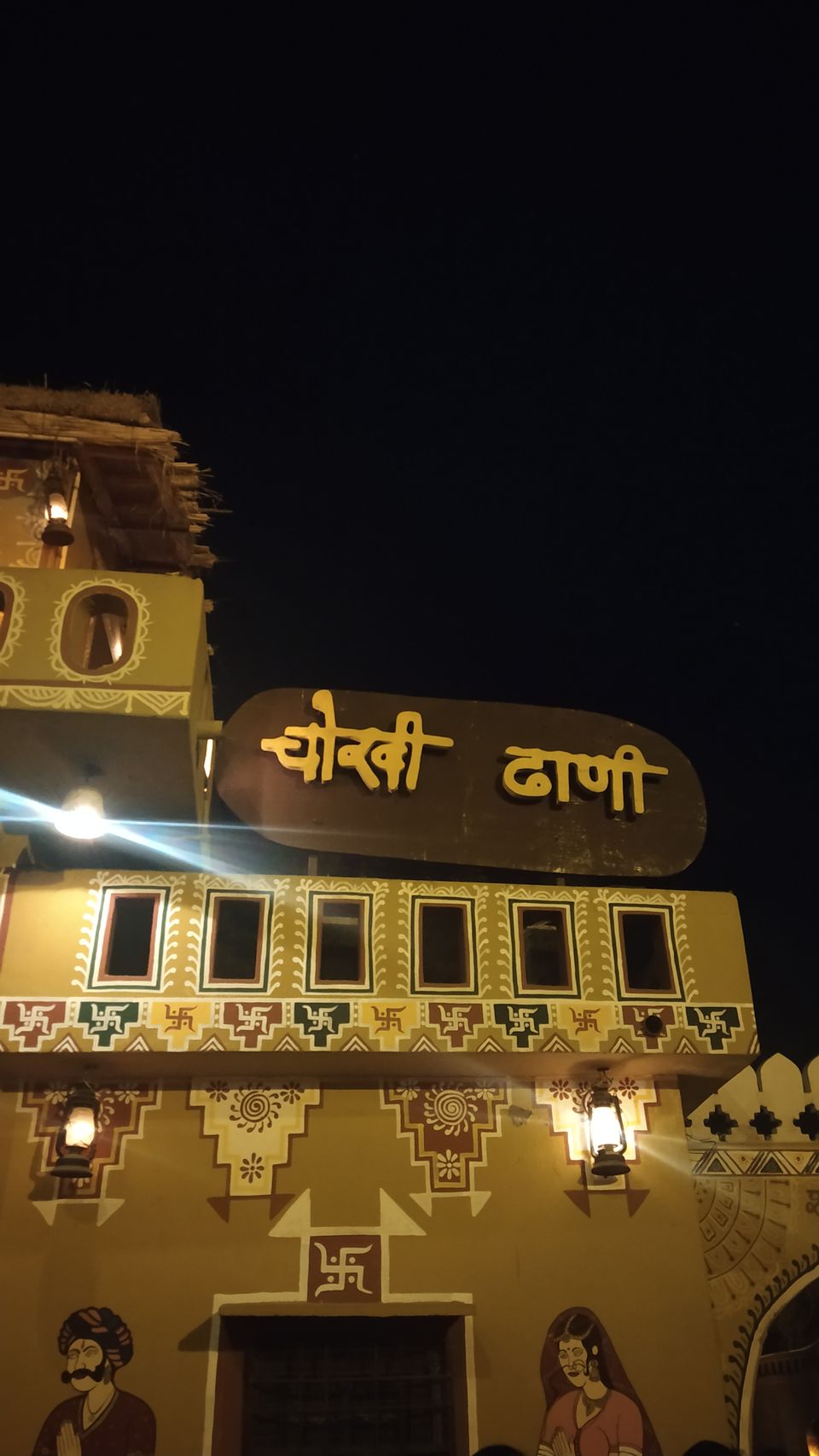 The tickets are priced at 900/-, 1100/- and 1200/- for adults and 600/- for kids, making the experience an affordable one.
The food is served in buffet style and I really recommend the 'Sarson ka Saag' and the 'Moong Dal ka Halwa' from their exquisite food selection.
Also, I must say, their service is one of the best in all of Jaipur. The servers are ready to cater to you even before you finish your first serving.
After I was fed, I went floating towards the cultural noises coming from the other side of the place.
There are various stalls put up for you to buy authentic Jaipuri stoles, suits or even leather bags. The shopkeepers won't be ready to bargain, although the pricing is fairly reasonable, so you won't need to.
Now, being a gregarious soul, I could not have come back without dancing.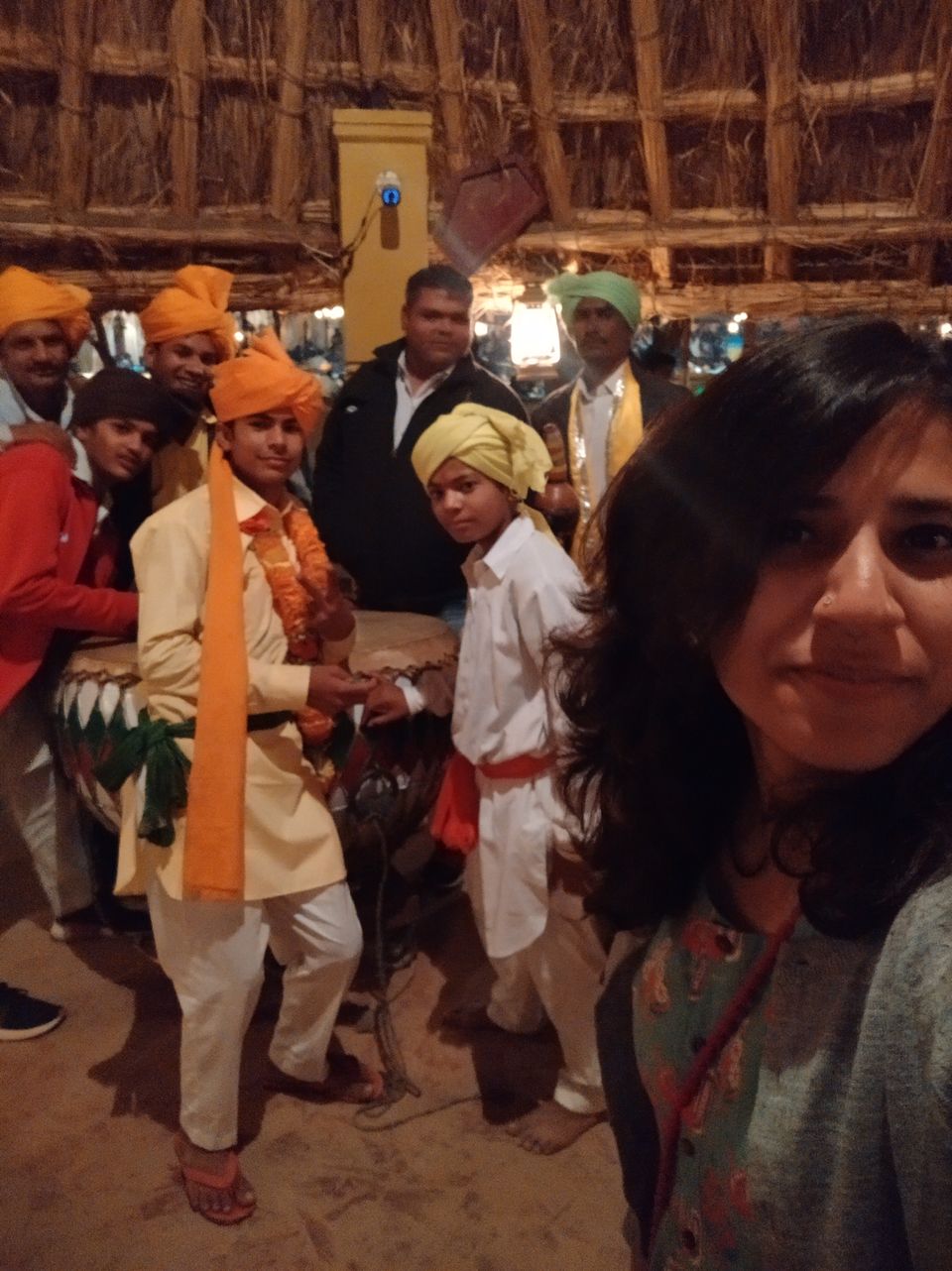 Even with a heavy stomach after all the eating, I mustered up the courage to go and dance with 'Mohit', this very enthusiastic and hyperactive Rajasthani Folk dancer.
I learnt his steps within 10 minutes and made a group of people to come and dance with both of us.
Day 2
Today, I thought of going around the modern part of Jaipur today, leaving out 'Jal Mahal' and 'Nahargarh Fort'. These two places are also worth visiting if you've got more than two days to go around the 'Pink City'.
• Hawa Mahal
Ironically, I saw no air, anywhere across the 'Hawa' Mahal. Although, I did find a window opening the view directly to our beloved 'Amer Fort'.
So, the Hawa Mahal was built in 1799 AD by, Maharaja Pratap Singh, probably because he did not have air conditioners and wanted some place to feel the not so polluted Delhi air back then.
The Mahal has these pretty, little and even, huge, intricately designed windows and doors, many of which I captured in my eye frame.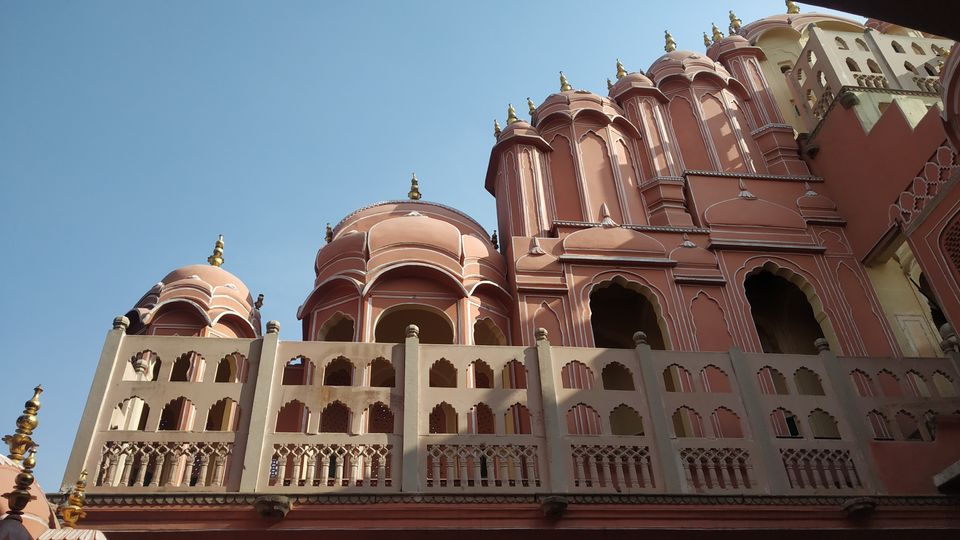 • Jantar Mantar and City Palace
Jaipur's 'Jantar Mantar' made me feel really guilty about not going to the Jantar Mantar we already have in the capital city. Next excursion was planned right now!
You get the tickets to Jantar Mantar and City Palace from the same arena, just after walking about a Km from the 'Hawa Mahal'. At 'Jantar Mantar', you get to witness sundials ranging from the smallest, circle to the largest circle amounting to a 49 feet radius. It is surprisingly huge when you look at it from the centre.
I wanted to learn how to read time from these ancient wall clocks. Hence, I eavesdropped on the guides hired by the foreign tourists. I tell you, these smart tricks come in handy when you are going around a new place. No! I am not a thief. Calm down!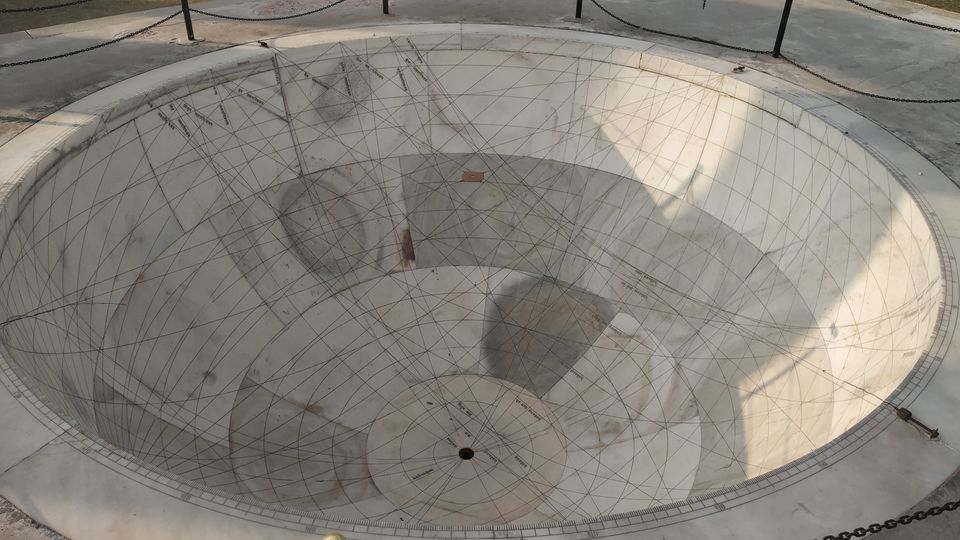 Moving on to the City Palace, built by Sawai Man Singh II, the palace gives out the feeling of dusk and dawn simultaneously when you visit it around 5:00 PM.
The palace does not allow photography inside its premises and I suggest you keep the serenity of the place intact and switch your phone off, just like I did.
Coming to what's inside the palace, the royal clothes including their shoes, vests, socks, shoes, night wear, accessories, everything is on display. I must say, they were overly dressed back then.
There is also this marvellous place inside called 'Silehkhana', meaning a place where expensive weaponry is kept, which encompasses copious amounts of swords, daggers and a huge weapon, in the shape of a ball with imbibed nails, which can probably, kill a person in one swing.
I do not know why but seeing 'Jahangir's' and 'Shah Jahan's' swords right in the middle of the exhibition made me nostalgic. I read about you man! There is something magical and scary about the place and it closes by 5:00 PM so rush before it closes for the day.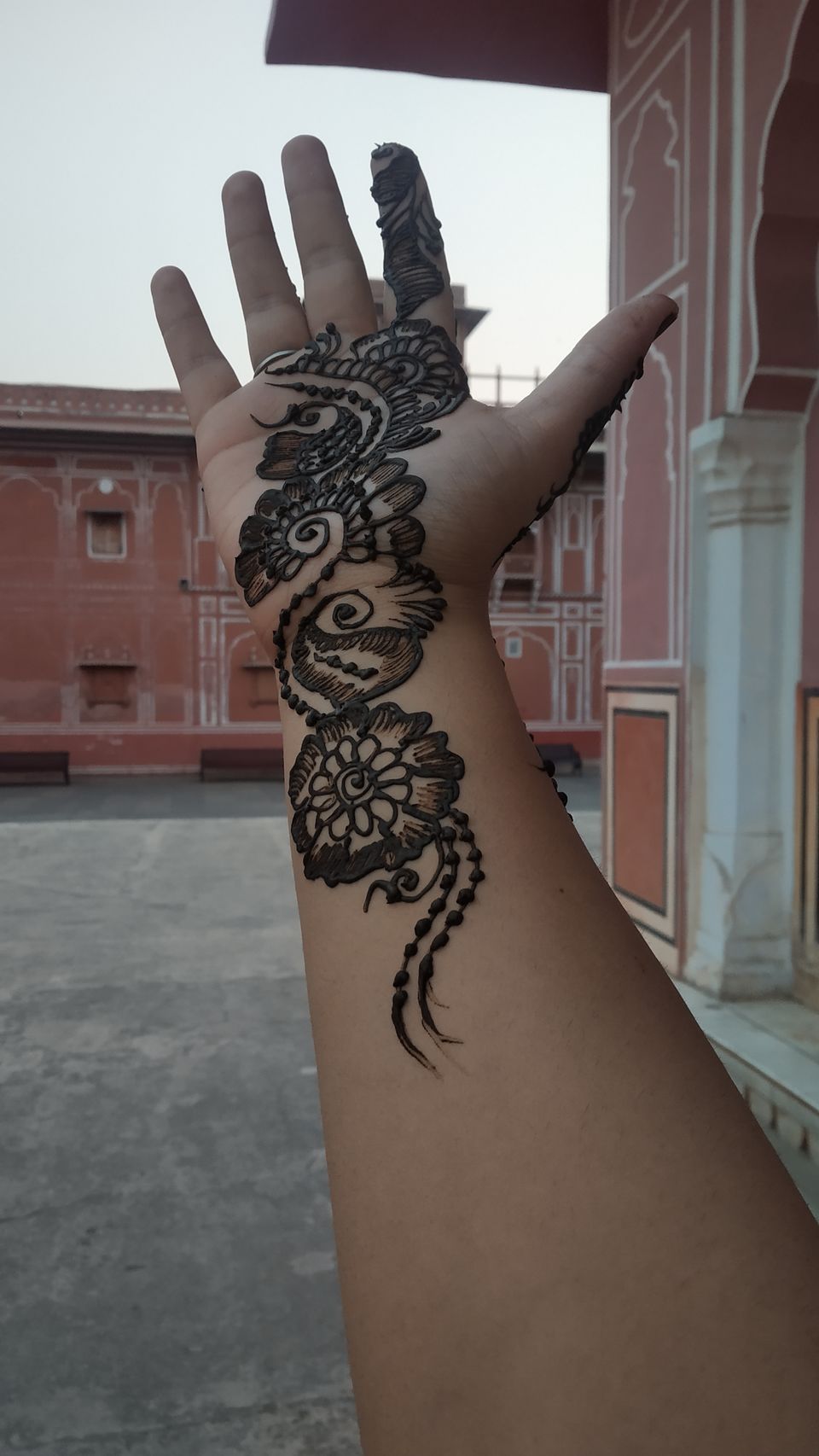 Also, get some henna on your hands. These people know their art well. 'Deepma', as I recall her name made my right hand so beautiful, right inside the 'City Palace'.
• Some more excerpts
Bapu Bazaar and Johari Bazaar are for the shopping addicts, which are very close to the City Palace. The best thing about these markets is that they are always decorated and well-lit and of course, 'Pink'. I went around for about two hours in the night before returning. This was the only shot I could manage.
Two days were a little hasty, but I was able to manage experiencing the food, culture and the essence of winter in Jaipur. Quick disclaimer: The city is painted in 'Gerua' colour recently, making you question the name 'Pink city'.
You would still find some pink corners to give justice to that honorary title, I promise you.