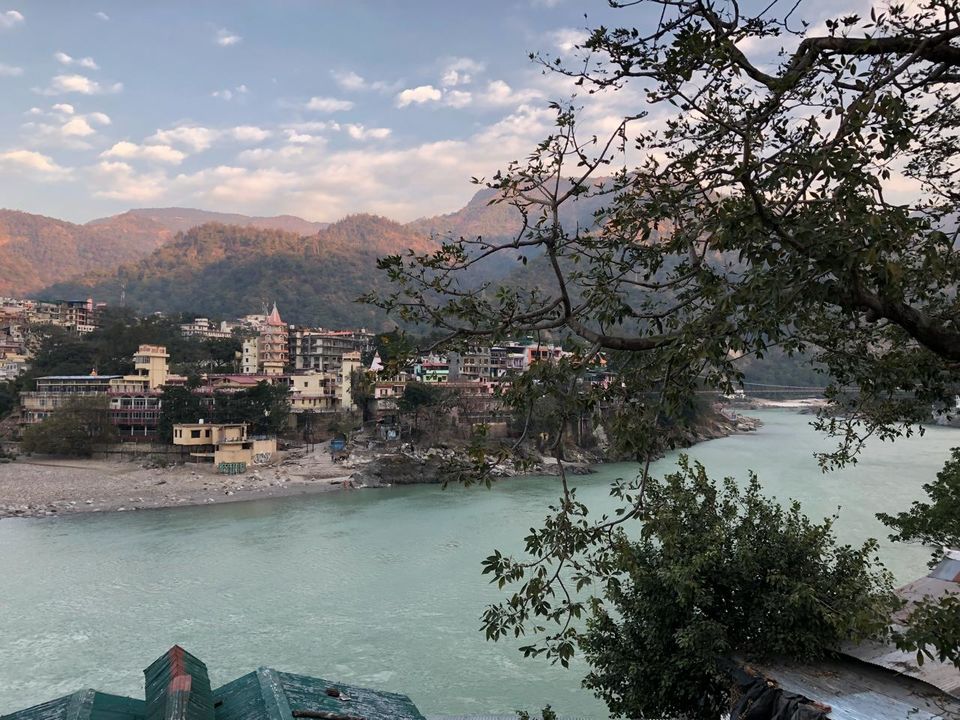 We reached Haridwar in the wee hours of the wintry morning. Because we couldn't find any transportation, we walked to ISBT, Haridwar and caught a bus for Rishikesh at Rs. 30/person.
It took us almost an hour to reach Rishikesh's main bus stand. We boarded a sharing-auto at Rs. 40/person to LaxmanJhulla because we had not prebooked any hotel rooms and from prior experience, we knew we would find an affordable room around that area. But before looking at any rooms, we went to one of the Ghats and watched the sunrise in peace.
We took up quarters at Rana Guesthouse at Rs. 150/person/day and snuggled in for almost 4 hours. Our grumbling stomachs woke us up at noon and we freshened up, and headed to have brunch at Ganga View Cafe. After hogging on their delicious Dal Makhani and Tawa Paneer with Tawa Rotis, White Sauce Vegetable Pasta, and Coffee and Tea, we paid our bill of Rs. 900/- and got up to leave around 3PM.
Growing up is the worst!
A, S, U and I have been best friends since middle school. Our first trip together in 2014 to Kasol-Kheerganga-Tosh is my most memorable trip ever. But as we graduated from college one-by-one, life's responsibilities caught up with us. We all got scattered across India pursuing our career interests. But, after years of planning, we finally left for our second trip together, to Rishikesh, on a small budget, to just relax and hang out like before.
Having left at 10.30 p.m. on 23rd night from ISBT, Night 1 was spent in the bus. We had chosen 4 sleeper seats and sat on the upper berth for the whole duration, awake and full of excitement, playing card games. The tickets costed us Rs. 550/- each and it was the orange coloured, sleeper 'Classic' bus that we caught from outside ISBT, Kashmere Gate.
Being big fans of The Beatles, we wanted to go the Beatles Ashram. The sharing-auto we took costed us Rs.50/person. We reached the Ashram at around 1 P.M and bought entry tickets for Rs. 150/- each. We spent the entire afternoon enjoying each other's company, accompanied by the serenity of the place. We had a little picnic at the beautiful ruins of the abandoned, former Transcendental Meditation ashram which is AKA Maharishi Mahesh Yogi's Ashram.
We walked around the Ghats, took a lot of pictures and caught each other up about our lives. We sipped hot coffees at sunset and watched the Ganga Aarti at the Triveni Ghat after sundown. Later, we bought a few souvenirs from the crowded Rishikesh Market.
By the time it was 8, we were starving again but this time we got a lot of food packed from a restaurant (Rs. 900/-) and headed back to our room. We spent Christmas Eve playing Dumb Charades and fell asleep by 11.
We started the Christmas day early by freshening up quickly and at 10AM, we checked out of the hotel but left our bags in their lockers. We headed to Lotus Cafe for breakfast and ordered for exotic Israeli and Mexican food, accompanied by Hot Chocolate. We also got some sandwiches and tea packed for later. Our bill here came to Rs. 1500/-.
At 4PM, when the place shut down, we left and took an auto back to our hotel. We collected our bags and walked to the auto stand, bid farewell to 'U', who left for Delhi. A, S and I headed to Part 2 of the trip.
Frequent Searches Leading To This Page:-
weekend holidays to rishikesh, weekend travel to rishikesh, weekend trip to rishikesh, weekend getaways to rishikesh, weekend trek in rishikesh